Ready to dig into the Best Broccoli Salad Recipe!? Tossed in a creamy honey mustard dressing, it's the perfect side dish to serve at a dinner party or backyard BBQ!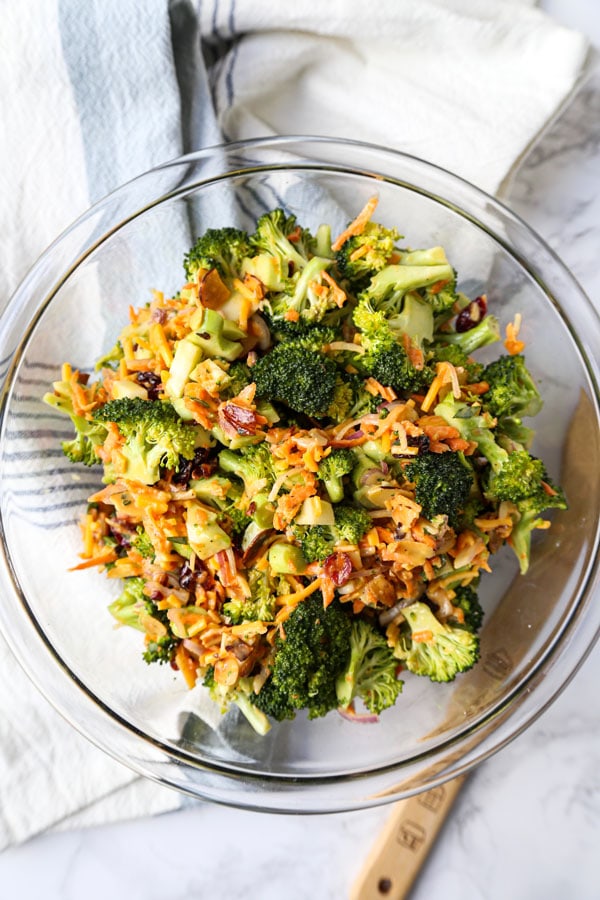 The first time I made this hearty broccoli salad, I took it to a cookout. It was on the chipped picnic table in the park for about 20 minutes before the HUGE bowl I brought was completely empty.
Looking around, I was pleased to see friends with their paper plates piled high with baked beans, macaroni salad, chips, burgers and my broccoli salad.
Well, I got a few compliments that day – and more than a few requests for the recipe. Therefore, I'm excited to share it with you all here!
But don't think this hearty yet light salad belongs solely in the realm of backyard BBQs and cookouts in the park.
You can totally serve this salad at a dinner where you break out your best crystal champagne flutes and lay out multiple salad forks 🙂
You see, this delicious broccoli salad will be right at home pretty much any place food is served!
Now, this is my take on a classic broccoli raisin salad. However, I've jettisoned the raisins in favor of dried cranberries. Their sweetness is balanced by a slight tart counterpoint that acts as a wonderful provider of zing in this otherwise savory and sweet salad recipe.
And it's so easy to make from scratch!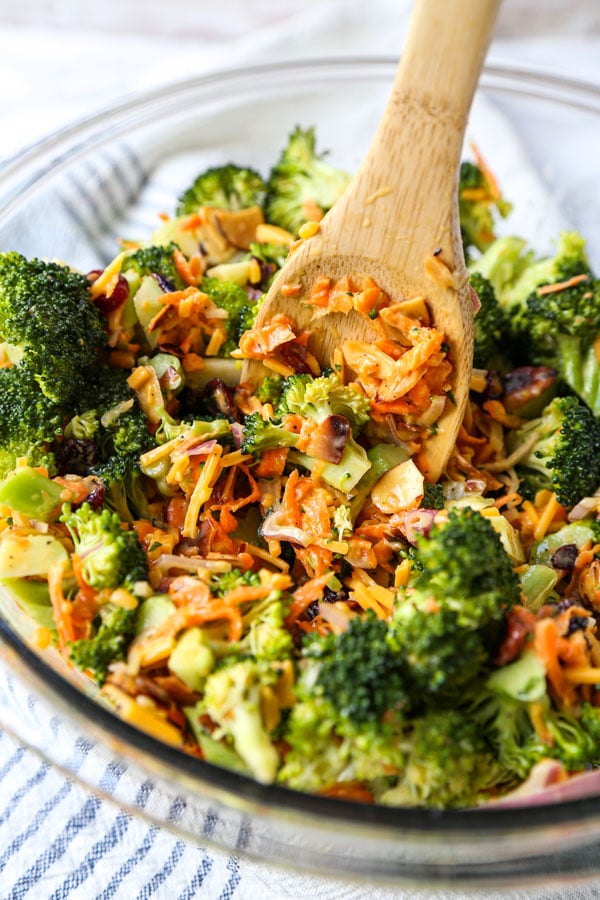 How to make broccoli salad
Toss your prepped salad ingredients (broccoli florets, grated carrot, chopped shallot, toasted almonds, dried cranberries and grated cheddar cheese) in a large mixing bowl.

Apply your honey mustard dressing (more on that in a sec) and stir.

Allow at least 15-20 minutes for the broccoli to soften slightly and absorb the dressing. However, you can make it the night before serving – and give the dressing more time to work its magic.
And that's all it takes. Easy, right?!
The result is a broccoli salad that is savory, nutty, creamy and just a bit sweet – with a sweet/tart pop here and there from the dried cranberries. It really has ALL the flavors!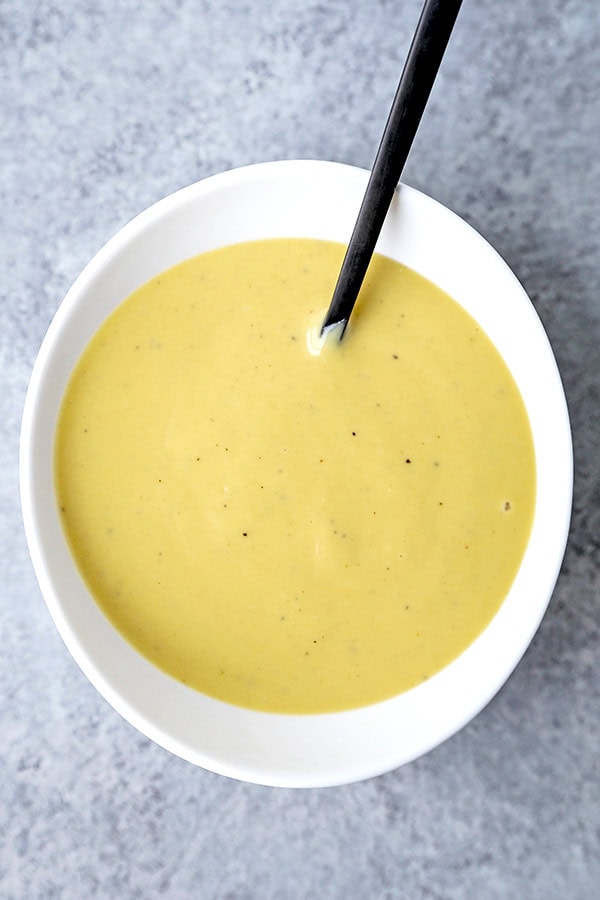 How to make honey mustard dressing
This is a simple to make dressing that provides a wonderful balance to this tarragon and carrot loaded broccoli salad recipe. And while this creamy honey mustard vinaigrette is delicious made with full flavor mayonnaise, feel free to use vegan mayo – or even Greek yogurt.
Just add all your ingredients to a small mixing bowl (and whisk) or salad dressing shaker (and shake, shake, shake).

This is the salad dressing shaker I have (Amazon)

– and I use it all the time for making homemade dressing.

Once your dressing has emulsified, you can tweak the salt level to fit your taste.

Remember to let your salad sit after you've applied the dressing so that the broccoli has a chance to soften a bit and really absorb the flavor.
The best part is that you can use this creamy honey mustard dressing recipe for any salads or sandwiches you normally enjoy it on.
And since you can make it anytime, there's no reason to purchase store bought dressings (that usually get forgotten in the back of the fridge) anymore!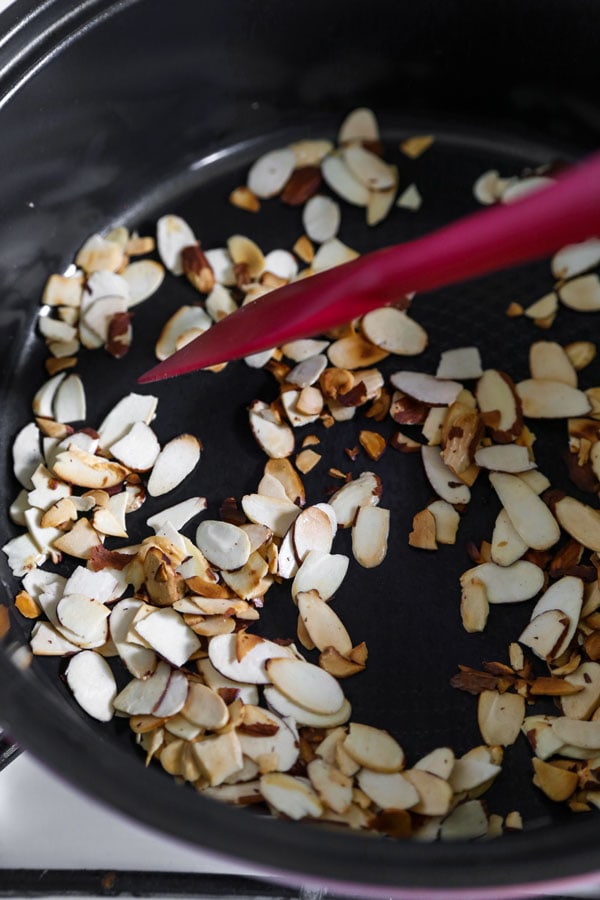 How to toast almonds
Is there anything better than the nutty crunch of toasted almond slices in a salad?
Well, I'd say it's the perfect finishing touch for this simple broccoli salad. And they're so easy to make at home!
Simply get a small pan going over medium heat and add your shaved almonds.

Shake them in the pan to evenly toast them.

Remove from heat as soon as the color begins to darken. Since shaved almonds are so thin, keeping a close eye on them is imperative to prevent them from burning. Trust me, it happens quickly!

A few Broccoli FAQs
Broccoli is one of my all time favorite vegetables to cook with. Not only is it a great ingredient for all types of salad recipes, it is an obvious choice when whipping up stir frys and soups. Check out this delicious and easy chicken and broccoli stir fry recipe!
We all know it's a great vegetable to cook with, but let's take a deeper look at the main ingredient in this cold broccoli salad.
How to choose the freshest broccoli 
There's nothing worse than hitting vegetable aisle at the grocery store to gather ingredients – only to get home and find that your vegetables aren't quite as fresh as they looked at the market.
Here's what to look for to make sure your broccoli recipes are loaded with the freshest possible produce.
Keep your eyes peeled for broccoli heads that are compact and dark green (to almost blue-green).

Firmness is a good sign. Give it a squeeze. If the stem is solid and reasonably unyielding, that's a good thing. Same goes for the florets. While they will have some give to them, they should be tightly packed and almost squeaky when compressed. Pass on broccoli that seems flimsy or soft to the touch.

Give it a sniff. While fresh broccoli gives off a verdant aroma, it shouldn't be strong or unpleasant. If you get a moldy whif, put it back!

How to store broccoli
Many times, excessive moisture is the enemy of keeping veggies fresh. That's why we place things in the crisper drawer of our refrigerators 🙂 But a little moisture will actually keep your broccoli fresh for longer.
A good rule of thumb is to loosely wrap fresh broccoli in slightly damp (but not dripping) paper towels.

You can also store damp-paper-towel-wrapped broccoli in a plastic bag. But be sure to leave that ziploc bag open (unsealed).

And if you have lots of space in your refrigerator, you can fill a pitcher with water and submerge the broccoli stems (not the heads). Kind of like a bouquet of flowers. Change the water daily if not using immediately.
How long does broccoli last? 
You've usually got about a week to use fresh broccoli before it starts to head south. Of course, that depends on how long it sat at the grocery store before you took it home.
So follow the best practices for broccoli storage above. And if it starts to smell (or look) off, bin it. Always better safe than sorry.

Broccoli salad: the perfect side dish for a backyard BBQ – or a formal dinner 
My favorite thing about this easy broccoli salad (aside from the flavor) is that it is a recipe you can serve at absolutely any dining function.
It's pretty rare that the same recipe for broccoli could be served as a side at a fancy dinner where everyone is dressed to the nines – and at an informal cookout with family and friends (and pretty much anything in between).
Because even though it is super simple to prepare, it tastes anything but.
So whether it's on a paper plate alongside chips, coleslaw and a burger – or on your best China because the boss is over for dinner, this is one of the best salad recipes to keep in mind for any occasion.
How about you? Do you have a favorite salad recipe that you keep in your back pocket for everything from potlucks to BBQs to dinner parties? Sound off! I'd love to hear about it in the comments.
Happy cooking, friends!
Other delicious and easy vegetable recipes: 
Did you like this Broccoli Salad Recipe? Are there changes you made that you would like to share? Share your tips and recommendations in the comments section below!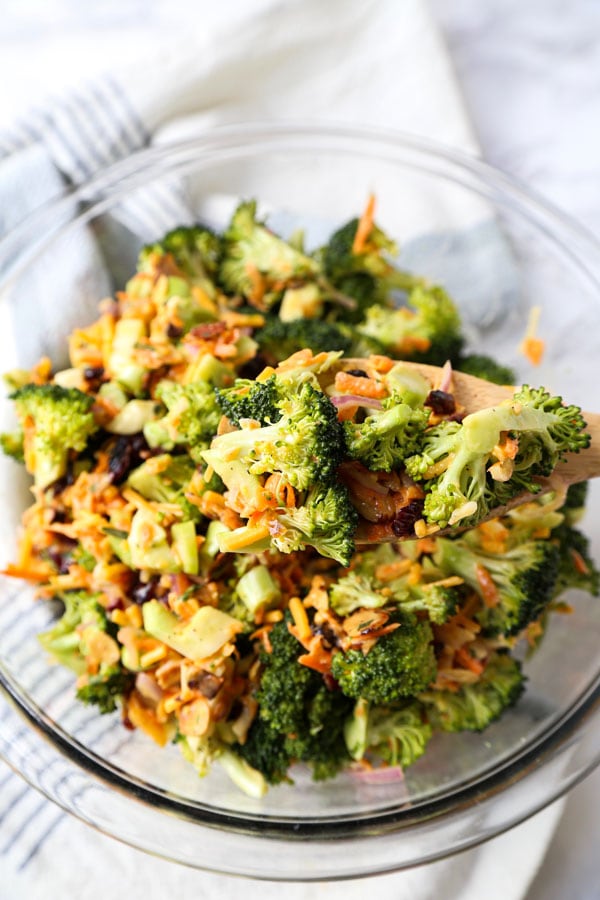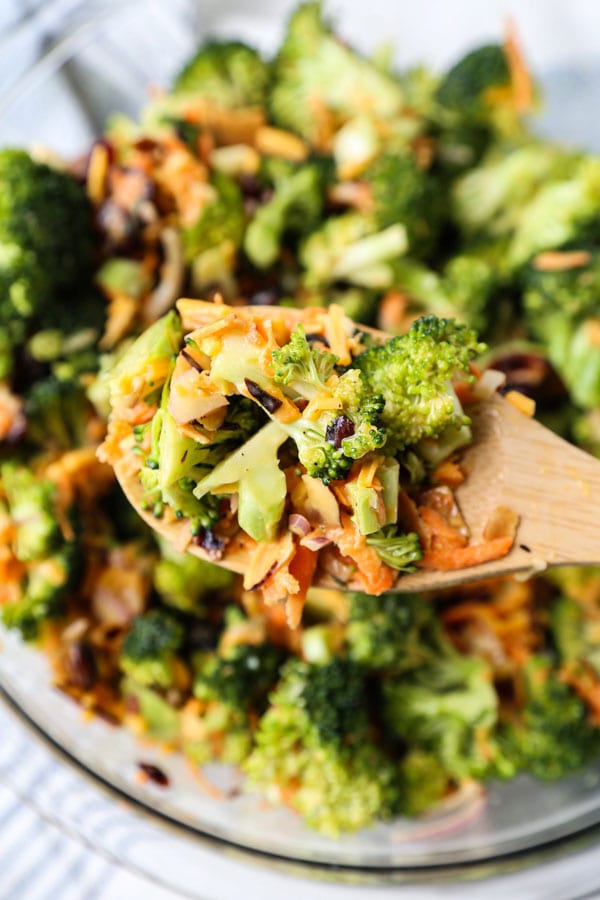 Print
Broccoli Salad
This easy broccoli salad is tossed in a sweet and savory honey mustard dressing. It'll be a favorite at your next backyard BBQ or cookout!
Author: Caroline Phelps
Prep Time:

15 minutes

Cook Time:

2 minutes

Total Time:

17 minutes

Yield: serves

6

-8

1

x
Category:

Salad

Method:

Tossed

Cuisine:

American
Broccoli Salad
1

pound broccoli florets, chopped into small bite size piece

1

medium carrot, grated

1

small shallot, finely chopped

1/3 cup

sliced almonds

1/4 cup

dried cranberries

1 tablespoon

tarragon, finely chopped

1/3 cup

grated cheddar cheese (optional)
Honey Mustard Dressing
Instructions
Place all the ingredients for the honey mustard dressing in a small bowl or salad dressing shaker and whisk or shake until emulsified. Set Aside.

Place the almonds in a pan over medium heat and gently shake the pan until the almonds turn golden brown. Almonds burn quickly so keep an eye on them and take them out of the pan as soon as the color darkens.

Put all the ingredients for the broccoli salad in a mixing bowl and pour the dressing over. Toss well and leave for 15-20 minutes, or overnight to soften the broccoli.
Notes
The salad will keep refrigerated in a storage container for up to 4 days.
Nutrition
Serving Size:
Calories:

255

Sugar:

11.6 g

Sodium:

305.6 mg

Fat:

19 g

Saturated Fat:

3.4 g

Carbohydrates:

18.7 g

Fiber:

3.7 g

Protein:

6 g

Cholesterol:

8.1 mg
Keywords: honey mustard, salad, cookout, BBQ, side dish
Recipe Card powered by