Savory and a little sweet, this Foil Baked Enoki Mushrooms Recipe is vegan and ready in 20 minutes! Plus, learn all about Japanese enoki mushrooms – エノキタケ.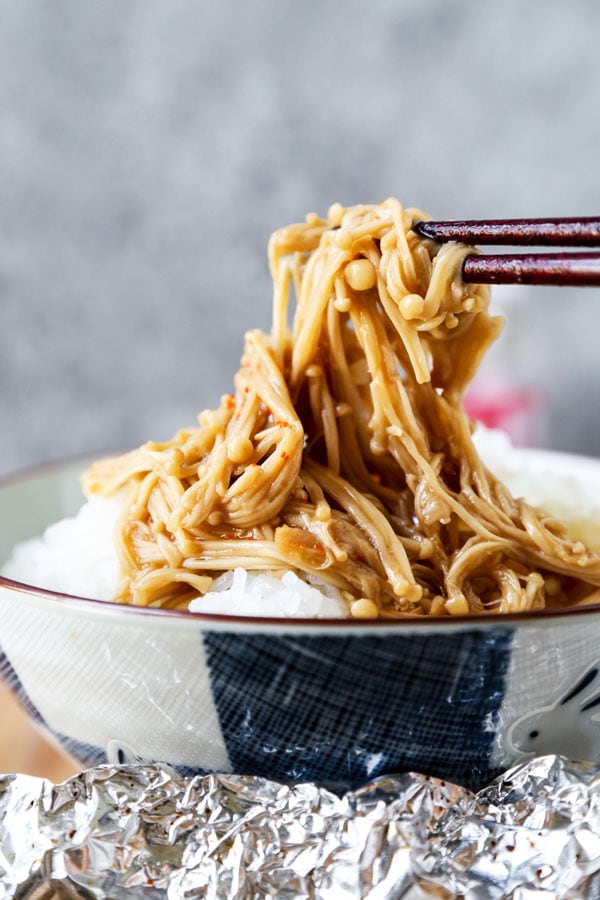 Foil Baked Enoki Mushrooms (Vegan)
I'll never forget the look on Ben's face the first time he came to Japan with me. He was just so excited.
His eyes were the size of silver dollars, recording each new experience with the unabashed wonder you normally see in little kids at an amusement park. Needless to say, I don't think he slept much in the first three days of that maiden voyage.
That wonder and excitement was infectious – and I found myself getting an unusual kick out of things I had done a trillion times before, just because he was so enthusiastic and delighted.
Thankfully, that enthusiasm carried over into food.
One evening we were sitting at a Japanese BBQ spot, drinking beer after ordering almost half the menu. A waitress arrived, flipped on the in-table barbecue and placed a foil packet with crimped edges in the middle.
Ben was immediately curious. "What's that?"
"I think it's the foil baked mushrooms," I said.
"Whoa," he said and took the 700th picture of the day.
Well, it turns out that foil packet was the butter and soy sauce laden Japanese mushroom medley we had ordered. It also turns out that, of all the new food Ben experienced on his first trip to Japan, he still holds that dish in high regard.
In fact, he was the one that suggested I share my vegan version of that foil baked enoki mushrooms recipe with you!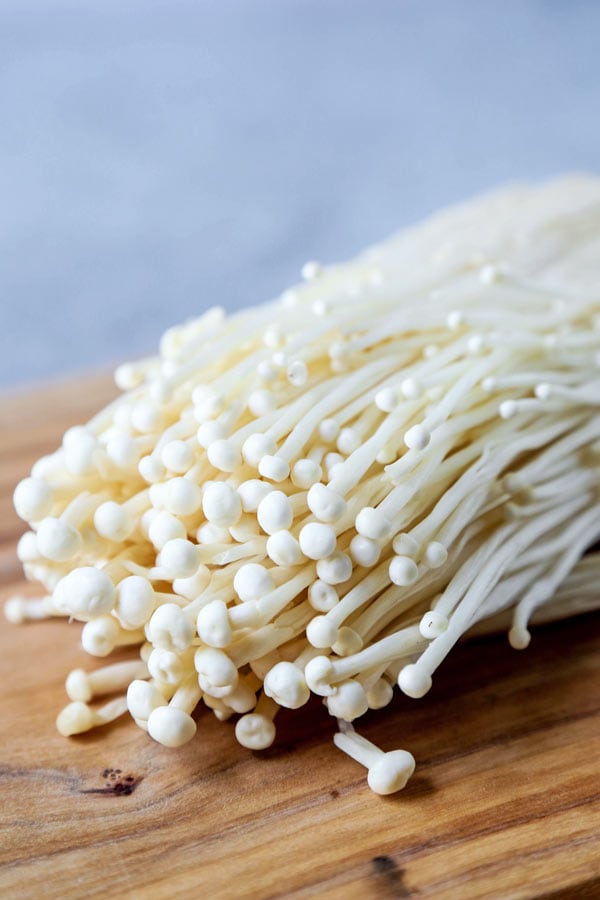 A vegan foil baked enoki recipe
For this flavor forward Japanese mushroom recipe, I omitted the butter found in most Japanese preparations of this foil baked dish.
Yes, butter is delicious. But in an effort to be more healthy across the board, I experimented with other ingredient combinations that deliver rich, savory flavors, minus the cholesterol 🙂
And the good news is that you won't miss the butter at all. I promise!
With the earthy sweetness of white miso paste, an umami saltiness from soy sauce – and a dry bite brought on by sake – there is flavor to spare! In fact, both Ben and I (and my Japanese mother) prefer this flavor combination. It's aggressively seasoned – yet lets the delicate flavors of the enoki mushrooms shine through.
But before we go down the rabbit hole of how this foil baked mushroom dish tastes, let's take a closer look at a little slice of nature's perfection: the enoki mushroom.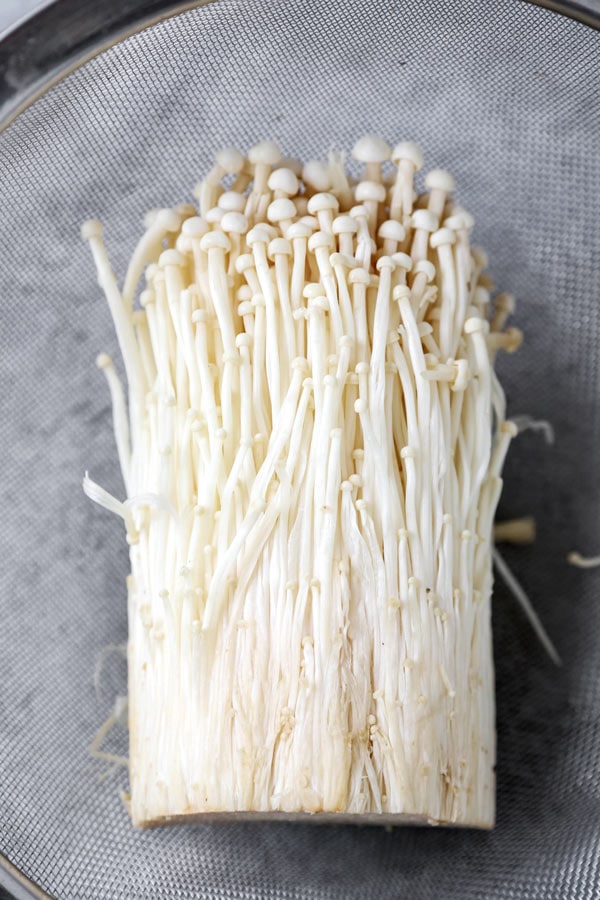 What are enoki mushrooms?
Enoki – エノキ – mushrooms are long, thin white Japanese mushrooms with very slim stems and small caps. They grow in clusters and, once cooked, have a mild flavor that usually does a nice job of melding with the nuances of whatever spice combinations you're preparing them with.
Now, these mushrooms go by many names. The full Japanese name is enokitake – エノキタケ – but it's also pretty common to hear them called golden needle mushrooms, futu mushrooms or even spinning top mushrooms depending where you are in the world.
If you're a scientist (or a mushroom cultivator) you probably refer to them as flammulina velutipes – but I tend to shy away from words that force me to sound them out, ha!
Enoki mushrooms are featured heavily in salads, stir fries, hot-pot, ramen and yakitori dishes like enoki bacon. And these skinny mushrooms are absolutely amazing in a mushroom miso soup!
Once cooked, their texture takes on a pliant firmness that almost borders on a mild crunch.
When preparing to cook with enoki mushrooms, simply rinse and cut the stems off. With enokis, it's easy to tell how much to cut off. Just cut off the portion of the stem that is a bit harder (and may be slightly discolored), where the thin stems meet in a single stalk.
Now, let's cook!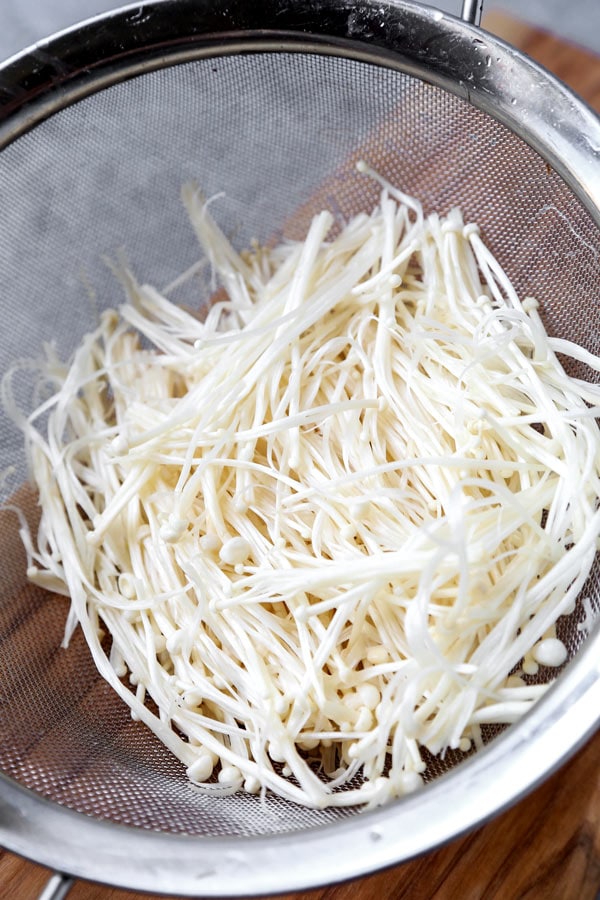 How to cook enoki mushrooms in foil
Aside from hot-pot (where you just dump your mushrooms into the boiling broth), baking in foil is one of the easiest methods for cooking enoki mushrooms.
After rinsing and trimming the ends off my mushrooms, I like to separate the thin, spindly strands by gently pulling on them.
Then, in a small bowl, I combine a tablespoon of sake, a tablespoon of miso paste, a tablespoon of soy sauce and a half teaspoon of vegetable oil – and mix until the miso has dissolved.
The next part is a bit of fun for the arts and crafts lover in me! I take a piece of foil (about 11in x 22in) and fold in in half. Next, in another small bowl, I insert the folded foil and create a pocket that follows the bowl's contours. My enoki mushrooms and sauce go in the center and I give it all a good stir to mix.
Finally, I just fold and crimp the ends so the entire packet of mushrooms and sauce is self contained – and stick it in the oven at 400ºF.
Now, I've found that between 15-20 minutes is the sweet spot for the baking portion.
Serve hot as a savory side dish, or as a topping for plain Japanese rice – or even mixed inside a yummy pasta dish.
One thing I'm sure of: you're gonna love the sweet and earthy umami flavor. It happens to punch way above its weight class, considering the humble and short ingredients list!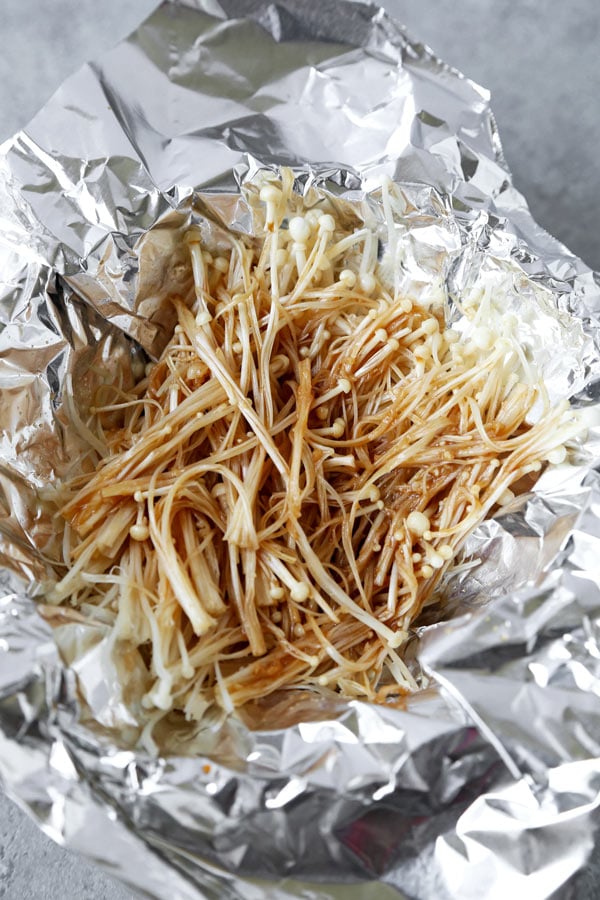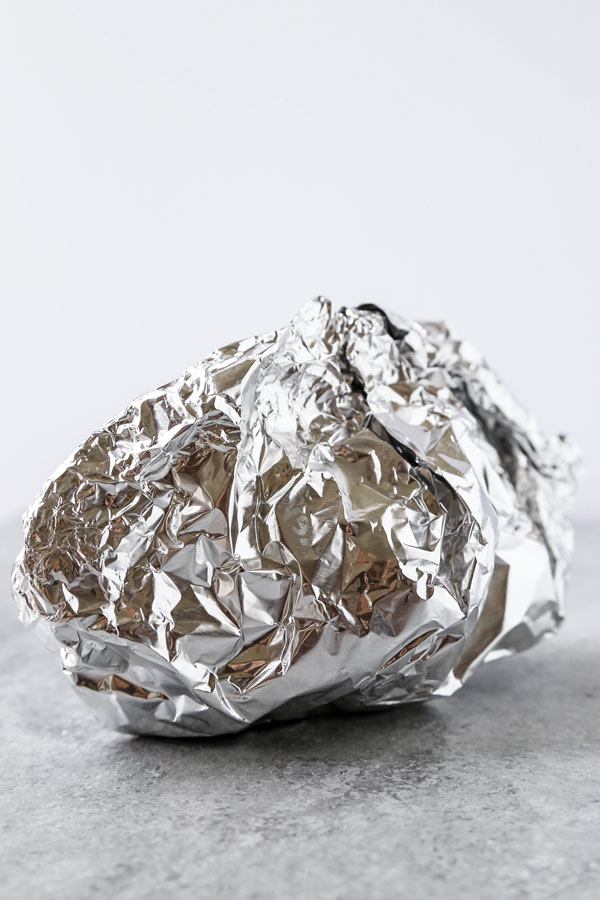 Where can I buy the Japanese ingredients I'll need for this recipe?
Luckily, it's getting easier and easier to find Japanese ingredients in Western grocery stores. However, if they aren't available in your area, they're easy to find online.
Grab the Japanese ingredients you'll need for the flavoring portion of this delicious foil baked mushrooms recipe on Amazon:
Enoki mushroom benefits
Aside from being a fantastic source of protein, enokis are low in calories and are virtually fat free.
But they're also a wonderful source of niacin and other B vitamins.
Enokis, like most mushrooms, are also known to contain an amino acid called ergothioneine which is an antioxidant that can fight a lot of cell stressors our bodies are constantly combating.
And if you're looking to introduce a decent bit of dietary fiber into your meal plan, enoki mushrooms are right on the money there as well! You see, they contain beta-glucan – which is a soluble fiber which some use to fight high cholesterol.
These Japanese mushrooms are just full of good stuff our bodies need!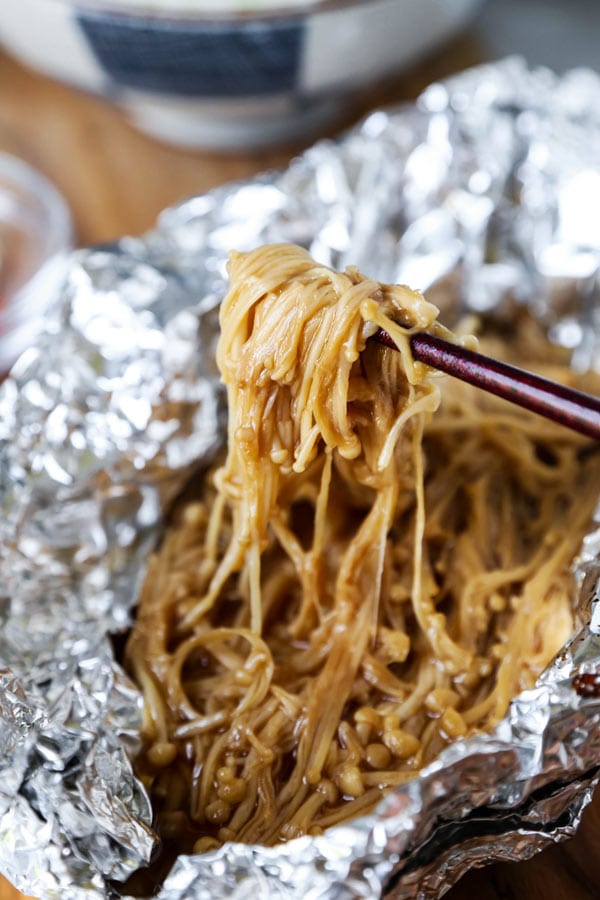 How to tell when enoki mushrooms are bad
Raw enoki mushrooms in their original packaging are likely to be good for at least a week as long as they are kept in the refrigerator.
That said, it does depend on how fresh they were when you first bought them. I've had enokis, that had accidentally been buried in an overfilled veggie crisper, that were still good after two weeks.
However, your senses of sight, smell and touch are going to be the ultimate deciding factor when determining if your enoki mushrooms should be cooked in foil – or tossed in the trash.
A fresh enoki mushroom cluster should have firm but pliable stalks with shiny, white caps.
Now, if they are starting to turn brown – or are getting a slimy film on them, best to bin them. Ditto if the smell is off. Most mushrooms will have an earthy, mineral smell to them naturally. However, if they are aggressively unpleasant to the nose, that's a warning sign.
In my home cooking career, I've found that, when in doubt, it's best to follow my gut on most things food related.
If you're on the fence, better safe than sorry.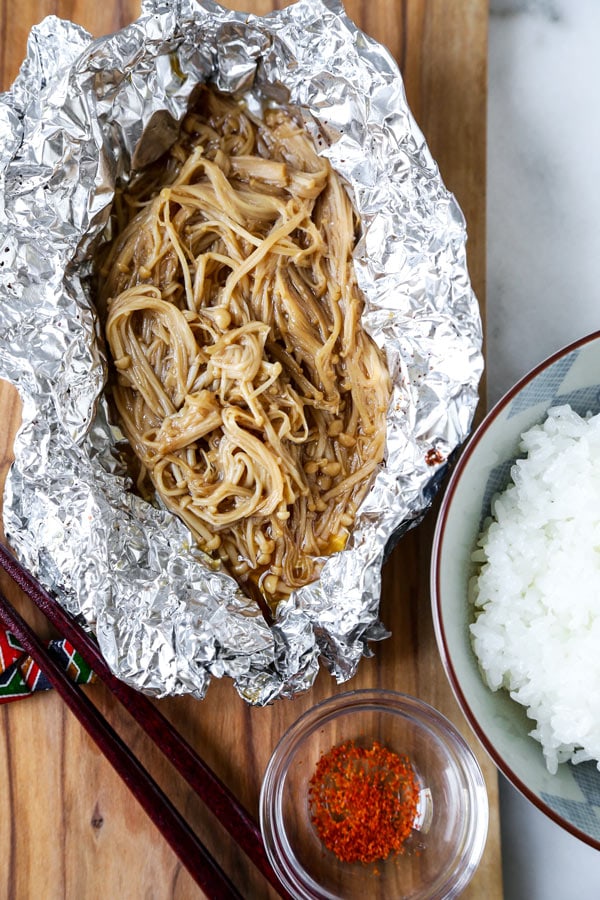 A vegan Japanese recipe anyone will enjoy
This foil baked enoki mushroom recipe is a fun food project – and a great introductory recipe to prepare for someone who might be on the fence when it comes to mushrooms in general.
The sweet, savory, earthy and umami flavor profile is a real winner. And mushrooms have a ton of things our bodies need to function at their peak.
However, aside from all that, what really grabs me about this yummy vegan mushroom recipe is that it still makes my hubby's eyes light up like a little kid at an arcade. As soon as I put the foil packet on the table, I can tell he's transported to his wondrous first trip to the land of the rising sun – and all the delicious magic that trip introduced him to.
What about you? What's a recipe you make that reminds you of the first time you, or someone you love, ate it? I'd love to hear about it in the comments!
Other simple, delicious Japanese vegetable recipes: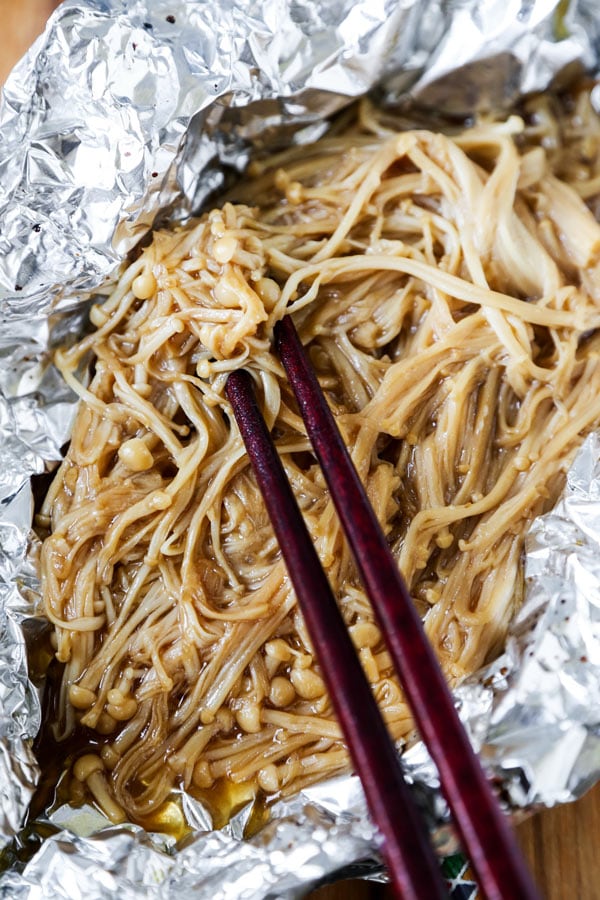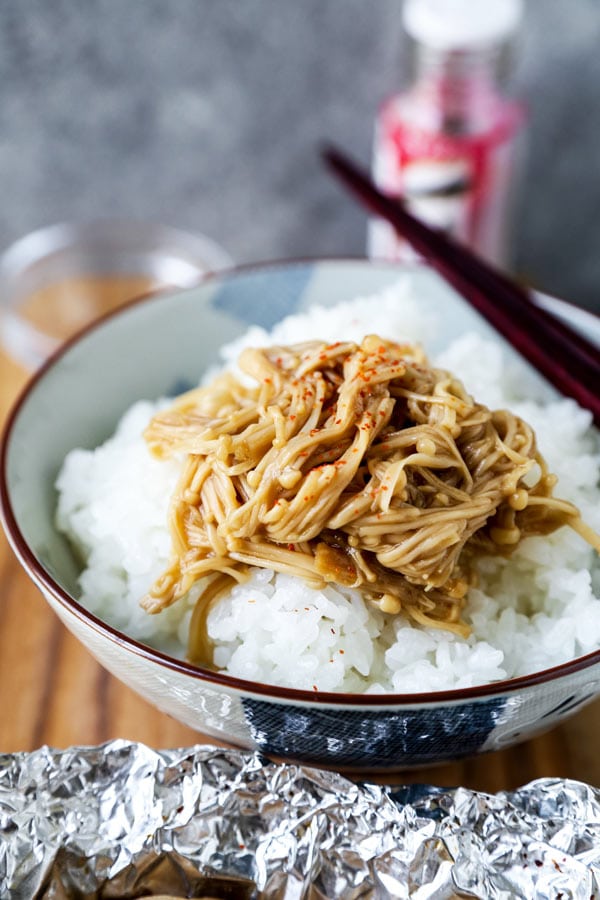 Did you like this Foil Baked Enoki Mushrooms Recipe? Are there changes you made that you would like to share? Share your tips and recommendations in the comments section below!
Print
Foil Baked Enoki Mushrooms (Vegan)
Savory, earthy Japanese enoki mushrooms baked to perfection.
Author: Caroline Phelps
Prep Time:

5 minutes

Cook Time:

15 minutes

Total Time:

20 minutes

Yield:

2

1

x
Category:

vegan

Method:

baking

Cuisine:

Japanese
Scale
Ingredients
400

grams enoki mushrooms

1 tablespoon

sake

1 tablespoon

soy sauce

1 tablespoon

white miso paste

1/2 teaspoon

vegetable oil
Instructions
Preheat oven to 400ºF.
In a small bowl, mix sake, soy sauce, miso paste and vegetable oil until the miso paste dissolves. Set aside.
Rinse enoki mushrooms under cold water and cut the stems off – the part that's harder and discolored. Separate the mushrooms by gently pulling at the strands and set aside.
Fold a 22-by-11-inch piece of foil in half and place in a small bowl to create a pouch. Place enoki mushrooms in the center and pour the sauce over. Mix using chopsticks.
Close the foil and fold the edges by twisting. Place on a cooking tray and bake for 15-20 minutes.
Serve.
Keywords: recipe, roasting, Japanese food, healthy, vegan, plant based, meatless, vegetarian
Recipe Card powered by