So colorful and healthy! Munch on these savory vegetarian stuffed peppers and watch your wrinkles disappear! Serve them as a side or a main and top them with avocado, sour cream and hot sauce. They are filling, delicious and guilt-free.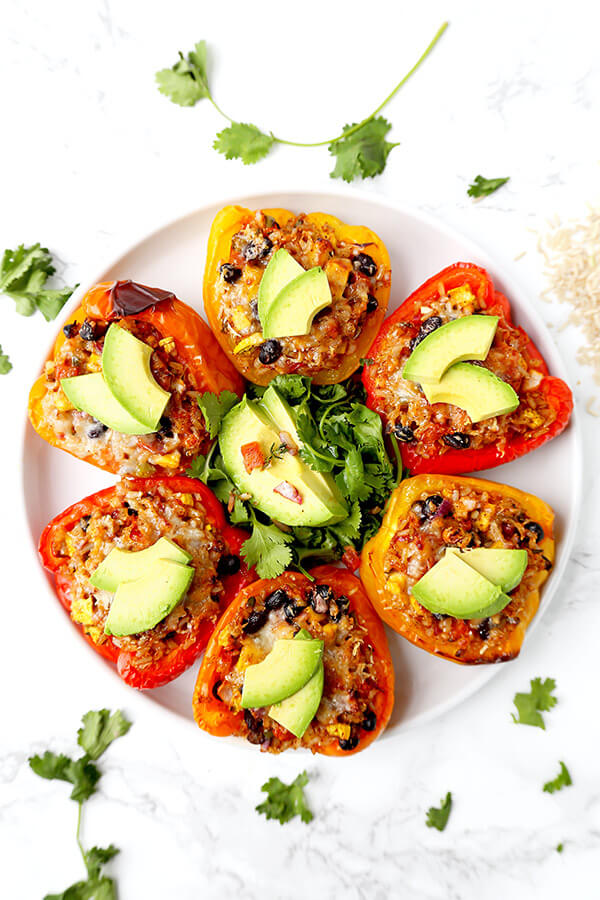 Vegetarian Stuffed Peppers
I've been in love with stuffed peppers since the very first time I made them for the blog in 2012. That was back in the day when my blog was just taking off and I knew little about lighting, plating and photo composition. I would spend a quick minute putting food on a plate, then walk around our apartment trying to find a window that looked brighter than the others. We lived in an old apartment on the west side in Manhattan where natural light was scarce since we were surrounded by tall buildings. That made taking pictures extremely hard, especially since I didn't have a good camera nor lighting equipment to rely on. I remember wishing we could live in California or somewhere where I could have access to lots of sunlight and maybe even a vegetable and herb garden.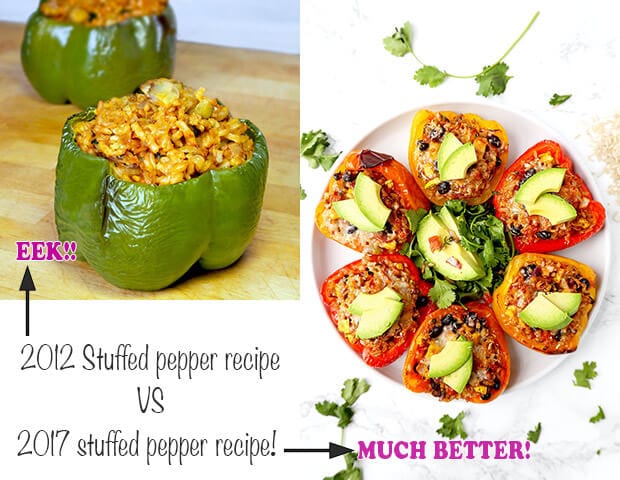 Since then we've moved to a much brighter apartment in Brooklyn, I've upgraded my camera, have a closet full of lighting equipment and though I still don't own a little patch of green, I have an indoor herb growing kit that I keep by the window. Almost perfect! The reason I decided to vamp up this vegetarian stuffed peppers recipe is because of a site audit I recently did. I wrote down all the recipes that could use newer content and updated both the recipe and the images. Let's just say I've gotten a whole lot better at making stuffed peppers 🙂
This newer vegetarian stuffed pepper recipe has a Tex-Mex flair, contains less carbs and more veggies. I'm mixing brown rice with black beans, tomatoes, summer squash, jalapeno, red onions, thyme, cumin powder, chili powder and grated parmesan cheese. Add some shredded lettuce and ground beef and you've just made taco stuffed peppers! But you know me, I like to go meat-free so I'm keeping these easy stuffed peppers on the lighter side.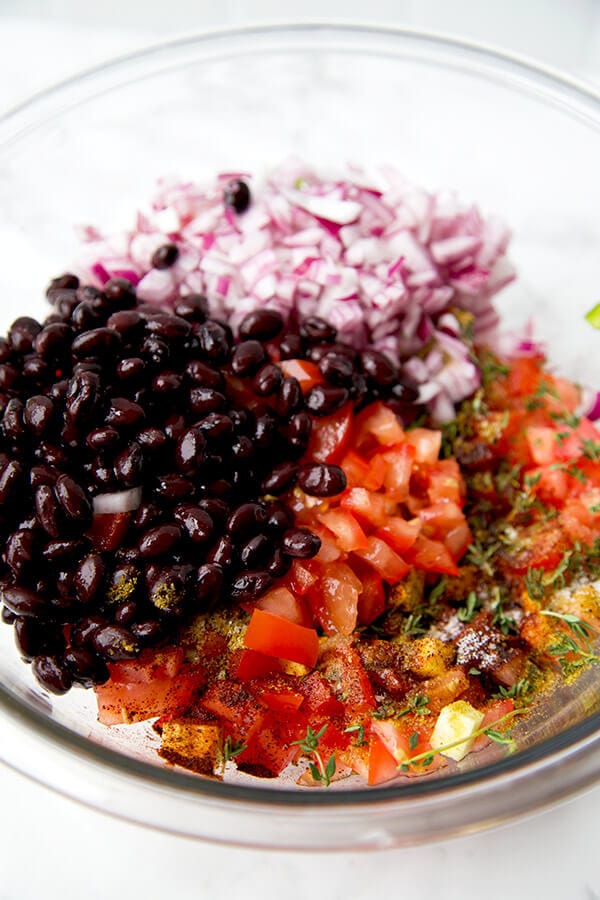 Bell peppers are the fountain of youth for wrinkles!
Yep that's right, peppers help fight wrinkles and fine lines, especially those under the eyes. The recommended serving is two cups a day but I don't pay attention to that. As long as I eat some a few times a week I figure it's better than if I ate none! There are easy ways to incorporate peppers into recipes, my favorite is to finely chop them and pan fry them together with onions. This has become the base of many of my recipes and doesn't really affect the taste.
Vegan Stuffed Peppers
Yes, this recipe is very easy to adapt for vegans. There is only one ingredient to remove – cheese! So if you are planning on making these for a party, make half with cheese and half without. This way you won't have to worry about friends and/or family with dietary restrictions.
How to make stuffed peppers ahead of time
My recommendation is to make the filling ahead of time and slicing, seeding the bell peppers in half. If you are serving them the day of, keep the filling out on the counter – no need to refrigerate. If you are making the filling a day or two ahead of time, refrigerate and zap in the microwave for 45-60 seconds, or until the filling is close to room temperature.
Other yummy pepper packed recipes: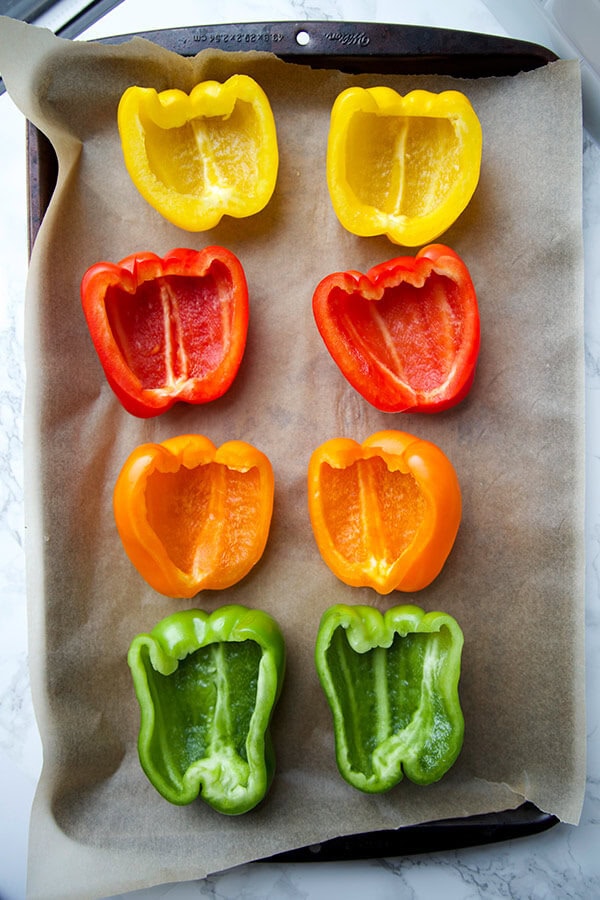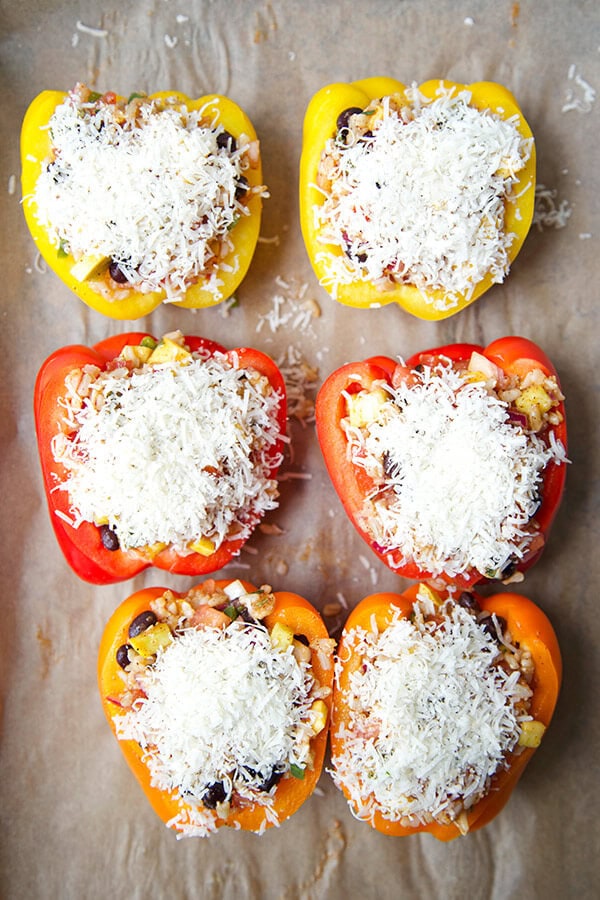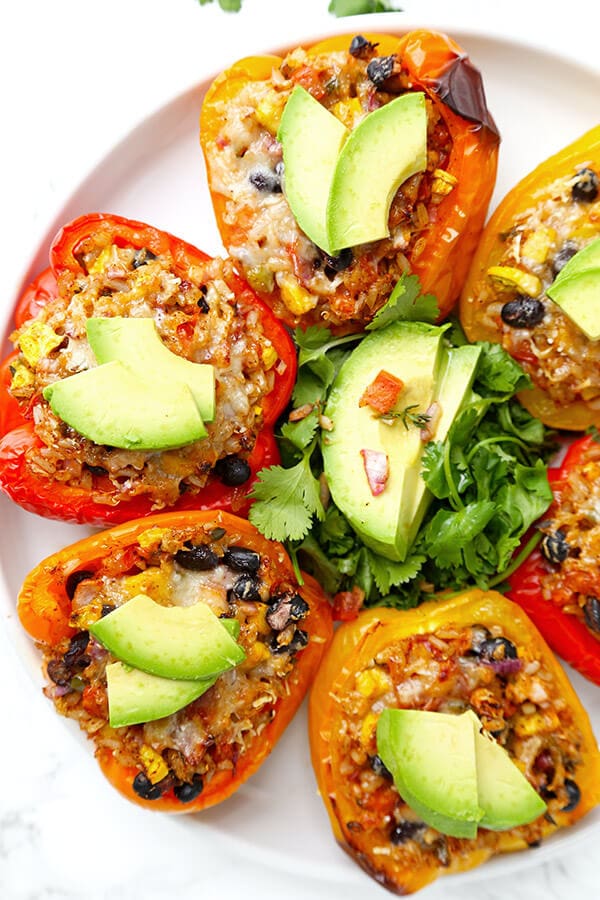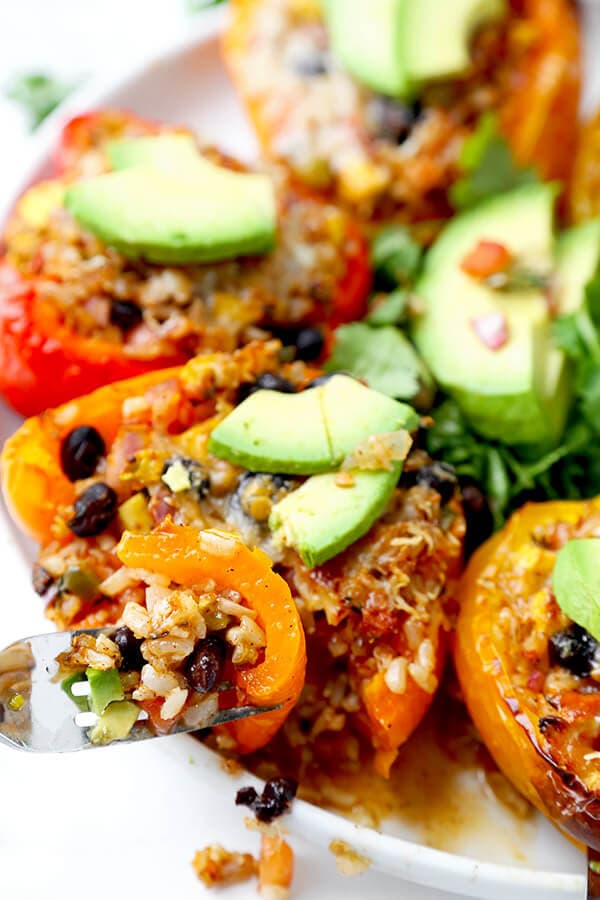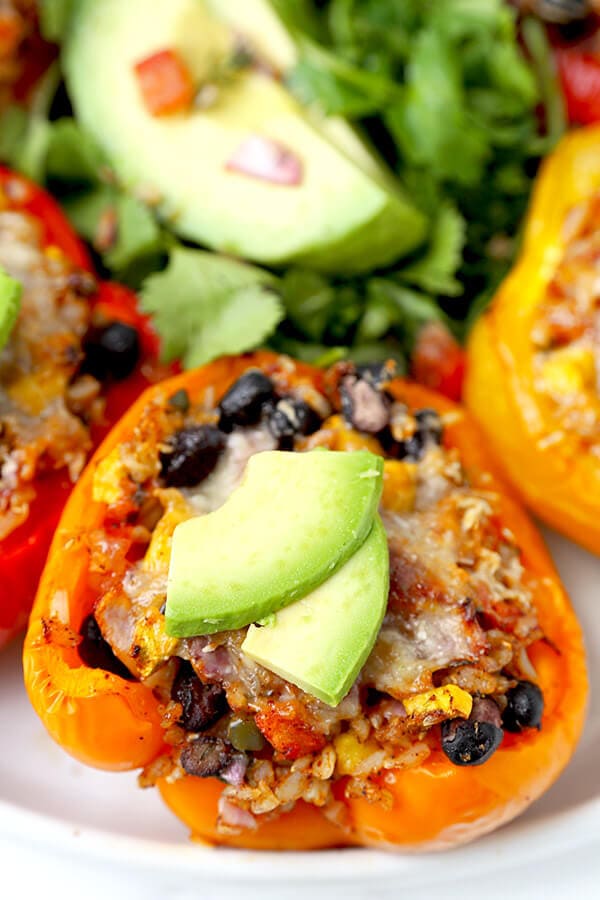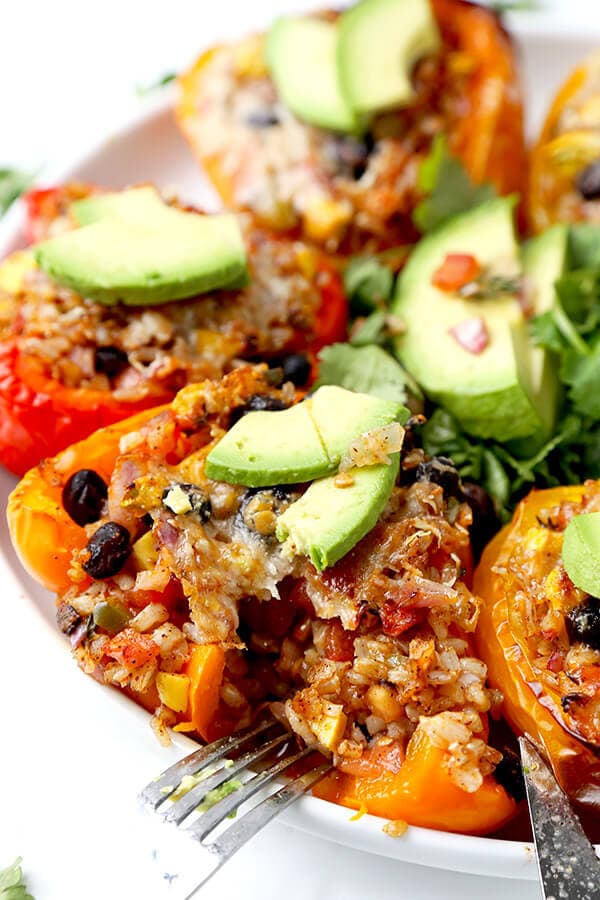 Did you like this Vegetarian Stuffed Peppers Recipe? Are there changes you made that you would like to share?
Print
Vegetarian stuffed peppers
Healthy and filling stuffed peppers without the meat.
Author: Caroline
Prep Time:

10 minutes

Cook Time:

50 minutes

Total Time:

60 minutes

Yield:

8

stuffed pepper halves

1

x
Category:

Vegetarian

Method:

Baking

Cuisine:

Vegetarian, Vegan
Ingredients:
4

large green, red, orange or yellow bell peppers (cored, seeded and sliced in half lengthwise)

1

small avocado (peeled, pitted and thinly sliced)
hot sauce (for serving)
sour cream (for serving)
Ingredients for the stuffing:
1 1/2 cups

cooked brown rice

2

medium tomatoes (seeds removed, finely chopped)

1 tablespoon

thyme leaves (chopped)

1

medium red onion (finely chopped)

1

small yellow summer squash (finely chopped)

1

jalapeno (finely chopped)

1/2 cup

canned black beans (rinsed and drained)

1 teaspoon

chili powder

1 teaspoon

cumin powder

2 tablespoons

extra virgin olive oil

1/2 tablespoon

kosher salt
freshly ground black pepper (to taste)

1/2 cup

freshly grated parmesan cheese
Instructions
How to make stuffed peppers
Preheat oven to 375ºF.
Cover a baking tray with parchment paper and set aside.
In a large bowl, add all the ingredients for the stuffing and mix well. Taste and season with more salt and pepper if needed.
Place the peppers facing up on the tray and stuff evenly with rice mixture and top with grated parmesan.
Cover the tray with foil and bake in the oven for 30 minutes.
Remove foil and increase heat to 400ºF. Bake for an additional 15-20 minutes or until peppers are tender.
Optional
Serve topped with avocado, hot sauce and/or sour cream.
Nutrition
Serving Size:

1 half stuffed pepper

Calories:

458

Sugar:

6.3 g

Sodium:

559.5 mg

Fat:

8.3 g

Saturated Fat:

8

Carbohydrates:

19.9 g

Fiber:

5.8 g

Protein:

6.2 g

Cholesterol:

3.6 mg
Keywords: recipe, vegetarian, meatless, side dish
Recipe Card powered by