This Harissa Spiced Moroccan Oatmeal Recipe delivers bold, assertive North African and Mediterranean flavors. This easy to make brunch recipe is spicy, smoky and savory. And… oh, that perfect egg!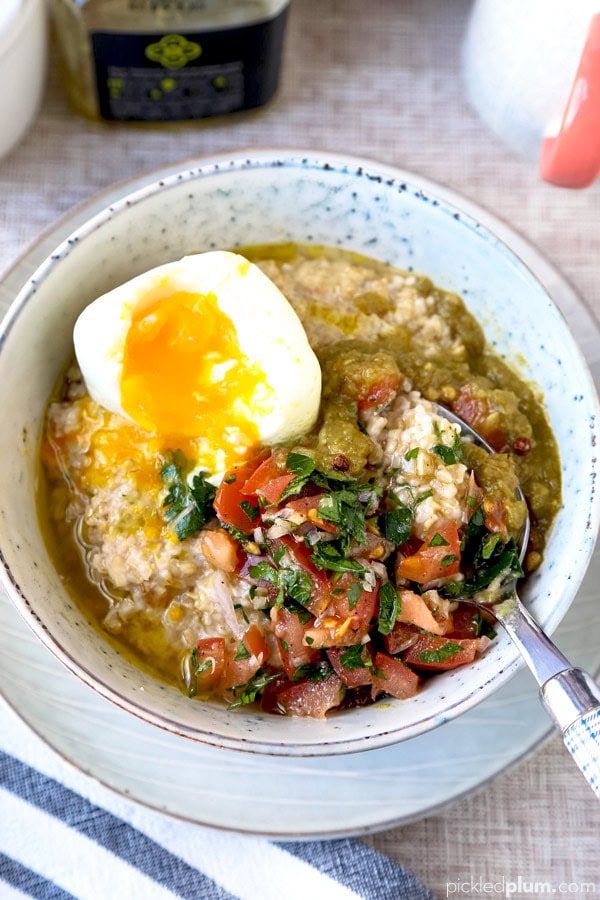 Harissa Spiced Moroccan Oatmeal Recipe
I'm serious about my Sunday morning feast.
You see, after a week of cooking, photography, blogging, SEO and writing, I take Saturdays off entirely. I devote the entire day to disconnecting from all things electronic and food prep related.
I think you'll agree with me that you have to be proactive and protective of your free time in this crazy age of always-on technology and longer work days.
If anything is going on in the kitchen on Saturday morning, it's probably Ben making us a Tamagoyaki (Japanese omelette) to eat on the couch.
Or he's ordering sushi on Seamless.
Sundays, however, are cut into two sections.
In the early AM, I like to take it easy (another non-negotiable) – and then by the time 10:30 or 11am rolls around, I'm working on projects and trying to get a jump-start on the week ahead.
I'm protective of my free time, because I take so little of it. Hey – I'm not complaining! I love what I do 🙂
But having a delicious and carefree brunch on Sunday morning is fun because it gets me warmed up in the kitchen without having to think too hard about food.
It also fuels me for the busy half-workday ahead.
And one of my favorite indulgent and healthy Sunday meals is this green harissa spiced Moroccan oatmeal recipe.
It delivers on bold, assertive Mediterranean and North African flavors…
… and, oh, that egg!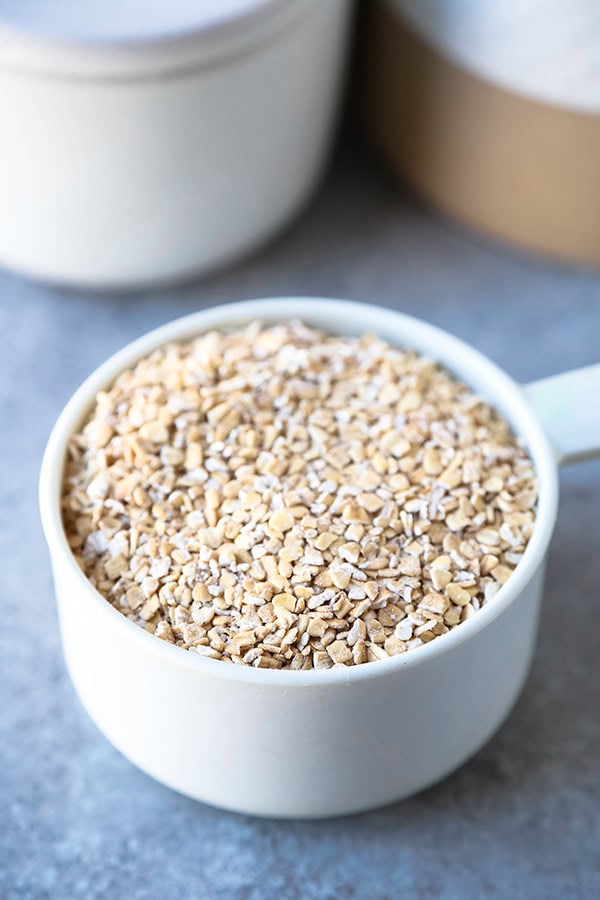 A savory and hearty oatmeal recipe
Oatmeal can be a bit of a blank slate from a flavor perspective.
While cooked oats tend to have a mildly nutty essence, there's just not a whole lot going on when oatmeal is left on its own.
That may explain why it's common to see oatmeal recipes that call for fruit, sugar, cinnamon, honey and nuts to give the healthy breakfast food a bit more of a presence.
Well, this hearty simple oatmeal recipe goes in the opposite direction, and achieves a savory and spicy flavor profile with a few simple ingredients.
I kept the ingredients list short for this oatmeal recipe, because you KNOW I'm all about the easy healthy recipes!
The chopped tomato, grated garlic, olive oil and parsley combination I spoon on top isn't quite a salsa – but looks and almost acts like one.
It imparts a clean, fresh Mediterranean lilt to the blank flavor canvas that is oatmeal.
But this hearty oatmeal recipe gets its mojo and swagger from harissa.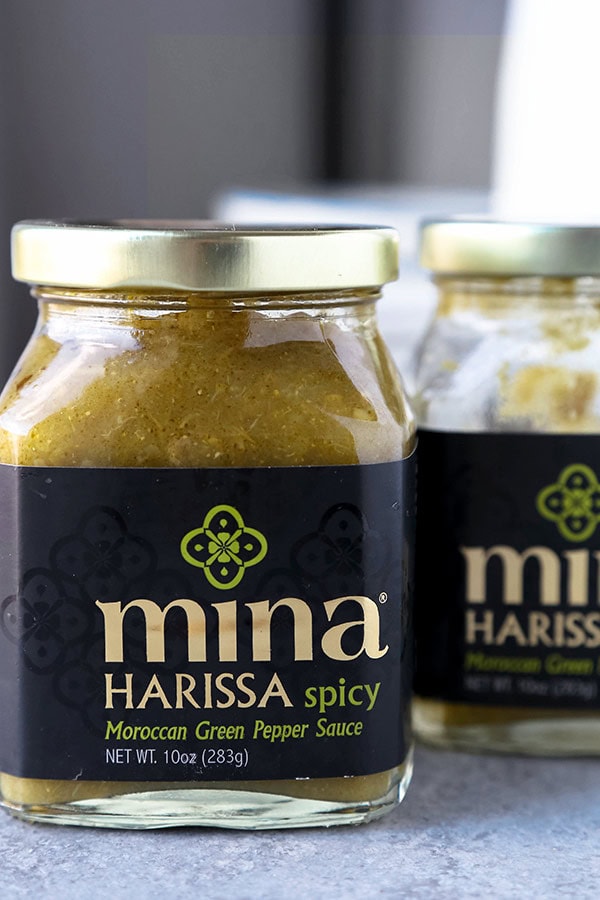 What is harissa?
Actually, since the flavor profile of this simple oatmeal recipe gets a huge boost from harissa, let's take a deeper look at this flavor-forward and versatile bit of deliciousness!
Harissa is Tunisian in origin – but the smoky, spicy chili paste is ubiquitous throughout most North African cuisine.
You'll find it in use in many delicious Moroccan dishes. And when you head to the grocery store, many of the easier to find brands of jarred harissa also hail from Morocco.
While you'll usually see red harissa paste in play, green harissa is totally a thing too (and my preference when it comes to buying the jarred stuff).
Red or green chilis are ground into a paste with tomato paste, roasted red or green peppers, garlic, lemon juice and olive oil.
The result of this delicious mix is equal parts spicy, smoky and bright.
While the spiciness is usually a bit out front, it's not an overwhelming element. It's reeled in by the citrus and savory elements.
Chefs that make harissa from scratch will usually add a few proprietary spices of their own to give their chili paste a signature taste.
For example, coriander and cumin tend to work quite nicely in the mix!
The flavor profile of a good harissa is a complex thing to behold. And a lovely thing to have on hand for your cooking forrays.
Harissa is normally used as a dip or a condiment. And a little goes a long way!
If you're not a spice junky, try a bit before adding too much to your own healthy oatmeal recipe.
On the other hand, if you're a huge spice nerd – go for broke! Ben adds an amount of green harissa to his own bowl of Moroccan oatmeal that borders on obscene, ha!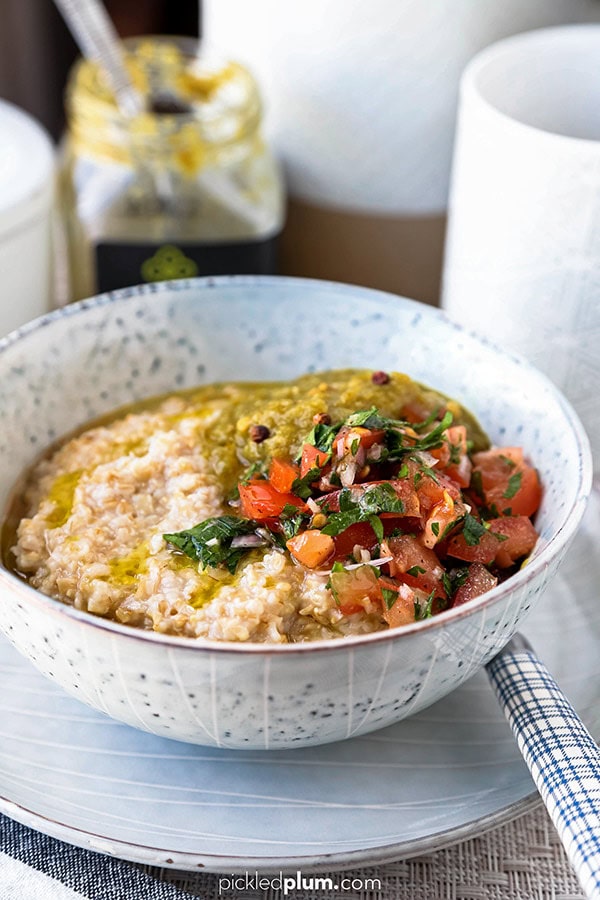 So, how does the whole thing taste together?
Short answer: amazing!
Aside from being one of the most easy recipes on my blog, this fun oatmeal recipe is one of the most assertively flavored breakfast dishes I've ever tasted.
And that's due – in part – to the harissa.
The blast of spicy, bright and almost smoky flavor from the green harissa is tempered by the mild nuttiness of the cooked oats.
Parsley brings a bit of a verdant pop that compliments the brightness of the harissa.
And the tomato and garlic deliver an understated sweet depth to the mix that just cinches this easy, healthy oatmeal recipe in my weekend brunch rotation.
While the harissa is definitely the leading lady in this dish, the poached egg wins in the best ingredient in a supporting role category.
In my mind, there's nothing better than a creamy egg yolk to add a level of richness to almost any dish.
Whether you go for soft boiled or poached, as soon as you break the rich yolk, you'll be so glad you took the extra step in this Moroccan inspired oatmeal recipe.
What are the different types of oatmeal?
When searching for how to make oatmeal, it's important to know that there are a few different types of oatmeal.
And the preparation for each is slightly different.
All oats start out as groats (the whole grain of the oat).
The different types of oatmeal that we find on the shelves of the supermarket, just have received different levels of processing.
Steel cut oats look a bit like rice grains that have been cut into pieces. They consist of the entire oat groat, cut into small bits. These are the least processed oats in the oatmeal trinity. I used

quick cooking steel cut oats

 in this oatmeal recipe.
Rolled oats are the whole oat groat, steamed and then flattened. These look like quintessential oatmeal grains you'd find in a granola bar. Sometimes called old-fashioned oats, these cook pretty quickly and retain their shape quite well.
Instant oats are pre-cooked, dried then pressed. These will cook up with minimal liquid in a very short time – although they have the tendency to lose their shape and come out quite mushy.
While it would be easy to assume that the more processed the oat groat is, the less nutritional value it will have, thankfully that isn't true!
The different varieties of oats all fall in a pretty similar spot with their nutritional values.
The main difference, in this case, comes down to texture, cooking time and taste preference.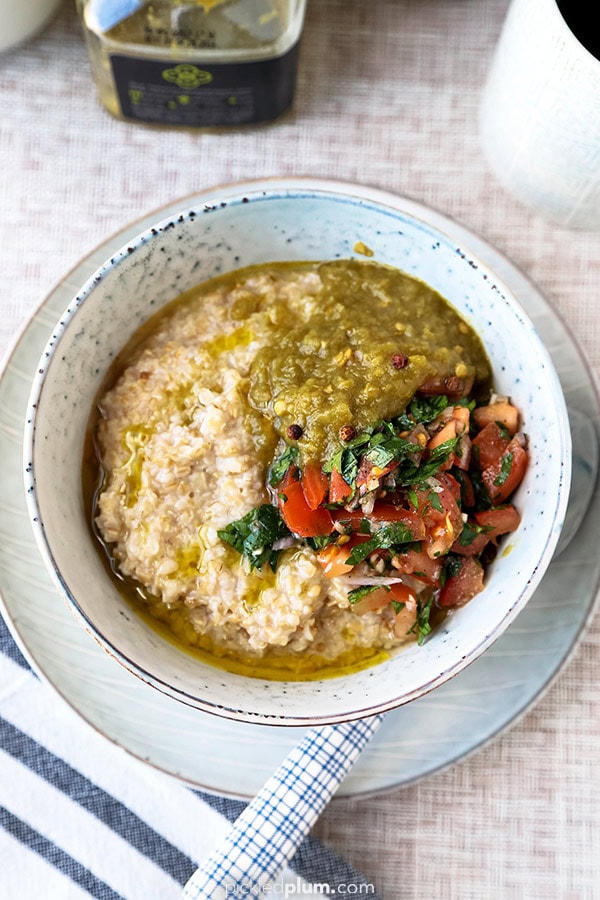 How do you cook oatmeal?
As I mentioned, for this harissa spiced Moroccan oatmeal recipe I used quick cooking steel cut oats.
With these oats, I used 2 cups of water per 1 cup of oatmeal.
Toss a pinch of salt into boiling water and they're ready in about 7 minutes.
Now, with normal steel cut oats (the non-quick-cooking-type) it's common to use a bit more water (usually 3-4 cups of water to each cup of oats), and to cook a little longer on the stovetop (20-30 minutes)
Be sure to follow the instructions on the package when you whip up your oatmeal at home.
The instructions for steel cut oats vary from brand to brand.
Same goes for following the package instructions for rolled oats (or old-fashioned oats).
Instant oats should be good to go once the hot water makes contact!
Is there a way to make this Oatmeal recipe vegan?
There sure is!
To make a completely plant based version of this oatmeal recipe, simply leave the egg out.
That's it! There are no sauce omissions or complex work-arounds required to make this Moroccan style oatmeal recipe vegan.
And this is a super versatile breakfast / brunch preparation.
Feel like adding some iron rich veggies to the mix?
Get that knife out and make a chiffonade of raw spinach. It will wilt pretty much as soon as it hits the hot oatmeal – and it's a great way to get some greens into your diet.
Want to add even more savory flavor to your hearty Sunday morning feast?
Roughly chopping a few olive-oil-cured black olives and sprinkling them on top makes such a delicious and easy addition.
Basically, you can't go wrong! Have fun!
But I digress… In regards to the main question: pull the egg – and it's vegan 🙂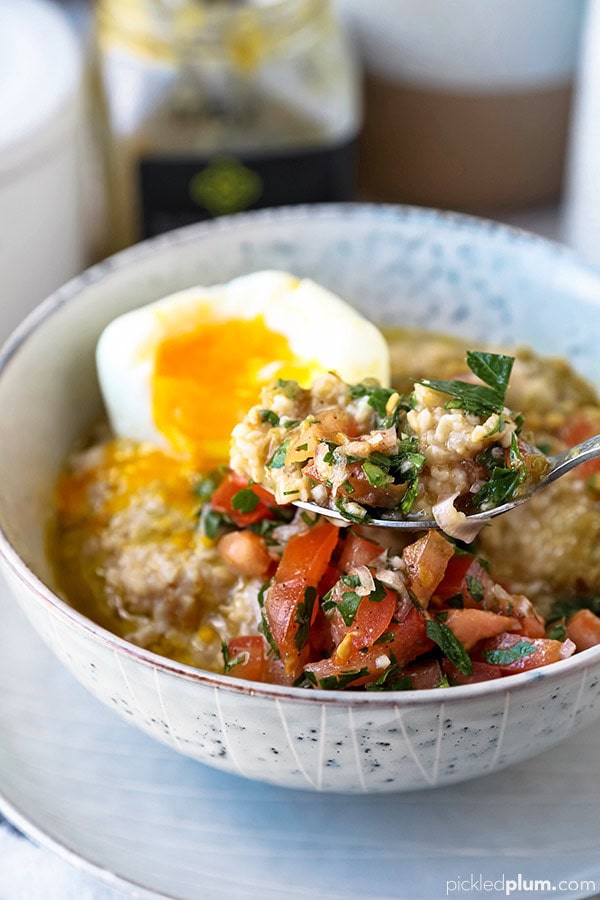 Are there health benefits to eating oatmeal?
You bet! Oats are one of the healthiest grains out there!
Eating oatmeal has been proven to take a swipe at LDL cholesterol (that's the bad cholesterol). In fact, regular eaters of oats see an average drop of 7% in their LDL.
Oats are naturally gluten free and loaded with vitamins.
But did you know that oats are also loaded with antioxidants, polyphenols – and known to lower blood sugar levels?
It's not very often that a breakfast food is loaded with fiber, iron, protein, manganese, zinc and vitamin B1 – all while keeping the calories in check.
Yep – oatmeal is super good for you.
However, oatmeal can get a bad rap from a health perspective when it's loaded with sugar, butter or other things that negate a healthy diet.
And sometimes those are delicious additions that are worth it. All in moderation, right?!
But if you use heart healthy ingredients from time to time, like what we've got going in this harissa spiced Moroccan oatmeal recipe, you'll be getting an awesome dose of healthy AND yummy all in the same bite!
It's going to be a good Sunday morning!
In the past, the inspiration for most of my simple oatmeal recipe ideas hinged predominantly on immediate hunger and proximity to oatmeal.
Hey, necessity can be a great motivator!
And while some of them turned out fairly well, this is the first oatmeal recipe (aside from cookies) that I've felt compelled to share with you, friends.
I hope that this harissa spiced Moroccan oatmeal recipe can become a part of your weekend ritual.
And whether you take Saturdays and Sundays off – or your schedule affords you some free time on Tuesday and Wednesday, it's all good.
Your weekend is when you take it!
And even if only for a morning per week, set your out-of-office email auto reply, turn up your favorite Spotify mix and take some you-time!
Making and devouring this harissa spiced oatmeal recipe totally counts as you-time btw!
What's a taste that reminds you of free time and relaxation? I'd love to hear all about it in the comments!
Other simple, delicious breakfast / brunch recipes: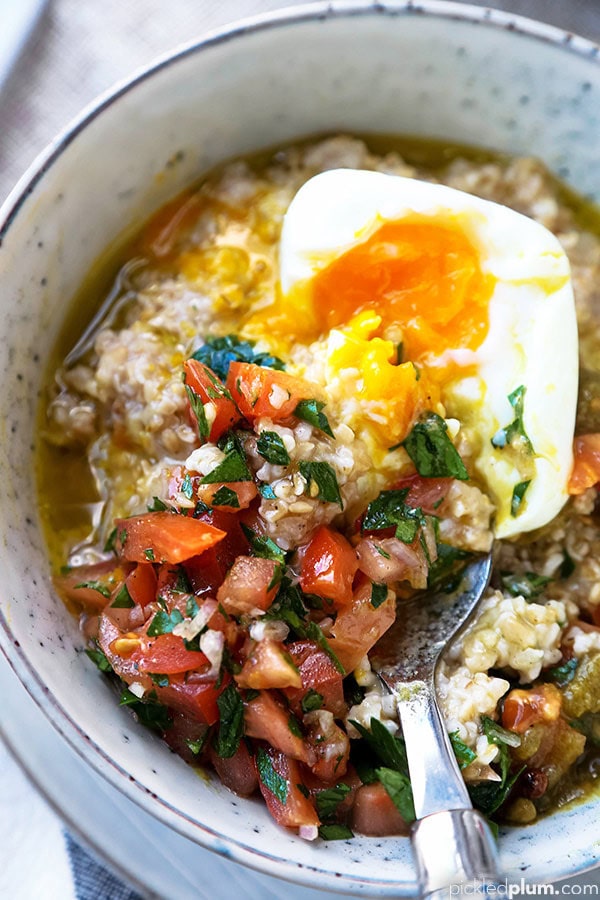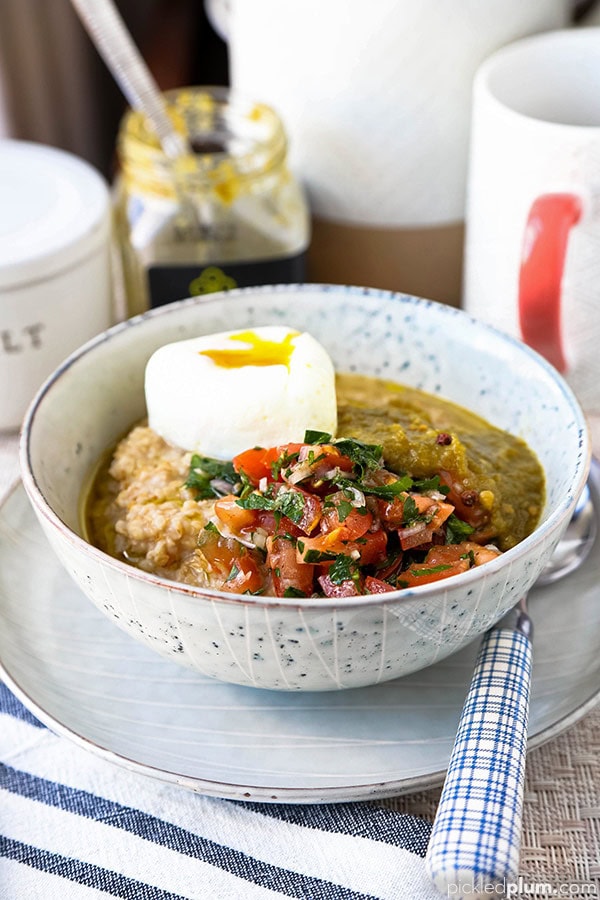 Did you like this Harissa Spiced Moroccan Oatmeal Recipe? Are there changes you made that you would like to share? Share your tips and recommendations in the comments section below!
Print
Harissa Spiced Moroccan Oatmeal Recipe
Savory oatmeal, Moroccan style.
Author: Caroline Phelps
Prep Time:

5 minutes

Cook Time:

10 minutes

Total Time:

15 minutes

Yield:

2

people

1

x
Category:

Breakfast

Method:

Stove top

Cuisine:

Moroccan
1 cup

steel cut oats (you can also use instant oatmeal or hot cereal)

1/4 teaspoon

kosher salt

2

large eggs (poached)

2

–

4

tablespoons green or red harissa (or more )
Tomato and parsley salsa:
1/2 cup

flat leaf parsley (finely chopped)

1

small clove garlic (grated)

1

medium tomato (diced)

2 tablespoons

extra virgin olive oil

1/4 teaspoon

kosher salt

1/8 teaspoon

ground black pepper
Instructions
Put all the ingredients for the tomato and parsley salsa in a bowl and mix well. Set aside.
In a small pot, add 3 cups water and salt and bring to a boil. These measurements are for steel cut oatmeal. Please refer to the measurements on the package for other types of oatmeal or hot cereal.
Divide oatmeal between two bowls and top with tomato and parsley salsa, harissa and poached eggs. Serve immediately.
Nutrition
Serving Size:
Calories:

373

Sugar:

4.1 g

Sodium:

797.6 mg

Fat:

19.2 g

Saturated Fat:

4.1 g

Carbohydrates:

34.3 g

Fiber:

5.2 g

Protein:

12.8 g

Cholesterol:

186 mg
Keywords: recipe, brunch, healthy
Recipe Card powered by