When it comes to natto, you either love it or hate it. These fermented soybeans are known for their stinky smell, almost as famous as the durian fruit. I personally love it so today I'm sharing with you tips on how to make natto taste delicious.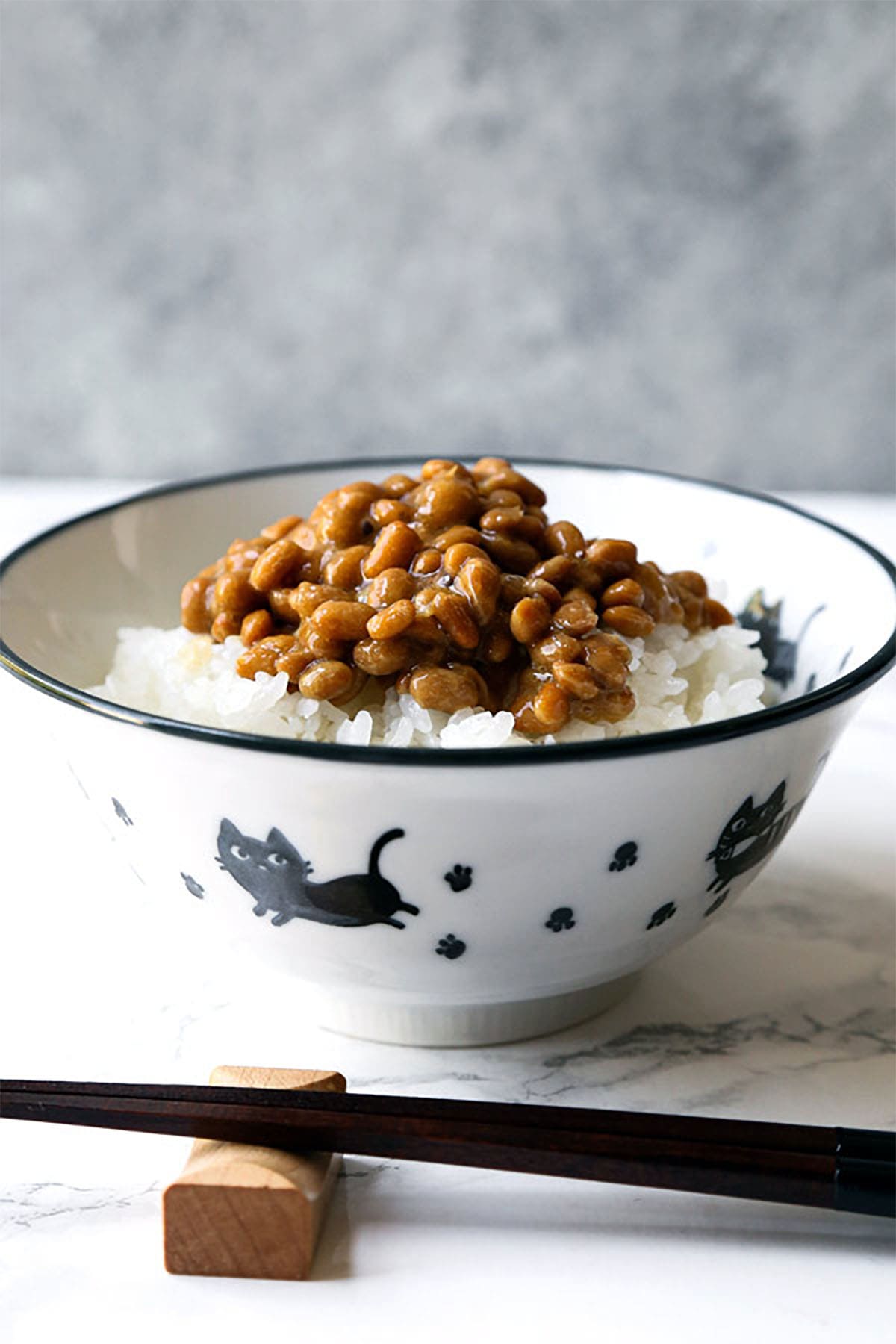 The first time I tried natto was in Tokyo in my early 20s. I was having breakfast with my boyfriend at a family restaurant and had ordered the traditional Japanese breakfast. The meal consisted of salted grilled salmon (shiozake), tsukemono (Japanese pickles), miso soup, raw egg, a bowl of white rice, and a small bowl of natto.
I knew what natto was so I wasn't surprised by it – I was ready to finally try it. I poured the stringy soybeans over the white rice and topped it with the raw egg. I finished with a drizzle of soy sauce and mixed the whole thing with chopsticks. "Here I go" I said to my boyfriend as I dug into my bowl of gooey creamy beans and rice.
To be honest, I expected to hate the taste.
So you can imagine my surprise when I found the flavor to be quite pleasant. Okay, it took me a minute to get used to the taste but there was something inherently addicting to this natto thing. I came back the next day and the day after that, specifically because I was craving the taste of natto. And that's how I became obsessed with these stinky soybeans.
Nowadays I always have a few packets of natto sitting in my freezers since both Ben and I love to eat it over rice.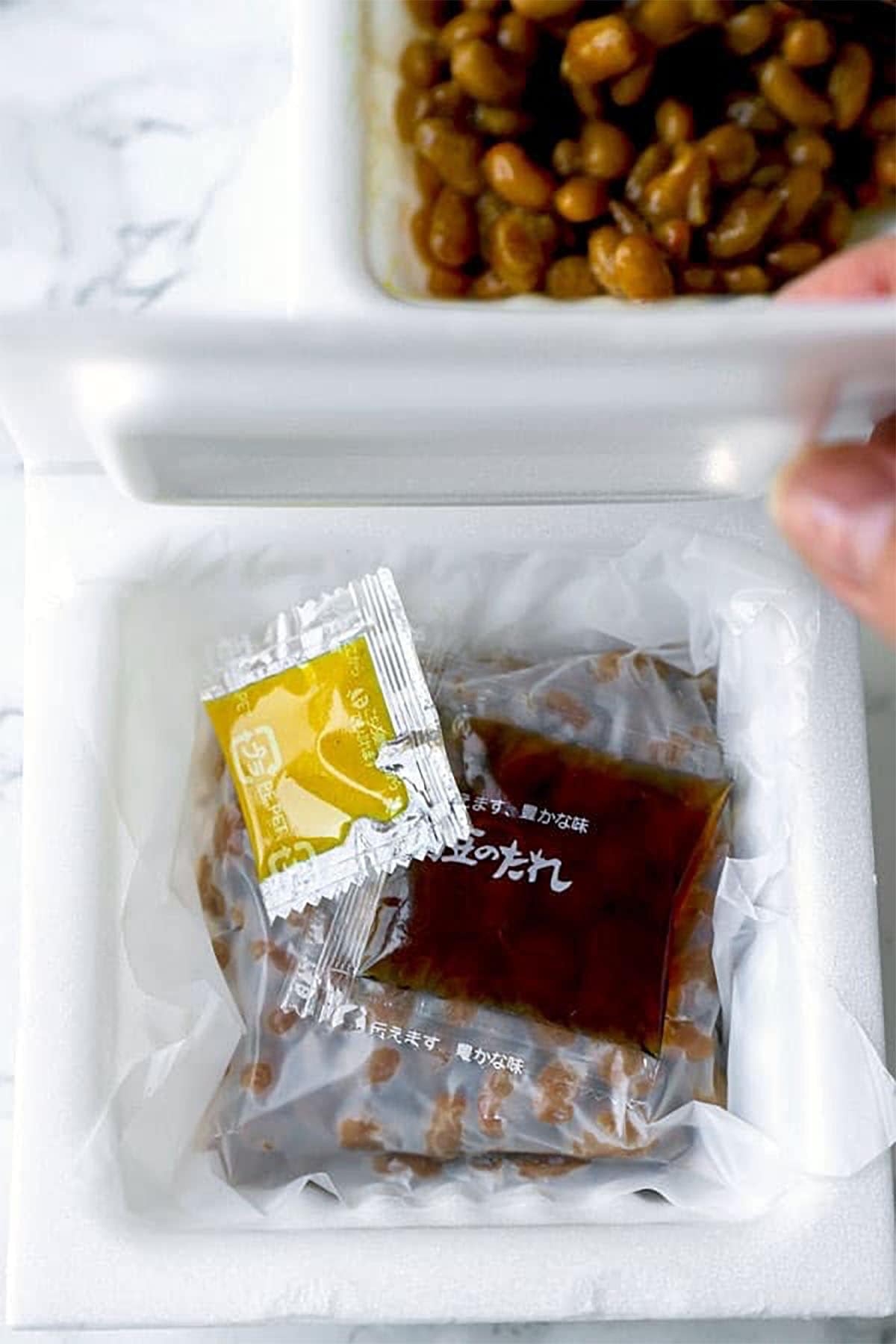 What is Natto?
Natto, or nattō (納豆), is a popular Japanese dish made of soybeans that have been fermented with bacillus subtilis bacteria over a certain period of time (usually between 24 to 36 hours). It's often served as a breakfast food in Japan and has a very distinctive flavor and texture – stinky and slimy. It's usually sold in individual portions, packaged in styrofoam that also include a tare sauce and yellow mustard.
Why is it Slimy?
The reason why natto is so slimy is because of the fermenting process that creates a sticky and stringy texture on the surface of the soybeans. The longer it ferments and the slimier and stinkier it gets.
Types of Natto
There are many different types of natto but the most popular ones come in four sizes: extra small, small, medium, and large.
The extra small (gokuko tsubu) small (kotsubu) sizes are the most popular because they are easy to easy and the size and texture pair really well with rice.
Medium (nakatsubu) and large (Otsubu) natto beans are more pungent, creamy, and chewy. Because of that they are often used in soups or mixed where they are mixed with other ingredients. But they can also be eaten on their own if you are a natto fanatic!
Hikiwari, which are crushed natto beans, are most often used for maki rolls.
What Does Natto Taste Like?
Natto's taste is extremely pungent and unique. Nothing else on this planet tastes quite like natto, you just have to try it to find out. But to give you an idea, natto lovers (including myself) would compare the taste to aged cheese, foie gras, or Marmite. It's a major umami bomb.
And if you are wondering what it smells like, think of old socks or old cheese. The smell is truly the only downside to this wonderful and weird food.
Where to Buy Natto
You can buy packs of natto in Japanese supermarkets and Asian grocery stores. In New York for example you can find it at Sunrise Mart and places like Hong Kong supermarket in Chinatown.
In L.A., Japanese stores like Nijiya, Marukai, and Mitsuwa, carry many different brands of natto.
You can find natto in the freezer section or refrigerated next to tofu.
Best Natto Brands
There are a lot of brands to choose from, different flavors (wasabi, kimchi, pickled plum) and even types of beans. Some are broken up to be used in maki rolls while others are whole. While it's fun to try a new brand or flavor once in a while, I do have a couple of favorites I keep going back to:
Okame Kotsubu Mini – this brand is famous all across Japan. The brand is easy to recognize because of the traditional Japanese okame face mask found on the red packaging. What you get are whole natto soybeans with the traditional combination of tare and yellow mustard.
Shirakiku "Kotsubu" Natto – again this brand offers the traditional tare and mustard flavor with whole beans.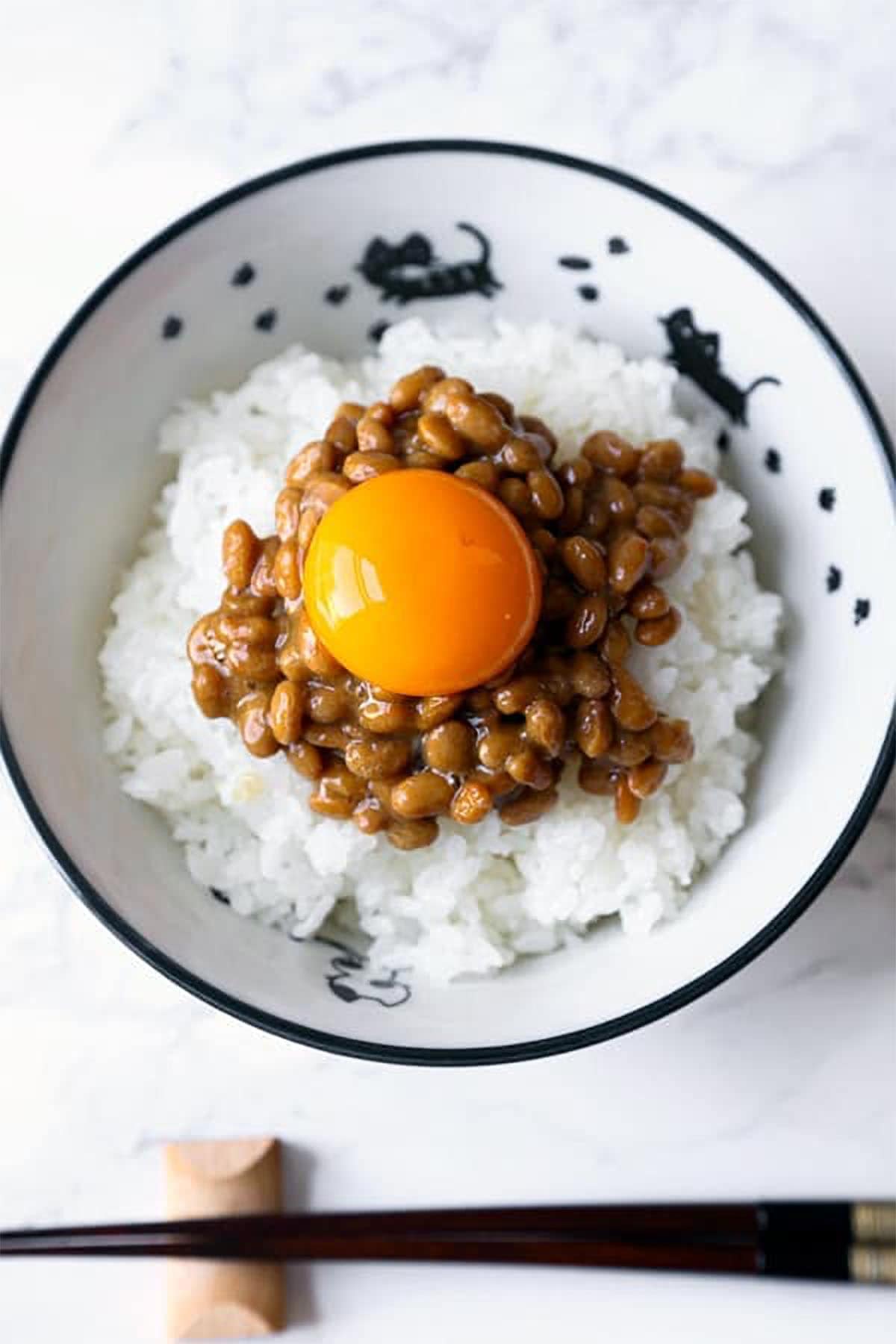 How to Eat Natto
There are so many different ways to eat natto that to list them all would require me to start a blog just for that. Especially nowadays since you can find anything from natto ice cream, candy, pasta, even pizza! So I've decided to only list the most popular ways to eat natto along with one of my favorite natto recipes.
Natto Over Rice with Scallions: Serving natto over warm Japanese rice (check out our guide to making perfect Japanese rice every time) with chopped scallions is the most traditional way to do it. Ben and I eat it this way often with a drizzle of soy sauce and a sprinkle of Ajinomoto.
Natto Over Rice with Raw Egg: This is almost the same as the traditional version except with a raw egg on top. I love this style because the egg tones down the flavor of the nato and adds creaminess to the dish. Eating natto this way feels decadent!
How to Make Natto
Making natto at home is another option if you cannot find it at your local Asian grocery store.
Natto starter kits can be bought on sites such as Cultures For Health and come with natto spores and a special measuring spoon. You will have to purchase the soybeans separately.
I have never attempted to make my own but if you decide to give it a try, make sure to leave a comment below to let me know how it turned out!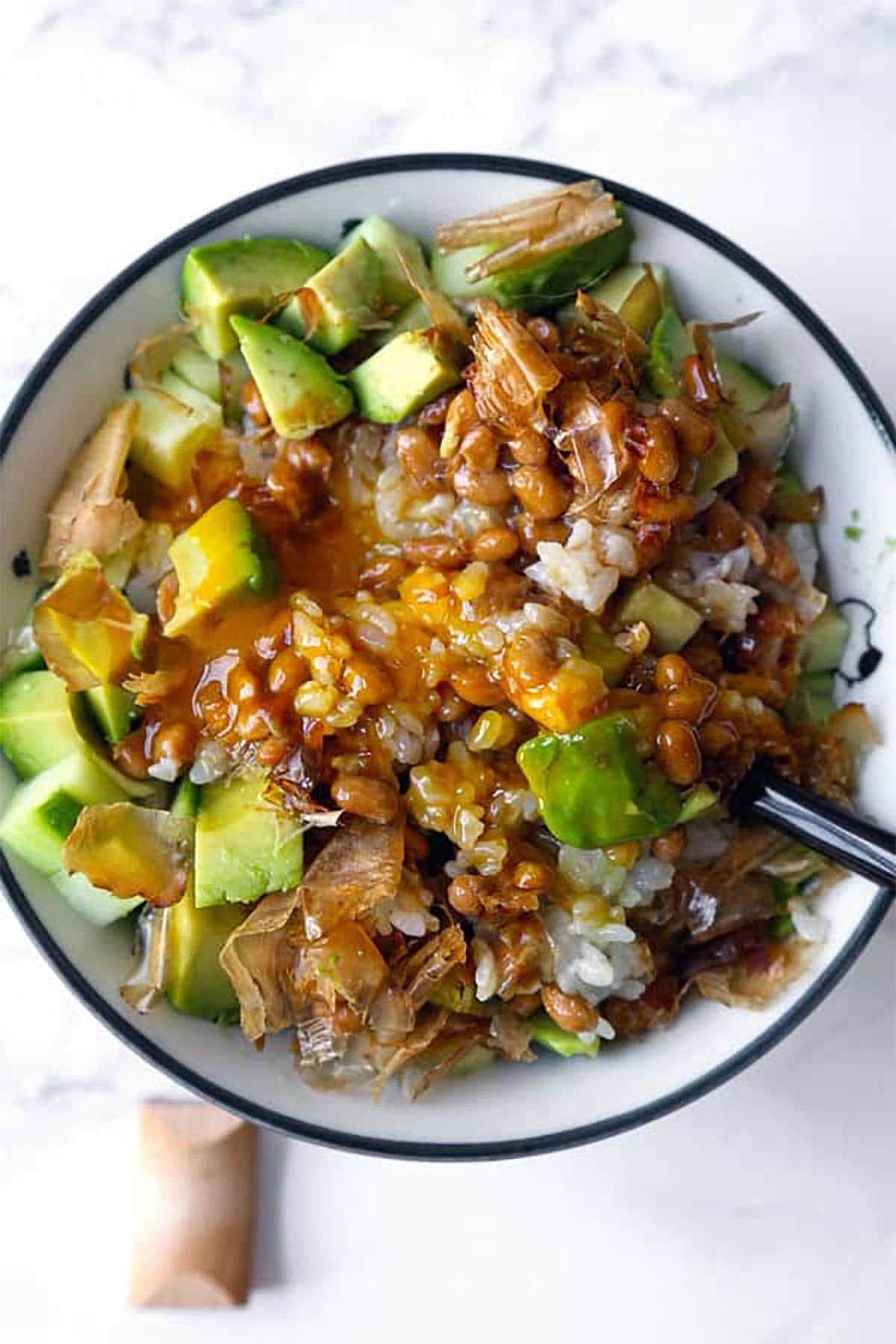 My Favorite Natto Recipe
This is my favorite way to eat natto when I have it for lunch or dinner. It's filling and super tasty.
The full recipe is available at the bottom of this post in the recipe card. It's very easy and only takes about 10 minutes to make. You will need warm Japanese rice, diced cucumber, chopped avocado, and chopped green onions, to mix with the natto. A drizzle of soy sauce and some bonito flakes are added in the end to complete the meal (and a raw egg too if you want it extra creamy, but that's optional).
The result is a bowl of natto rice that's packed with savory, pungent, and umami flavors, with a light and creamy texture.
It's so good and very filling!
Natto on Toast
This is another popular way Japanese people enjoy eating nattō. Since it's considered a breakfast food, it only makes sense that it would eventually make its way onto a piece of toast.
You can have toast with butter and natto, paired with mayonnaise, or topped with cheese (all of which are very popular combinations).
Other ways to eat natto:
As a topping with silken tofu and shredded nori.
With kimchi over rice.
In Miso Soup – yup, you can add it in your soup!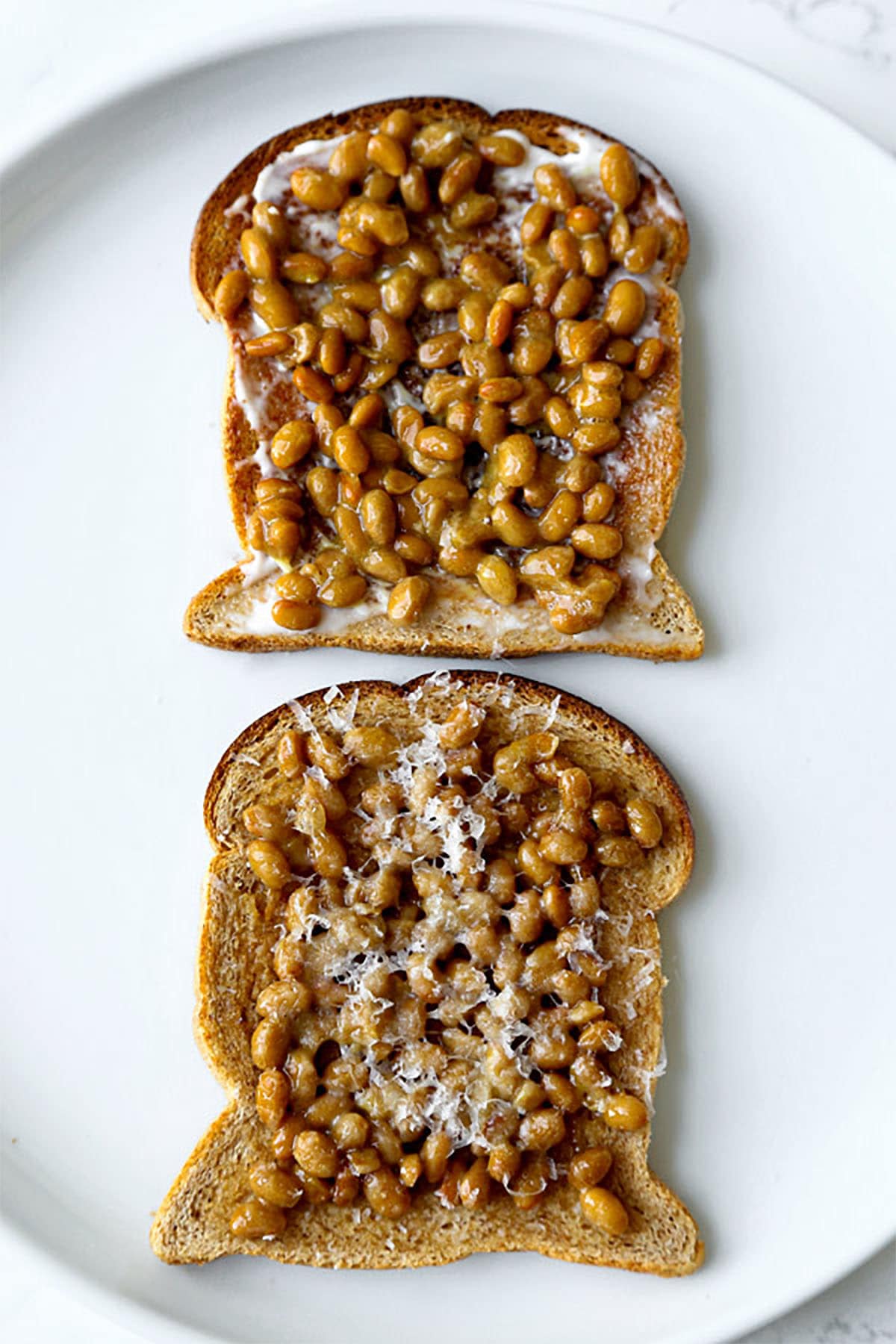 Can You Eat Natto Everyday?
Yes you can and there are many reason why you should!
Natto is considered to be a Japanese superfood because of its several health benefits. Natto is rich in probiotics because of its fermenation process, and therefore is very good for gut health because of its high content of beneficial bacteria. It's also good for digestion since it's high in dietary fiber, promoting regular bowel movements.
Natto is rich in calcium and vitamin K2, two nutrients excellent for bone health as they help slow down bone mineral density related to aging. These soybeans contain nattokinase, which are enzymes that help prevent and dissolve blood clotting and lower blood pressure.
What to Eat with Natto
Natto can be served as part of a meal or as a snack.
If you want to try your hands at making a full traditional Japanese breakfast, try pairing it with some of these yummy dishes:
Did you like this natto rice bowl recipe? Are there changes you made that you would like to share? Share your tips and recommendations in the comments section below!
Print
Natto Rice Bowl
A delicious natto rice bowl filled with savory and umami packed flavors.
Author: Caroline Phelps
Prep Time:

10 minutes

Cook Time:

N/A

Total Time:

10 minutes

Yield:

1

bowl

1

x
Category:

Rice

Cuisine:

Japanese
1

package natto

1/2

cup

warm, cooked Japanese rice (preferably short grain)

1/2

avocado, chopped

1/2

cup

English cucumber, seeded and diced

1

scallion, finely chopped
Raw egg (optional)
Soy sauce for drizzling
Instructions
Place the rice in a bowl and top with the remaining ingredients. Serve immediately
Notes
If you bought natto frozen, leave it in the refrigerator overnight and it will be ready to eat the next day. Do not microwave!
Nutrition
Serving Size:

1 bowl

Calories:

328

Sugar:

2.8g

Sodium:

157.2mg

Fat:

15g

Saturated Fat:

2.1g

Unsaturated Fat:

3.7g

Trans Fat:

0g

Carbohydrates:

38.7g

Fiber:

7g

Protein:

12.7g

Cholesterol:

3.2mg
Keywords: fermented beans, soybeans
Recipe Card powered by