This yummy smoked salmon omelette with white sauce is a classic French recipe I grew up eating. And don't be fooled by its luxurious looks – it only takes 15 minutes to make and is also kid friendly!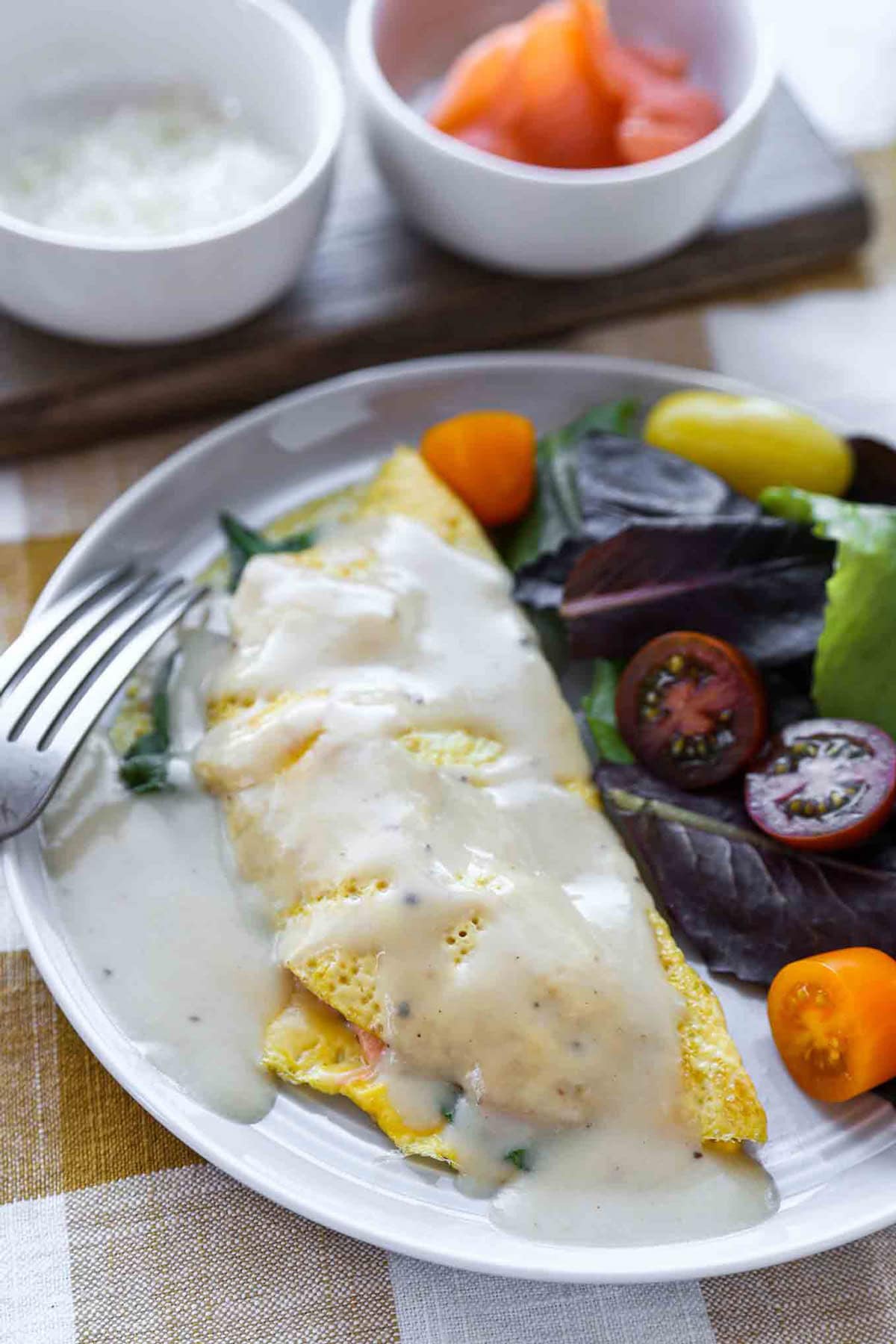 Meet the omelette of my childhood and one I still make regularly on Saturday mornings.
Most of you know me as the food blogger who shares Japanese recipes, but did you know that I grew up eating as much French food as I did Japanese?
While my mother was the queen of dainty and colorful Japanese dishes, my father was the king of copious French breakfasts.
Every Saturday, my dad would take over in the kitchen and make a big plate of crêpes au sarrasin (buckwheat crepes) topped with molasses, a side of fried bacon, and individual omelette du jour (omelet of the day), as he liked to call it. He had the best sense of humor and always knew how to snap me out of my cranky mood, which was pretty much all the time.
My brother and I would take turns in choosing the fillings of the omelette – he would always pick sausages and potatoes, with a side of caesar salad (I got so sick of eating caesar salads that I didn't touch it after leaving home for almost two decades!), and I, most of the time, went for smoked salmon and gruyère avec de la sauce béchamel, s'il vous plaît!
I wasn't only cranky all the time, I was also kind of bossy.
White Sauce
My omelette was always hidden under a blanket of white sauce because every bite had to have the perfect amount of sauce with it – 50% food, 50% sauce. This could not be negotiated and luckily for me, I had the best and coolest parents who didn't care how I ate my food. As long as I enjoyed it, they were happy.
Fast forward almost 40 years and while I may no longer be constantly cranky, I still like my smoked salmon omelette with plenty of white sauce. This dish has it all – it's creamy, salty, eggy, slightly nutty and sweet. It's comforting, satisfying, and absolutely delicious!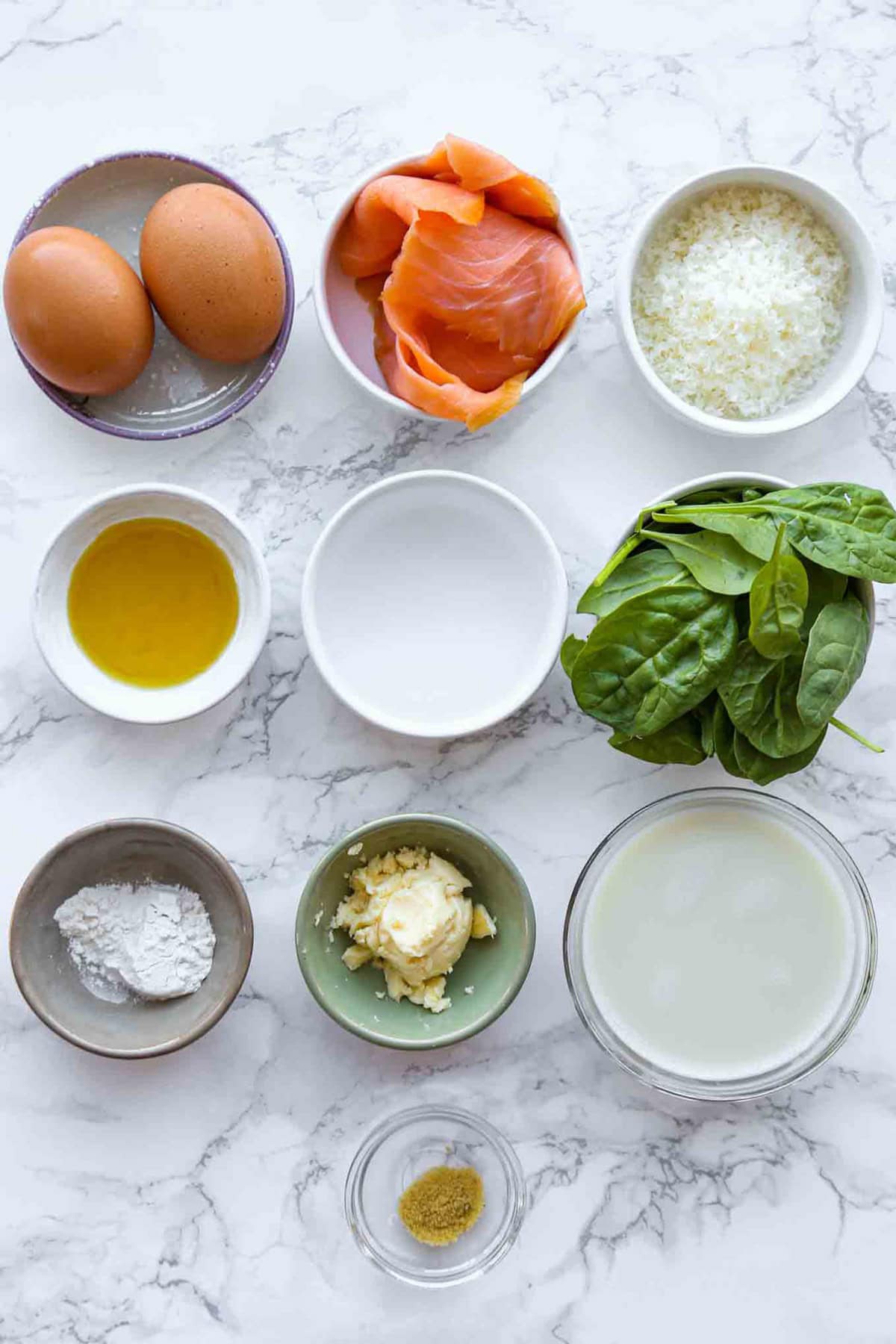 Ingredients for Smoked Salmon Omelette
Olive oil: It's important to coat the pan evenly with oil so the omelette doesn't stick to it. I'm using olive oil but you can use a neutral oil such as vegetable or grapeseed oil as well.
Eggs: 2 large eggs, whisked, preferably pasture raised as they taste so much better! I get mine at Whole Foods.
Water: Adding a little water to a whisked eggs makes the omelette lighter and fluffier.
Smoked salmon: I highly, very highly recommend buying Changing Seas cold smoked salmon, it's one of the best lox I've ever tasted! Each piece is tender, moist, salty, and tastes very clean. I get mine at Whole Foods.
Baby spinach: Spinach and smoked salmon are a classic French combination. I'm using baby spinach but you can use regular spinach too, just make sure it's chopped into bite size piece.
Cheese: My favorite cheese for this recipe is a good gruyère such as Emmi Kaltbach, but a high quality parmesan cheese is also very delicious.
Salt and pepper: To season according to your liking.
Kitchen Tools Needed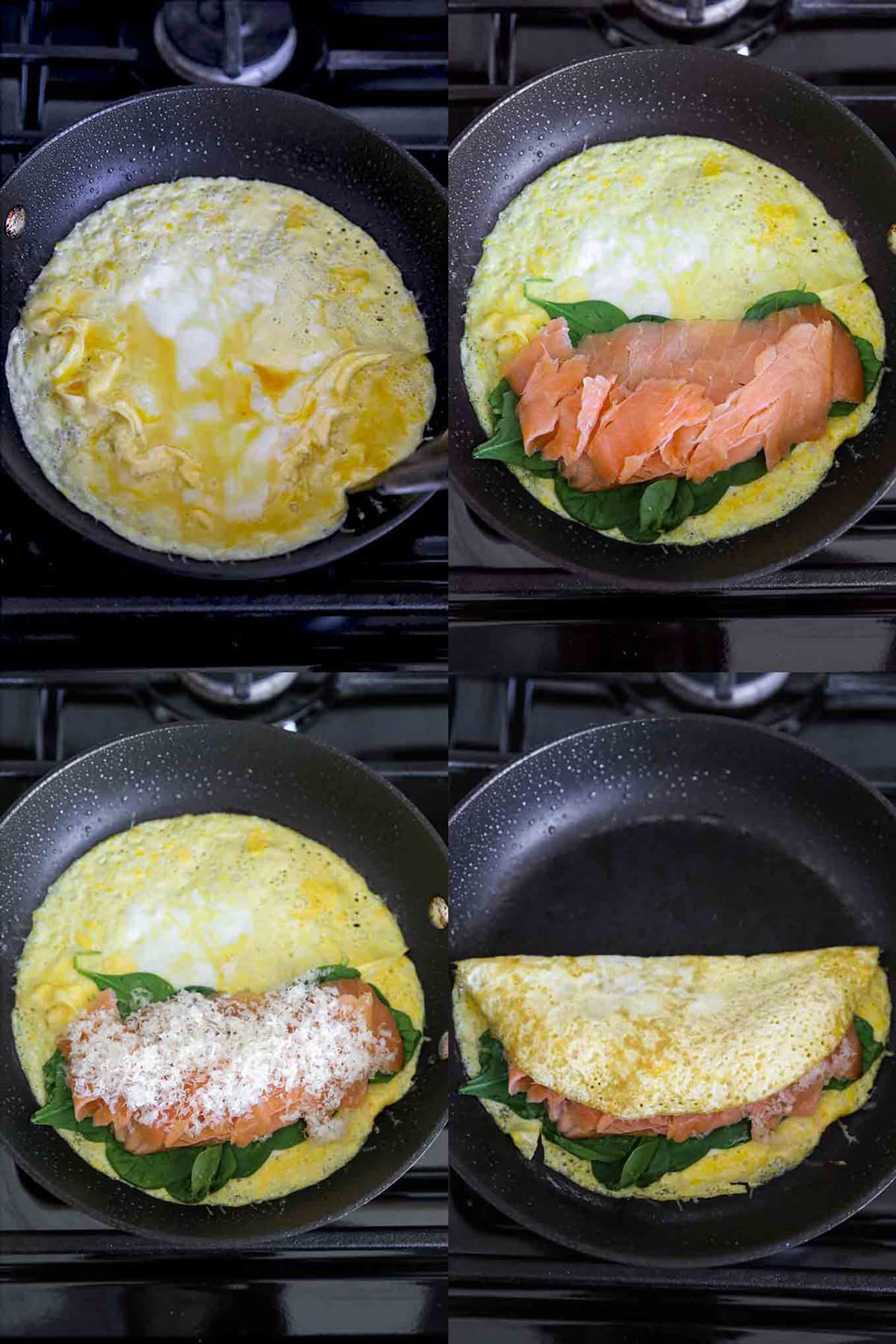 How to Make an Omelette
Gather all of your ingredients for this recipe.
In a small bowl, whisk one egg and 2 tablespoons of water.
Heat 1 tablespoon of olive oil in a small pan over medium heat and swirl it around to cover the surface.
When the pan is hot, add the whisked egg and tilt the pan to cover the surface.
Cook for about 1 minute. When the omelette is almost fully cooked, add the baby spinach to one side of omelette until half of the omelette is covered.
Place the smoked salmon on top of the spinach and about 1 tablespoon of grated cheese over the smoked salmon.
Using a spatula, carefully fold the side of the omelette that's empty over the side with the toppings.
Turn the heat off and slide the omelette on to a plate. Serve with white sauce.
Filling Options
If you don't like smoked salmon or would like to offer a variety of fillings (omelette bar style) that pair well with a white sauce, here are my recommendations:
Chopped button mushrooms
Chopped leeks
Asparagus
Roasted seasoned potatoes
Zucchini
Sliced tomatoes
What is White Sauce?
White sauce, also known as béchamel sauce or besciamella, is a simple French sauce made of equal parts butter and flour, milk, and sometimes other seasonings such as nutmeg, salt, and herbs. It's often used in lasagnas and moussakas and can be cooked with cheese to make mornay sauce.
Ingredients for White Sauce
Butter: Salted butter, preferably. For dairy-free options, use plant-based butter such as Earth Balance of Miyokos.
Flour: You will need all-purpose flour to mix with the butter to create the base of the sauce, which is called a roux. The roux is what thickens the sauce and gives it a light golden color.
Milk: Regular, low fat, fat-free – they all work well for this recipe. For dairy-free, use unsweetened oat milk.
Stock granules: I like to sprinkle about 1/8th of a teaspoon of chicken granules to give the sauce a bit more depth of flavor, but this ingredient is optional.
Salt and Pepper: To season according to your liking.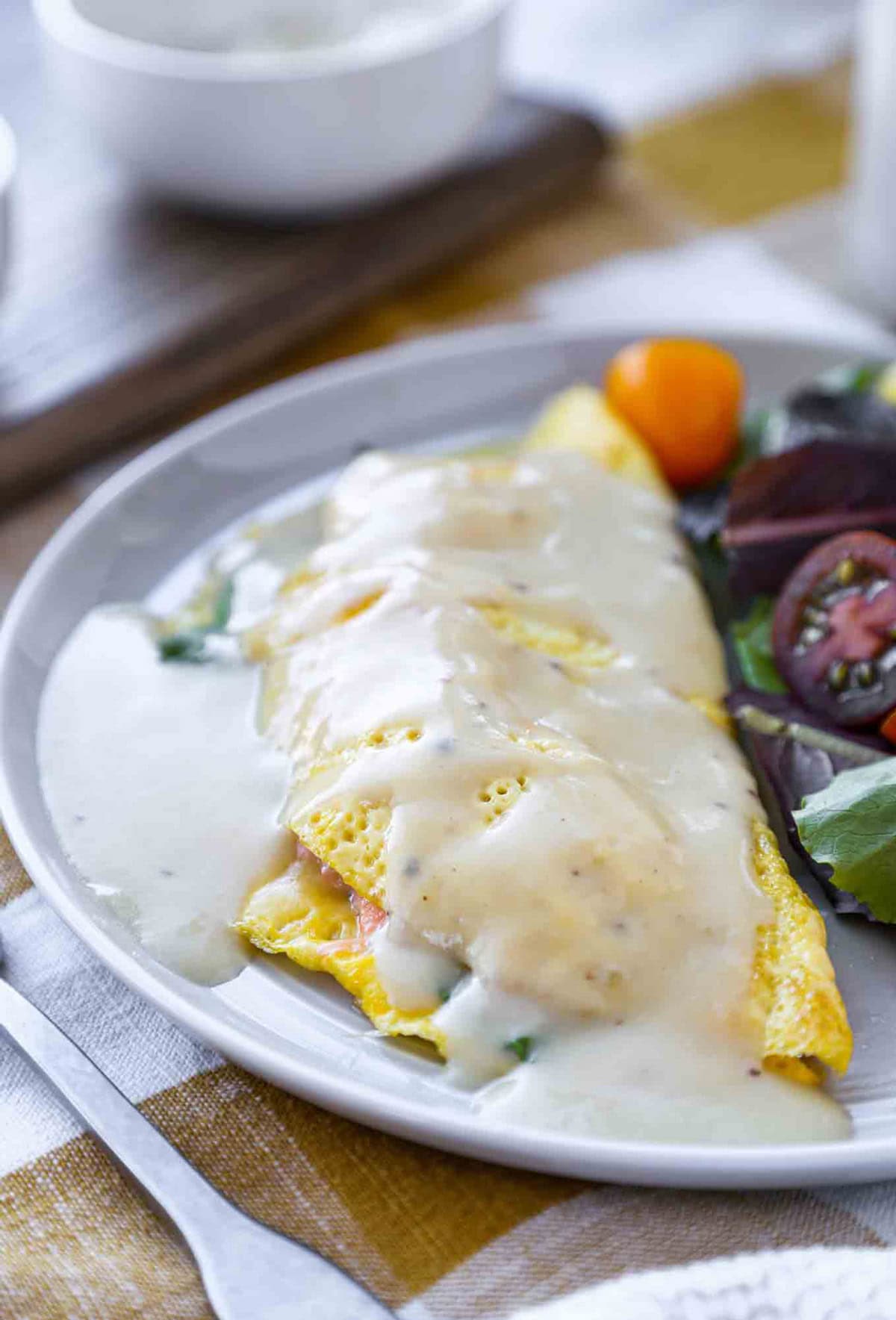 How to Make White Sauce
Gather all of your ingredients for the sauce.
Place a small sauce pan over medium heat and add the butter.
When the butter has melted, stir in the flour and stock granules and keep stirring for 1 minute.
Slowly add the milk while stirring and bring to a boil. Turn the heat down to low and stir until the sauce thickens. Serve.
What to Serve with this Omelette
This omelette can be served for breakfast, lunch, brunch, or dinner. Therefore it's safe to say that there are many different ways to pair this classic egg dish. Here are some of my favorites: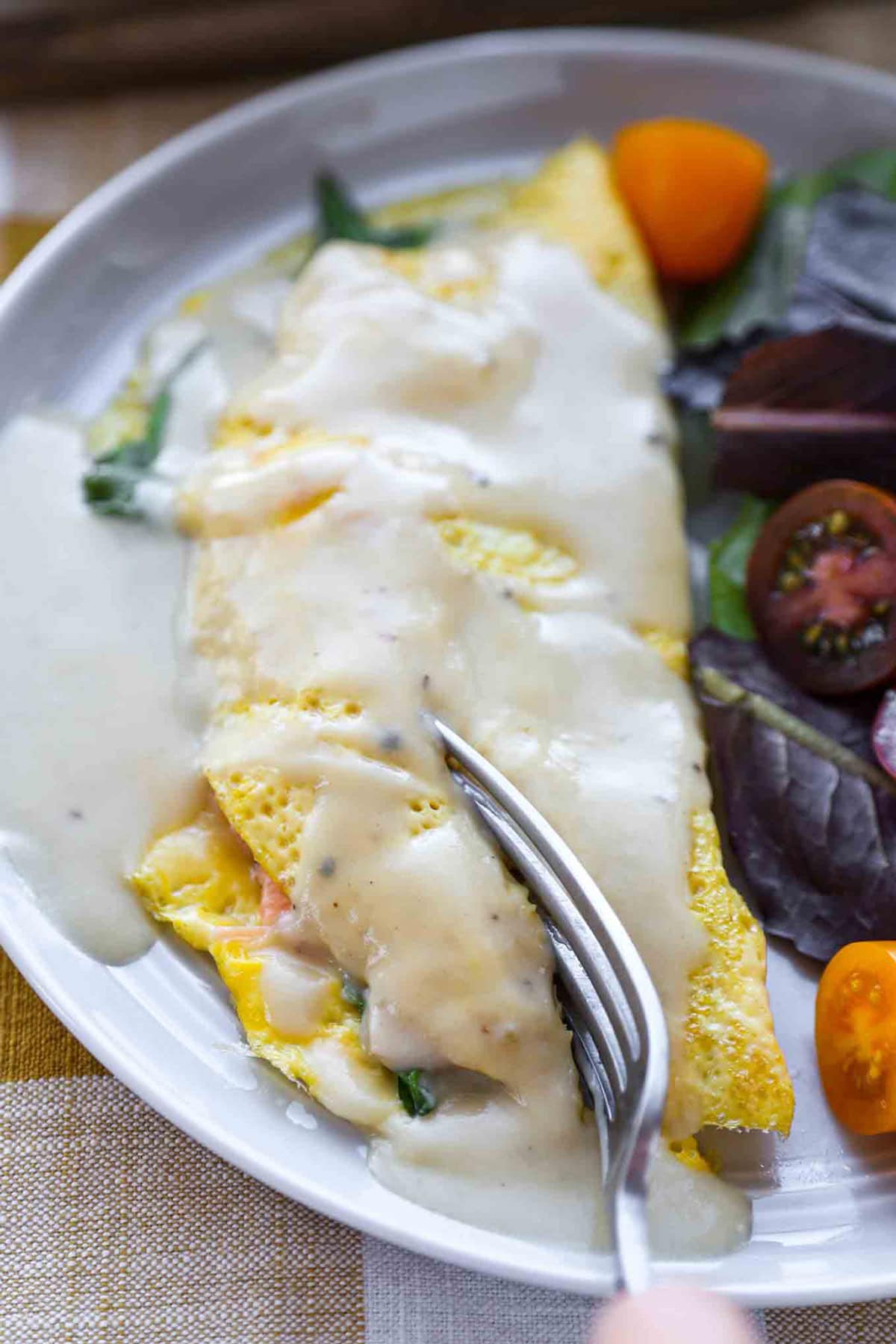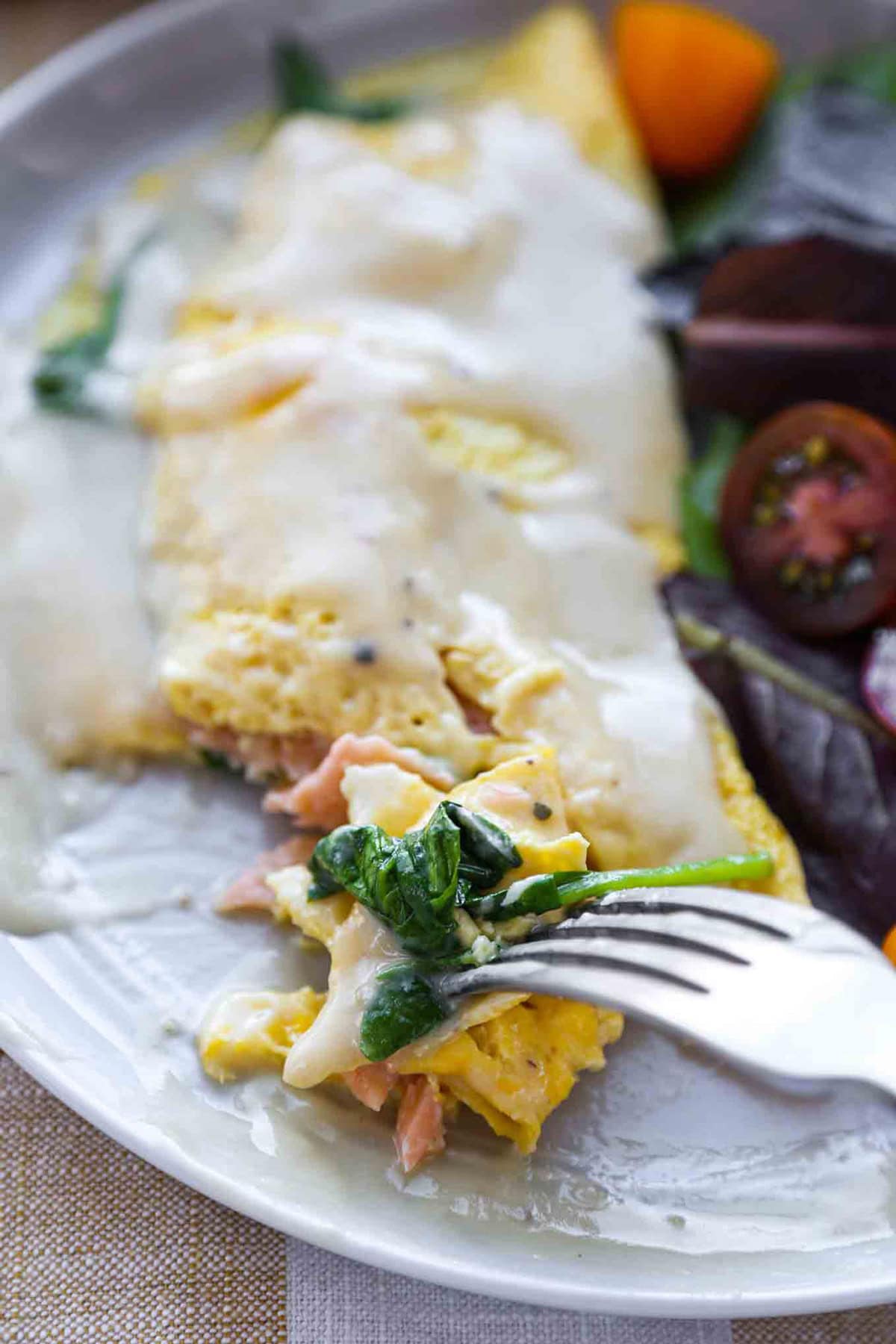 Did you like this Smoked Salmon Omelette with White Sauce Recipe? Are there changes you made that you would like to share?
Print
Smoked Salmon Omelette with White Sauce
This is an easy and simple smoked salmon omelette recipe that's ready in just 15 minutes, from start to finish.
Author: Caroline Phelps
Prep Time:

7 minutes

Cook Time:

8 minutes

Total Time:

15 minutes

Yield:

2

1

x
Category:

Breakfast

Method:

Pan frying

Cuisine:

French
2 tablespoon

extra virgin olive oil

2

large eggs

4 tablespoons

water

2.5

ounces

smoked salmon

1/2

cup

baby spinach, chopped
Gruyere cheese, aged gouda, cheddar, or parmesan cheese
Salt and pepper, to taste
White sauce:
1 tablespoon

salted butter or plant-based butter

1 tablespoon

all-purpose flour

3/4

cup

milk or unsweetened oat milk
Pinch of chicken stock granules (optional)
Salt and pepper, to taste
Instructions
Start by making the white sauce. Melt the butter in a small sauce pan over medium heat. Add the flour and a pinch of stock granule, and stir until the mixture turns into a paste. Keep stirring for 1 minute.
Slowly add the milk while stirring and bring the sauce to a boil. Lower the heat to a bubbling simmer and keep stirring for 5 minutes. Turn the heat off and set aside.
You can make one omelette at a time or use two pans to simultaneously make both. Turn the heat to medium and add 1 tablespoon olive oil to a small pan.
Break 1 egg and whisk it with 2 tablespoons water. When the oil is hot, add the whisked egg to the pan and swirl to cover its entire flat surface.
When the egg is almost fully cooked, add half of the spinach to one side of the omelette – the one that's closest to you. Place one slice of smoked salmon on top of the spinach and grate a little cheese on top of the smoked salmon.
Using a spatula, fold the bare side of the omelette over the cheese and other ingredients.
Turn the heat off and transfer to a plate. Scoop a little white sauce and pour it over the omelette. Season with salt and pepper, if needed, and serve immediately.
Notes
Other fillings that pair well with this omelette and white sauce:
Chopped button mushrooms
Chopped leeks
Asparagus
Roasted seasoned potatoes
Zucchini
Sliced tomatoes
Nutrition
Serving Size:

1 omelet

Calories:

426

Sugar:

4.9g

Sodium:

221.6mg

Fat:

30.1g

Saturated Fat:

9g

Unsaturated Fat:

4g

Trans Fat:

0g

Carbohydrates:

6.8g

Fiber:

0.2g

Protein:

33.3g

Cholesterol:

261.7mg
Recipe Card powered by