Savory and slightly spicy, these salt and pepper dusted spuds make The Best Air Fryer French Fries ever! This simple air fryer recipe delivers the full flavor you want when eating fries – all while using a tiny bit of oil. Delicious and ready in 20 minutes!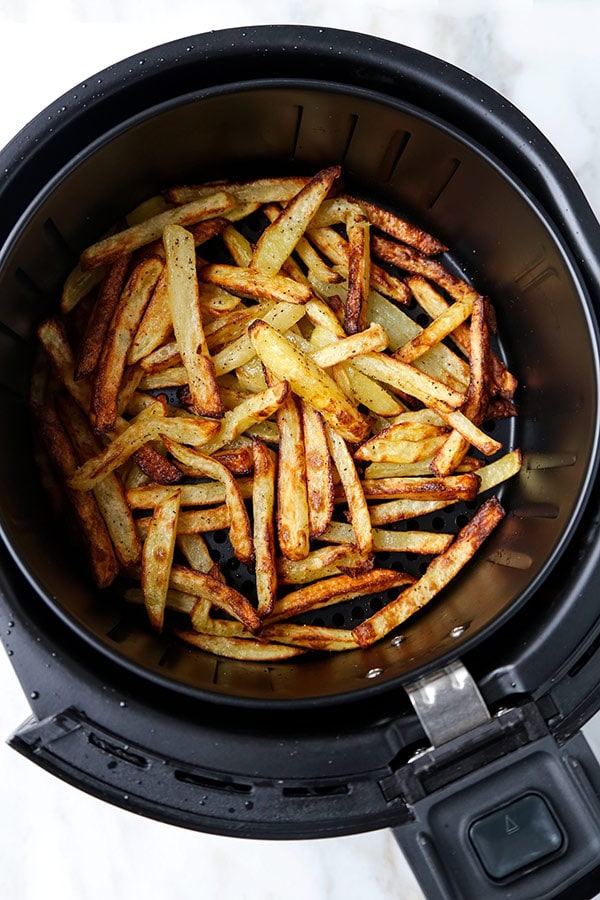 The Best Air Fryer French Fries
It's no secret that I like my fries!
In fact, you might call me a bit of a French fry enthusiast.
You see, I'm half French Canadian. Growing up in Quebec means that I've probably eaten more portions of cheese curd topped and gravy saturated poutine than remotely reasonable in one lifetime.
And I don't discriminate!
Skinny, salty fast food fries are delicious too. One of my favorite parts of any road trip is pulling into a drive through and grabbing a couple orders of road-fries.
Heck, it wouldn't be much of a voyage if I didn't find myself trying to blot the remnants of a leaky ketchup packet off a rental car passenger seat at some point, right?!
French fries are just worth the elbow grease.
So, when a box arrived last week, containing a device many said would deliver out-of-this-world fries – minus a ton of fat, I opened the taped sides of that box like a kid getting an XBOX on Christmas morning.
A glossy black air fryer stared back at me from inside the box. I immediately put it to work.
Later that afternoon, Ben and I were devouring salt and pepper air fryer French fries like we were entrants in an eating competition.
Were they good?
OMG, YES!!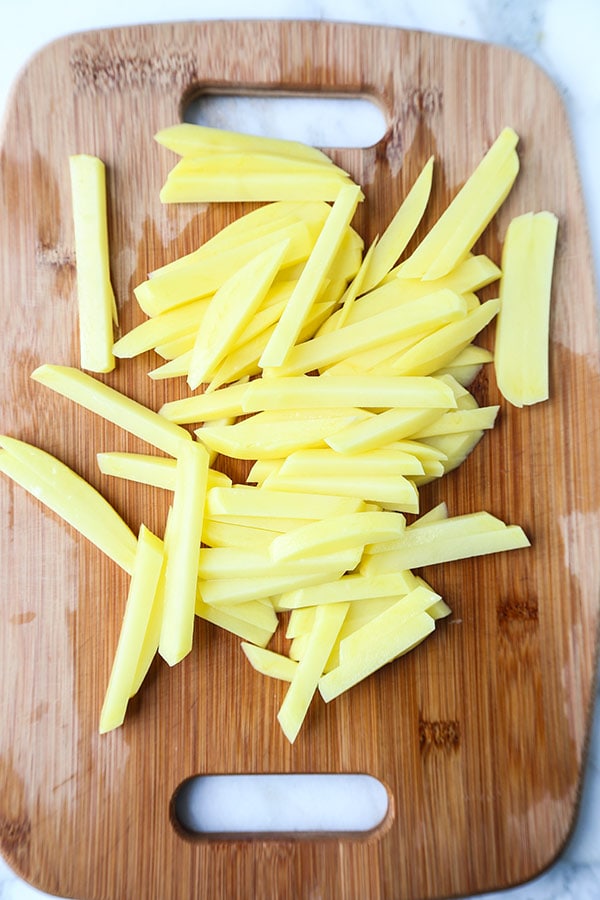 Salt and Pepper French fries
With this easy recipe, there's no need to go deep diving into your spice cabinet to create an obscure and exotic spice blend.
Those salt and pepper shakers are all you'll need today!
There's an outsized deliciousness that occurs when the slightly sweet and caramelized air fryer French fries meet the simple, iconic salt and pepper mix.
For this recipe, I'd recommend using kosher salt. The larger, flatter salt crystals make it easier to salt your fries with your fingertips – and it's less likely you'll oversalt your fries that way.
Salty: good.
Oversalted: not so good 😉
I used normal table pepper on my salt and pepper air fryer french fries, because that's what I had handy.
However, I imagine freshly ground Cambodian peppercorns might just send the whole dish into overdrive!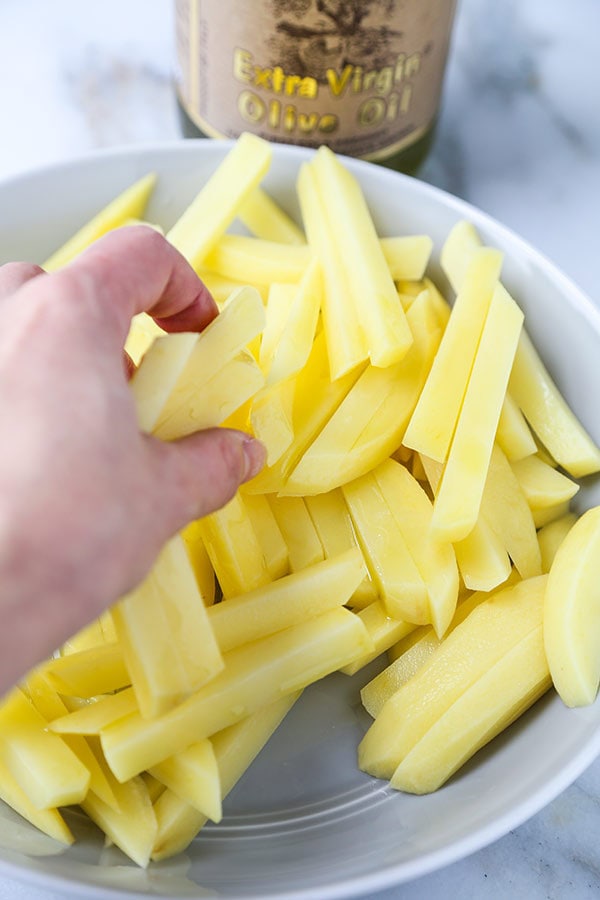 So, How do they taste?
Friends, I'm not prone to hysterics when telling you about food.
I'd hate to put five exclamation points after a sentence about how great something tasted and have the recipe be a *meh* affair.
However… WOW! Dee-lish!
These S&P fries have that textural mix of crunchy, yet pliant perfection in spades.
A slight pop of heat from the black pepper just drives the play of saltiness and understated sweetness from the potatoes up a few more notches.
And those caramelized bits!
Caramelization is all about getting the finer points right. Too much is a burnt mess. And not enough… well, I'm sure everyone has had an experience with a sad paper sleeve of underdone fries. No bueno.
I can safely say that air frying French fries is my new preferred method.
It delivers on the flavor promise that you get when deep frying, but allows you to use so little oil that it's practically guilt free.
Magic!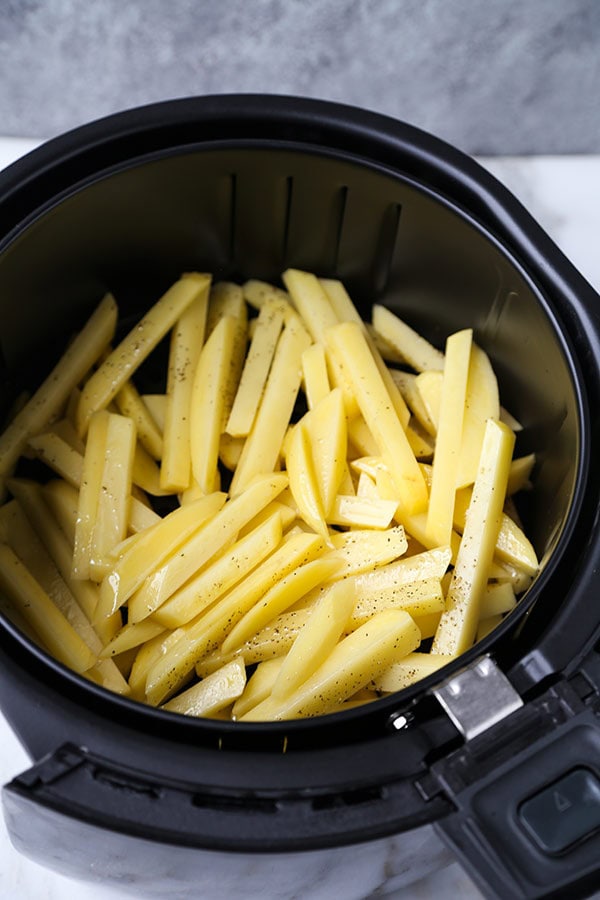 How to make French fries
There are a multiple methods for cooking french fries.
Deep fat frying is the industry standard. You'll get fries that are absolutely delicious but, as the name suggests, full of fat.
I've also oven baked French fries with delicious success.
The air fryer method is kind of a hybrid of the preceding two methods.
But I was floored by how much the air fryer French fries tasted like their deep fried brothers!
No matter which method you're going for, however, following a few easy steps at the beginning will yield delicious French fries every time!
To start, I peeled about a pound of Yukon Gold potatoes. I like to use Yukon Golds because they have a slight sweetness that just plays so nicely against the salt and pepper seasoning.
They also get a nice charred, golden brown color in the air fryer, but don't dry out internally when exposed to high heat.
Russet potatoes will totally work for this recipe as well.
Once peeled, slice your potatoes into ½ inch (or so) sticks.
Then soak your cut potato sticks in cold water for about 10-15 minutes – or longer if you like. This step is said to leech some of the excess starch from your spuds, which prevents the potatoes from sticking together during the cooking process and results in crispier fries.
Pour your water out, blot the potatoes with a paper towel to remove excess water – and that's the extent of your simple French fry prep.
Easy peasy, right!?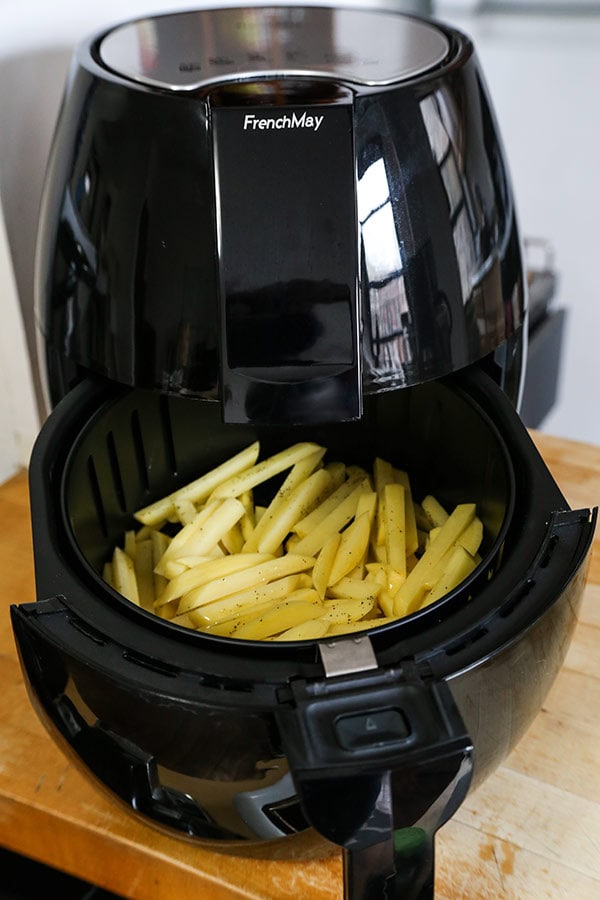 How do I cook French Fries in an air fryer?
This delicious salt and pepper dusted French fries recipe has got to be one of the easiest air fryer recipes of all time!
After peeling, cutting, soaking and draining your potatoes, just toss with a tablespoon of good quality extra virgin olive oil.
Then add a bit of salt and pepper and toss again.
A word of caution: It's best to underdo the seasoning at this step rather than over do it.
You'll get a chance to add more salt and pepper after your fries have cooked in the air fryer.
While it's nice to have the salt and pepper flavor 'cook in' to your fries, if you oversalt at the beginning, then you're stuck with it when it comes time to plate.
Now, stick your fries into the air fryer and cook!
I'm sure every air fryer is different – but I air fried my French fries for about 15 minutes at 360°F.
It's also a pretty good idea to open the air fryer every 5 minutes and shake the fries in the basket so they cook evenly.
CAREFUL! The fries and the machine will be hot!
Once your fries are golden brown, plate them up, add a tiny bit more salt and pepper to taste.
And, heck, if you're feeling green, maybe top with a bit of finely chopped flat leaf parsley.
Totally optional. But totally delicious!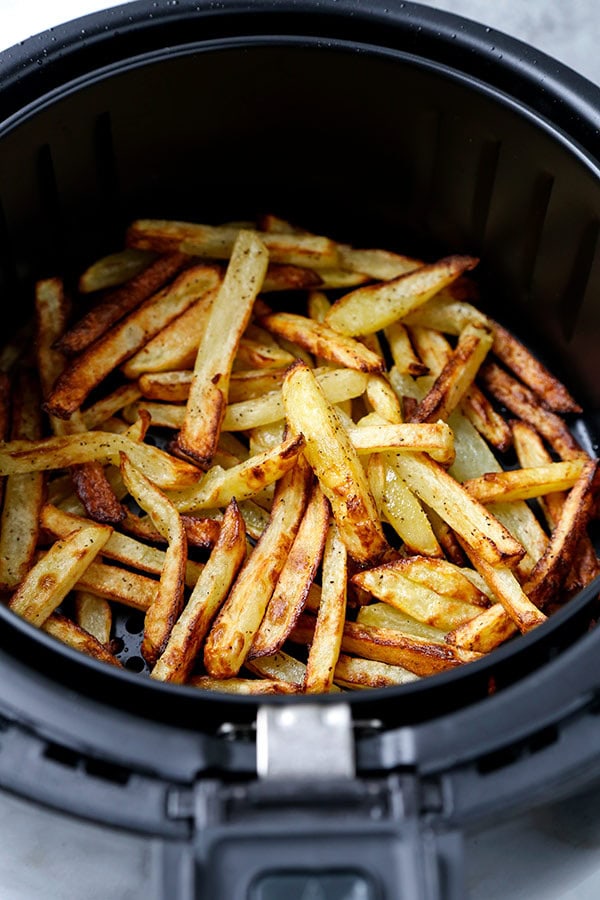 What is an air fryer?
An oversimplified answer of what an air fryer does is that it uses a fan to circulate super hot air around your food at a high rate of speed.
In this case, the potatoes we're cooking are surrounded by 360° of hot circulating air – and this allows us to use very little oil and still obtain the browning we'd get from deep frying.
With most models, you'll put your food in a cooking basket, set inside a drip tray.
A heating element is at the top – and a fan circulates mega heated air around the cooking basket.
There are digital models and more analogue models, but what you'll find with both is the ability to adjust temperature for the different foods you're cooking.
The main benefit of an air fryer is being able to get the perfect browning you'd get from deep frying without the associated intake of fat.
Healthier decadence? What a fantastic hack!
Anything that cooks fries this well is a welcome addition to my kitchen.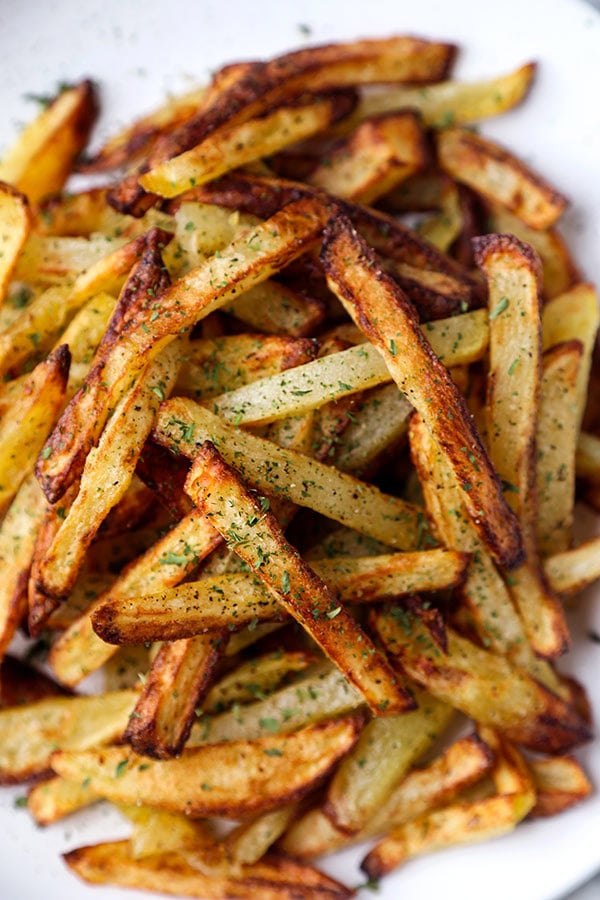 What is the best air fryer?
Short answer: I don't know.
But I love my FrenchMay!
It's much bigger than I thought which means I can air fry anything from a pound of fries to a whole small chicken (or in my case, a big cauliflower head 😉 ). So far I've made fries, dry-fried green beans (the green beans came out beautiful!) and salmon.
The best part?
You only need about a tablespoon to make your food shine. Now that's what I call a win win situation!
As a home chef that can't stand the idea of sacrificing amazing flavor for health, this is a perfect tool to have around.
I'm really enjoying having an air fryer on the countertop right now!
Yes, it takes up quite a bit of counter space, but this futuristic, glossy black air fryer looks good next to my other cooking tools – so I'm happy from a aesthetic standpoint as well.
Btw… I'm not being paid a penny to say that I like this product – and I didn't get product in exchange for a post.
I bought it myself, and just thought I'd tell you all about it!

Are air fryer French fries healthy?
There is nothing unhealthy about potatoes.
And extra virgin olive oil is one of the healthiest oils you can use when cooking.
With an air fryer, there is so little oil being used (this recipe only calls for a tablespoon) that it tosses the idea of French fries being unhealthy out the window.
Therefore, from my very unscientific viewpoint, it stands to reason that eating a serving or two of air fried French fries is about as healthy as eating a baked potato drizzled in olive oil.
Friends, it comes down (as it usually does) to portion control.
Eat too many oranges, and a healthy vitamin C loaded fruit ceases being good for you. Same with potatoes.
In fact, if you overdo any food it can have a negative effect on your blood sugar and waistline.
However, it can't be overstated that these air fryer French fries are a far cry from deep-fried fast food fries.

A fine line between French-fry-connoisseur and French-fry-addict
From now on, when when I need a fry fix at my place, I'll definitely be making these salt and pepper dusted air fryer French fries.
And whether I eat them on their own – or as part of a delicious gravy saturated poutine – they're the perfect balance of savory and crunchy, slightly spicy and slightly sweet.
In short, they deliver on every flavor element this French fry connoisseur needs!
Are you a French fry addict too? Besides ketchup, what's something you add to your fries to transport them to flavor-legend status? I'd love to hear about it in the comments section below!
Other simple and delicious healthier snack recipes: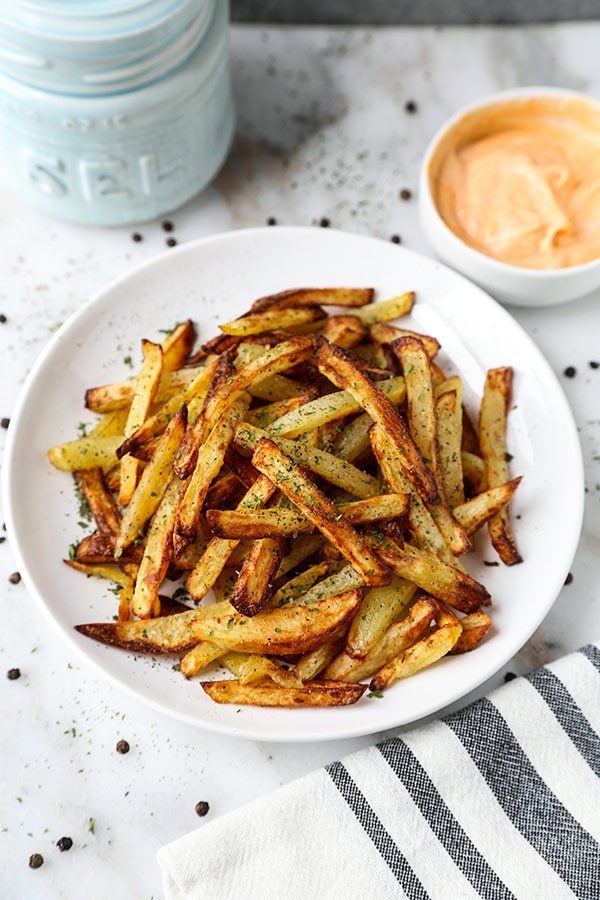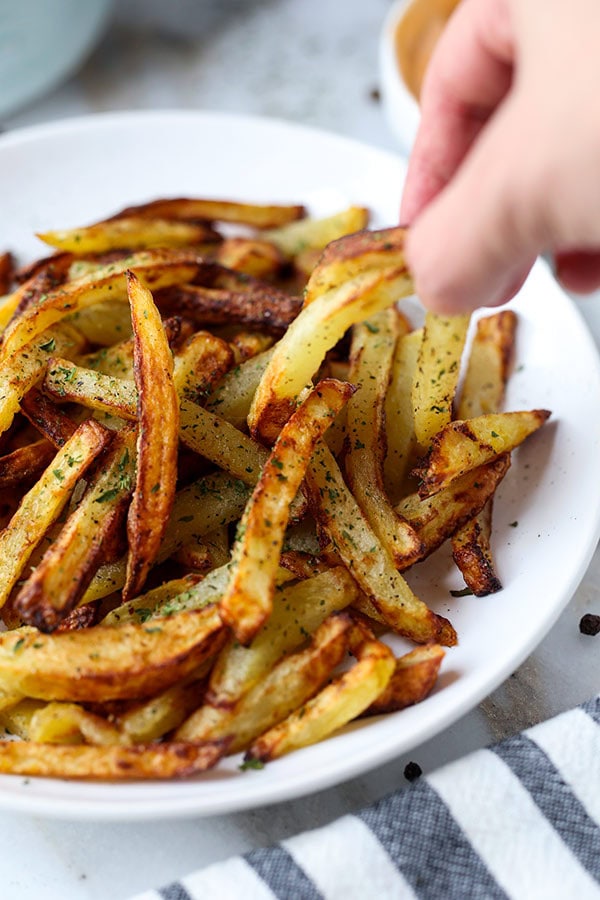 Did you like this Air Fryer French Fries Recipe? Are there changes you made that you would like to share? Share your tips and recommendations in the comments section below!
Print
Air Fryer Salt And Pepper French Fries
The best French fries ever.
Author: Caroline Phelps
Prep Time:

5 minutes

Cook Time:

15 minutes

Total Time:

20 minutes

Yield:

2

people

1

x
Category:

Side

Method:

Air frying

Cuisine:

American
1

pound Yukon Gold or Russet potatoes (peeled and sliced into 1/2-inch thick sticks)

1 tablespoon

extra virgin olive oil
salt and pepper (to taste)

1 tablespoon

flat leaf parsley (finely chopped) optional
Instructions
Set Air Fryer to 360º and preheat for 3 minutes.
Toss the fries with olive oil until evenly coated. Season with salt and pepper.
Pull out the basket and basket holder and add fries. Close the Air Fryer and set the timer to 15 minutes. Shake the basket every 5 minutes to help the fries cook evenly.
Cook for an additional 3-5 minutes if the fries are still gold and shiny. The fries are ready when they are a rich golden brown.
Season with more salt and pepper and top with chopped parsley.
Nutrition
Serving Size:
Calories:

239

Sugar:

1.4 g

Sodium:

11.3 mg

Fat:

7.2 g

Saturated Fat:

1.1 g

Carbohydrates:

41 g

Fiber:

2.9 g

Protein:

4.9 g

Cholesterol:

0 mg
Keywords: recipe, healthy, vegetarian, vegan, plant based, meatless
Recipe Card powered by