This simple to make Homemade Sweet And Salty Masala Popcorn is the perfect flavor-forward snack for your epic Super Bowl party or a cozy movie night.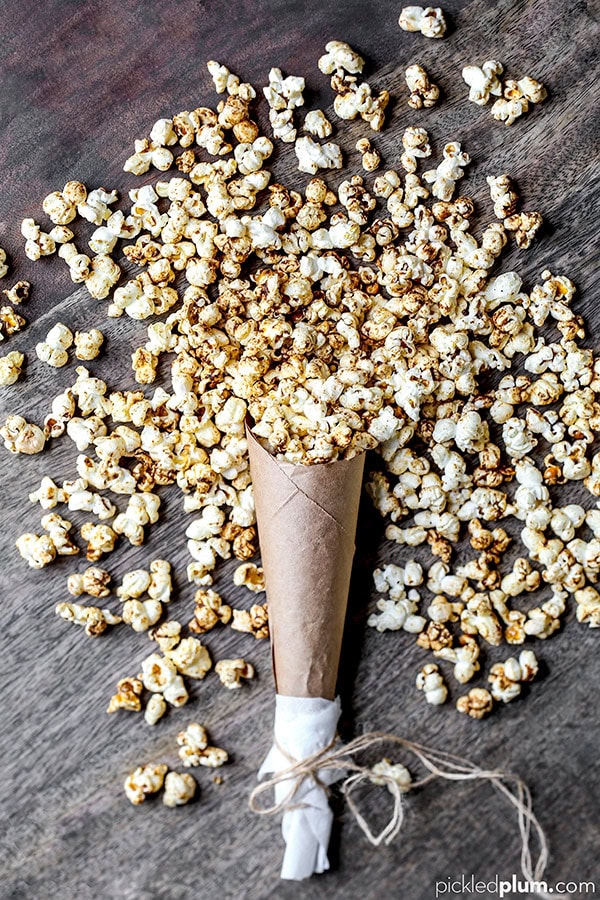 Homemade Sweet and Salty Masala Popcorn
Each year as the Super Bowl approaches, I start racking my brain for fun snacks I can make for the big game. It would be a shame to run out of food before halftime!
Now, it's gotta be said that I'm less a football fan and more of a lover of the overall pomp and circumstance of Super Bowl Sunday. It's so much fun sitting down with friends in front of a big spread of gametime snacks and watching the hilarious new commercials with some great football thrown in between 🙂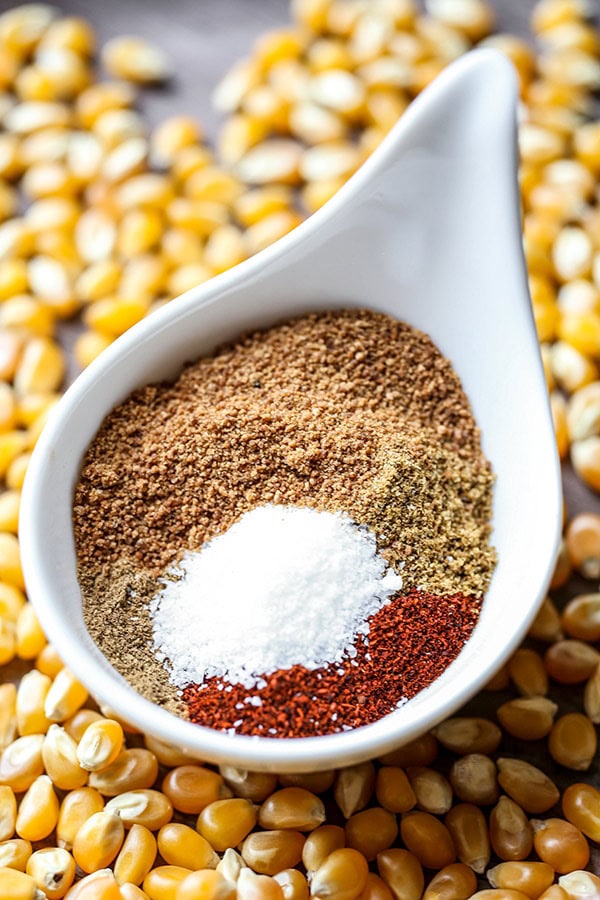 Plus, I never need an excuse to snack like it's my full-time job. And while my snacks from Super Bowls past have been a hit, this year I was looking for something a little less labor intensive to add to the already burgeoning menu.
Last week, while making a batch of sweet and salty homemade popcorn for movie night, I got to thinking… Indian spices might really send the flavor profile of an already delicious stovetop popcorn through the roof.
And I wasn't wrong! This homemade sweet and salty masala popcorn is the result of a little trial and error spice-mix experimentation in the kitchen. Not only was our movie night just a bit tastier last week, my solution for a delicious and easy shareable Super Bowl snack was found with a minimal amount of brain power invested. That's a win any day!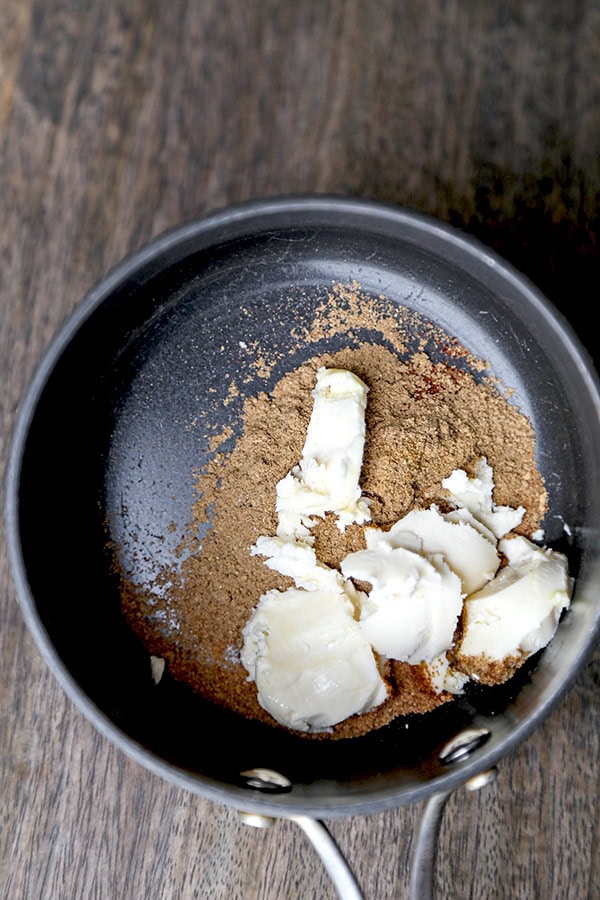 How to make popcorn on the stove
Yep – it must be said that I'm a child of the microwave generation. While my mother used to make popcorn on the stove when we were super young, the only homemade popcorn recipes I had ever made up until last week started with the press of the start button.
So I picked up some popcorn kernels at the grocery store a month back and promptly forgot about them until movie night rolled around.
Two things surprised me about making popcorn on the stove:
It's SOOO easy. Like, one of the absolute easiest kitchen tasks of all time. No lie.

The popped popcorn isn't super greasy like the microwave stuff tends to be. But it IS super flavorful!
OK, so really all you have to do is heat up a small amount of oil in a deep pot (one that has a lid). Once the oil is hot, add a couple of kernels as testers. When they start popping, add the rest of your popcorn kernels to the pot.
Now comes the fun part. Place a lid on top (vented to let the steam out) and shake the pan back and forth a bit to make sure there is even distribution. Then watch your popcorn come to life! Pull the pan off the flame when the popping stops.
That's it! Easy peasy.
Tip: when adding your kernels to the hot pan, make sure there is only a single layer of popcorn kernels at the bottom of the pot. If they sit on top of each other, the pot is overcrowded – and you'll end up with a lot of unpopped kernels. Those can cause some serious dental misery, friends.

How to make the homemade popcorn seasoning
Making the spice mixture for this sweet and salty Super Bowl popcorn recipe is incredibly simple. A bit of kosher salt and sugar delivers the salty sweetness so familiar in Western treats like kettle corn.
However everything is cranked up to 11 when you introduce intense garam masala powder. That wonder-spice is mixed with cumin and chili powder to create an intensely nutty and smoky spice blend that plays super nicely with the sugar and salt.
For the sugar element, I used coconut sugar. It has a more subtle sweetness than white or brown sugar and didn't overpower the other spices.
The spice mixture is then mixed in a small pan with butter or a plant based butter substitute. It's all heated, stirred and then added to your popcorn as soon as it finishes popping.
The result is well rounded sweet, salty, smoky popcorn perfection!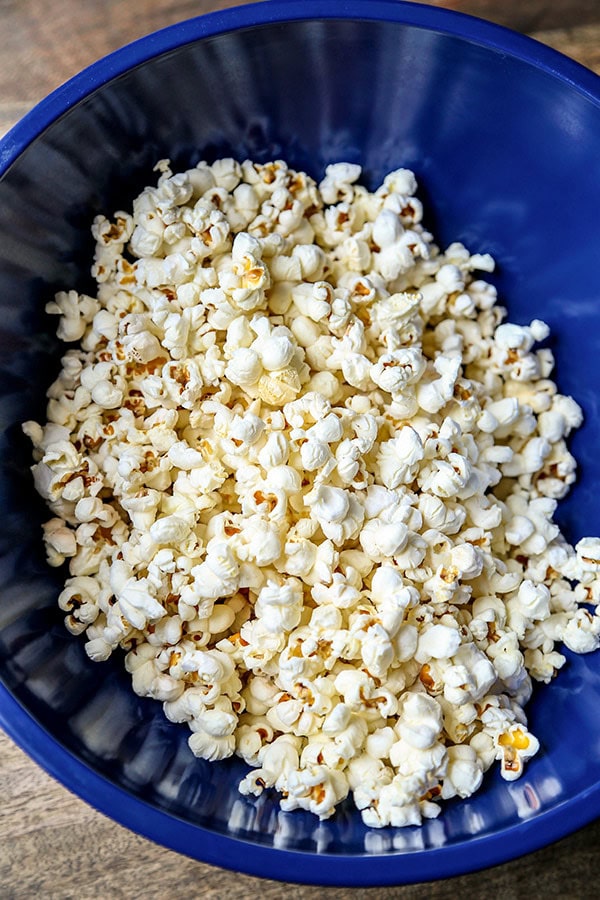 What is Garam Masala anyway?
Garam masala is a spice wunderkind. But instead of being a single spice, garam masala is a blend of Indian spices, often sold pre-mixed. While the name translates into 'warm spice mix' that shouldn't imply spiciness.
Sure, the black peppercorn brings a tiny bit of heat – but that is mellowed by a lemony element of coriander and the subtle sweetness of cinnamon.
Most versions include varying amounts of other spices like cardamom, cumin, cloves, nutmeg and mace. And, while the version you buy at the store may taste a certain way, it's not uncommon to find another version that switches up the proportions a bit and tastes slightly different. Not to mention the countless proprietary homemade versions made in Indian kitchens over generations.
Regardless of the taste variations, garam masala is a mixture of spices that delivers a complex bouquet of flavor to this otherwise simple homemade popcorn recipe. And you don't have to be a master spice blender to introduce it to your Super Bowl menu!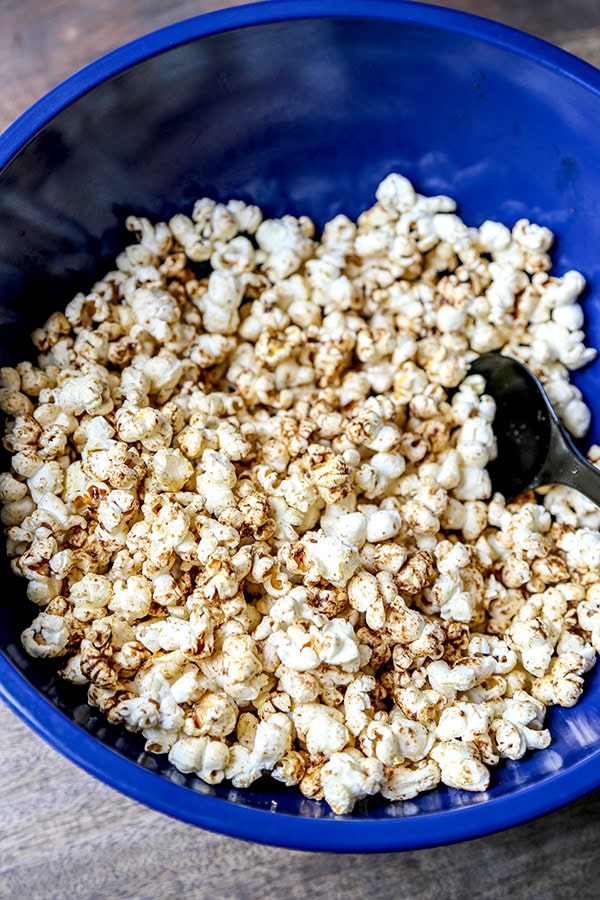 Would this work with microwave popcorn?
Sure! It totally works.
The reason I made this sweet and salty masala popcorn on the stovetop is because I was looking to try something new. But believe me when I tell you that nuking popcorn is the way I've done it for most of my life!
And just to be on the safe side, I tried microwave popcorn with this sweet and salty masala recipe too. Just pop your microwave popcorn like normal – and prepare the buttery masala topping in a separate container. Mix it all up in a bowl – and voilà!
The only difference is that, when you make popcorn on the stove, you're using oil and kernels. That's a pretty low calorie method. Some microwave popcorns can be pretty high in fat and calories – so if you're adding the buttery spice mixture to a high fat microwave popcorn, it can potentially be be a bit of a gut bomb. Hey – different strokes 🙂
Now that I've tried the super easy and fun method of making stovetop popcorn though, I'm a complete convert!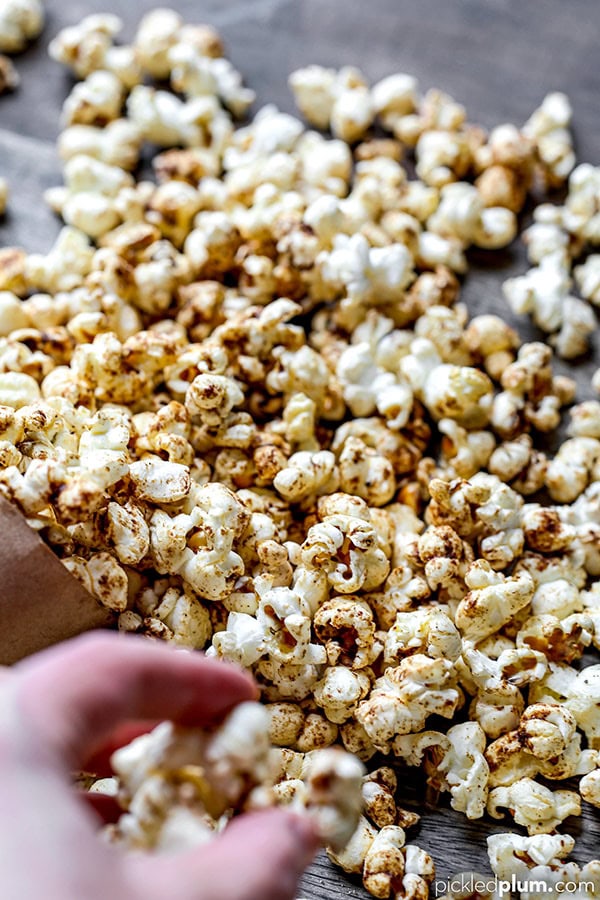 Are there a ton of calories in popcorn?
Well, that depends. If you're talking about movie style popcorn, the answer is pretty much yes.
However, it's totally possible to make healthy popcorn. And if not totally healthy, at least HEALTHIER! If you're making your own homemade popcorn on the stove top with olive oil – or even using an air popper – you're cutting down on the calorie content significantly.
Then, if you use a small amount of good quality oil, butter (or a vegan butter alternative) to bind your spice mix to the popcorn, you're still sitting pretty in the calorie department.
For example, a medium sized popcorn at the cinema can run around 700 calories. By contrast, one cup of air popped popcorn has around 30 calories. And a cup of oil popped popcorn has about 55 calories. Sure a cup of popcorn is well shy of the amount you're getting at the movies when you order that medium, but it does leave you a bit of room to add a few calories with your own homemade flavor enhancers without going overboard.
Yes – buttered popcorn from the movie theater tastes amazing! But my guess is if you try a healthier homemade popcorn, like this sweet and salty masala popcorn, you won't miss the movie theater 'butter' at all.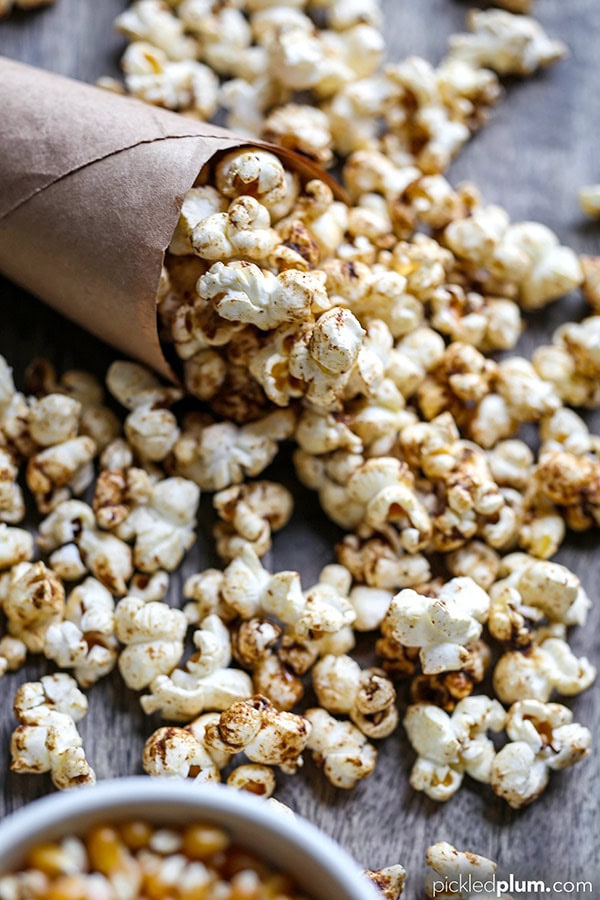 Super Bowl Bound
So, this flavor forward Indian spiced homemade popcorn is definitely on the Super Bowl menu this year. In fact, I think I'll be making a triple batch. Something tells me it's gonna be a hit!
And, it must be said, I'm totally looking forward to popping my popcorn on the stovetop. I know it sounds silly, but I had so much fun watching those fluffy kernels come to life under the glass lid of my soup pot. I just can't believe I had never made stovetop popcorn until a week ago. Oh well, better late than never!
How about you? What's a simple food preparation technique you've never tried? I'd love to hear about it in the comments section below!
Other simple, delicious snack recipes that are Super Bowl ready: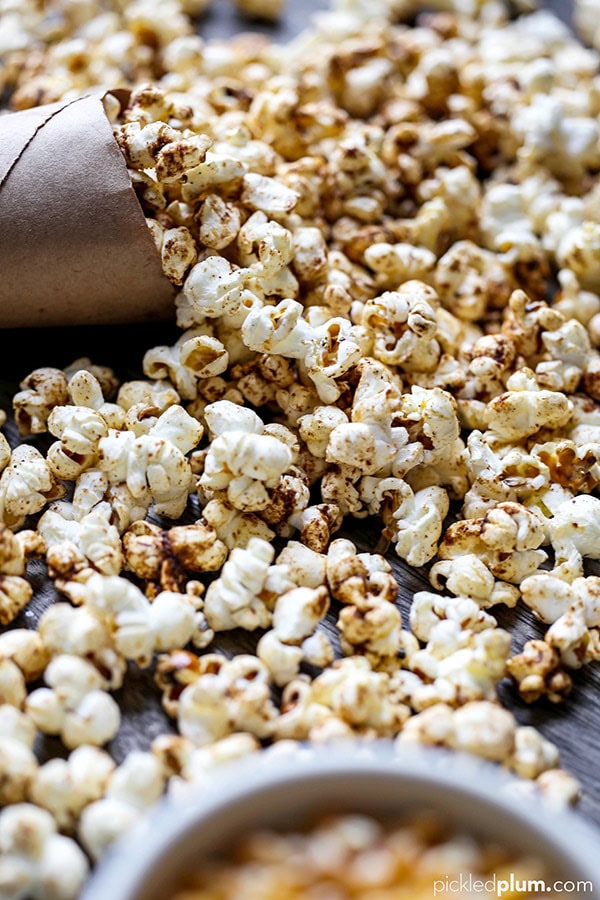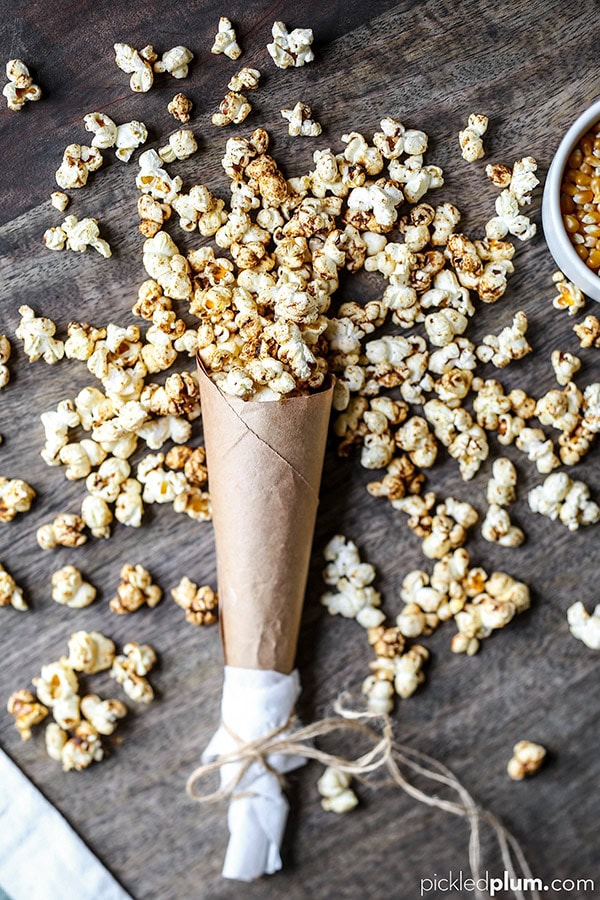 Did you like this Homemade Sweet and Salty Masala Popcorn Recipe? Are there changes you made that you would like to share? Share your tips and recommendations in the comments section below!
Print
Homemade Sweet and Salty Masala Popcorn
Sweet curried pops of flavor is just what you need right now!
Author: Caroline Phelps
Prep Time:

5 minutes

Cook Time:

5 minutes

Total Time:

10 minutes

Yield:

4

people

1

x
Category:

Snack

Cuisine:

American
1/2 cup

popcorn kernels

1 tablespoon

olive oil
Masala Seasoning
3 tablespoons

butter or vegan butter

1 tablespoon

garam masala powder

1 teaspoon

cumin powder

1/2 teaspoon

chili powder

1/2 teaspoon

kosher salt

1 tablespoon

brown sugar or coconut sugar
Instructions
In a medium size pot or deep pan (about 4 quarts or larger – one that comes with a lid) over medium heat, add a few popcorn kernels. When they start popping, add the remaining kernels and shake the pan so they are evenly distributed. Cover most of the pan with a lid, with a little space to allow steam to escape.
When the popcorn finishes popping (after 3-4 minutes), transfer to a large bowl and set aside.
Add all the ingredients for the masala seasoning into a small pot over low heat, and stir to combine. When the sugar has melted, turn the heat off and immediately pour over the popcorn. Stir until the popcorn is evenly coated. Serve.
Nutrition
Serving Size:
Calories:

116

Sugar:

4.1 g

Sodium:

362.8 mg

Fat:

9.1 g

Saturated Fat:

2.3 g

Carbohydrates:

6.8 g

Fiber:

0.5 g

Protein:

0.7 g

Cholesterol:

5.3 mg
Keywords: recipe, vegetarian, dessert, healthy
Recipe Card powered by