This easy to make Nicoise Salad Recipe has it all! The freshest veggies and hearty protein, drizzled in the best vinaigrette ever! Make this French classic in 20 mins!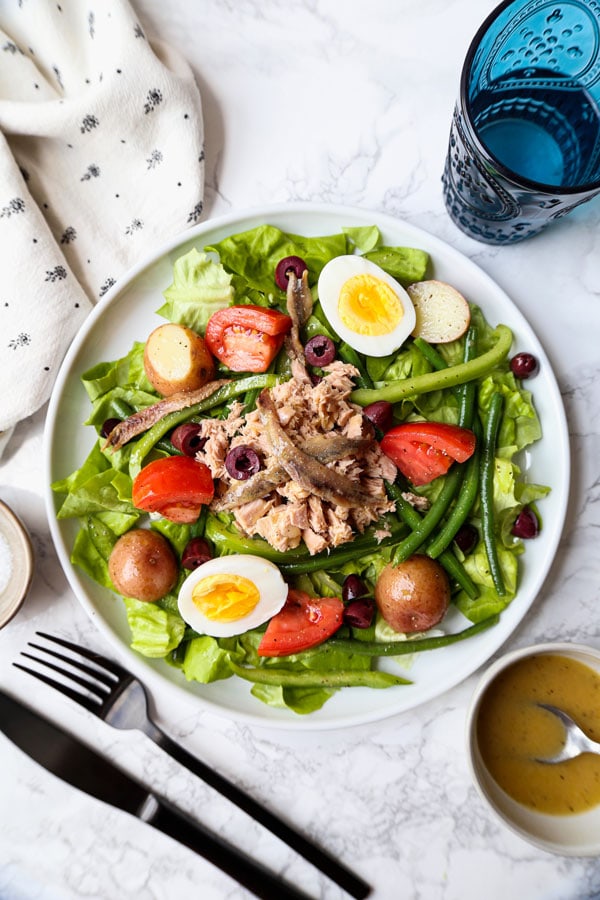 Let's hear it for salads that can be an entire meal!
Yes, this is a simple yet filling salad. And if you use quality ingredients, this humble mixture becomes something much greater than the sum of its parts.
But there's the rub…
You have to use exceptional produce when making a nicoise salad.
It's just not worth the effort otherwise.
If the French green beans and the tomatoes at the grocery store are looking like they've seen better days, it is probably best to wait until you can hit the weekend Farmer's market for the truly fresh stuff.
Trust me, when you dig in to a garden fresh nicoise salad, you'll be happy you held out for produce that is at peak levels of awesome.
What is nicoise salad?
Nicoise salad (or salade niçoise) is a hearty French salad that oftentimes contains varied ingredients like tomato, green beans, potatoes, hard boiled eggs, nicoise olives, anchovies – as well as fresh or canned tuna – lightly drizzled in a vinaigrette.
And while you may find purists insisting what a classic nicoise recipe should contain (and what it shouldn't), many variations exist that incorporate things like cucumbers, bell peppers and capers.
Well, what most people can agree on is that salad nicoise originated in its namesake city of Nice, France sometime in the late 19th century.
Since its inception, everyone from Auguste Escoffier to Jacques Pepin to Julia Child have weighed in on nicoise salad.
Heck, my Japanese mother made a killer nicoise recipe when I was growing up in Quebec.
How to pronounce nicoise: Whether you're headed to Nice for vacation, or just want to sound French-proficient at your favorite local bistro, say NEE-SWAZ and you'll be good-to-go.
However, pronunciation aside, the proof is in the pudding as they say. No matter how you say it, it's gotta taste great!
And in the case of this delicious French salad, you'll be surprised by just how easy it is to make it to perfection at home. So let's cook!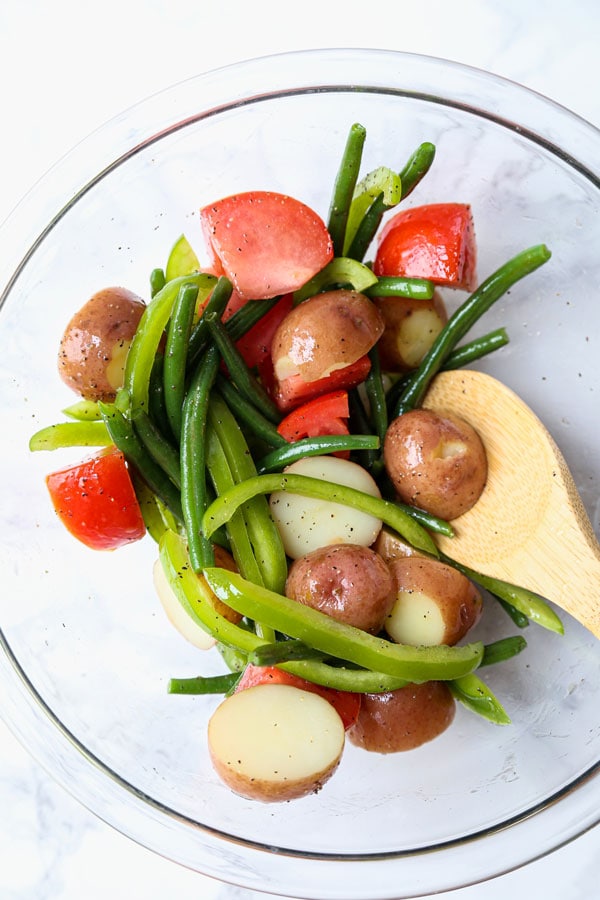 How to make nicoise salad
Whisk the ingredients for your vinaigrette until emulsified and set aside.

Boil your French green beans in a pot of salted water for 5-6 minutes – until they're approaching soft, but still yield a nice crunch. Shock in cold water, drain well and set aside.

Next, boil your small potatoes (cut in half) for 7-10 minutes until soft. Shock in cold water to stop the cooking process and drain well.

Wash, dry and roughly chop Boston lettuce and divide between two plates.

Then, add green beans, potatoes, sectioned tomatoes and sliced bell peppers to a mixing bowl and cover with half of your vinaigrette and mix well.

Divide the dressed vegetables between the two plates – and top with hard boiled eggs, olives, anchovies and tuna.

Finally, drizzle each plate with the remaining vinaigrette and serve.
And that's it! Easy, right?
Now, a word on some of the ingredients. I prefer canned tuna in my nicoise salad recipe. That said, you could totally sear and slice a tuna steak if you prefer.
And I love the salty, umami pop that anchovies bring to this recipe – however, I realize those may not be everyone's cup of tea. If you're not a fan of anchovies, feel free to leave them off – or you could try including an alternative salt source like capers instead.
As for olives, I use kalamata most of the time because they're easy to find at the corner grocery store. But if you're lucky enough to find a jar of nicoise olives, that's the preferred olive for this tuna nicoise salad recipe!
What are Nicoise olives?
Nicoise olives are small, rich and somewhat nutty black olives. Hailing from southern France, these olives tend to be brined – and then packed in olive oil that has been infused with herbs. And as their name would have you believe, they're perfect in this salad nicoise recipe.
Now as I mentioned, if you can't find nicoise olives, kalamata olives are a good alternative. Those are the meaty, almond shaped, deep purple olives that are frequently cured in a vinegar brine.
And Ben LOVES using Moroccan oil-cured olives in his nicoise salad. Those are the black olives with wrinkly skin that trend toward a more smoky, salt forward flavor profile. They're delicious – but just a bit too strong for my taste when included in a salad that has the saltiness of anchovy fillets at play as well.
How about you? What type of olive do you prefer in your salade nicoise? I'd love to hear your favorites in the comments!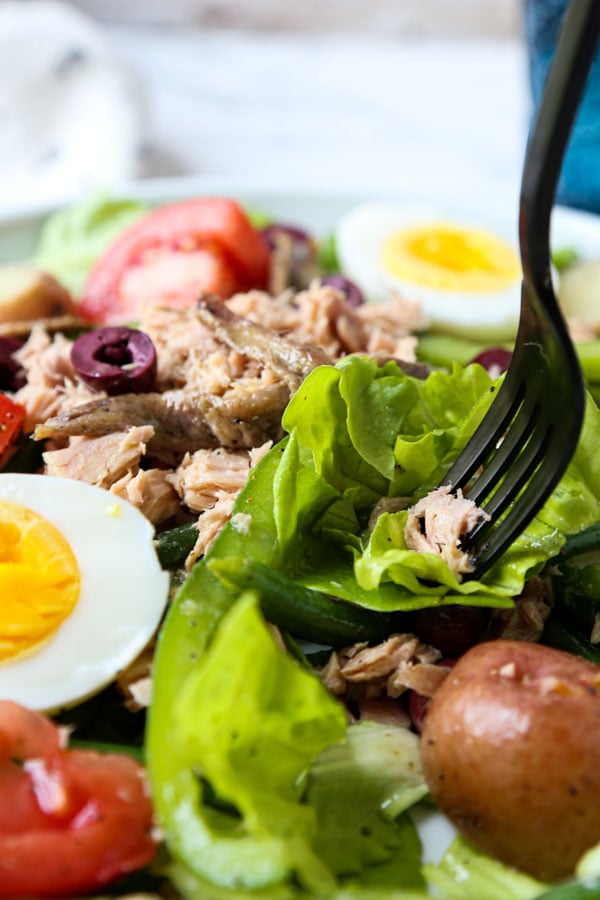 How to boil eggs
Put eggs in a saucepan (gently!), and fill with cool water so it's just covering the tops of the shells.

Place the saucepan over a burner on your stovetop and bring to a roiling boil.

Then turn the heat off, cover and let sit for:
10 minutes for hard boiled eggs
8 minutes for soft / medium boiled eggs
Run shells under cold water. Peel and use immediately – or refrigerate in the shell until ready to use.

Now, if you have a foolproof method for boiling eggs, stick to it! No need to fix what isn't broken 🙂
However, this method has worked well for me in the past. Hopefully, it'll work for you! Eggs are such a wonderful element in this nicoise salad recipe, it bears cooking them well. For a deeper dive on how to boil eggs, check out my post here. 
The perfect dinner salad recipe
There's nothing better than a one plate meal that is a self contained unit of delicious protein and veggies.
And just as breakfast-for-dinner can be a wonderful thing, so can a hearty salad as long as it ticks all the boxes.
Sure, the tendency is to regard salad as a side dish or a starter. But in the case of this substantial salad, abundance is key.
You definitely won't leave the table hungry if the main course was an epic French salade niçoise!
What's your favorite salad-as-entire-meal? Is it a Cobb salad? Chef's salad? Nicoise salad? Sound off in the comments!
And happy cooking!
Other delicious and easy vegetable recipes: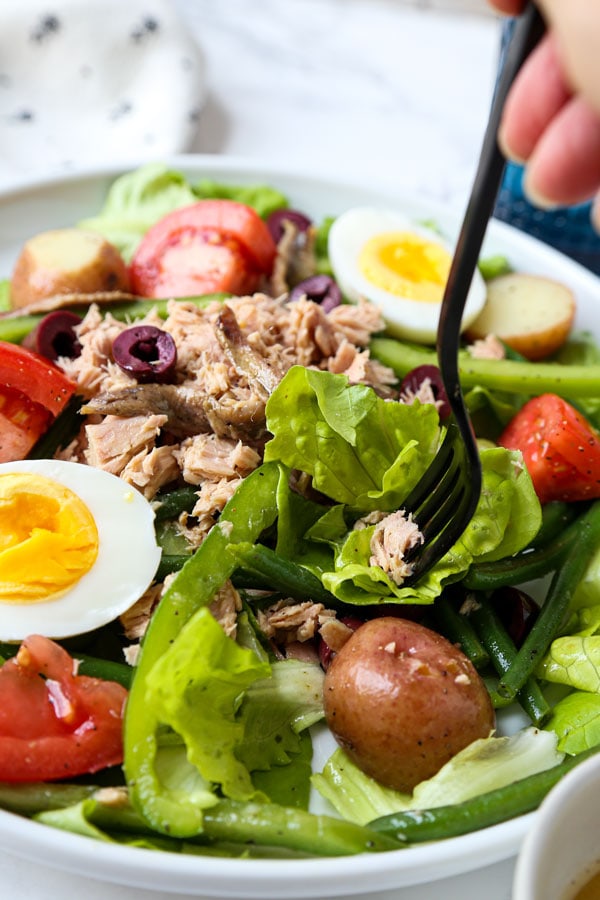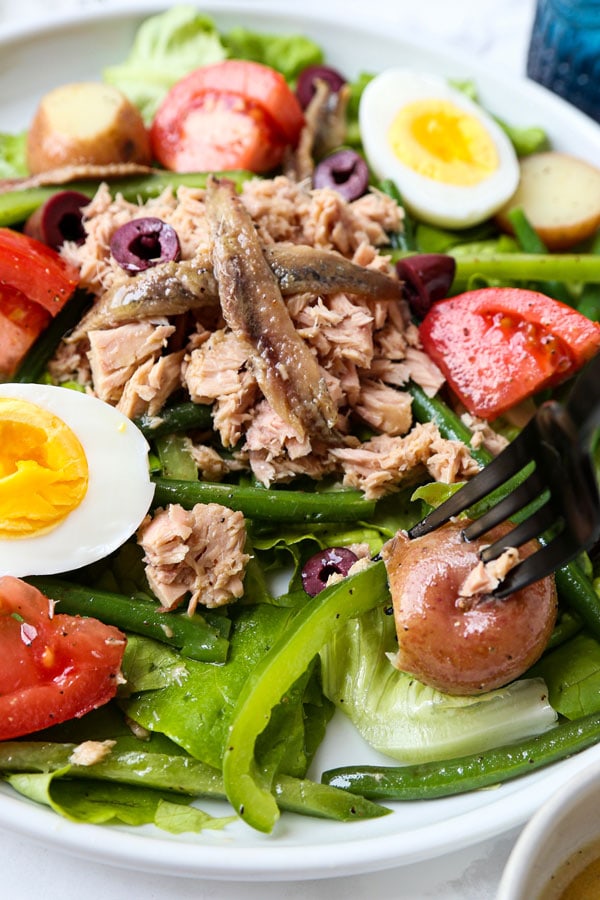 Did you like this Nicoise Salad Recipe? Are there changes you made that you would like to share? Share your tips and recommendations in the comments section below!
Print
Niçoise Salad
A classic French niçoise salad made with super fresh veggies + hearty protein. Ready in 20 minutes from start to finish. You're going to love it!
Author: Caroline Phelps
Prep Time:

15 minutes

Cook Time:

5 minutes

Total Time:

20 minutes

Yield:

2

salads

1

x
Category:

Salad

Method:

Mixed

Cuisine:

French
Salad Ingredients: 
3 ounces

French green beans

4

small red potatoes or fingerling potatoes, cut in half

1

head Boston lettuce

1

medium tomato, sliced into bite size wedges

1/2

green or red bell pepper, thinly sliced

2

hard boiled eggs, peeled and sliced in half

10

pitted kalamata olives

6

anchovy fillets, rinsed and patted dry

6 ounces

high quality canned tuna in oil or water, drained
Vinaigrette:
Instructions
Make the dressing by whisking all the ingredients in a bowl or salad dressing mixer. Set aside.

Bring a medium size pot of salted water to boil and add the French green beans. Boil for 5-6 minutes, until the beans are soft but still yielding a nice crunch. Drain and plunge in cold water. Set aside

Add the potatoes to a small pot filled with water. Bring to a boil and cook for 7-10 minutes, until the potatoes are soft. Drain and plunge in cold water. Set aside.

Wash the Boston lettuce and dry the leaves. Roughly chop and divide the lettuce among two plates.

Drain and dry the green beans and potatoes and put them in a large bowl along with the sliced tomatoes and bell peppers. Pour half of the vinaigrette and toss well to coat the vegetables.

Divide the vegetables among the two plates and add the hard boiled eggs, anchovies, olives and tuna.

Drizzle with the leftover vinaigrette and serve.
Notes
Use the best quality fresh produce you can find for this nicoise salad.
Nutrition
Serving Size:
Calories:

635

Sugar:

5.2 g

Sodium:

769.9 mg

Fat:

39.1 g

Saturated Fat:

6.9 g

Carbohydrates:

37.7 g

Fiber:

6.5 g

Protein:

34.1 g

Cholesterol:

232.4 mg
Keywords: French, healthy, appetizer, side, main, salad
Recipe Card powered by