Learn how to boil the most perfect eggs every single time. From hard boiled to soft boiled eggs, here's a quick tutorial to help you become an expert at cooking eggs.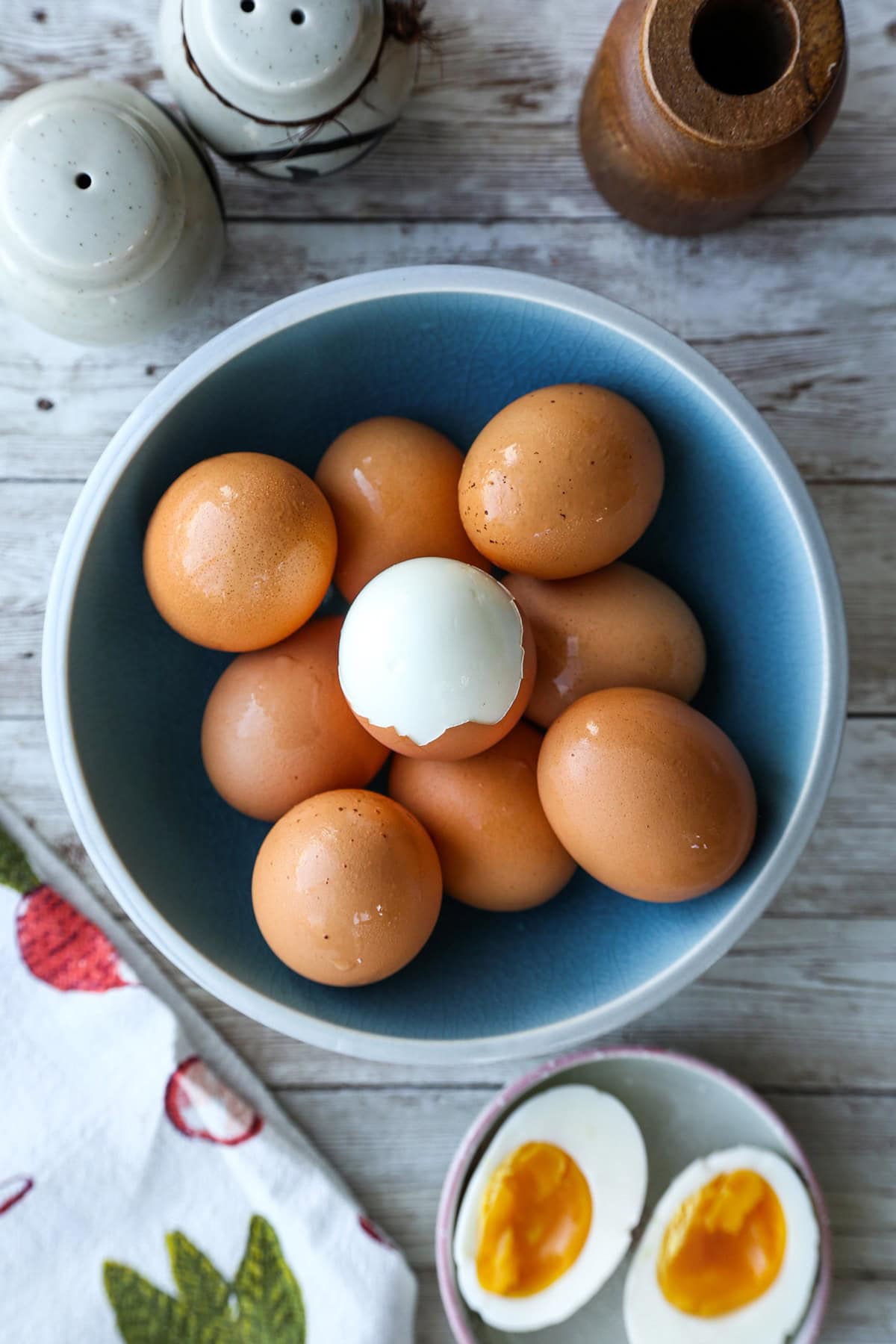 Hard or soft boiling an egg to perfection can seem like a bit of an enigma. Google how to boil eggs and you'll be served up with tons of seemingly contradictory results and variations on cooking times. The silky taste and texture of a perfectly cooked egg tells us that it definitely can be done. How we get our desired results is the only factor. This method works best for us in our kitchen.
What method works best for you? Let us know by leaving a comment.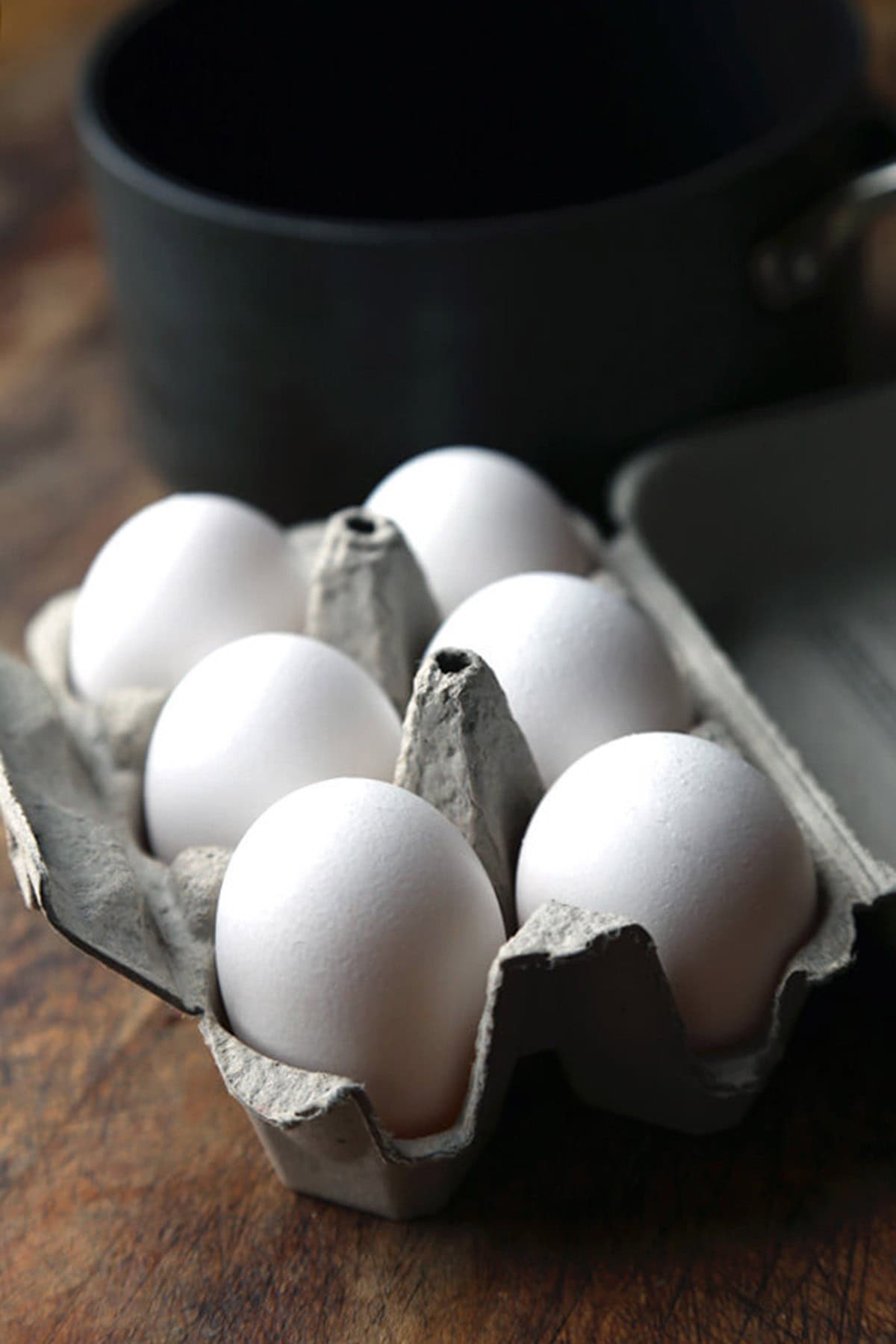 What You'll Need to Boil Eggs
Eggs: You will need 4 to 6 large eggs. The quality of the eggs used make a significant difference on the taste. I recommend spending a little extra money on pasture raised eggs such as the Vital Farms brand (which is what I use for just about everything) because they taste so much better.
Water: Tap water is fine.
How to Boil Eggs
Take your raw eggs and gently place them in a medium size pot.
Fill with cool water to just above the tops of the eggs.
Place the saucepan on to a burner and bring the water to a roiling boil, over medium-high heat.
Once the water is at a full boil, turn the heat completely off and cover the pot with a lid. Cooking times vary so see below for your desired cooking time.
Remove the eggs with a slotted spoon and place in an ice bath (large bowl of ice water) for 5 minutes to stop the cooking process. If ice is in short supply, run the eggs under cold water for the same effect, until the eggs have reached room temperature.
Pro tip – My mother, Hiroko, pokes a tiny hole in the shell of the egg with a needle just before cooking. This is said to alleviate pressure while cooking, so the shell doesn't crack prematurely.
Cooking Times
For hard boiled eggs let stand in the hot water for 10 minutes.
For medium soft boiled eggs let stand in the hot water for 6 to 7 minutes.
For a runny yolk let stand in the hot water for 4 to 5 minutes.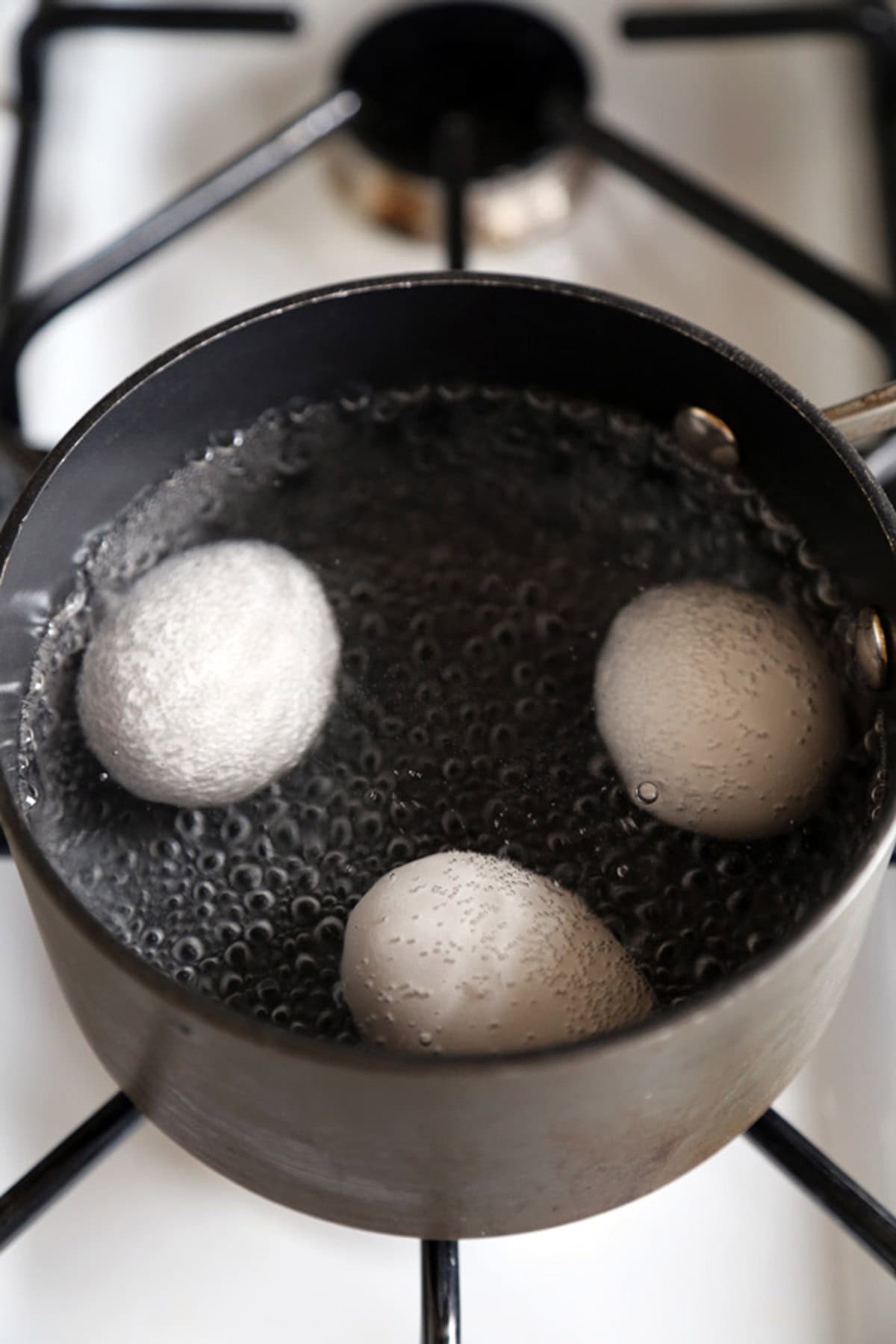 Time to peel eggs! The peeling process is relatively easy – Start by tapping the cooked egg onto a hard surface and gently roll the egg until the shell is easy to remove.
Remove the shells and you're good to go!
Add your eggs to a dish like salade niçoise, or enjoy with a little salt and pepper. Or, if you're feeling creative, try the recipe for Japanese flavor tea eggs , ramen egg, or some spicy deviled eggs (with a wasabi kick!).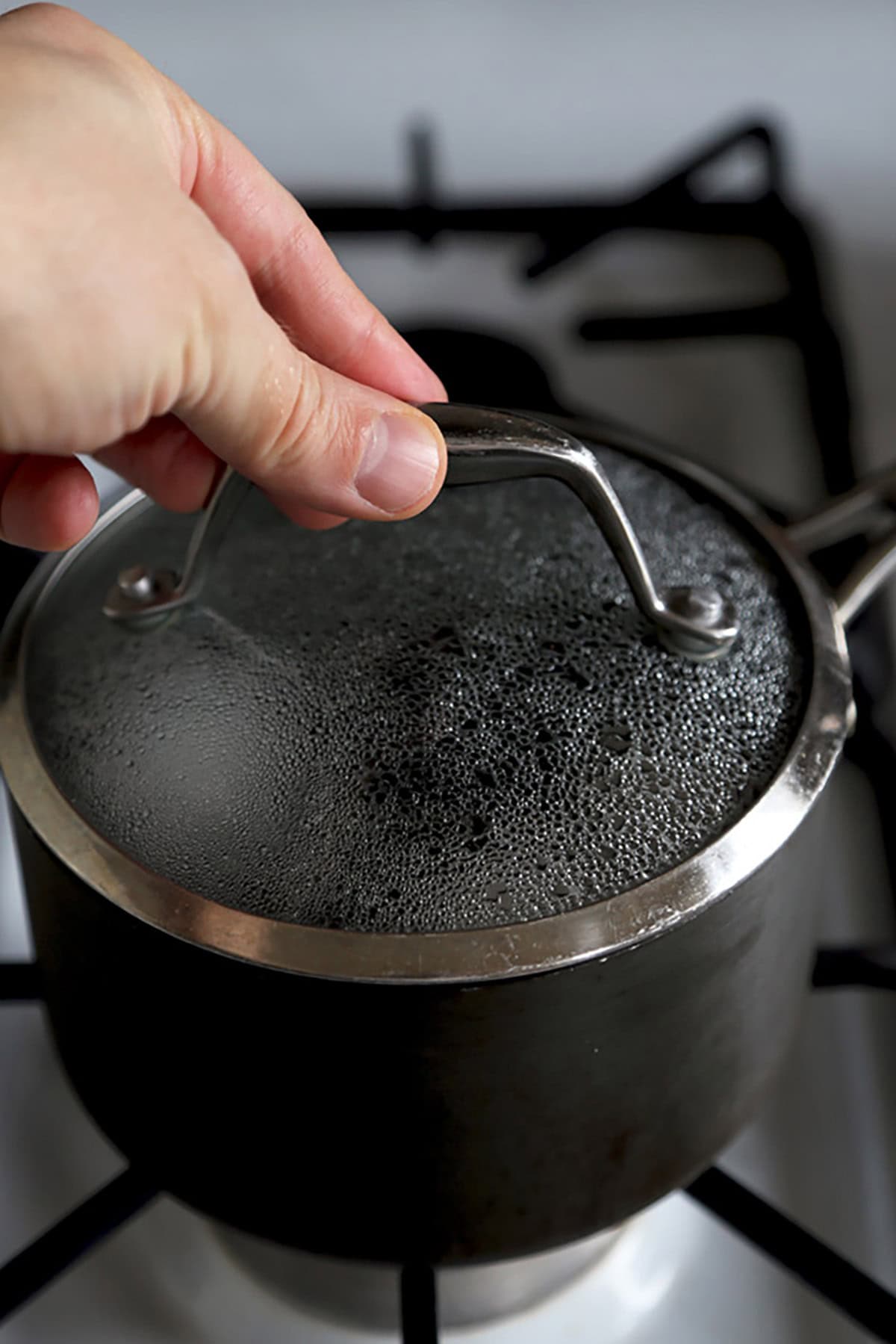 Origin of Boiled Eggs
Various sources across the internet claim that boiling eggs has essentially been a thing since 5000 BC. However, it's said there is documentation to prove that boiling eggs became popular when pottery was first invented around roughly 29,000 BC. Some claim it started in ancient Rome and became a common first course to a much larger meal, or as some might call it now, an appetizer.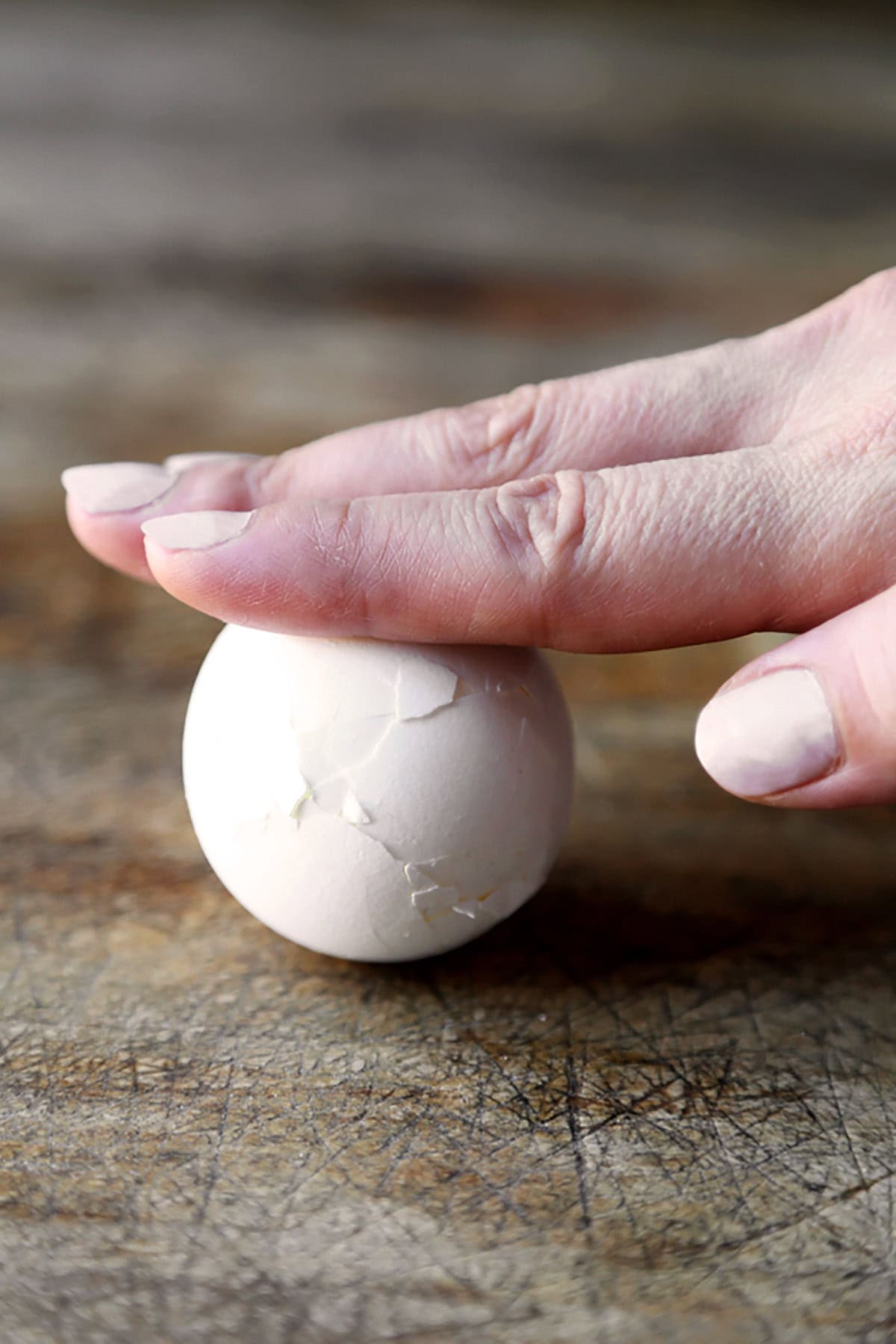 What to Pair with Boiled Eggs
I love a good boiled egg seasoned with just a little salt and pepper, especially with breakfast or as a mid afternoon snack. But boiled eggs also make wonderful and nutritious additions to dishes such as: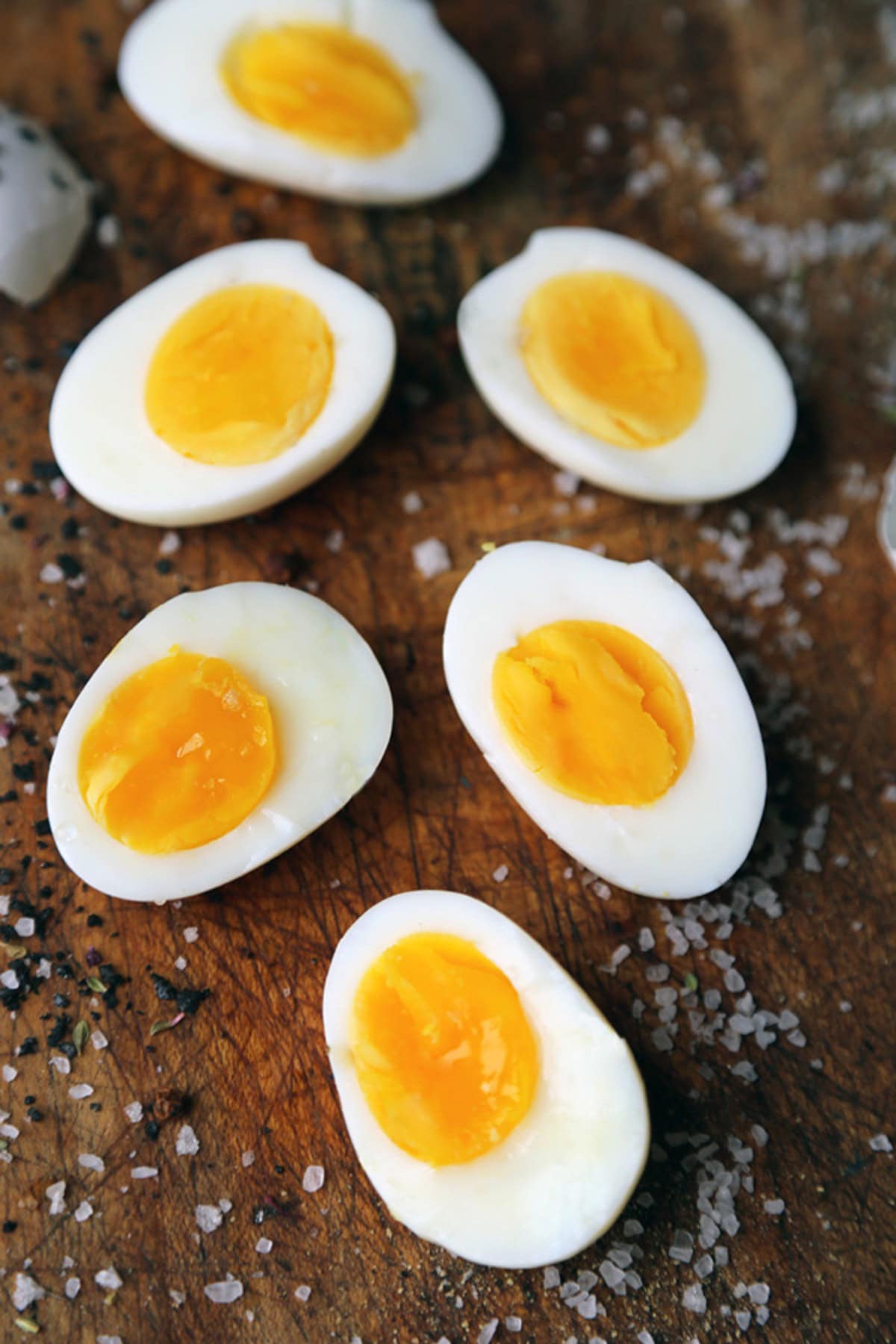 pair them with. There likely is no one best way because all are usually pretty great! I'd love to hear about your favorite ways to dress them up or eat them in a recipe—comment down below!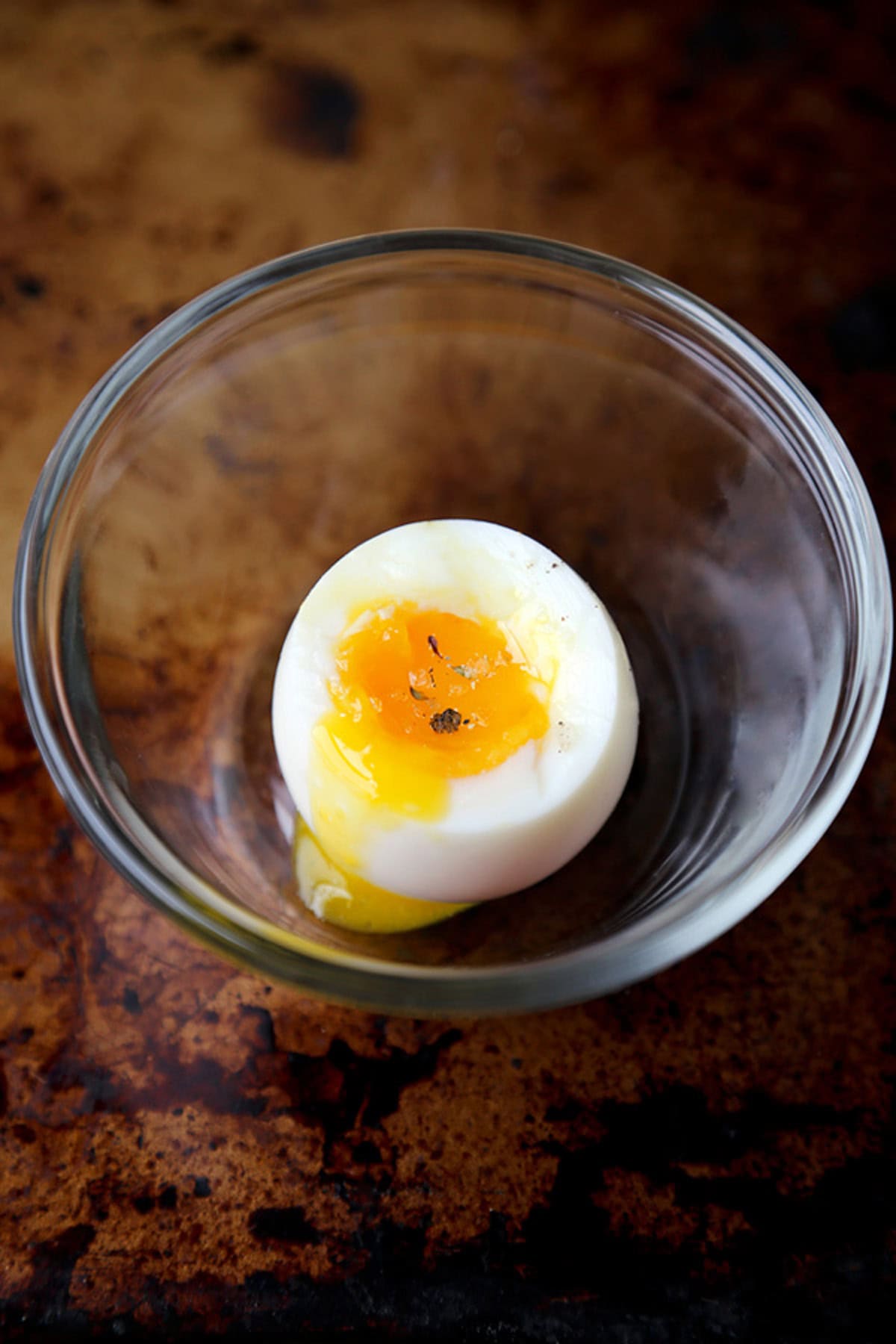 Print
How to Boil Eggs
Learn how to boil eggs to your desired consistency with this easy to follow tutorial. 
Author: Caroline Phelps
Prep Time:

0 minutes

Cook Time:

10 minutes

Total Time:

10 minutes

Yield:

4

to

6

eggs

1

x
Method:

Boiling
Instructions
Gently place the eggs in a medium size pot and fill with enough cool water to reach just above the eggs.
Turn the heat to medium high and bring the water to a boil.
As soon as the water starts to boil, turn the heat off and cover the pot with a lid.
Leave for 10 minutes for hard boiled eggs, 6 to 7 minutes for medium soft boiled, and 4 to 5 minutes for a runny yolk.
Transfer the eggs to a bowl filled with ice and cold water and leave for 5 minutes, or until eggs have cooled down to room temperature.
Peel and serve.
Notes
Store the eggs in the fridge for up to 7 days.
If the eggs are peeled, transfer them to a storage container with a lid and refrigerate for up to 7 days.
Nutrition
Serving Size:

1 egg

Calories:

72

Sugar:

0.2g

Sodium:

71mg

Fat:

4.8g

Saturated Fat:

1.6g

Unsaturated Fat:

1g

Trans Fat:

0g

Carbohydrates:

0.4g

Fiber:

0g

Protein:

6.3g

Cholesterol:

186mg
Recipe Card powered by