There's nothing better than a deliciously cleansing and refreshing bowl of naengmyeon as the temperatures rise! This popular summer Korean dish is full of salty and sour pickle flavors and comes packed with nutty buckwheat noodles and a creamy boiled egg on top. What's not to love!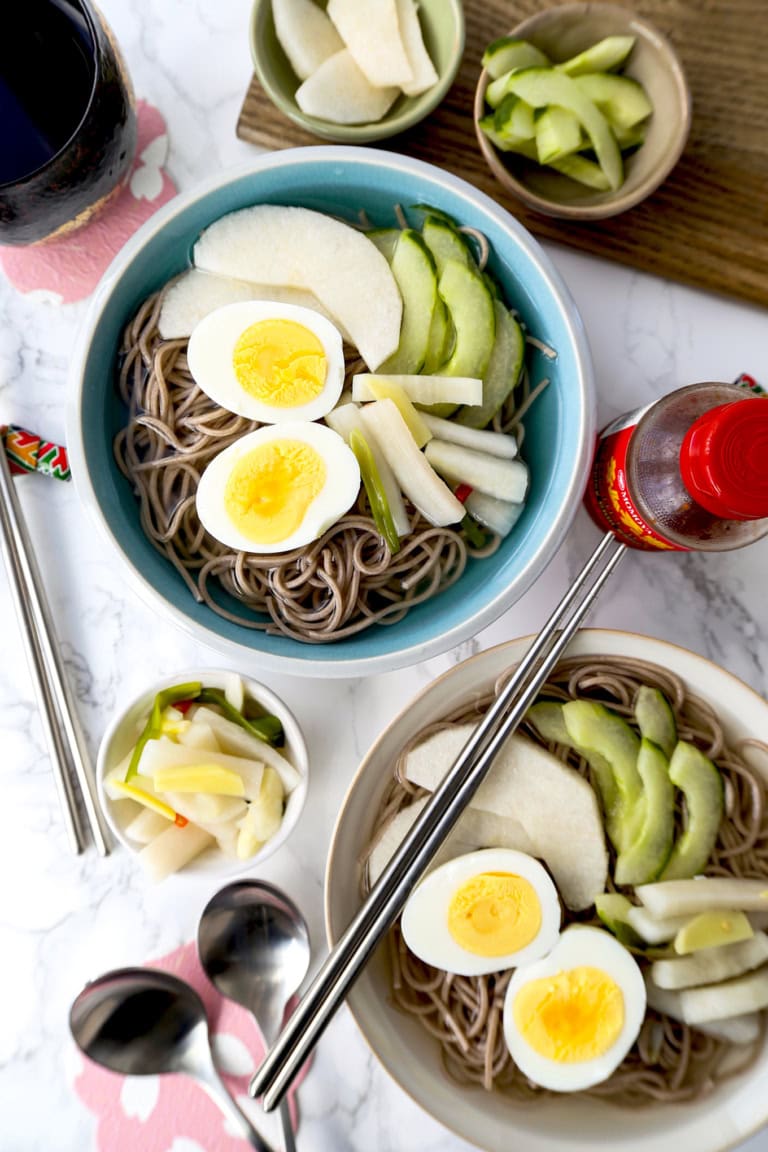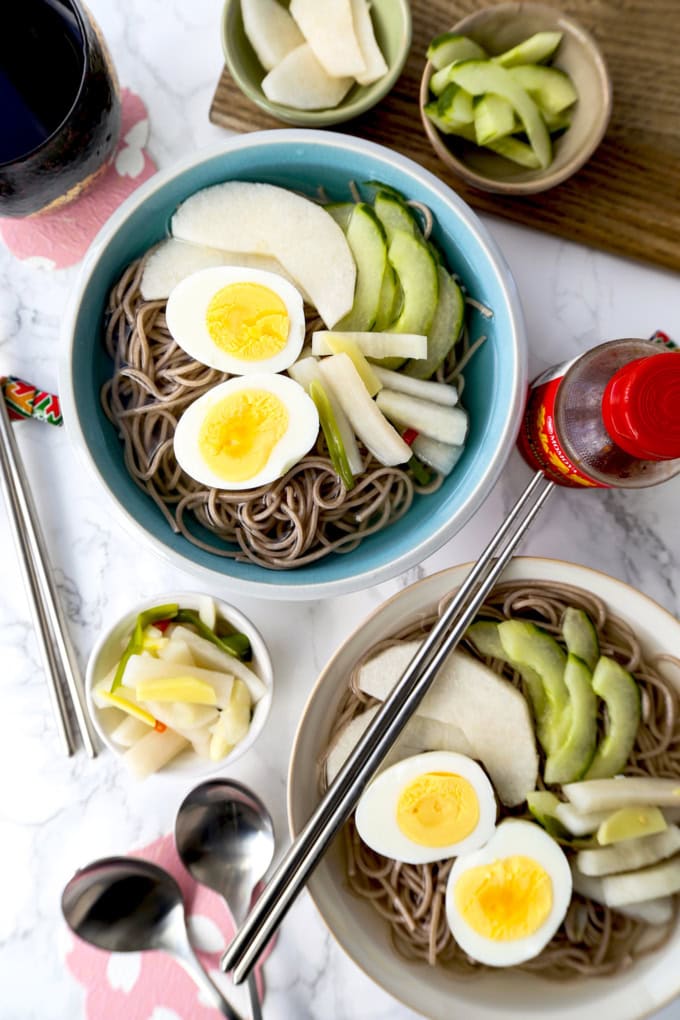 Last week I posted a recipe for dongchimi (Korean radish water kimchi) so I thought it would be appropriate to follow up with naengmyeon, a refreshing cold buckwheat noodle dish that requires dongchimi to make it.
It's very easy to assemble and can be served as a light lunch or dinner.
What is Naengmyeon?
Naengmyeon (or naeng myun) is a Korean cold buckwheat noodle soup made with beef broth or dongchimi broth, and topped with various toppings such as pickles, Asian, pear, cucumber, scallions, eggs, and/or beef. Cold noodles are extremely popular in Korea during the summer as they help the body to cool down.
There are two different types of naengmyeon – mul naengmyeon (물냉면) and bibim naengmyeon (비빔냉면). Both are made the same way, the only difference being that bibim naengmyeon comes with a spicy sauce. Today we are making it without the sauce but I've added a quick recipe for it in the recipe card should you want to add heat to your noodles.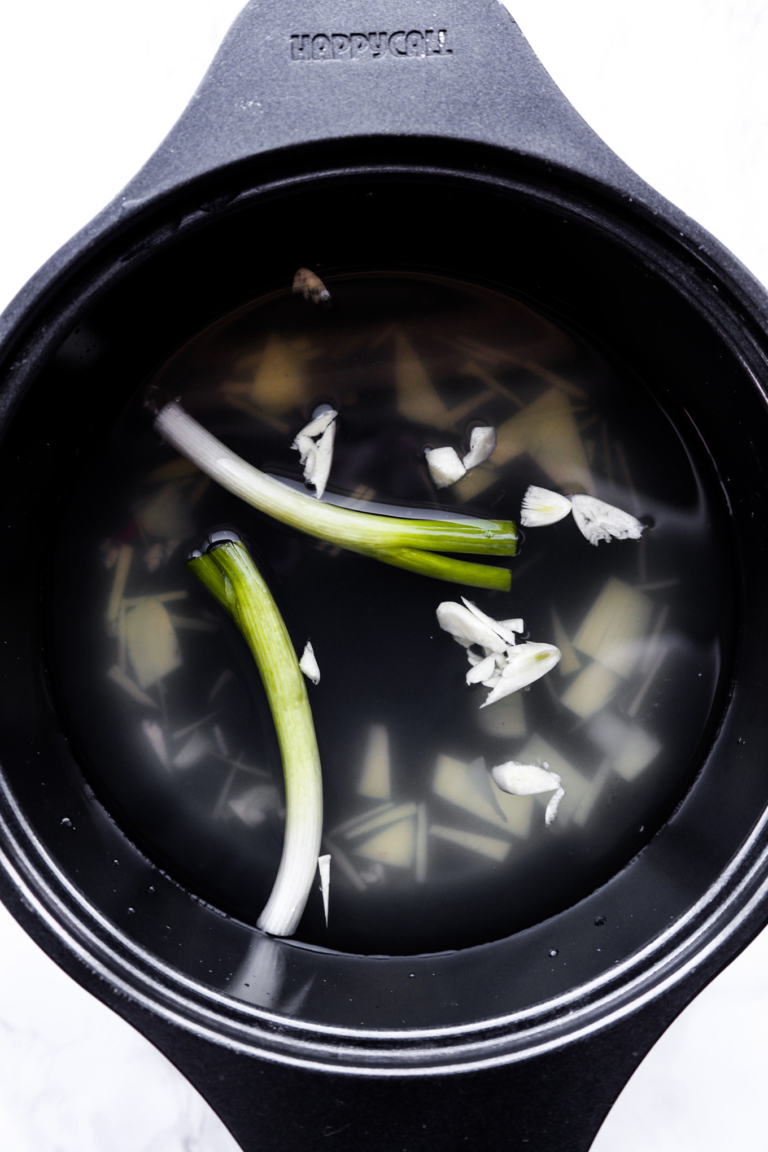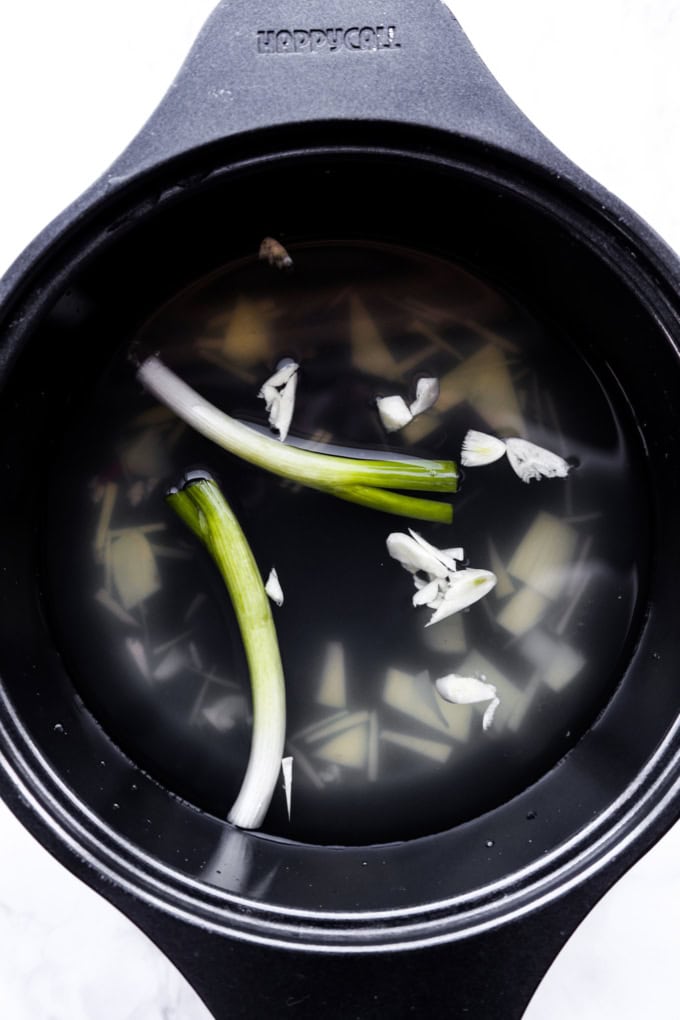 What Does Naengmyeon Taste Like?
Much milder than you would expect!
When looking at the ingredients it's easy to presume that the dish will be so flavorful it won't need additional seasoning. But it turns out that it's actually quite delicate in flavor which is why it's so refreshing to eat on hot summer days. The cold broth is salty and sour while the noodles are nutty, creating the perfect base for sweet, spicy and crunchy toppings.
What Noodles Should I use for Naengmyeon?
Korean buckwheat noodles or soba noodles. There are so many different types of buckwheat noodles available that it would take an entire post to go through each one of them. Some Korean buckwheat noodles are mixed with sweet potato flour to give them a more chewy, stretchy texture. Others are a mixed with wheat flour but what makes them differ from one brand to another is the percentage of buckwheat flour being used. The higher the amount of buckwheat flour used, the grainier and less stretchy the noodles will be.
The ones I'm using for this recipe are 80% buckwheat flour, 20% wheat flour. This means they aren't very chewy but that's okay since I prefer them that way.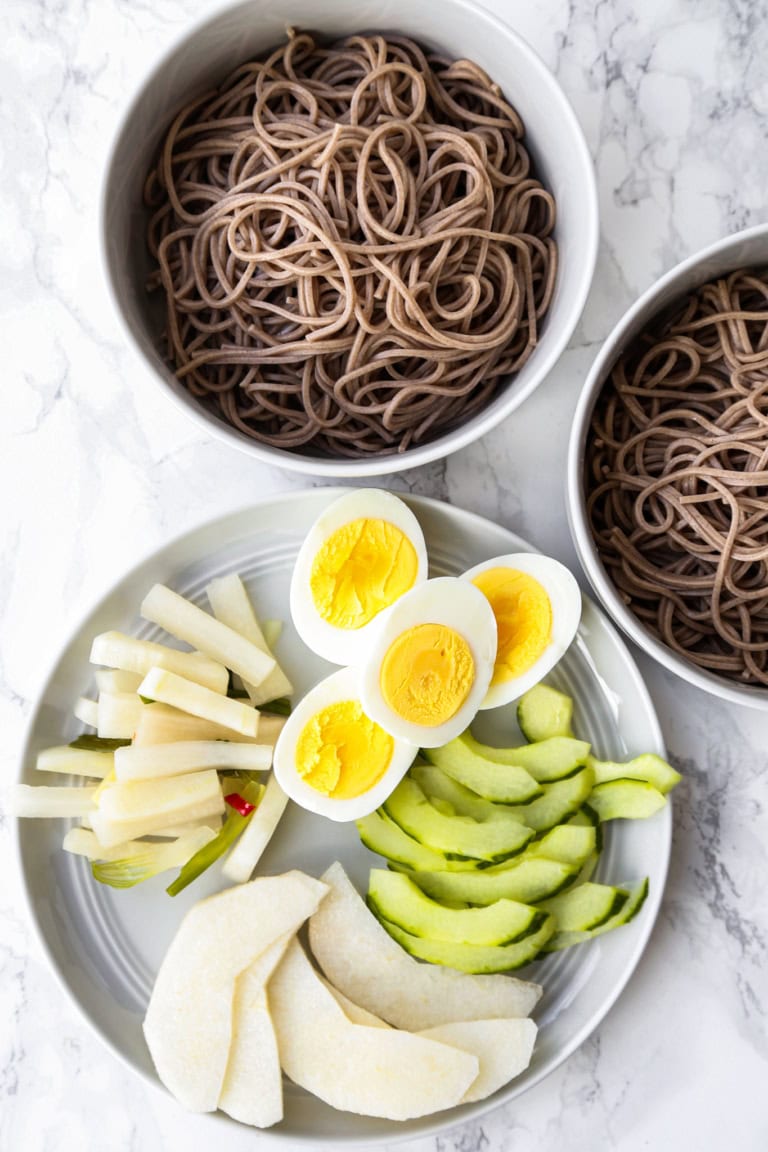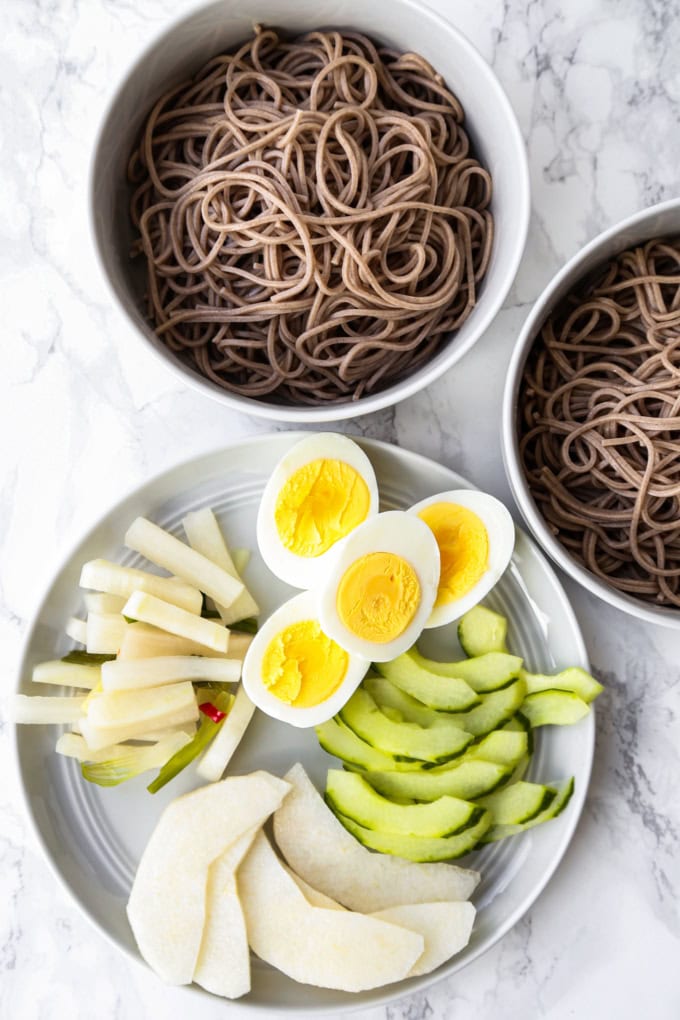 Ingredients for Mul Naengmyeon
Dashi: You can use either dashi made from bonito flakes or sardines or go vegetarian with a kombu dashi (made from seaweed).
Ginger: The ginger adds a touch of heat to the broth but not enough to make it spicy. Feel free to add more ginger if you love heat.
Garlic: Same with the garlic – one clove adds a little extra pungency to the broth but you can add more if you love the taste of garlic. I don't recommend adding more than 3 cloves though.
Scallions: I only use the white parts of the scallion to bring a little sweetness to the broth (the green part can be quite bitter).
Dongchimi Brine: This is what really gives the broth its taste. Salty and sour dongchimi brine is so delicious!
White Vinegar: Since we are diluting the dongchimi brine in 4 cups of dashi, adding a little vinegar revives the punchy flavors and gives the broth a cleansing feel.
Sugar: 1 tablespoon to balance the saltiness of the broth.
Salt: Adding salt is optional. Do a taste test and adjust accordingly. I prefer sour over over salty so I don't add any to my broth. I will however add extra vinegar as a final seasoning.
Buckwheat Noodles: Both Korean buckwheat noodles and Japanese soba noodles work for this dish. Keep in mind that a higher percentage of buckwheat flour means that the noodles will be less chewy and more grainy.
Asian Pear: I love adding sweet and crisp Asian pears as a topping. It's like adding an extra level of freshness to the dish!
Cucumber: Cucumber and cold Asian noodles go hand in hand. Kirby or English cucumbers are best for this dish because they have smaller seeds and are crunchier.
Boiled Egg: Creamy cooked yolk melting into salty and sour broth is so satisfying! This combination of flavors makes my palate dance every single time without fail. If you'd rather go all vegan, use shiitake mushrooms instead of an egg.
Dongchimi Pickles: The broth is made of dongchimi brine so it only makes sense to top the dish with the pickles. The pickles intensify the flavors of naengmyeon and bring the whole dish together.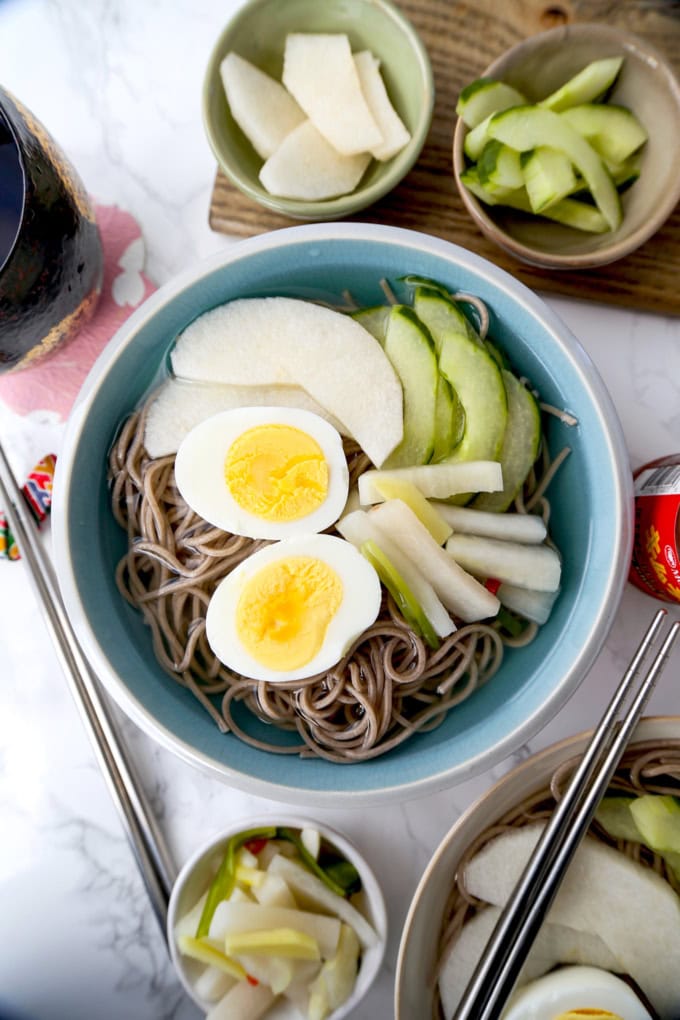 How to Make Naengmyeon
Make the naengmyeon broth by combining the dashi, ginger, garlic, scallions, dongchimi brine, vinegar, sugar, and salt in a pot. Simmer on low, covered, for half an hour.
Turn the heat off and discard the ginger, garlic, and scallions by straining the broth. Refrigerate the broth until it's cold.
Bring a pot of water to a boil and cook the buckwheat noodles according to the directions on the package. Drain the noodles and run them under cold water until they are cold. Drain well and divide the noodles among two bowls.
Divide the broth as well and top with ingredients of your choice.
Serve with side seasonings, chopsticks, spoons, and enjoy!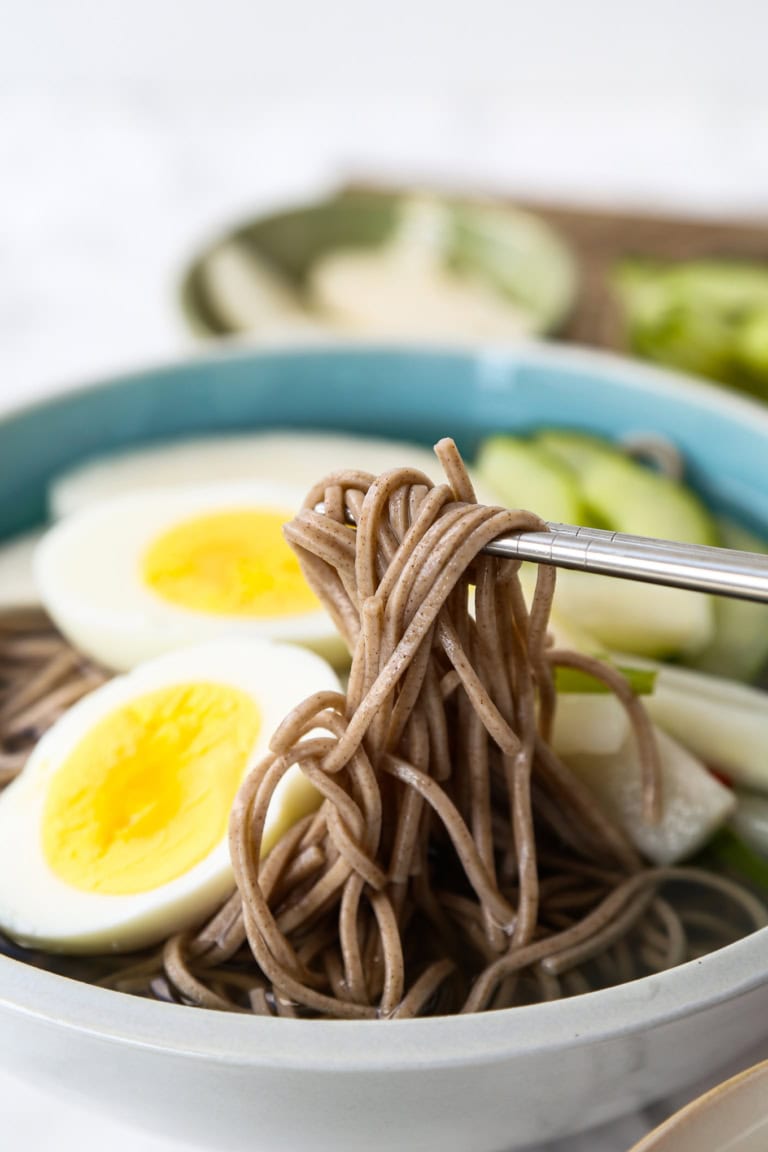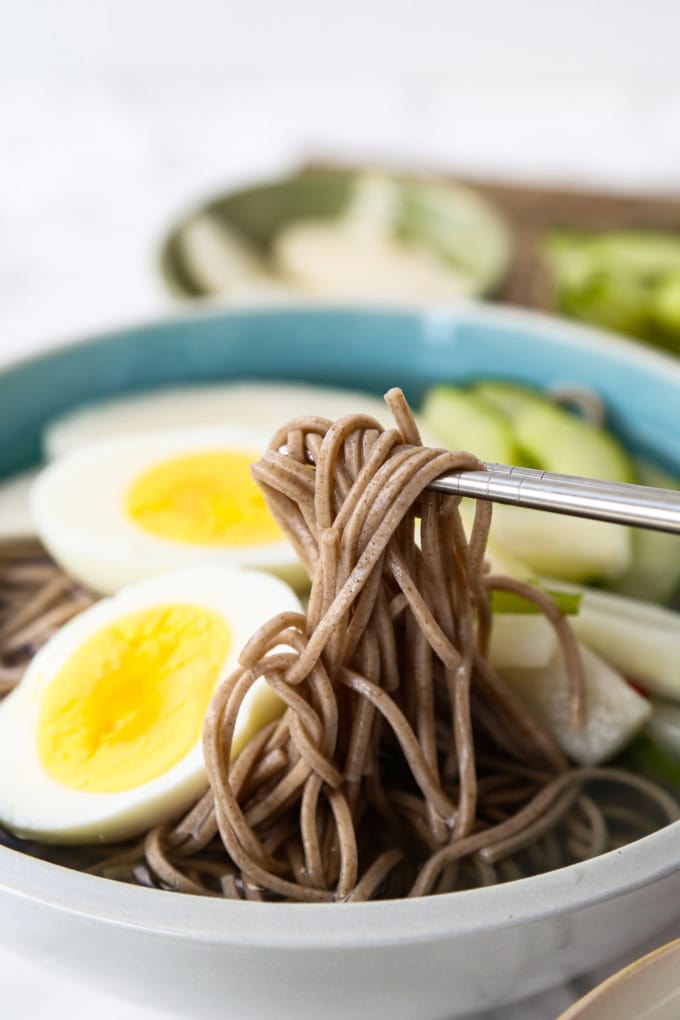 What to Serve with Naengmyeon
There are so many things you can serve with naengmyeon! Since it's fairly mild it pairs beautifully with dishes that are more pungent or aggressive in flavor. Some of my favorites are: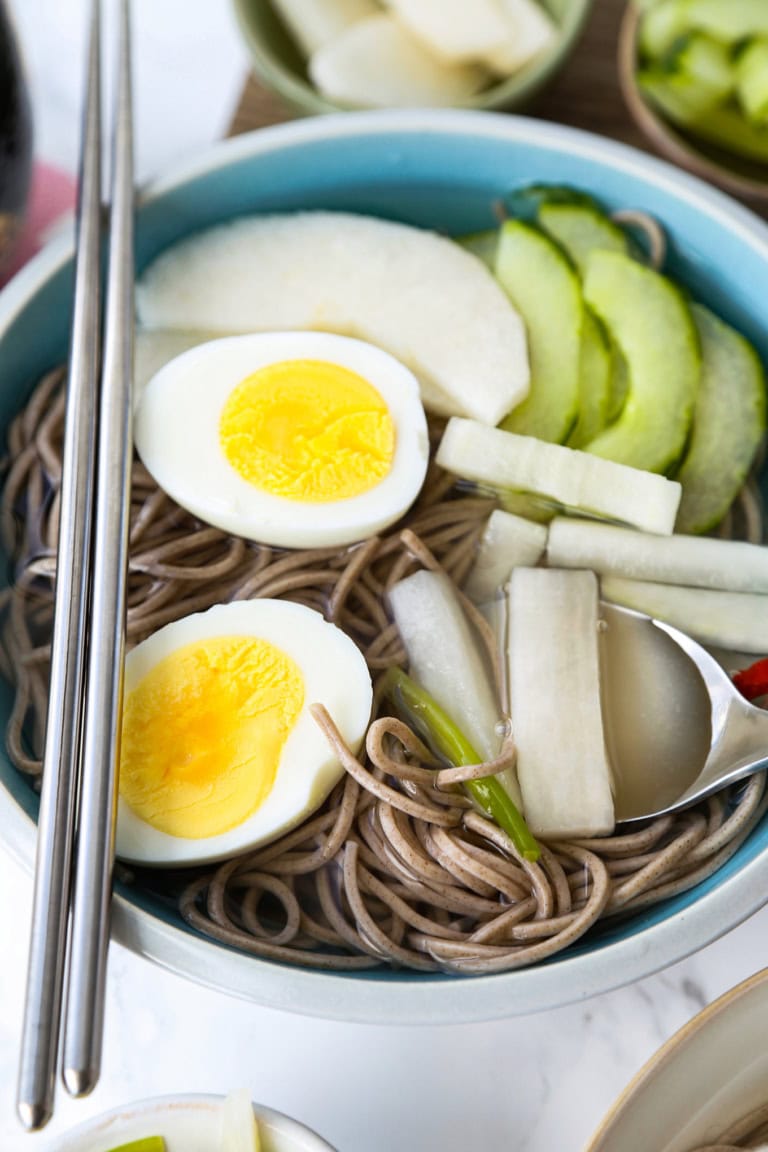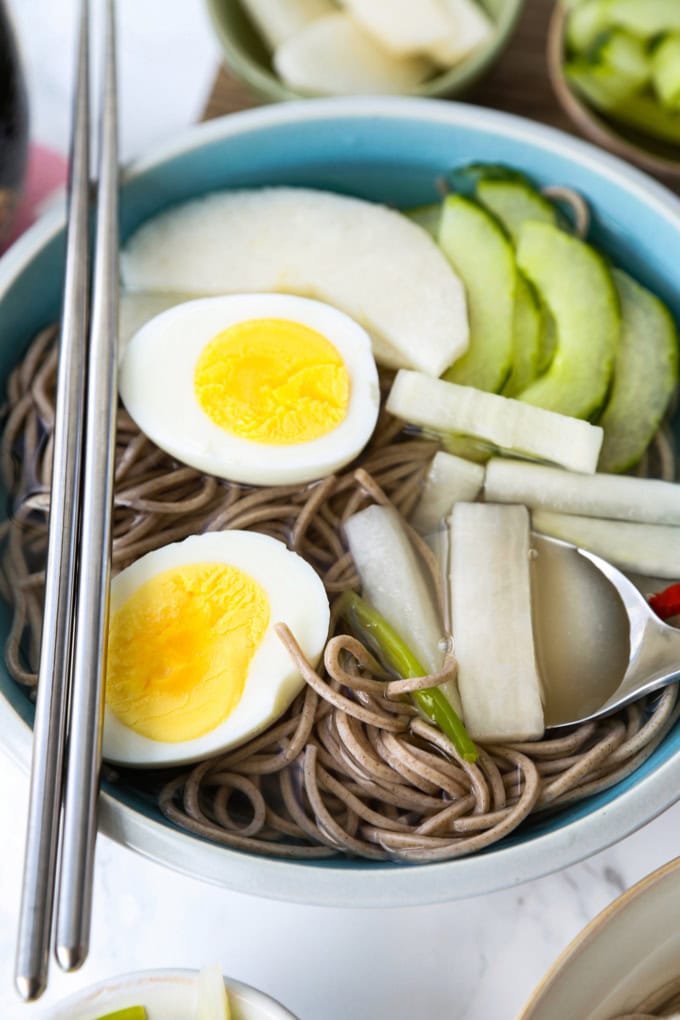 Did you like this Naengmyeon Recipe? Are there changes you made that you would like to share? Share your tips and recommendations in the comments section below!
Print
Naengmyeon (Korean Cold Noodles)
This popular summer Korean dish is full of salty and sour pickle flavors and comes packed with nutty buckwheat noodles and a creamy boiled egg on top. What's not to love!
Author: Caroline Phelps
Prep Time:

10 minutes

Cook Time:

30 minutes

Total Time:

40 minutes

Yield:

2

1

x
Category:

Noodles

Method:

Stove top

Cuisine:

Korean

Diet:

Vegetarian
Broth
4 cups

dashi or kombu dashi

1

-inch piece fresh ginger, peeled and chopped

1

garlic clove, chopped

2

scallions, white parts only

1 cup

dongchimi brine

2 tablespoons

white vinegar

1 tablespoon

sugar

Salt to taste
Noodles
6oz

dried naengmyeon noodles (Korean buckwheat noodles), or Japanese soba noodles
Toppings
1

Asian pear, peeled, cored, and thinly sliced

1/2

English cucumber, thinly sliced into strips

2

hard boiled eggs, cut in half (for vegan: use 2 dried shiitake mushrooms, rehydrated)

2oz

dongchimi pickles (optional)
Side seasonings (optional)
Instructions
Place all the ingredients for the broth in a pot and bring to a boil. Lower the heat to low, cover and simmer for 30 minutes. Strain and refrigerate until cold. To speed up the process you can place the broth in the freezer for about 30 minutes.

Cook the noodles by following the instructions on the package. Drain the noodles under cold water a couple of times and let them rest in a bowl of ice cold water for 2-3 minutes.

Drain the noodles well and divide them among two bowls. Pour the broth over the noodles and finish by adding the toppings.

Serve with side seasonings (optional).
Notes
Bibim Naengmyeon Sauce
3 tablespoons grated Asian pear
1 1/2 tablespoon gochujang
2 tablespoons gochugaru
1 teaspoon sesame oil
1 small garlic clove, minced
2 tablespoons sugar
1 tablespoon soy sauce
1/4 cup water
2 teaspoon sesame seeds
1 teaspoon salt
Directions:
Combine all the ingredients in a bowl and serve.
The sauce will keep for up to 2 weeks in the fridge, in an airtight container.
Nutrition
Serving Size:
Calories:

480

Sugar:

17.9 g

Sodium:

4437.3 mg

Fat:

7.1 g

Saturated Fat:

2 g

Carbohydrates:

87.1 g

Fiber:

2.8 g

Protein:

22 g

Cholesterol:

187.7 mg
Keywords: Noodle soup, cold soup, main
Recipe Card powered by