So easy! This spicy and smoky Korean Cucumber Salad Recipe is ready in 10 minutes and has a refreshing crunch! Serve as a side (banchan) at your next Korean BBQ feast or backyard cookout.
A simple and spicy cucumber salad
There's nothing better than placing a few simple and humble ingredients together and experiencing spectacular results when those ingredients meet.
This Korean cucumber salad is just that… the remarkable product of what happens when you mix cucumbers, gochugaru, garlic and vinegar.
We might just call it delicious alchemy at its best – because the outcome is an explosion of spicy, tart, savory, slightly sweet and crunchy.
In Korean, this cucumber salad is called oi muchim (오이무침). Now oi means 'cucumber' – and muchim translates to something akin to 'seasoned'.
Therefore, a fairly close translation would simply be seasoned cucumber.
And with a down-to-earth name like that, it only makes sense that making it from scratch should be just as uncomplicated.
How to make Korean cucumber salad
You only need about 10 minutes to whip up this seasoned cucumber salad recipe. Ready, set… let's cook!
First, slice two kirby cucumbers crosswise into pieces that are about ⅛ inch thick. Place those cucumber slices into a mixing bowl along with a chopped scallion.

Then in a separate small bowl, mix 1½ teaspoons white distilled vinegar with a teaspoon of soy sauce and a minced clove of garlic. In the same bowl, stir in a half teaspoon each of salt and sugar – and keep stirring until both have dissolved in the liquid.

Next, just pour the sauce over your scallions and cucumber slices.

Finally sprinkle about two teaspoons gochugaru (Korean red chili pepper flakes) and a teaspoon of sesame seeds over the top and mix well. You can pick up gochugaru on Amazon.
And that's it! I told you it was easy 🙂
Serve this simple Korean cucumber salad as a fiery snack on its own – or as a side dish for literally any meal.
And I'd be remiss if I didn't mention that it makes the PERFECT banchan!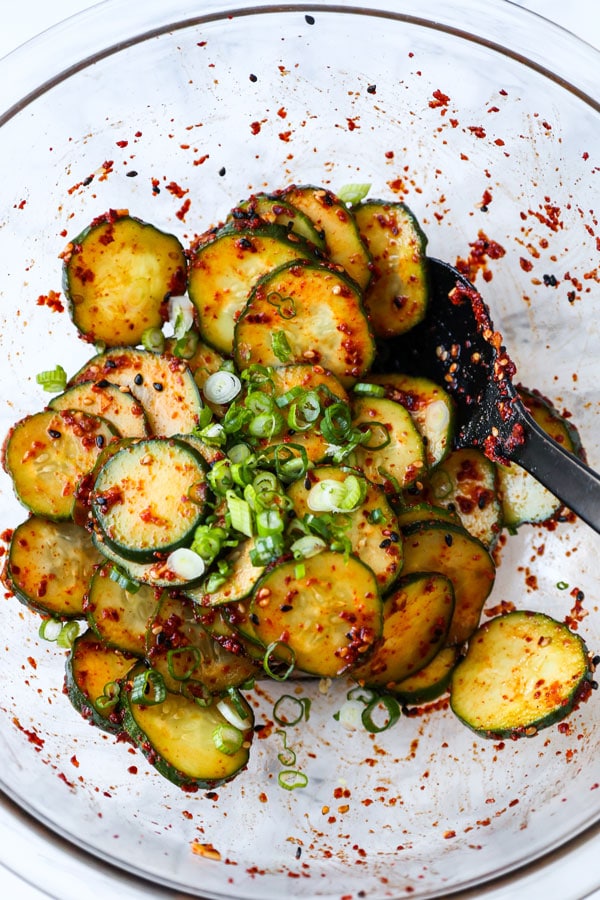 What is banchan?
Banchan are the myriad small dishes that are set in the middle of the table during a Korean meal. They are meant to be shared amongst all the diners during the course of the meal – and, most times, if one is finished before the end of the meal, it is refilled.
You may know banchan as the Korean BBQ sides served at your favorite K-Town barbecue joint.
Small plates containing everything from cold bean sprouts in sesame oil (kongnamul muchim) to cucumber kimchi (oi kimchi) to spicy dried squid strips (ojingeochae bokkeum) and everything in between are served as banchan. Btw… check out my fiery cucumber kimchi recipe here.
In fact, sometimes my favorite part of the meal is the Korean side dishes that are served alongside the larger courses like japchae, galbi and kimchijeon.
This spicy, tangy and savory Korean cucumber salad recipe would definitely go along with the other assertive side dishes during a delicious Korean meal.
But it would also be a great dish to serve out in front of something like a simple, summery bowl of somen noodles.
You guessed it. There's no wrong way to eat this delicious spicy cucumber salad!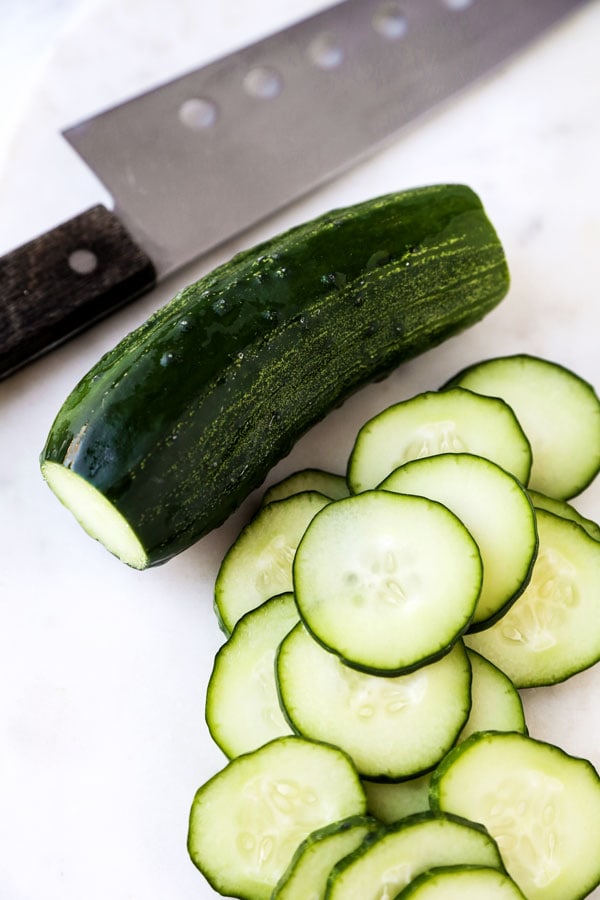 What cucumbers should I use for this simple cucumber salad?
Now I'm using kirby cucumbers in this Korean cucumber salad. Those are the small, unwaxed cucumbers sold primarily for pickling.
And, when it comes to this delicious salad, these cute little bumpy cucumbers have an advantage over other cucumbers. The CRUNCH!
You see, it stands to reason that a cucumber that stands up to the rigors of pickling without becoming a limp mess would be outrageously crunchy in raw form as well.
In fact, if you use kirby cucumbers in this Korean cucumber salad, you can probably store leftovers in your fridge for 4-5 days – and still indulge in a perfectly crunchy salad!
Now, if you can't find kirby cucumbers at your local grocery store, you could also use English cucumbers. They also have a thin skin (usually plastic wrapped at the grocery store) and a great crunch.
Take this Korean cucumber salad to your next cookout
I love heading to backyard BBQs and cookouts in the park with family and friends. There's just something so wonderful about feasting under a clear, blue sky.
Well, this crunchy and spicy cucumber salad is always a hit when I bring it along with me. The assertive flavor and cooling effect of the cucumbers is the perfect counterpoint to all the grilled classics.
Now, tell me about you! What's your favorite side dish at a cookout in the park? How about your favorite banchan at the Korean BBQ restaurant? Sound off! I'd love to hear about it in the comments 🙂
And, hey, happy cooking!
Other delicious cucumber recipes:
Plus a few more easy Korean recipes:
Did you like this Korean Cucumber Salad Recipe? Are there changes you made that you would like to share? Share your tips and recommendations in the comments section below!
Print
Korean Cucumber Salad
This Korean cucumber salad is an explosion of spicy, tart, savory, slightly sweet and crunchy!
Author: Caroline Phelps
Prep Time:

10 minutes

Total Time:

10 minutes

Yield: makes about

1.5 cups

1

x
Category:

Salad

Method:

Mixed

Cuisine:

Korean
Instructions
Place the cucumber slices and chopped scallions in a medium or large mixing bowl and set aside.

In a small bowl, mix vinegar, soy sauce and garlic. Stir in sugar and salt and keep stirring until the sugar has dissolved.

Pour the sauce over the cucumber slices and scallions and toss.

Sprinkle chili pepper flakes and sesame seeds and toss until the cucumber slices are evenly coated. Serve.
Notes
This spicy Korean cucumber salad will keep refrigerated for up to 5 days in an airtight storage container.
Nutrition
Serving Size:

1 serving

Calories:

32

Sugar:

2.3g

Sodium:

729.8mg

Fat:

1.2g

Saturated Fat:

0.2g

Unsaturated Fat:

0.5g

Trans Fat:

0g

Carbohydrates:

4.7g

Fiber:

1.2g

Protein:

1.2g

Cholesterol:

0mg
Keywords: spicy, crunchy, vegan, vegetarian, banchan
Recipe Card powered by