This bright and Creamy Cucumber Tomato Salad has the garden fresh taste of summer. Serve it at your Super Bowl party – or bring it to your next backyard cookout!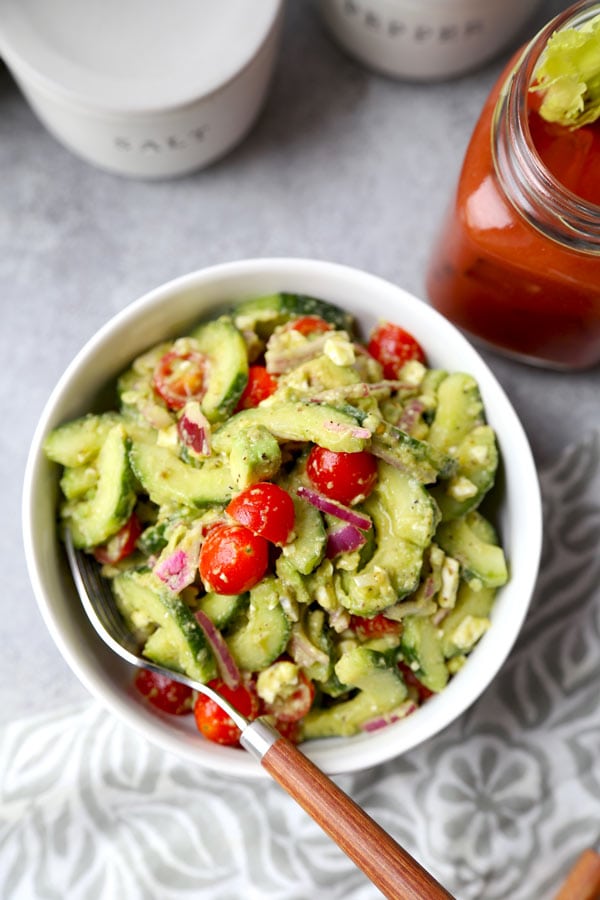 Creamy Cucumber Tomato Salad
How great is it when a recipe can pull double duty!?
I'm a huge fan of recipes that hit the spot whether it's a scorching billion degree summer day – or it's the dead of winter and I've got three hoodies on, trying to beat the bone-deep chill.
Sound weird? OK – I'll explain.
Of course a refreshing and cooling Mediterranean tomato cucumber onion salad is the food antidote to the summer heat. That's a given, right?
But how about those frigid days of January and March – when your new year's resolutions are way to fresh to sweep under the rug?
You know you should eat healthy salad, but your body is in full-on indulge me winter-crave-mode.
Well, good news friends!
This creamy cucumber tomato salad is healthy enough to keep you on track with your new diet and workout regimens, but loaded with enough substantive, creamy indulgence that it'll help insulate against that winter chill.
And aside from the obviously clean and bright English cucumber, red onion and cherry tomato salad mixture, there's another ingredient at work here that brings bulk and creaminess to the party.
What makes this cucumber tomato salad creamy?
In short: avocado.
Yep, I mashed avocado and added it to a simple and bright vinaigrette, creating a creamy and indulgent element in this simple tomato and cucumber salad recipe.
It's a little chef's trick… a sleight-of-hand hack to add a velvety texture to something, while still keep it heart-healthy.
And, aside from the mashed avocado in the tart vinaigrette, I added cubed avocado to the salad to give it a bit more all around heft.
But, hey… let's not forget the feta!
Even though feta has the appearance of a crumbly cheese, this delicious Greek staple is absolutely creamy when added to this tapestry of ingredients.
In this case, I'd even say the avocado seems to compound the creaminess of the feta.
And feta is delicious! It's slightly salty and tangy – and is the perfect funky, assertive addition to this otherwise clean and bright tomato cucumber onion salad.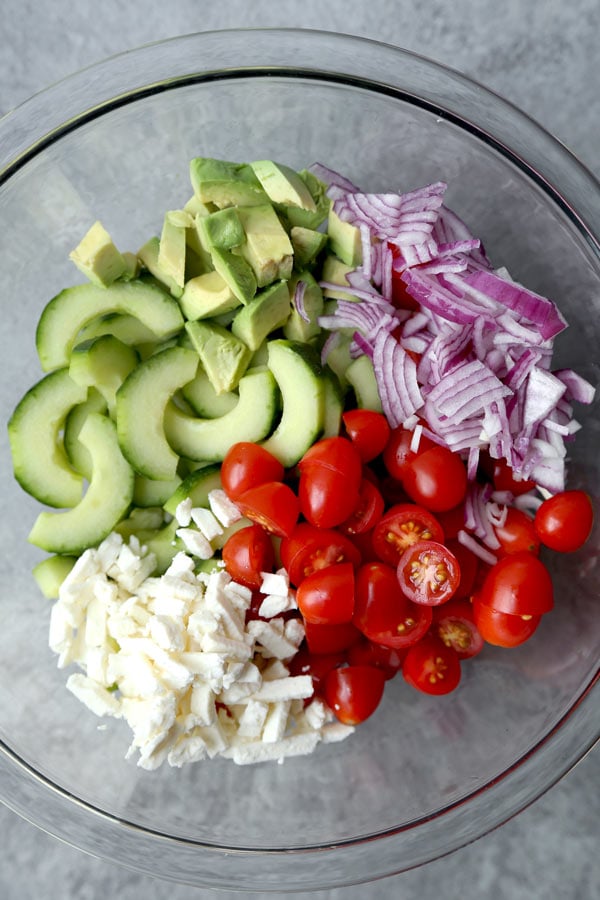 So, is this a Greek Salad?
Well, sort of yes – and kind of no.
The architecture is there. This easy sliced cucumber salad has the tomatoes, onions, oregano and feta you'd expect from a Greek salad.
But it's missing one thing. And it's pretty important.
You see, a true Greek salad would likely have black olives included in the mix.
Oh… and let's not forget that a Greek salad probably wouldn't include avocado at all.
So, is it a Greek salad?
Hmmmm… yeah, but no 🙂
How to make creamy cucumber tomato salad
This is the part you're gonna love, friends!
There's nothing better than a full flavor recipe that you can whip up in your home kitchen in 10 minutes, without even turning on a burner.
Therefore, all you need is a knife, a bowl, and your cutting board to get going on this creamy cucumber salad with tomatoes and feta.
First, I like to get the dressing started.
Simply add three tablespoons extra virgin olive oil, 1½ tablespoons apple cider vinegar, a quarter teaspoon dried oregano and a teaspoon of dijon mustard to a salad dressing shaker or bowl.
Add a dash of salt and pepper to suit your taste – and then shake or whisk well until it has emulsified.
Now you can set that aside, and get to prepping your salad ingredients.
Slice half an English cucumber in half lengthwise (if it's curved, it might be better to do this in sections) and simply scoop out the tiny seeds with a small spoon – and slice your cucumber into slim half-moons.
Add the cucumber to a bowl along with a quarter cup thinly sliced red onion, a third of a cup of crumbled feta cheese, half an avocado (cubed) and a cup of cherry tomatoes, sliced in half.
To find out how to salt and slice cherry tomatoes (and avoid a watery mess), click here.
Notice how we only used half the avocado in the salad?
The last step is to mash the other half with a fork – and add it to our vinaigrette last minute.
Simply mix the creamy dressing, pour it over the salad – toss and serve.
Voilà!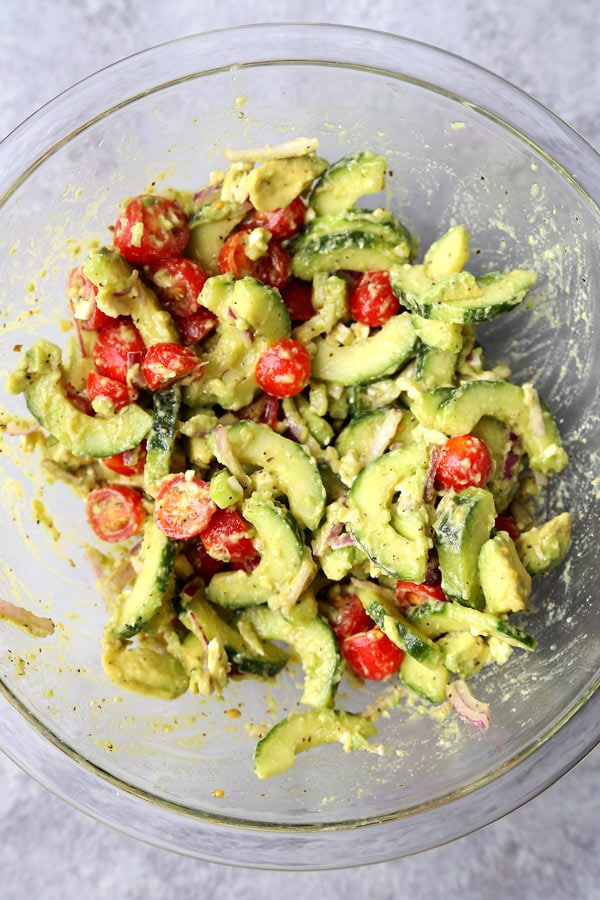 Is cucumber tomato salad healthy?
You bet!
Any salad with this many nourishing veggies is gonna be a healthy and nutritious option to pile on to your plate at dinnertime.
But let's take a deeper look at some of the ingredients in this tomato and cucumber salad and a few of their specific health benefits.
Avocado: This creamy green fruit is loaded with vitamins K, B and C – and has more potassium than a banana. Avocados are also rich in fiber and fatty acids that are necessary to maintain heart health.
Cucumber: Low in calories, but high in vitamins and antioxidants, cucumbers are wonderfully hydrating.
Extra Virgin Olive Oil: Loaded with vitamins E and K, EVOO is also a great source of monounsaturated fats (that's the good fat) and is said to have anti-inflammatory properties.
Cherry Tomatoes: Bursting with vitamins A, C, K and potassium, these mini-sized tomatoes are also a great source of lycopene.
Feta Cheese: When stacked up against other types of cheese, feta is lower in fat and calories. It's a great source of fatty acids, calcium and B vitamins.
Red Onion: Packed with vitamins B and C, onions are nutrient dense, have antibacterial qualities and may even promote digestive health!
Apple Cider Vinegar: Aside from it's yummy tart flavor, apple cider vinegar has been known to kill harmful bacteria. This low calorie flavoring agent is also said to help lower cholesterol and promote heart health.
Wow! This salad is obviously no slouch on the health front.
So dig in with abandon!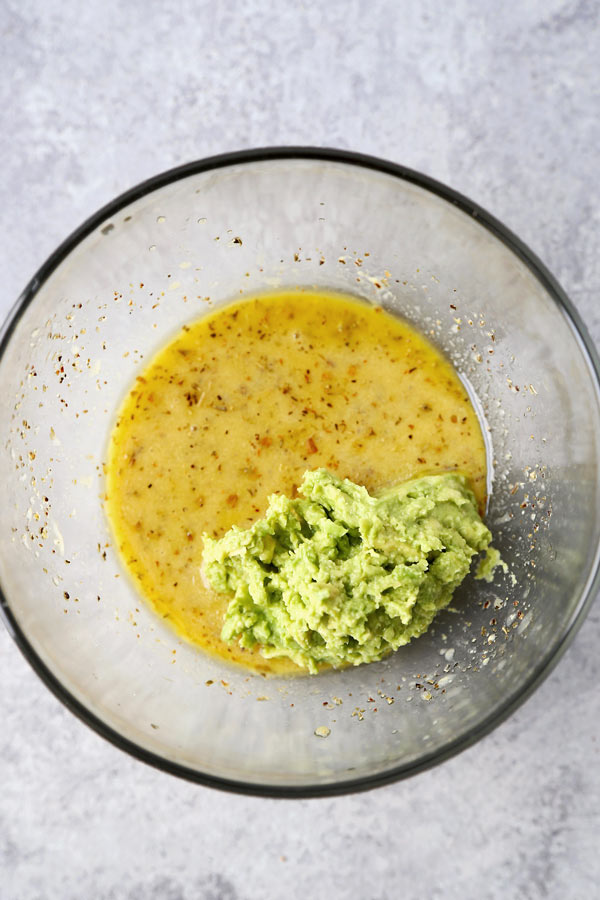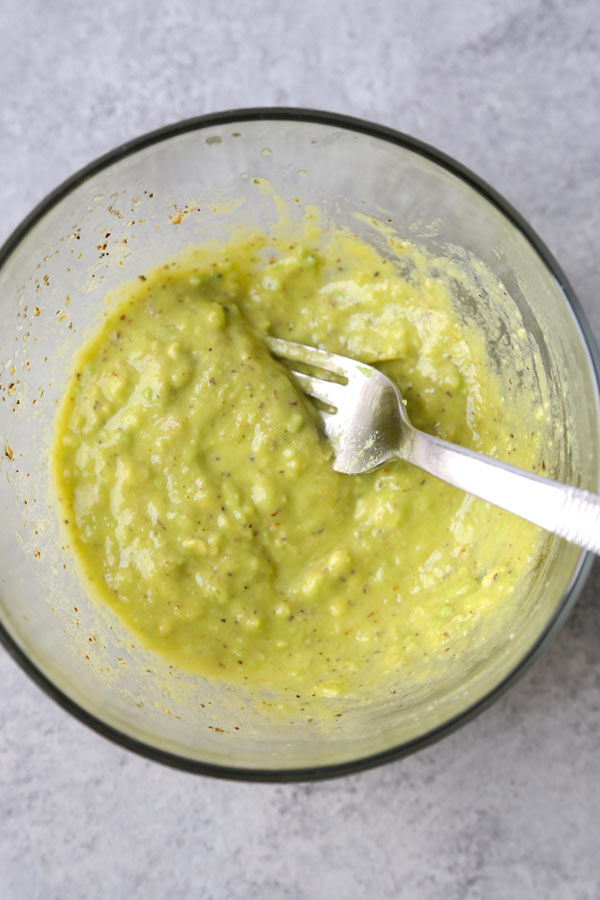 What's the difference between English cucumbers and regular cucumbers?
A cucumber is a cucumber, right?
Well, while the forms may look similar, there are some pretty decent differences between the over 100 different varieties of cucumbers grown in the world.
Now, for our purposes, we're gonna narrow it down to English cucumbers vs regular cucumbers (also called slicing cucumbers).
English cucumbers are long and slim, with a thin outer skin and very small seeds. Sometimes called 'seedless' or 'burpless' cucumbers, they are normally sold at the grocery store unwaxed and wrapped in plastic. They have a sweet, garden fresh taste, a bright crunch – and are perfect for in this creamy cucumber tomato salad.
Regular cucumbers (aka: slicing cucumbers) tend to be larger with a tougher, more bitter waxed dark green skin. And while they are typically less expensive at the grocery store, they also have a center that is comprised of larger, more watery seeds.
While I prefer English cucumbers to the slicers for this recipe – in a pinch you can use whatever the corner grocery store has fresh and handy in the vegetable bins.
The creamy vinaigrette is the star of the show here! 🙂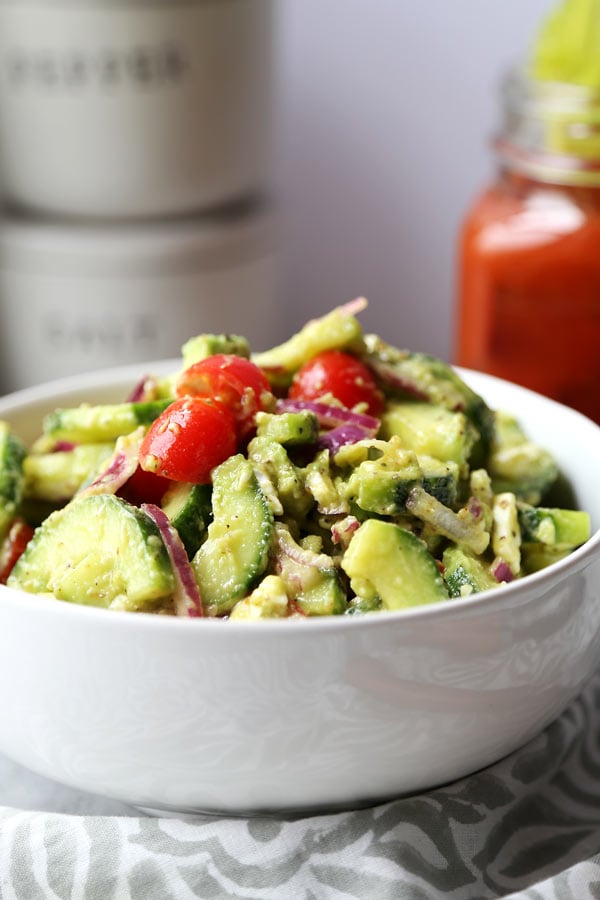 How long does cucumber tomato salad last?
While this salad will stay in tip-top shape for a few hours after you've mixed it up, it's meant to be enjoyed immediately.
It must be said that it's just way more enjoyable when the cucumber is crisp, the tomatoes still have their pop and the avocado is bright green.
Now, you can store leftovers of this tomato cucumber salad in the fridge for up to a day. But that's it.
Unfortunately, anything past a day will render this bright Mediterranean cucumber recipe a watery mess.
Best to serve it as soon as it's mixed. And eat up!
A classic tomato cucumber feta salad… One of the perfect salads for a crowd
This yummy Greek (ish) salad is perfect for those times you're standing at the grocery store, staring at the produce, wondering what to do with cucumbers and tomatoes.
And it's a salad that happens to be both refreshing and cleansing in the summer months – and creamy and substantive when the winter winds howl.
Whether you're entertaining a group of friends for dinner, or just want to tuck into something healthy after the gym, this creamy cucumber tomato salad is sure to hit the spot!
What about you? Do you have something you like to eat in both the summer and winter? I'd love to hear about it in the comments.
Happy cooking!
Other easy, healthy recipes:
PLUS: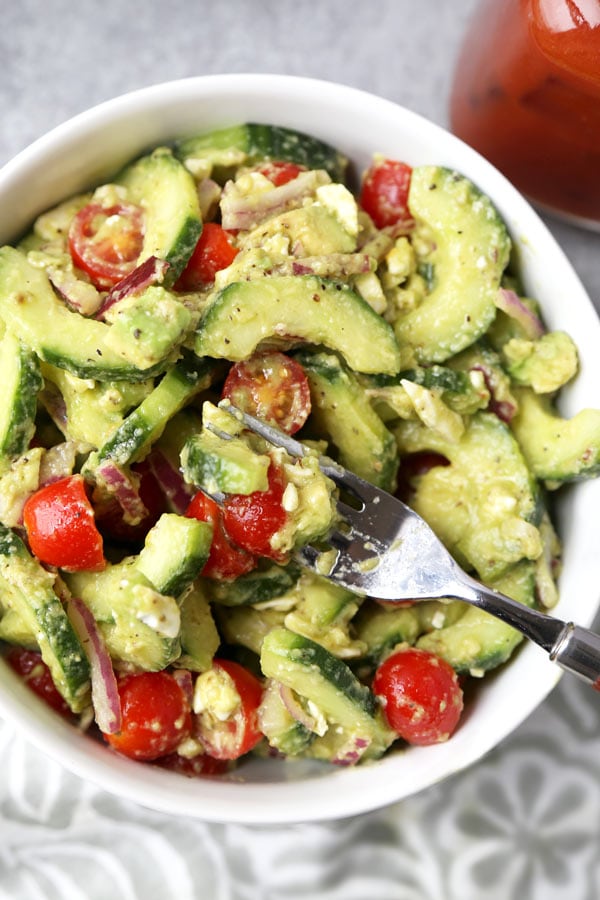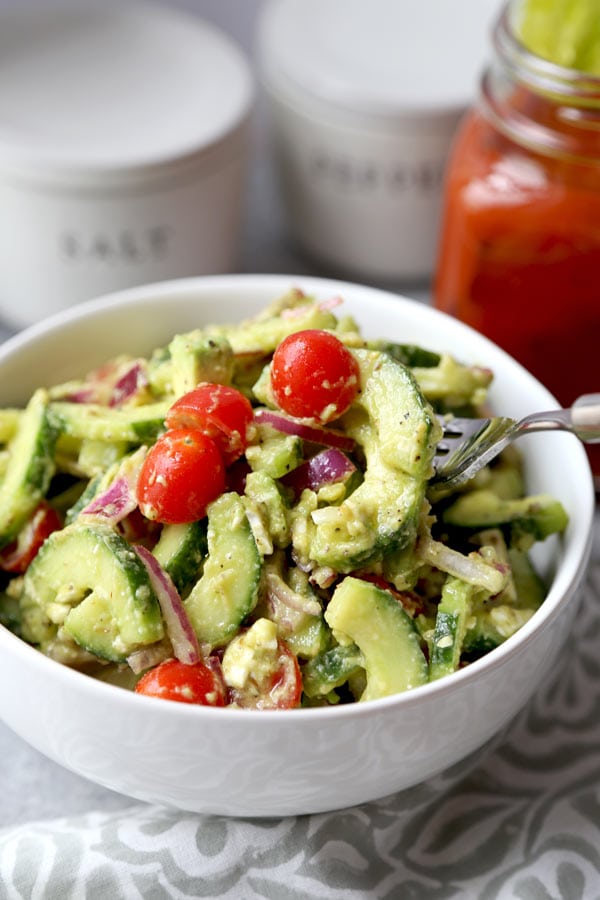 Did you like this Creamy Cucumber Tomato Salad Recipe? Are there changes you made that you would like to share? Share your tips and recommendations in the comments section below!
Print
Creamy Cucumber Tomato Salad
A bright and healthy (almost) Greek salad with a tart and creamy avocado vinaigrette!
Author: Caroline Phelps
Prep Time:

10 minutes

Total Time:

10 minutes

Yield: Serves

2

-4

1

x
Category:

Salad

Cuisine:

American / Greek
Salad:
2 cups

English cucumber, seeded and sliced into half-moons

1 cup

cherry tomatoes (about

24

), sliced in half

¼ cup

red onion, sliced into thin half-moons

⅓ cup

feta cheese, crumbled

1

avocado, peeled, pitted and chopped bite sized
Dressing:
3 tablespoons

extra virgin olive oil

1½ tablespoons

apple cider vinegar

1 teaspoon

dijon mustard

¼ teaspoon

dried oregano

Salt and pepper, to taste
Instructions
Add all the ingredients for the dressing to a salad dressing shaker and shake well (or whisk the ingredients in a bowl). Set aside.

Peel English cucumber and slice in half lengthwise. Scoop out the seeds with a small spoon and slice into thin half-moons (or bite sized chunks if you prefer).

Transfer cucumber into a large bowl along with the cherry tomatoes, red onion and feta cheese.

Chop half the avocado into bite sized pieces and add it to the salad.

Mash the other half of the avocado in a small bowl and add it to the dressing. Shake dressing well and pour over the salad. Toss the salad, season with salt and pepper and serve.
Notes
This creamy cucumber tomato salad is best served immediately. You can store leftovers for up to a day in the fridge. No more.
Nutrition
Serving Size:
Calories:

310

Sugar:

6.2 g

Sodium:

188.1 mg

Fat:

27.6 g

Saturated Fat:

6.3 g

Carbohydrates:

14.5 g

Fiber:

7 g

Protein:

5.5 g

Cholesterol:

13.4 mg
Keywords: healthy, recipe, appetizer, side, gluten free, pot luck
Recipe Card powered by