One of my favorite Japanese dishes, sunomono is a Japanese cucumber salad served with wakame and tossed in a vinegar and soy sauce based dressing. It's very light, refreshing, puckery sour and a little briny. This is an easy recipe that only requires 7 ingredients and 20 minutes!
My favorite type of Japanese cucumber salad is the one that comes with octopus (tako su – たこ酢).  It has all the same flavors as today's recipe but also comes with sliced boiled octopus. I used to be addicted to this salad, always ordering it whenever my mother took us out for Japanese food.
That's because I love all things sour and acidic. I salivate every time I think of cold ramen (hiyashi chuka), hot and sour Sichuan glass noodles, kimchi, umeboshi (Japanese pickled plum), kombucha, a glass of low sugar lemonade, and a bowl of sunomono salad.
Sour just may be my favorite flavor profile.
So it only made sense to share with you one of my all time favorite Japanese dishes – kyuri no sunomono (Japanese cucumber salad). Ready to make it? Let's go!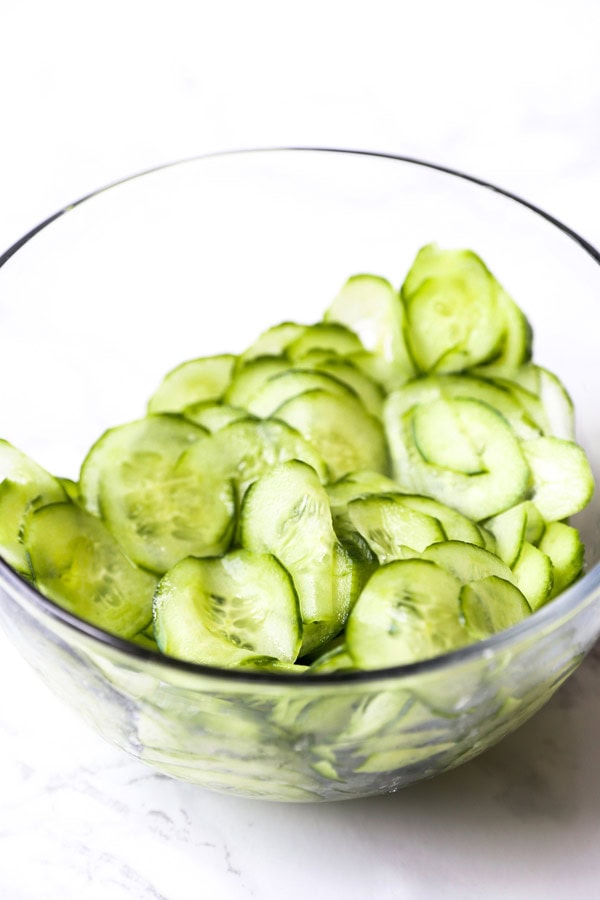 What is Sunomono?
The word su means vinegar in Japanese and sunomono (酢の物) basically translates to food/things marinated in vinegar.
Sunomono is usually served in small bowls at the beginning of a meal 0r as part of a main meal, always served as a side. It's a wonderful dish to serve in the summer since vinegar helps the body cool down from warm temperatures. The fact that it's also very light in calories and virtually fat-free makes it easy to digest.
Today I'm topping this Japanese classic salad with sesame seeds and shirasu. If boiled fish isn't your thing, you can either skip it or add your own toppings. Sunomo is extremely versatile! I've served it with cherry tomatoes, cucumber and tofu, boiled shrimp, etc…
What is Shirasu?
Shirasu are baby sardines commonly eaten in Japan as a topping for salads or as part of a chirashi meal. They are especially popular in Enoshima, as small island located about an hour away from Tokyo, where you can find restaurants specializing in shirasu dishes.
I was lucky enough to go there with my cousins during my last visit in Japan and ate some of the best and freshest fish I've ever had. If you ever end up in Tokyo, a trip to Enoshima is highly recommended!
What is Wakame?
Wakame is the Japanese word for seaweed. It's a type of edible seaweed that's often used in soups (miso soup) and salads. It's usually sold in dried form and is very high in minerals, like iron. Wakame is one of the world's most sustainable crops and can grow as much as three-quarters of an inch a day!
Not only is wakame excellent for our bodies, it's also great for the environment as it can remove carbon dioxide directly from the sea. Kelp "forests" can also shelter up to 800 species of marine life. Now that warms my heart big time 🐠💕.
So now you have double the reasons to consume lots of seaweed!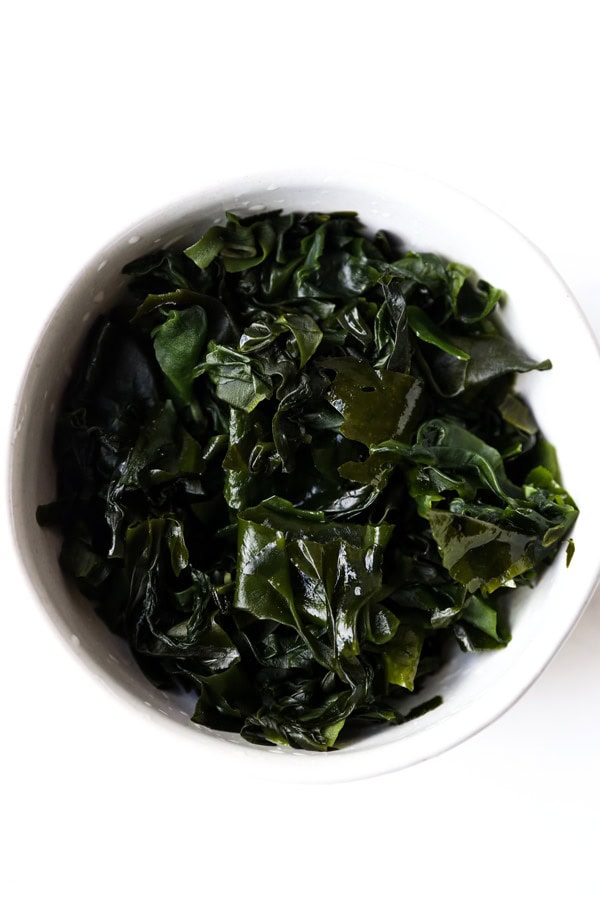 Ingredients For Japanese Cucumber Salad (Sunomono)
Cucumber: This salad is all about cucumber! So find good, crunchy cucumbers for the best sunomono.
Wakame: It adds a briny taste and a gelatinous texture to the salad. Don't over soak wakame as it will get slimy, make sure to follow the instructions on the package!
Soy Sauce: Use tamari or liquid amino for a gluten-free salad. I use the Yamasa brand which I prefer over Kikkoman because of its milder taste. Kikkoman is a little too salty for me (my Japanese mother also finds it too salty).
Dashi: Many sunomono recipes don't use dashi but I absolutely love it. I think it mellows the acidity of the rice vinegar and marries beautifully with the briny wakame.
Rice Vinegar: Choose plain rice vinegar such as Nakano's Natural Rice Vinegar or Mizkan.
Mirin: Mirin adds a little sweetness that's similar to sake. It's milder and more complex than granulated sugar. Most mirin sold in the US is alcohol-free even though the traditional real mirin contains alcochol. You might have to look in specialty shops to find the real thing, I haven't been able to get my hands on it here in the US.
Sesame Seeds: To add a little nuttiness.
Shirasu (Baby Sardines): The flavor of shirasu is quite mild which is why it pairs so nicely with a dish like sunomono that's already assertive in flavor.
Best type of cucumber to Make Japanese Cucumber Salad
Japanese cucumber, Kirby cucumber, and Persian cucumber are good because they can hold on to the acidic dressing and remain crunchy. English cucumber can also work but because of its wider circumference I recommend slicing it in half lengthwise before finely chopping it.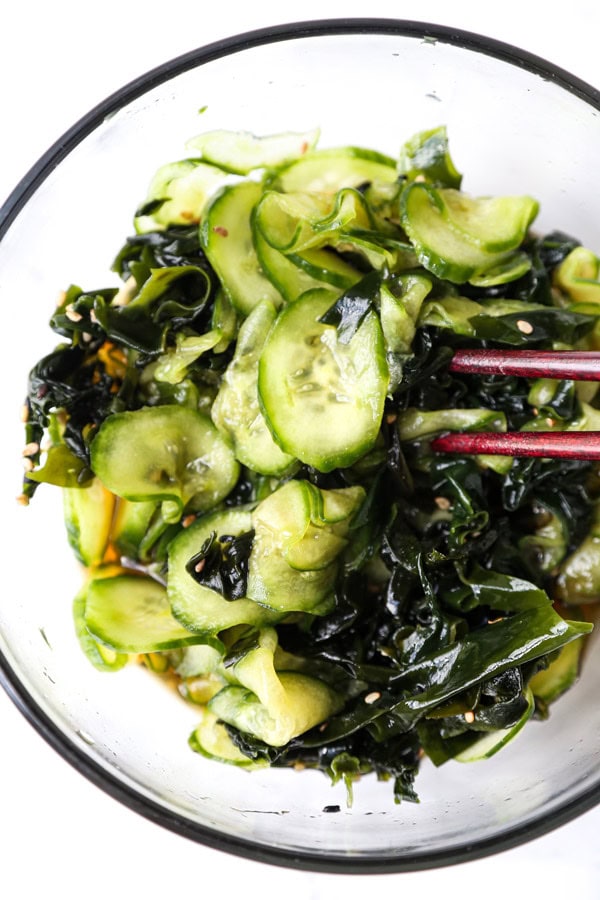 How To Make Japanese Cucumber Salad (Sunomono)
Thinly slice your cucumber, place it in a bowl and sprinkle a little salt over it. Toss the cucumber with your fingers and let sit for 15 minutes.
Pour any liquid that's sitting at the bottom of the bowl and gently squeeze the excess water from the cucumber slices.
Soak the wakame in cold water for a few minutes, drain well and add it to the cucumber slices.
Whisk in all the ingredients for the dressing into a bowl add it to the salad, together with the sesame seeds.
Toss well, transfer to small serving bowls and top with shirasu. Enjoy!
The Best Way to Slice Cucumber
The best way to slice a cucumber for this type of salad is with a Japanese mandoline (this is the one I use, which is available on Amazon). It's light and easy to handle, and the blade is much sharper than a French mandoline, which will give you slices that are smooth and even.
You can of course do it with a knife but this process will take you a lot longer and the slices won't be as thin and evenly cut.
What To Serve With Japanese Cucumber Salad
This Asian cucumber salad is quite light so you can serve it as a side or as part of a meal, with dishes that are more filling (I recommend sticking to an Asian menu since the flavors of the salad are so distinctly Japanese) such as:
Did you like this Japanese Sunomono Salad Recipe? Are there changes you made that you would like to share? Share your tips and recommendations in the comments section below!
Print
Japanese Sunomono Salad
Sunomono is a Japanese cucumber salad served with wakame and a vinegar and soy sauce based dressing. This is an easy recipe that only requires 7 ingredients and 20 minutes!
Author: Caroline Phelps
Prep Time:

5 minutes

Total Time:

20 minutes

Yield:

2

-4

1

x
Category:

Salads

Cuisine:

Japanese
2

medium Persian cucumbers or

3

Kirby cucumbers

1 1/2 tablespoon

dried wakame (seaweed), about

3 grams

1/2 teaspoon

sesame seeds

2 tablespoons

shirasu (boiled, salted whitebait), optional
Dressing:
3 tablespoons

plain rice vinegar

3 tablespoons

dashi broth

2 tablespoons

soy sauce

1/2 tablespoon

mirin
Instructions
Peel cucumber so it has alternating green stripes and thinly slice into rounds. Place in a mixing bowl and sprinkle about 1/4 teaspoon salt. Let sit for 15 minutes and squeeze the water out using your hands. Return the cucumber slices to the bowl and set aside.

Soak the wakame in cold water for 5-6 minutes, or according to the directions on the package and drain. Add the wakame to the cucumber bowl along with the sesame seeds.

Mix all the ingredients for the dressing and pour over the cucumber and wakame. Toss using chopsticks and serve, or top with shirasu and serve.
Notes
Wakame gets slimy if it's left in liquid or dressing for too long and because of that this salad is best eaten fresh.
Nutrition
Serving Size:
Calories:

48

Sugar:

3.7 g

Sodium:

1135.6 mg

Fat:

0.6 g

Saturated Fat:

0.1 g

Carbohydrates:

7.1 g

Fiber:

0.8 g

Protein:

3.2 g

Cholesterol:

0 mg
Keywords: recipe, appetizer, side, washoku, izakaya
Recipe Card powered by