I've always been a huge fan of Japanese seaweed salad! With its puckery tartness and refreshingly cold kelp, I could keep on eating it all day long. Let me show you how to make it at home in just 10 minutes!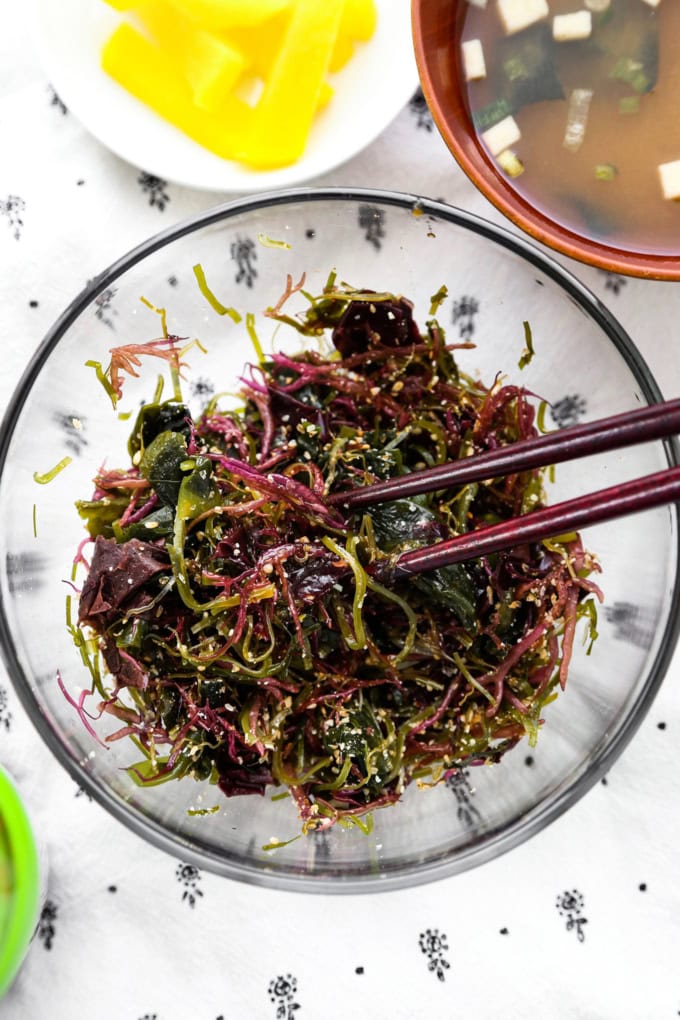 Japanese seaweed salad was one of those dishes that made a rare appearance during my childhood because my mother had limited access to Japanese food. The closest Japanese store was two hours away by car so we would only go there a couple of times a year.
But when she did make it I was all over it!
The level of acidity found in a seaweed salad is heaven for someone like me who thrives on tart and sour foods. I could never get enough of it! While my brother devoured caesar salad after caesar salad, I waited patiently for the day when seaweed salad would make an appearance at the dinner table.
Today I have an easy recipe for it that only takes 10 minutes to make. Let's cook!
What is Seaweed Salad?
There are many different types of seaweed salads but the four most popular ones are:
Wakame salad: wakame, also known as sea mustard, is the dried kelp you find in sunomono, miso soups and other Asian soups (it's the most popular type of seaweed used). It has a dark green color, a slightly sweet and mineral taste and a silky smooth texture. The preparation for wakame salad is very similar to kaisou salad as it comes dressed in a vinegar based dressing.
Chuka salad: Made with kuki wakame, which is a type of wakame that's crunchy and shaped like strips (kuki means stalk), chuka salad is both sweet and nutty.
Kaisou salad: Kaisou salad what's on the menu today! So keep on reading to learn how to make it 🙂
Hijiki salad: Hijiki is a brown seaweed that's quite bland on its own. It grows on rocky coastlines around Japan, Korea, and China. A typical hijiki salad with consist of reconstituted hijiki tossed in soy sauce and sugar.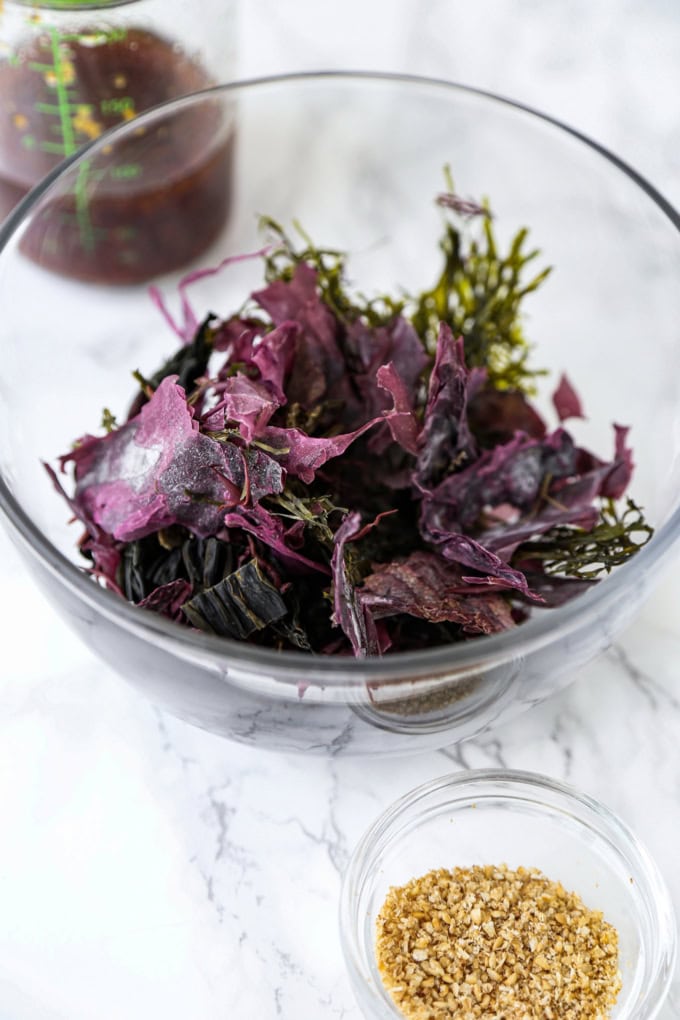 Ingredients for Seaweed Salad
For this kaisou salad you will need 7 ingredients.
Seaweed salad mix: 
Sesame oil: I'm using half a tablespoon to add a little nuttiness to the dish.
Soy sauce: 1 1/2 tablespoon for umami and saltiness.
Rice vinegar: My favorite ingredient! 2 tablespoons of plain rice vinegar to infuse lots of tartness. You can also use apple cider vinegar if you don't have rice vinegar on hand.
Mirin: Mirin is a little sweet and umami and helps to balance the salty and acetic flavors of the seaweed dressing.
Sugar: 1 teaspoon to add a little sweetness.
Ginger: Make sure you are using fresh ginger and not ginger powder for this. 1 tablespoon is just enough to add a little warmth to the dressing without changing its flavor or making it spicy.
Ground sesame seeds (optional): Optional but so delicious! Ground sesame seeds adds a different texture to the salad and ups the level of nuttiness. You can crush the seeds by using a pestle and mortar or use a Japanese sesame grinder (that's what I use) to grind them.
Where to Buy Seaweed Salad Mix
Seaweed salad mix can be found in Japanese supermarkets such as Nijiya, Sunrise Mart, and Mitsuwa. You might also be able to find some at an Asian grocery store but that's more of a hit or miss, depending on which one you decide to visit.
They are fairly easy to find online and can be purchased from sites such as Thrivemarket, iHerb, and Amazon. Make sure you are buying seaweed salad mix and not dried wakame seaweed as they are different things.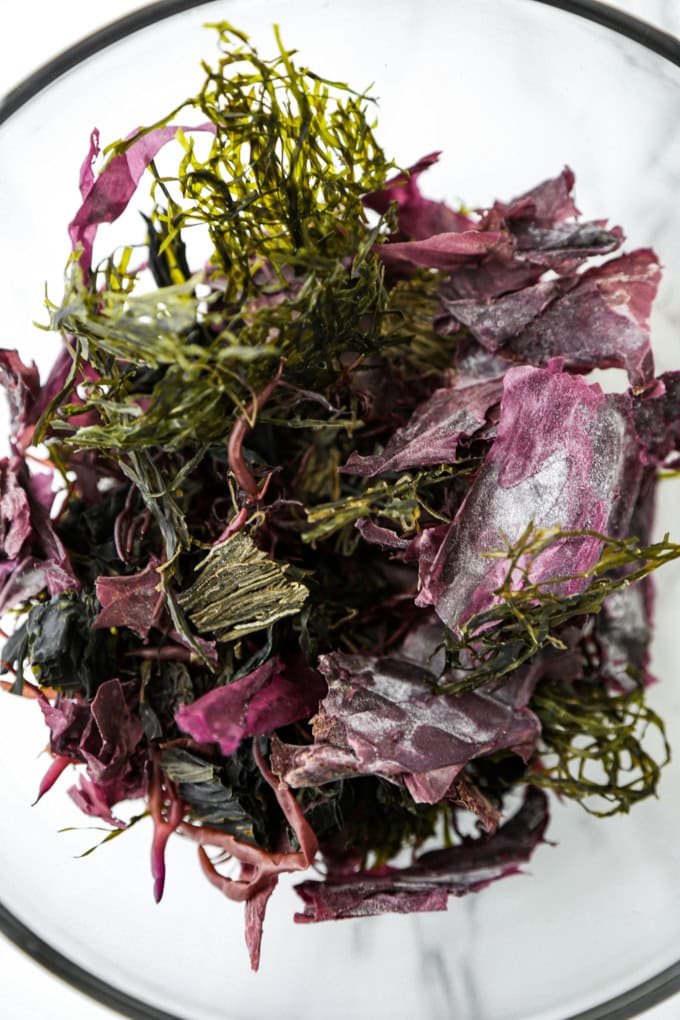 How to Make Seaweed Salad
Make the seaweed salad dressing by whisking the sesame oil, soy sauce, rice vinegar, mirin, sugar, and in ginger.
Open seaweed salad mix package and place the seaweed in a bowl of water. Let the seaweed soak for 5-10 minutes (refer to the directions on the package).
Drain the seaweed and rinse a couple of times under cold water (this helps to remove some of briny smell). Drain again and gently squeeze out the excess water using your hands.
Put the seaweed in a bowl and drizzle the dressing on top. Toss well and add the ground sesame seeds. Toss again and serve immediately.
Seaweed salad doesn't keep well because the texture of seaweed gets slimy quickly. Therefore it's always best to serve it as soon as it's been tossed in dressing. You can make the dressing ahead of time and keep it in a salad dressing bottle in the fridge, but I don't recommend soaking the seaweed until you are 10 minutes away from eating your meal.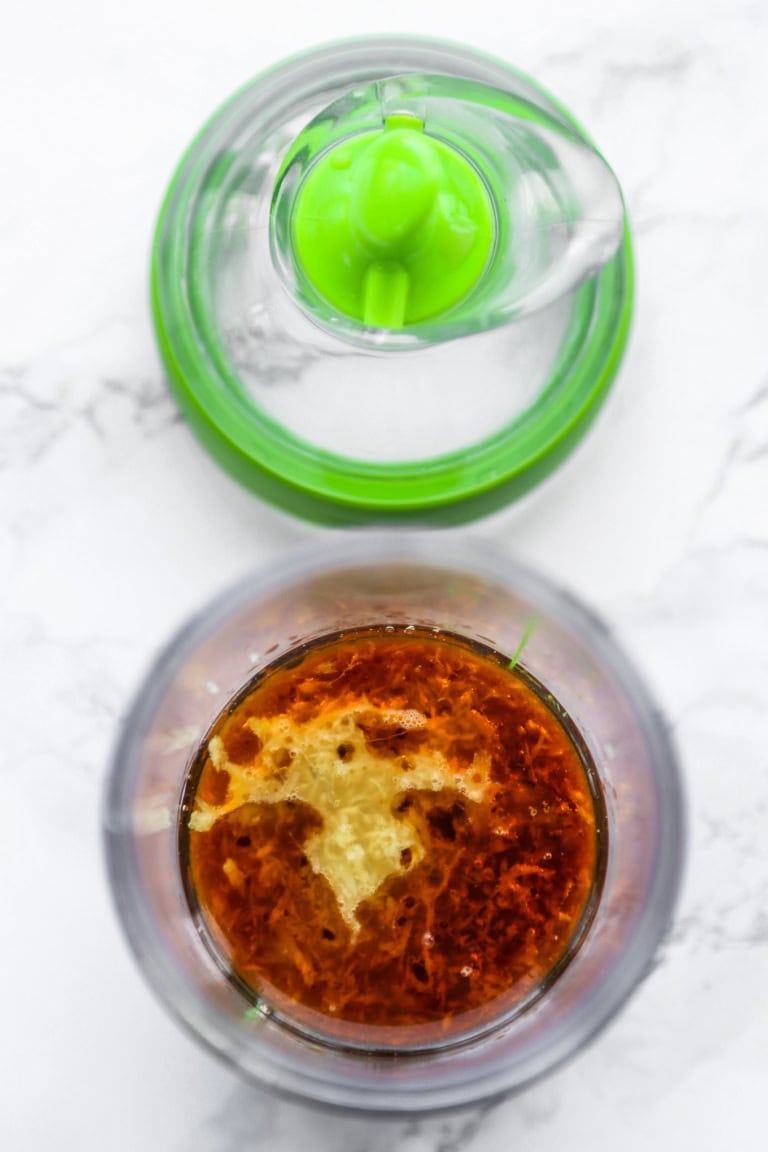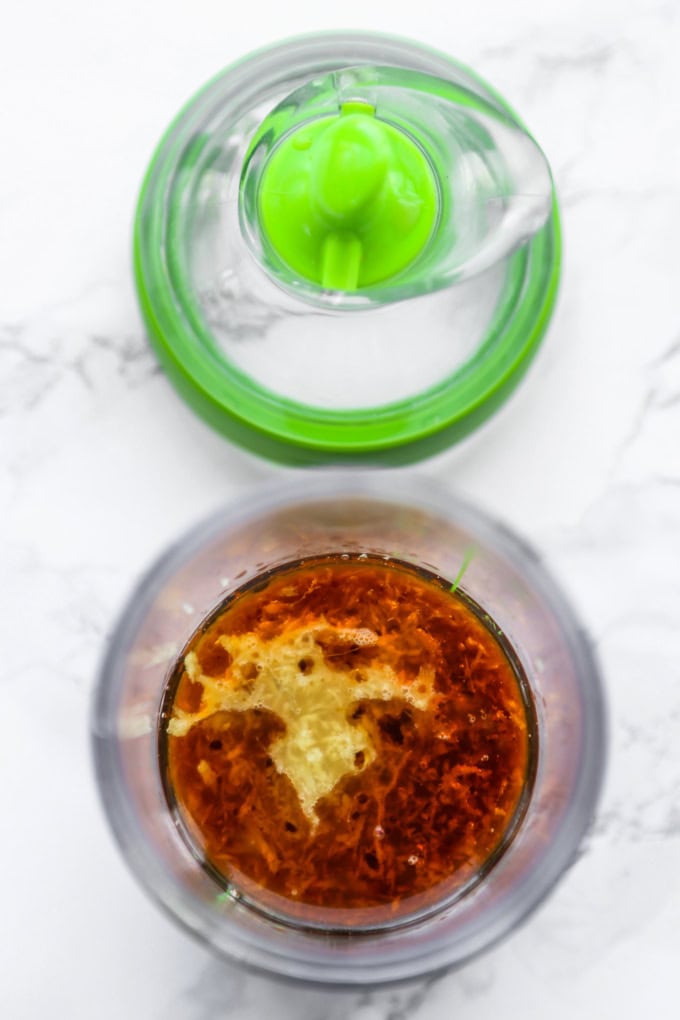 What to Serve with Seaweed Salad
Seaweed salad is delicious when topped with a few fresh crisp lettuce leaves, cucumber and tomato slices. As a side, it pairs well with dishes such as:
Recipes Using Seaweed and Kelp: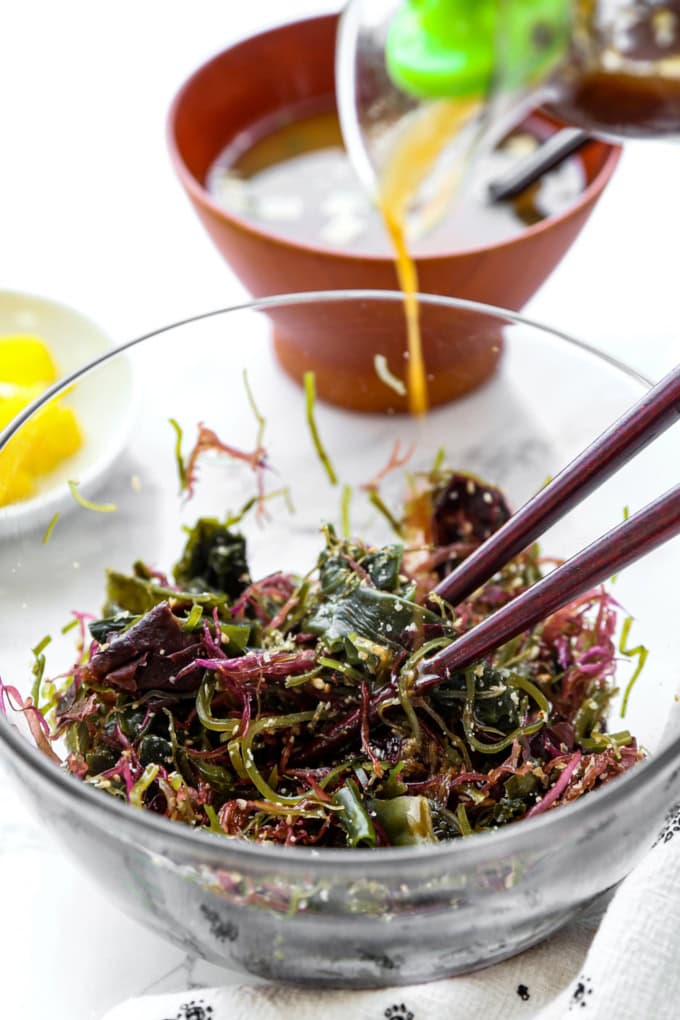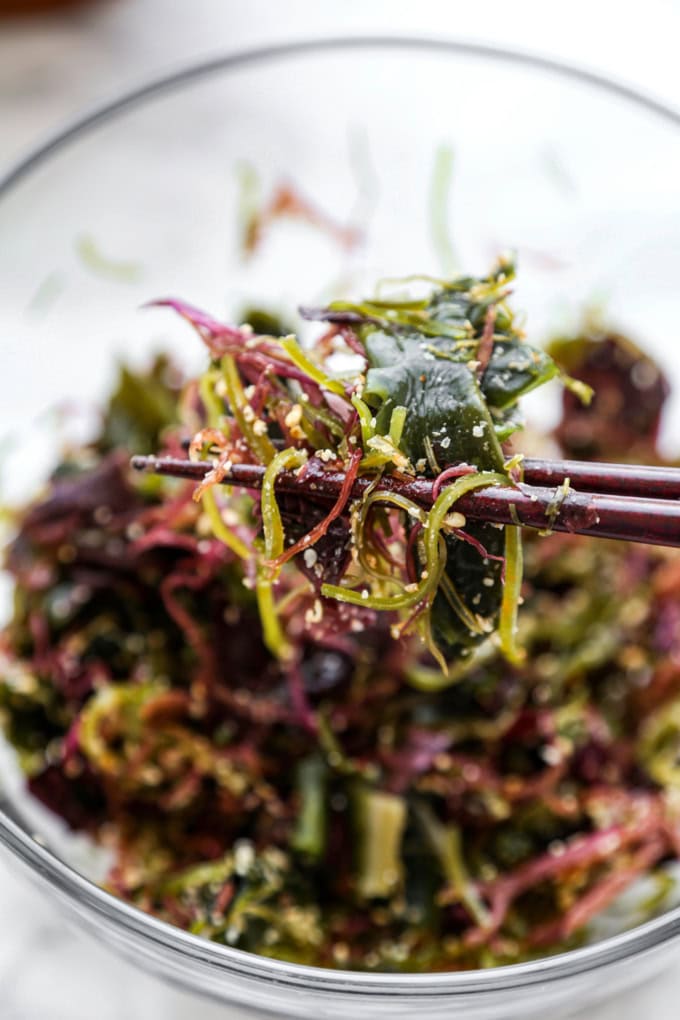 Did you like this Seaweed Salad Recipe? Are there changes you made that you would like to share? Share your tips and recommendations in the comments section below!
Print
Seaweed Salad (Kaisou Salada)
Tart and refreshing, Japanese Seaweed Salad makes for a delicious and easy side dish.
Author: Caroline Phelps
Prep Time:

10 minutes

Total Time:

10 minutes

Yield:

2

sides

1

x
Category:

Salads

Cuisine:

Japanese

Diet:

Vegetarian
15g

dried seaweed salad mix

1 teaspoon

ground sesame seeds (optional)
For the dressing:
1/2 tablespoon

toasted sesame oil

1 1/2 tablespoon

soy sauce

2 tablespoons

rice vinegar

1 teaspoon

mirin

1 teaspoon

sugar

1 tablespoon

ginger, peeled and grated
Instructions
Whisk all the ingredients for the dressing in a bowl and set aside.

Place the dried seaweed I a bowl of cold water and soak for 5-10 minutes (follow the instruction on the package).

Drain and rinse well under cold water. Drain again and squeeze out excess water from the seaweed using your hands.

Place the seaweed in in a bowl and pour dressing on top. Toss well and sprinkle ground sesame seeds on top. Serve on its own or topped with slices of fresh cucumber and tomato.
Nutrition
Serving Size:

1 bowl

Calories:

71

Sugar:

3.9g

Sodium:

407.3mg

Fat:

4.3g

Saturated Fat:

0.6g

Unsaturated Fat:

1.8g

Trans Fat:

0g

Carbohydrates:

6.5g

Fiber:

0.3g

Protein:

1.5g

Cholesterol:

0mg
Keywords: side dish, wakame
Recipe Card powered by