The best rice bowl – loaded with plenty of marinated tuna sashimi, nori and shiso leaves. Tekka don is the ultimate donburi! With a handful of ingredients, and 10 minutes of actual cooking, I'll teach you how to easily make this iconic Japanese tuna bowl at home.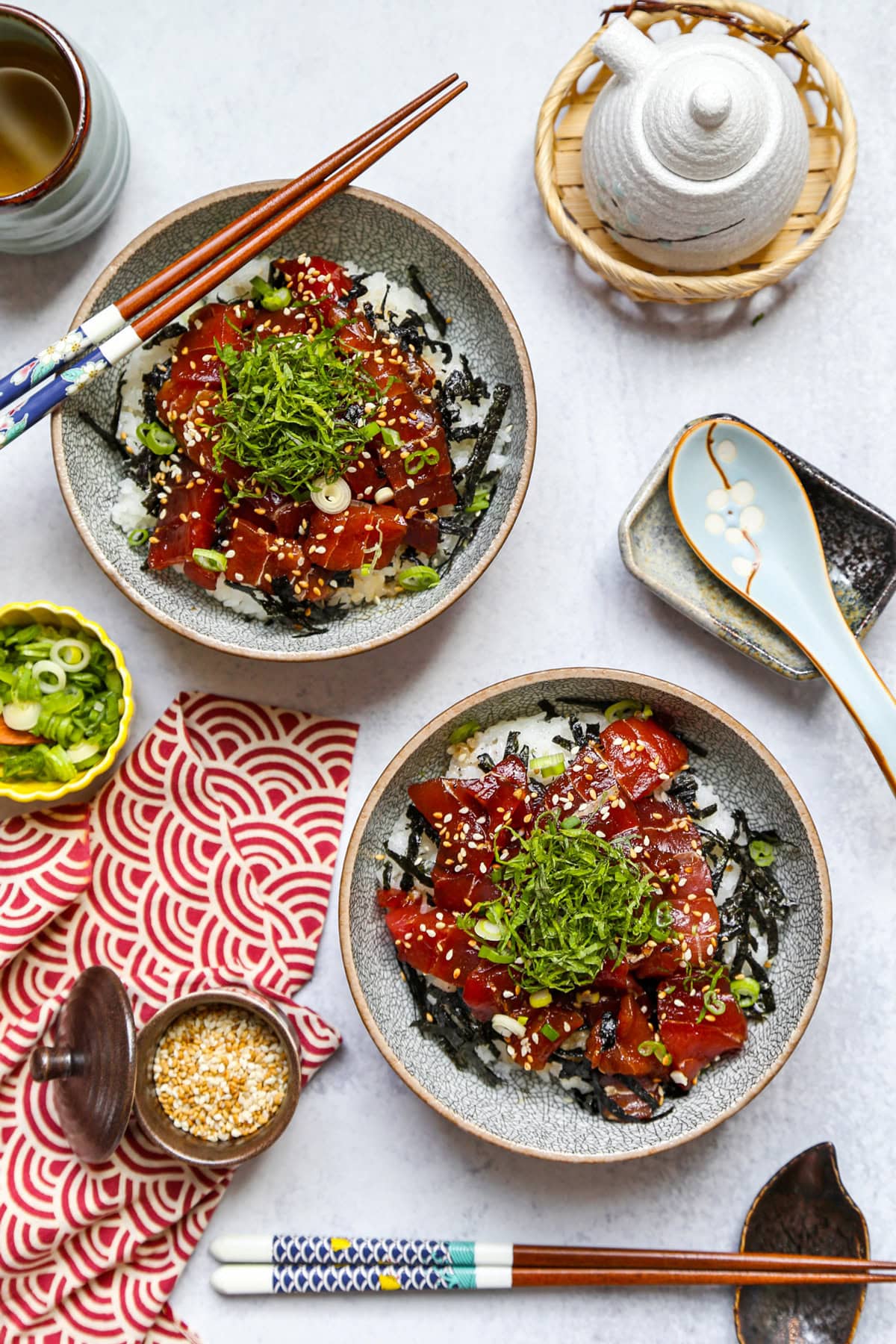 What is Tekka Don?
Tekka don (鉄火丼) is a Japanese rice bowl topped with tuna sashimi that has been marinated in a savory/sweet mixture of sake, soy sauce and mirin. Typical garnishes include thinly sliced nori and shiso leaves, chopped scallions and sesame seeds.
In some ways it's similar to the poke bowls served in Hawaii.
However this Japanese tuna bowl is one of many dishes that fall under the umbrella donburi. The translation of donburi is roughly rice bowl dish – and it covers many recipes that feature meat, veggies or fish served over a bed of Japanese rice.
A few popular examples of donburi include unadon (grilled eel over rice), oyakodon (chicken and egg over rice) and gyudon (the beef bowl made globally popular by Yoshinoya).
This tekkadon recipe is a hearty one-bowl-meal with a real nuanced palate of textures and traditional Japanese flavors.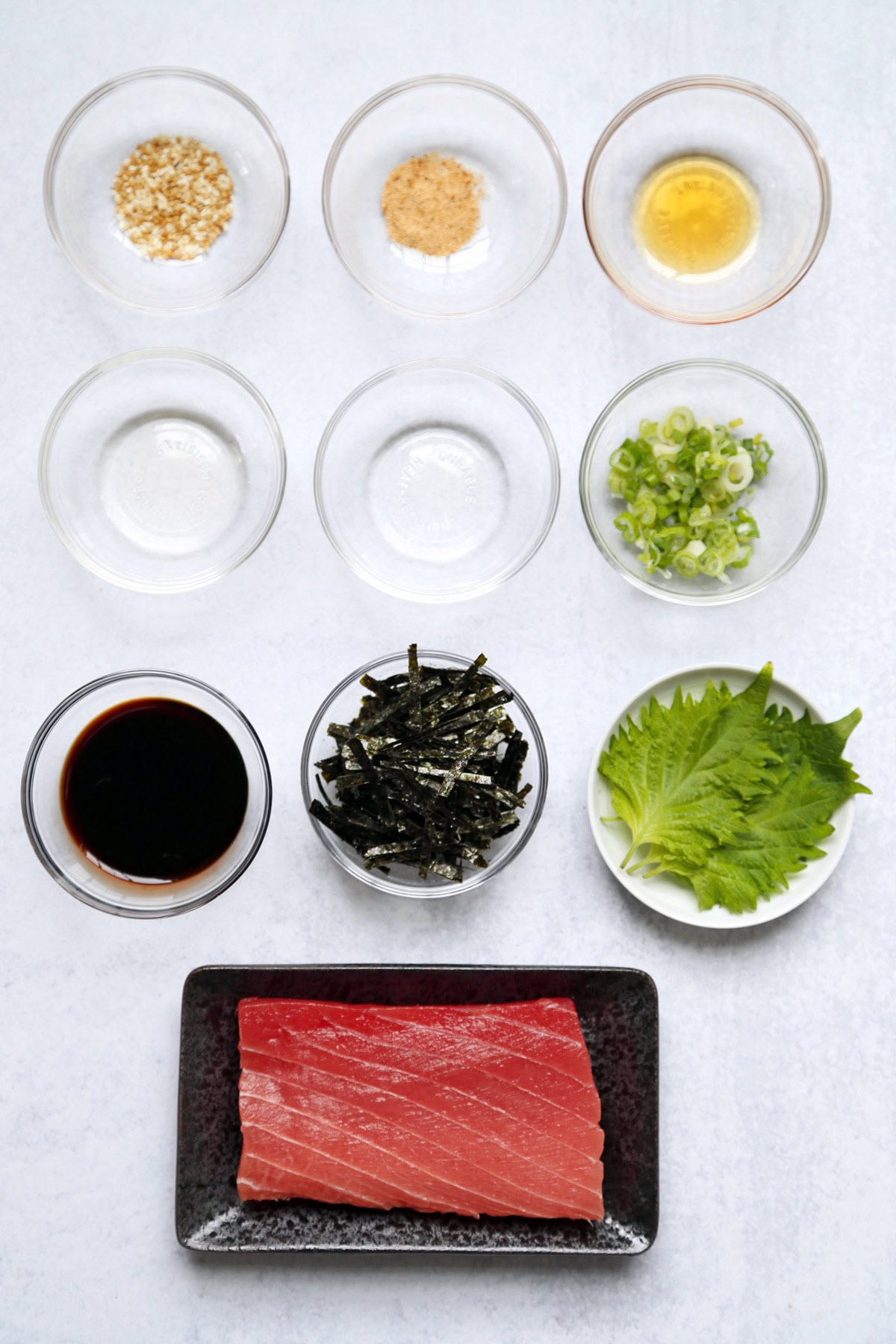 Tekka Don Ingredients
Scroll all the way down for the full recipe.
Sashimi-grade Tuna: You'll want to make sure the tuna you use is labeled as sushi grade or sashimi grade. Since you're eating it raw, this distinction is important. You may see the raw tuna itself referred to as maguro or toro at Japanese grocery stores.
Soy Sauce, Sake and Mirin: This is a holy trinity when it comes to many Japanese recipes. Soy delivers that trademark umami – while sake has a dry sharpness – and mirin (a sweet rice wine) rounds it all out with an understated sweetness and acidity.
Dashi Powder: Think of this as a savory sea stock in powdered form. Mineral, smoky, fishy and rich in umami, dashi powder is literally the flavor essence of the sea.
Sesame Oil: The toasted nuttiness of good sesame oil boosts the overall effects of the other savory liquid ingredients. Careful… a bit little goes a long way!
Japanese Short Grain Rice: Japanese rice is a short-grain white rice that, when cooked, is sticky enough to be eaten with chopsticks, yet firm and toothsome in texture. You may see short grain rice sold as sushi rice at your local shop – or you can grab some of the good stuff here on Amazon. We'll talk more about cooking Japanese rice in a sec.
Nori: These are paper-thin edible seaweed sheets that have been dried and sometimes toasted. You'll only need one nori seaweed sheet for this recipe.
Scallions:

Freshly chopped green onion provides a great crunch and garden freshness.
Shiso: Also called perilla, a chiffonade of fresh shiso leaves provide an integral bright freshness to this tuna bowl. Reminiscent of mint, basil and anise – but totally its own thing.
Sesame Seeds: I'm using white sesame seeds for their subtle texture and underlying nuttiness.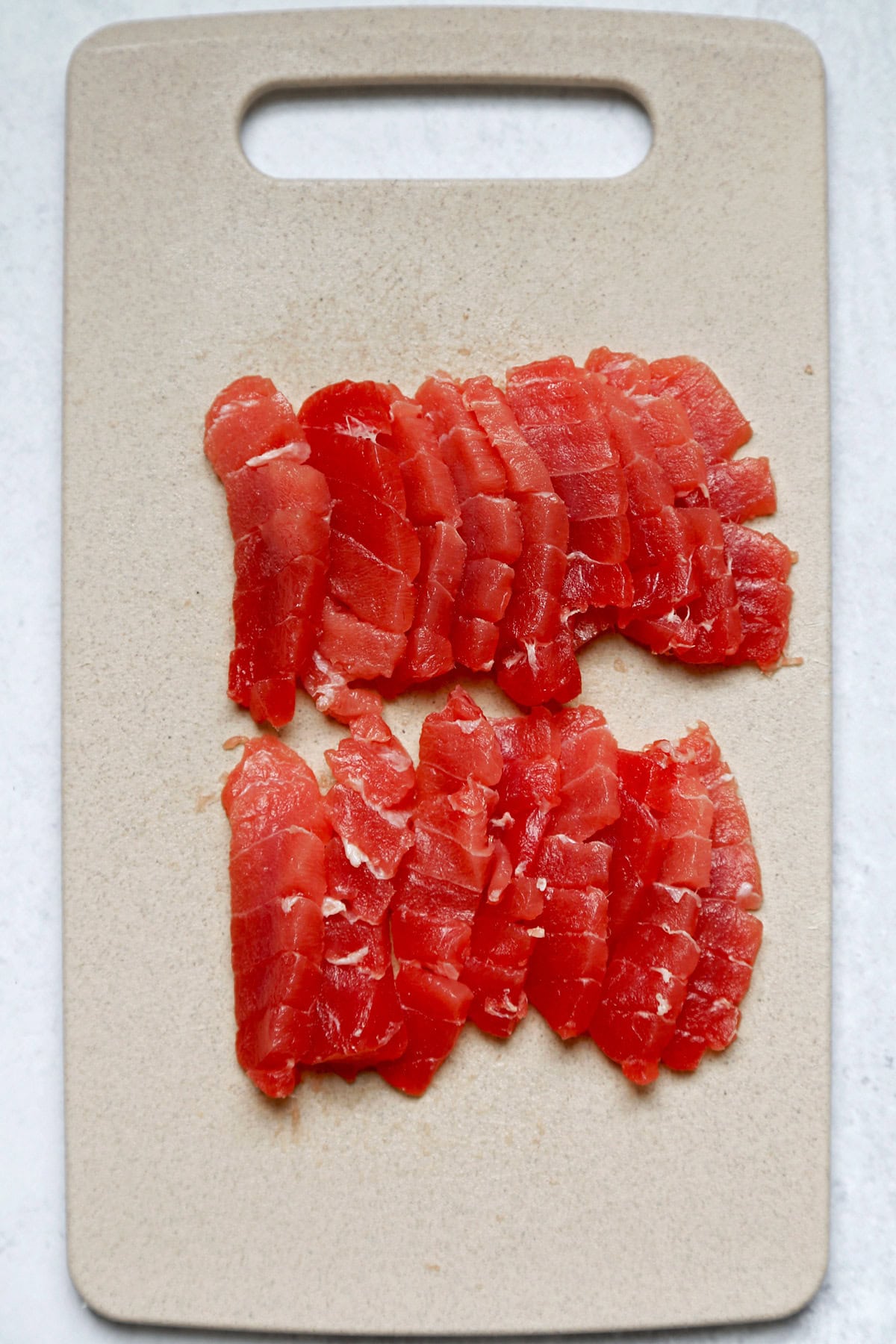 How to Make Tekka Don
First, gather all of your cooking tools and ingredients.
Then slice the tuna sashimi into strips that are 1/4 to 1/2 inch thick, depending on your preference. Alternately, you can also just dice the tuna into bite-sized small pieces.
Next, mix the soy sauce, mirin, sake, sesame oil and dashi powder in a bowl and stir well. Add the tuna slices to the bowl and gently toss to ensure each piece is evenly coated. Let the tuna and sauce sit for 30 minutes.
Divide your rice into two bowls and top with shredded nori. Then add the marinated tuna and top with chopped scallions and shiso leaves. Sprinkle a few sesame seeds on top.
Finally, pour an equal amount of any leftover marinade over the top of each bowl and serve immediately.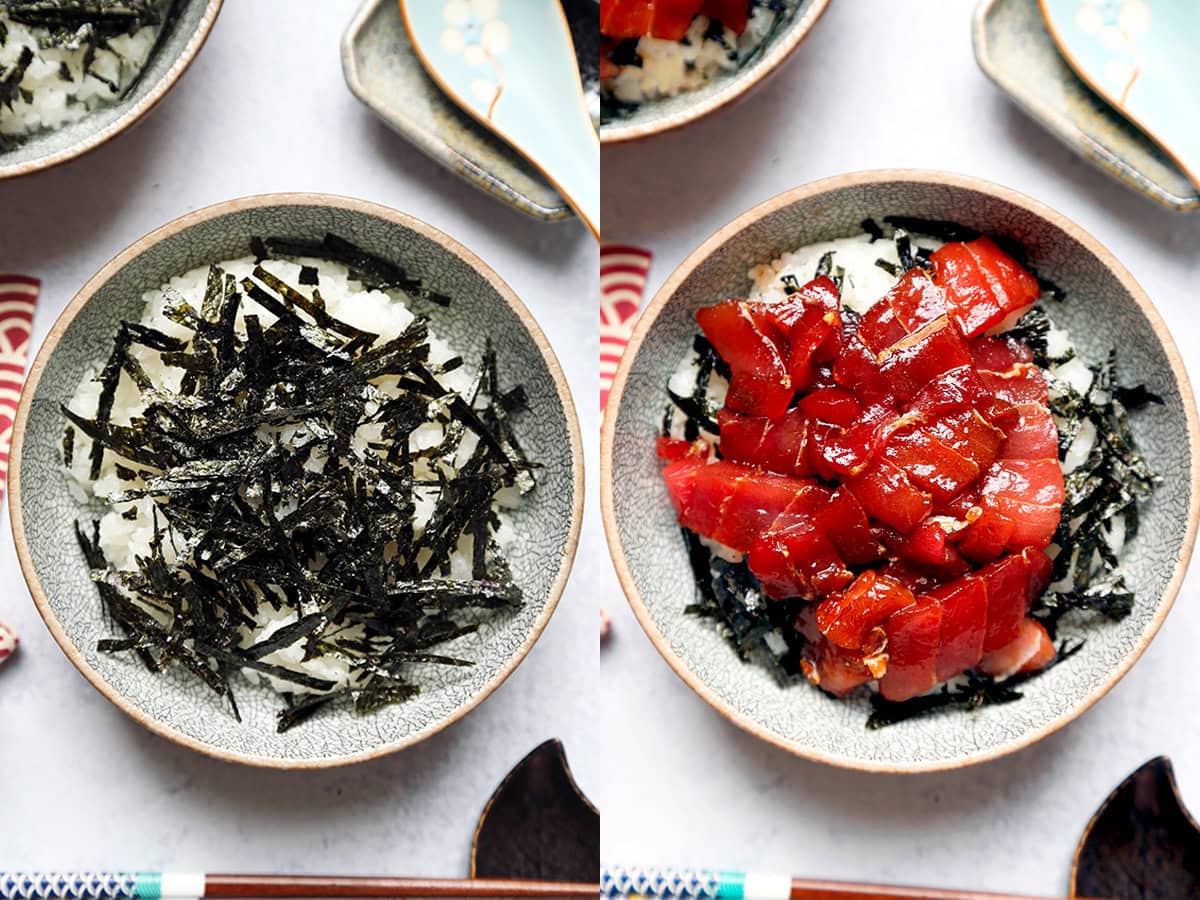 How to Cook Rice
At first glance, this seems like such a simple step. However, when it comes to making this Japanese tuna bowl, I'd argue that the texture and consistency of the rice is as important as the quality of the fish.
Luckily, making Japanese short grain rice is easy – both on the stovetop and in a rice cooker.
No matter which method you use, you'll want to be sure to rinse the rice well before cooking. This removes excess starch from the grains. That excess starch can result in cooked rice that is gloppy and mushy.
You can use a rice washing bowl and wash the rice in a light swishing motion under continuously running cold water for at least 1-2 minutes, or until the water exiting the perforated bottom runs clear.
Alternatively, you can wash your rice in a medium mixing bowl. Just fill with cold water, swish the rice, drain and repeat (at least 3-4 times) until the water you're filling the bowl with remains clear.
For a step-by-step tutorial on how to make Japanese rice on the stove or in a rice cooker, check out my detailed post (along with rice recommendations) here.
But, if you're a visual learner like me, just follow the foolproof steps in this video:
Remember, if you're using a rice cooker, be sure to measure your rice with the measuring cup that came with your machine.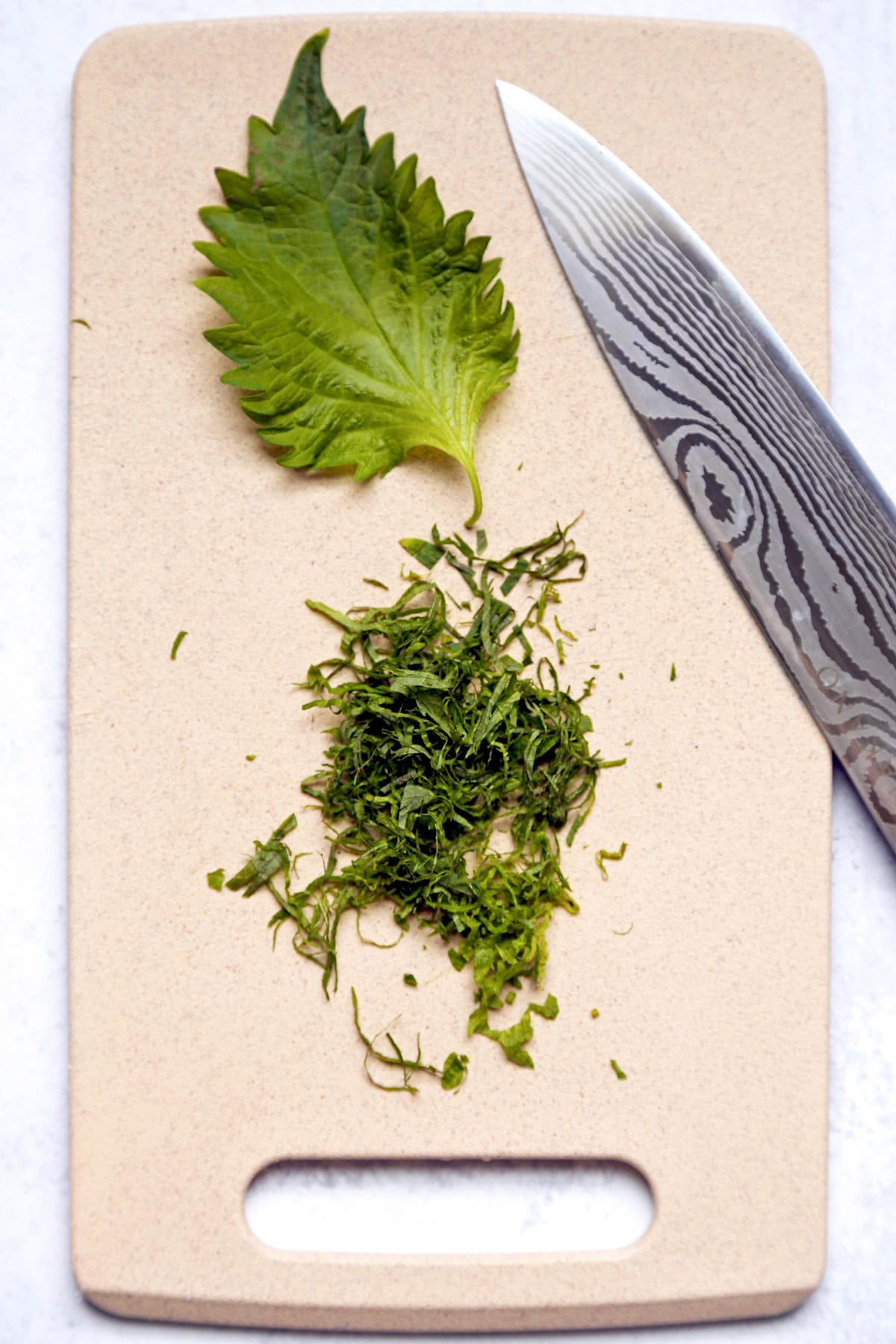 How do You Eat Tekka Don?
This is a fully flavored dish. That means you won't need a separate ramekin of soy sauce to dip your fish as you might with something like chirashizushi.
That said, you can totally add wasabi if you like.
Since the ingredients are layered on top of each other, tekkadon is meant to be eaten in a way that delivers all of the flavors and textures of the Japanese tuna bowl in each bite – without resorting to mixing it all up.
And since you're using Japanese rice, the grains will be just sticky enough to allow you to use chopsticks to easily wrangle up bites that include rice, seasoned fish, nori, scallions and shiso.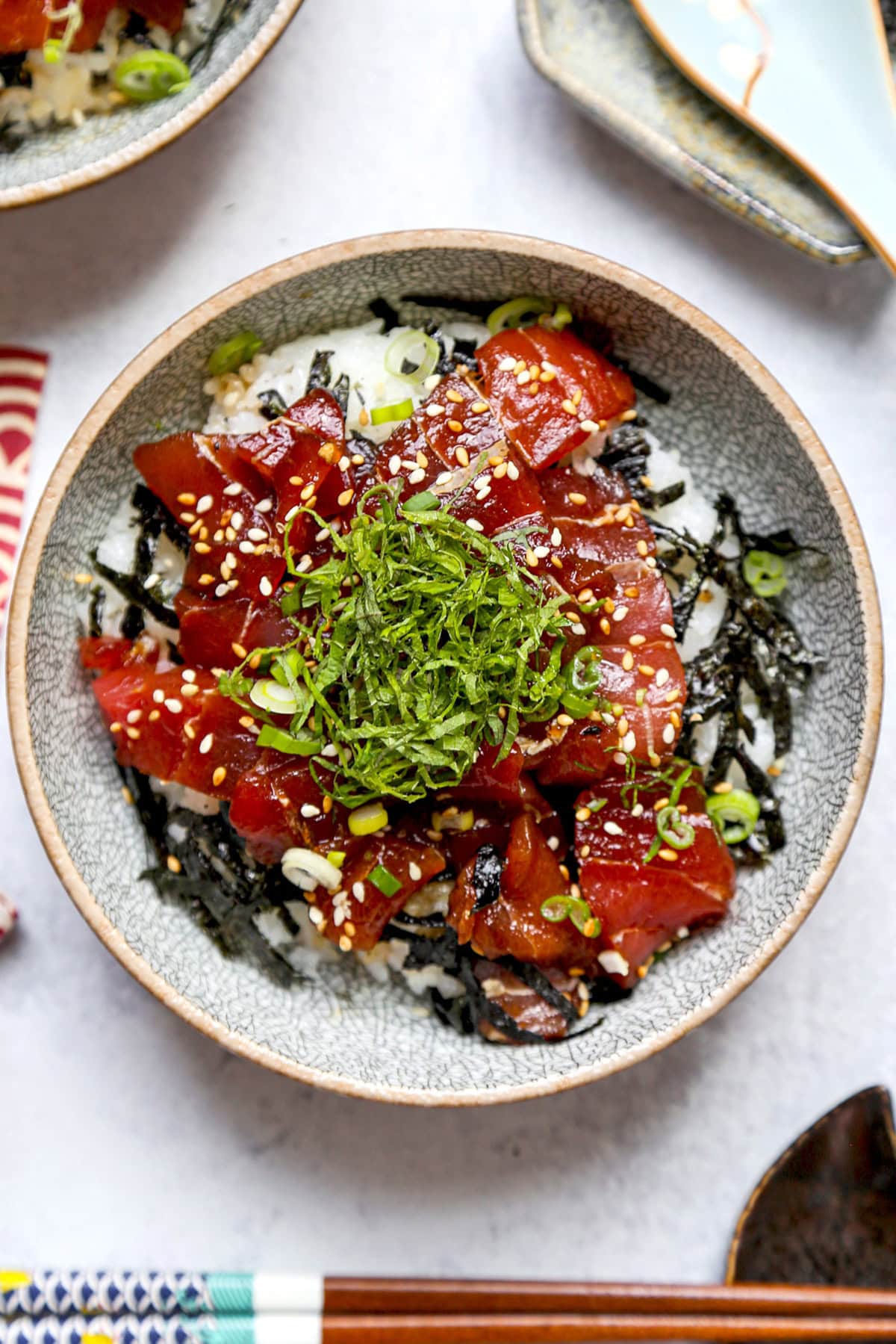 What to Serve With Tekkadon
Since this sashimi loaded Japanese rice bowl is quite hearty on its own, you may want to keep any side dishes on the lighter side of things.
Here are a few light Japanese side dishes that would compliment your tekka don and elevate the meal to the next level: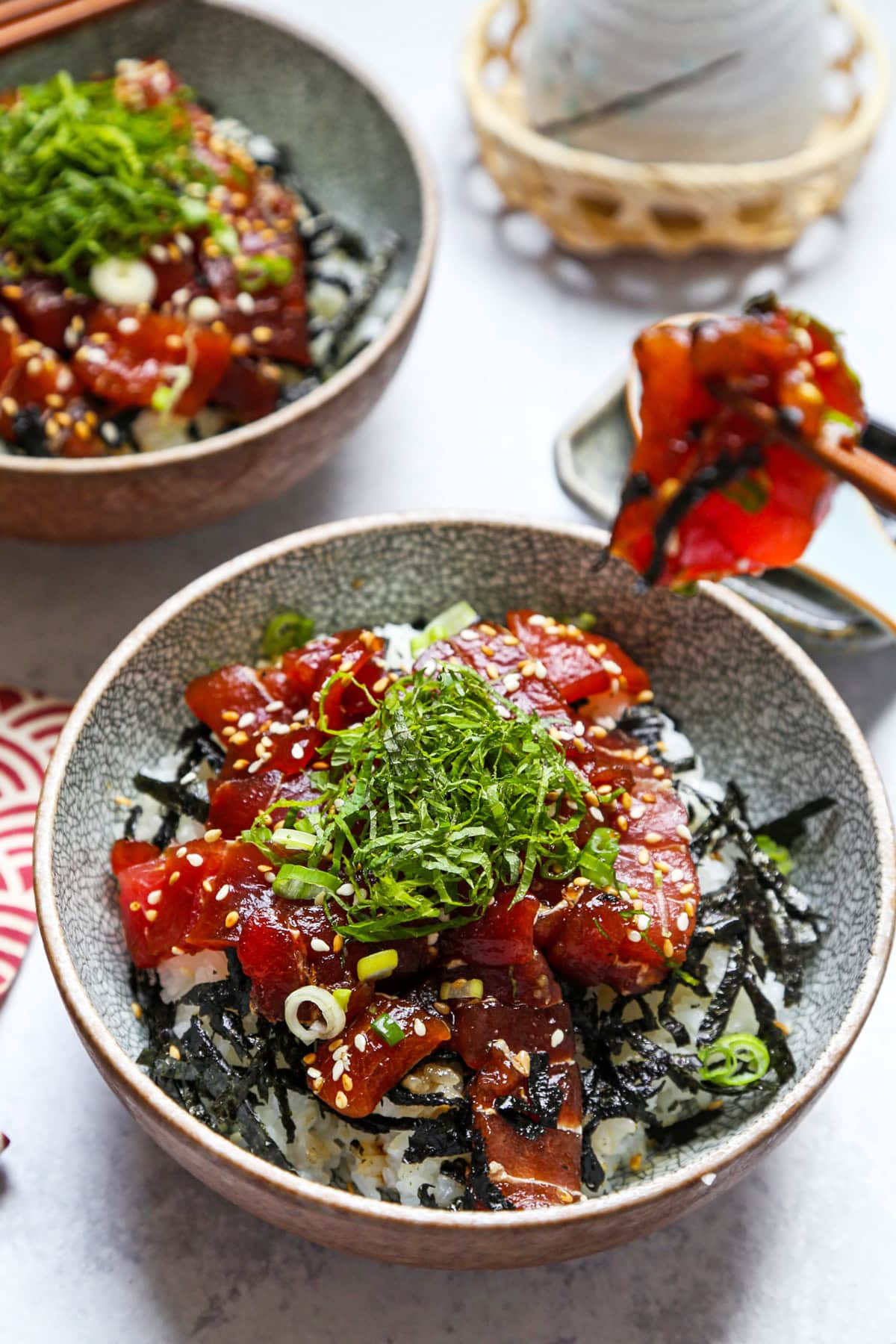 Other Delicious and Easy Asian Rice Bowls
While this Japanese tuna bowl is one of the most iconic rice bowl recipes out there, I'm a firm believer that you can never have too many easy donburi recipes in your back pocket.
Here are a few reader favorites:
Happy Cooking!
Did you like this Tekka Don Recipe? Are there changes you made that you would like to share? Share your tips and recommendations in the comments section below!
Print
Tekka Don – The Ultimate Japanese Tuna Bowl
With a handful of ingredients, and 10 minutes of actual cooking, you can easily make this iconic tekka don recipe at home. You're going to love this authentic Japanese tuna bowl!
Author: Caroline Phelps
Prep Time:

10 minutes

Cook Time:

30 minutes marinating

Total Time:

40 minutes

Yield:

2

bowls

1

x
Category:

Rice

Cuisine:

Japanese
200

g

sushi grade tuna

2 1/2 tablespoons

soy sauce

1 teaspoon

sake

2 teaspoons

mirin

1/2 teaspoon

dashi powder

1 1/2 teaspoon

sesame oil

2

cups

freshly cooked, slightly warm or room temperature, Japanese short grain rice

1

sheet nori (about

4g

), shredded

1 tablespoon

chopped scallions

4

shiso leaves, shredded
Sesame seeds, to sprinkle on top
Instructions
Slice the tuna into

¼-inch to ½-inch thick strips,

or into bite size pieces.

Mix the soy sauce, sake, mirin, dashi powder, and sesame oil in a bowl. Add the sliced tuna and gently toss to coat each piece. Let sit for 30 minutes.
Divide the rice among 2 bowls and top with shredded nori. Add the tuna, scallions, and shiso leaves, and sprinkle a few sesame seeds on top. 
Pour the leftover marinade among the two bowls and serve immediately. 
Nutrition
Serving Size:

1 bowl

Calories:

417

Sugar:

1.1g

Sodium:

918.9mg

Fat:

6.8g

Saturated Fat:

1.4g

Unsaturated Fat:

2.6g

Trans Fat:

0g

Carbohydrates:

55.9g

Fiber:

0.1g

Protein:

29.6g

Cholesterol:

42mg
Recipe Card powered by