Ready to try the best Homemade Furikake Recipe? Once you taste this Japanese rice seasoning, you'll want to put it on everything! Ready in 10 minutes from start to finish!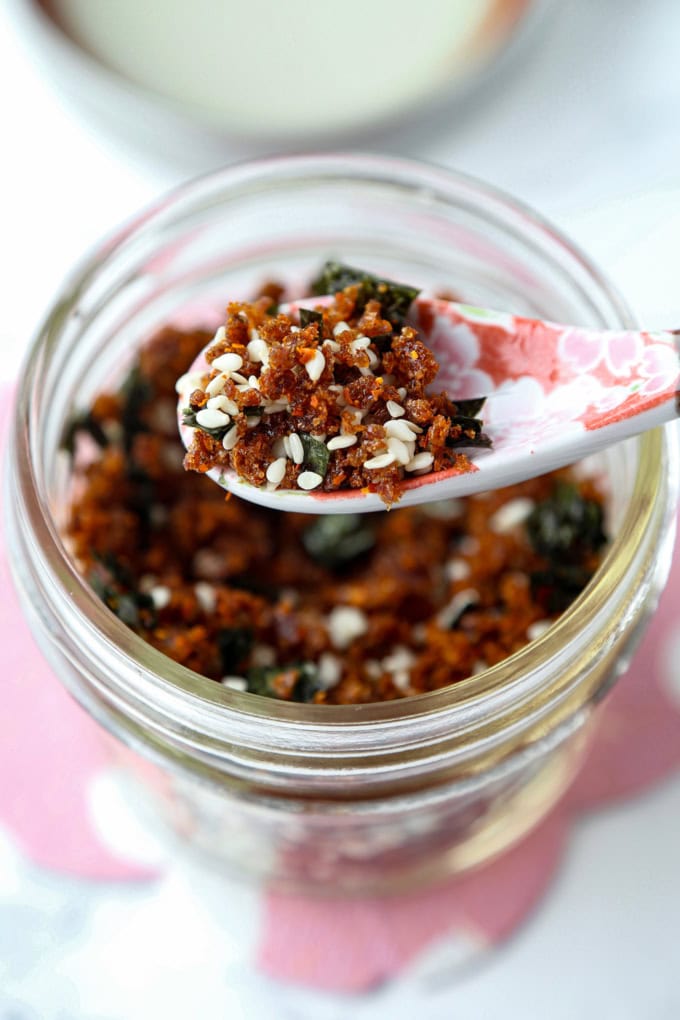 When I was young, my Japanese mother became quite famous in my small town in Québec around the holidays. You see, she'd make furikake at home and place it into small jars with cute ribbons tied around the top – and give them to family and friends as gifts.
It was such an exotic gift in those days that she usually spent more time explaining the various ways to use furikake than she did actually making it from scratch.
People loved it! And with good reason. Furikake is delicious on just about everything. I'll never forget the time that the teller in the bank started dropping hints in November about how much she and her husband loved using that wonderful Japanese seasoning in their kitchen. My mom was touched – and I was proud that she was getting some positive attention for making one of my favorite condiments of all time.
Well, needless to say, I'm excited to share with you how to make furikake at home!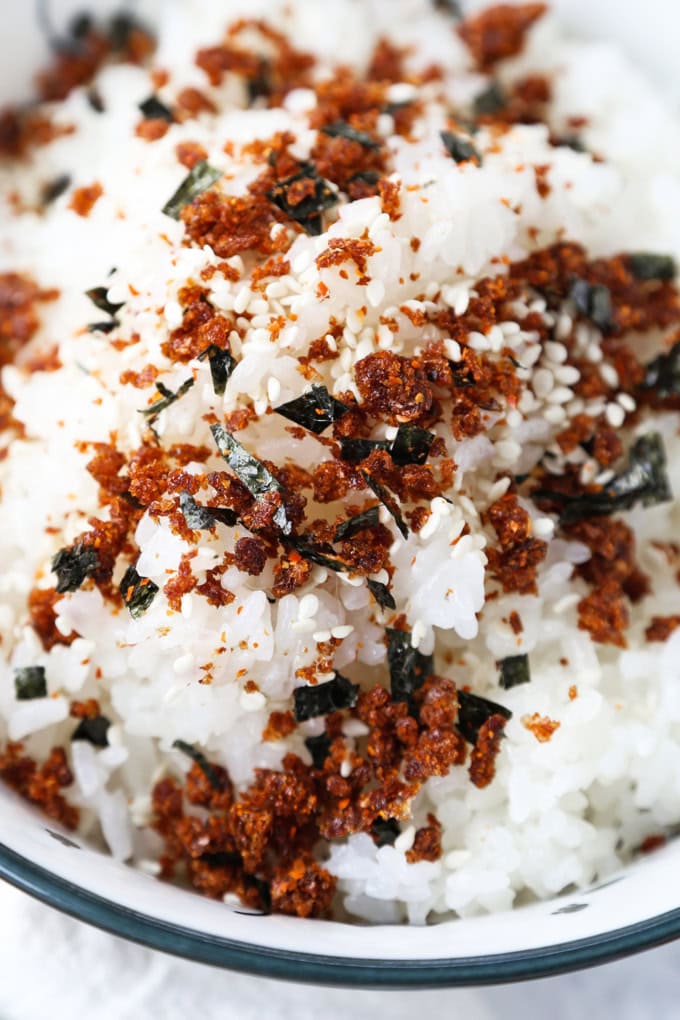 What is furikake?
Furikake (ふりかけ) is a Japanese seasoning made primarily of dried bonito flakes, seaweed, sesame seeds and simple pantry spices. It has a savory and slightly sweet flavor profile – and sometimes has a kick of spice if dried pepper (ichimi or shichimi) is added to the mix.
Now, while the most iconic use of furikake is as a seasoning for rice, it can be used on a variety of foods like fish, congee / okayu and vegetables – and more inventively as a seasoning for popcorn, fried chicken, pasta or salads. More on the variable uses in a sec.
This versatile blend of ingredients is most popular in Japan where it is used with the frequency we use the salt and pepper shakers in the West. However, this all purpose seasoning is also quite easy to find prepackaged in places like Hawaii – where it is an integral part of the food lexicon.
These days you can pick up premixed furikake in many Asian grocery stores across the country. However it's so easy to make from scratch that, if you're so inclined, you should totally go for it!
There are many options when it comes to the ingredients you can use when making homemade furikake – so use your imagination! But whatever you decide on, there are two ingredients I consider totally necessary when making this crunchy, umami loaded Japanese rice seasoning: katsuobushi and nori.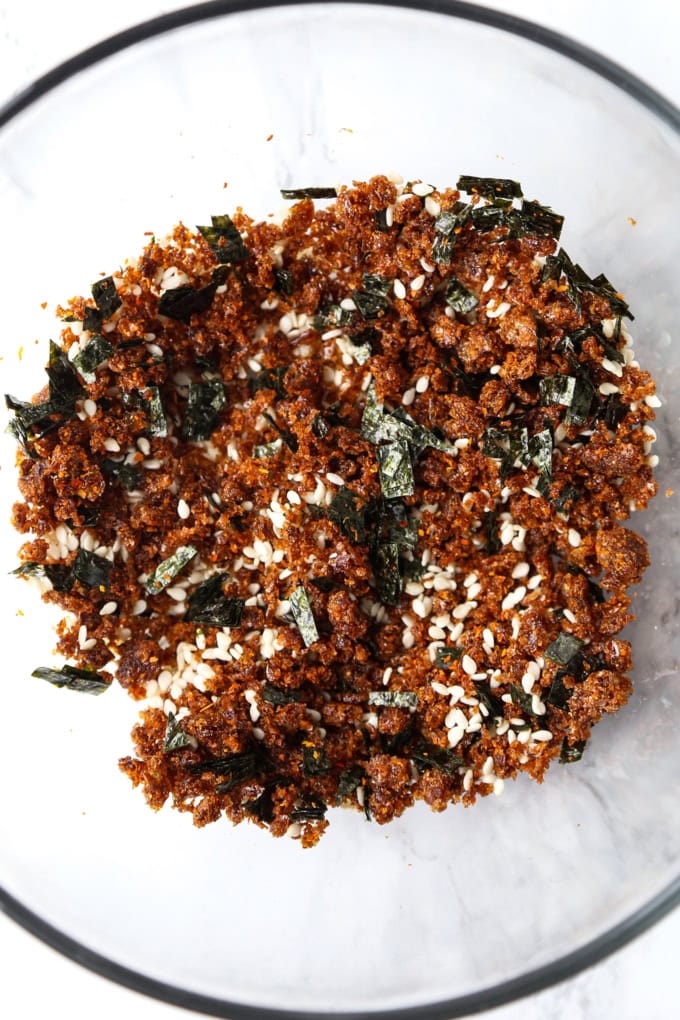 What is Katsuobushi?
Katsuobushi (かつおぶし) is made of smoked bonito or skipjack tuna, fermented and dried into hard blocks. Those blocks are then shaved, producing thin ribbons of dried fish flakes.
As you can imagine, the flavor is intensely savory and smoky.
Used to make okaka for onigiri (Japanese rice balls), these fish flakes are also used as a topper for izakaya favorites like okonomiyaki and takoyaki. Katsuobushi is also one of the main flavor elements used to make dashi.
You'll definitely want to have bonito flakes on hand when you make this homemade furikake recipe. Check out this post for a deeper dive into Katsuobushi.
What is Nori?
Nori (海苔) is a seaweed that has been roasted and pressed into paper thin sheets. The best I can do when describing the texture is that it has a brittle crackle – and the flavor is savory and marine with an almost nutty element.
Nori is most popularly used as a wrapper for sushi rolls (maki) and onigiri – and is commonly shredded and used as a topping on everything from pasta to ochazuke.
Now that we've covered the two most iconic furikake ingredients, let's take a look at everything we'll need to make this recipe at home!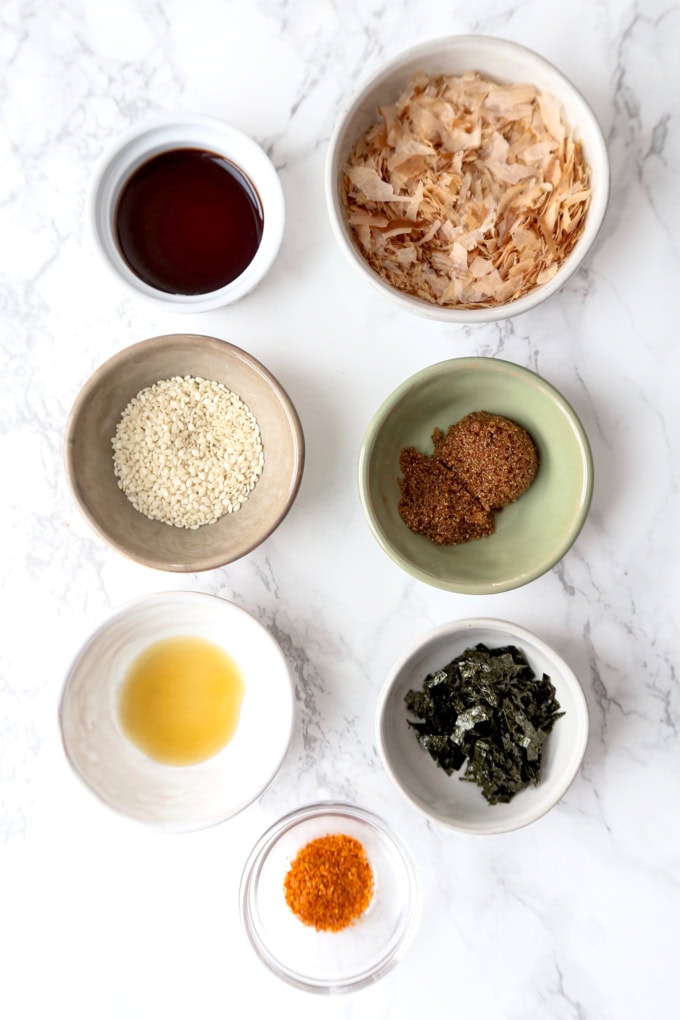 Ingredients for Furikake
Bonito Flakes: If your fish flakes are large, you'll want to crush your katsuobushi in the palm of your hands to break it into smaller pieces. If you're getting to the bottom of the bag, the smaller (almost dust-like) bits work the best. Find it at your local Asian market – or grab kastuobushi here on Amazon.
Soy Sauce: You'll need only about 2 teaspoons of soy sauce for this recipe.
Sugar: You can use brown or white sugar in your furikake. It will add a bit of sweetness around the edges to counter the more savory ingredients.
Sesame Oil and Sesame Seeds: You'll taste the toasted, nutty one-two punch of using both the oil and seeds immediately. Great flavor and crunch!
Nori: You can use scissors or a knife to cut your dried seaweed sheets into small pieces. Pick it up on Amazon.
Ichimi or Shichimi: While these are optional, if you like a little heat, go for it! Ichimi Togarashi is ground red chili pepper – and translates roughly into one flavor chili. Shichimi Togarashi is a blend of red chilis, shiso leaves, nori powder, orange peel, ginger, poppy seeds and sesame seeds. As you may have guessed by the number of ingredients in this spice blend, the rough translation is seven flavor chili 🙂
Now, I've gotta tell you that there are countless versions of furikake recipes. Feel free to experiment with your furikake ingredients – and let me know if you have a favorite addition in the comments section below!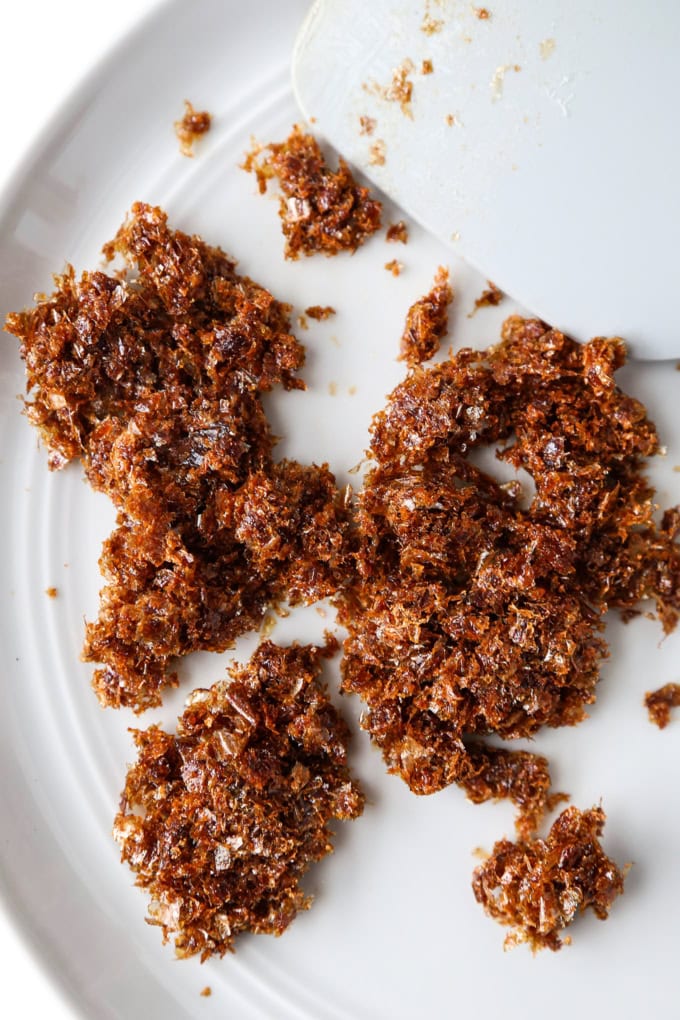 How to make furikake
In a pan over low heat, add bonito flakes, soy sauce and sugar. Cook, stirring constantly, for about 5 minutes – until the mixture is sticky and resembles brown sugar. Add in your sesame oil. Stir to coat the mixture evenly and then turn the heat off.
Transfer to a sheet pan and let the mixture cool to room temperature. Break the cooled mixture with your fingers into small granules and transfer to a bowl.
Stir in sesame seeds, nori and shichimi.
Sprinkle the mixture over Japanese rice and serve.
How to use furikake
As I mentioned, furikake is most commonly served on top of cooked Japanese rice. You'll love the savory, sweet and slightly spicy flavors! And the crunchy texture almost transforms a bowl of plain rice into a meal of its own. Check out my post on how to cook Japanese rice on the stovetop AND in a rice cooker.
However, there are a ton of delicious ways to use furikake with your favorite foods.
Salad: The texture and flavor can transform a sad desk salad into a wonderful thing indeed! Sprinkle furikake on top after you dress your salad. This way the dressing won't blunt the crunch.
Popcorn: Make movie night even more special. If you're having a tough time getting your furikake to stick to the kernels, toss your popcorn with a tiny bit of olive oil or canola oil, then toss the popcorn with this awesome Japanese seasoning. YUM!
Fried Chicken: The umami and sweet crunch will elevate an already great thing to dizzying levels.
Soup: Furikake can be used as a spice as well. Ditch the salt and pepper in favor of a more well rounded seasoning.
Pasta: Try it on spaghetti vongole. I promise fireworks!
French Fries: See popcorn 🙂
Poke: This Hawaiian staple is already pretty darn perfect. That's why, "extra furikake," is an option at poke meccas like Foodland Farms.
Fish: Lightly sprinkle furikake on a fish fillet after cooking as a crunchy finishing spice.
How to store it
Keep the furikake in the fridge in an airtight glass jar or plastic storage container. It will keep for about 1 month.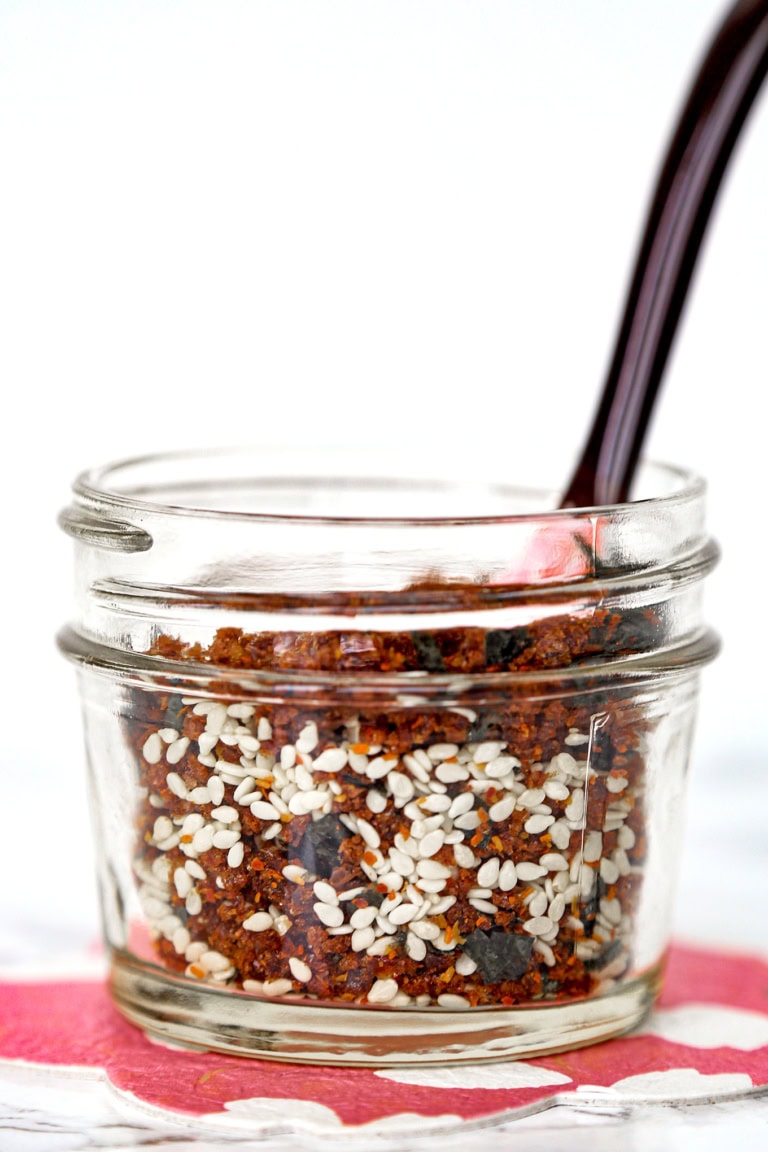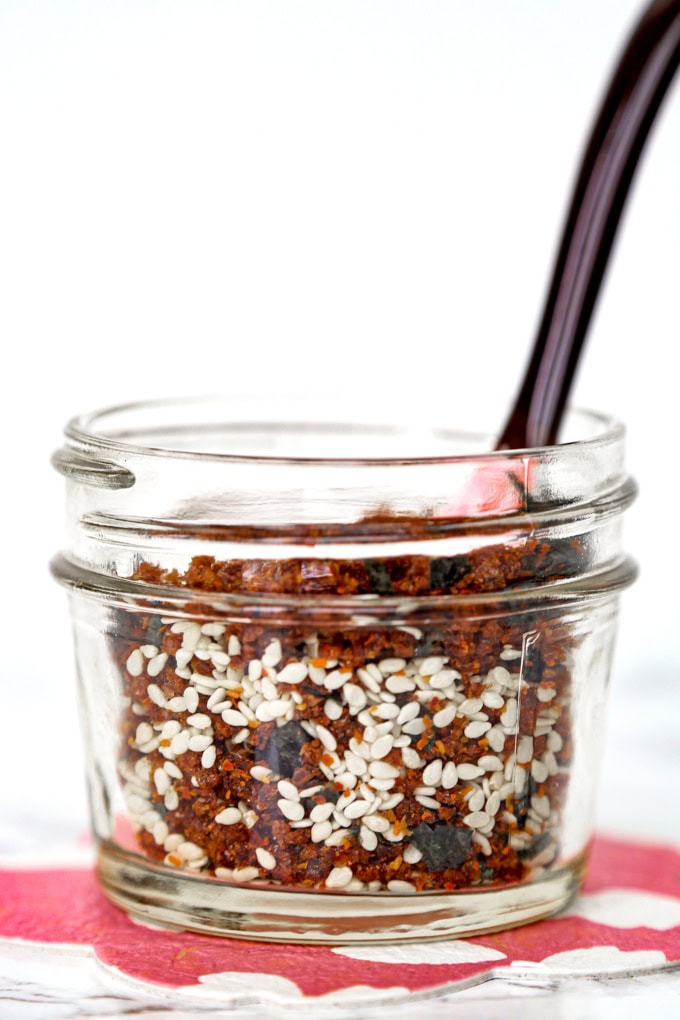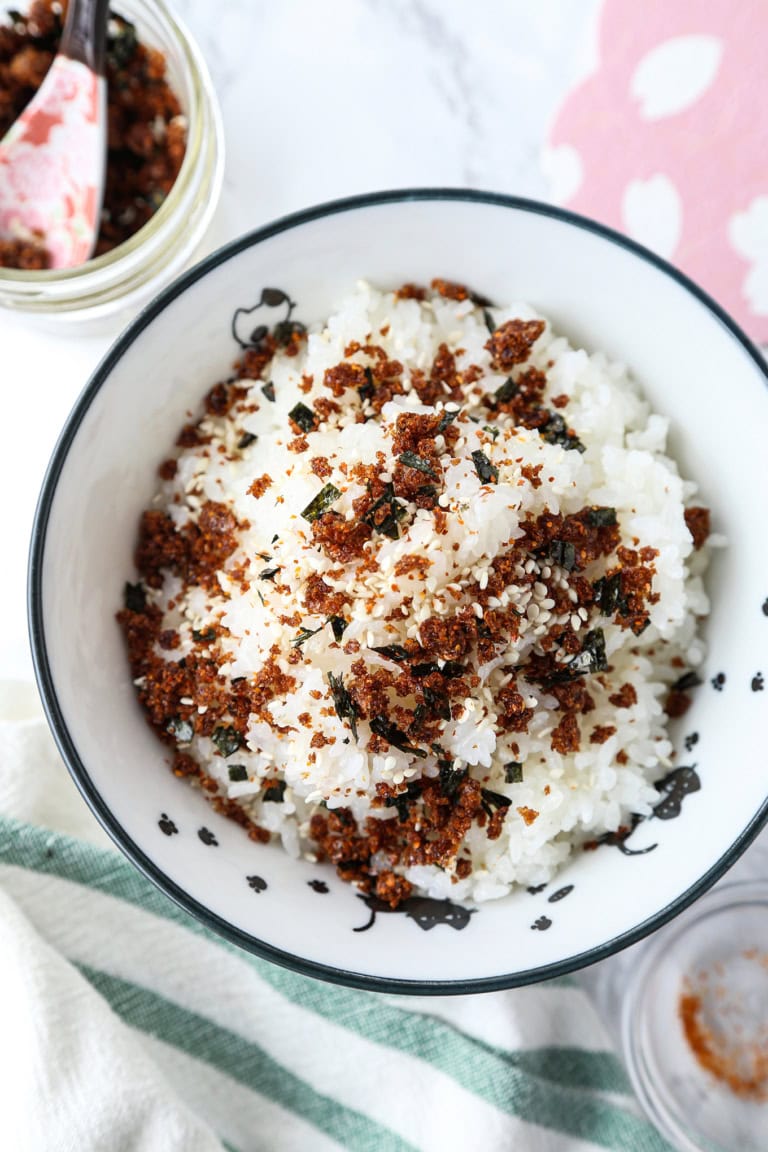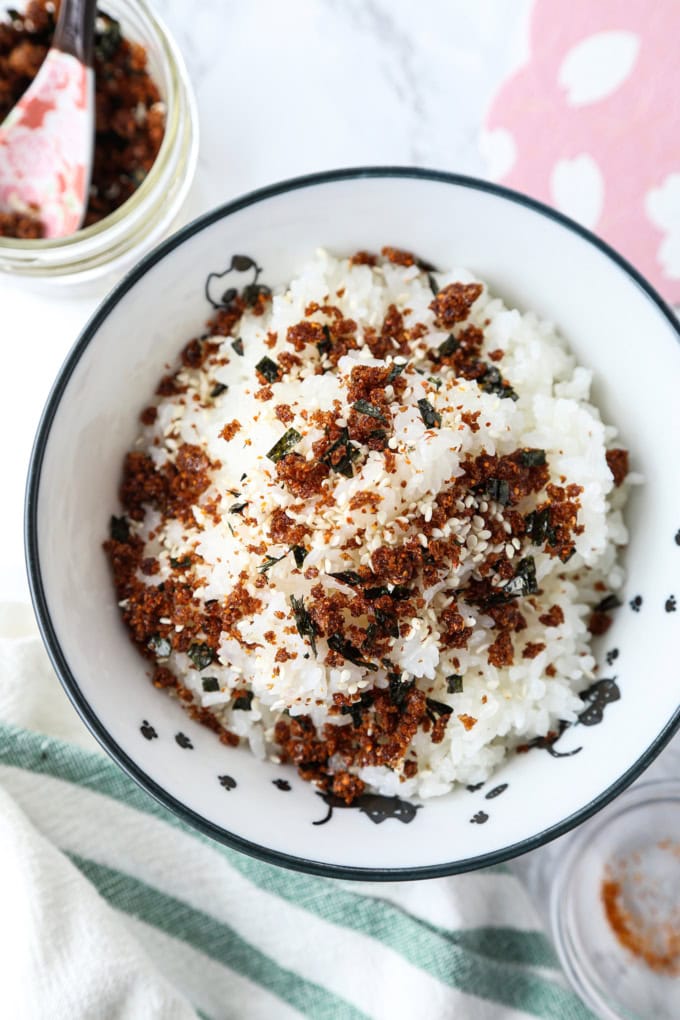 And that's just a few of the myriad uses. How do you use furikake in your recipes?
Did you like this Homemade Furikake Recipe? Are there changes you made that you would like to share? Share your tips and recommendations in the comments section below.
Print
Homemade Furikake – Japanese Rice Seasoning
Use this all purpose Japanese seasoning on cooked rice – or on anything that needs a little umami crunch!
Author: Caroline Phelps
Prep Time:

5 minutes

Cook Time:

5 minutes

Total Time:

10 minutes

Yield:

1/4 cup

1

x
Category:

Seasoning

Method:

Mixed

Cuisine:

Japanese
1/2

heaping cup bonito flakes (katsuobushi), crushed into small pieces

2 teaspoons

soy sauce

2 teaspoons

sugar

1/2 teaspoon

sesame oil

2 tablespoons

sesame seeds

1 1/2 tablespoon

nori, cut into small pieces

1/4 teaspoon

ichimi or shichimi powder (optional)
Instructions
In a pan over low heat, add bonito flakes, soy sauce and sugar and cook, stirring constantly for about 5 minutes – until the mixture is sticky and almost looks like brown sugar. Add in sesame oil and stir to coat the mixture evenly. Turn the heat off.
Transfer to a sheet pan and let it cool to room temperature. Break the mixture with your fingers into small granules and transfer to a bowl.
Stir in sesame seeds, nori and shichimi.
Sprinkle the mixture over cooked Japanese rice and serve.
Notes
When cooking, use a non-stick pan to prevent the bonito flakes from sticking and burning.
Keywords: topping, Japanese rice, seasoning, nori, katsuobushi, shichimi, seasoning for rice, condiment
Recipe Card powered by