Okayu is a simple Japanese porridge with comforting and healing properties. It's also the perfect dish for those looking to shed a few pounds since it's low in calories, yet, quite filling. Only two ingredients are needed – Japanese short grain rice and water. 
As a little girl, my mother used to make okayu whenever I was sick with a fever. I liked the simplicity of the dish and the subtle salty flavor. My favorite was when okasan, which means mother in Japanese, would add a couple of umeboshi (Japanese pickled plum) to my bowl of okayu. The sweet and sour taste always made me want to eat more!
Since then I've been making okayu pretty regularly. I still eat it when I'm sick but also love to make a bowl of it when I want to eat a light meal.
What is Japanese Okayu?
Okayu is a Japanese porridge (rice gruel) dish made with short grain Japanese rice and water (sometimes dashi). The dish is cooked in a donabe (earthenware pot) until the rice is soft and mushy. It can be served plain or topped with ingredients such as umeboshi (Japanese pickled plum), sesame seeds, chopped scallions, salted salmon flakes, nori, a poached egg, sweet potatoes, and much more.
While congee, or jook, which is the Chinese version of porridge, is often served as a side dish in Hong Kong, Taiwan, and mainland China, it's most often offered as a therapeutic meal in Japan, to heal a stomach bug, or other illnesses.
However, chagayu, which is a tea porridge, is considered to be a regional food of Nara and Kyoto, stemming from the cuisine of monks. It's offered to helpers during big celebrations such as weddings and festivals, can be found sold in traditional Japanese restaurants, and is also used as a restorative cure.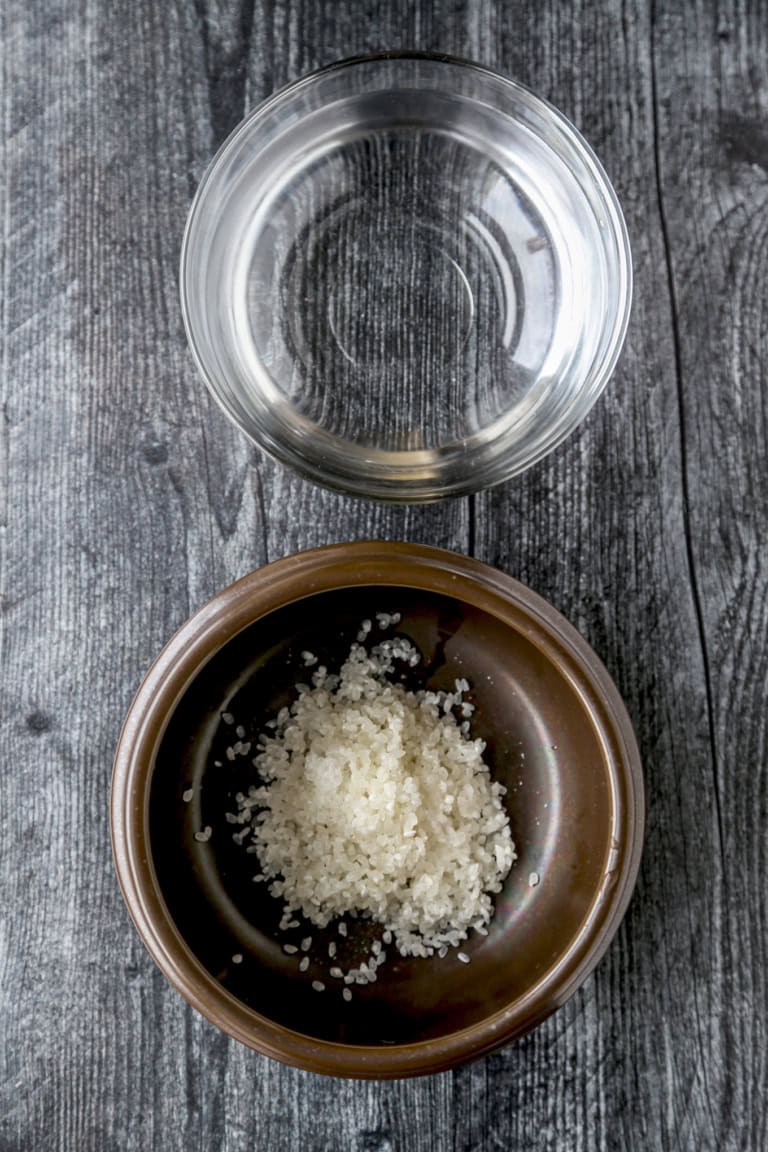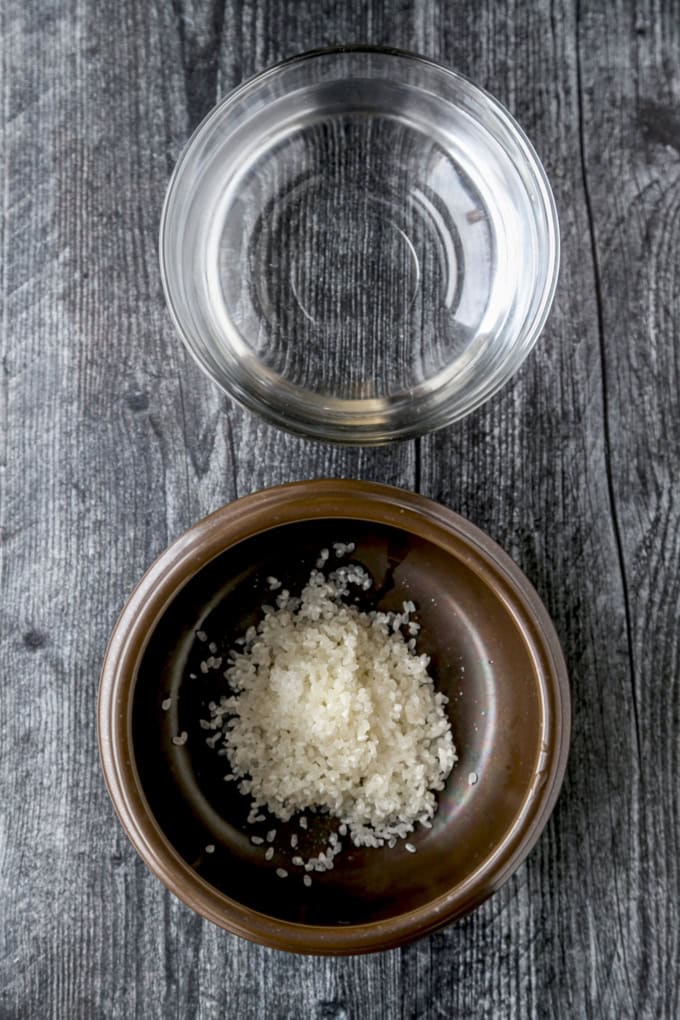 Since I don't have a donabe, I'm using a dolsot, which a Korean stone pot, to make this okayu recipe. The result is just as delicious!
Ingredients for Okayu (Japanese Rice Porridge)
Rice: Japanese short grain rice is the traditional type of rice used to make okayu. However, you can use medium grain Japanese rice and even brown rice, if you want a more wholesome meal, to make this recipe. Bear in mind that using brown rice will increase the cooking time by about 30 minutes (and you might also need to add more water).
Water: Plain cold tap water will do. The ratio of rice to water I'm using is about 1:7, which yields a porridge that's rich and thick, and pretty typical to what you would find in Japan. However, feel free to use more or less water for a consistency you will enjoy.
Salt: Optional but I like okayu better with a pinch of salt, about 1/4 teaspoon.
Topping: Umeboshi, which are Japanese pickled plum, are the most popular ingredient used to season okayu. The plums have a salty, vinegary, and puckery taste, some with a hint of honey, called hachimitsu umeboshi (my favorite type). It's an acquired taste and if I'm going to be honest about it, less than a handful of people I know who aren't Japanese like the taste. I personally love umeboshi so much that I could eat it every single day! So feel free to add your own favorite topping – crunchy scallions are always good and sesame seeds infuse the rice gruel with a subtle nuttiness.
Kitchen Tools Needed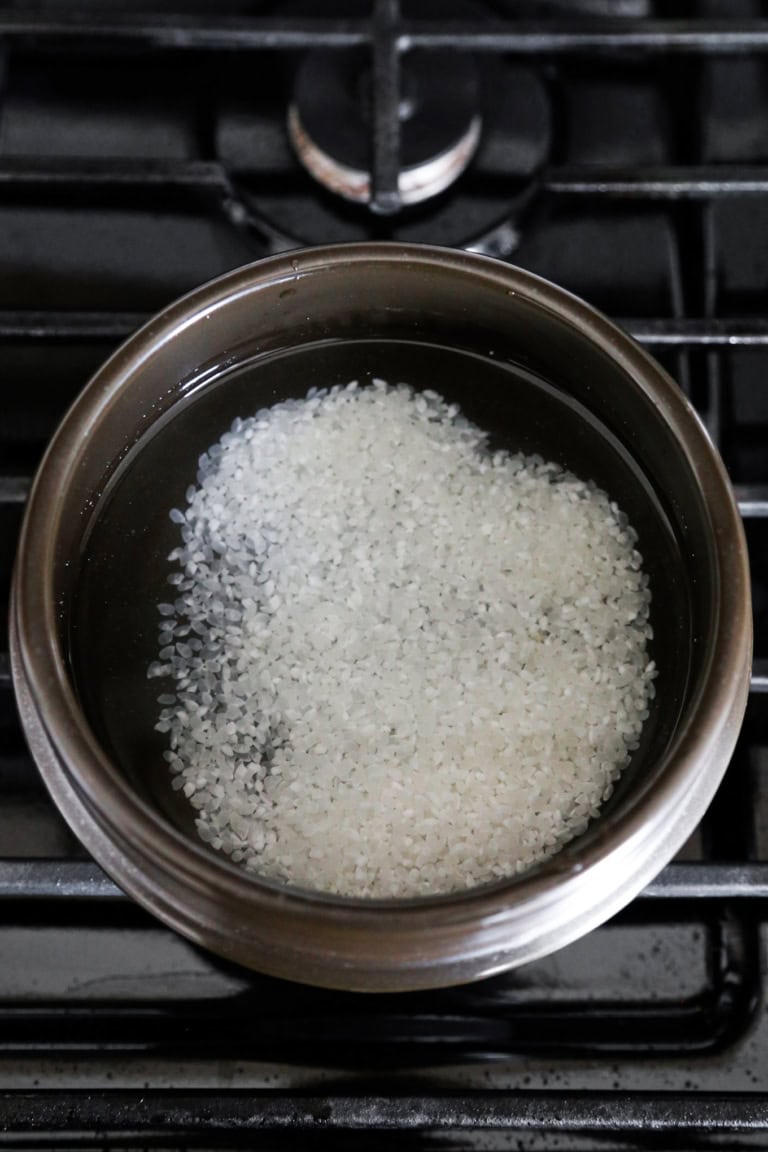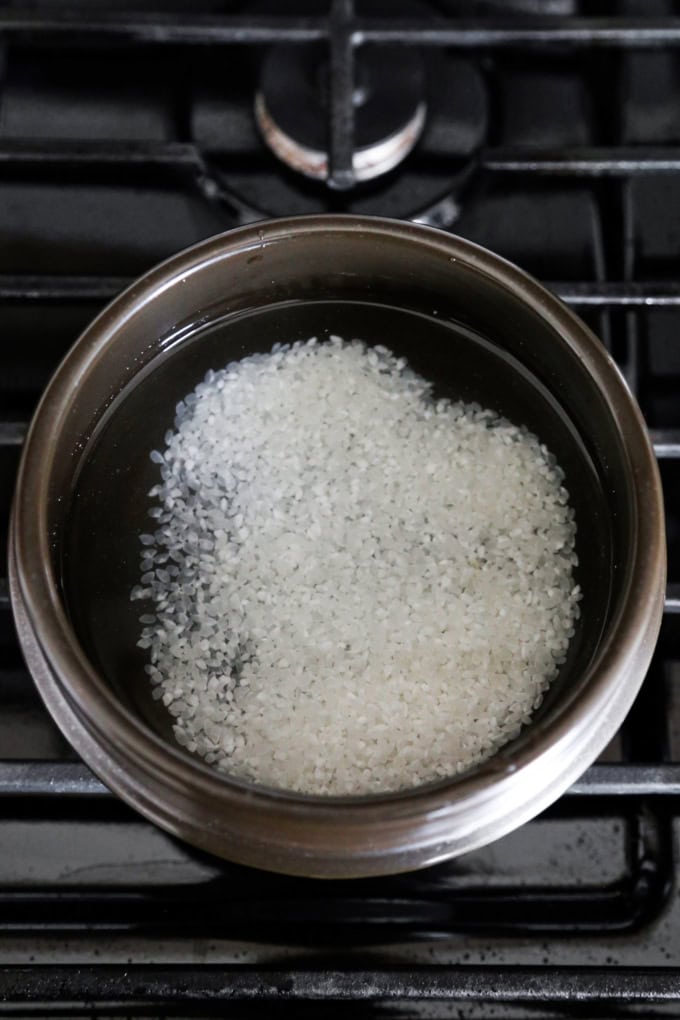 How to Make Okayu Rice Porridge
Gather all of your kitchen tools and ingredients.
Start by washing the rice. I have a rice washing bowl so I just put the rice inside, turn the water on and swish the rice around, until the water runs clear. The bowl has holes at the bottom of it so it automatically drains the rice. If you don't have one, place the rice in a bowl and add a little water to it. Swish the rice around using your finger, for about 1-2 minutes, and drain through a strainer.
Place the rice in a donabe, dolsot, or pot, and add the water.
Turn the heat on and bring the water to a boil. Stir the rice so it doesn't stick to the bottom, turn the heat down to low – the water barely bubbling – and cover with a lid. Cook for 35-40 minutes.
Turn the heat off and check the consistency of the rice porridge. If you are happy with it, serve as is, or add your favorite topping(s). If you would like it more soupy, add 1/4 cup water, stir, and serve.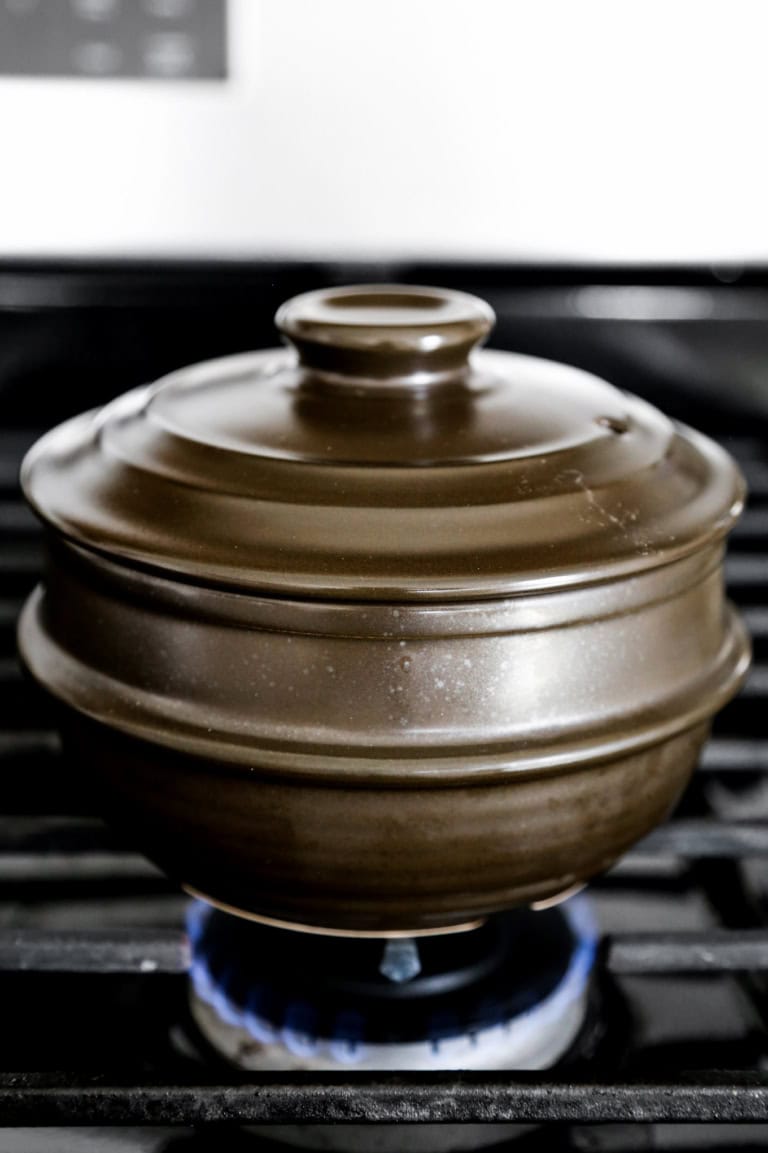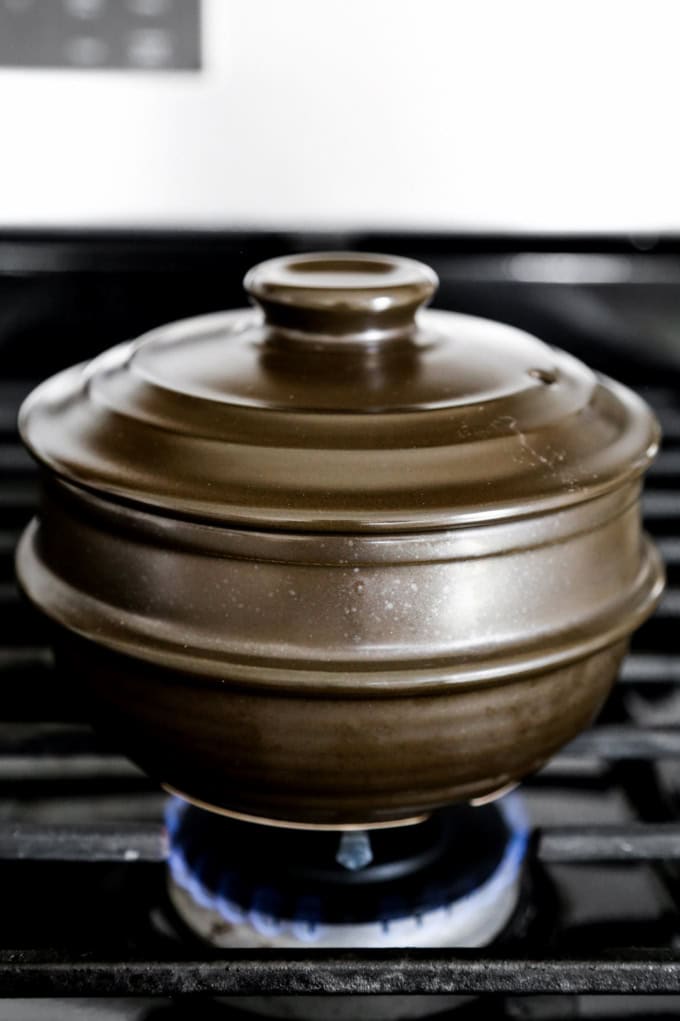 How to Make Okayu in a Rice Cooker
Making okayu in the rice cooker is a breeze!
Follow step 1 and 2 above and add the rice and water to the rice cooker.
Select the porridge button if your rice cooker comes with one, and press start. If you don't have one, choose the plain function and press start.
Once the cooking process is done, check the consistency, and if you would like to cook it for longer, either leave the 'keep warm' function on for 60 minutes – the rice will continue to cook very slowly – or start another cooking cycle (in this case, make sure to add more water).
How to Store Okayu
I personally love to have leftover okayu in my fridge because it makes tomorrow's lunch quick, delicious, low calories, and filling.
Simply transfer the rice porridge to an airtight storage container and close with a lid. Refrigerate for up 3 days. The texture of the porridge will be thicker the next day but that's easy to fix – add a little extra water and the porridge will go back to having a thin and silky texture.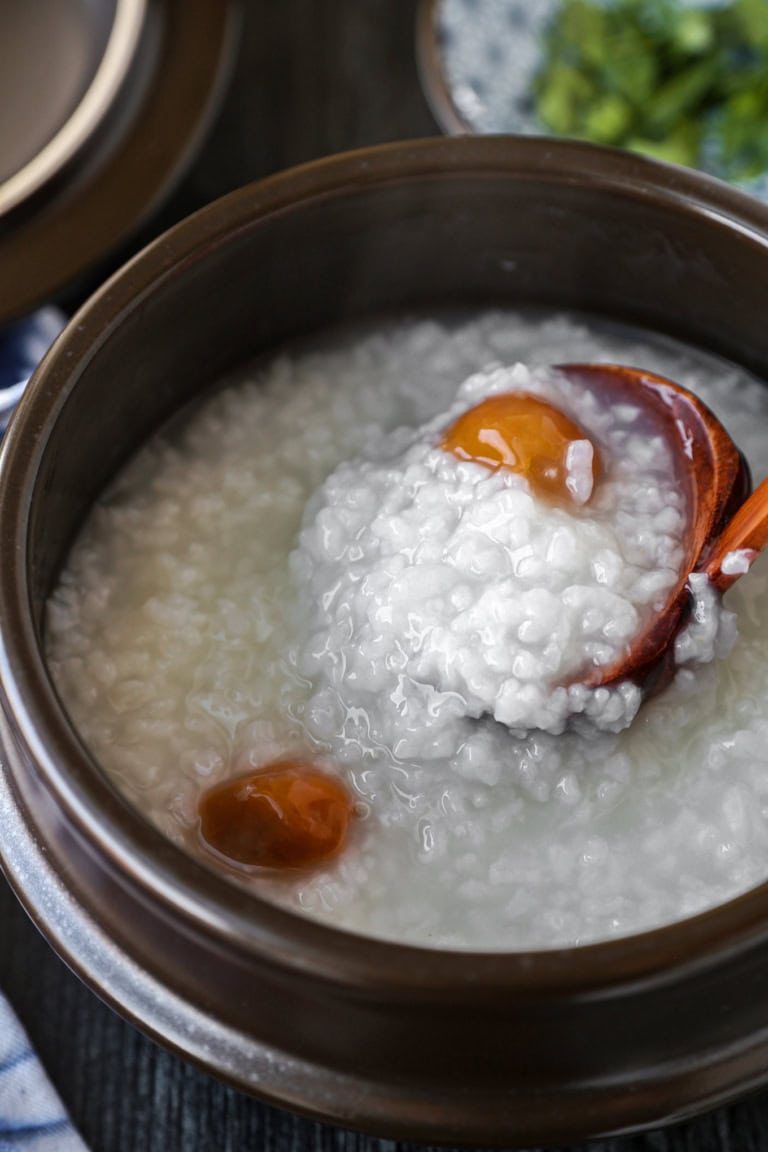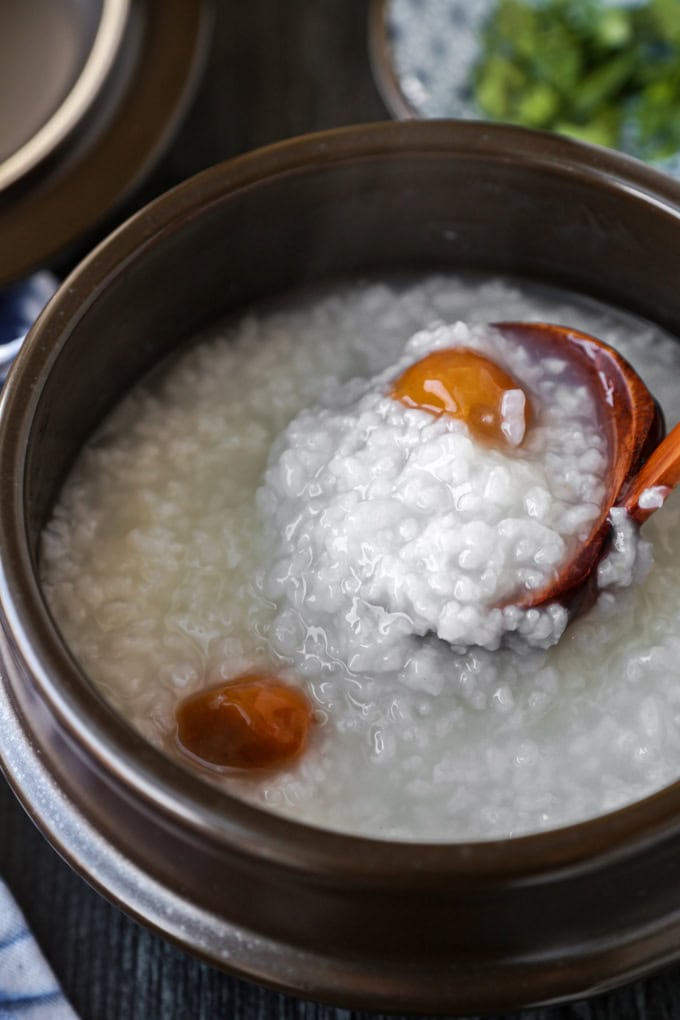 What to Serve with Okayu
Traditional okayu is quite plain in taste. Without any toppings, all you have is mushy rice with no flavor so I recommend going full flavor with side dishes that are also old school Japanese. Some of my favorites are: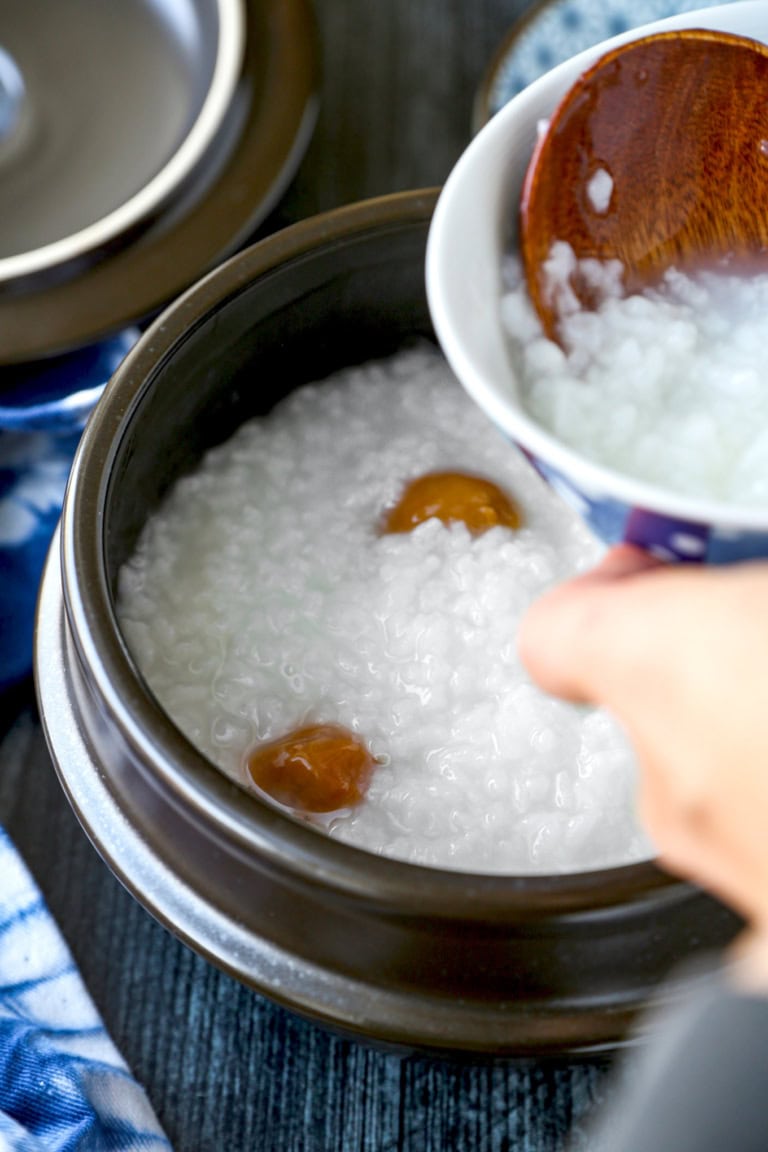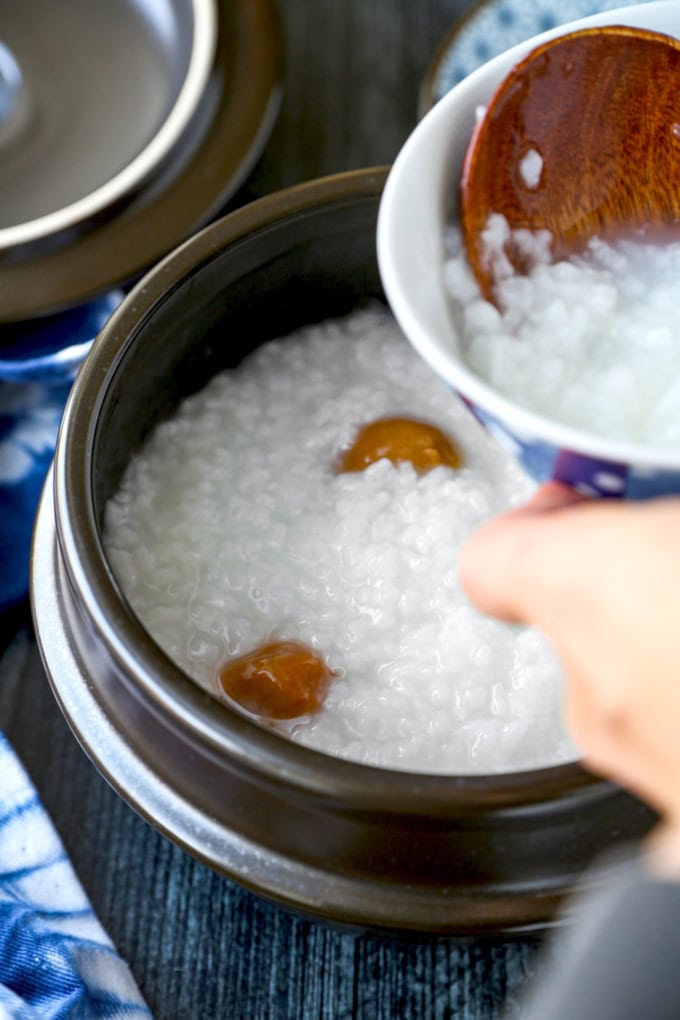 Did you like this Okayu Recipe? Are there changes you made that you would like to share? Share your tips and recommendations in the comments section below!
Print
Okayu (Japanese Rice Porridge – お粥)
Author: Caroline Phelps
Prep Time:

15 minutes

Cook Time:

45 minutes

Total Time:

60 minutes

Yield:

4

1

x
Category:

Main

Method:

Boiling

Cuisine:

Chinese, Rice

Diet:

Low Calorie
1/3 cup

short grain Japanese rice (or

1/2 cup

if you are using the measuring cup that comes with a rice cooker)

600

ml water
Pinch salt (optional)

2

umeboshi (Japanese pickled plum), or other toppings such as sesame seeds, chopped scallions, mitsuba (or cilantro), or cooked salted salmon
Instructions
Put the rice in a rice washing bowl and run cold water over it. Rinse the rice using your hand, in a swirling motion, until the water runs clear. Drain well. If you don't have a rice washing bowl, put the rice in a medium size bowl and pour a little water in it. Wash the rice in a swirling motion to remove the excess starch, for about 1 minute, and strain the rice through a sieve to drain all the water.
Transfer the rice to a dobabe (earthenware pot), dolsot (cooking stone bowl), or regular pot, and add the water and salt.
Bring the mixture to a boil, stir a few times so the rice doesn't stick to the bottom, and lower the heat to low. Cover and cook for 35-40 minutes.
Serve with umeboshi or other topping of your choice.
Nutrition
Serving Size:
Calories:

326

Sugar:

0 g

Sodium:

355.5 mg

Fat:

0.2 g

Saturated Fat:

2

Carbohydrates:

26.4 g

Fiber:

0 g

Protein:

2.2 g

Cholesterol:

0 mg
Keywords: gruel, porridge, breakfast, dinner
Recipe Card powered by