Sweet, tangy, creamy, and chunky, this Japanese potato salad comes with thinly sliced pickled cucumber to add some zing! This is my favorite potato salad and one I hope you will love as much as I do!
Thank you mom for teaching me how to make this delicious "potato salada"!
I grew up eating and loving Japanese potato salad because of its tangy, fruity, and sweet flavors, and creamy texture. My mother made it whenever we were invited to a barbecue or some kind of celebration (Christmas, Easter, etc…) that involved bringing your own dish.
And as always, her food was always a hit among friends and relatives. Even my husband, Ben, used to ask her to make it whenever we went to Japan for a visit. After so many years of devouring her potato salad, I finally asked her to show me how to make it so I could share the recipe with you.
If I had known it was this easy to make I would have asked her for it a long time ago! You will need eight easy-to-find ingredients to make potato salada and about 25 minutes of your time. The dish isn't spicy and the flavors are kid friendly – perfect for the entire family!
Yōshoku (洋食)
Japanese potato salad is considered a yōshoku dish, which is a type of cooking that's heavily influenced by western cuisine. It's similar to fusion cuisine, with flavors and cooking techniques most often borrowed from a European countries, and mixed with Japanese flavors. Just like potato salada, dishes like spaghetti napolitan and hambagu are also considered yōshoku.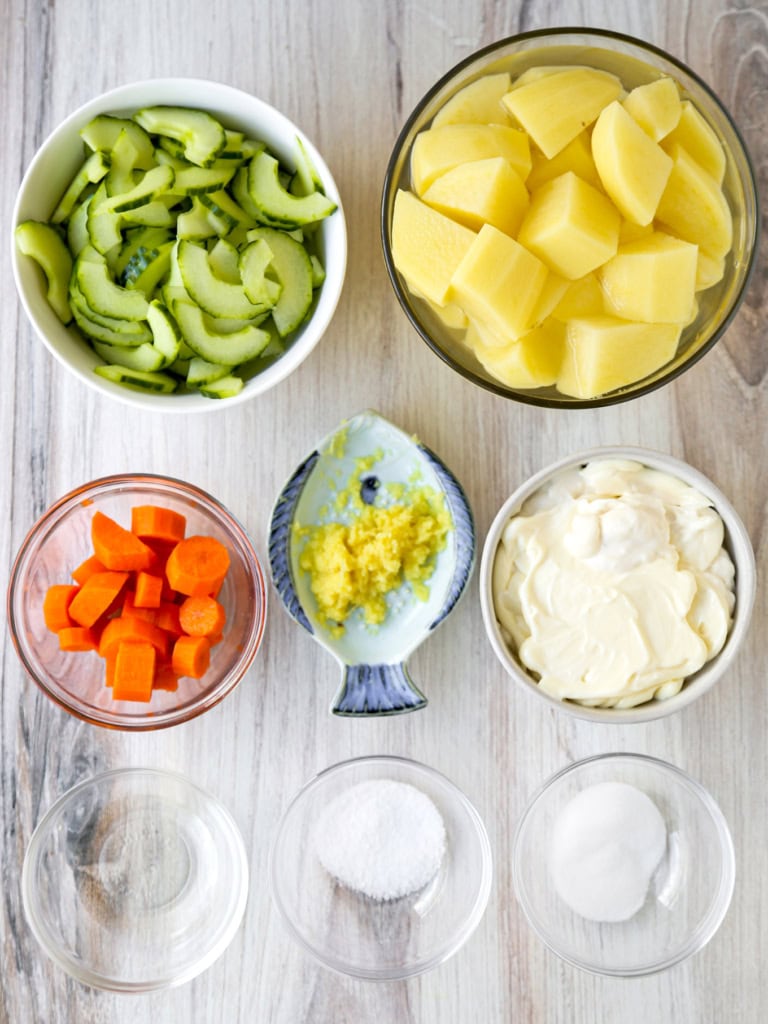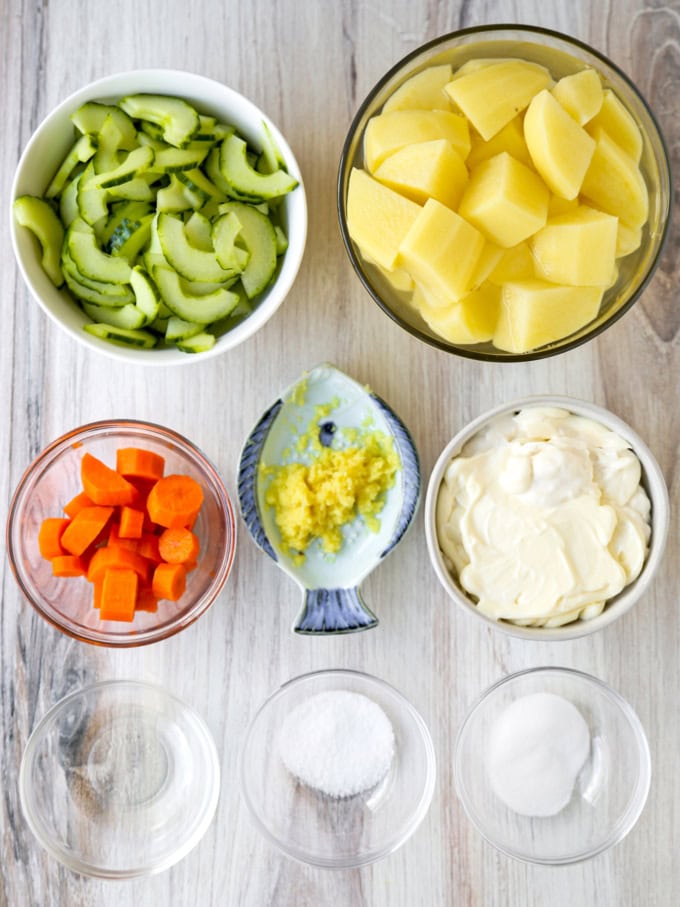 Ingredients for Japanese Potato Salad
Potatoes: I like to use Yukon Gold Potatoes for pretty much every potato dish I create. Yukon Gold Potatoes are the best in terms of taste (they are sweet) and texture (they aren't as mealy as other potatoes can be). But if you cannot find them there's no need to panic – russet potatoes will also do the trick.
Carrot: Adding a sliced carrot to the salad gives it color and sweetness. Get a decent medium size carrot or go bigger if you love the taste of carrots.
Ginger: The grated ginger infuses the salad with a pinch of heat. It's barely noticeable but delicious nonetheless.
Cucumber: Get an English cucumber for this recipe and use a Japanese mandolin slicer if you have one. The cucumber is briefly pickled with a little salt and sugar so that each bite of potato salad you take comes with a nice sweet and salty crunch.
Mayonnaise: Kewpie mayonnaise which is a Japanese mayonnaise is the obvious the first choice for this recipe. The reason being that it has a tangy and fruitier taste than regular mayonnaise. If you don't have kewpie mayonnaise, don't worry as I have an easy recipe for it here. There is also a quick kewpie mayo version on the post that can be used with Vegenaise, for a vegan version.
Sake: Sake adds a little sweetness and fruitiness. You will need one tablespoon.
Sugar: By now you may think that this salad is going to be insanely sweet but believe me when I say it's not. It's actually more tangy than sweet, so adding a little extra sugar only bumps up the sweetness by a pinch.
Salt: About half a teaspoon to balance the sweetness and tanginess of the salad.
For a crunchier potato salad, add 2 tablespoons of chopped red onions or 2 scallions, finely chopped.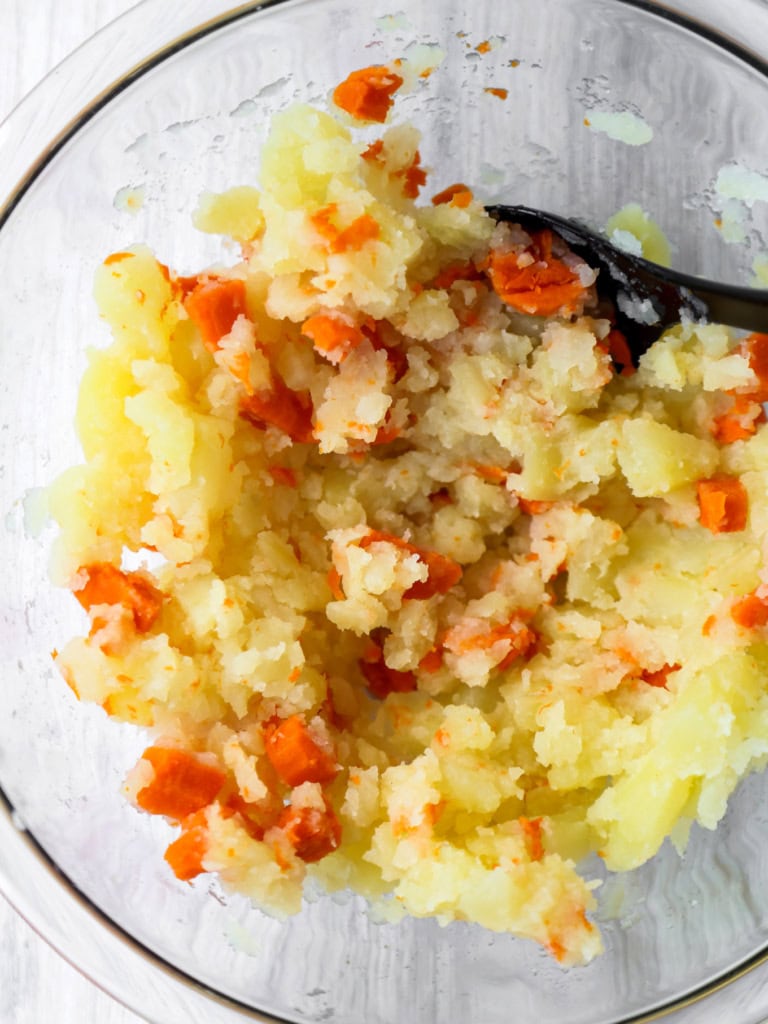 How to Make Japanese Potato Salad
Scroll all the way down for the full recipe.
Gather all of your kitchen tools and ingredients.
Peel the potatoes and carrot, and slice them into bite size pieces.
Fill a small pot with water and add the potatoes. Bring the water to boil and boil the potatoes for 5-6 minutes, until they are tender but not mushy. Drain the potatoes and place them in a large bowl.
Fill the same pot with water and bring to a boil. Add the carrot slices and boil for 4-5 minutes, until cooked but not mushy. Drain and add the carrots to the potatoes.
Mash about half of the potatoes and carrots and stir. Break the big chunks of potatoes (if there are any) with a fork or spoon. The texture you are looking for is creamy with small chunks that are easy to eat. Refrigerate for 20 minutes.
While the potato salad is cooling down, slice the cucumber in half, lengthwise. Grab a small spoon and scoop out the center, where the seeds are. Discard the seeds, you won't need them.
Either use a knife or a mandolin and slice the cucumber into 1/4-inch thick half moons. I recommend using a Japanese mandolin slicer for this step.
Put the cucumber slices in a bowl and sprinkle a little salt and sugar on top. Toss with your fingers and leave for 15 minutes.
Use a strainer to drain the water that has accumulated at the bottom of the bowl and rinse the cucumber slices. Drain again and squeeze the slices to remove the excess water. Transfer them to a bowl and set aside.
Take the potato salad out of the fridge and stir in the mayonnaise, sake, ginger, salt, and sugar.
Add the cucumber slices and stir well. Serve.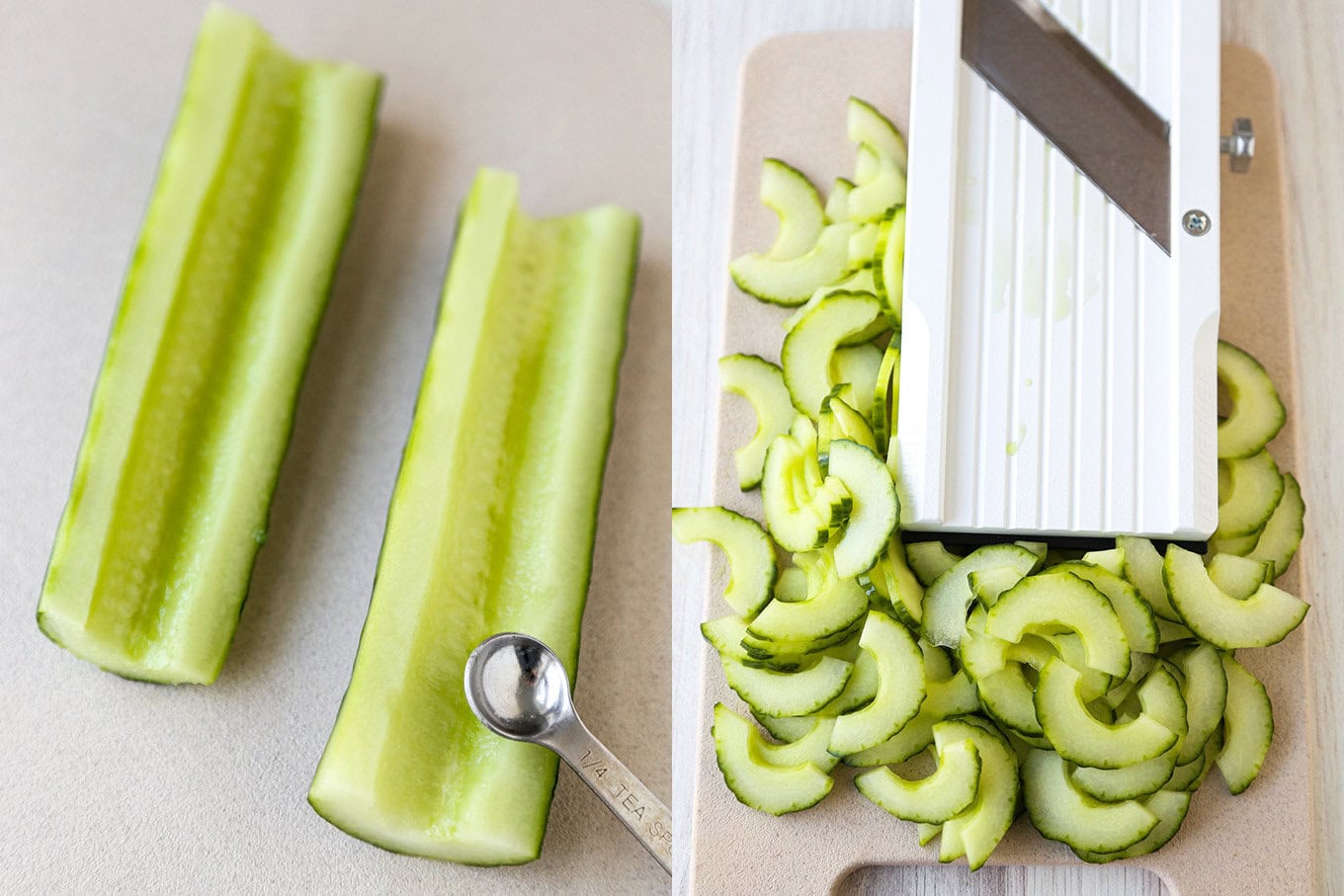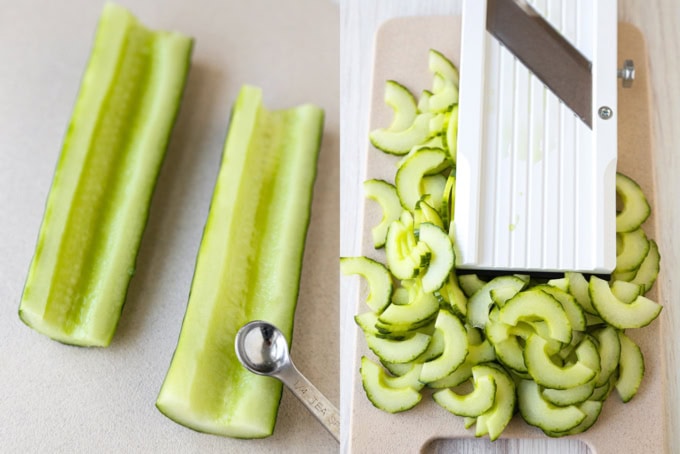 Is Japanese Potato Salad the Same as Korean Potato Salad?
Not it's not but there are some similarities.
Both potato salads use a mix of potatoes, carrots, and cucumber, and are seasoned with sugar and salt. But that's where the resemblance ends.
Korean potato salad is much closer to the American version as it contains eggs, regular mayonnaise, and sometimes onions. The other main difference is that the cucumber isn't pickled like it is in the Japanese version.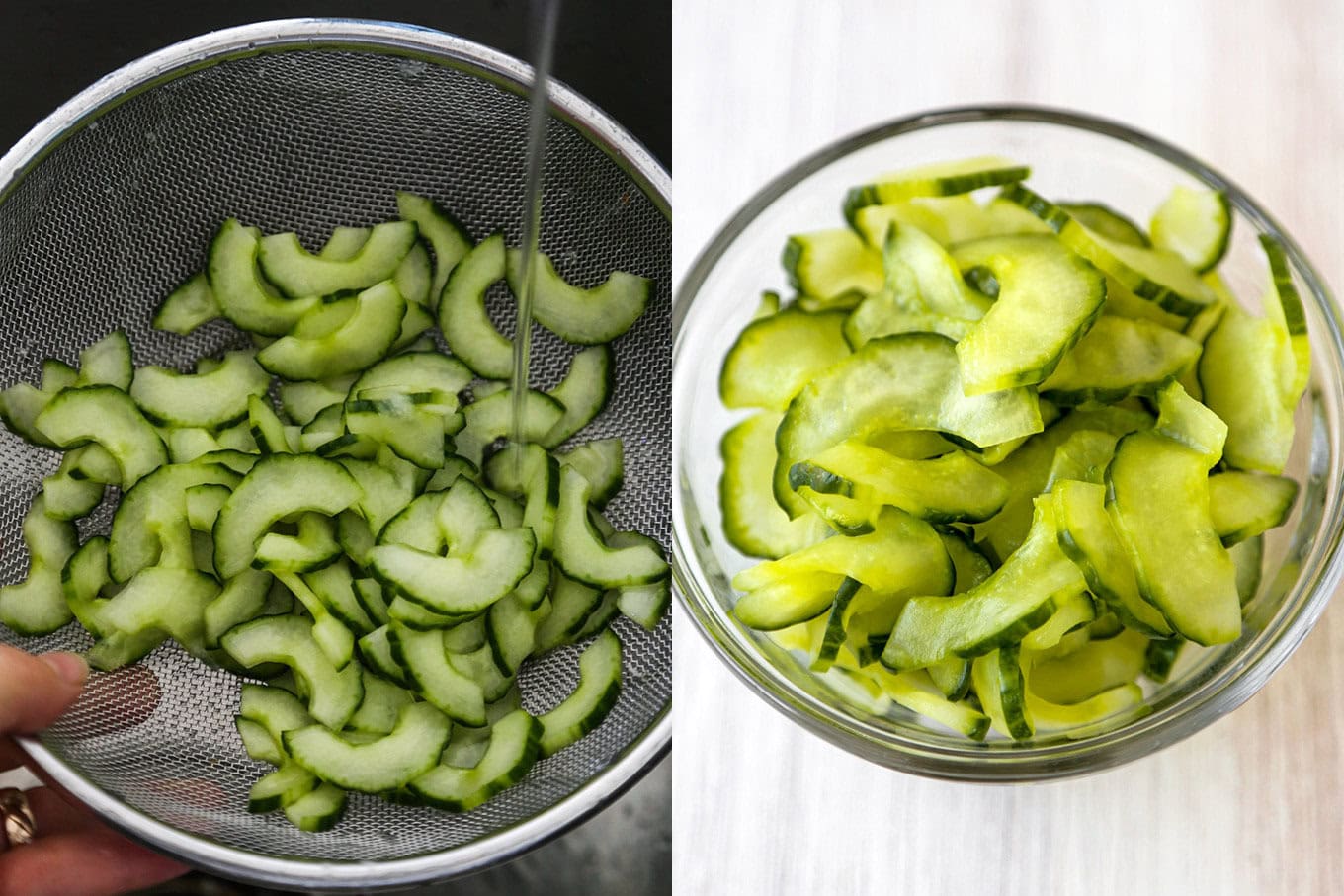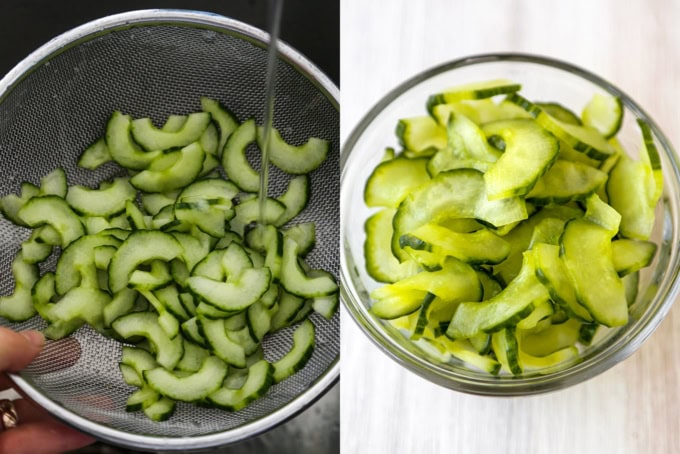 How to Store Japanese Potato Salad
Since Japanese potato salad contains mayonnaise it must be store in the fridge at all times.
Place the salad in an airtight storage container and it will keep for about 1 week.
Can I Freeze Potato Salad?
Technically yes but I personally wouldn't recommend it.
What happens to potato salad when it's frozen isn't very nice. The color will change and turn a faded grey, the texture of the potatoes may get mealy, and the salad overall will be watery.
If you would still like to freeze it, transfer the potato salad to a freezer bag and squeeze as much air out as you can. It will keep for up to 3 months.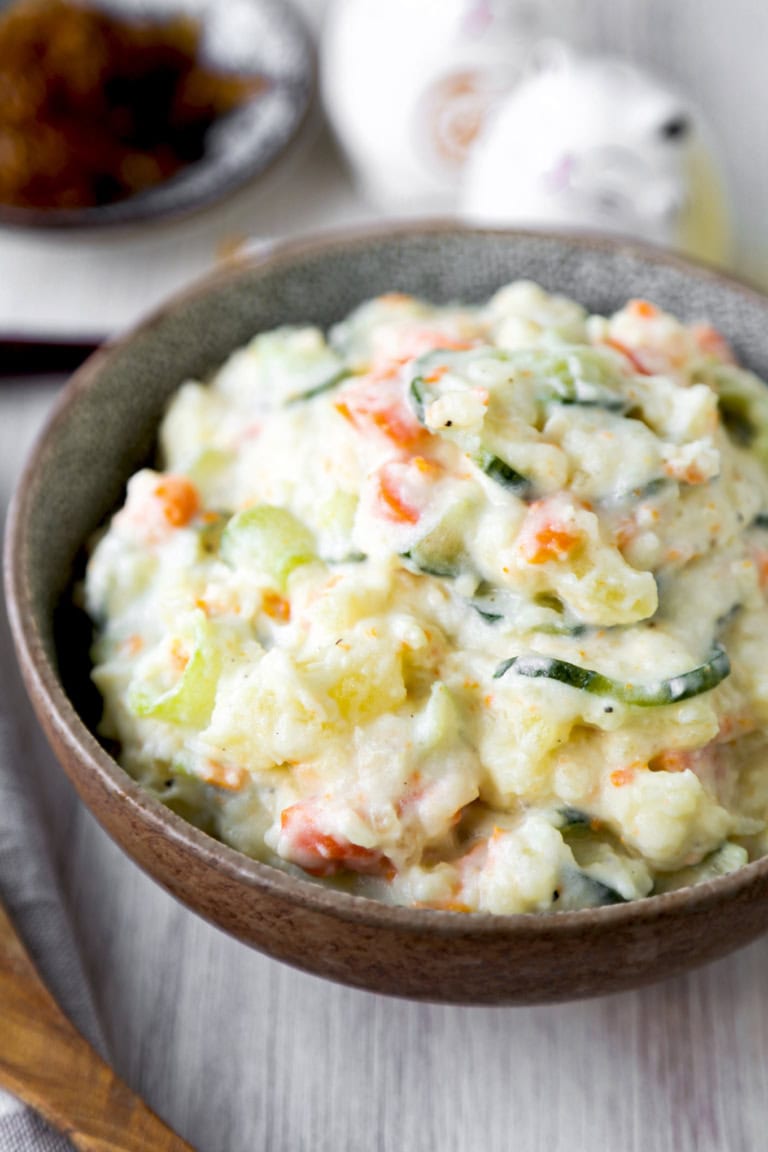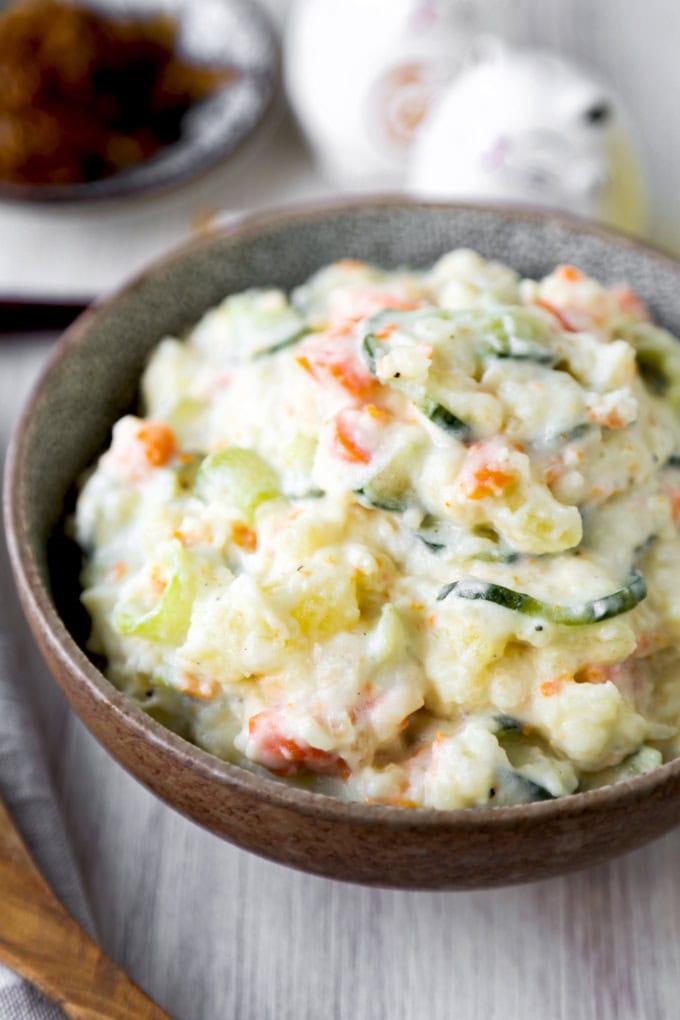 What to Serve Japanese Potato Salad With
Just like with any other potato salad, this one makes a wonderful side to foods grilled on the barbecue such as burgers,  hot dogs, and corn.
It's also a wonderful side to serve at home with other Japanese dishes. Some of my favorites are: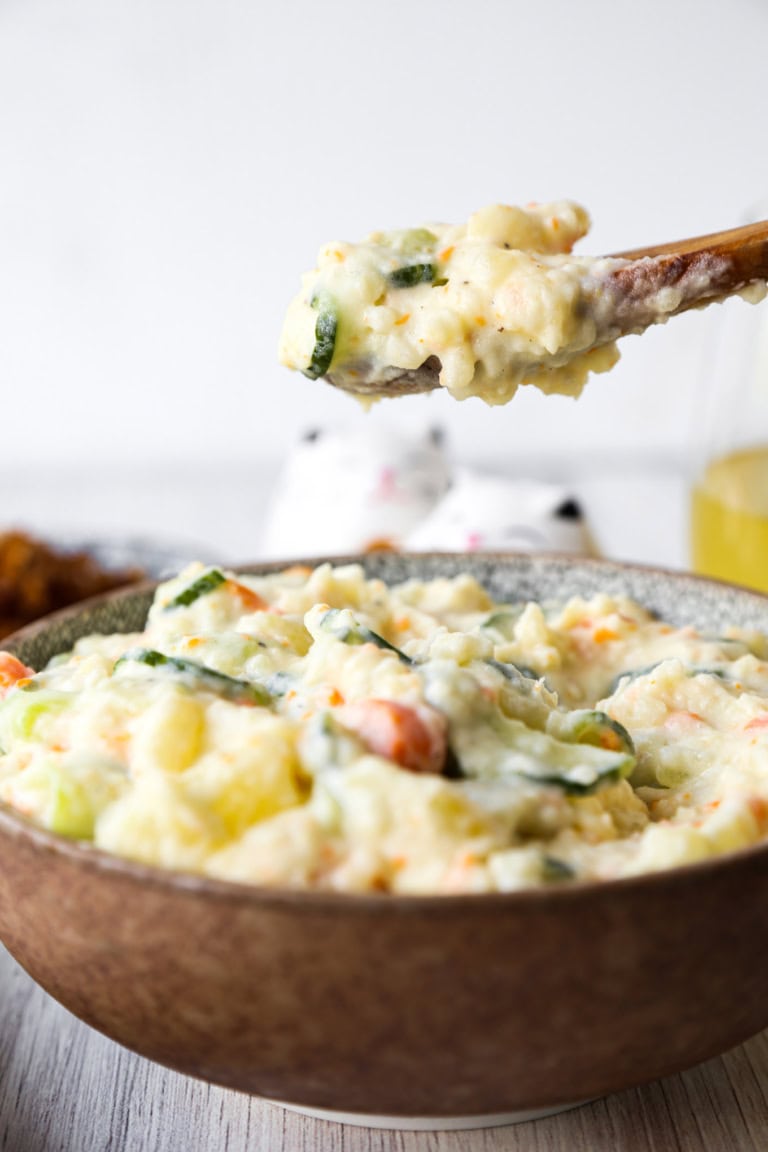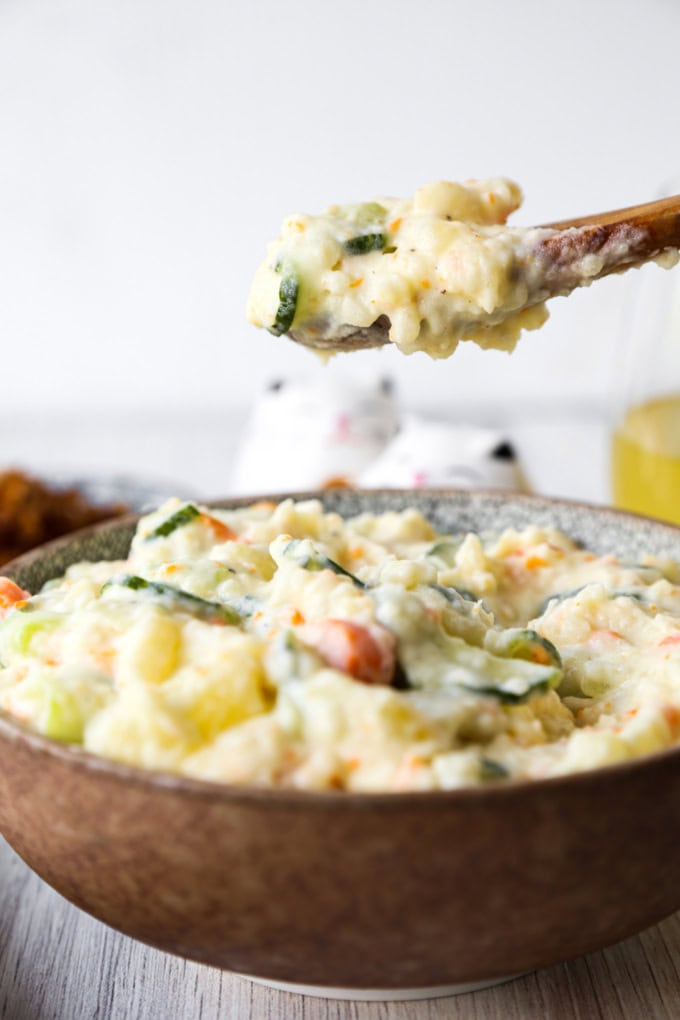 Did you like this Japanese Potato Salad Recipe? Are there changes you made that you would like to share? Share your tips and recommendations in the comments section below!
Print
Japanese Potato Salad
Sweet, tangy, creamy, and chunky, this Japanese potato salad comes with thinly sliced pickled cucumber to add some zing and a lovely crunch.
Author: Caroline Phelps
Prep Time:

15 minutes

Cook Time:

10 minutes

Total Time:

25 minutes

Yield:

4

1

x
Category:

Salads

Cuisine:

Japanese

Diet:

Vegetarian
2

medium to large potatoes, peeled and chopped bite size

1

medium carrot, peeled and chopped size

1/2

English cucumber, sliced in half lengthwise, center part with seeds removed with a small spoon

1

thumb size ginger, peeled and grated

2/3 cup

kewpie mayonnaise, regular mayonnaise, or Vegenaise

1 tablespoon

sake

1 1/2 teaspoon

granulated sugar

1 teaspoon

kosher salt
Instructions
Fill a small or medium pot with water and add the potatoes. Bring to a boil and cook for 5-6 minutes, until potatoes are tender but not mushy. Drain well and transfer them to a medium or large mixing bowl.
Bring another small pot of water to boil and add the carrots. Cook for 4-5 minutes, until carrots are tender. Drain well and add the carrots to the potatoes.
Using a potato masher or fork, mash half of the potatoes and carrots and mix. Break the big chunks with a spoon or fork. The texture should be creamy with small bite size chunks.
Refrigerate for 20 minutes.
Meanwhile, slice the cucumber using a Japanese mandolin slicer or a knife. Slice into 1/4-inch thick pieces and add them to a bowl.
Sprinkle 1/2 teaspoon sugar and 1/2 teaspoon salt over the cucumber slices and toss with your fingers to coat the pieces evenly. Leave for 15 minutes.
Drain the excess water through a colander and rinse under cold water. Drain and squeeze the excess water from the cucumber using your hands. Try to squeeze as much water as you can.
Take the potato and carrot mixture out of the fridge and add the mayonnaise, ginger, sake, and the remaining sugar and salt.
Mix with a spoon or spatula. Stir in the cucumber slices and mix well. Add more mayonnaise if needed. Serve.
Notes
Store this potato salad in an airtight storage container and refrigerate for up to 1 week.
Nutrition
Serving Size:
Calories:

961

Sugar:

4 g

Sodium:

842.4 mg

Fat:

27.6 g

Saturated Fat:

13

Carbohydrates:

20.9 g

Fiber:

3.1 g

Protein:

2.4 g

Cholesterol:

15.4 mg
Keywords: side dish, appetizer, snack, pot luck
Recipe Card powered by