Spaghetti Napolitan (ナポリタン)
*This post may contain affiliate links. Read my disclaimer here.
The spaghetti of my childhood! Make this delicious Japanese-style ketchup spaghetti in just 25 minutes, and watch your kids (and partner!) devour it in no time – and ask for seconds!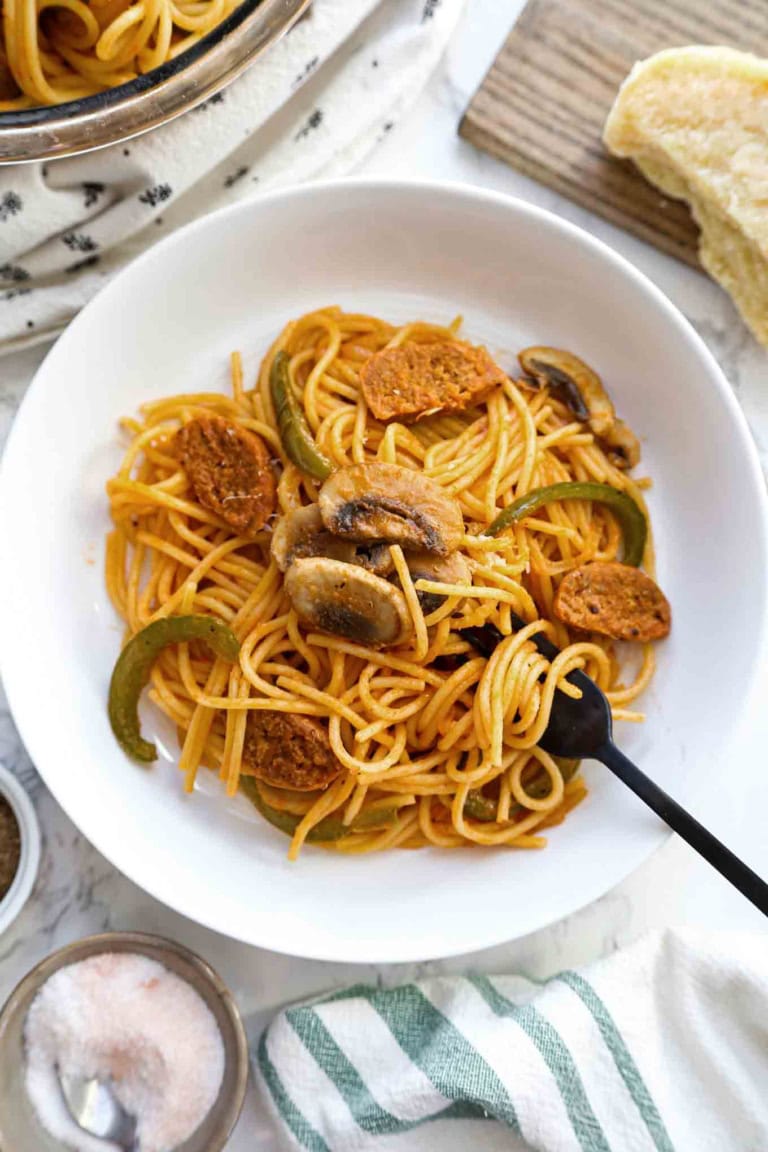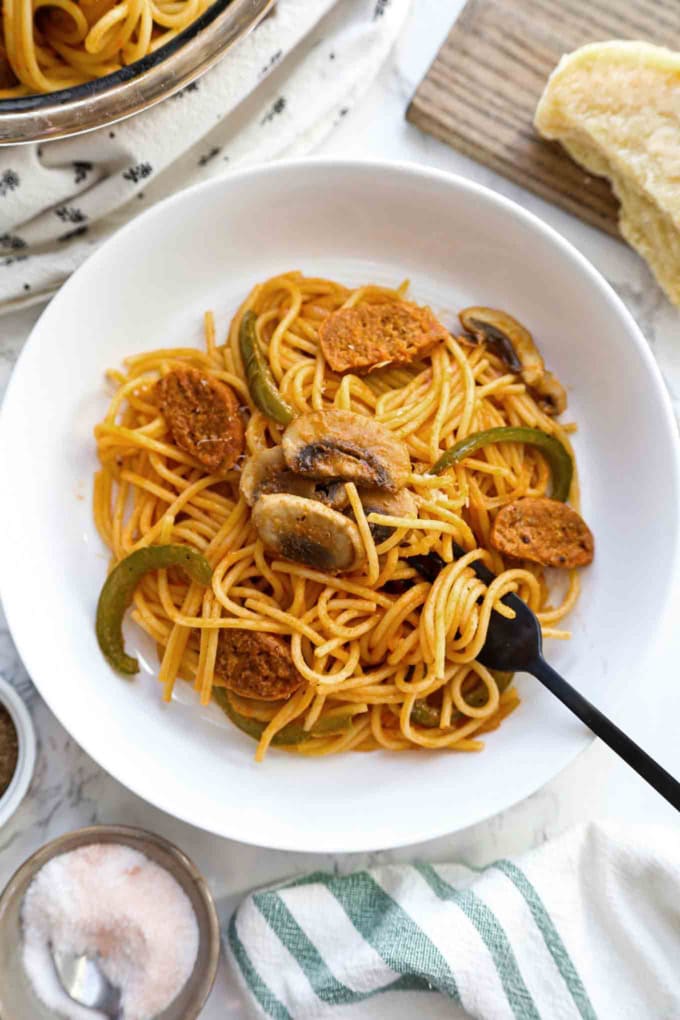 While many people think of sushi when they want Japanese food, I think about the comfort food my mother made when I was a kid. Dishes like curry rice, miso soup, white stew, and spaghetti napolitan ❤️. A simple bowl of spaghetti coated with ketchup and milk, and topped with sausages, onions, bell peppers, and mushrooms. So so good!
I don't know why I waited this long to publish this recipe since it's been in my repertoire for years and years. Maybe it's because it's so simple that I never thought of posting it, but no matter the reason, I'm doing it now and I hope you enjoy this dish as much as I do!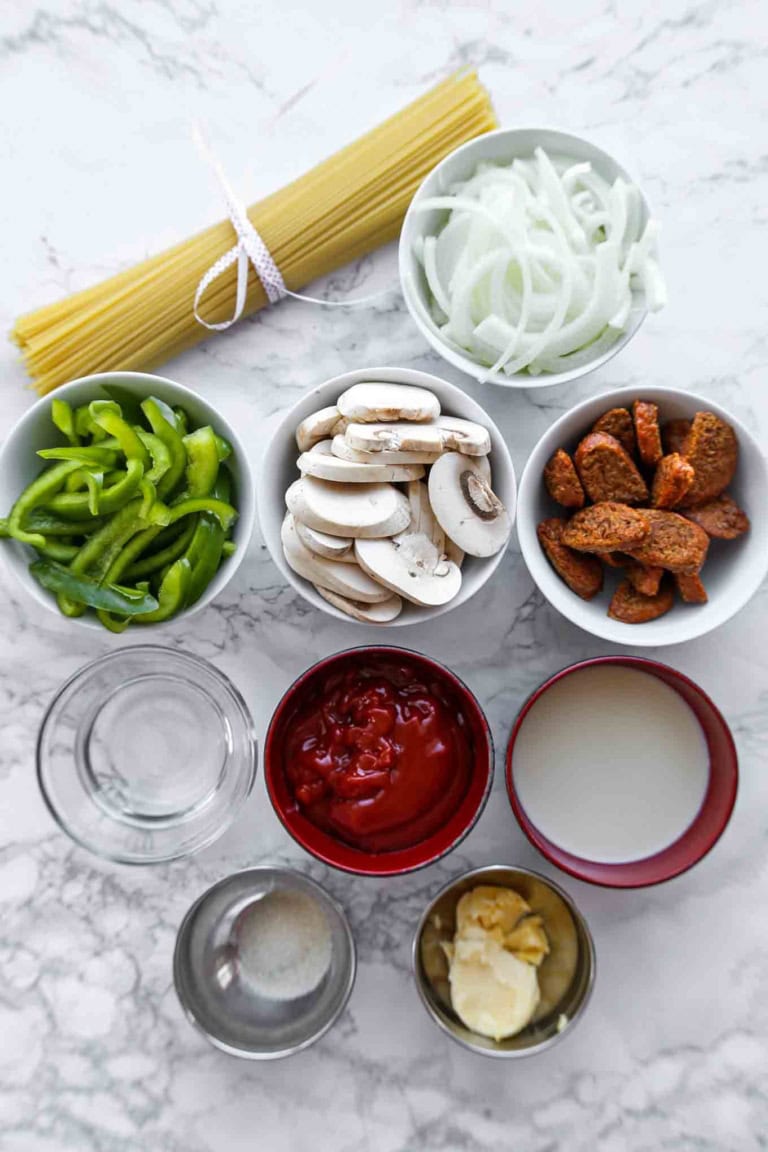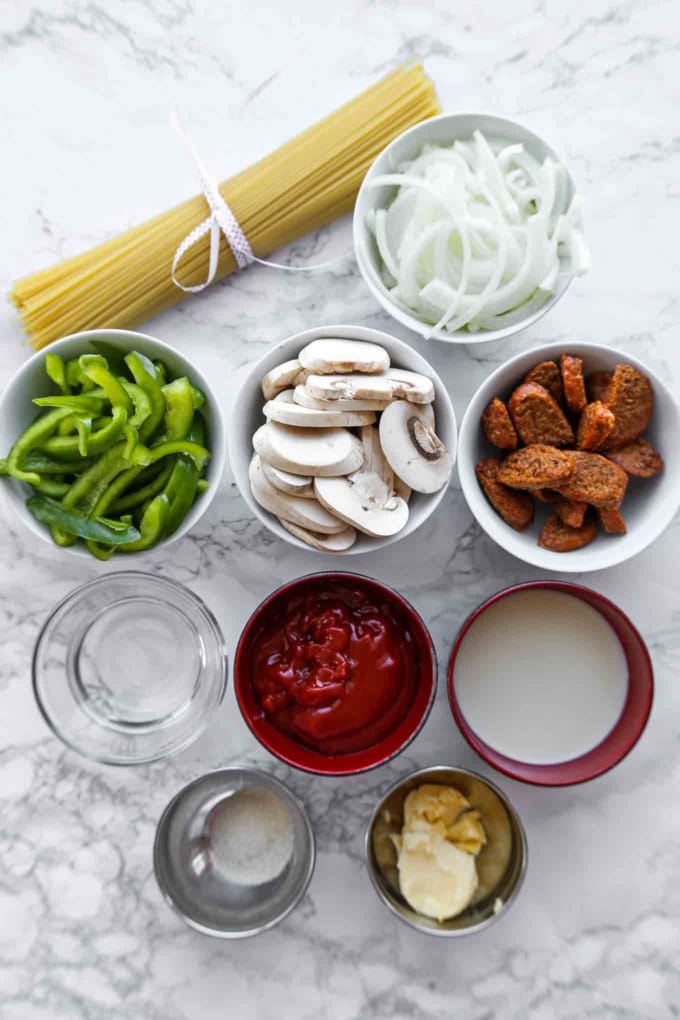 What is Spaghetti Napolitan?
Spaghetti napolitan, also called neapolitan or naporitan, is a Japanese pasta dish that hails from the city of Yokohama (横浜), located in the Kanagawa prefecture. The dish was supposedly created after the end of World War II, by chef Shigetada Irie of the New Grand Hotel. It was a variation on the spaghetti with ketchup the US army used to eat during their occupation in Japan.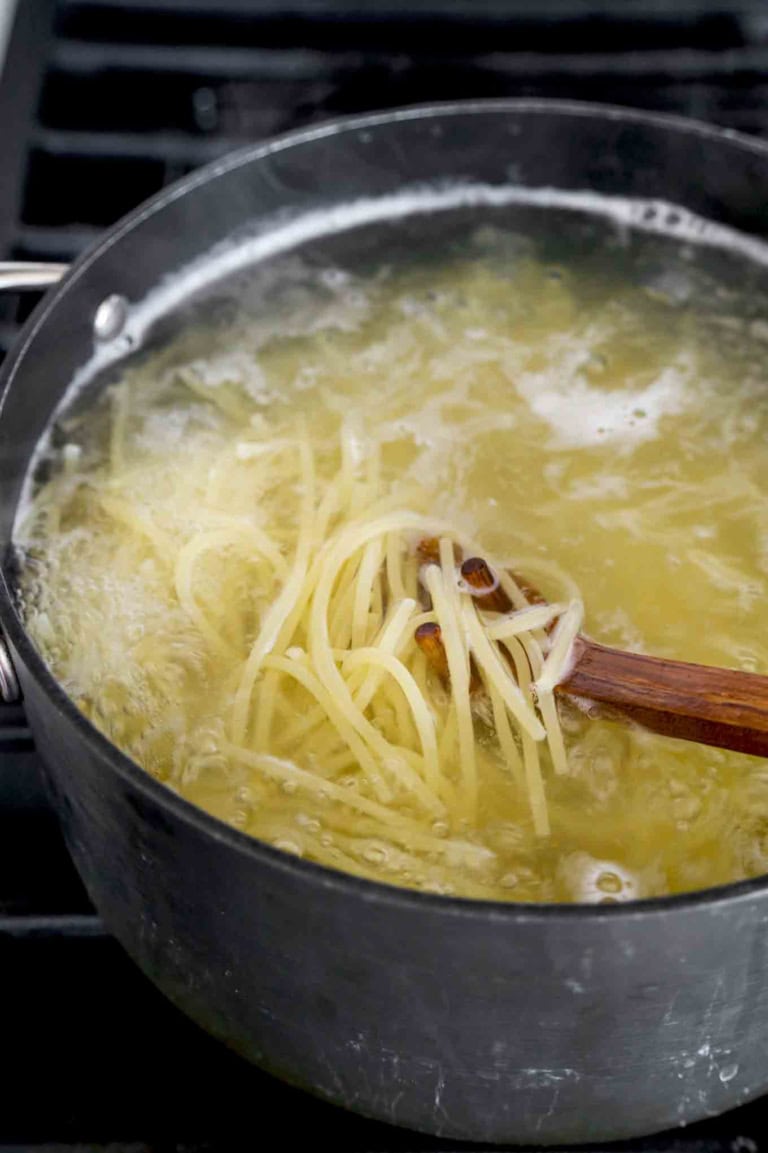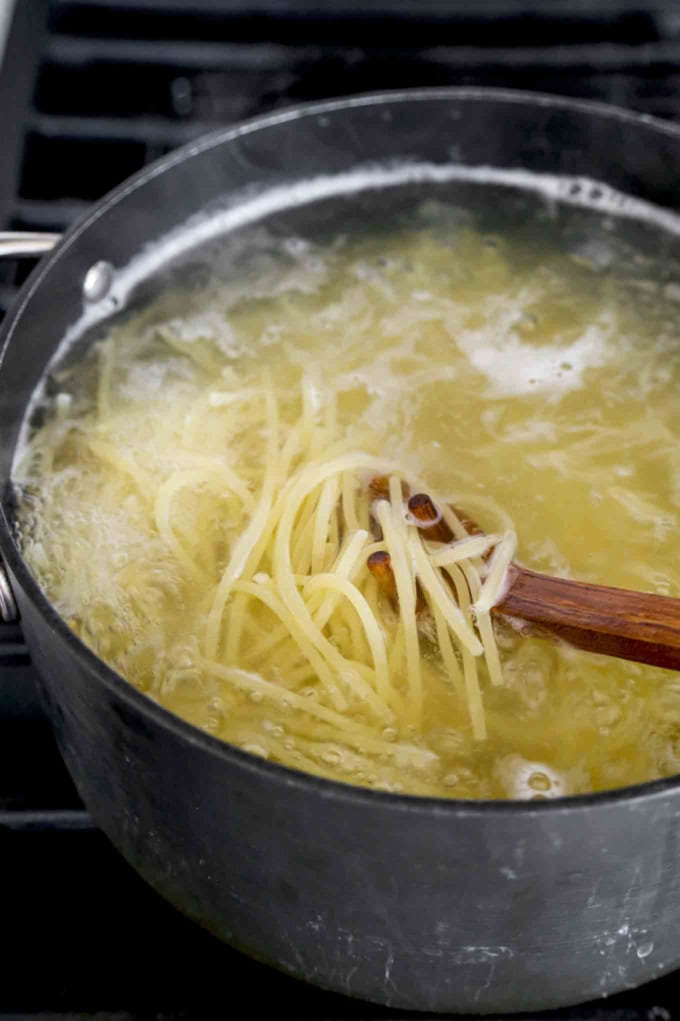 Ingredients for Spaghetti Napolitan
Spaghetti: The classic spaghetti napolitan is made with spaghetti but you can use other noodles such as fettuccine or thin spaghetti.
Butter: Salted butter is a must for this dish! Same goes for vegan butter – make sure it's nice and salty.
Onion: 5 ounces is about half a medium size onion. Slice it thin so it cooks faster and almost melts into the sauce.
Green bell pepper: You can use red, orange, or yellow bell peppers too. I like using green for the contrast in color, just like a pizza.
Mushrooms: This pasta is a no frills meal so I'm using the most basic mushroom – the button mushroom. However, if you happen to have other types of mushrooms in your fridge, you can also use that.
Sausages: Wiener sausages are what you will find on ketchup spaghetti all over Japan. But since Ben and I don't eat meat, I used chopped Beyond sausages and it was just as delicious.
Ketchup: Yep, it's ketchup spaghetti so you will need lots of ketchup, about 3/4 cup.
Milk: Again, you can use regular milk or make it vegan by using unsweetened oat milk (I prefer oat milk over other dairy-free milk substitutes because it doesn't have a sweet taste).
Sugar: Just a teaspoon to sweeten the sauce a little. You can actually skip the sugar if you already find it sweet.
Pasta water: Make sure you salt your pasta water properly since it will affect how your sauce will taste in the end. Look at the steps to see the measurements.
Grated parmesan cheese: You can use freshly grated parmesan cheese but if you want your dish to be 100% old school Japanese, use Kraft's grated parmesan cheese.
Tabasco sauce: Japanese people cannot tolerate very spicy food but do enjoy a couple of drops of tabasco sauce on their spaghetti.

How to Make Spaghetti Napolitan
Gather and measure all of your ingredients for this recipe.
Fill a pot with water and season with salt (about 2 tablespoons salt for per 3-4 quarts of water) and turn the heat to high.
Grab a medium to large skillet and melt the butter over medium heat. Add the sliced onions and fry them until they are translucent.
Add the sausages and fry for 3 minutes. Add the sliced bell peppers and mushrooms and cook for 4-5 minutes. Check that your sausages are cooked through and transfer all of the ingredients to a plate.
Add the ketchup, milk, and sugar to the skillet you were just using and stir until the sauce starts to bubble. Return the sausages and vegetables to the skillet, stir, and turn the heat off.
Boil the noodles according to the directions on the package (usually about 10-12 minutes for regular spaghetti) and scoop 1/4 cup of the pasta water right before draining.
Drain your pasta and return it to the pot. Pour the pasta water over it along with the sauce, sausages, and veggies, and toss well until the noodles are evenly coated.
Serve with parmesan cheese and tabasco sauce and enjoy!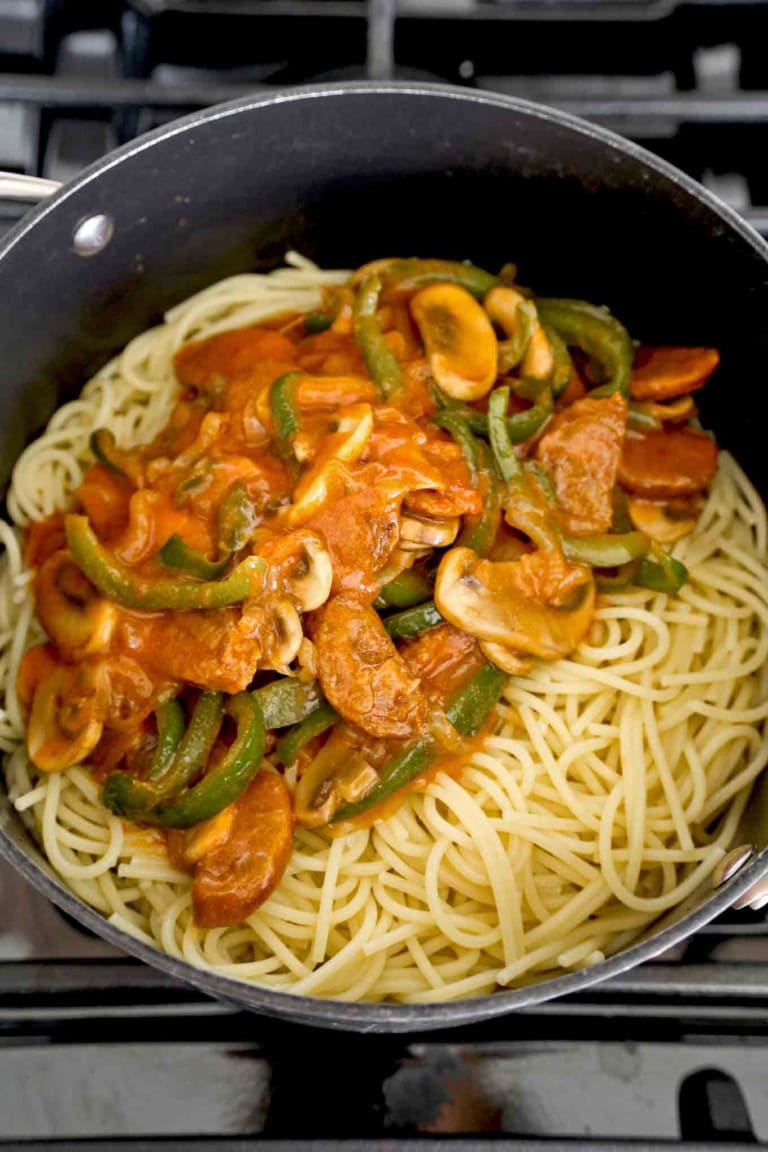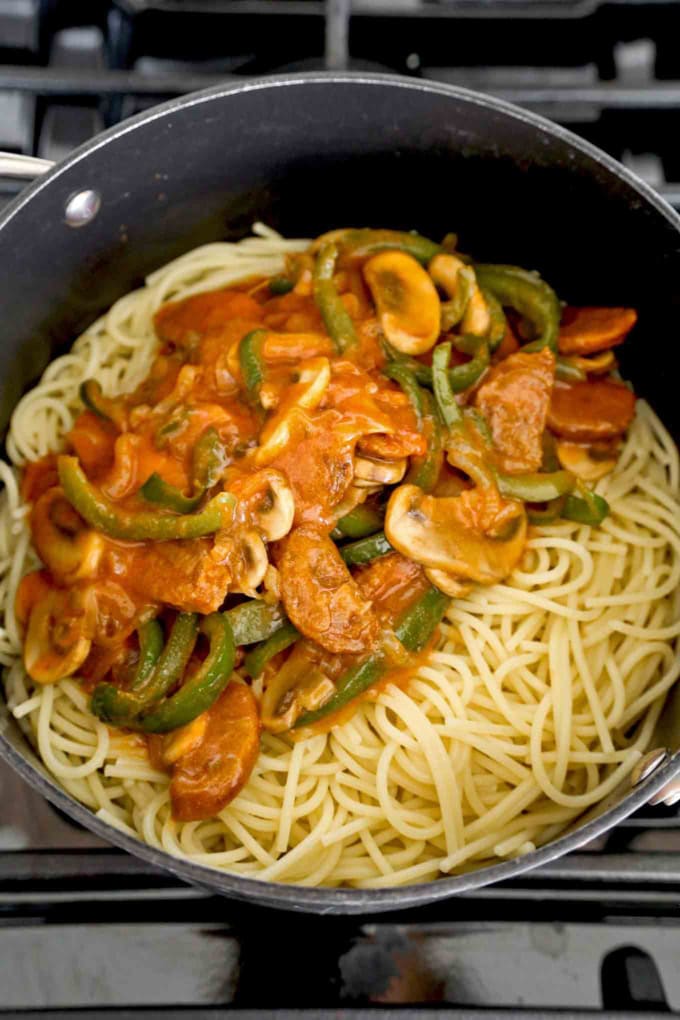 What to Serve with Spaghetti Napolitan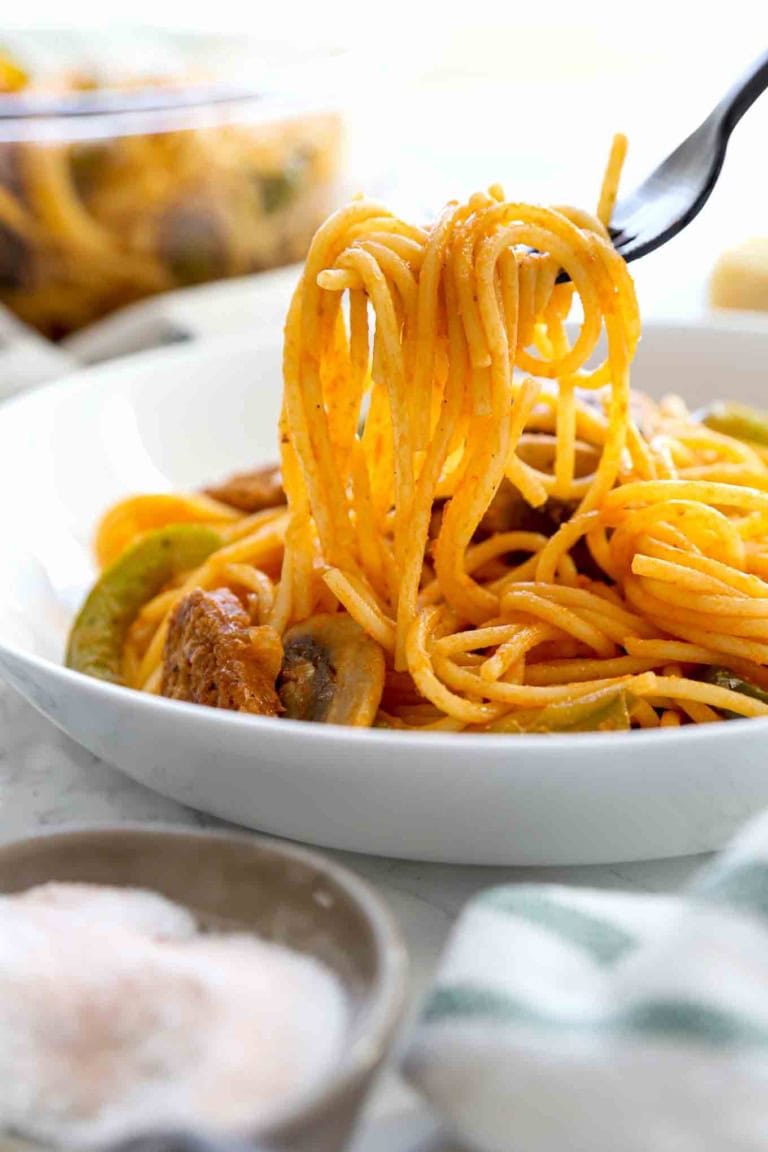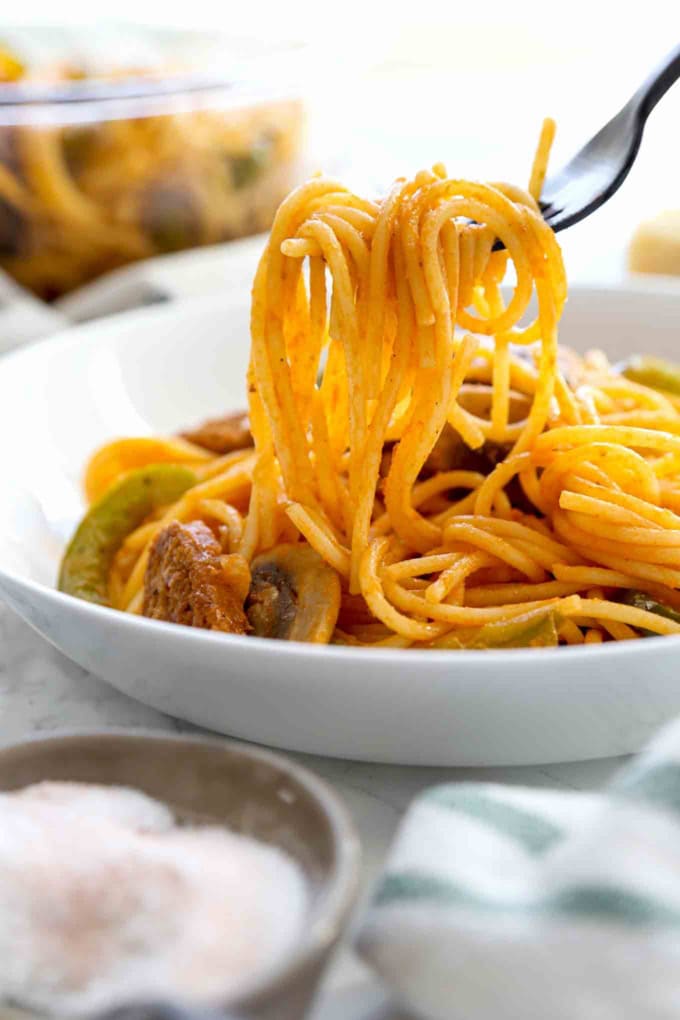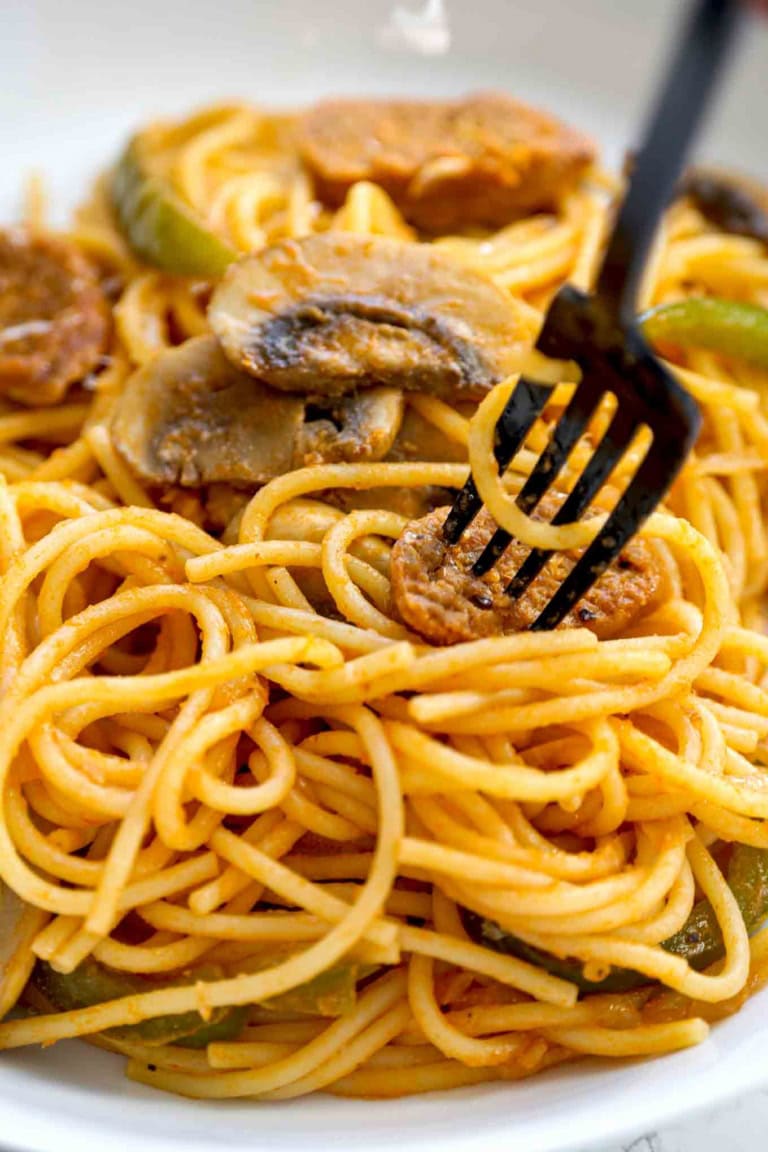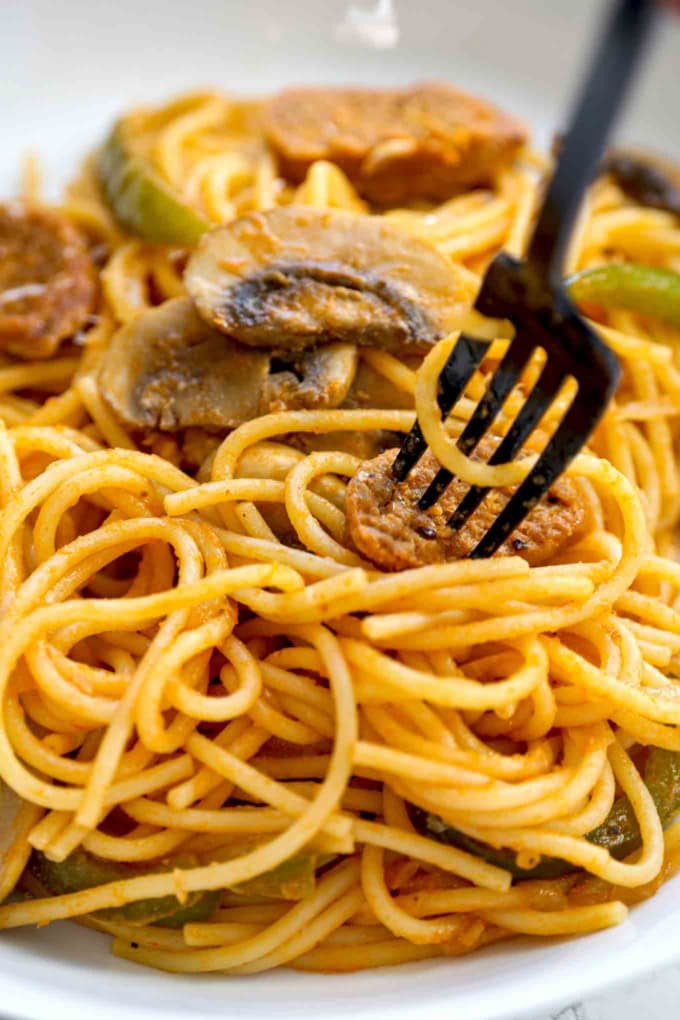 Did you like this Spaghetti Napolitan Recipe? Are there changes you made that you would like to share? Share your tips and recommendations in the comments section below!
Print
Spaghetti Napolitan (Naporitan)
Author: Caroline Phelps
Prep Time:

10 minutes

Cook Time:

15 minutes

Total Time:

25 minutes

Yield:

4

-

6

people

1

x
Category:

Noodles

Method:

Stove top

Cuisine:

Japanese
1

pound dried spaghetti

2 tablespoons

butter or vegan butter

5 ounces

onion, thinly sliced into half moons

1

medium green bell pepper, cored and sliced into strips

8

button mushrooms, sliced

6 ounces

wiener sausage, bacon, or

2

vegan Beyond sausages, cut into bite size pieces

3/4 cup

ketchup

1/2 cup

milk or unsweetened oat milk (vegan)

1 teaspoon

granulated sugar

1/4 cup

pasta water
Grated parmesan cheese
Tabasco sauce
Instructions
Bring a large pot of salted water to a boil (add 2 tablespoons salt per 3-4 quarts of water).
Meanwhile, melt the butter in a large pan over medium heat, and add the onion slices. Saute for a few minutes, until the slices are translucent (about 3-4 minutes).
Add the sausages and cook for 3 minutes. Add the bell pepper, mushrooms and cook for 4-5 minutes, until the bell pepper slices are soft but still yielding a little crunch. Check that the sausages are fully cooked (if not, cook for a few more minutes) and transfer the ingredients to a plate. Set aside.
Using the same pan, stir in the ketchup, milk, and sugar. Keep stirring until the sauce begins to bubble.
Return the sausages and veggies to the pan and stir to mix the ingredients. Turn the heat off.
Boil the pasta according to the directions on the package and scoop out 1/4 cup of pasta water just before draining.
Drain the pasta and put it back in the pot. Pour the pasta water, spaghetti sauce, sausages, and veggies over it and use tongs or chopsticks to coat the spaghetti evenly.
Serve with parmesan cheese and tabasco sauce.
Recipe Card powered by
Pickled Plum is a participant in the Amazon Services LLC Associates Program, an affiliate advertising program designed to provide a means for sites to earn advertising fees by advertising and linking to amazon.com.