Wow your family and friends with this easy Japanese style vongole spaghetti with red chillies, shiitake mushrooms in a soy, sake broth.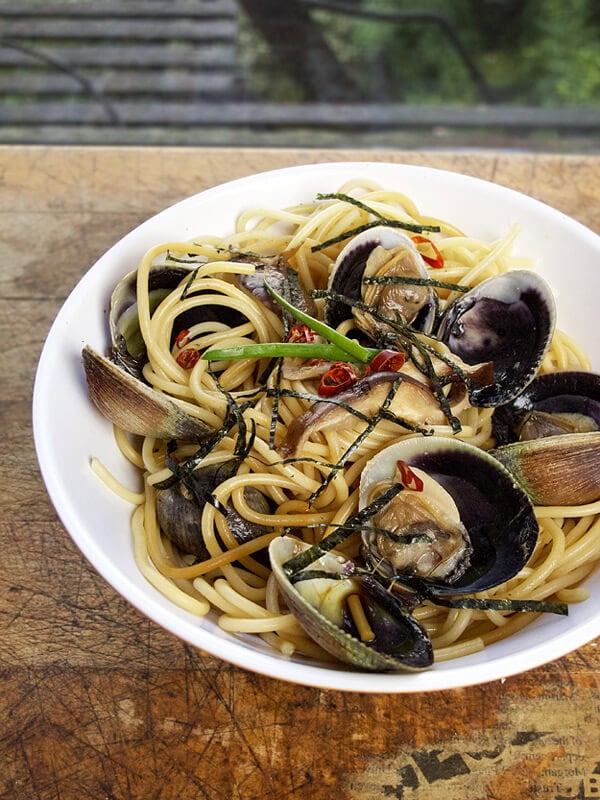 Spaghetti vongole with shiitake mushrooms
I love waking up to the sound of birds chirping, while a gentle breeze blows through the bedroom window. All three of us (I'm including our kitty tsukune) bundled under the covers, half asleep and utterly content. It's impossible not to have a good day when the weather is as perfect as it has been these past couple of weeks. I'm an East coast girl, I grew up with snow up to my neck in the winter and warm, dry summer days ending on a chilly note. So this cool weather New York's been having lately is making me very happy because all I want to do is take long walks and soak up the light and beauty around me.
Every Tuesday, Ben and I head off to our favorite seafood restaurant for one dollar oyster happy hour. We'll order two dozens, slurp them up with a splash of tangy and spicy chili vinegar mix, accompanied by a side of Old Bay fries. Happy hour indeed! Then we head home, cook some seafood of our own, turn on Netflix and go into full relax mode.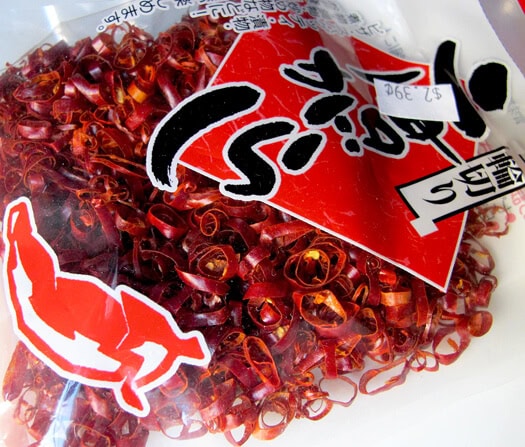 This spaghetti vongole with shiitake mushrooms is one of our recurring meals on seafood Tuesdays. Smoky, briny and earthy, it's the perfect marriage between Japanese and Mediterranean flavors. It's not complicated either, which makes it that much more attractive to cook on days when cooking feels like work. The funny thing is, I always thought spaghetti vongole would be hard to make. For a while, I felt grossly undereducated about sea creatures and their chemical reaction to frying and other means of cooking. It's only recently that I've been using seafood regularly and have gained enough confidence to create recipes of my own (like this sauteed calamari with celery).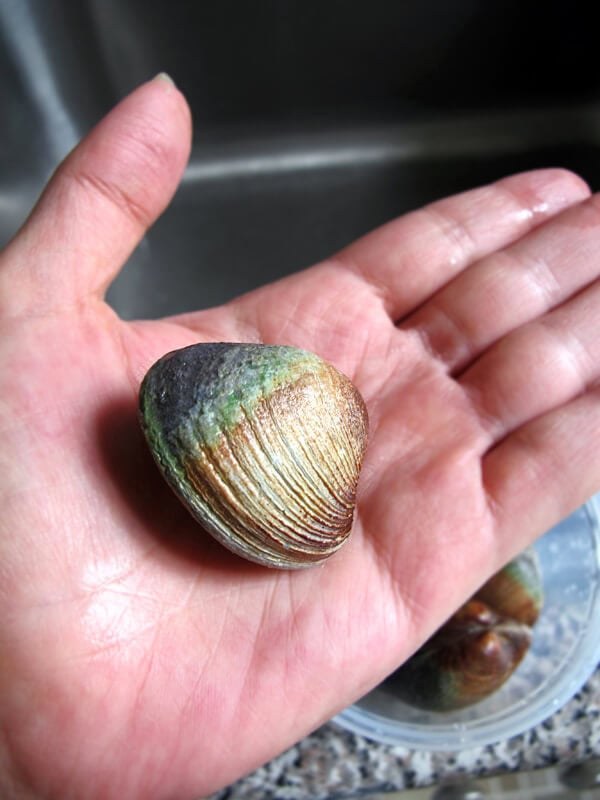 I can now tell you it's not that hard. The one thing to watch for is to not overcook them (rubbery shrimp can ruin a meal). The second is to let their natural flavors shine. I use cockles for this spaghetti vongole and the brininess they add to the sauce is extraordinary. Using seafood is a lot of fun and can cut down on prepping and cooking time. It's also good for you (very high in protein and low in fat) and looks sumptuous when dressed with chopped scallions and red chili flakes.
Serve this spaghetti vongole with a healthy and easy blended vegetable soup.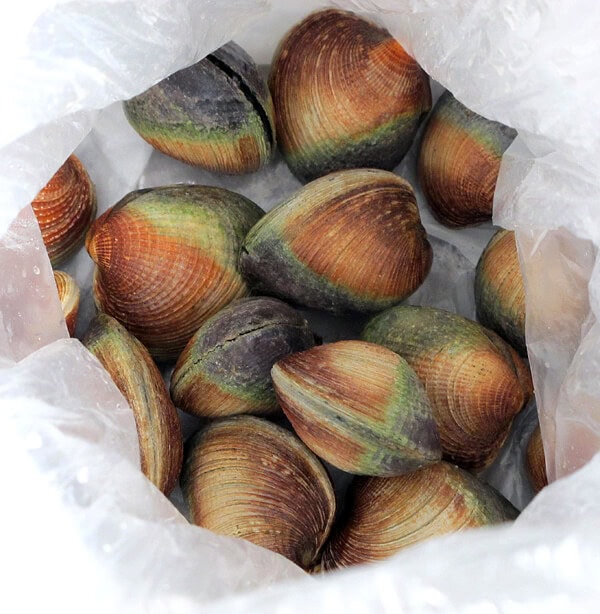 Print
Spaghetti Vongole with Shiitake Mushrooms
Easy Japanese style vongole spaghetti with red chillies, shiitake mushrooms in a soy, sake broth.
Prep Time:

10 minutes

Cook Time:

10 minutes

Total Time:

20 minutes

Yield:

4

people

1

x
Category:

Noodles

Cuisine:

Italian
1

pound cockles (soaked, rinsed and cleaned)

1

pound dried spaghetti

2 tablespoons

vegetable oil

3

cloves garlic (finely chopped)

1 teaspoon

dried red chilies

10

–

15

shiitake mushrooms (julienned)

1 cup

sake

2 tablespoons

soy

1 tablespoon

light soy
salt and pepper (to taste)
Instructions
Bring a large pot of salted water to boil.
Meanwhile in a large pan over high heat, add oil, garlic and cook for one minute.
Add dried red chilies and cook for another minute.
Add sake, soy, light soy, cockles and shiitake mushrooms. Bring to a boil, cover and cook for 4 minutes, or until cockles have opened. Turn off the heat.
Boil pasta, drain but do not rinse. Add pasta to the vongole sauce and mix well using tongs. Top with shredded nori and serve.
Recipe Card powered by