Packed with umami and earthy flavors, shiitake mushrooms are a delicious ingredient to add to soups, risottos, fried rice, pastas, stir fries, and so much more. Not only are they tasty, they are also a superfood powerhouse! Learn how to clean and prepare them with this quick tutorial. Plus, make sure to scroll down to the recipe card to grab my easy sauteed shiitake mushroom and bamboo recipe!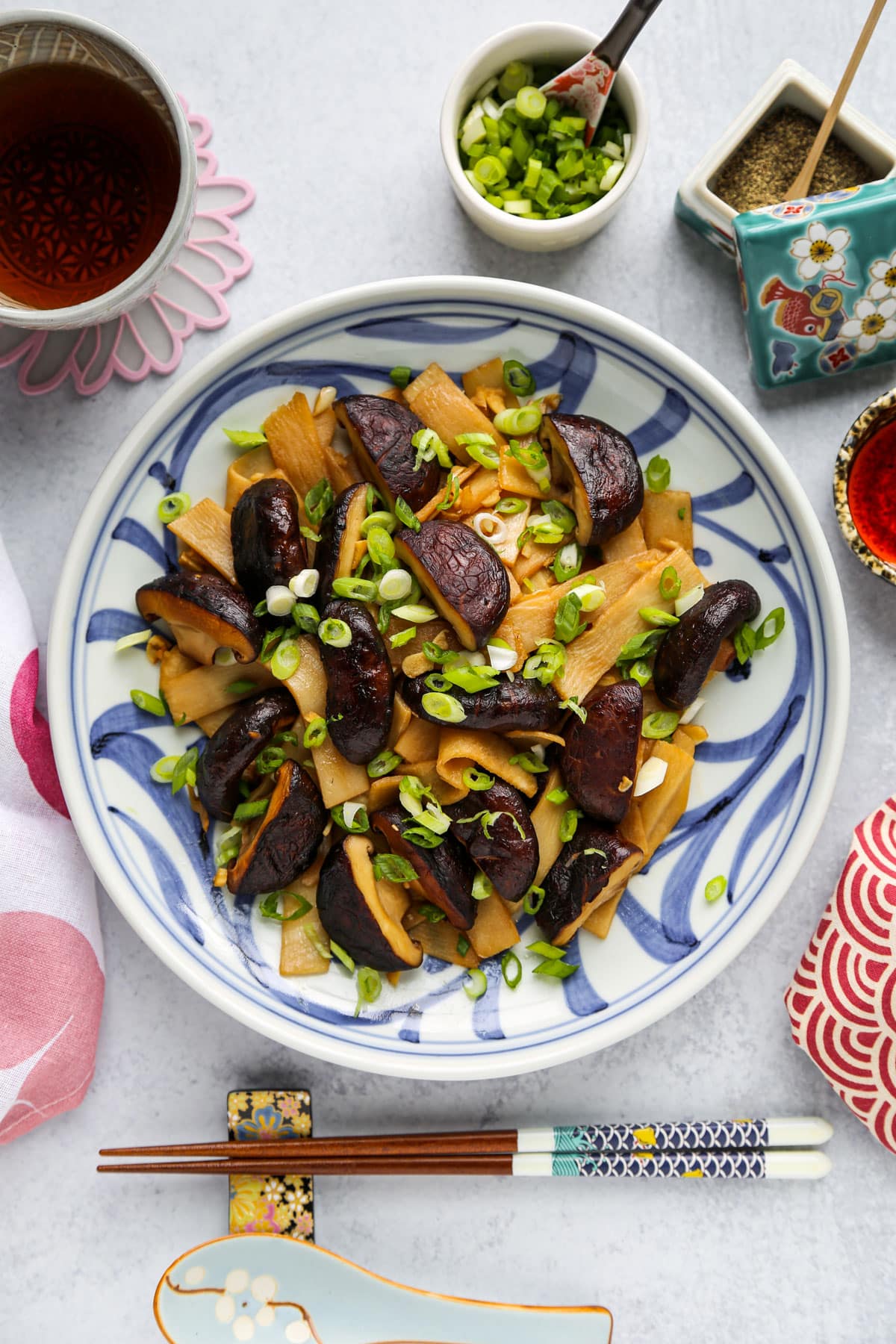 What Are Shiitake Mushrooms?
Shiitake mushroom is an edible fungus that's mainly found in the forest of Japan and China, in East Asia. The mushrooms grow in bunches on the decaying wood of trees such as the shii tree (Japanese chinquapin), oak tree, maple tree, and beech tree. The mushroom is shaped like an umbrella with a cap and a long stem, and is light to medium brown in color. The taste is earthy and smoky which makes them the second most popular mushrooms (after button mushrooms) used in cooking. They are also often used for medicinal purposes for their high levels of bioactive compounds and nutrients.
Shiitake mushrooms are low in calories and high in vitamin B, making them a popular ingredient to use for weight management. It's also a great alternative to meat because of their meaty and chewy texture.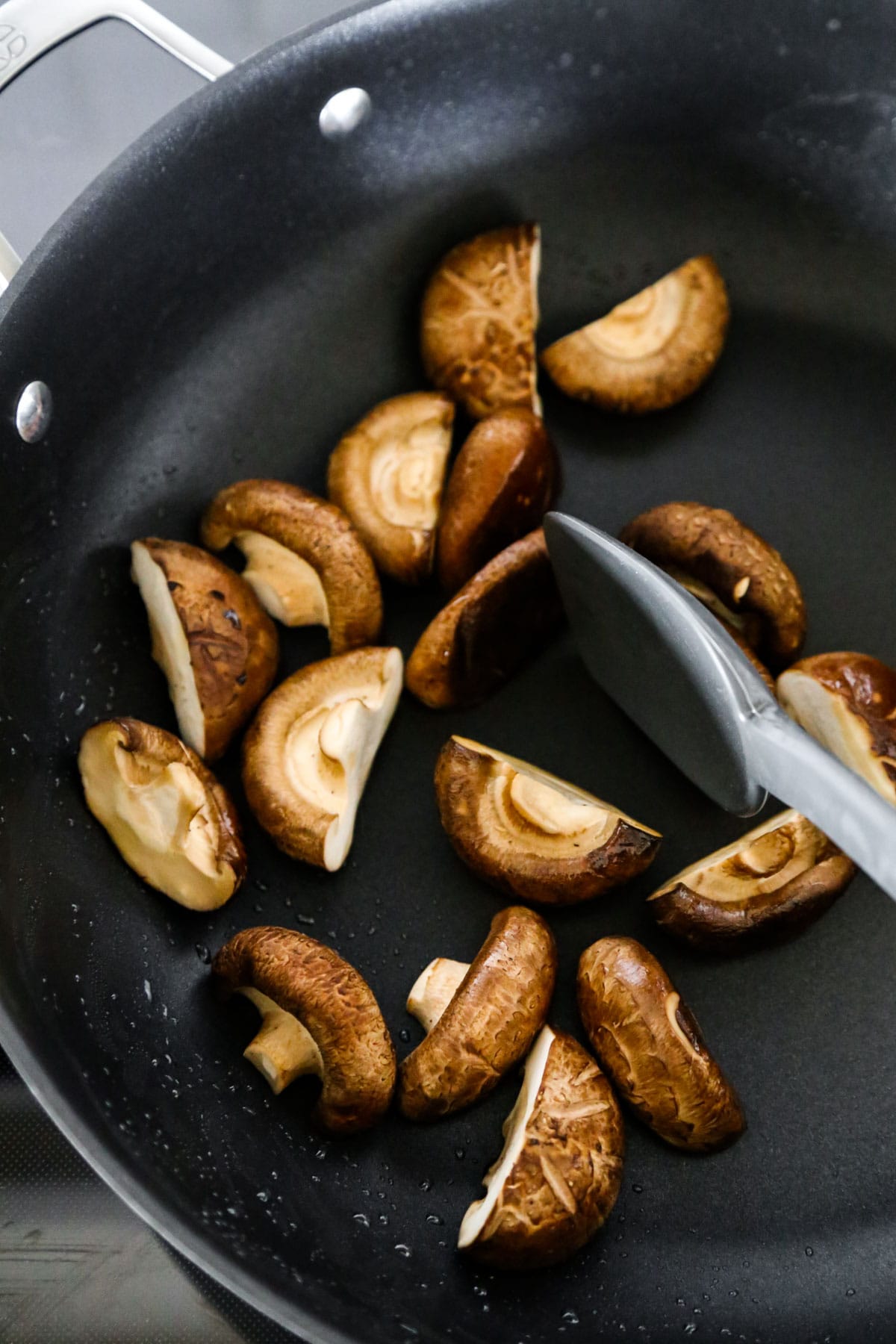 How to Prepare Shiitake Mushrooms
Preparing fresh shiitake mushrooms is very easy but there are a few rules to follow in order to get the best texture.
Clean them first: Place your shiitake mushrooms in a colander and quickly rinse them under water and drain well. I say quickly because you don't want the mushrooms to absorb too much water (shiitake mushrooms are quite porous).
Wipe the caps with a damp paper towel: Use a damp paper towel and gently wipe the top of each cap and under, where the gills are, to remove any dirt. No need to clean the stems as we won't be using them.
Cut off the shiitake stems: Use a sharp knife (I like to use a paring knife) to slice the stems close to where they connect to the cap.
That's it! Your shiitake mushrooms are now ready to be cooked! You can cook them just the way they are, slice them into strips, or dice them if you are using them as a replacement to ground meat. Shiitake mushrooms are very flavorful on their own so they can be served pan fried with a little butter or olive oil, and seasoned with just a little salt and pepper. The options are endless!
Preparing Dried Shiitake Mushrooms
To prepare dried shiitake mushrooms, place the mushrooms in hot water and let them soak for 20 to 30 minutes. Some mushrooms will reconstitute quickly while others may take longer. The mushrooms are ready to use when they feel bouncy and can easily be bent. If you feel any hard part, leave then in water for a bit longer.
Take the shiitake mushrooms out of the water and gently squeeze them to remove any excess water. Pat them dry, cut off the stems, and use as is, or chop them however you like.
Keep the mushroom water, do not throw it away!
Shiitake mushroom water is full of umami and can be used just like any other broth. Strain the mushroom water to remove any dirt or bits and use it in soups, stir fries, stews, or to make a sauce (such as a mushroom gravy).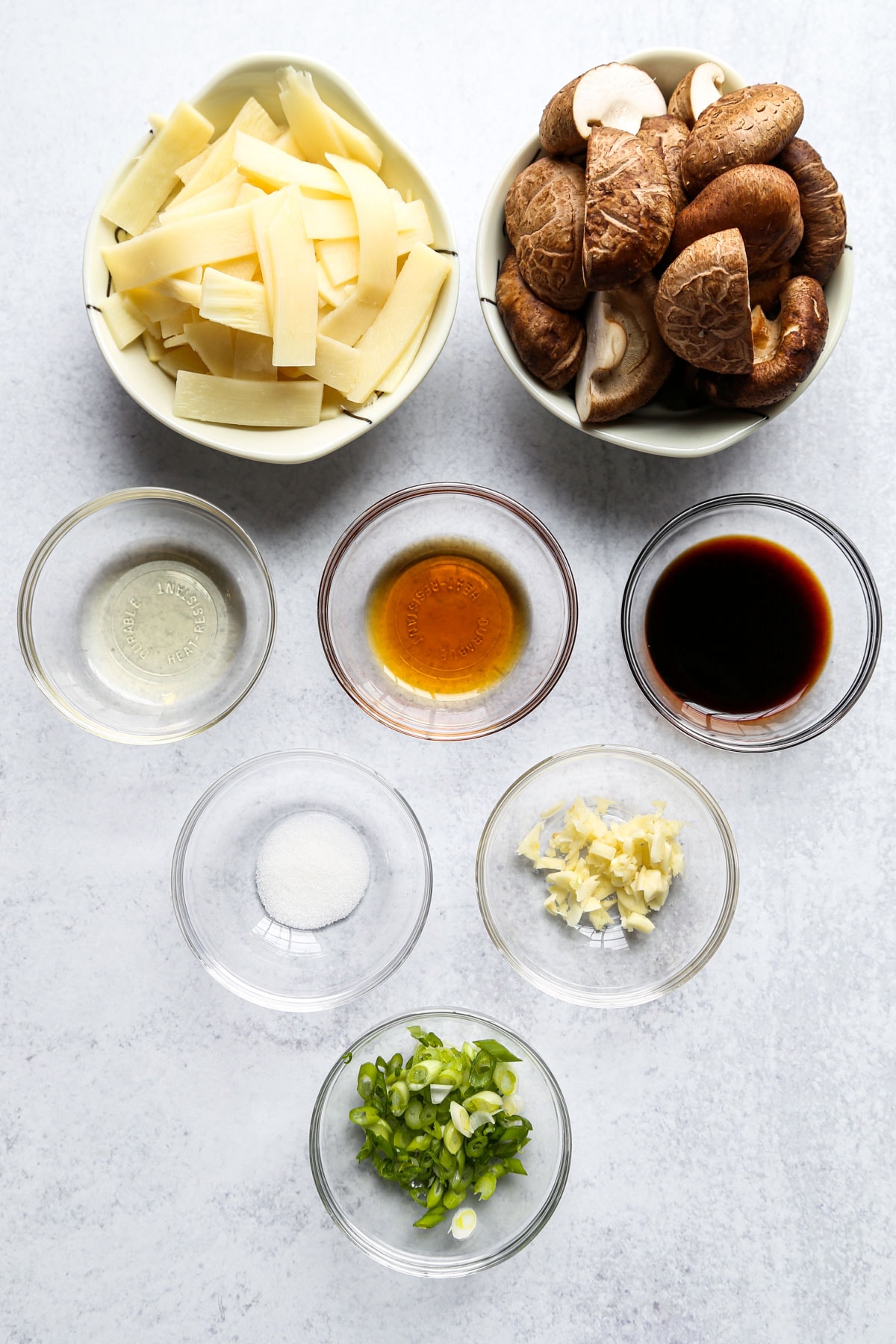 Sautéed Shiitake Mushrooms Ingredients
Shiitake mushrooms: I prefer using fresh shiitake mushrooms when they are the prominent ingredient in a stir fry. But feel free to use dried ones if you cannot find fresh ones. Or refer to the shiitake mushroom substitute guide below for other options.
Bamboo shoots: You will need canned bamboo shoots that have been well drained. Mine were pre-sliced but you can get whole bamboo shoot and slice them yourself as well.
Green onions: A couple of chopped green onions to add a refreshing crunch and a pop of green.
Garlic: In this recipe, the chopped garlic is added to the sauce instead of being added first in the pan. This helps preserve some of the spicy notes and gives it a sweeter, less pungent taste.
Soy sauce: Use a Japanese soy sauce such as Kikkoman or Yamasa. The flavors are more rounded and less overly sweet or salty.
Shaoxing wine: Shaoxing wine is a very popular rice wine used in Chinese cooking. It has a unique vinegary, caramel-like, sherry-like taste, which is why dry sherry is often mentioned as a good alternative.
Sugar: A little sugar is added to the sauce to balance the savory and umami flavors.
Sesame oil: Finally, some sesame oil to infuse the stir fry with some nuttiness.
Shiitake Mushroom Substitute
If you cannot find fresh shiitake mushrooms, the first and best substitute to use are dried shiitake mushrooms. If that's not an option, you can use small portobello mushrooms (not the big ones since they are too watery), or oyster mushrooms.
These are the types of mushrooms closest to having the same texture as shiitake mushrooms. Personally, I will use button and brown mushrooms as well if that's all I have in my fridge. It won't taste exactly the same since shiitake mushrooms are quite smoky, but the dishes are still tasty nonetheless.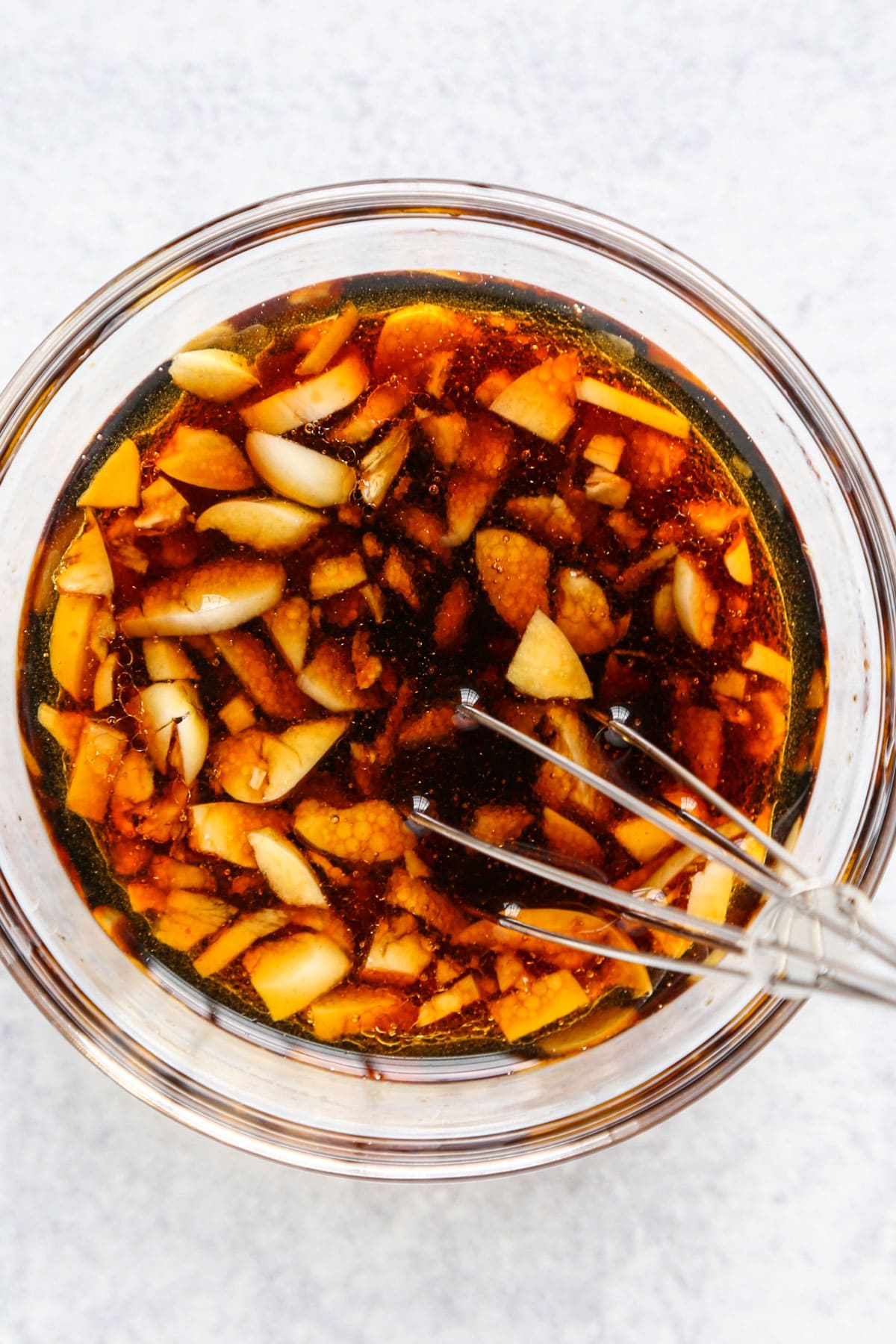 How To Make Sautéed Shiitake Mushrooms
Scroll all the way down to the recipe card for the full recipe.
Make the sauce. Mix the ingredients for the sauce in a bowl and set aside.
Pan fry the mushrooms. Fry the mushrooms in a skillet over medium high heat for a few minutes.
Cook the bamboo shoots. Add the bamboo shoots to the skillet and pan fry for a couple of minutes.
Add the sauce. Stir in the sauce and toss the shiitake mushrooms and bamboo until the are evenly coated.
Serve. Turn the heat off and transfer the stir fry to a serving plate. Top with green onions. Enjoy!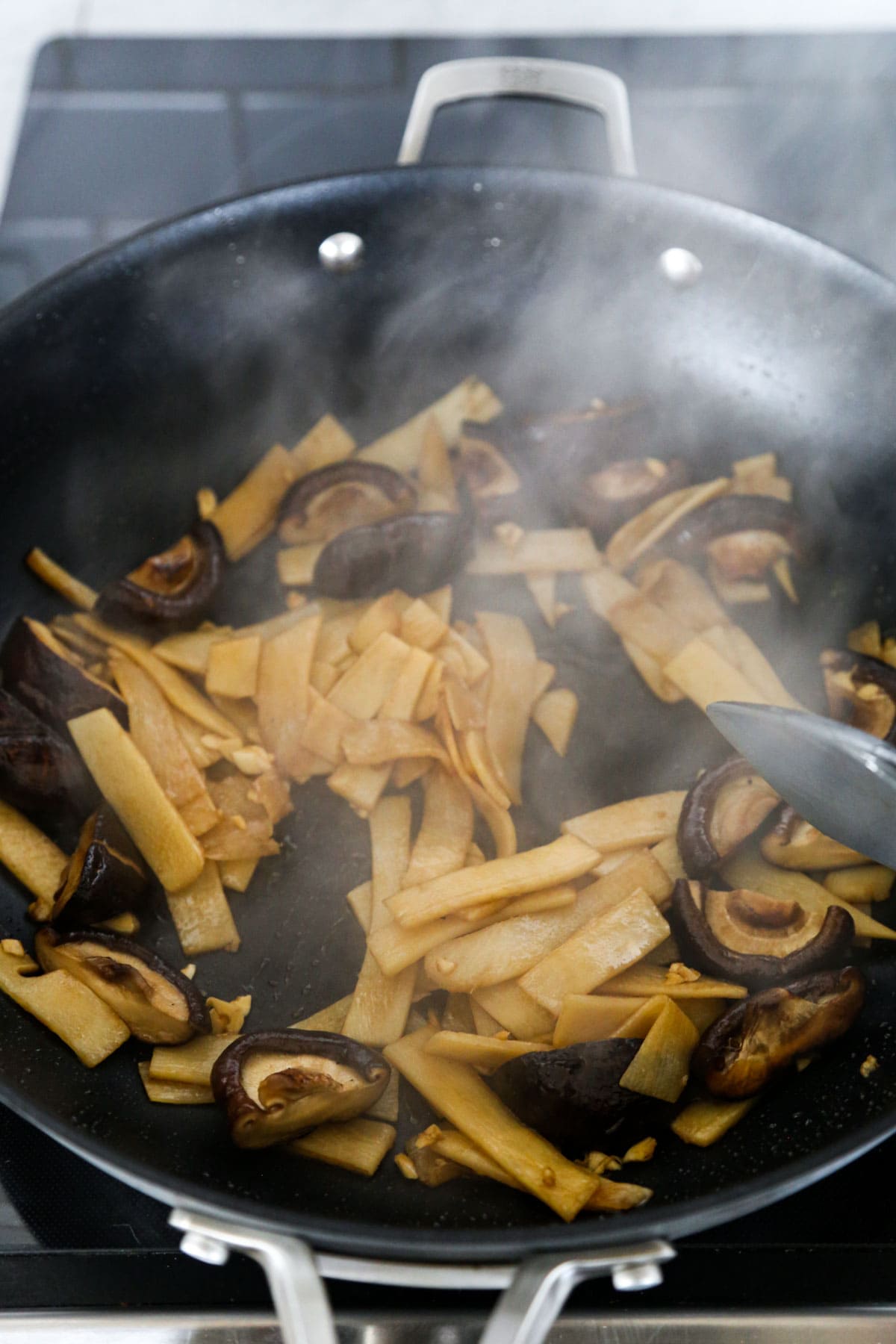 Can I Eat Shiitake Mushrooms Everyday?
Yes you can eat shiitake mushrooms daily and there are a lot of health benefits attributed to including them as part of your diet.
Shiitake mushrooms can reduce inflammation and strengthen the immune system, preventing us from getting colds and flu. This East Asian fungus can also improve sleep quality because of its high dose of vitamin D (a deficiency of vitamin D can cause insomnia). Also, other health benefits such as slowing the growth of tumors, improving heart health, and fighting obesity, are also linked to the consumption of shiitake mushrooms.
According to a 2011 study published in the Journal of Obesity, rats on a high dose of shiitake mushroom diet (which involved adding mushroom powder to a high-fat diet) had 35 percent lower body weight gains than rats on low and medium shiitake mushroom diets.

draxe.com
How Many Should I Eat Daily?
Eating somewhere between two to eight mushrooms a day seems to be the magic window where improvement in health can be seen. Be careful not to go overboard as mushrooms contain purines, a chemical component that may cause gout if taken in large amounts.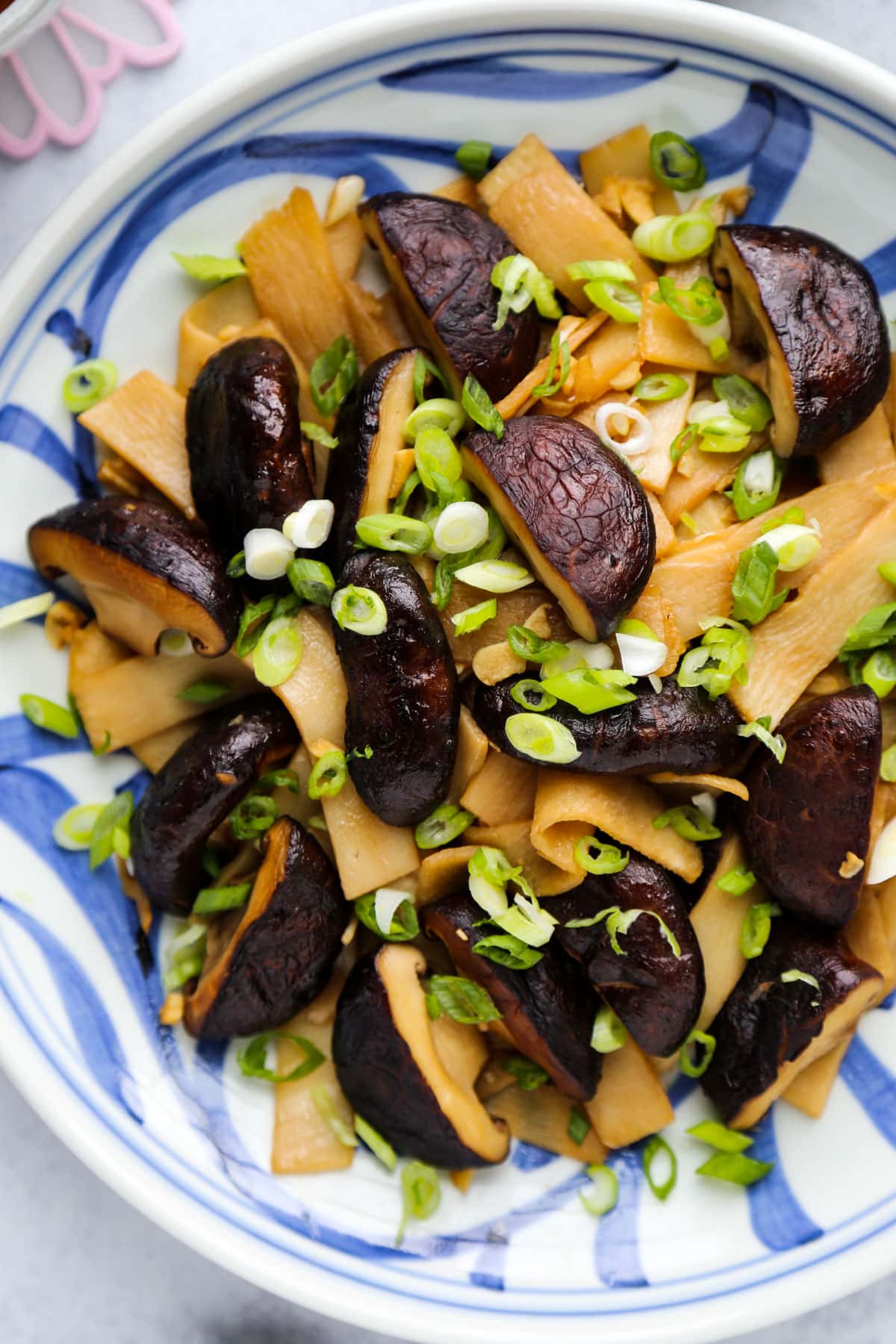 How to Store Shiitake Mushrooms
Here is a quick guide on how to store shiitake mushrooms so they can preserve their freshness for as long as possible.
Fresh Shiitake Mushrooms
Start by taking the shiitake mushrooms out of their packaging. Grab a storage bag and place a paper towel in it. Add the shiitake mushrooms and place the bag in the refrigerator, leaving it opened, preferably in the vegetable crisper. This will keep the mushrooms fresh for about 1 week.
Dried Shiitake Mushrooms
Keep the dried shiitake mushrooms in a cool, dry place. That's all you need to do if the bag hasn't been opened. If it is opened, transfer the mushrooms to an airtight container or jar with a lid to prevent them from drying even more (do not use a paper bag). They should keep for months, if not years!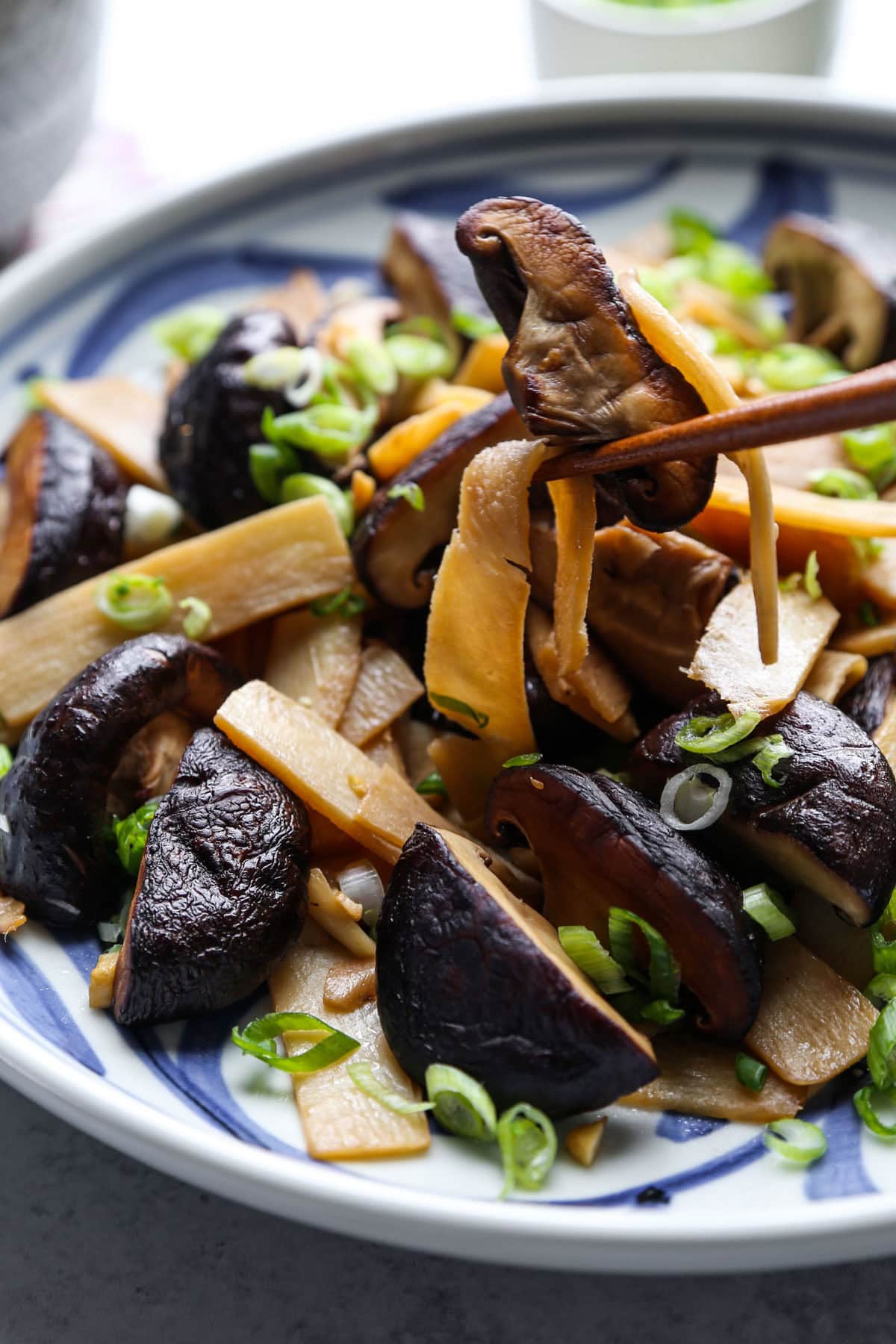 What to Serve with this Sauteed Shiitake Mushrooms
Serve this savory and earthy mushroom and bamboo dish with a simple bowl of white or brown rice. It can also be part of a more elaborate meal because it pairs well with soups, fried rice, smaller sides, and salads. Some of my favorites are:
Other Shiitake Mushroom Recipes You Might Like: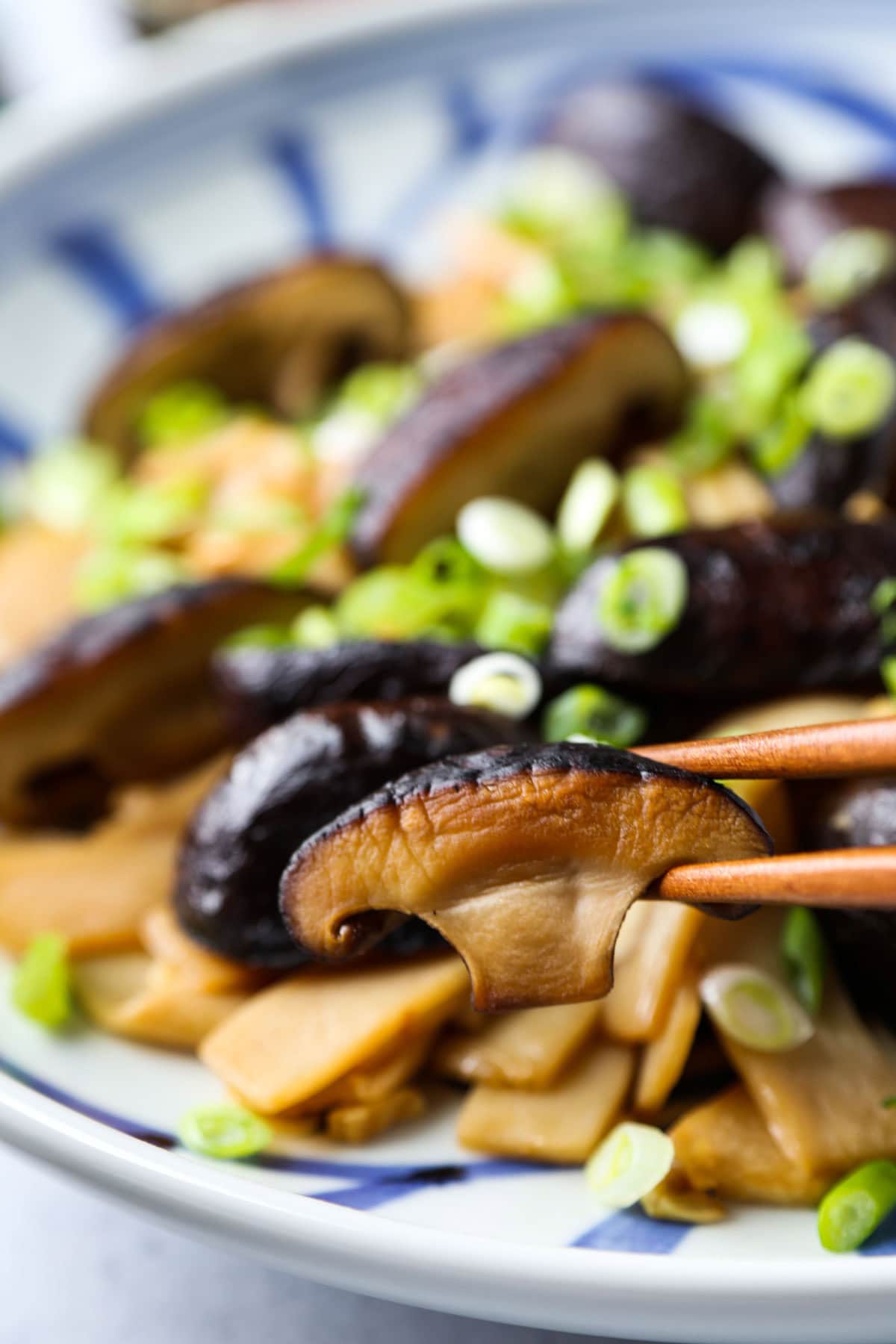 Did you try this shiitake mushroom recipe? Are there changes you made that you would like to share? Share your tips and recommendations in the comments section below!
Print
Sautéed Shiitake Mushrooms and Bamboo Recipe
This is a quick and easy sauteed shiitake mushroom and bamboo recipe with savory and earthy flavor. 
Author: Caroline Phelps
Prep Time:

15 minutes

Cook Time:

10 minutes

Total Time:

25 minutes

Yield:

2

servings

1

x
Category:

Stir fries

Method:

Stir frying

Cuisine:

Japanese

Diet:

Low Calorie
Ingredients
1 tablespoon

peanut oil, vegetable oil, or grapeseed oil

160

g

(about 1/3 pound) fresh shiitake mushrooms, sliced in half

200

g

bamboo shoots, drained well

2

green onions, finely chopped
Sauce
2

garlic cloves, minced

2 tablespoons

soy sauce

1 tablespoon

shaoxing wine, dry sherry, sake, or mirin

1/2 teaspoon

granulated sugar

2 teaspoons

sesame oil
Instructions
Mix all the ingredients for the sauce and set aside.
In a wok or deep skillet over medium high heat, add the oil and swirl it around to coat the surface.
Add the mushrooms and cook for 5 to 7 minutes, or until they are soft and slightly caramelized.
Add the bamboo shoots and stir fry for 2 minutes.
Add the sauce and toss well to evenly coat the ingredients.
Turn the heat off and transfer to a dish. Top with green onions. Serve.
Notes
Store the leftovers in an airtight container and keep in the refrigerator for up to 3 days.
Nutrition
Serving Size:

1 serving

Calories:

194

Sugar:

10.3g

Sodium:

491.1mg

Fat:

12.1g

Saturated Fat:

6.3g

Unsaturated Fat:

2.2g

Trans Fat:

0g

Carbohydrates:

18.7g

Fiber:

4.4g

Protein:

5.9g

Cholesterol:

0mg
Keywords: itame, stir fry
Recipe Card powered by