Making stir fry veggies is an easy and tasty way to add vegetables to your diet. It also saves time in the kitchen since cooking the entire dish only takes around 20 minutes. In this post I share a delicious vegetable stir fry with garlic sauce recipe and give tips on how to make the perfect stir fry!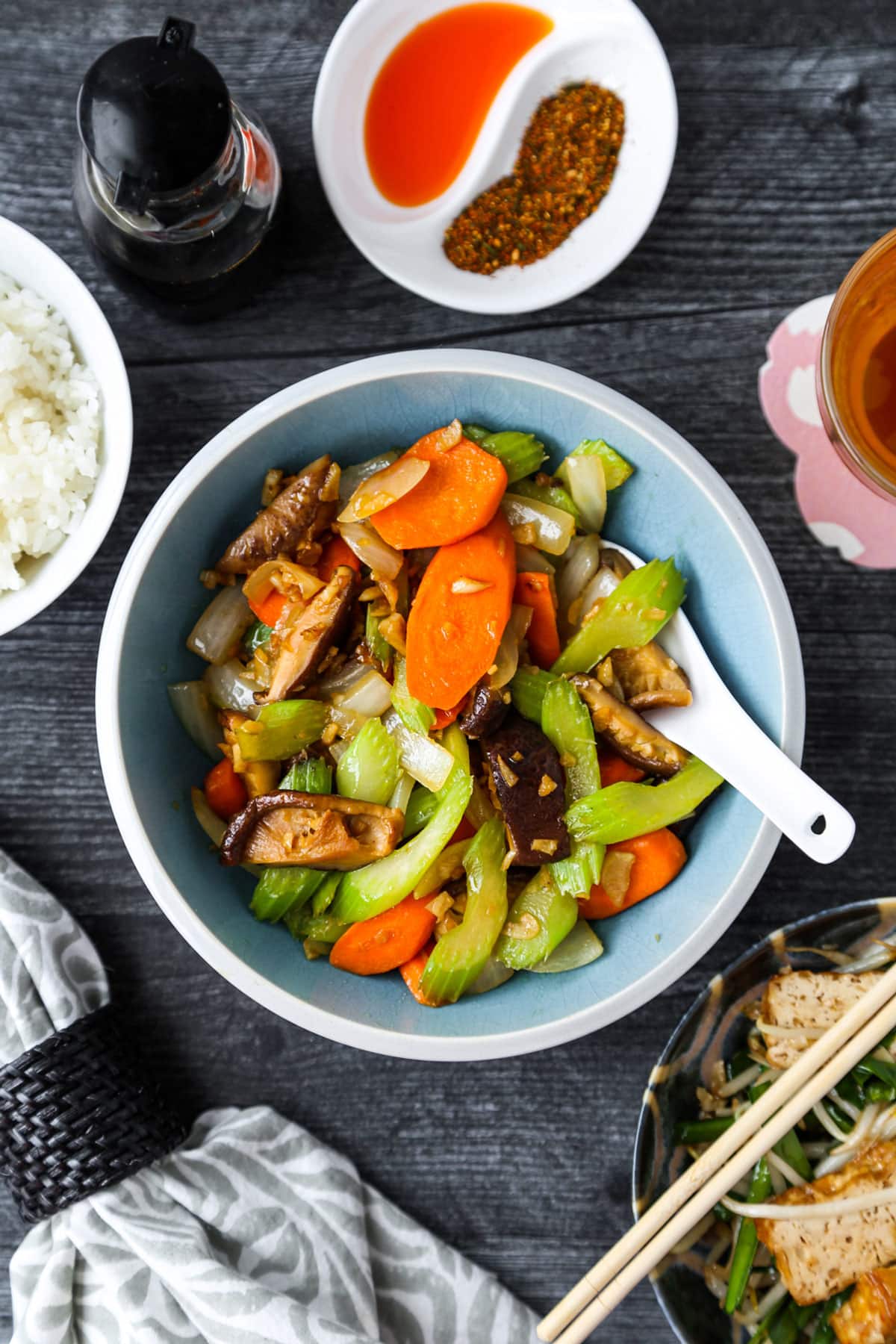 Knowing how to stir fry is an excellent skill to possess in the kitchen as it gives you an easy way to add an additional dish to a meal. Let's face it – it's much more fun and delicious to eat a variety of dishes than to only be offered one.
I grew up with a Japanese mother who often made teishoku style (Japanese set meal) dinners so it's become a habit of mine to whip up several small dishes every time I'm in the kitchen.
Ben is always blown away when four or five dishes appear on the table, but the truth is that it doesn't take me that long to cook them. And that's because I stir fry a lot and know how to season stir fries so they taste very different from one to another.
This vegetable stir fry is a great example of how I cut down on time in the kitchen while still offering something flavorful and wholesome. The sauce is very simple and loaded with garlic, just like you would find at your favorite local Chinese restaurant.
Kitchen Essentials to Make Stir Fries
Here's a quick list of basic things to keep in your kitchen and pantry so you can make stir fry any time.
Kitchen Tools
Small bowls: When you have a few chopped ingredients and sauces that need to be added quickly, it's best to have everything prepped in advanced so you can focus on what's happening in your wok. Small bowls are great to have in order to keep your cooking area organized.
Wok or a large deep skillet: I have cooked with both and personally don't see a big difference between the two. This is obviously just my opinion but I don't think you need to go out and buy a wok if you have a good deep skillet. This is the one I use and am very happy with.
Spatula: A spatula is great at scooping up food and tossing it up in the air because of its wide surface. Using long chopsticks also works very well.
Ingredients
Soy sauce: Soy sauce is at the base of many stir fry sauces and it can be used on its own to season proteins and veggies.
Oyster sauce: The combination of soy sauce and oyster sauce is as common in stir fries as combining sake and mirin in Japanese cooking. Oyster sauce adds a pungent element that's not overwhelming as well as a caramel-like sweetness. P.S: Lee Kum Kee makes some of the best oyster sauces.
Mirin: Mirin is a little sweet and really good at toning down salty ingredients.
Cornstarch: Cornstarch is used to thicken the sauce and give it that lovely velvety, gooey texture. You can also use potato starch (katakuriko) for the same result.
Sesame oil: Sesame oil is usually added once the cooking process is done to infuse the dish with a little nuttiness and balance out the flavors.
While there are plenty of other condiments I could suggest you get to keep your stir frying time fun and exciting, those are the basic ones you will be using on a regular basis. From there you can experiment by adding spicy chili crisp, a dash of vinegar, sambal oelek, fish sauce, etc… And come up with your own special stir fry sauce.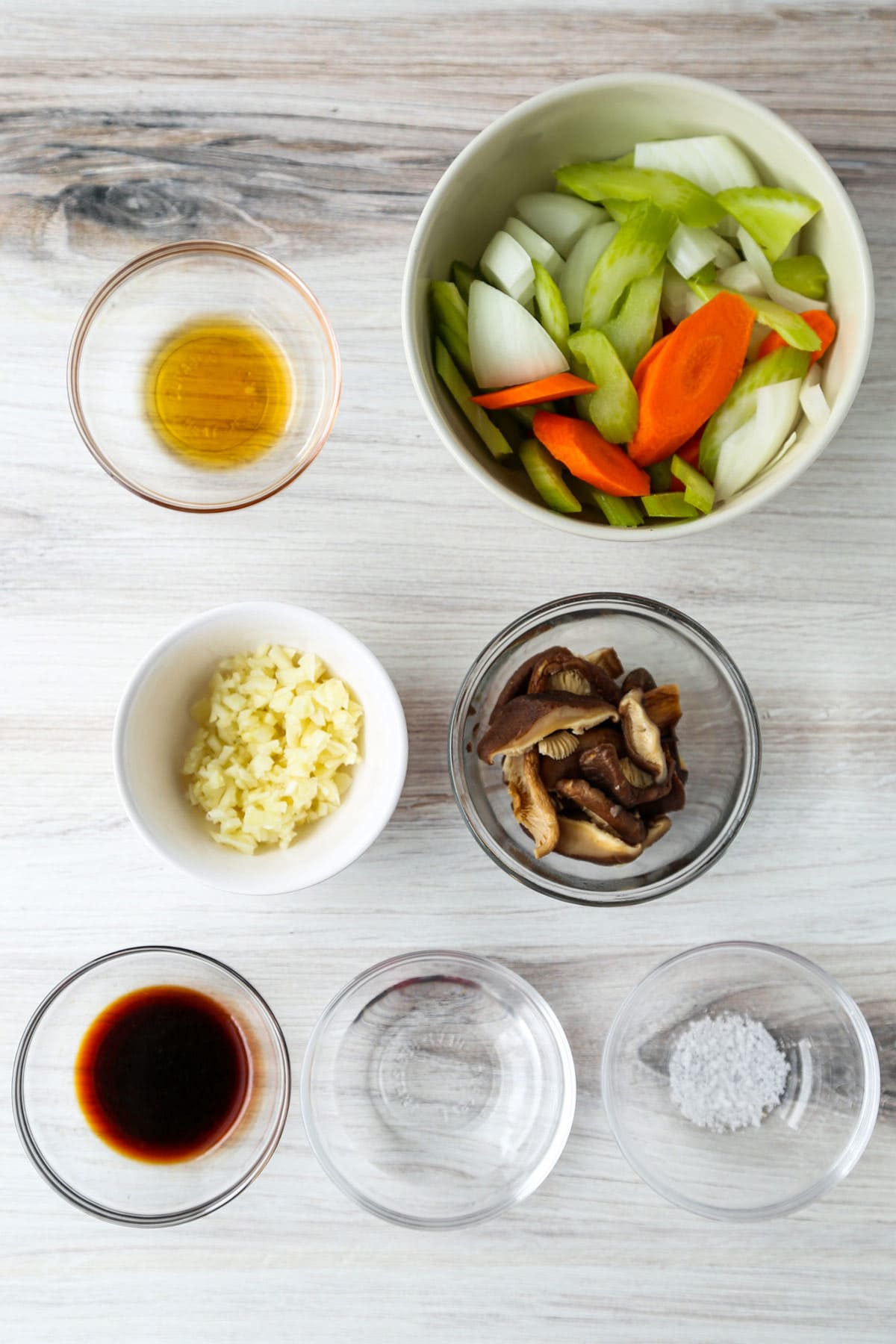 Ingredients for Stir Fry Veggies
Peanut oil: Peanut oil has a mild nutty flavor and a high smoke point, which makes it ideal for stir fries. You can also use a neutral oil such as vegetable or grapeseed oil.
Garlic: Garlic is frequently used in stir fries for its pungent and sweet properties. This stir fry uses a lot but you can use less if you prefer a milder, less garlicky taste.
Mixed vegetables: I am going very basic with veggies for this stir fry. I chose onion, carrot, and celery because you simply cannot go wrong with these usual suspects. Plus, the contrast between green and orange looks beautiful on a plate.
Shiitake mushrooms: You could use button mushrooms for this stir fry but I find that there is nothing like shiitake mushrooms to absorb the flavor of the sauce. With shiitake mushrooms, every bite is an explosion of flavor.
Stir fry sauce: A mixture of water, soy sauce, and salt.
Sesame oil: The final touch, to infuse some nuttiness.
Other vegetables that are good for Stir Fries
If you happen to have all the ingredients for this recipe except for the selection of vegetables, don't worry, you can still make it. There are other vegetables that are just as good to use in stir fries as the common ones listed above.
I recommend using a combination of two to three vegetables maximum. Using too many different ones can mess up the texture of the vegetables if the cooking time for each vegetable is different.
Asparagus
Baby corn
Bamboo shoots
Bell peppers
Bok choy
Broccoli
Cabbage
Napa cabbage
Snow peas
Snap peas
Zucchini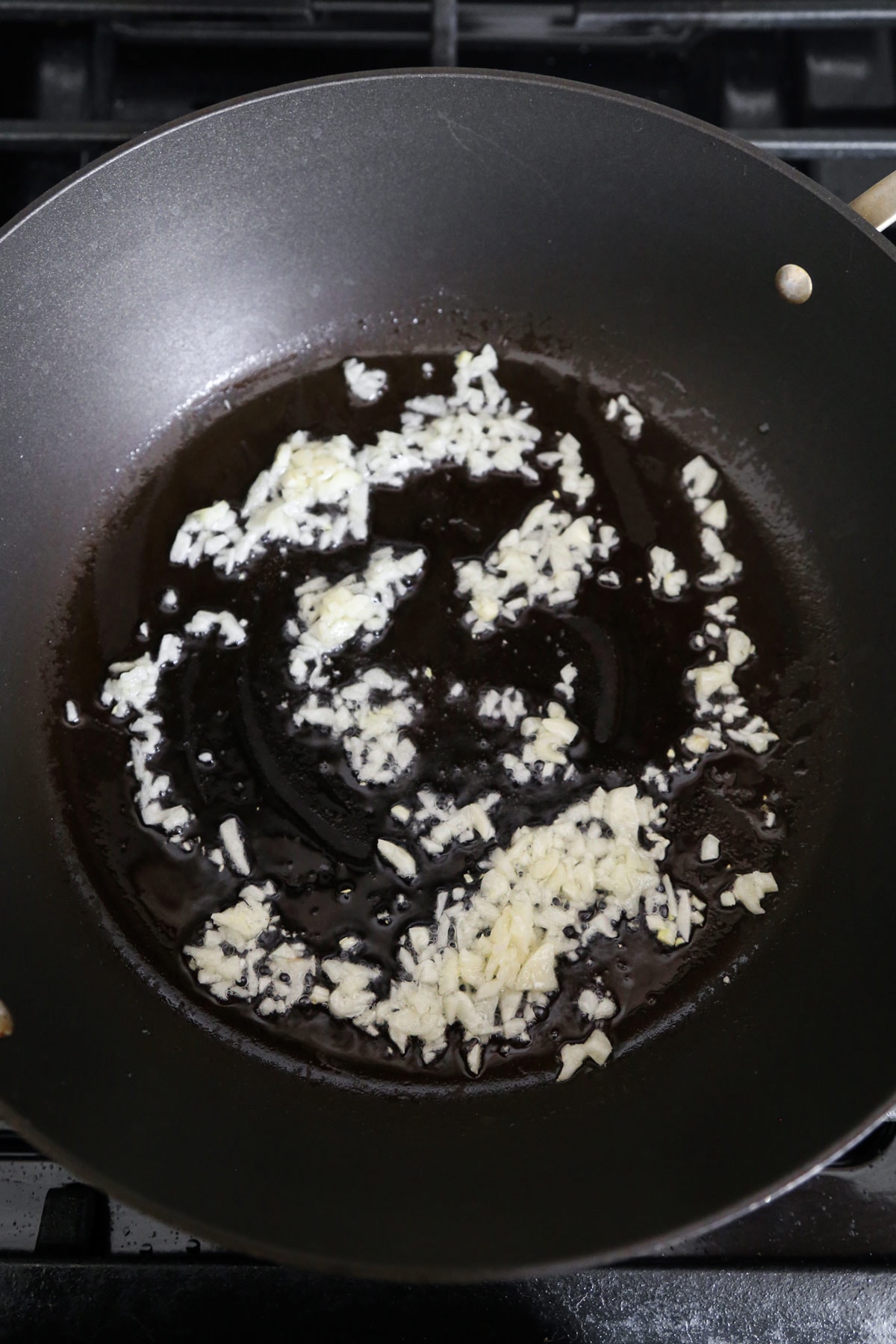 How to Make Stir Fry Veggies
Gather all of your kitchen tools and ingredients.
Use a wok or a large deep skillet, turn the heat to high, and add the peanut oil.
Add the garlic and toss for 30 seconds.
Add the remaining vegetables and the water and cook for 3 minutes, stirring and tossing constantly.
Stir in the soy sauce and salt and turn the heat off.
Drizzle the sesame oil on top, toss to combine, and transfer the stir fry to a serving bowl or plate.
Serve with white or brown rice. Enjoy!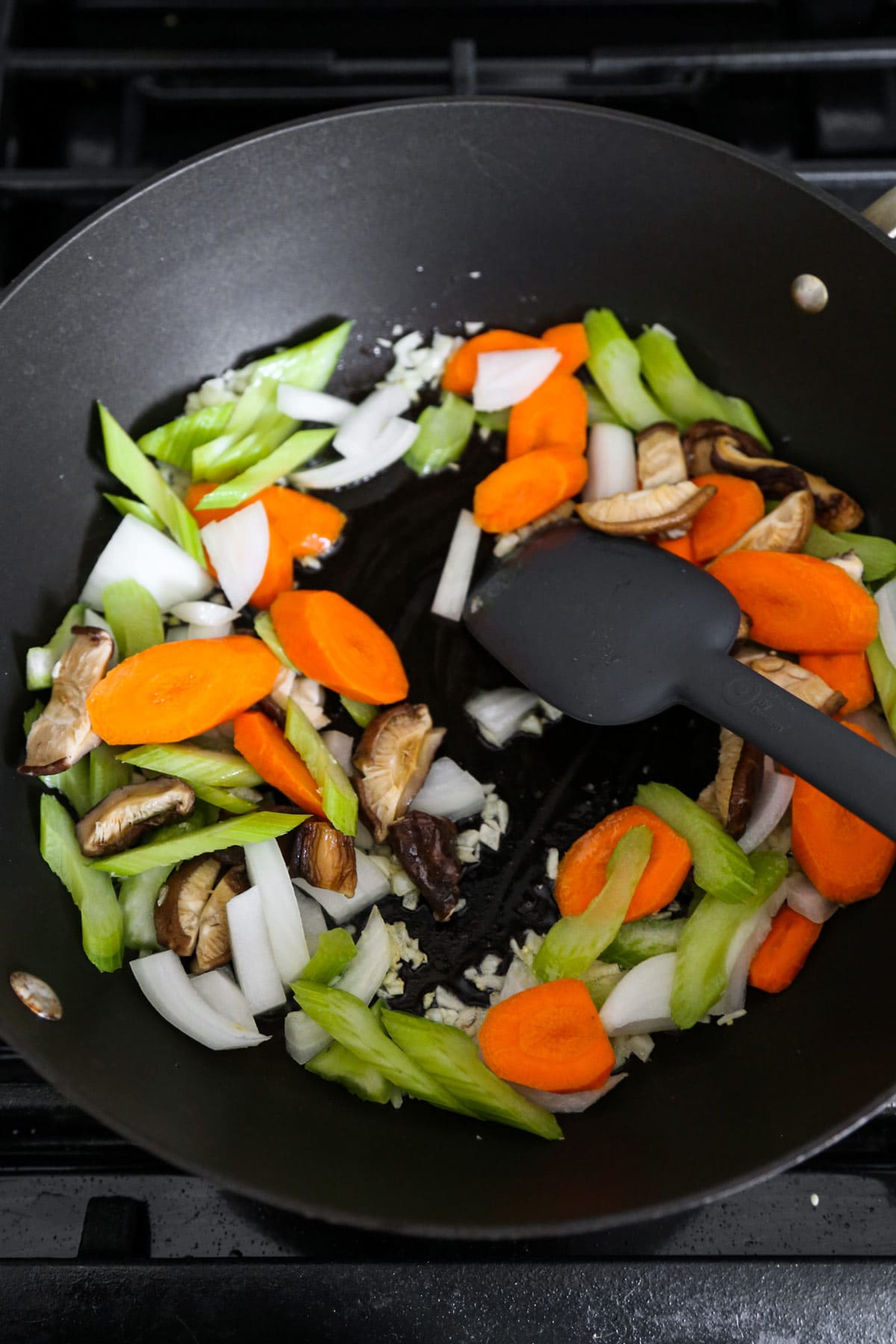 Stir Frying Tips
Here are some easy tips to follow to improve your stir fry cooking skills.
A good mise en place
As I mentioned before, it's very important to have an organized cooking station when making a stir fry. That's because the entire cooking process only takes a few minutes so you will be throwing ingredients in the wok one after another fairly quickly. Make sure all of your proteins and vegetables are sliced, your sauce is pre-mixed if it contains a few ingredients, and toppings such as a finishing oil, measured.
A burning hot wok
This is key to making a successful stir fry!
Your wok and oil must be really hot to flash fry the vegetables and give them that lovely crunch that's also a little tender. Stir frying at medium or low heat will yield vegetables that are either too crunchy, or too soft, because they will most likely need to spend a longer time in the wok.
Ingredients should be sliced bite size (including meats)
Because the cooking process is so quick (around 5 minutes), it's better to slice your meat bitesize to allow it to cook through faster. Same goes for vegetables unless you enjoy a really big piece of raw broccoli with your rice.
Proteins first, vegetables last
Always cook your meat, seafood, or other protein, first. Once it's cooked, transfer the protein to a plate and leave it nearby. This is done so the protein stays moist and tender. Add the vegetables to the wok and once the vegetable are cooked, return the protein to the wok. Add the sauce and finishing oil last.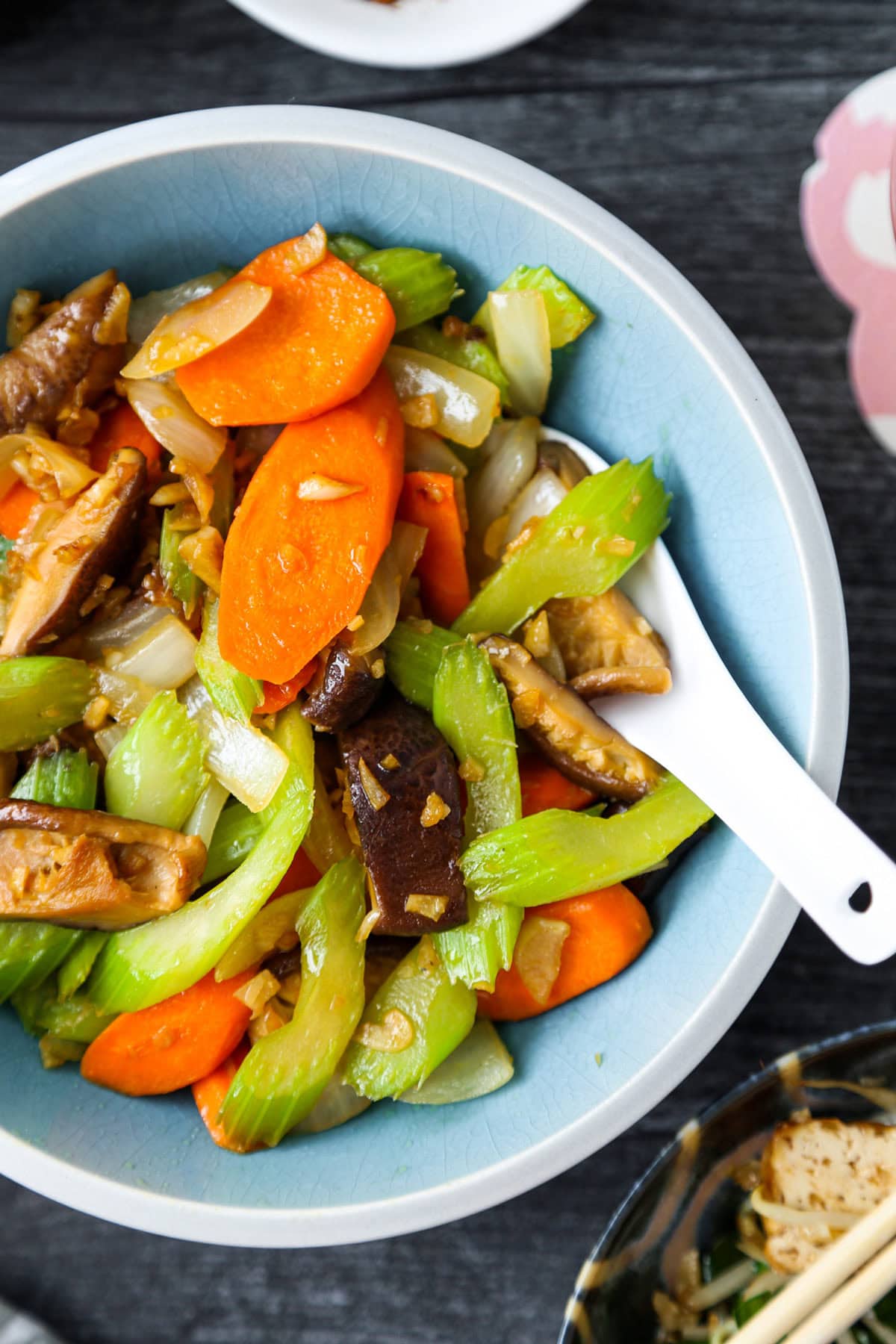 What to Serve with Stir Fry Veggies
Now that you have a colorful plate of garlicky veggies, it's time to put your meal together. You can serve this stir fry with a side of brown or white rice and: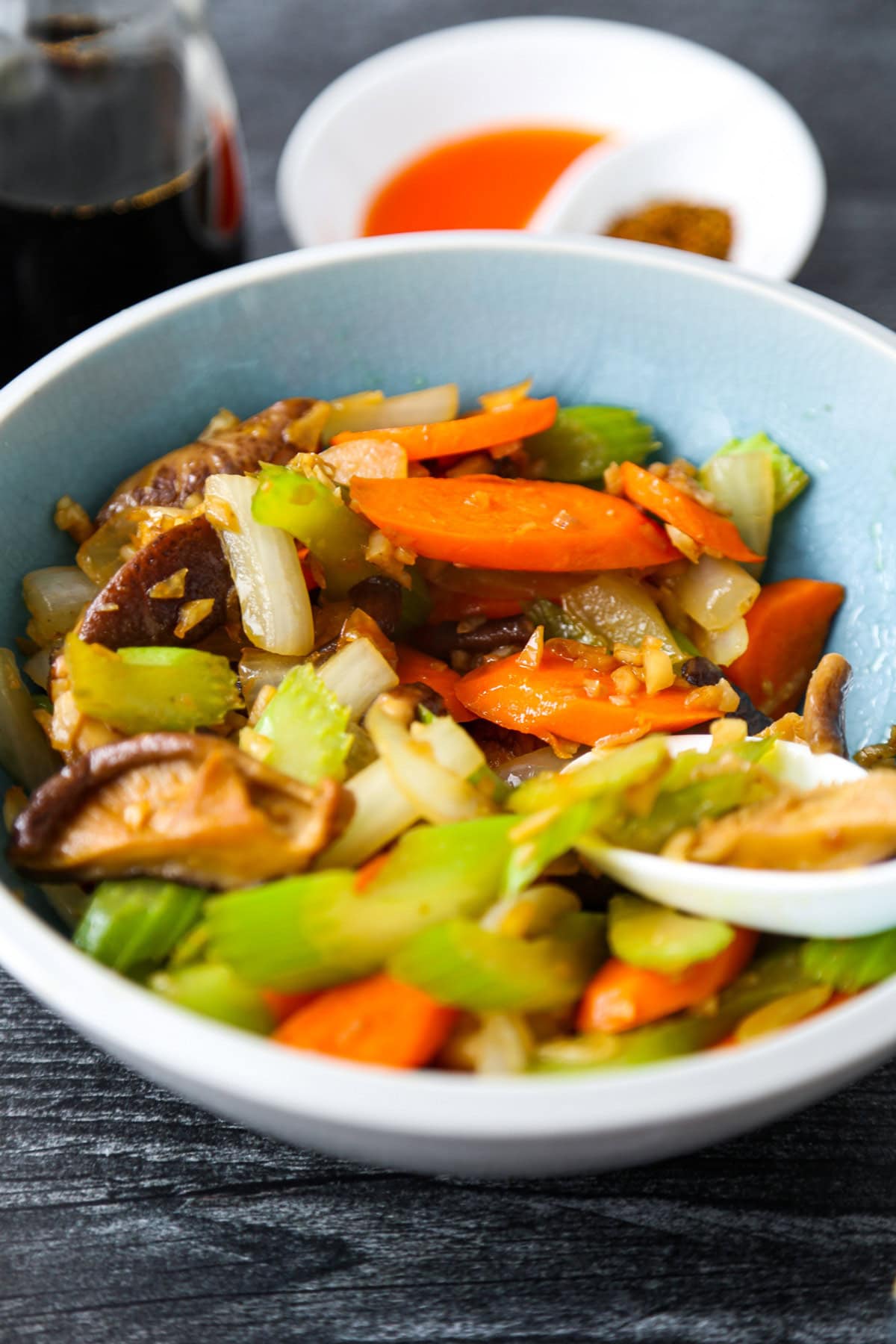 Did you like this Stir Fried Veggies with Garlic Sauce Recipe? Are there changes you made that you would like to share? Share your tips and recommendations in the comments section below!
Print
Stir Fry Veggies with Garlic Sauce
This is an easy and tasty recipe for stir fry veggies tossed in garlic sauce. 
Author: Caroline Phelps
Prep Time:

15 minutes

Cook Time:

5 minutes

Total Time:

20 minutes

Yield:

2

1

x
Category:

Side

Method:

Stir frying

Cuisine:

Chinese

Diet:

Vegan
2 tablespoon

peanut oil

8

garlic cloves, minced

1/2

small onion, chopped

2

celery stalks, sliced on the bias, about

1/2

-inch thick

1

medium carrot, sliced on the bias, about

1/2

-inch thick

4

shiitake mushrooms, sliced into strips

3 tablespoons

water

2 teaspoons

soy sauce (gluten-free: use tamari sauce or liquid aminos)

1/2

teaspoon salt

1 teaspoon

sesame oil
Instructions
Place a wok or large deep skillet over high heat and add the peanut oil. 

When the oil is hot, almost smoking, add the garlic and quickly stir. Cook for 30 seconds.

Add the onion, celery, carrot, shiitake mushrooms, and water, and stir fry for 3 minutes, tossing and stirring constantly on high heat.

Add the soy sauce and salt and stir. 

Turn the heat off and drizzle the sesame oil on top of the vegetables. Toss and serve with rice.
Notes
Keep the leftovers in an airtight storage containers and refrigerate for up to 3 days.
Nutrition
Serving Size:

2

Calories:

204

Sugar:

4.4g

Sodium:

805.2mg

Fat:

16.2g

Saturated Fat:

2.7g

Unsaturated Fat:

5.4g

Trans Fat:

0.1g

Carbohydrates:

13.7g

Fiber:

3.4g

Protein:

2.9g

Cholesterol:

0mg
Keywords: main, dinner, vegetarian, vegan
Recipe Card powered by