Homemade honey walnut shrimp is so much better than what you get at the restaurant! It has more depth of flavor (sweet and creamy goodness!) and the dish is light and fresh. Plus, it's easy to make and only takes 20 minutes to cook!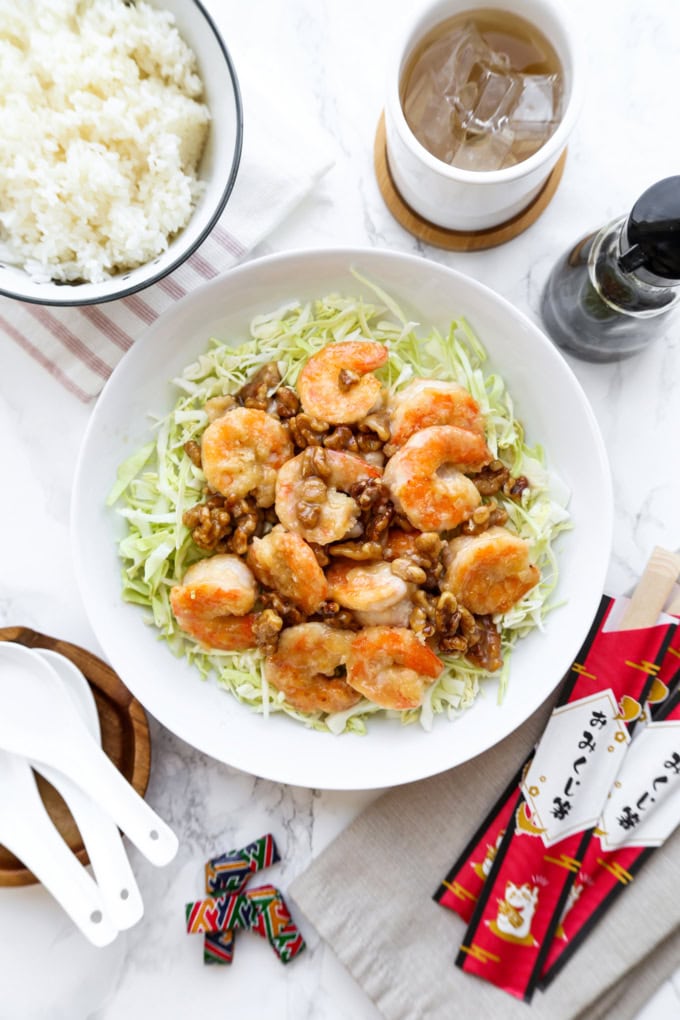 What is Honey Walnut Shrimp?
Honey walnut shrimp is a Chinese-American dish consisting of shrimp that have been dipped in batter, fried, and tossed in a sweet creamy sauce made of condensed milk, mayonnaise, honey, and a mixture of other ingredients. It's served with candied walnuts and sometimes broccoli. The most popular version of the dish is sold at Panda Express, an American-Chinese fast food restaurant chain.
It looks like the dish may have originated from Hong Kong or China but I'm not 100% sure. I did a massive online search in both English and Chinese to find out where the dish came from and found conflicting reports, so it's hard to say.
If you have more information on that, please send me an email as I would love to know more!
What does it taste like?
It tastes surprisingly good!
I have to be completely honest, I didn't expect to like this dish at all. Condensed milk and seafood? Really? No thanks.
But it turns out to be an excellent combination! The flavor of the shrimp is still very much there, married with sweetness, creaminess, and a little tang and umami. The candied walnuts bring in a layer of nuttiness and a nice crunch too.
It's often served with steamed broccoli but I prefer eating it with shredded cabbage.
And while the American version dips the shrimp in batter, I skipped that step to keep the dish lighter and used cornstarch instead. And I must say that I like it better this way. I hope you will too!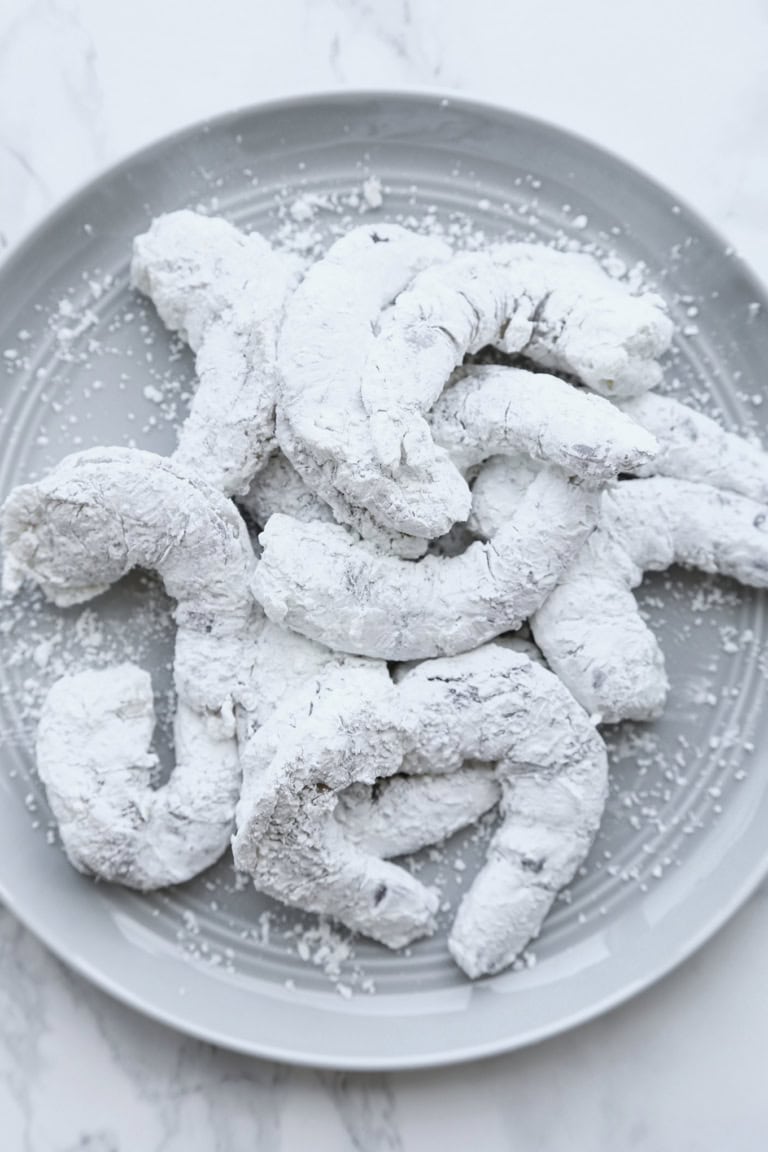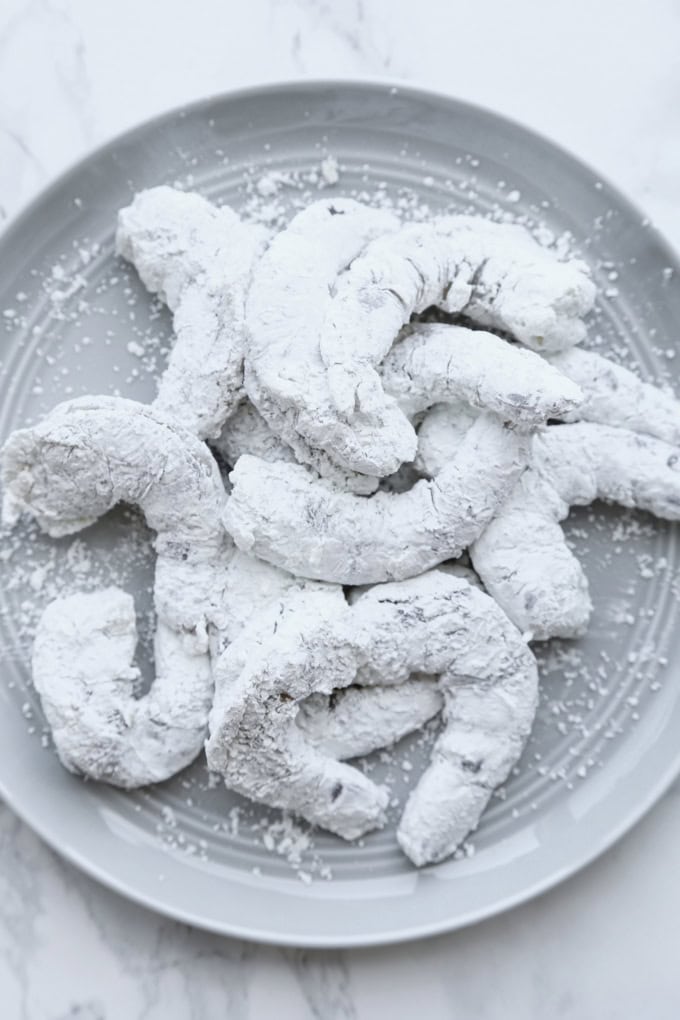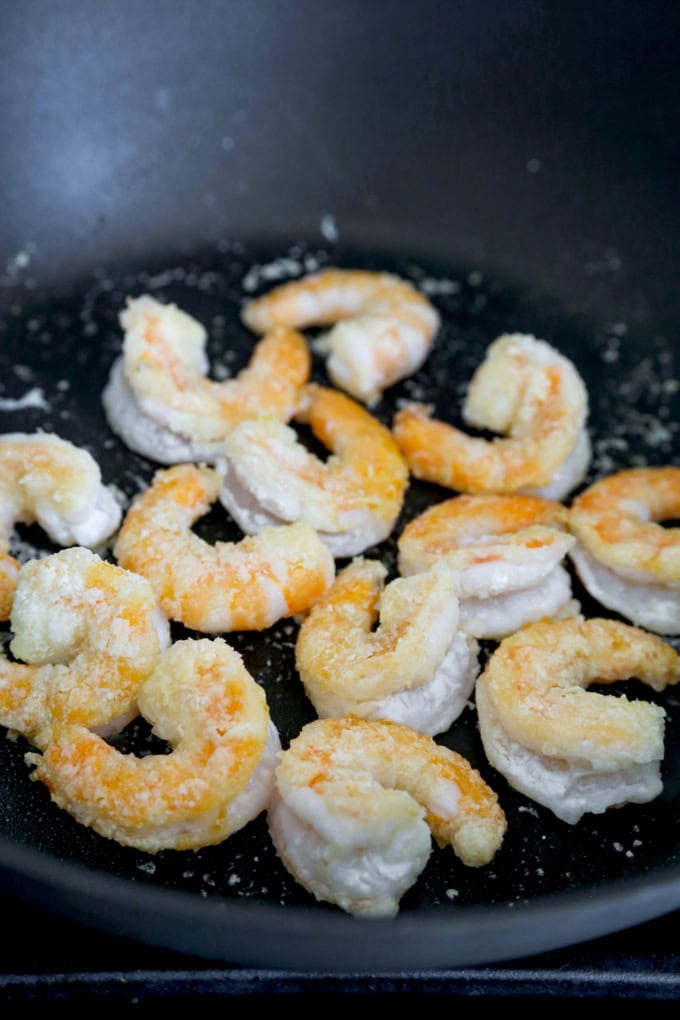 Ingredients for Honey Walnut Shrimp
Candied Walnuts: To make these from scratch you will need chopped walnuts, butter, sugar, water, and salt.
Mayonnaise: Mayonnaise is one of the main ingredients for the honey walnut shrimp sauce and adds creaminess and a savory element. You will need 1/4 cup.
Sweetened condensed milk: The second main ingredient is condensed milk. Make sure it's sweetened and not just plain condensed milk. You will need 2 tablespoons.
Honey: Honey is the third main ingredient for the sauce. It adds sweetness and a floral taste to the sauce that plain sugar cannot replicate. You will also need 2 tablespoons.
Soy sauce: Half a teaspoon is all that's needed to infuse a little umami.
Rice vinegar: Only half a teaspoon is used but you can really taste the tanginess of the rice vinegar. It's really lovely!
Shrimp: Trust me on this – take your time to find some good shrimp because it brings the dish to a completely different level. Look for sustainable shrimp, they are far superior than anything else out there.
Cornstarch: The cornstarch is replacing the classic batter. It gives the shrimp a crispy coating without making them feel heavy and greasy. You will need about 1/4 cup.
Oil: I'm only using 2 tablespoons of oil because I want my shrimp to be light and crispy. Use a neutral oil that has a high smoking point such as grapeseed or vegetable oil.
Salt and pepper: If needed to balance the flavors of the final dish.
For presentation, I like to serve my honey walnut shrimp with shredded cabbage and some chopped scallions.
Honey Walnut Shrimp Variations
Make it spicy: Add 1 teaspoon of sriracha sauce or 1/2 teaspoon chili pepper flakes (or gochugaru).
Make it less sweet and more savory: Use a full teaspoon of soy sauce and take out 1 tablespoon of unsweetened condensed milk.
Make it more tangy: Add an additional half teaspoon of rice vinegar (you can add an extra half teaspoon on top of that if you want it even more tangy).
Make it garlicky: Add 1 grated garlic to the sauce or 1/4 teaspoon garlic powder (or more).
Make it peppery: Add 1/4 teaspoon white ground pepper and 1/8 teaspoon ground black pepper (and try not to sneeze!).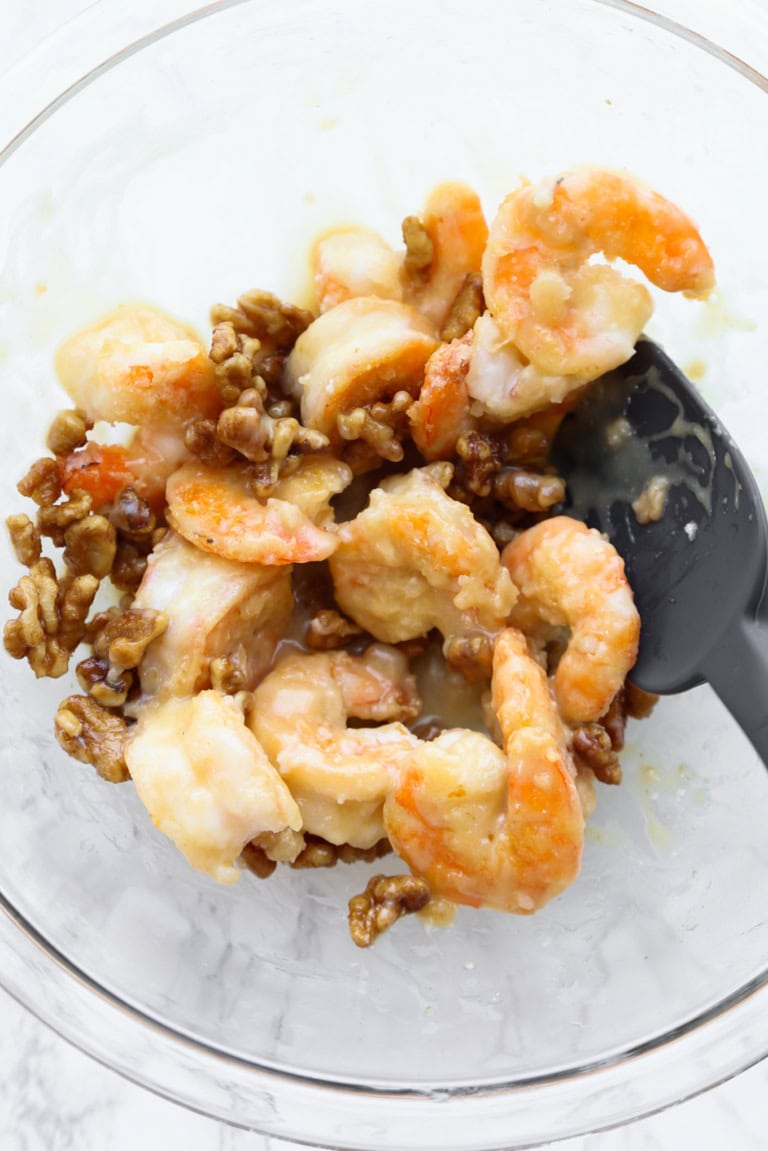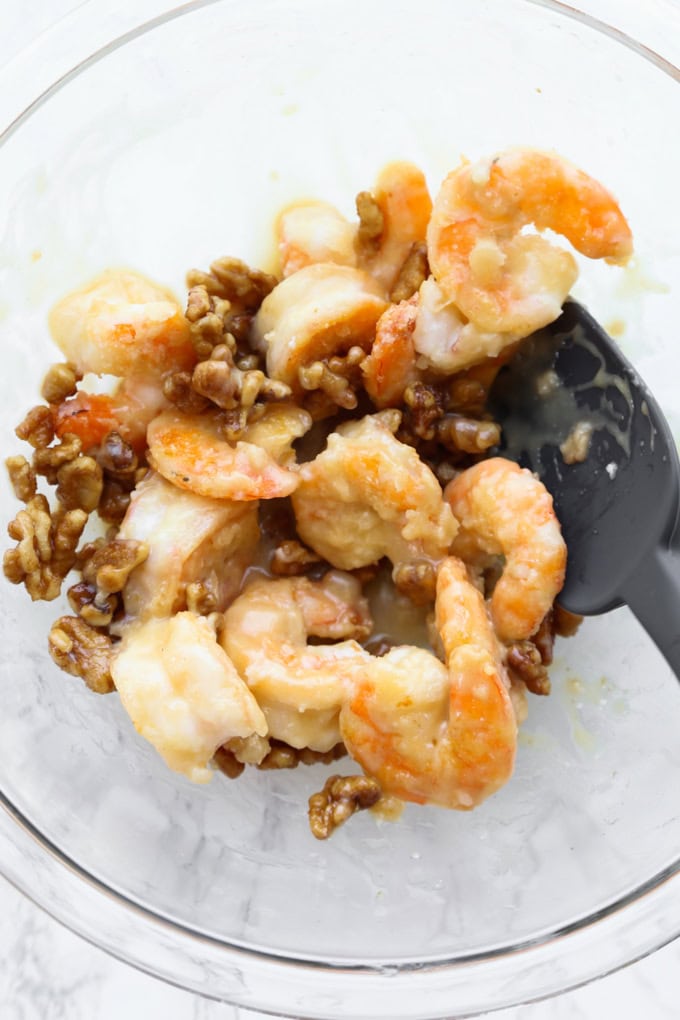 How to Make Honey Walnut Shrimp
Make the candied walnuts by heating up a small pan and adding the walnuts, butter, sugar, water, and salt. Cook and stir constantly until the walnuts are sticky and golden brown and transfer them to a plate.
Combine the mayonnaise, sweetened condensed milk, soy sauce, rice vinegar, and honey in a bowl and whisk until the ingredients are combined. Season with salt and pepper if needed.
Place the cornstarch in a bowl and add the shrimp. Toss the shrimp until they are evenly coated and transfer them to a plate.
Heat up 2 tablespoons of oil in a skillet and when the oil is hot, add the shrimp, making sure not to overcrowd the pan. Leave a little space between each shrimp so they don't stick together when they are cooking. Cook on each side for 2-3 minutes and transfer them to a plate.
Add the cooked shrimp to the sauce and add the walnuts too. Toss the shrimp and walnuts until they are evenly coated and serve them over shredded cabbage and with a side of rice.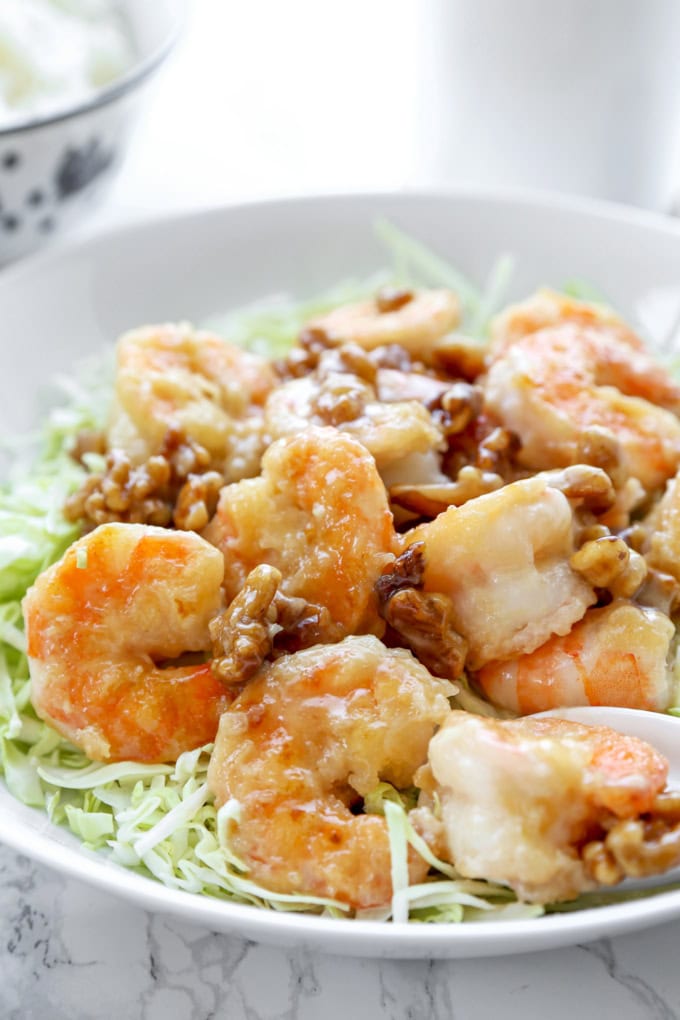 What to Serve with Honey Walnut Shrimp
Honey walnut shrimp is quite sweet so I recommend sticking to dishes that are more on the acidic and savory side to pair with it. Some of my favorites are: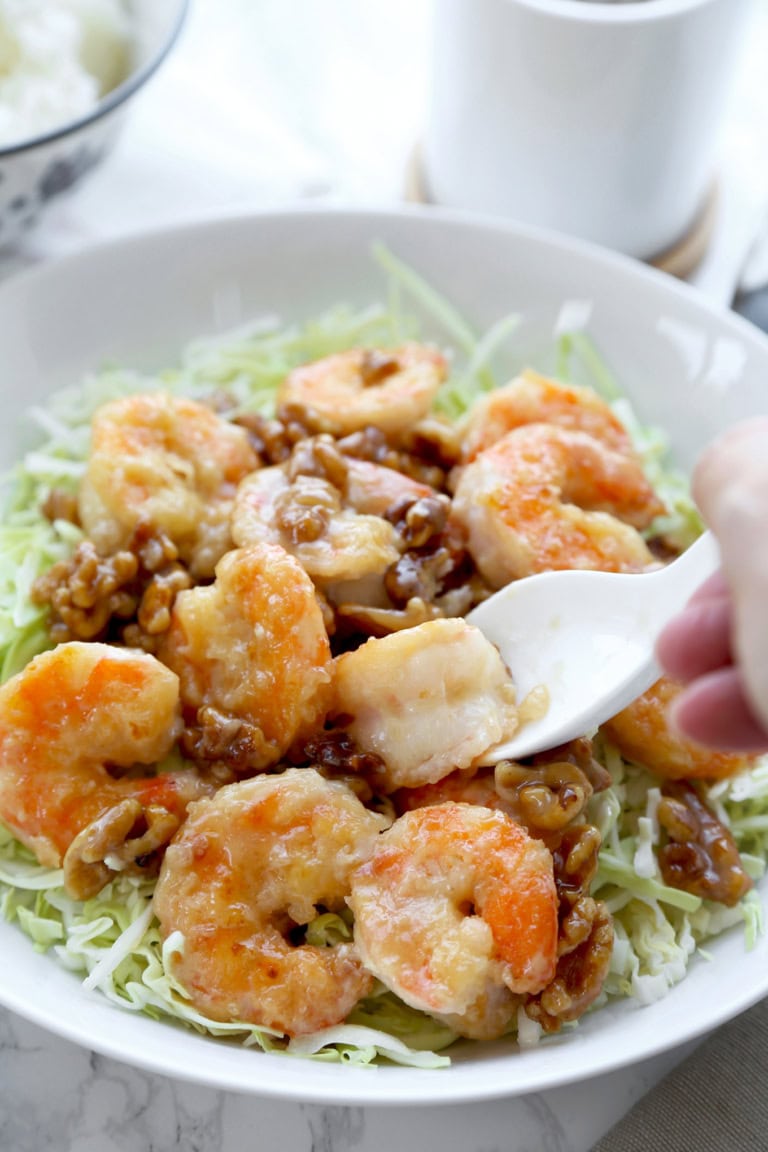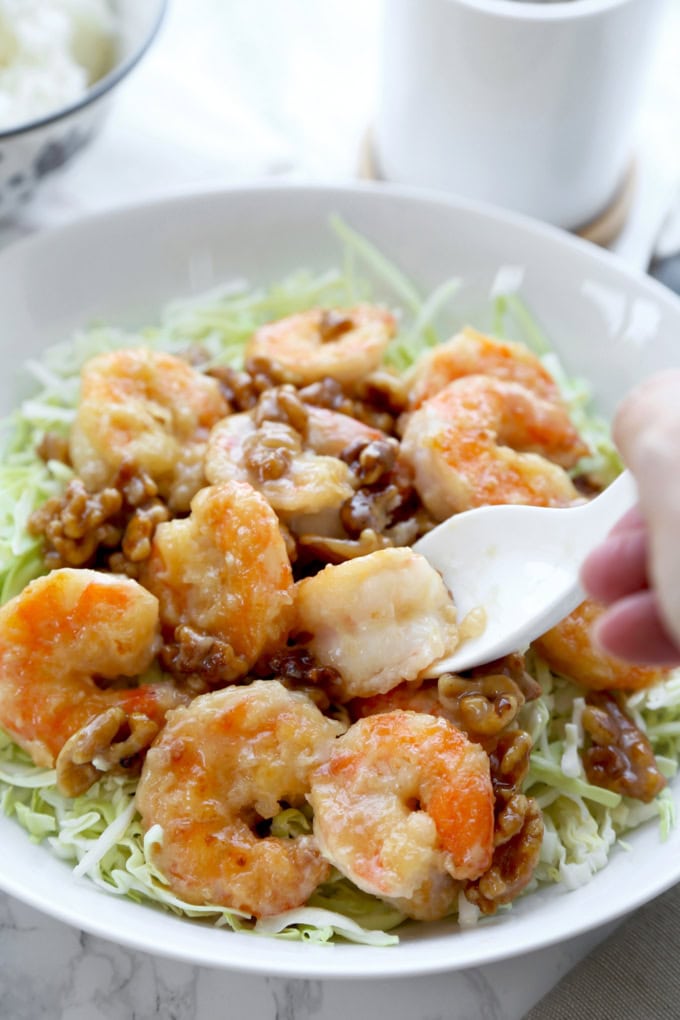 Did you like this Classic Honey Walnut Shrimp Recipe? Are there changes you made that you would like to share? Share your tips and recommendations in the comments section below!
Print
Restaurant-Style Honey Walnut Shrimp
Honey walnut shrimp has more depth of flavor (sweet and creamy goodness!) and taste so much more light and fresh! Ready in 20 minutes. 
Author: Caroline Phelps
Prep Time:

10 minutes

Cook Time:

10 minutes

Total Time:

20 minutes

Yield:

4

1

x
Category:

Seafood

Method:

Stir frying

Cuisine:

Chinese
Candied walnut:
3/4 cup

chopped walnut

1 tablespoon

butter or vegan butter

2 tablespoons

granulated sugar

2 tablespoons

water

Pinch of salt
Shrimp and sauce:
1/4 cup

mayonnaise

2 tablespoons

sweetened condensed milk

1/2 teaspoon

soy sauce

1/2 teaspoon

plain rice vinegar

2 tablespoons

honey + more if you like it sweeter

Salt and pepper

1

pound large shrimp, thawed, peeled, and deveined

1/4 cup

cornstarch

2 tablespoons

grapeseed oil, or vegetable oil
Other:
2

scallions, chopped (optional)

Shredded cabbbage for serving (optional)

Steamed white or brown rice for serving (optional)
Instructions
Put a plate next to the stove top where you will be cooking the candied walnut.

Place the walnuts, butter, sugar, water, and a pinch of salt, in a non-stick skillet over medium heat and stir constantly for 4-5 minutes, until the simple syrup is sticky and golden brown, and the walnuts are evenly coated.

Turn the heat off, transfer the walnuts to the plate and separate them using a for or a spoon. Let them cool to room temperature until the walnuts are no longer sticky.

In a large mixing bowl, whisk the mayonnaise, condensed milk, soy sauce, rice vinegar, honey, salt, and pepper. Set aside.

Place the shrimp in a bowl along with the cornstarch and toss them well to coat evenly.

Add 2 tablespoons oil to a large skillet over medium high heat and when the oil is hot, add the shrimp making sure to leave a little space between each one of them. Don't overcrowd the skillet since this will lower the temperature of the oil and make the shrimp soggy instead of crispy. Do them in batches if you have to. Cook on each side for 2-3 minutes and transfer them to a plate.

Add the shrimp to the bowl with the mayonnaise sauce and toss well. Add the walnuts to the bowl and toss well.

Transfer to a serving plate over shredded cabbage and serve with steamed rice.
Notes
For leftovers: Save the honey walnut shrimp in an airtight storage container and refrigerate for up to 2 days.
Nutrition
Serving Size:

About 6-7 shrimp

Calories:

510

Sugar:

20.9g

Sodium:

254.8mg

Fat:

34g

Saturated Fat:

5.9g

Unsaturated Fat:

20.4g

Trans Fat:

0g

Carbohydrates:

27.8g

Fiber:

1.5g

Protein:

27.1g

Cholesterol:

199.1mg
Recipe Card powered by