No deep frying is required to make this yummy chicken egg foo young recipe! Healthy, light and fluffy egg pancakes packed with veggies and topped with the tastiest gooey gravy. Pour the leftover sauce on a steamy bed of white rice and dig in!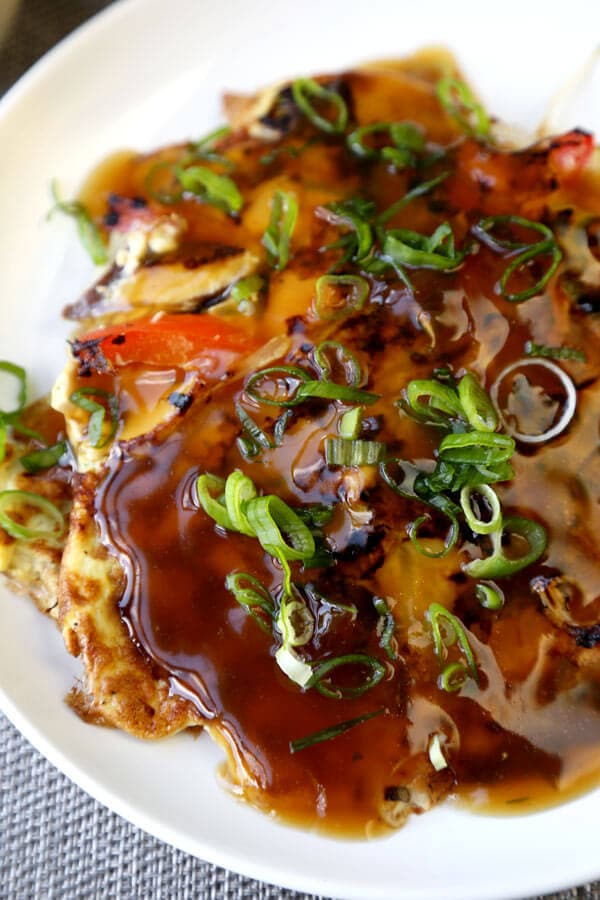 Chicken Egg Foo Young Recipe
Got leftover cooked chicken and a few eggs that are about to expire?
How about making the most delicious and fluffy homemade egg foo young!
The best part about this recipe?
It contains a lot less oil than most egg foo young dishes out there! It's also packed with yummy veggies, making this meal nutritious and lower in fat and calories.
You've got fluffy egg pancakes accompanied by a sour and savory gooey brown sauce made with stock, soy sauce and vinegar. It has all the classic Chinese flavors we all love so much – and is addictive!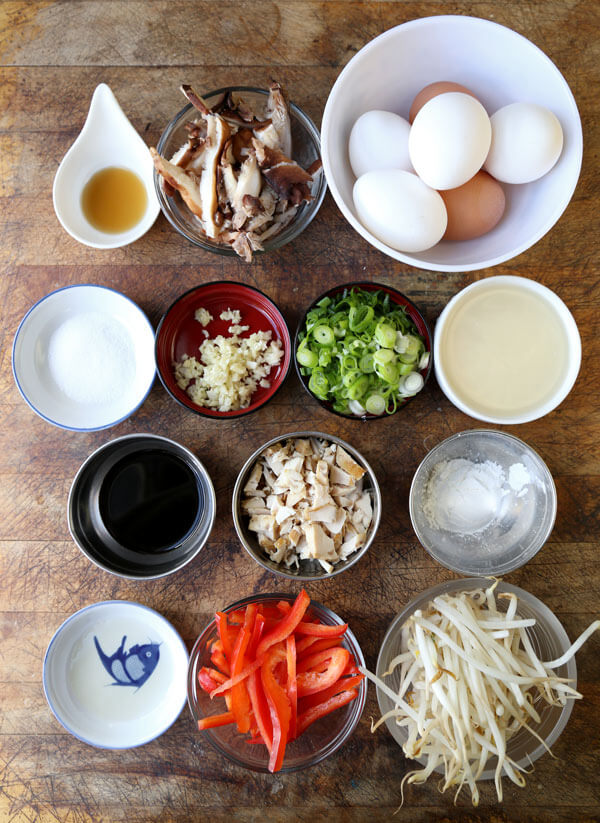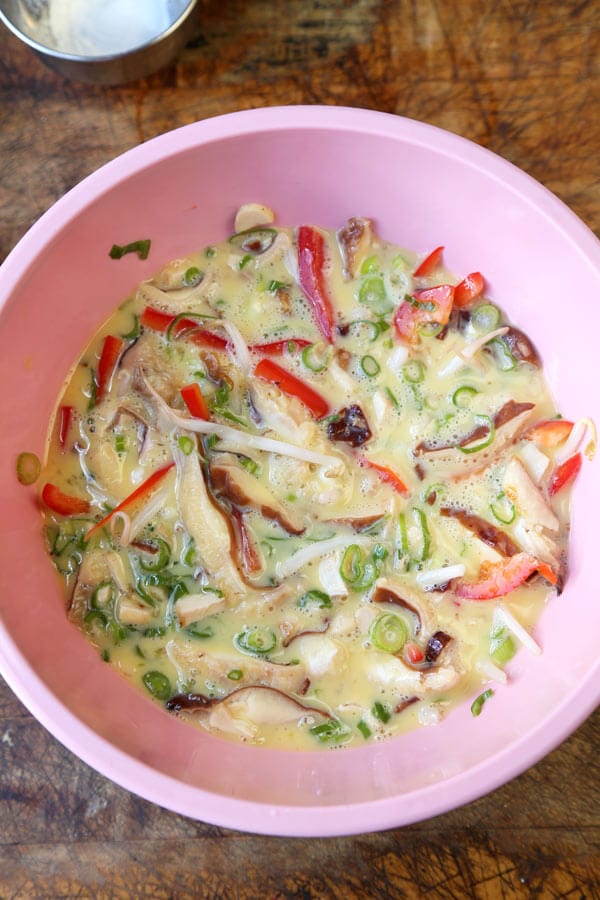 You can use red, green or yellow bell peppers for this authentic egg foo young recipe. I personally like using red ones since they add a lovely pop of color to the dish. The peppers make the pancakes vibrant, almost fiery.
The first time I made this recipe I was feeling under the weather. During a moment of confusion I threw the chicken broth that was supposed to go into the sauce, in with the pancake mix. It wasn't until I had to make the sauce that I notice the mistake. As I cooked the pancakes I was afraid they would come out runny. Instead, they came out super fluffy which turned the mistake into a happy accident!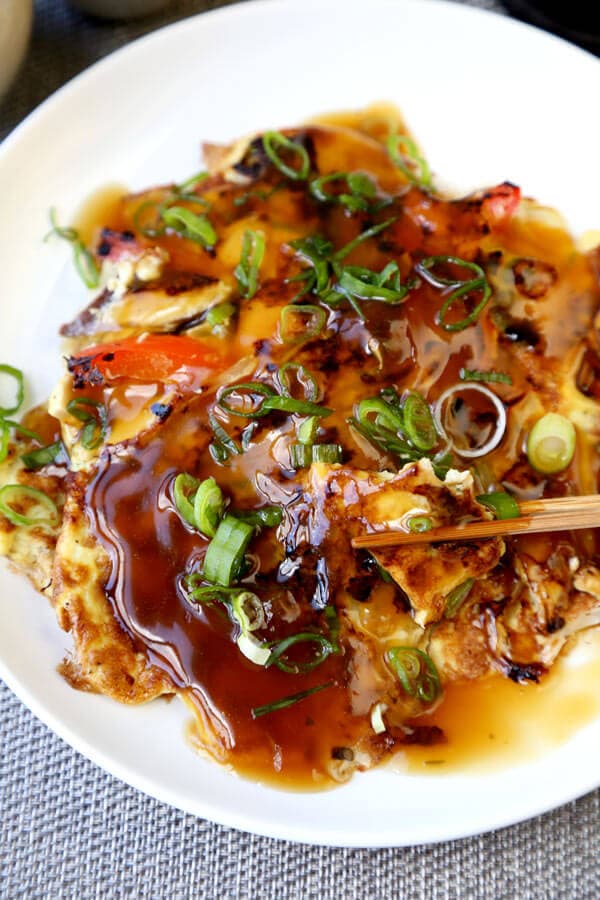 What is egg foo young?
Egg foo young (also spelled egg foo yung, egg fu yung or egg fu young) is a Chinese Indonesian omelet cooked with mixed vegetables, poultry or ham. The omelet pancakes are then served topped with a brown gravy or sweet and sour sauce. Its origin comes from the Canton side of mainland China. The original version is called fu yung egg slices and can be found in the Guangdon province. It's a popular dish in Chinese American cuisine that can be found in most menus across the country.
The classic method is to deep fry the omelet pancakes. This yields a super light weight and texture. But since I'm petrified of deep frying stuff – I have visions of oil splattering everywhere while I'm protecting myself with a giant pot lid – I prefer to opt for a frying pan. Plus, it's healthier so in my book I consider that a win win 🙂 . The entire process takes no time and is pretty much the same as making a regular pancake or frittata. Throw the veggies with the eggs and pan fry until the pancakes smell so good you need to reach for a tissue to wipe off the drool off your face. Voila!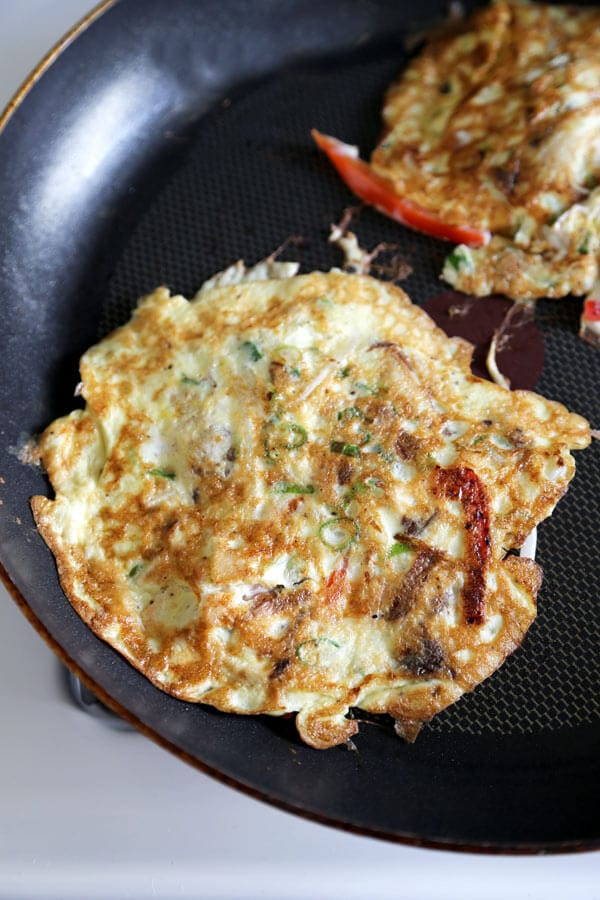 The egg foo young pancakes are delicious by themselves or with a splash of soy sauce (or hot sauce – scrumptious!) but taste best with a good spoonful of gooey Chinese brown gravy. The egg foo young gravy is very easy to make and stirring in a tablespoon of cornstarch is what gives it a sticky, addictive texture. And the vinegar comes through just enough to compliment the savory and umami combination of the other ingredients. This is a dish that's kid friendly too; there's nothing too complex or unfamiliar about this chicken egg foo young recipe. If your kids are used to eating Chinese American food, they will love this.
You can make the chicken egg foo young pancakes ahead of time and keep them refrigerated for up to 3 days. I recommend making the gravy the day off simply because the gooeyness won't last for more than a couple of hours. That's the bummer about using cornstarch – it turns into liquid pretty quickly. You can add more to it to bring back the gooeyness but I find this technique unreliable (sometimes it works and sometimes it doesn't.)
Serve this chicken egg foo young recipe with other easy to make Chinese dish such as dry-fried green beans with garlic sauce, Brussels sprouts with Maggi seasoning, a quick honey sriracha tofu stir fry, or some stir-fried glass noodles with shrimp.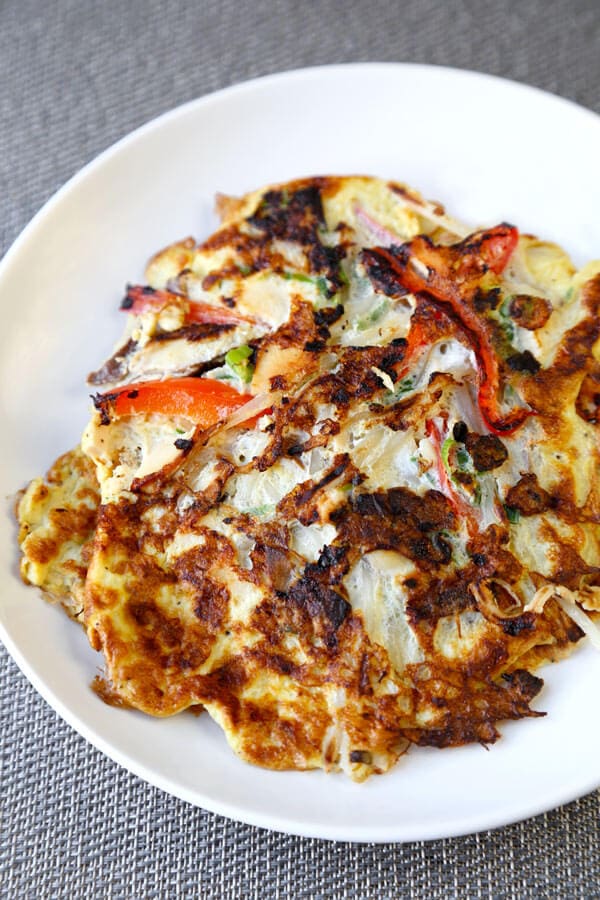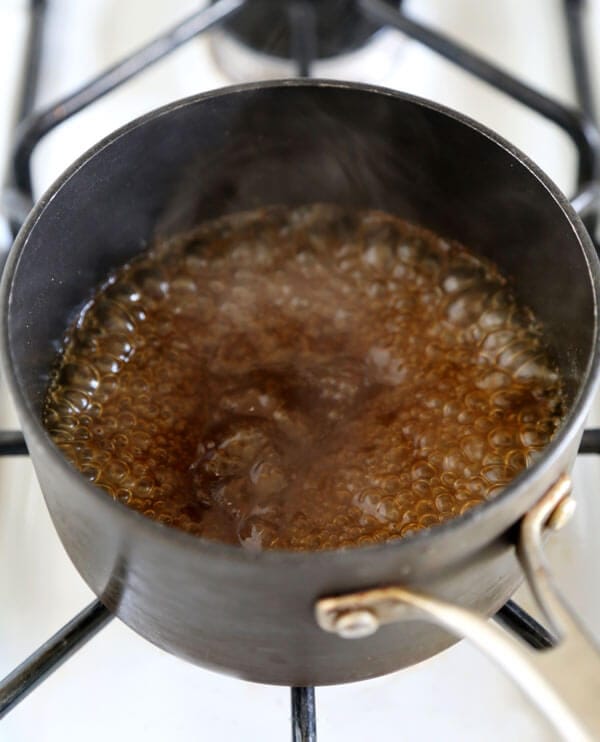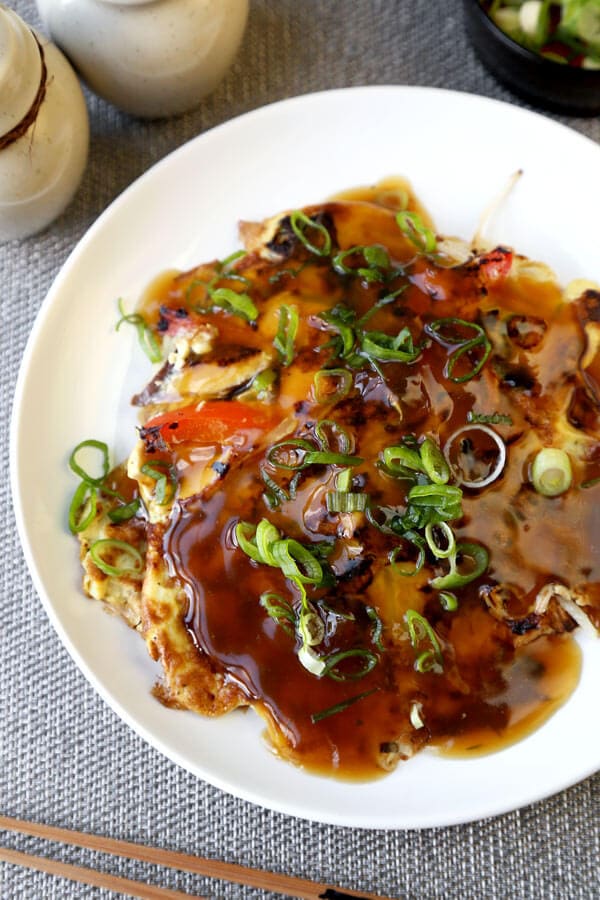 Did you like this Chicken Egg Foo Young Recipe? Are there changes you made that you would like to share? Share your tips and recommendations in the comments section below!
I recommend serving this dish with a side of Japanese rice. Watch our video on How To Make Japanese Rice the stove top or rice cooker method!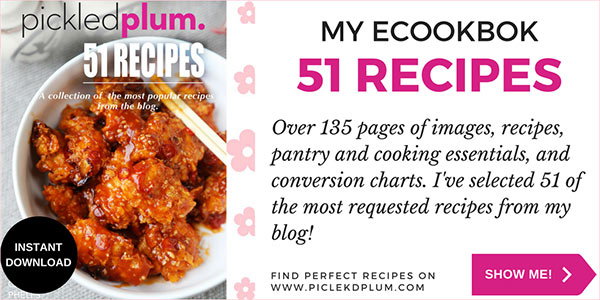 These recipes constantly make "best dish" lists on sites such as Country Living, Self, Shape, Bon Appetit, The Cooking Channel, Men's Fitness and Woman's Day. They are favorites among my readers, friends and family!
51 of the best appetizers, sides, stir fries, main, noodles & rice, desserts & drinks from the blog.
Simple and easy dishes made healthier, with calories and fat content provided. Tried and tested by my readers and loved by everyone!
---
Print
Chicken Egg Foo Young Recipe
No deep frying is required to make this yummy chicken egg foo young recipe! Healthy, light and fluffy egg pancakes packed with veggies and topped with the tastiest gooey gravy
Author:
Prep Time:

10 minutes

Cook Time:

5 minutes

Total Time:

15 minutes

Yield:

6 small pancakes

Category:

Main

Method:

Pan frying

Cuisine:

Chinese
Ingredients
Foo young pancakes:
6 large eggs
1/2 cup chicken broth
2 ounces shiitake mushrooms (sliced in to thin strips)
1/4 cup bean sprouts
1/4 red bell pepper (sliced into thin strips)
1 stalk scallion (finely chopped)
2 ounces cooked chicken (finely chopped)
2 cloves garlic (minced)
1 tablespoon vegetable oil
Foo young sauce:
1 cup chicken broth
2 1/2 tablespoons soy sauce
2 teaspoons rice vinegar
2 teaspoons granulated sugar
1 tablespoon cornstarch mixed with 1 tablespoon water
1 teaspoon sesame oil
Topping:
1 scallion (finely chopped)
Instructions
Whisk the eggs in a bowl and add chicken broth, mushrooms, bean sprouts, bell peppers, scallions, chicken and garlic. Stir until all the ingredients are evenly coated. Season with salt and pepper and set aside.
Making the foo young sauce: Put all the ingredients for the sauce in a small pot and bring to a boil. Turn the heat to low and simmer for 2 minutes. Turn the heat off and set aside.
Cooking the foo young pancakes: In a pan over medium high heat, add vegetable oil. Using a ladle, pour small amounts of egg mixture into the pan and make 2-4 little pancakes at a time. Cook on both sides for 2-3, until slightly brown, and transfer two pancakes per plate. Work in batches until all the mixture has been used.
Quickly warm up the sauce and pour over pancakes. Top with scallions and serve immediately.
Notes
Keep the sauce and pancakes separate if you decide to save some for later. When reheating, microwave pancakes for 30-45 seconds. For the sauce, reheat in a pot along with 1 tablespoon cornstarch mixed with 1 tablespoon water to bring back the gooey texture.
Keywords: recipe, pancakes, Asian, side, easy