This is Ben's favorite cabbage stir fry! Savory, salty, smoky, and with just enough heat to warm the taste buds, this crunchy cabbage stir fry with shrimp and dried chiles packs a punch in the flavor department. Plus, it only takes about 20 minutes to make from start to finish.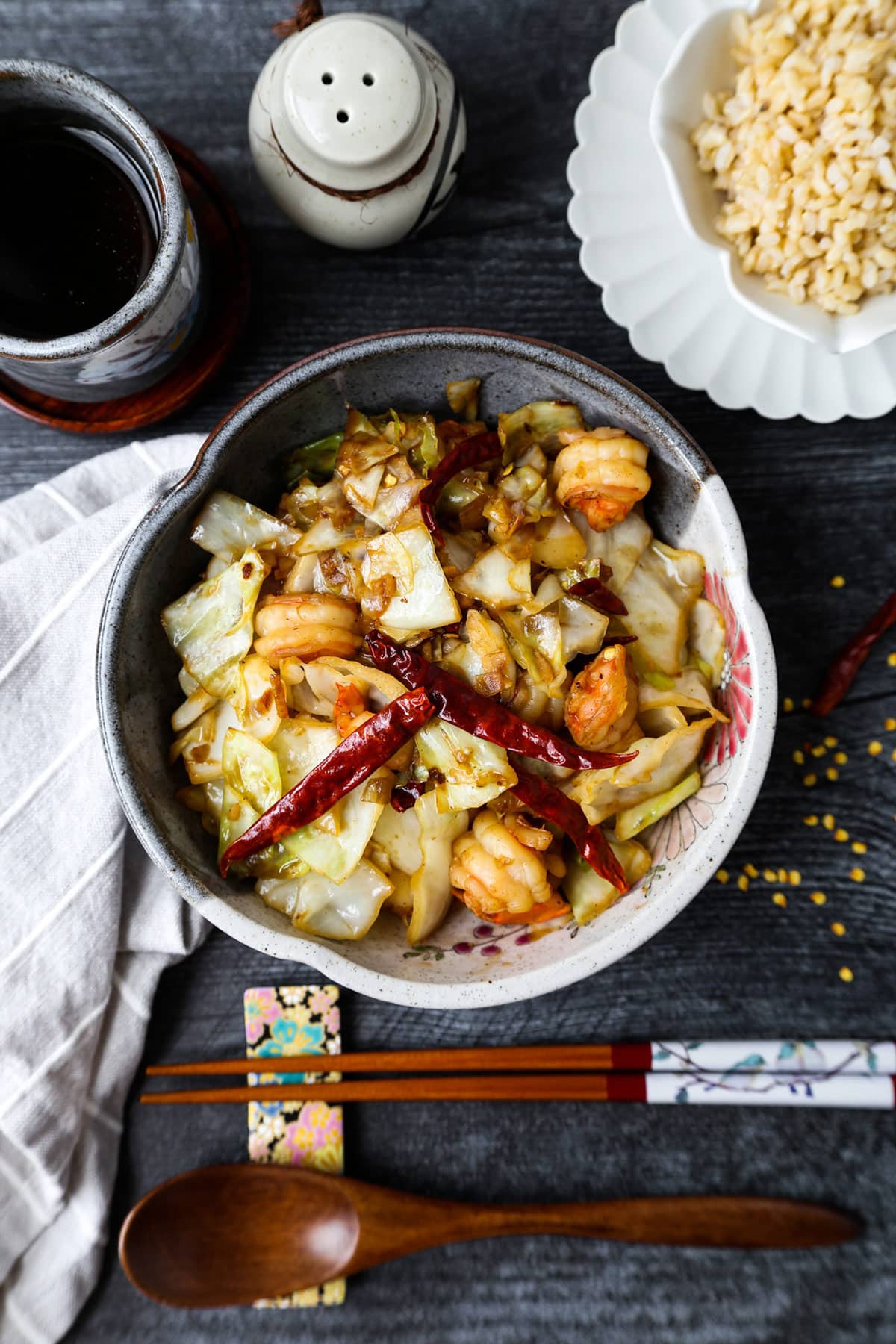 Making a stir fry is one of the easiest meals you can prepare. But there are three things that must be done right in order to achieve the desired outcome:
The sauce shouldn't be so strong that it overwhelms the natural taste of the vegetables and protein.
The protein should be fully cooked while still remaining moist and tender.
The texture of the vegetables should be tender while still yielding a little crunch.
In order to pull off the perfect stir fry, there are two easy rules to follow for beginners (if you are a pro, you can skip right to the recipe!):
Make sure your wok or deep skillet is burning hot. This will ensure that the vegetables cook quickly while still retaining their crunch.
Keep the ingredients to a minimum. Choose one protein, use no more than two or three vegetables, and keep the sauce simple. A good stir fry is delicate and should feel light when you eat it, especially if it's served with a side of rice.
If you prefer using a lot of vegetables, pick ones that have similar cooking time, e.g., carrots, celery, bell peppers, onions, and slice them about the same size so the overall doneness is uniform.
Also, if you prefer to use chicken, pork, or beef, it's best to chop the meat bite size to speed up the stir frying process, and to first cook it separately.
Ingredients for Cabbage Stir Fry
Scroll all the way down for the full recipe.
Oil: Use a neutral oil with a high smoke point such as vegetable or grapeseed oil. You can also use peanut oil since the nutty flavor will marry nicely with the dish.
Garlic: Lots of garlic is used in this stir fry to impart a little sweetness, earthiness, and give the dish a nice pungent kick.
Shallot: I'm using a shallot instead of an onion because the flavor is more delicate and sweet.
Cabbage: I'm using a green cabbage for this stir fry because of the leaves crunchy texture. But you can also use napa cabbage if you already happen to have some in your fridge. It won't be as crunchy as green cabbage but still delicious.
Shrimp: Use large shrimp that have been thawed. I highly recommend spending a little more on good shrimp since they taste better, and are friendlier to the environment. Look for sustainable shrimp that have been farmed in the US (Whole Foods has a good selection).
Chinese dried red chiles: This dish wouldn't taste the same without the addition of Chinese dried red chiles which are smoky and spicy. Feel free to add more or less to the dish and keep in mind that the heat level goes up drastically when the chiles are chopped, versus whole.
Sesame oil: The oil is added right before serving to infuse a little nuttiness.
Sauce: This sauce is bold and so good! It's a mixture of fish sauce, shaoxing wine, sugar, oyster sauce, and cornstarch.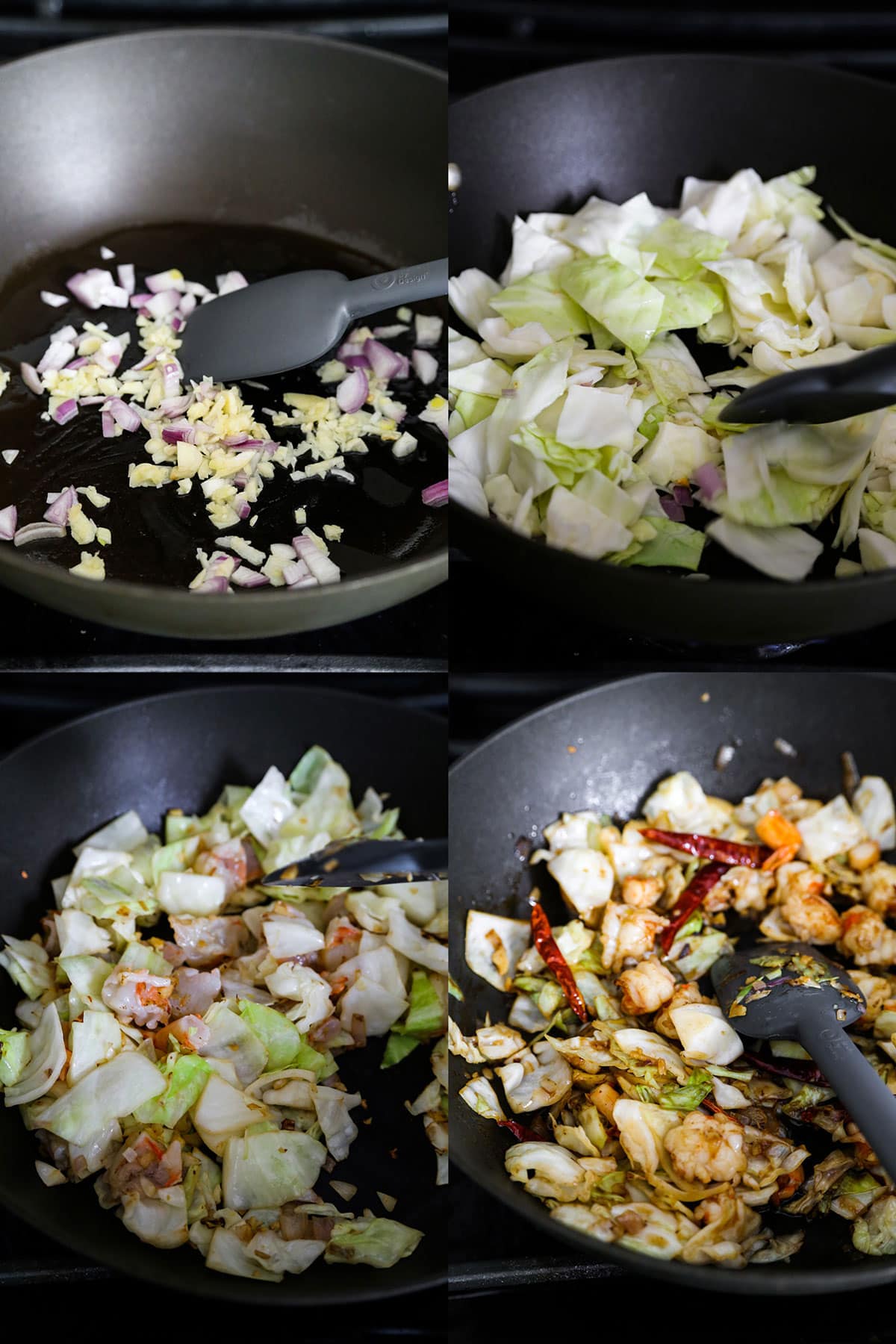 How to Make Cabbage Stir Fry
Gather all of your kitchen tools and ingredients.
Begin by putting the ingredients for the sauce in a bowl, and mixing until they are well combined. Set the bowl aside.
Take one Chinese red dried chile, chop it, and set it aside. The reason why I'm only chopping one chile is to keep the heat level to medium. If you like super spicy foods, go ahead and chop two or three.
Place a wok or a deep skillet over high heat and add the oil.
When the oil is hot, almost smoking, add the garlic and shallot and toss for 30 seconds.
Add the cabbage and stir fry constantly for 2 minutes. Add the shrimp and stir fry for 3 minutes.
Grab the sauce, stir, and add it to the wok while tossing the cabbage and shrimp so they get coated evenly. Cook for about 1 minute to give the sauce time to thicken.
Turn the heat off and add the chopped dried chile, whole dried chile, and sesame oil.
Stir well and transfer the stir fry to a serving dish. Enjoy!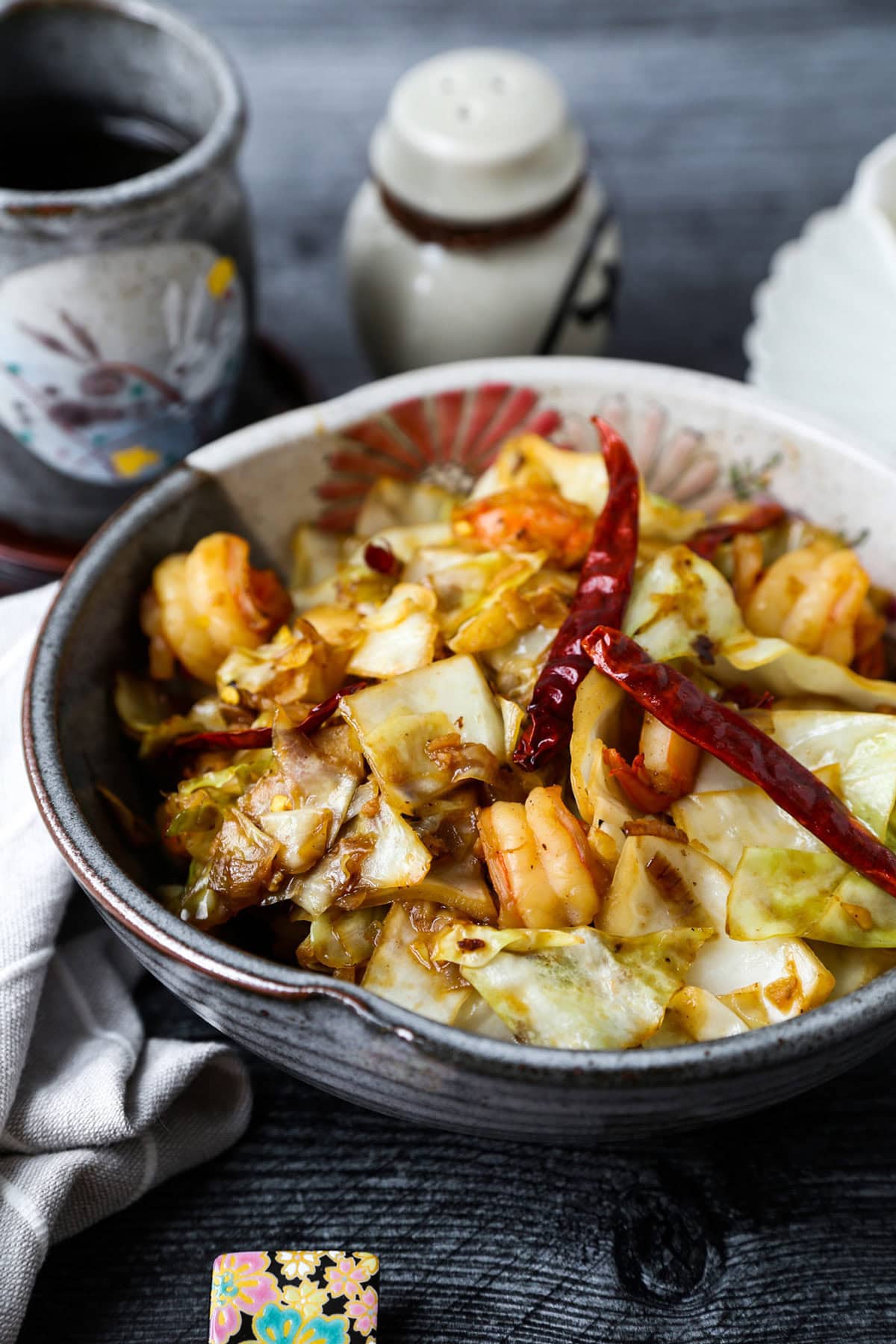 Vegan Cabbage Stir Fry
If you don't eat seafood but would still like to make this stir fry, here is how to make it vegan.
Swap the shrimp for smoked tofu, pressed tofu, or tofu cutlets. I personally love smoked tofu for this particular stir fry as the texture holds up well against the crunch of green cabbage. The smoky taste also pairs nicely with the Chinese dried red chiles.
Take the fish sauce out. Don't try to replace it with just salt as it will only make your stir fry overly salty. Instead, use soy sauce or make your own vegan fish sauce by mixing 1 teaspoon wakame (seaweed) powder, 1/2 teaspoon salt, 1 tablespoon plain rice vinegar or distilled vinegar, 1 1/2 tablespoon soy sauce, 1 teaspoon sugar, and 1/2 cup warm water. Mix everything until the sugar and wakame powder have dissolved. You can keep the leftover vegan fish sauce in a jar and refrigerated for up to 1 month.
Replace the oyster sauce for soy sauce. For something closer to the real thing, add a sprinkle of sugar and wakame powder to the soy sauce.
Follow the same cooking steps listed in the recipe card to make the vegan version of this cabbage stir fry.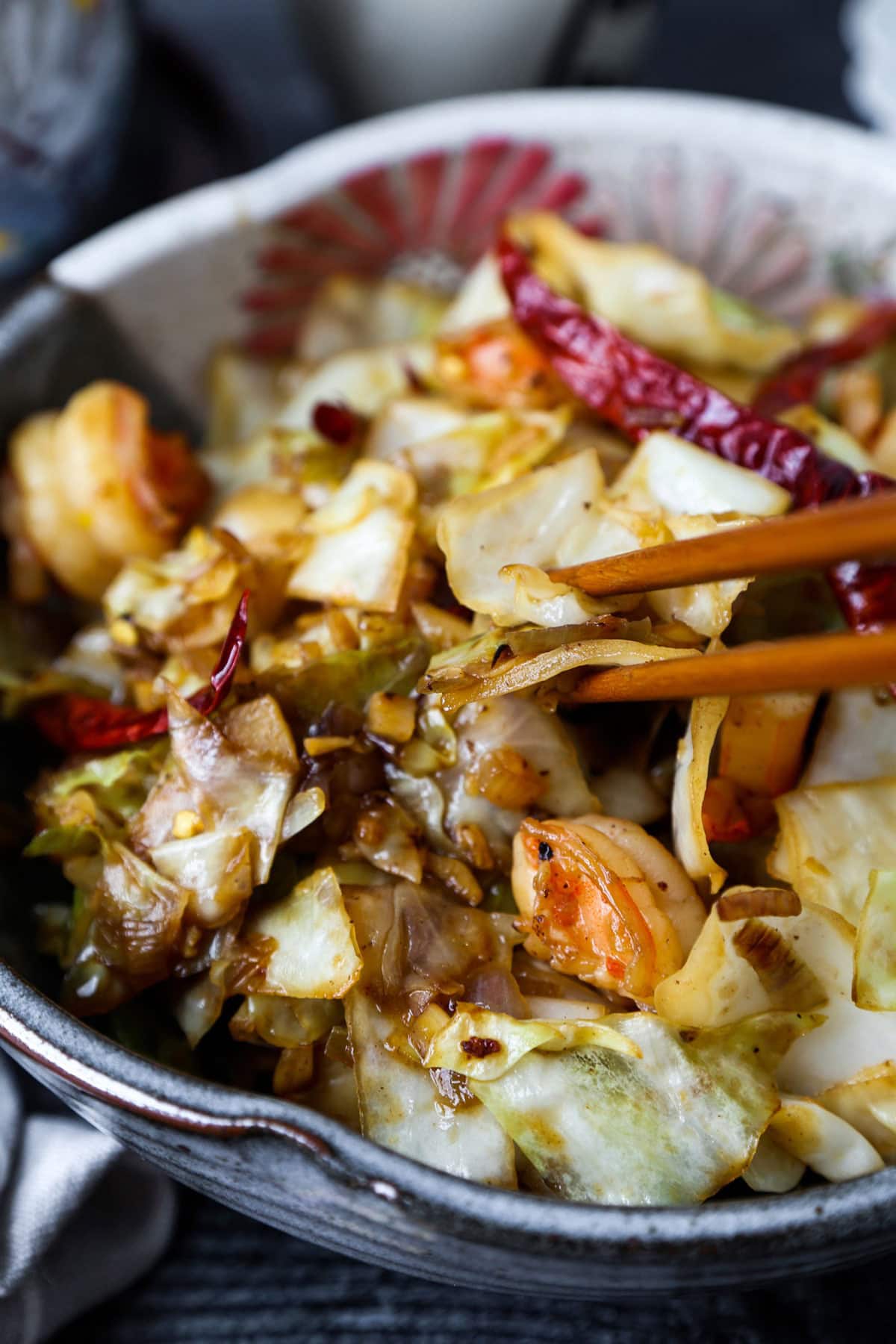 Can I Freeze this Stir Fry?
Because shrimp gets rubbery as soon as it's overcooked, I don't recommend freezing this stir fry.
However, if you are making it using another protein such as tofu or chicken, you can freeze it as long as the cabbage isn't cooked all the way through, otherwise it may get soggy.
Save the stir fry in an airtight storage bag or container and freeze for up to 1 month.
Stir Fry Recipes
Stir fries are such a time saver in the kitchen and they taste so good! They are also an easy way to increase your intake of veggies which is why I make them so often.
Here are some of my favorite stir fry recipes:
TABLEWARE
The pink and grey flower bowl, cutlery rest, chrysanthemum rim plate, four petal bowl, and rabbit teacup used in the images, are from Musubi Kiln.

Musubi Kiln is an online store specializing in high quality handmade Japanese tableware and dinnerware. Each product is made by Japanese craftsmen using traditional techniques that have been passed down from generation to generation.

Received 10% off your purchase when using the code CAROLINE at checkout.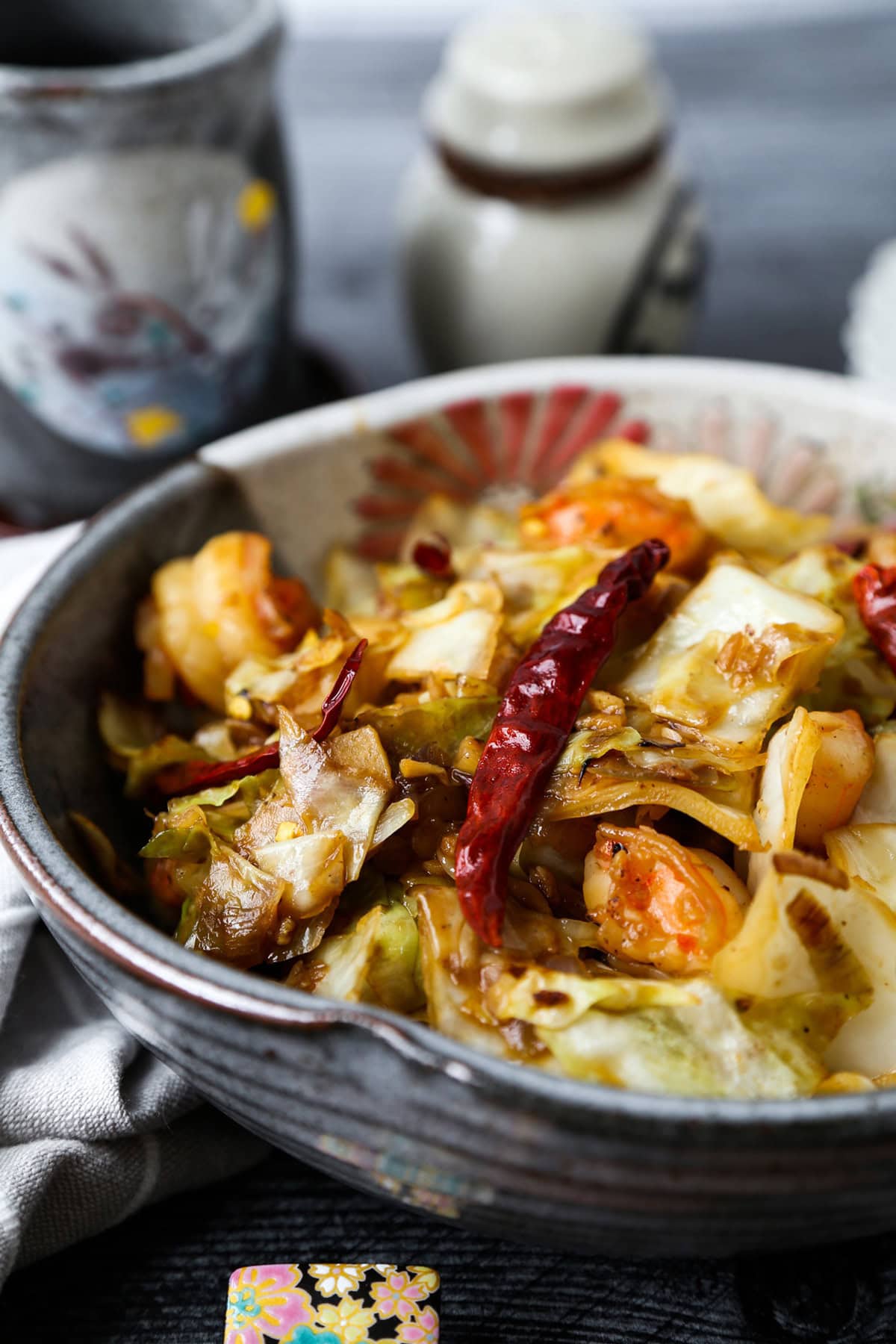 Did you like this Cabbage Stir Fry Recipe? Are there changes you made that you would like to share? Share your tips and recommendations in the comments section below!
Print
Cabbage Stir Fry with Shrimp and Dried Chiles
Savory, salty, smoky, and with just enough heat to warm the taste buds, this crunchy cabbage stir fry with shrimp and dried chilis packs a punch in the flavor department and only takes about 20 minutes to make from start to finish.
Author: Caroline Phelps
Prep Time:

15 minutes

Cook Time:

6 minutes

Total Time:

21 minutes

Yield:

2

servings

1

x
Category:

Seafood

Method:

Stir frying

Cuisine:

Chinese
1 tablespoon

neutral oil such as vegetable oil or grapeseed oil

5

garlic cloves, minced

1

shallot, chopped

10 ounces

cabbage, chopped

7 ounces

raw shrimp, peeled, deveined, and chopped

10

Chinese dried red chiles

2 teaspoons

sesame oil (preferable toasted sesame oil) – optional
Sauce
2 tablespoons

fish sauce

2 tablespoons

shaoxing wine, or dry sherry

1/4 teaspoon

granulated sugar

1 tablespoon

oyster sauce

1/2 teaspoon

cornstarch
Instructions
Mix all the ingredients for the sauce in a bowl and set aside.

Chop one Chinese dried red chile and set it aside.

In a wok, deep skillet, or large pan over high heat, add the neutral oil.

When the oil is hot, add the garlic and shallot and cook for 30 seconds, until the garlic becomes fragrant.

Add the cabbage and cook for 2 minutes, tossing and stirring constantly. Add the shrimp and keep tossing and stirring for another 3 minutes.

Give the sauce a quick stir and add it to the wok. Cook for 1 minute or until the sauce thickens.

Turn the heat off and add the chopped dried red chiles, whole dried red chiles, and sesame oil. 

Stir well to combine and transfer the dish to a serving bowl or plate. Serve.
Notes
Store the stir fry in an airtight storage container. It will keep in the fridge for up to 2 days.
Nutrition
Serving Size:

About 12 ounces

Calories:

273

Sugar:

7.1g

Sodium:

1817.4mg

Fat:

12.1g

Saturated Fat:

6.3g

Unsaturated Fat:

2.3g

Trans Fat:

0g

Carbohydrates:

16.5g

Fiber:

3.3g

Protein:

23.6g

Cholesterol:

159.7mg
Keywords: main, quick, easy
Recipe Card powered by