Heat up your wok and get ready to dig in to the best Vegetable Honey Ginger Tofu Stir Fry Recipe! Ready in 17 minutes from start to finish.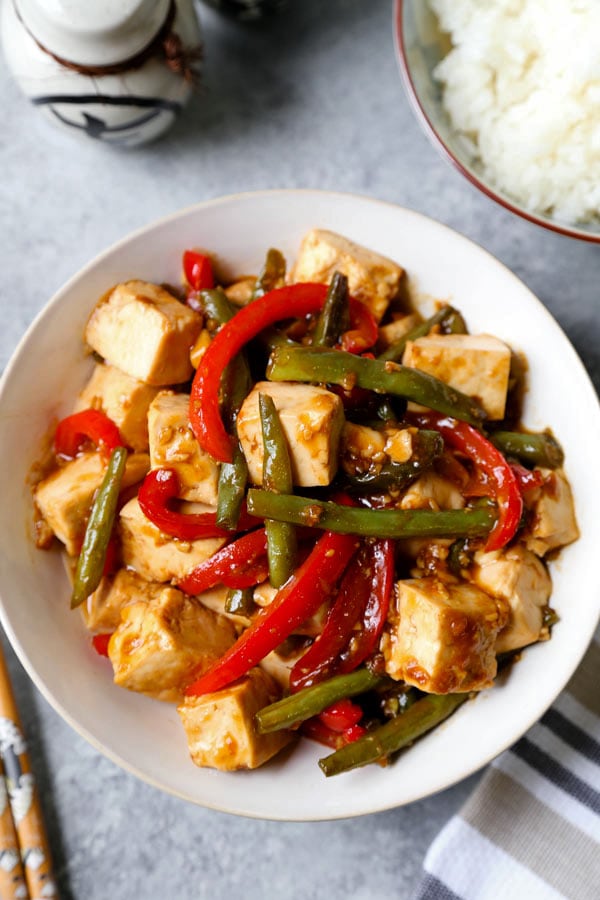 Honey Ginger Tofu Stir Fry
What was your favorite place to go out to eat as a kid?
When I was a little girl, I LOVED going to the Chinese buffet. My brother and I would load our plates high with all kinds of goodness from the steam trays and hightail it back to our table to dig in.
There's just something magical about the flavors and textures of Chinese-American stir fry recipes that I'll always love because of those yummy family outings.
That familiar sweet, sour, savory and spicy flavor profile is seared into my food consciousness.
So, when I set out to recreate an easy tofu stir fry that mimicked the flavors of those iconic Americanized Chinese dishes, I knew exactly what I was aiming for.
However this time, instead of something meat based – like this Empress Chicken recipe – I wanted to create a vegetarian stir fry with one of my all time favorite ingredients…
Tofu!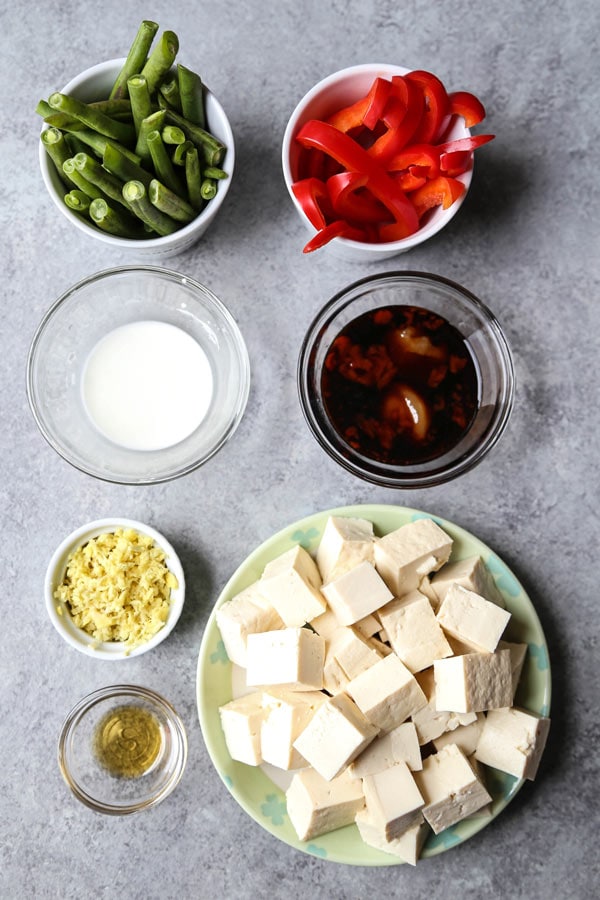 An easy stir fry tofu and veggies 
You know I'm all about easy meals home chefs can whip up in the kitchen in no-time-flat. But, more important than the minute count is the flavor.
Luckily, this stir fried tofu recipe sits right in the sweet spot between simple AND delicious!
Actually, when I started playing around with ideas for this dish, it began simply as stir fry veggies. The idea was to toss vegetables and stir fry sauce into a wok and serve it over rice. Easy.
Dinner done.
After taking my first pass at it though, I couldn't help but feel like something was missing.
And following a few bites of sweet, spicy and savory veggies, it hit me. It needed more substance.
Well, tofu to the rescue!
It's no secret that I think the world of bean curd. You see, whether it's firm fried tofu or a delicate luxurious silken tofu with bonito flakes and ginger, tofu is an all-star ingredient.
Well, I'm happy to report that, after round two of my experimentation phase with this yummy Asian recipe, I was much more happy with the overall dish.
This vegetable and tofu stir fry recipe was ready to share with you – and all I had to do was add humble bean curd to the ingredients list!
And, oh yeah… I needed a sweet, savory, fiery and nutty stir fry sauce as well!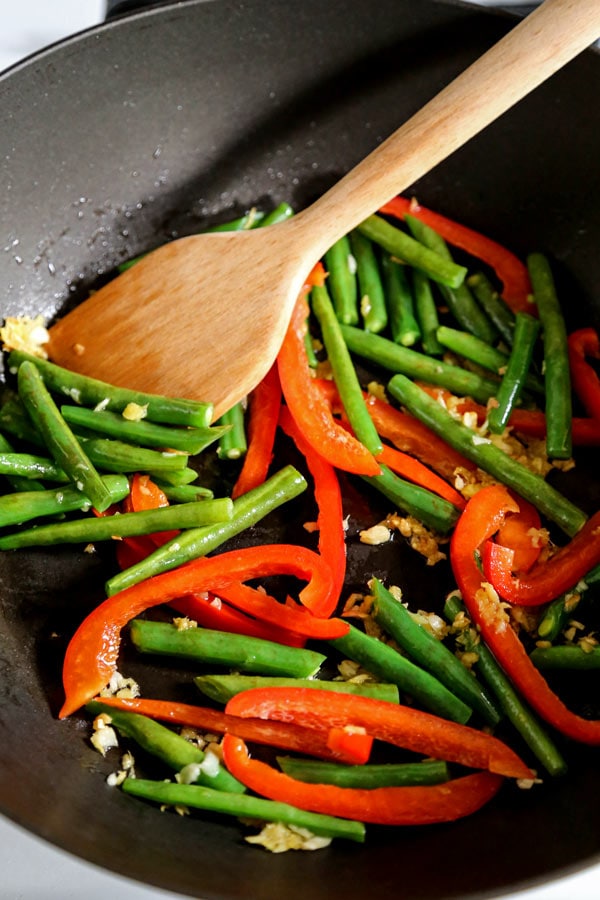 What is Stir Fry Sauce?
Stir fry sauces are simple, homemade Asian sauce combinations you can premix from ingredients in your pantry and keep in the fridge as shake-and-go flavorings for your quick wok recipes.
They're so handy!
Now, even though it only takes a couple of minutes to measure out the ingredients for a composed stir fry sauce, it can actually make the difference between a relaxing cooking session – and a frantic one.
And the cool thing is you can use them as base flavorings that you add upon while cooking – or as fully composed shake, pour, stir and serve flavorings.
For a deep dive on how to make stir fry sauce – and a video of the sauces in action, check out my post Stir Fry Sauce – Two Time Saving Chinese Base Sauces.
Now, for this easy tofu stir fry, you can simply stick to the quantities listed in the recipe below. Or you can double or triple up and keep the excess sauce in an airtight jar in the fridge for about a week.
Stir fry sauce is great for keeping dinner simple!
So, let's cook!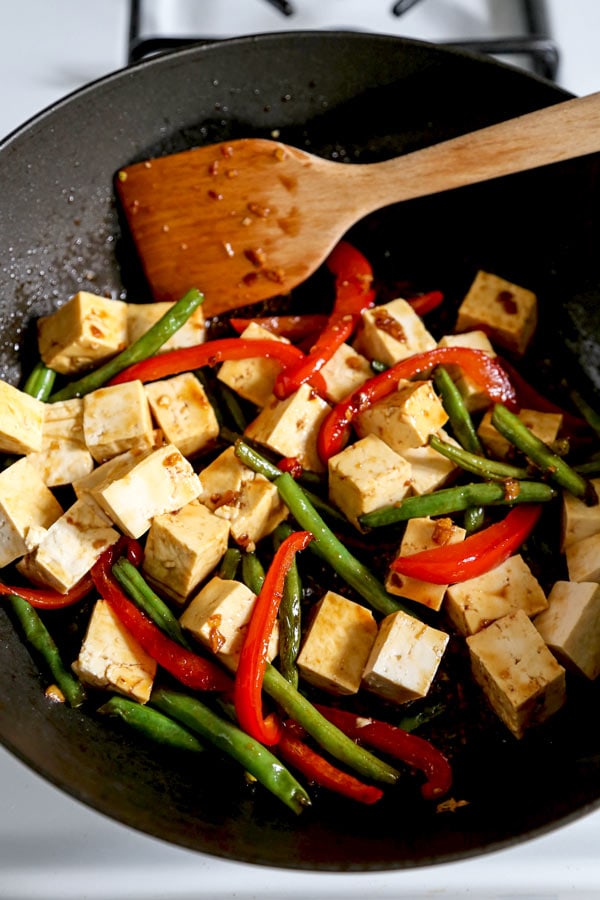 How to cook tofu stir fry
The first step to this yummy Chinese tofu dish is to drain the excess water from your bean curd.
As is the case with most firm tofu recipes, this can be done by wrapping your tofu block in a kitchen towel or a few paper towels for about ten minutes.
If you want to speed things up, you can also use a tofu press, but this isn't necessary.
Get a pan going over medium-high heat and add two tablespoons of vegetable oil, a cup of trimmed green beans and half a sliced red bell pepper.
After 3-4 minutes, add two cloves of minced garlic and a bit of minced ginger to the pan and stir.
Once your garlic is fragrant (usually takes about about two minutes) – add your cubed tofu and stir fry sauce.
For this tofu stir fry, you'll be using a sweet, sour and savory mix of honey, soy sauce, rice vinegar, sriracha, sesame oil and cornstarch.
Gently toss for 2-3 minutes and serve once your tofu is hot and the sauce has thickened.
Now, when stir frying tofu, it's generally best to treat it slightly gently so the bean curd doesn't break into a million pieces.
That's especially true with soft tofu.
However, since we're using firm tofu for this vegetable stir fry, it should fare pretty well being tossed around in the pan or wok.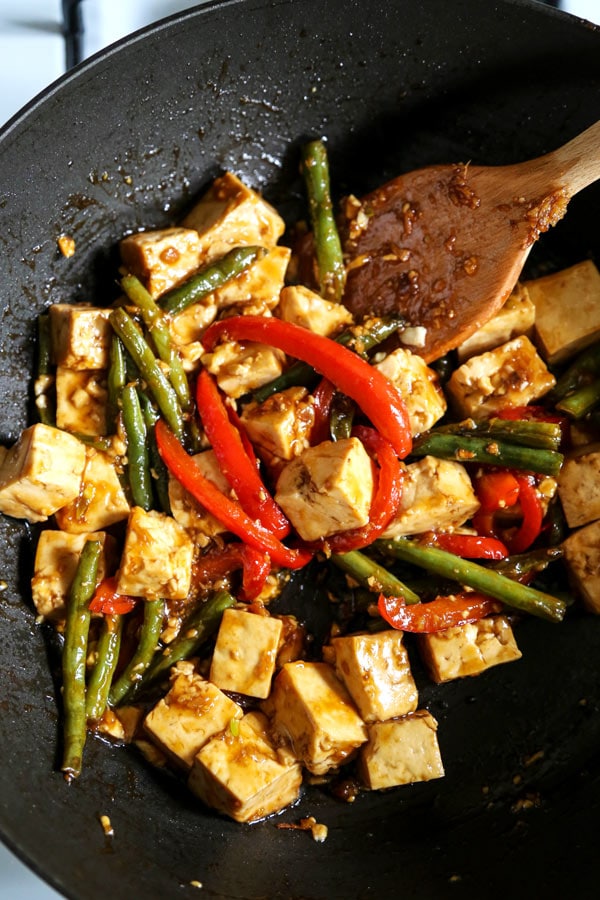 What does tofu taste like?
While there's a mild floral nuttiness to some of the fresh tofu you'll find in tofu shops in Japan, packaged tofu (in its raw form) doesn't have much flavor to speak of.
Wait… can you eat tofu raw? Sure!
However, once you've added the stir fry ingredients and sauce to your wok, the tofu in this stir fry becomes something else altogether!
The familiar sweet and savory flavors ubiquitous in Americanized Chinese cuisine are there in spades due to a combination of honey and soy sauce. There's also a nuttiness brought into the mix from sesame oil.
Sour and spicy notes are evident from use of rice vinegar and sriracha – and they intermingle with the garden fresh heat that fresh ginger brings into the mix.
It's almost sweet and sour tofu – but not quite 🙂
Try it and let me know what you think!
Is this tofu stir fry recipe vegan?
While this recipe is vegetarian, it is not fully vegan because I used honey.
If you'd like to make this a fully vegan stir fry, no problem! Simply substitute granulated sugar in place of the honey.
Now, in my experience, honey tastes sweeter than sugar. Therefore, I'd probably use 2½ to 3 tablespoons of sugar to yield the same sweetness you get from 2 tablespoons of honey.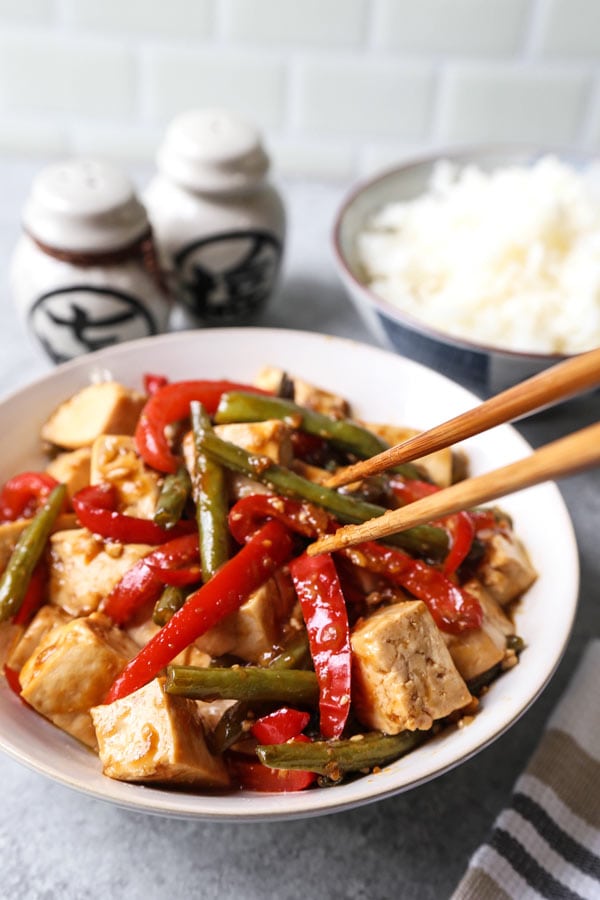 Is tofu healthy?
Tofu has no cholesterol and is known to actually lower LDL (that's the bad cholesterol).
It's also a magnificent source of protein, calcium and iron.
And, while all tofu is NOT created equal, there are a few things you can look for to ensure that the bean curd you cook with is good for you and your family.
Have a closer look at all things tofu related (how to choose and how to prepare tofu – along with health benefits) here.
How long does tofu last?
Packaged tofu will have a sell by date stamped on the packaging. I usually use that date as a general guideline for when to use by as well.
Once you've cooked this veggie and tofu stir fry, leftovers should keep in the fridge for 2-3 days.
So, will you try this Chinese-American tofu stir fry? Let me know what you think in the comments!
Other delicious and easy tofu recipes:
Plus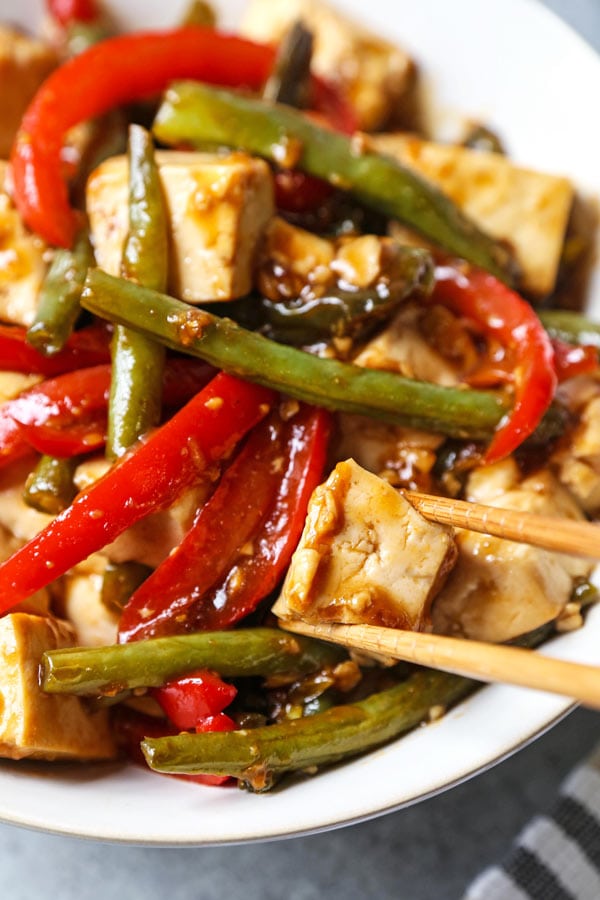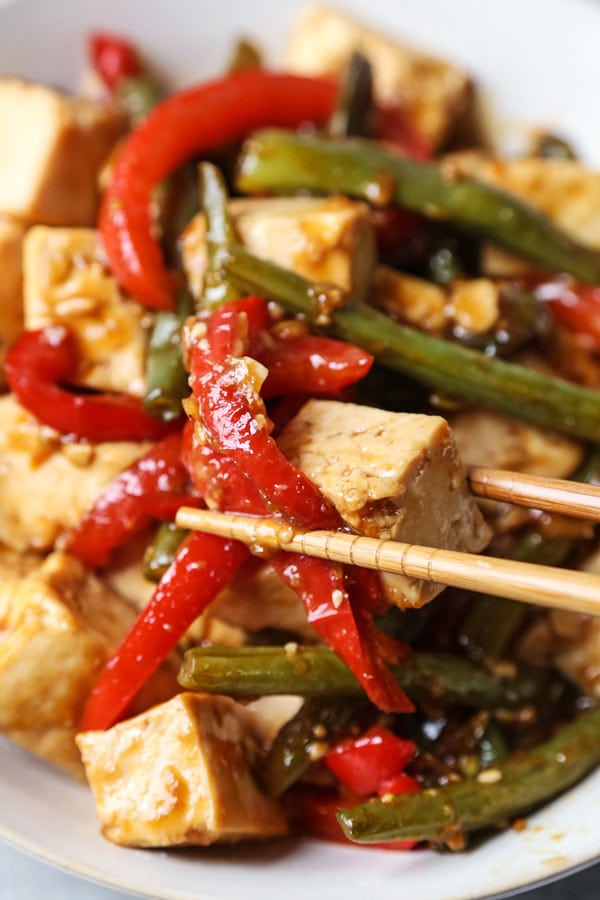 Did you like this Honey Ginger Tofu Stir Fry Recipe? Are there changes you made that you would like to share? Share your tips and recommendations in the comments section below!
Print
Honey Ginger Tofu Stir Fry
A sweet, savory and spicy Chinese-American tofu stir fry you'll have on the table in 17 minutes!
Author: Caroline Phelps
Prep Time:

10 minutes

Cook Time:

7 minutes

Total Time:

17 minutes

Yield: Serves

3

-4

1

x
Category:

Vegetarian

Method:

Stir Fried

Cuisine:

Chinese
Stir Fry Ingredients:
2 tablespoons

vegetable oil

2

garlic cloves, minced

1

thumb size ginger, peeled and minced

1 cup

green beans, ends trimmed, sliced in half

½

red bell pepper, cored, seeded and thinly sliced

1

block firm tofu

Cooked white rice for serving
Stir Fry Sauce:
2 tablespoons

raw organic honey

2

–

3

tablespoons soy sauce

2 tablespoon

rice vinegar

1 teaspoon

sriracha sauce

½ teaspoon

sesame oil

1 tablespoon

cornstarch mixed with ¼ cup cold water
Instructions
Wrap tofu in a kitchen towel and let sit for 10 minutes to drain.

Mix all the ingredients for the stir fry sauce and set aside.

Cut tofu into 1-inch cubes and set aside.

In a large pan over medium high heat, add oil, green beans and red bell peppers. Cook for 3-4 minute, or until vegetables are tender but still yielding a crunch.

Add garlic and ginger and cook for 2 minutes, until garlic becomes fragrant.

Add tofu and sauce and cook for 2-3 minutes, until tofu is warm and sauce has thickened.

Transfer to a bowl and serve.
Notes
Store leftovers of this honey ginger tofu stir fry in the fridge for up to 2-3 days.
Nutrition
Serving Size:
Calories:

183

Sugar:

11.1 g

Sodium:

286 mg

Fat:

8.5 g

Saturated Fat:

1.8 g

Carbohydrates:

17.4 g

Fiber:

2 g

Protein:

10.2 g

Cholesterol:

3.5 mg
Keywords: vegetarian, stir fry, tofu, vegetables, wok, honey, ginger
Recipe Card powered by