With the savory and peppery crunch of traditional fried chicken, this Baked Breaded Tofu Chicken Recipe is meat free. Whether you're looking for a hearty meat substitute, or just a delicious and easy to make tofu recipe, this crispy breaded tofu will definitely hit the spot!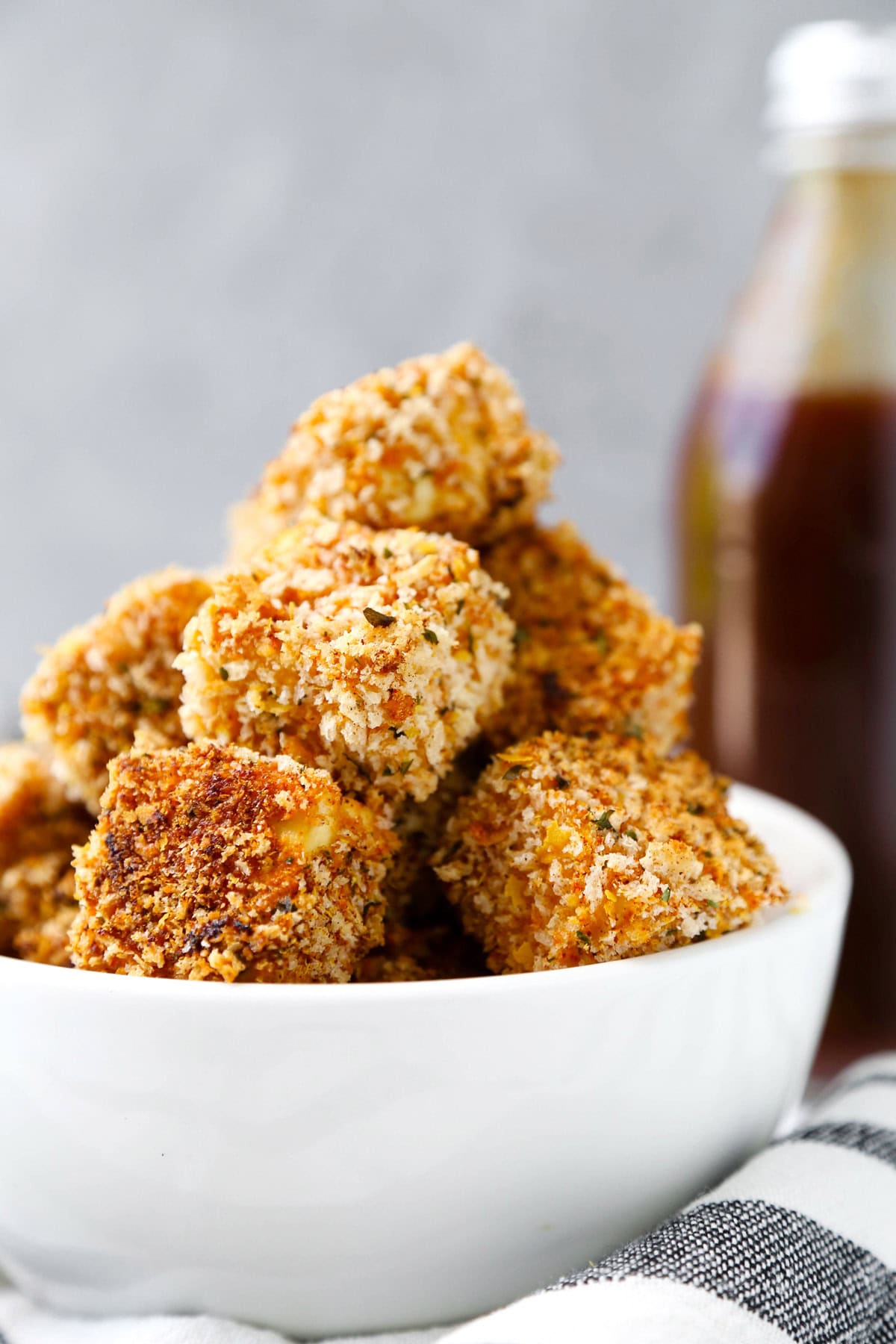 A Breaded and Baked Tofu Recipe
While this breaded tofu recipe has the indulgent flavors and texture you'd usually get from a deep fried tofu recipe, it is baked and is, therefore, lighter and healthier. But it doesn't necessarily taste that way. There is a serious meaty and savory indulgence in every bite of these breaded tofu nuggets!
It can be quite liberating to work with an ingredient that bends to the will of the chef's flavor whims. This is kind of a quick overview on a complex ingredient but hopefully a helpful one! 🙂
If you're looking for a super in-depth breakdown on tofu, along with how to cook most types of bean curd—and a TON of other recipes—check out my post 30 delicious protein rich tofu recipes.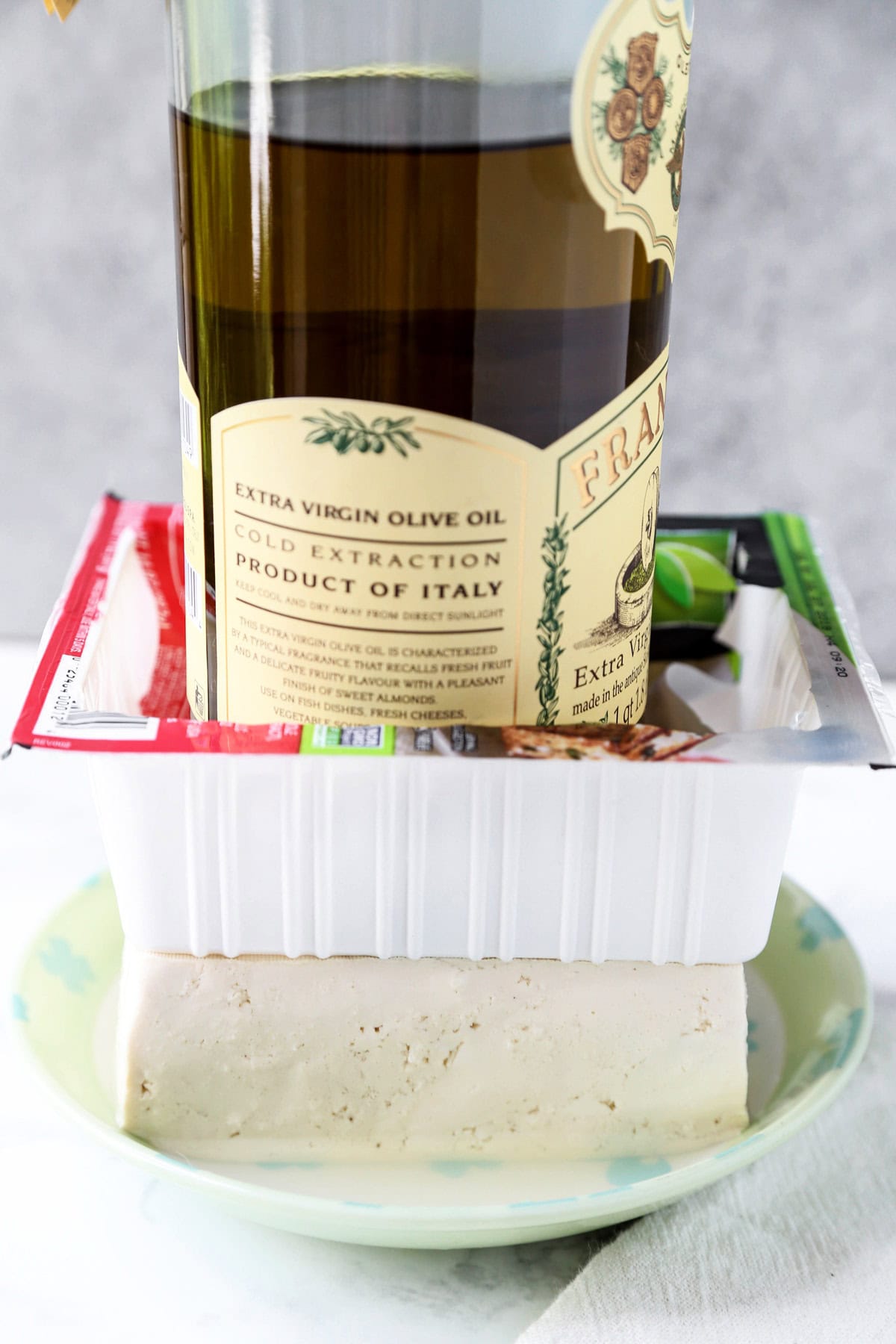 What is Tofu?
Tofu (bean curd) is derived from soybeans. It is made by curdling soy milk with a coagulant and then pressing the curds into soft yet solid white blocks. Tofu is commonly used in Asian dishes and shows up often in vegan and vegetarian cooking as a protein rich substitute for meat.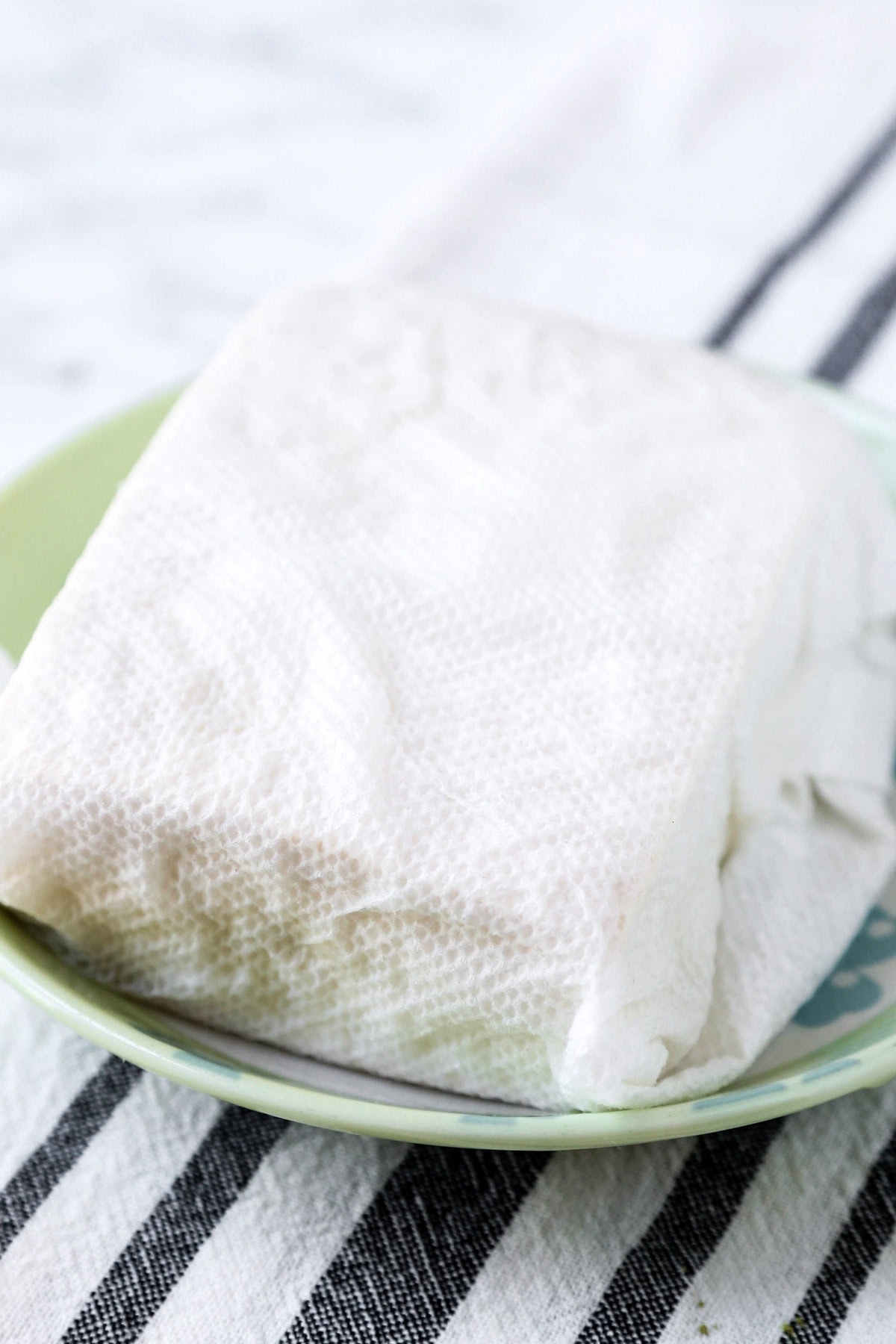 Breaded Tofu Chicken (Baked) Ingredients
Mayonnaise (or vegan mayo): Don't worry vegan eaters! We can make this vegan-friendly too. Using your choice of mayonnaise here is up to you. This will assist in making your panko breadcrumbs stick, giving it the best texture, and a bit of flavor while it's at it!
Maille dijon mustard: The dijon mustard in this instance helps bind together all of the ingredients while also adding to its flavor.
Panko bread crumbs: Panko breadcrumbs are Japanese-style breadcrumbs that are meant to give your tofu an even crispier and crunchier taste!
Nutritional yeast: We'll definitely get into this more later, but if you're not familiar with nutritional yeast, you'll be a fan after this recipe!
Paprika: If you don't already know, paprika is a spice that's made from dried, ground red peppers. This will give your tofus a little spicy and flavorful kick!
Garlic powder: Using garlic powder will help enhance the flavor giving it the garlic taste everyone loves!
Dry parsley: Dried parsley is a great flavor enhancer that helps your other ingredients shine.
Salt and black pepper: These two simple seasonings both go far in enhancing flavor.
Extra firm tofu: Tofu is the protein staple here that is low in calories and great at taking on whatever flavor you want it to! After ensuring as much excess water from your block of tofu has been pressed out, cut into smaller tofu pieces before coating them!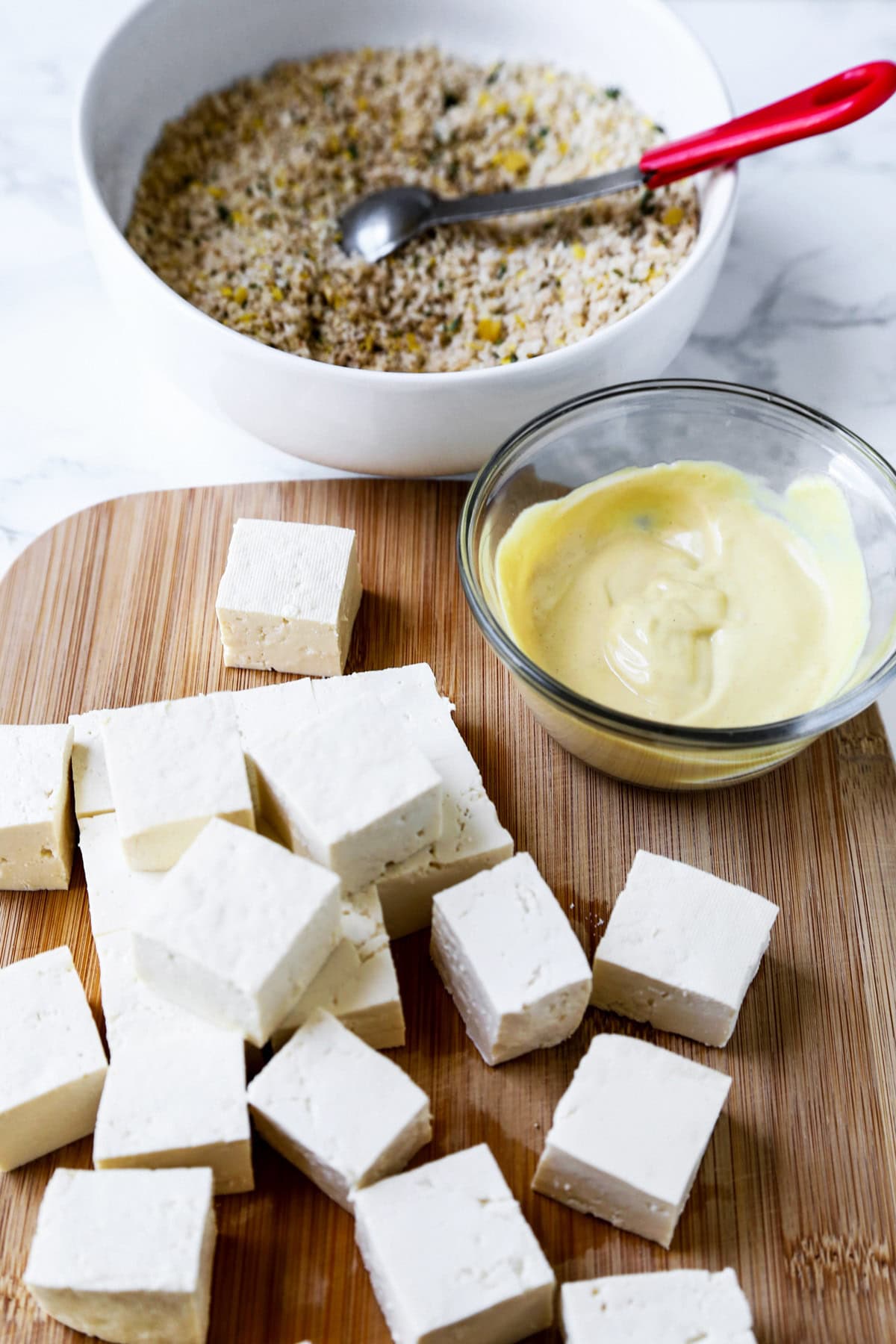 How to Make Breaded Tofu Chicken (Baked)
Gather all of your kitchen tools and ingredients.
Preheat your oven to 400ºF (200ºC) so it's ready to go by the time you've finished the rest of your food prep!
Place your tofu on a plate or in a bowl and top it with a heavy object to drain excess water. Leave it for 15 minutes this way.
Meanwhile, mix mayonnaise and dijon mustard in a bowl and set aside. This is going to help keep your breadcrumbs in place and add a bit of flavor too.
In a separate bowl, combine the breadcrumbs, nutritional yeast, paprika, garlic powder, dry parsley, salt and pepper—and mix!
Now drain the tofu and pat dry with a paper towel. Slice tofu into 1/2-inch cubes.
One by one, coat the tofu cubes in the mayo/dijon sauce and then coat it in the breadcrumb mixture on each side. Lightly press to make the breadcrumbs stick.
Place tofu cubes on a cooking tray covered with non-stick foil or parchment paper.
Then put it in the pre-heated oven for 30 minutes.
After 30 minutes, take them out of the oven and let them cool for 5 minutes before serving. Then, enjoy!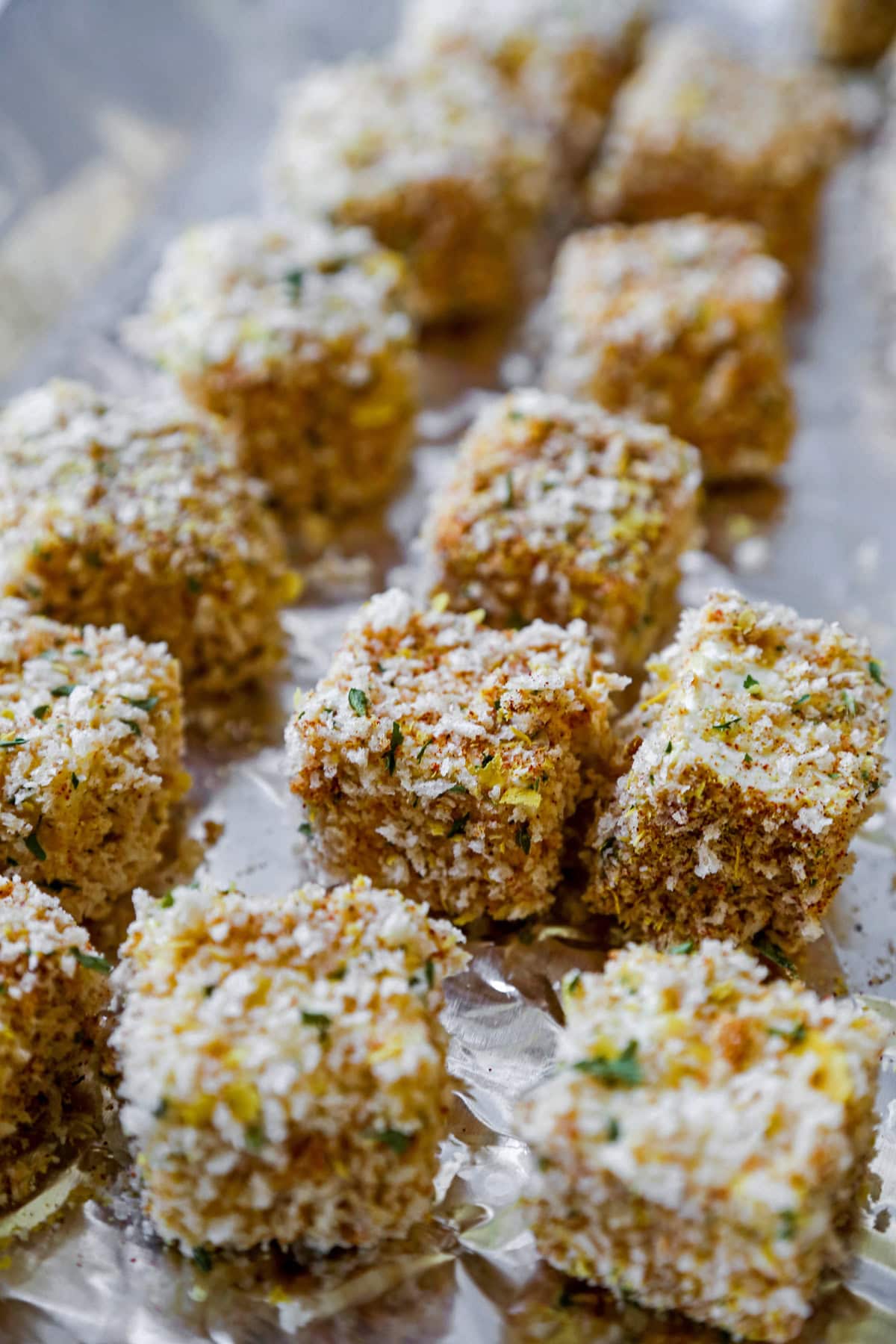 How to Cook Tofu
There are a ton of different ways to cook tofu. Seriously, it's wonderful pan-fried, deep-fried, grilled, or even boiled in a spicy broth when making Japanese hot pot. It's delicious smoked, stir-fried, or baked. The method you choose just depends on the result you're looking to achieve.
And, while deep-fried tofu tends to be one of the most indulgent tasting of these myriad preparations, it isn't always the healthiest. Now, I've baked tofu many times before, but I've never had it turn out quite as perfectly crispy as these breaded tofu cubes were. It's a pleasant surprise when a little old fashioned trial and error returns results you weren't quite expecting in the kitchen. Sometimes that's when you get the best results!
Heck—any recipe that returns crispy results without the terrifying need of precariously balancing a pot of boiling oil on a stove-top burner is a win in my book as well!
How to make crispy tofu without frying
When you don't feel like frying, baking tofu can return some crispy, crunchy results. And I've assembled an easy checklist.
If you're using firm or extra firm tofu, you're going to want to make sure the water it is packed with is properly extracted. Using a

tofu press

is a great way to rid your block of bean curd of excess moisture. Alternatively, you can top your tofu block with a plate and press under a couple heavy books. Some people just use paper towels but it can be really tough to get all the water out that way without using a lot. Too much excess liquid can be a sure fire way to not get the desired effect you wanted.

Use a breading like panko breadcrumbs to impart an unreal crunch.

Make sure that breading sticks! In the case of these breaded tofu chicken nuggets, I applied a creamy element on the outside, and then used it to adhere my panko breading. An egg wash would work in a pinch though.

When it comes to baking, make sure your tofu bits are evenly spaced on the sheet pan, and not bunched together.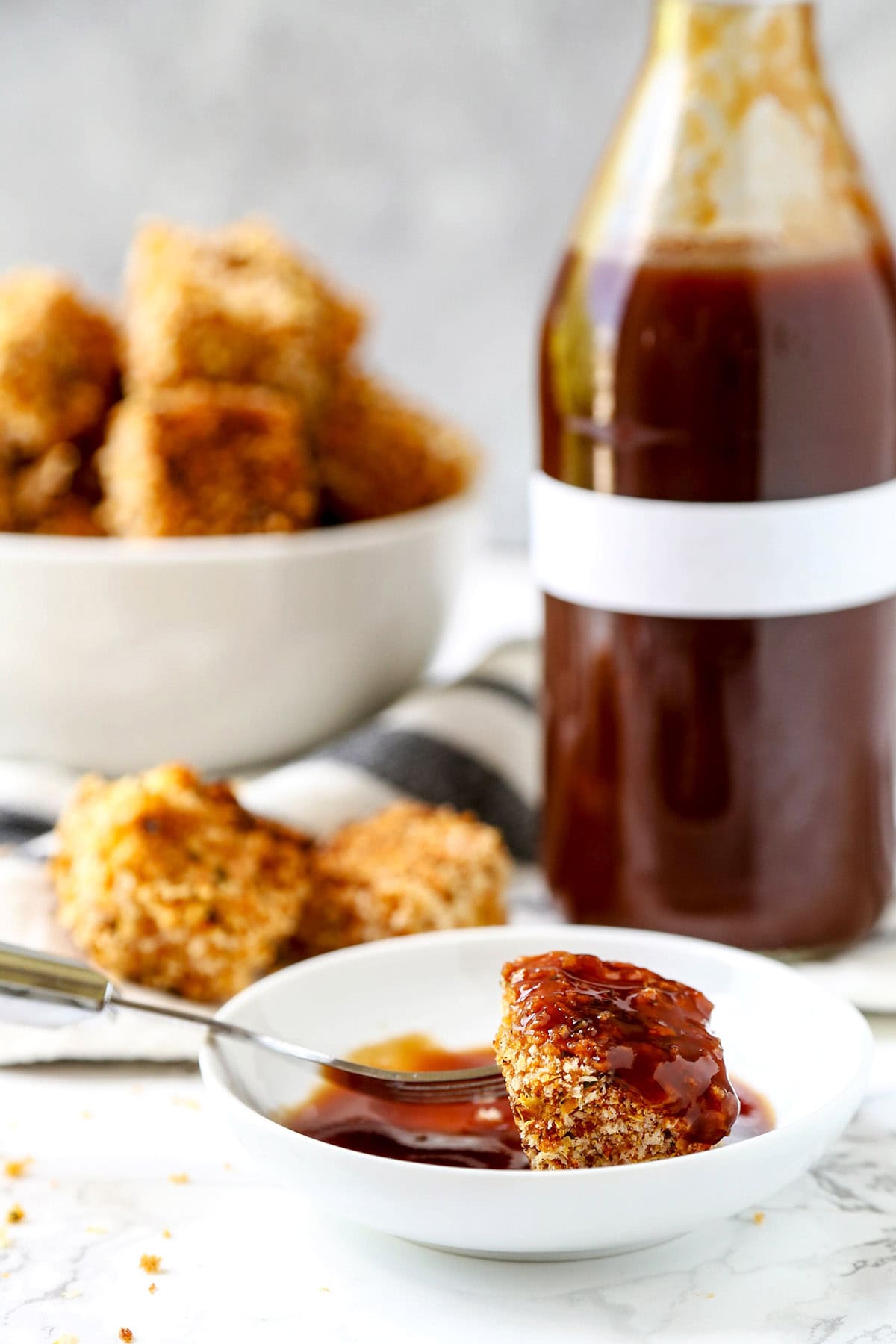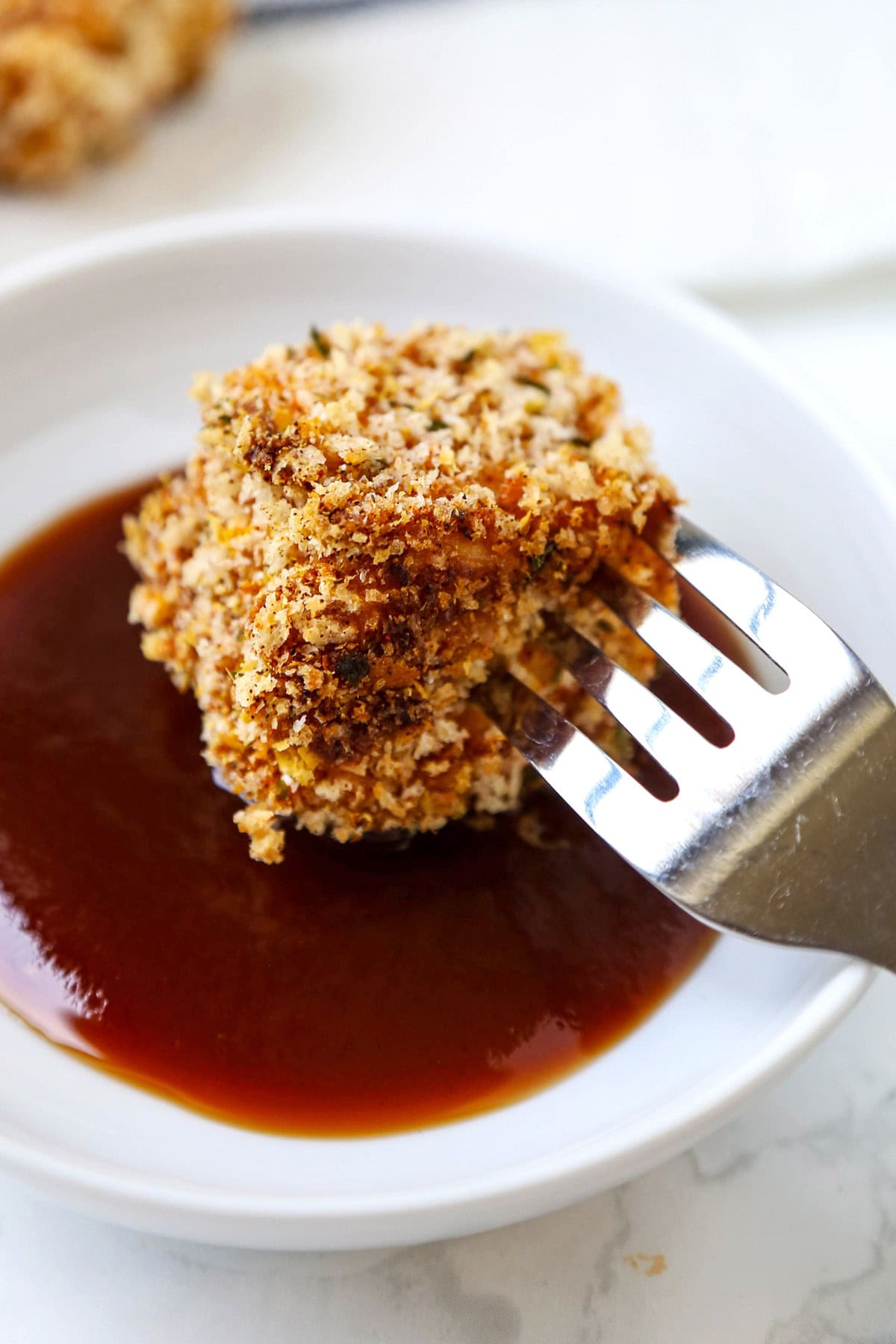 What is nutritional yeast?
Unfortunate name aside, nutritional yeast (sometimes called nooch) is a yellow powdered or flaked inactive yeast. There's a cheesy nuttiness to it that almost borders on umami. Seriously – Bon Appetit calls it nature's Cheeto dust.
Since it is a vegan food, it's an amazing substitute in recipes that call for cheese – or just happen to need an extra hit of savory goodness. And as the name suggests, it's loaded with tons of good stuff your body needs: B vitamins, zinc, folic acid, selenium and protein.
It also happens to be the secret flavor ingredient in this baked breaded tofu chicken recipe.
You see, along with the paprika, garlic, salt and pepper used in the breaded coating – nutritional yeast goes into the mix. And it helps round the flavor profile into something containing the soulful umami that meat sometimes has.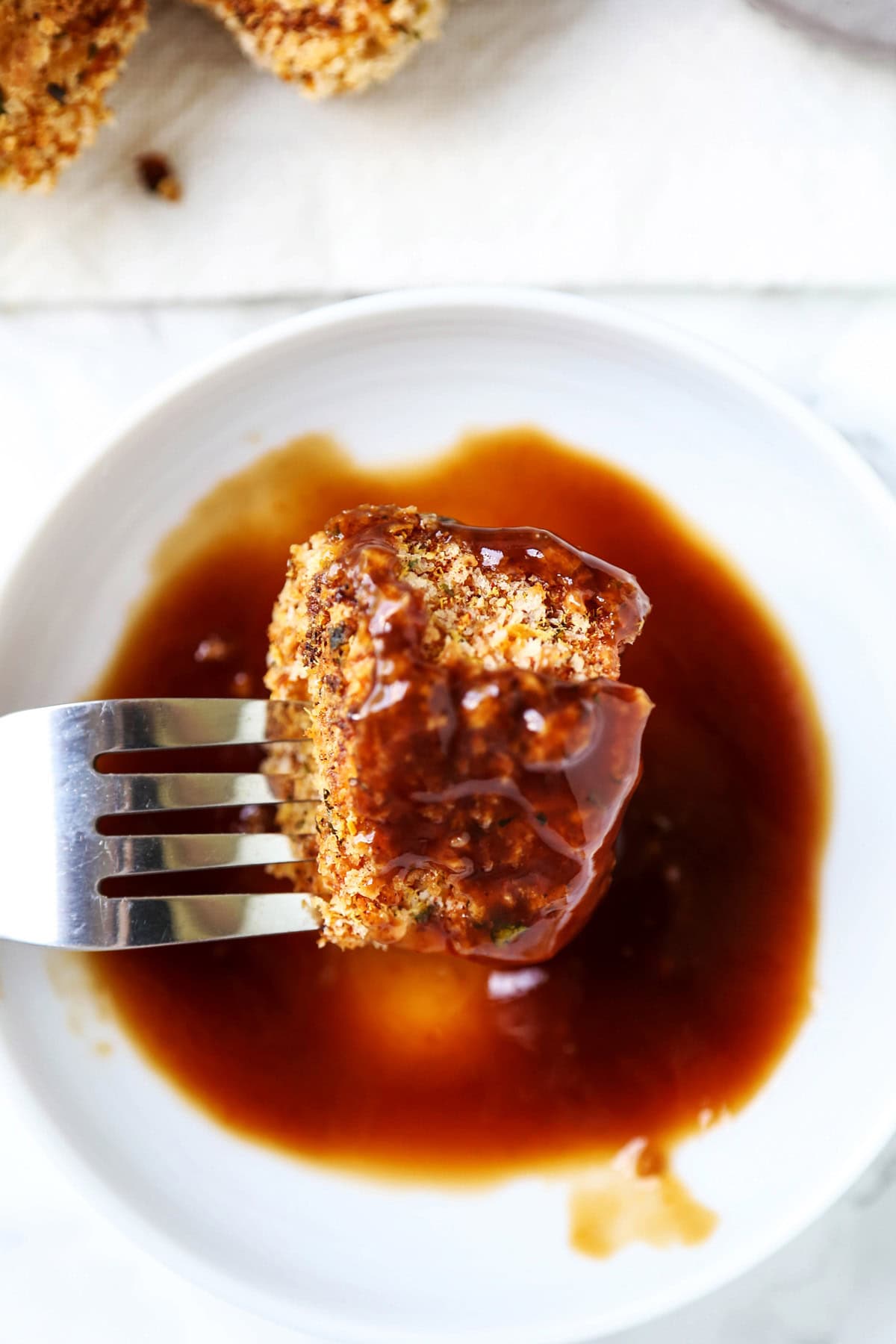 Are These Vegetarian Nuggets

?

Well… pretty much! Even though I'm adamant that this is a tofu recipe first and foremost, I will concede that there are some yummy flavor elements of fried chicken at play—and that's an awesome thing. Let's just call them crispy baked tofu nuggets!

Food is such a fun thing to experiment with and bend to your particular palate. The result is that these chicken baked tofu bites have become one of my favorite extra firm tofu recipes of all time!
Now, while these oven baked, breaded tofu bits don't have any meat at all, my first version wasn't quite a vegan chicken nuggets recipe (although my second go-round certainly was).

You see, I used real mayonnaise in my recipe the first time. Mixed with dijon mustard, the mayo is used as a binder for our breadcrumbs mixture.
As I mentioned though, a super easy solution to make this recipe completely vegan is to grab a vegan mayonnaise substitute and use that instead. I used vegan mayo the second time I made this recipe and it worked like a dream!

But, no matter which mayo you use, I just KNOW you'll be pleasantly surprised at how much flavor these little vegan nuggets pack. And at this point, you haven't even added your favorite dipping sauce! You may want to try it with bbq sauce, buffalo sauce, or even vegan ranch dressing… But I have a feeling you're going to like these as is. I imagine it will be your new, favorite finger food!

What's a dish you've made that has some of the flavors of a different iconic recipe? I'd love to hear about it in the comments!
Other simple, delicious vegetarian tofu recipes: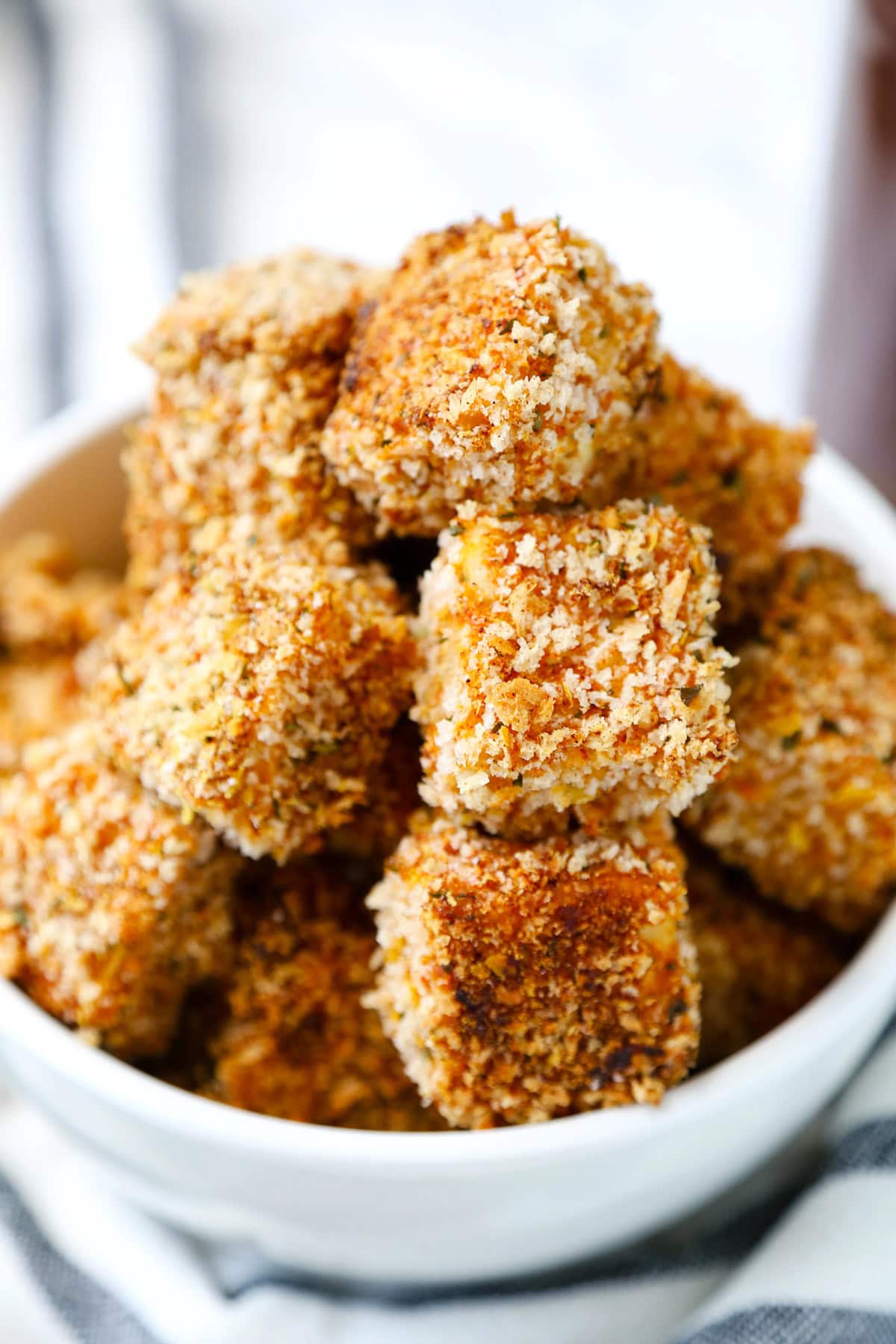 Did you like this Breaded Tofu Chicken Recipe? Are there changes you made that you would like to share? Share your tips and recommendations in the comments section below!
Print
Baked Breaded Tofu Chicken
Crispy oven baked tofu cubes with Italian flavors.
Author: Caroline Phelps
Prep Time:

15 minutes

Cook Time:

30 minutes

Total Time:

45 minutes

Yield:

4

1

x
Category:

Vegan

Method:

Baking

Cuisine:

American
3 tablespoons

mayonnaise (or vegan mayonnaise such as vegenaise)

3 tablespoons

Maille dijon mustard (I prefer this

one

because it's smooth and mild in taste)

1

cup

panko breadcrumbs

2 1/2 tablespoons

nutritional yeast

1 teaspoon

paprika

1 teaspoon

garlic powder

1 teaspoon

dry parsley

1 1/2 teaspoons

salt

1/2 teaspoon

pepper

14

ounces

extra firm tofu
Instructions
Preheat the oven to 400ºF (200ºC).
Place tofu on a plate or a in a bowl and top with a heavy object to drain the excess water. Leave for 15 minutes.
Meanwhile, mix mayonnaise and dijon mustard in a bowl and set aside.
In a separate bowl, combine breadcrumbs, nutritional yeast, paprika, garlic powder, dry parsley, salt and pepper.
Drain the tofu and pat dry with a paper towel. Slice tofu into 1/2-inch cubes.
One by one, coat the tofu cubes in the mayo/dijon sauce and then coat in the breadcrumb mixture. Lightly press to make the breadcrumbs stick.
Place tofu cubes on a cooking tray covered with non-stick foil or parchment paper.
Bake in the oven for 30 minutes.
Let cool for 5 minutes and serve.
Nutrition
Serving Size:

1 serving

Calories:

179

Sugar:

2.1g

Sodium:

562.9mg

Fat:

7g

Saturated Fat:

1g

Unsaturated Fat:

3.6g

Trans Fat:

0g

Carbohydrates:

18g

Fiber:

2.6g

Protein:

10.9g

Cholesterol:

1.8mg
Keywords: recipe, vegan, plant based, meatless, vegetarian, bean curd
Recipe Card powered by