This tofu cutlet is the crunchiest! And it's the best of both worlds. Get the texture and flavors you love from panko breaded Japanese tonkatsu – but keep it on the healthier side with this easy vegetarian tofu katsu (cutlet). Drizzle with tonkatsu sauce (I've got a recipe for that as well!), or serve in katsu curry. Plus I'll show you a simple, foolproof method for draining excess water from your tofu so it doesn't splatter when you fry it. You're gonna love this one!
Get ready for the crunch!
What is Katsu
Katsu is the Japanese word for cutlet. It most commonly refers to a panko breaded and fried pork cutlet (tonkatsu) – or a fried chicken cutlet (torikatsu).
In Japan, fried katsu is commonly served with shredded cabbage and tonkatsu sauce – or as a meaty component on a plate of Japanese curry rice (katsu karē).
What is Tofu Katsu
While the preparation is the same as traditional Japanese fried cutlets, tofu katsu simply means that extra firm bean curd is used as the protein instead of meat.
The flavor, crunchy texture – and the undeniable similarities to traditional katsu – will surprise you in the best way!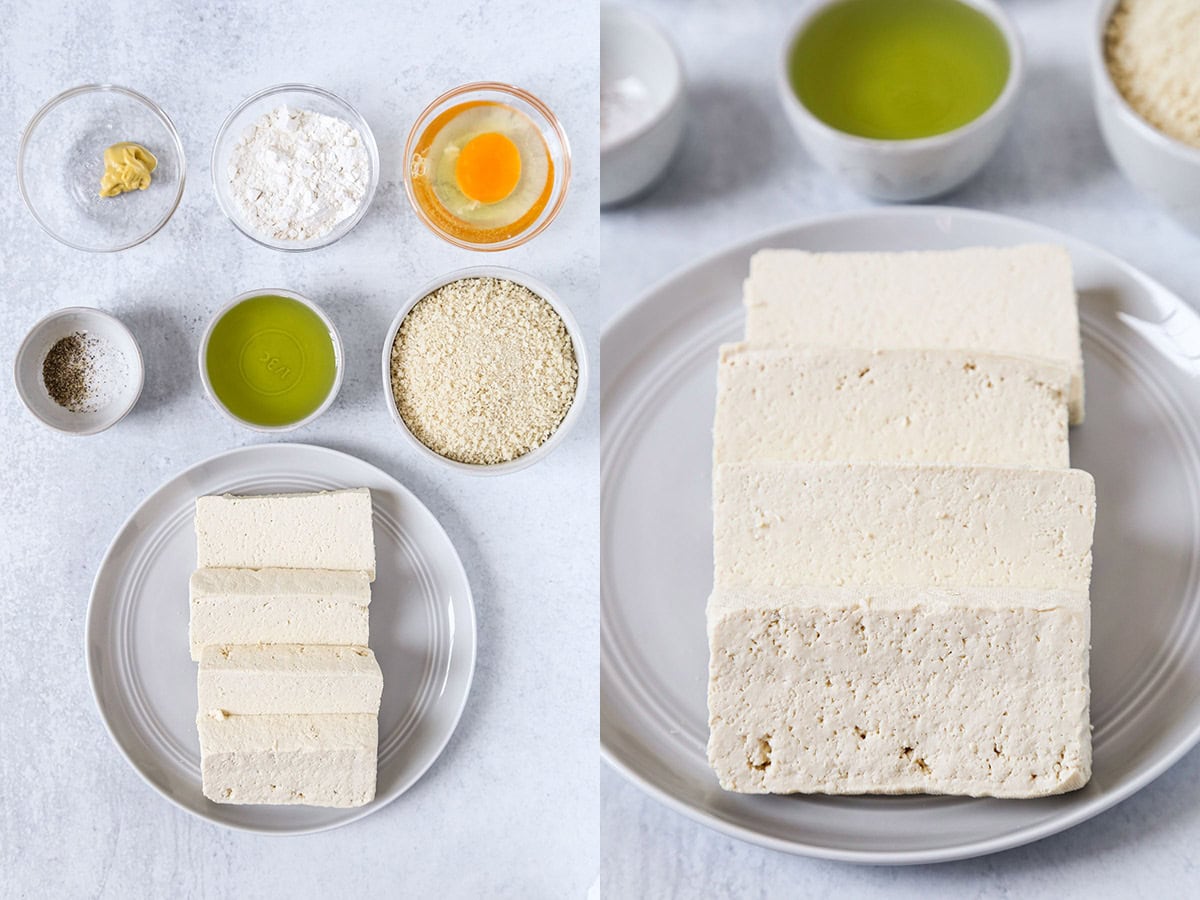 Tofu Katsu Ingredients
Extra-Firm Tofu: Silken, soft or medium tofu will be too soft for katsu tofu. It needs to be extra-firm so that it holds up to being handled – and is substantive enough to mimic a meaty texture. Be sure to check the recipe steps for details on how to properly drain water from firm bean curd.
All-Purpose Flour: Much like a pork or chicken katsu, you'll dredge the tofu cutlets in flour before the eggwash.
Salt and Pepper: These common household spices are mixed in with the flour to impart a bit of flavor. Use 1/2 tsp kosher salt if you have it handy.
Egg: This is your binding agent for the cutlets. Beat one large egg. If you are making a vegan tofu katsu, sub out the egg for a flaxseed egg (1 tablespoon ground flaxseed mixed with 2 1/2 tbsp water. Let sit for 5 mins total time before using).
Dijon Mustard: This sharp and spicy mustard is perfect for a bit of added tang. Whisk 1 teaspoon in with your egg just before breading the cutlets.
Panko Breadcrumbs: Food fried with these Japanese breadcrumbs stays crunchy longer. We'll talk more about panko in just a sec.
Cooking Oil: Use a neutral oil for this katsu tofu. Vegetable oil or grapeseed oil will do nicely.
Tonkatsu Sauce: This iconic sauce gets a savory, tangy and sweet flavor profile from soy sauce, Worcestershire sauce and ketchup. It's optional – but it's so delicious. Make your own at home with 4 ingredients (check the video here)!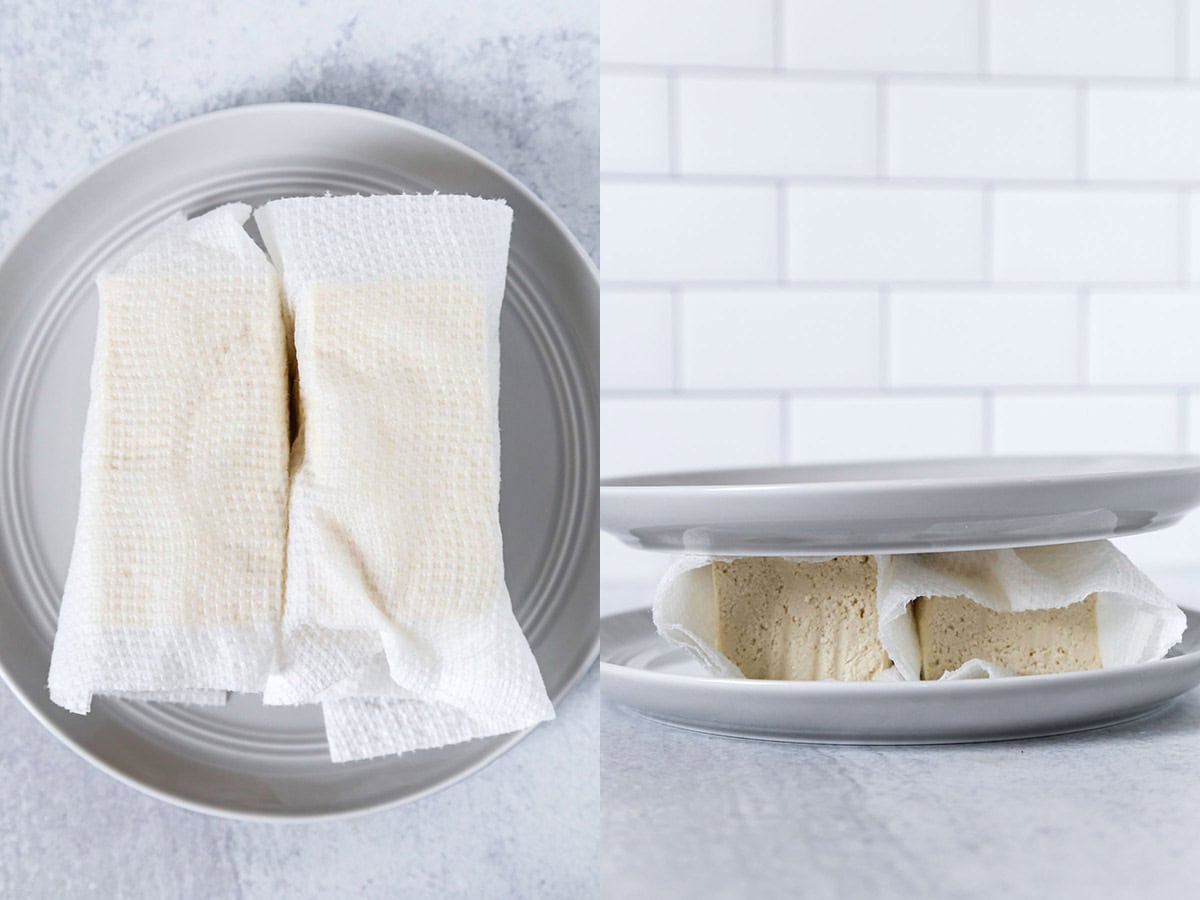 What is Panko
Panko is the Japanese word for breadcrumbs made from Japanese milk bread (shokupan). The bread is flaked into large dried bits that don't pack together as closely as finer breadcrumbs.
Using panko breadcrumbs results in fried foods that have a light, crispy, airy crunch. And food fried with panko tends to retain the crunch for much longer without getting soggy.
You can make your own panko breadcrumbs at home with this recipe. If you make your own, be sure to store them in an airtight container. Alternatively, it's fairly easy to find panko at most grocery stores these days – or you can grab panko on Amazon.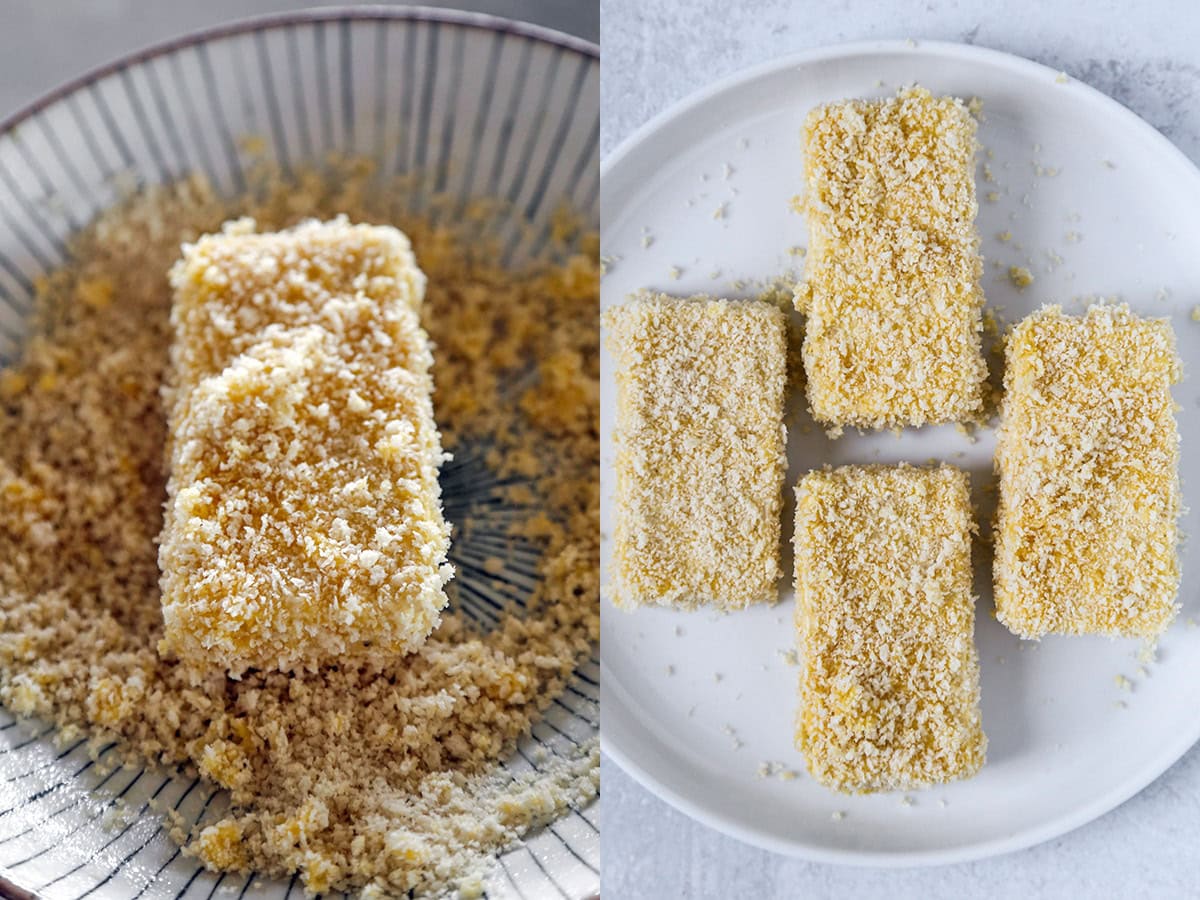 How to Make Tofu Katsu
Prep the Tofu: Wrap the tofu block in paper towels and place on a plate to drain. Place another plate (or a heavy book) on top of the tofu to add weight. Leave for 30 minutes. This brings out excess moisture. After 30 minutes, unwrap the tofu and slice in half, lengthwise. Then slice each half widthwise (this will leave you with 4 equally portioned pieces). Wrap each piece with a paper towel and leave for another 5 mins.
Portion the Breading and Egg Wash: Place your flour in a shallow bowl (one big enough to accomodate the tofu cutlets), stir in the salt and pepper, then set aside. In a separate bowl, whisk the egg (or vegan flaxseed egg) along with the mustard. Set that dish next to the flour. Place the panko breadcrumbs in a third bowl and set it next to the egg mixture.
Heat the Oil: In a deep large skillet over medium-high heat, add the cooking oil.
Coat the Tofu: While your oil is heating up, grab a tofu steak and dip it in the bowl with the flour. Make sure all sides are evenly covered. Next, dip the same tofu cutlet into the egg mixture – and finish by coating it in the panko breadcrumbs. Repeat those steps with the remaining tofu cutlets.
Pan Fry the Tofu Katsu: Once the oil is hot (about 350°F), add the breaded tofu gently to the pan. Fry on each side for 2 to 3 minutes until golden brown. Do this for all sides (including the edges). Turn the heat off and allow to drain on a plate covered in paper towels – or a wire rack.
Slice and Serve: Finally, slice the tofu cutlets into thick strips. Serve with tonkatsu sauce, grain mustard – or atop Japanese curry rice.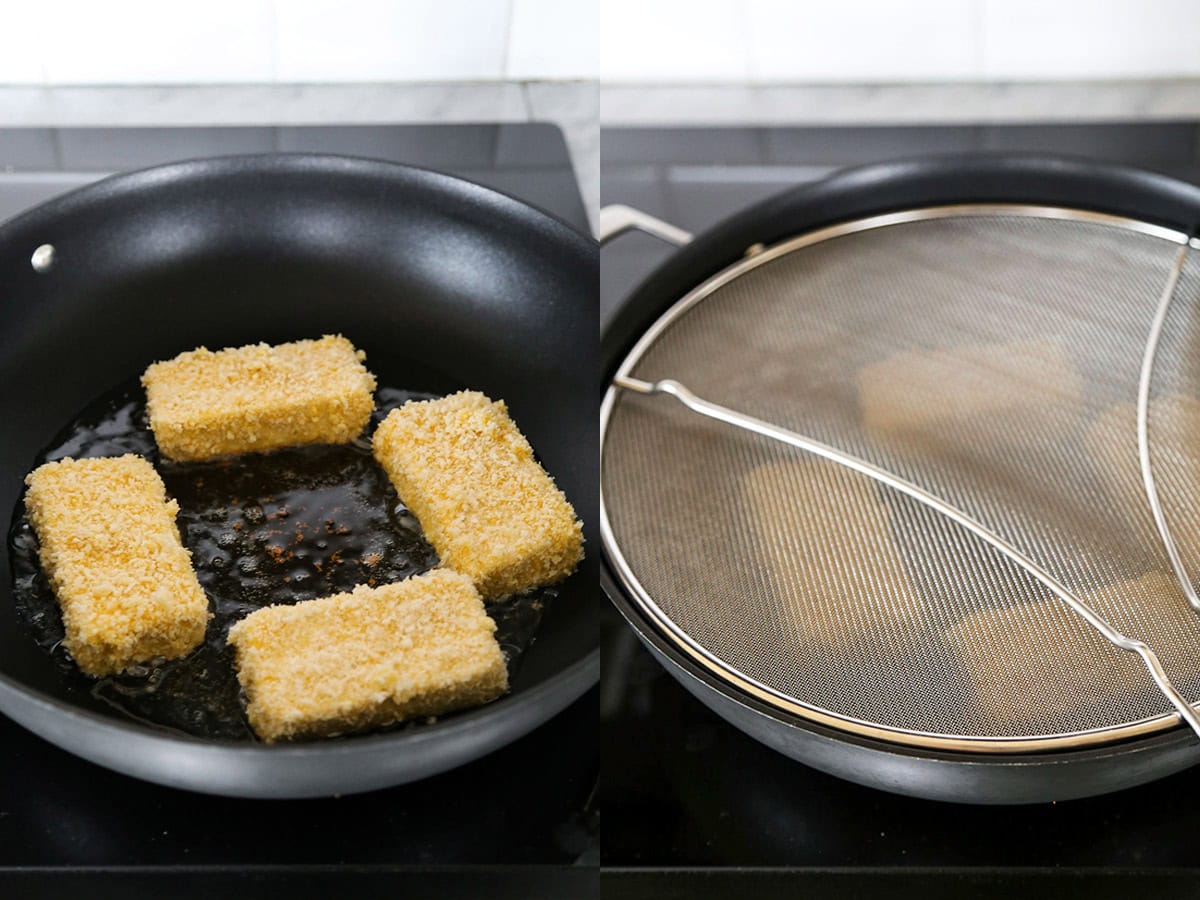 What to Serve With Japanese Tofu Cutlets
A common way to serve any form of Japanese katsu is with tonkatsu sauce – alongside a mountain of shredded cabbage and a bowl of perfectly steamed Japanese rice. Here are a few more ideas for perfect Japanese sides to make it a full meal:
And Check Out These Other Delicious and Easy Japanese Recipe Roundups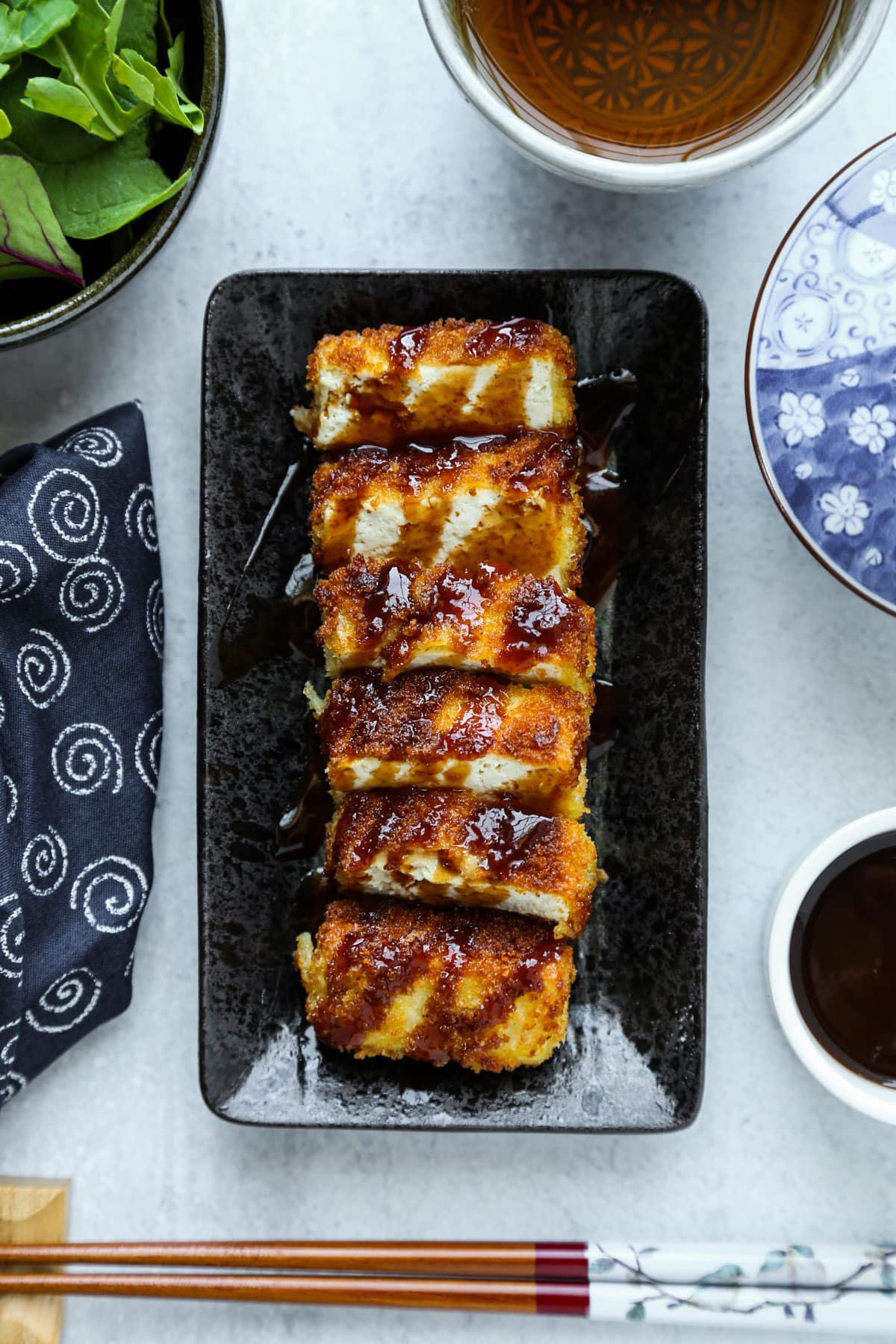 Why This Recipe Works
It's so crispy and filling. The tofu cutlets really mimic a proper pork (tonkatsu) or chicken cutlet – with a mammoth amount of crunch.
It's versatile. Serve this tofu katsu however you'd like. Whether you you make your own homemade tonkatsu sauce, or you buy Bulldog brand sauce – or you gravitate to sweet chili sauce or ketchup and mustard. Or as a crispy protein topper for salads. It just plain works. And obviously tofu katsu curry is a delicious plug and play option.
It's easy. Frying pans full of bubbling oil tend to give me a ton of anxiety. Splash burns are the worst. But for some reason, this recipe presents very little of the typical danger. That's probably because we drain the excess water from the tofu block before breading it.
How to Store Leftover Japanese Katsu Cutlets
Since these tofu katsu cutlets taste best when crispy, you'll enjoy them the most fresh out of the frying pan.
That said, if you do have leftovers, you can store them inside an airtight food storage container in the refrigerator for up to 2 days max.
Reheat them by placing the tofu katsu in a hot pan on the stovetop until heated through – or bake leftovers in the oven or air fryer at 350°F for about 10-15 minutes, until heated through.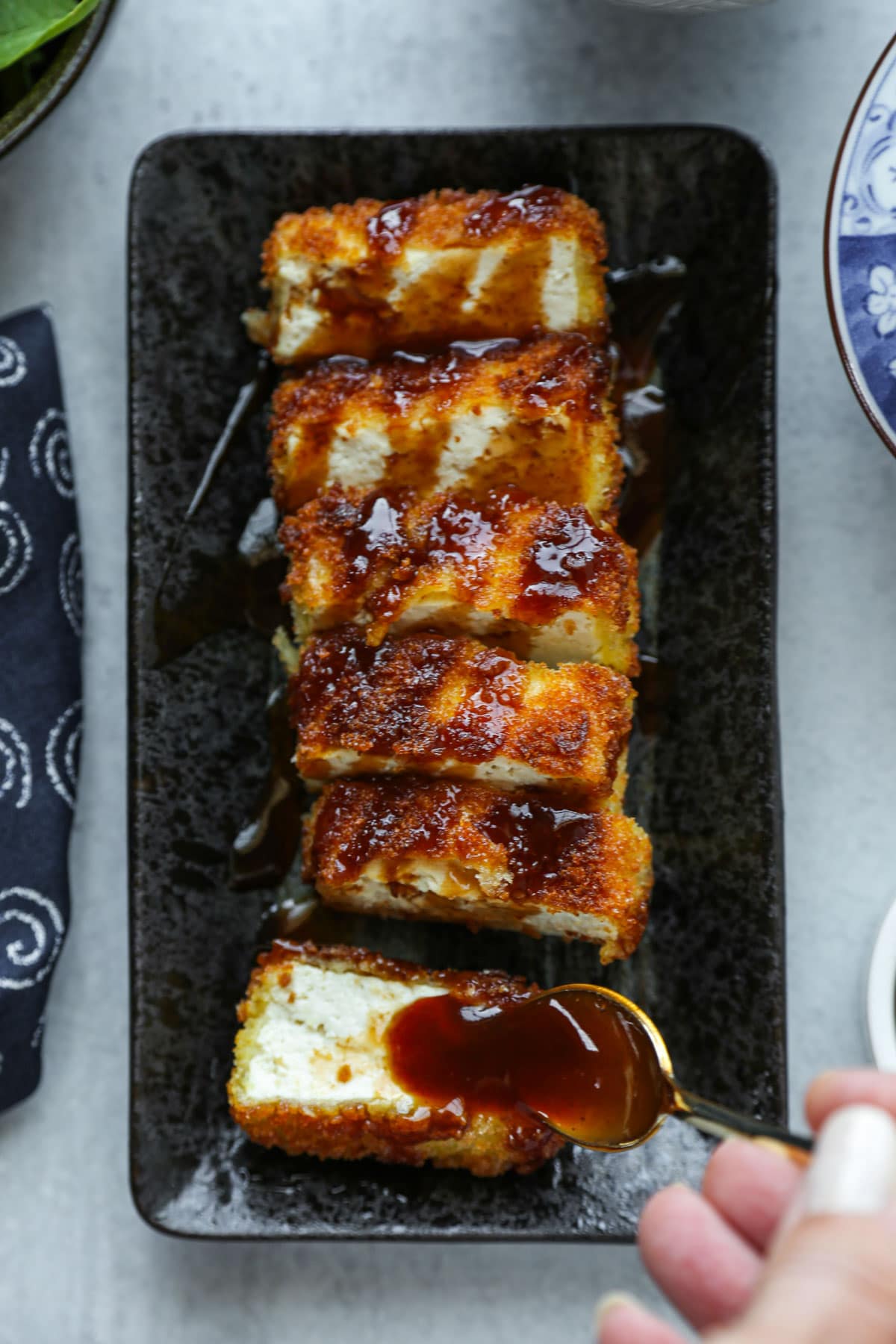 Did you like this easy Japanese crispy tofu katsu recipe? Are there changes you made in the kitchen that you would like to share? Share your tips and recommendations in the comments section below!
Print
Easy Tofu Katsu
Author: Caroline Phelps
Prep Time:

45 minutes

Cook Time:

6 minutes

Total Time:

51 minutes

Yield:

4

tofu steaks

1

x
Category:

Main

Method:

Pan frying

Cuisine:

Japanese

Diet:

Vegetarian
1

block (14 or

16 oz

) extra firm tofu, drained

1/4

cup

all purpose flour

1/2 teaspoon

salt

1/4 teaspoon

ground black pepper

1

large egg, or for vegans, use 1 flaxseed egg (

1 tablespoon

ground flaxseed mixed with

2 1/2 tablespoons

water. Let sit for 5 minutes before using)

1 teaspoon

dijon mustard

1

cup

breadcrumbs

1/3

cup

vegetable or grapeseed oil
Tonkatsu sauce, for serving
Instructions
Wrap the tofu in paper towel and place it on a plate. Put another plate on top of the tofu to add weight. If the plate is light you can add something to it so it's heavy enough to bring out excess water from the block of tofu. Leave for 30 minutes.
Unwrap the tofu and slice it in half, lengthwise. Then slice each half widthwise. You should have four equal tofu steaks at this point. Wrap each piece with a paper towel and leave for 5 minutes.
Meanwhile, add the flour to a shallow bowl big enough to dip the tofu steaks, and add the salt and pepper. Stir and set on the kitchen counter.
Whisk the egg in a separate shallow bowl along with the mustard. Set the bowl next to the flour.
Put the breadcrumbs in another shallow bowl and set it next to the bowl with the egg mixture.
In a large deep skillet over medium high heat, add the oil.
While the oil is heating up, grab a tofu steak and dip it in the flour. Make sure all sides are covered.
Next, dip the same tofu steak into the egg mixture and finish by dipping it into the breadcrumbs. Repeat the same steps for the remaining 3 tofu steaks.
When the oil is hot (about 350ºF), gently add the tofu steaks. An easy way to tell if the oil is hot enough is by dropping a few breadcrumbs. If they sizzle it means the oil is ready.
Fry on each side for 2 to 3 minutes, until they are golden brown. Do the same for all the sides. Turn the heat off and transfer the tofu katsu steaks to a plate covered with paper towel or a wire rack.
Slice the tofu steaks into thick strips and serve with tonkatsu sauce and/or grain mustard.
Notes
Tofu katsu is best when served immediately because of its very crispy texture.
But if you have leftovers or would like to eat them later, store in the fridge in an airtight storage container. They should last for up to 2 days.
Nutrition
Serving Size:

1 tofu steak

Calories:

325

Sugar:

2.2g

Sodium:

543.3mg

Fat:

15.4g

Saturated Fat:

7.1g

Unsaturated Fat:

4.5g

Trans Fat:

0g

Carbohydrates:

28.5g

Fiber:

2.9g

Protein:

17.5g

Cholesterol:

46.5mg
Keywords: vegan katsu, crispy tofu
Recipe Card powered by