11 Easy Ramen Noodle Recipes
*This post may contain affiliate links. Read my disclaimer here.
Whether you're a ramen purist, or love bowl noodles from the bodega, these 11 Easy Ramen Noodle Recipes are sure to hit the spot! Umami, soupy goodness!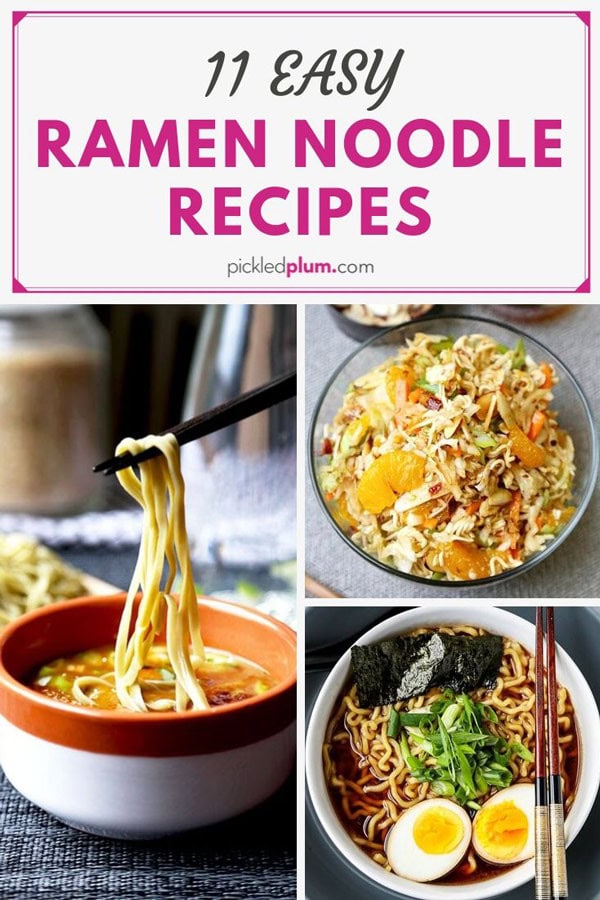 I love ramen! A lot. There's absolutely no shame in my game. From a late night cup noodle snack, to queuing up for an hour to get into Ichiran for impossibly luxurious Tonkotsu ramen in Fukuoka (where tonkotsu, or pork broth, originates from), I'm a ramen soldier!
And while my obsession with all things related to slurping noodles from a bowl of super-umami broth borders on obsessive, I'm not alone.
People everywhere are consumed with trying out the newest ramen shop, or hunkering down and making their own ramen noodle recipes at home.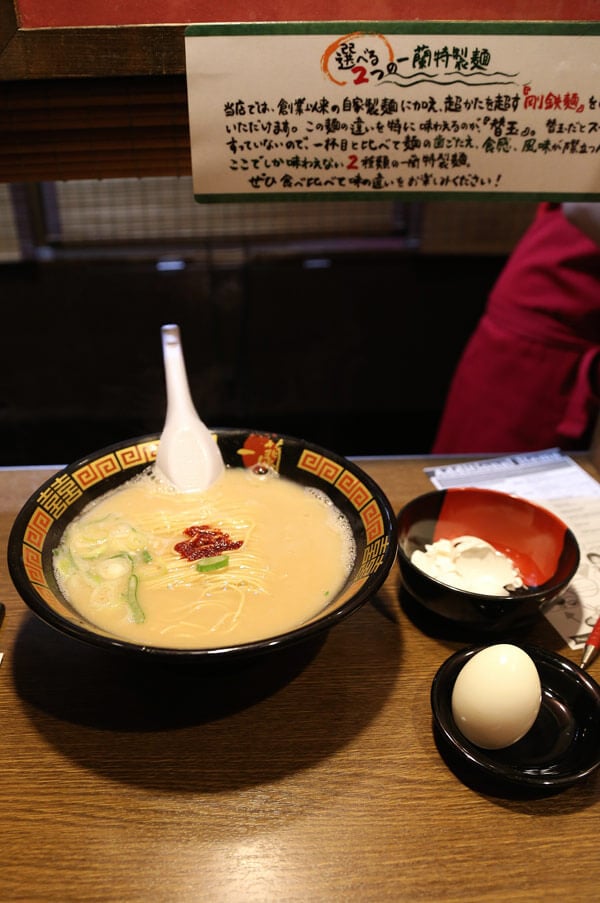 Let's get this out there: not all ramen noodle recipes are created equal. There's a big difference between the almost religious-experience you might have eating a bowl of shoyu ramen at a small shop in Tokyo where every element of the generations-old recipe has been perfected – and a quick bowl of instant noodles from the bodega. In fact, one might argue those disparate experiences are games played in different leagues altogether. However, even decent ramen is a pretty awesome thing in my book!
There's just something so satisfying about noodles in savory soup!
If you have the drive and time, it's totally possible to make a delicious tonkotsu broth from scratch. On the other end of the spectrum, you can roll with a packet of instant (plus, there are easy tips and tricks to making a pack of store bought noodles even better). There's really no wrong way with ramen as long as you're enjoying it!
Easy Ramen Noodles you Can Make at Home
These 11 easy ramen noodle recipes are meant to be simple enough to execute in your home kitchen, while keeping the flavor quotient sky-high. I'd love to hear from you about your ramen experiences. Leave me a comment and let me know how these easy ramen noodle recipes turned out for you!
1. Shoyu Ramen

There is so much depth of flavor in this simple shoyu based ramen that you won't be able to stop drinking it! Grab the perfect amount of noodles and scallions along with a scoop of this nutty and savory broth and you will be traveling to Tokyo in no time, I promise! GET THE RECIPE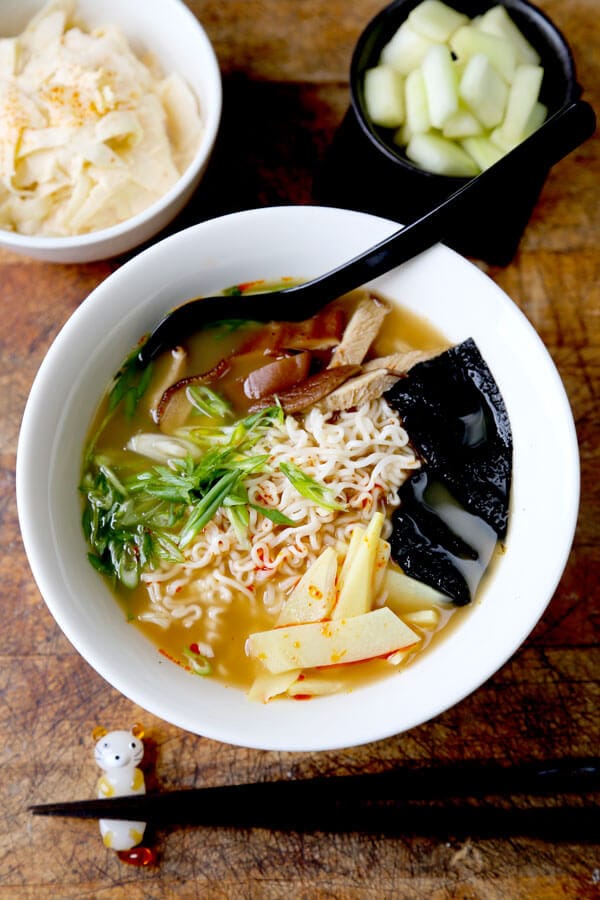 Umami, earthy and salty flavors? Check. This is my go-to chicken ramen noodle recipe when I'm looking to whip up ramen at home and don't have a ton of time. Dried shiitake mushrooms are the key to giving the chicken broth some major-league oomph.
While you'll get a more developed bowl of broth with the chicken paitan at Totto Ramen for example, this is a simple make-at-home dish that hits all of my flavor requirements! Use fresh noodles – or packaged noodles: your choice! GET THE RECIPE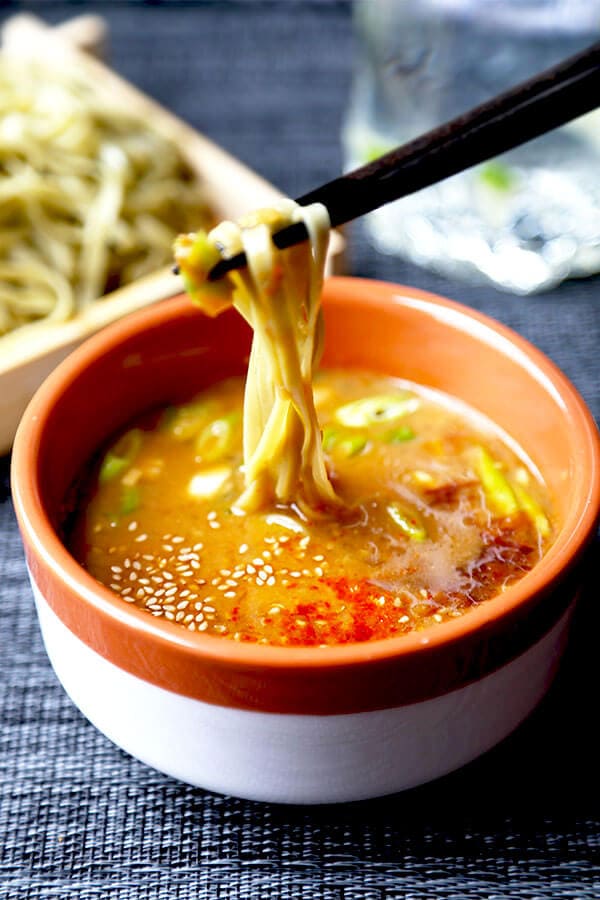 Tsukemen are Japanese dipping noodles. The idea is that you quickly dip your noodles into a bowl of aggressively flavored, highly concentrated broth, and then slurp. The delicious broth is brought to your taste-buds by the noodles.
This simple ramen recipe has taken on a bit of a mythical personality of its own for us. You see, every time Ben and I go to Tokyo, we make a point of hitting up the same tsukemen shop just outside the Asagaya train station where my brother lives.
We are convinced it is the cure for jetlag! No matter it's effectiveness (or lack thereof) of beating the effects of time zone depletion, it's a tasty treat. Oh – and you can make this easy tsukemen recipe at home in about 20 minutes. Slurp! GET THE RECIPE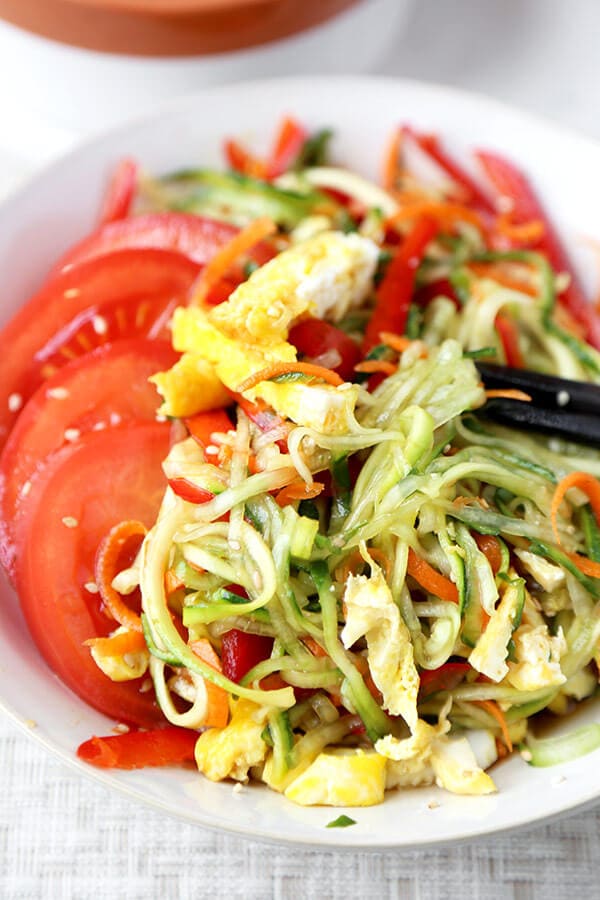 Ever see cold ramen on the menu at a ramen shop during the summer? It was probably hiyashi chuka. What a perfect way to beat the summer heat and still get your noodle fix. This is a veggie loaded, refreshing recipe-hack on the classic Japanese hiyashi chuka.
I used spiralized veggies in place of the noodles. The cold, vinegar-loaded, yet savory broth really packs a punch! This is the perfect ramen recipe if you're looking for something light and refreshing. And, if you prefer to go more traditional, just substitute the spiralized vegetables for actual noodles. How's that for versatility?! GET THE RECIPE
While my heart may constantly yearn for tonkotsu ramen, I just go to Ippudo when I get that itch. When I'm in a rush and preparing ramen at home, this earthy miso ramen recipe gets the nod!
You can either use red miso or awase miso (which is a slightly sweeter mixture of white and red miso) for the broth.
This is another recipe that will be great with everything from fresh noodles to packaged noodles. I used stir fried cabbage and carrots to give this super-simple ramen recipe some texture and crunch. However, feel free to mix it up and use the veggies you prefer in your at-home miso ramen creation.  GET THE RECIPE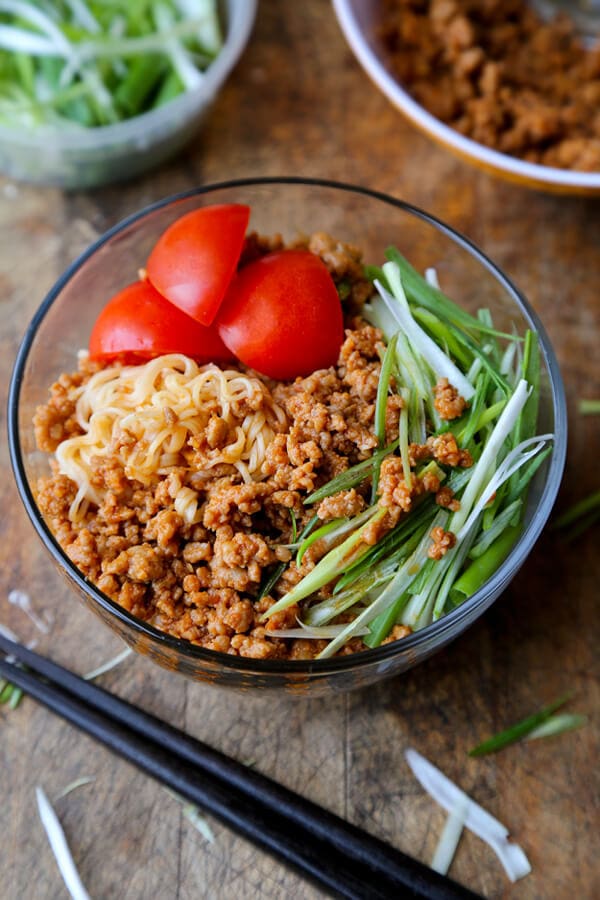 If hiyashi chuka is the perfect summery cold ramen, then this ja ja men recipe switches-up seasons and is ideal for fall.
Usually served at room temperature with savory ground pork, scallions and plenty of sesame oil, this is Ben's favorite non-soup noodle dish. Korean ssamjang and gochujang play an integral role in giving this slurptastic recipe some heat. Ja ja men is taken from the Chinese word zhajiangmian, which literally means fried sauce noodles.
If that's all a bit much to remember, just think: spicy pork ramen – minus the soup! GET THE RECIPE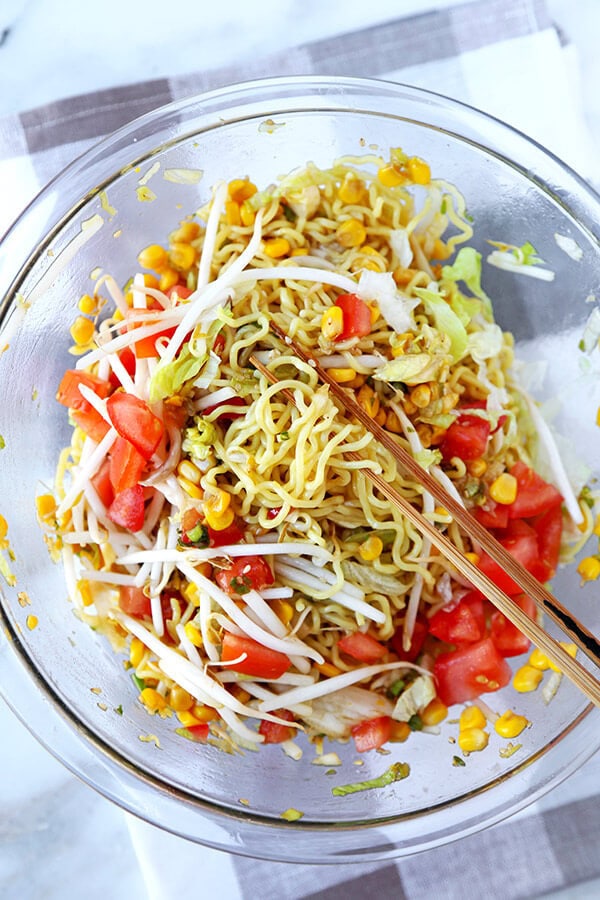 This is a chilled and bright ramen noodle salad that tastes similar to hiyashi ramen. The dressing is a mixture of soy sauce, rice vinegar, honey and sesame oil that brings the perfect balance of sweet and puckery tartness that only Japanese food can deliver. GET THE RECIPE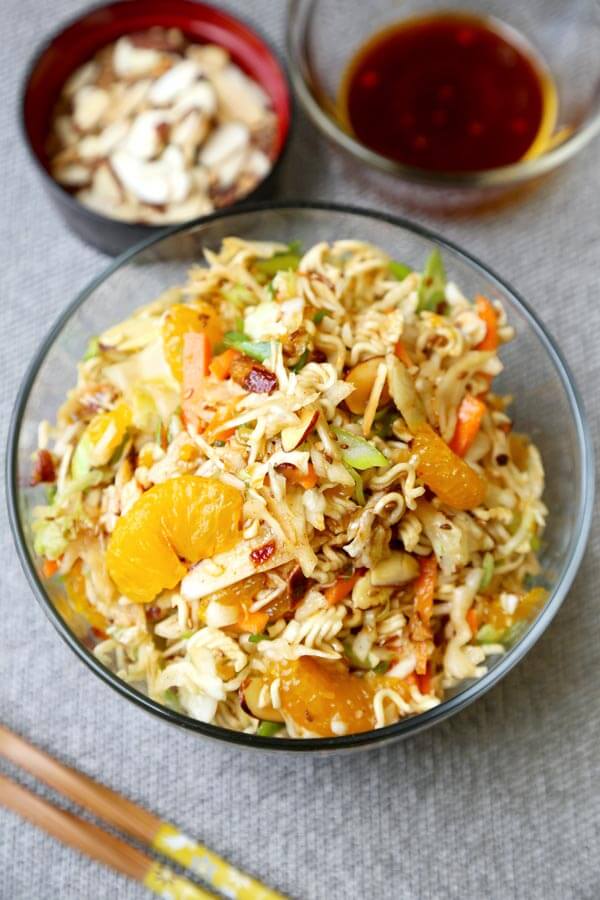 Oh, dry, crunchy ramen… how I love thee! It's not often that toasted sesame seeds, almonds, a package of coleslaw mix, mandarin oranges and dry ramen shall meet in the same recipe. But in that rare moment that they do – oh boy!
It takes 10 minutes to whip up this delicious sweet, salty, overwhelmingly easy ramen noodles recipe. And, lest you think this recipe veers too far away from ramen flavor, the ramen seasoning packet finds its way into the dressing. Sure, it may sound a little weird. But the taste is out of this world! GET THE RECIPE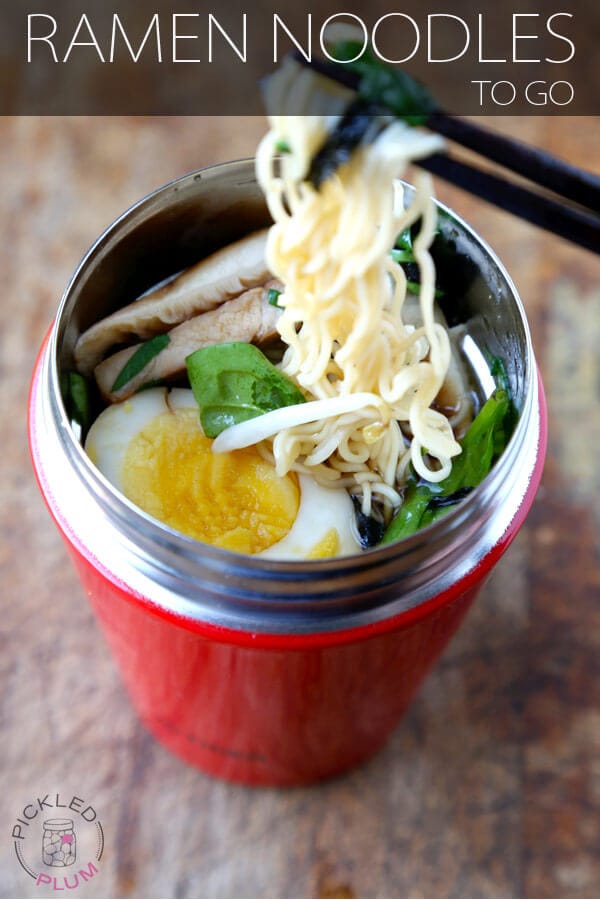 There's nothing more sad than a wilted desk-salad. No matter how healthy, it should be against the rules to try to catch up on emails between outrageously expensive bites of greens that you purchased from the deli. Be the envy of the office and bring your own ramen for lunch!
Prep the ingredients the night before, place in a in a thermal soup cup (or a leftover plastic container from the Chinese delivery spot), and you're good to go!
Just before lunch, add a half cup of hot water to your noodles, tsuyu broth and fixings from that fancy water dispenser in the employee canteen. Slurp away! Karen from accounting is gonna be so jealous. GET THE RECIPE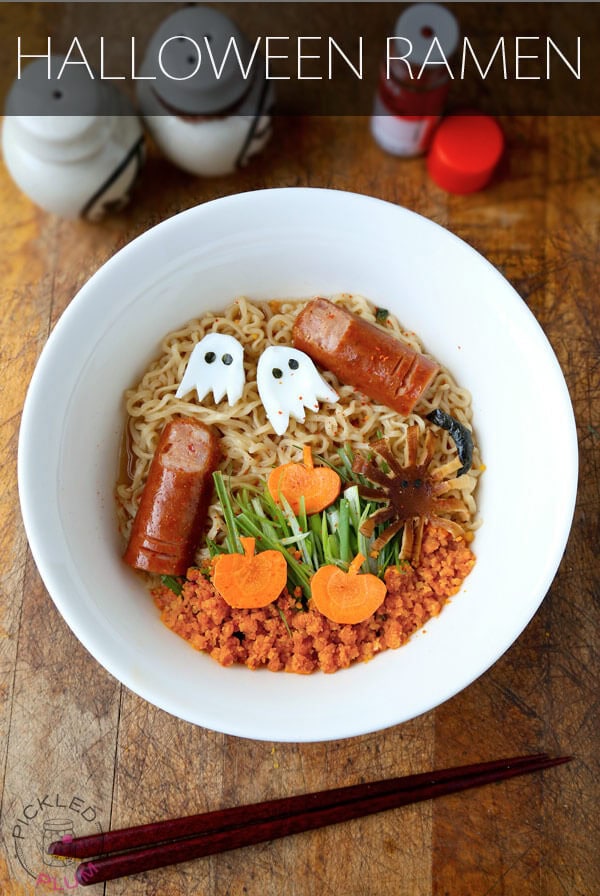 This Halloween, treat the kids to a spooky, cheeky and totally fun bowl of instant noodles! Shiitake mushroom spiders: yep.
Ghosts made of egg whites with nori for eyes: got 'em. Sausage 'fingers': check! Make this fun ramen noodles recipe and, I promise, it won't be the only themed bowl of ramen you make.
Think of it as a gateway dish. Um…  it's entirely possible that I make other holiday inspired ramen dishes. OK, truth time: I totally make Thanksgiving ramen. GET THE RECIPE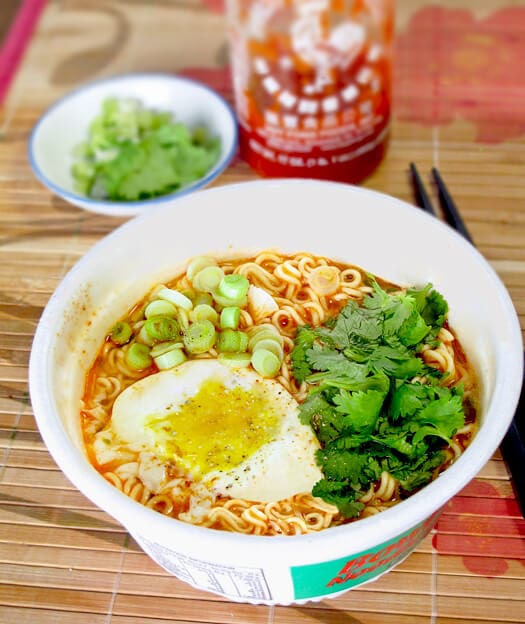 This is Ben's late night, whiskey happy, not-really-a-recipe ramen noodle recipe. Just a friendly PSA reminding you that basic bowl noodles can be made so much better with a little help from things like fresh herbs, chili sauce, fish sauce or a poached egg.
In fact, you can add almost any veggie or meat to bowl noodles and have it work. That type of versatility really comes in handy late at night – when those types of things just need to work!  GET THE RECIPE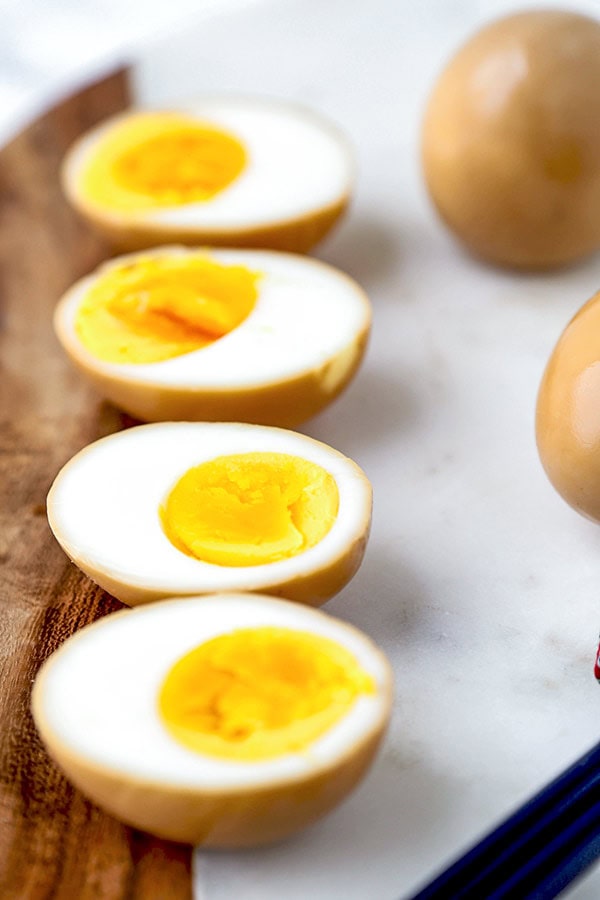 This roundup wouldn't be complete without the famous ramen eggs we've all come to love so much! Found in most ramen bowls across Japan, the ramen egg is as intrinsically important to the success of the dish as the char siu slices sitting next to it. The recipe I have is classic and simple – savory and salty. You can't go wrong with it! GET THE RECIPE
Pickled Plum is a participant in the Amazon Services LLC Associates Program, an affiliate advertising program designed to provide a means for sites to earn advertising fees by advertising and linking to amazon.com.