Whether you're a ramen purist, or love bowl noodles from the instant ramen aisle, these 13 Easy Ramen Recipes are sure to hit the spot! Umami, soupy goodness!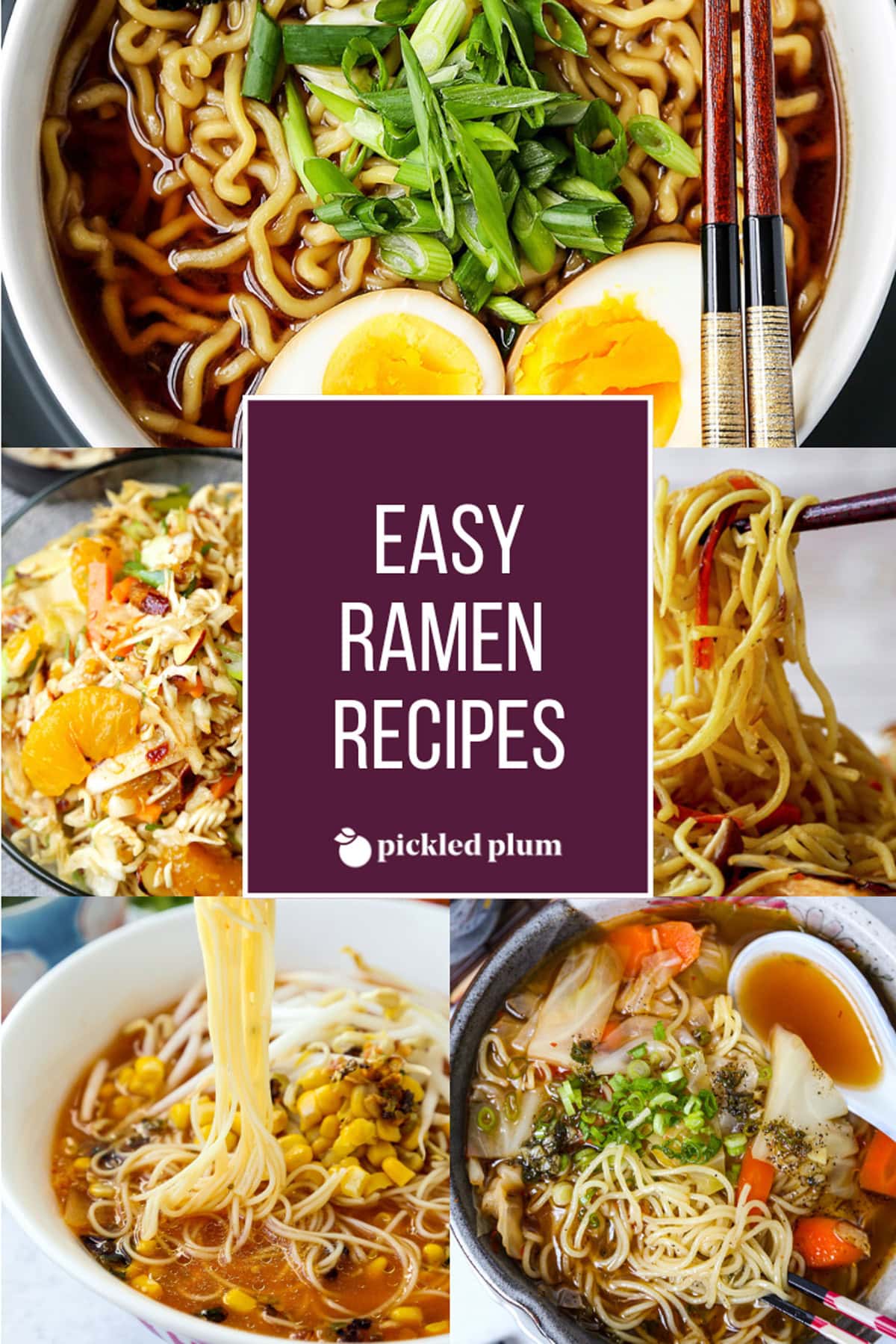 It's the same every year.
As soon as the weather warms up, Ben and I pack a suitcase and hop on a plane to visit our favorite country – Japan.
The first three weeks are spent at my mother's place in Fukuoka, which is located in the south of Japan. From there, we board the shinkansen (bullet train) using our Japan Rail Pass, which is a super convenient and cost effective way to travel across the country, and stop at various locations on the way to our final destination – Tokyo.
Aside from being over the moon about being able to spend quality time with my mother, the next best part of the trip is all food related. Each region in Japan has a variety of dishes and ingredients they are known for, and ramen is no exception.
You know you've married the right guy when he feels the exact same way about food (and loves my mother to bits too!). So when Ben and I travel together, all we can think about is eating good food. Not expensive Michelin star meals – honestly we've had so many of those in New York City and never seem to remember them – but just plain good food, even if it comes from a hole in the wall.
In Fukuoka, whenever we spend the night in Tenjin (天神駅), an area known for its underground shopping malls and vibrant nightlife, we always make sure to stop at Hakata-Ippudo (博多一風堂) to grab a bowl of their famous tonkotsu ramen (ramen in pork bone broth). We also like to slurp on tonkotsu ramen at yatai stands, which are mobile food stalls set up on sidewalks across the city.
In Nagasaki, it's all about champon – egg noodles in a chicken and pork bone broth, topped with a mountain of stir fried cabbage, carrots, beans sprouts, snow peas, and seafood.
In Hiroshima, we split our time between devouring giant oysters (the best ones I've ever tasted!), cooking okonomiyaki on a hot plate, and slurping on Hiroshima ramen – ramen noodles in a soy sauce and pork bone broth.
In Onomichi, the fish and shoyu broth ramen feels restorative after a few days of non-stop walking and traveling.
Once we reach Tokyo we usually hit the same ramen spots we've been visiting for the past eight years. One place sells the classic Tokyo shoyu ramen while another specializes in another Tokyo special – tsukemen.
And then it's back to the US, back to work.
When I come back from a trip like that I feel incredibly inspired to create simplified versions of the flavors I tasted. It's a way for me to preserve some of the dishes I had the privilege to taste, and to bring back a little bit of Japan with me. This explains why I have so many ramen recipes on my blog!
Some of the recipes you will find throughout this list have been inspired by flavors I've tasted in Japan, while others, like the ramen noodle coleslaw, were created for fun, on my own.
1. Shoyu Ramen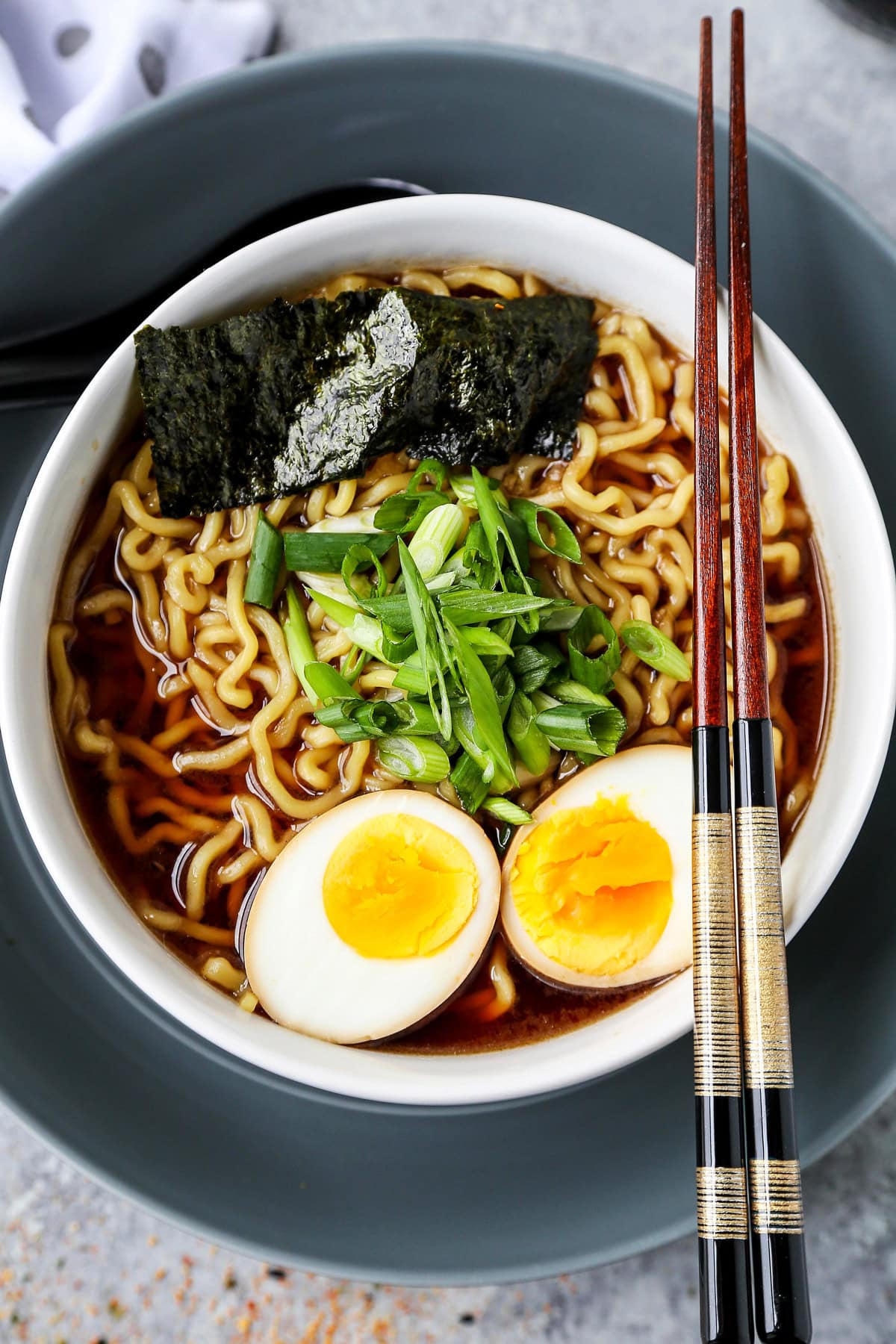 There is so much depth of flavor in this simple shoyu based ramen that you won't be able to stop slurping! Grab the perfect amount of noodles and a scoop of this umami savory broth and you will be traveling to Tokyo in no time, I promise! GET THE RECIPE
2. Miso Kimchi Ramen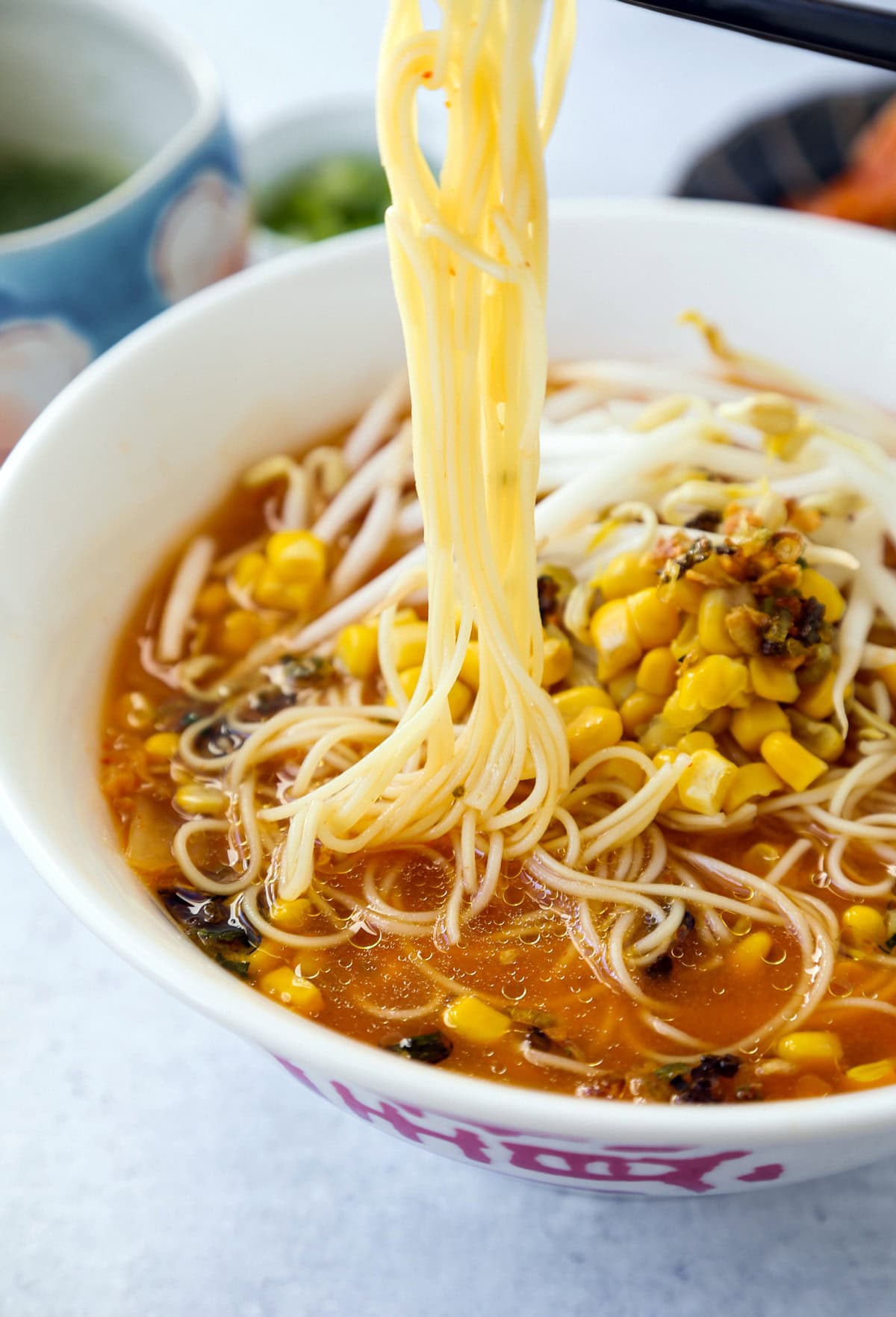 This miso kimchi ramen recipe has the smokiness and umami of miso, the bright pungent funk from kimchi – rounded out with a dash of toasted garlic and scallion oil. Topped with corn and fresh bean sprouts, this Japanese / Korean mash-up is a real winner! GET THE RECIPE
3. Spicy Miso Ramen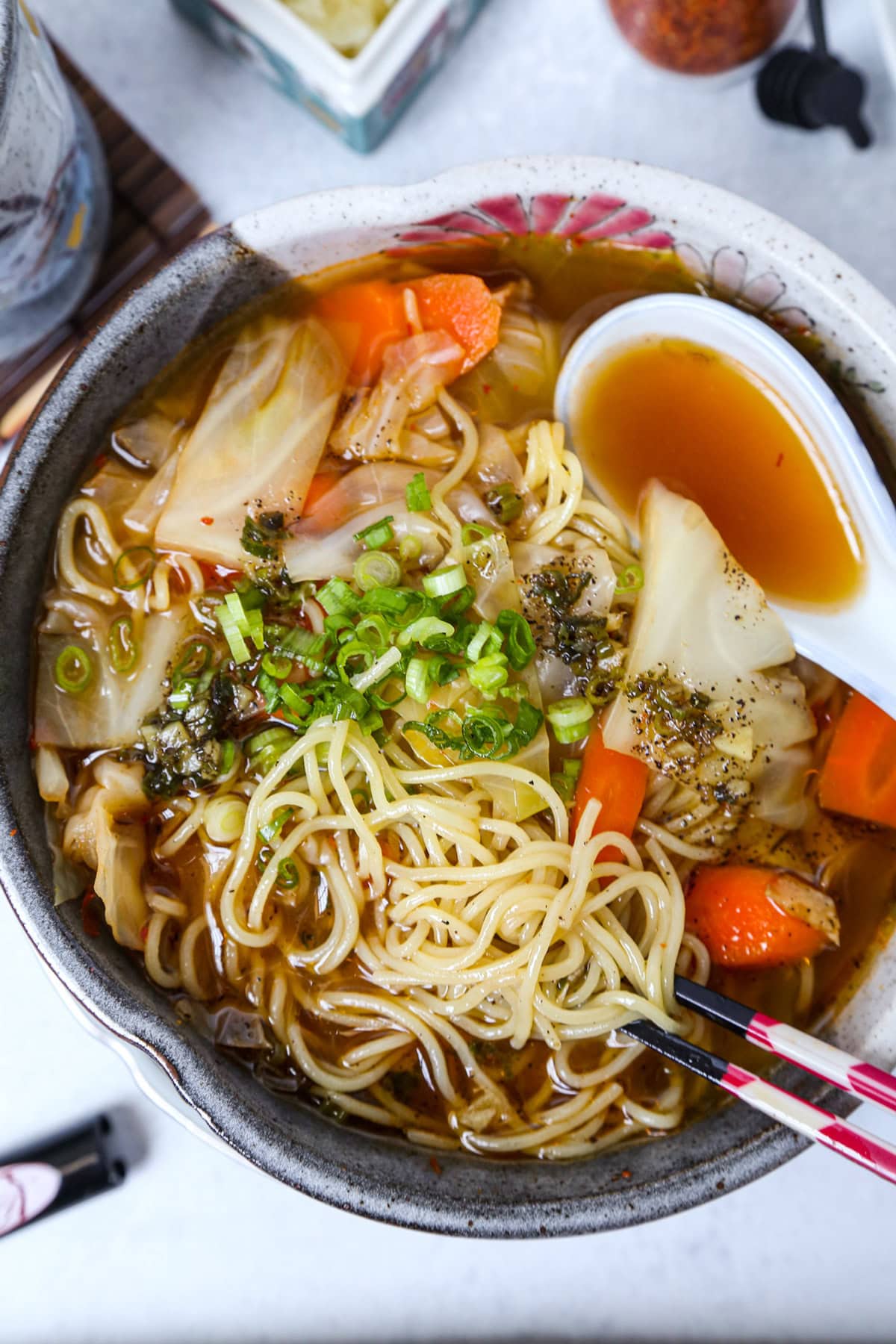 Miso ramen hails from Hokkaido – which is the northernmost main island in Japan. And the main flavor element in miso ramen broth actually comes from miso paste. And for this spicy miso ramen recipe, we'll be using miso paste – alongside heavy hitters like tobanjan and gochugaru to bring the savory heat. We'll also be making a flavored oil to round out the ramen soup. You won't believe how good it is, it's one of my favorite homemade ramen recipes! GET THE RECIPE
4. Vegetable Champon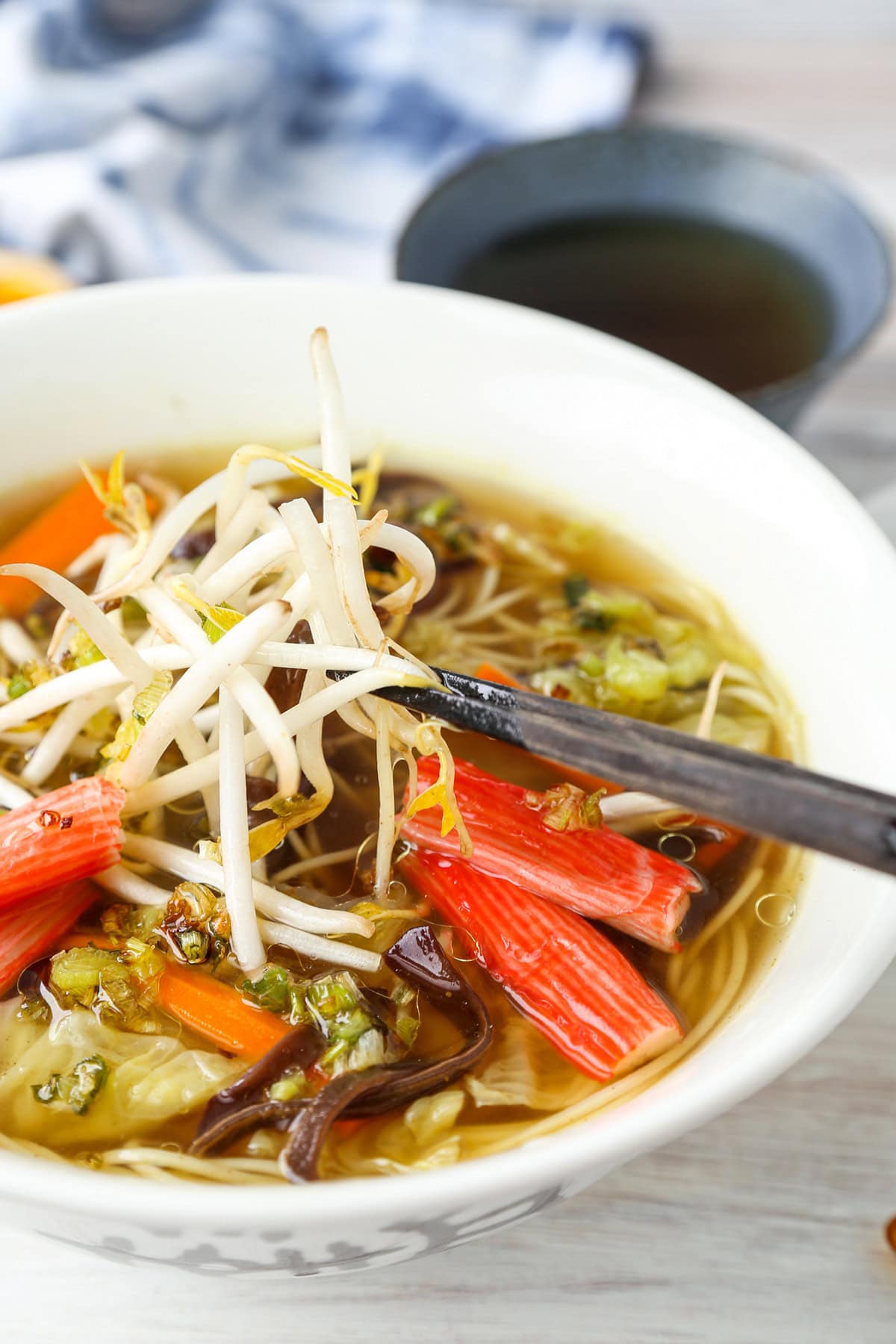 Champon is Nagasaki's most popular noodle soup, loved for its broth made with pig and chicken bones, thick noodles, and various meat, seafood, and vegetable toppings. This is a simpler and lighter version made with a mix of dashi and chicken broth, and topped with vegetables and crab sticks. Not only is it delicious, it's also great for a quick lunch that's filling enough to keep you energized for the rest of the afternoon. GET THE RECIPE
5. Hiyashi Chuka (Chilled Ramen Salad)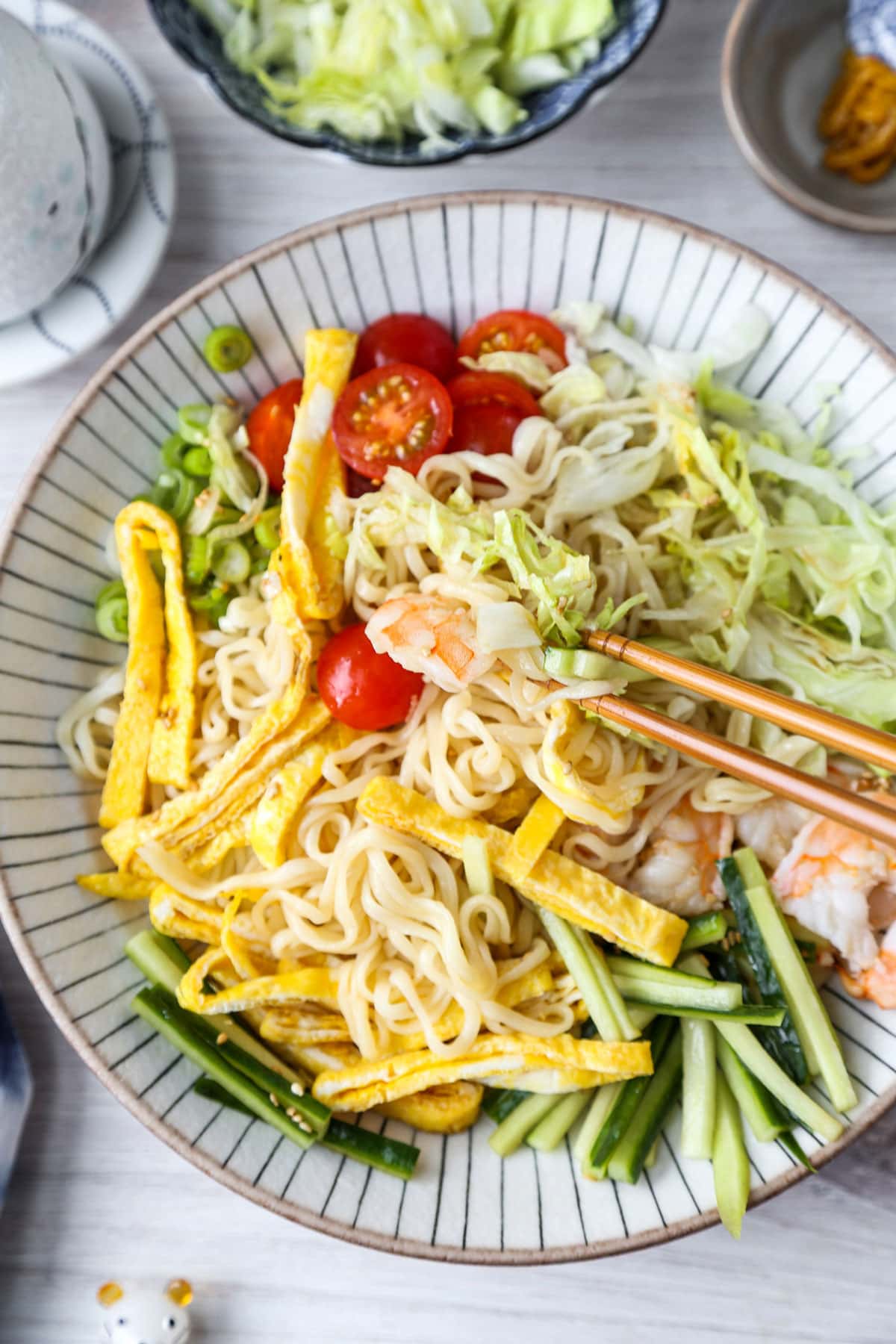 Hiyashi chuka is a Japanese summer dish consisting of chilled ramen noodles topped with various ingredients such as tomato, cucumber, lettuce, tamagoyaki (sweet omelette), ham, charsiu pork, shrimp, menma (seasoned bamboo shoots), scallions, and beni shōga (pickled ginger). It's served with a chūka-fū style dressing that's sweet, nutty, and acidic, and a squirt of hot Japanese mustard (karashi mustard). Any dish served with a soy sauce, vinegar, sugar, and sesame oil dressing is a personal favorite of mine. I'm so in love with this flavor combination that I could easily have it every single day for the rest of my life! GET THE RECIPE
6. Vegan Tantanmen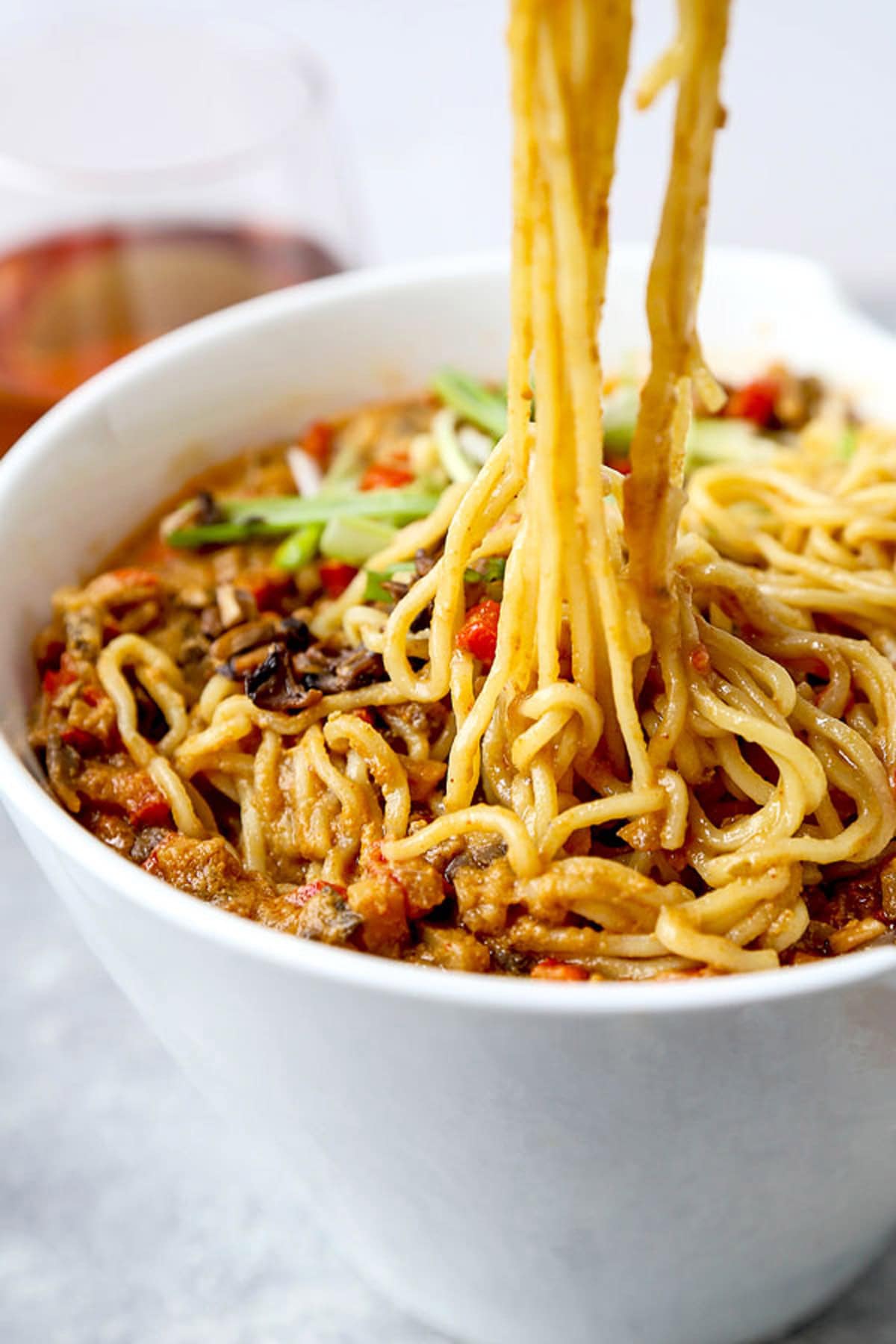 Vegan ramen can be so delicious! This tantanmen recipe is packed with mushrooms to infuse the broth with plenty of umami, and a touch of gochuchang to add some heat. The result is a bowl of vegan tantanmen that's sweet, savory, pungent, a little spicy, and nutty. There's nothing boring about this vegan recipe! GET THE RECIPE
7. Homemade Chicken Ramen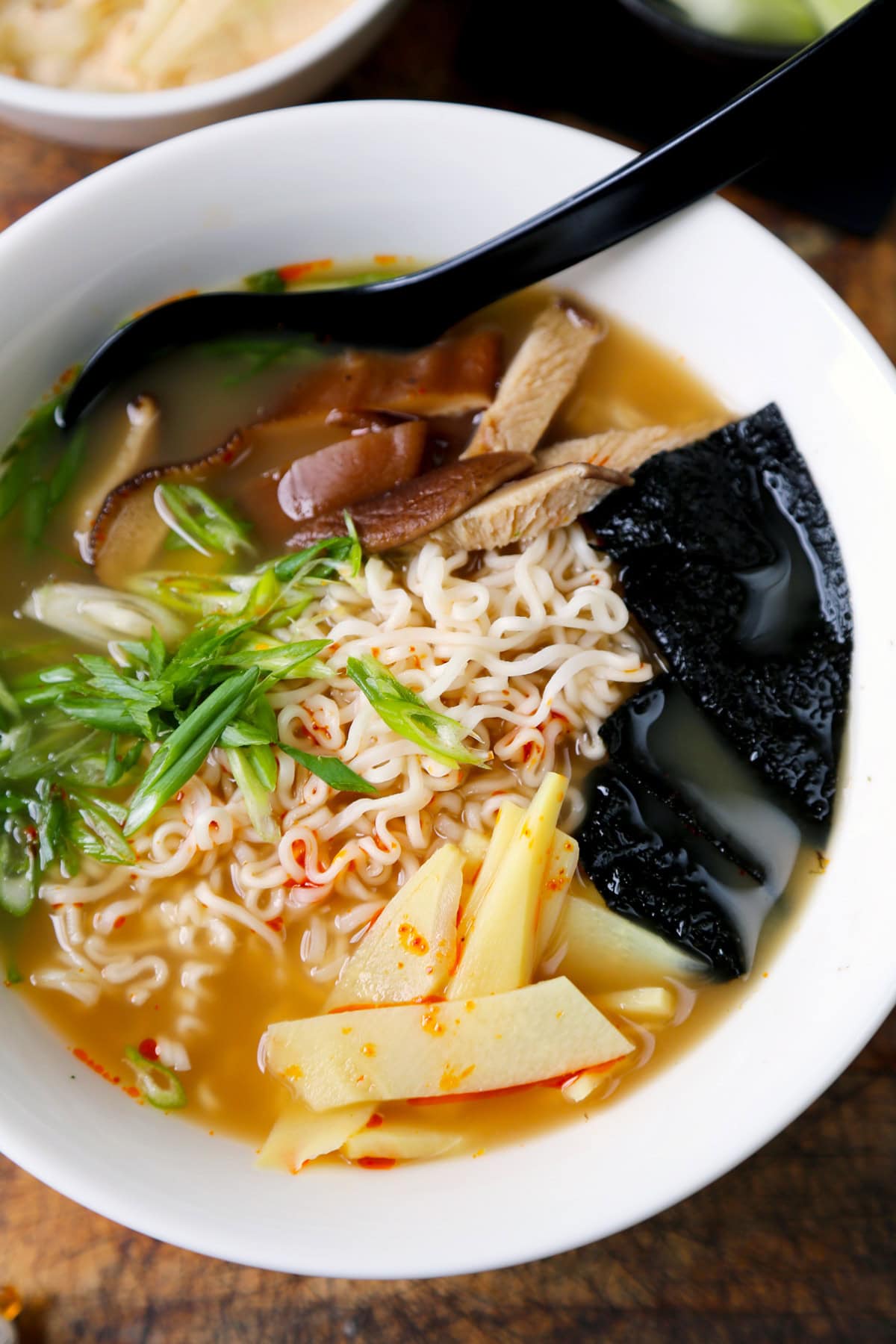 Umami, earthy and salty flavors? Check. This is my go-to chicken ramen noodle recipe when I'm looking to whip up ramen at home and don't have a ton of time. Dried shiitake mushrooms are the key to giving the chicken broth some major-league oomph.
While you'll get a more developed bowl of broth with the chicken paitan at Totto Ramen for example, this is a simple make-at-home dish that hits all of my flavor requirements! Use fresh noodles – or packaged noodles: your choice! GET THE RECIPE
8. Spicy Miso Tsukemen (Dipping Noodles)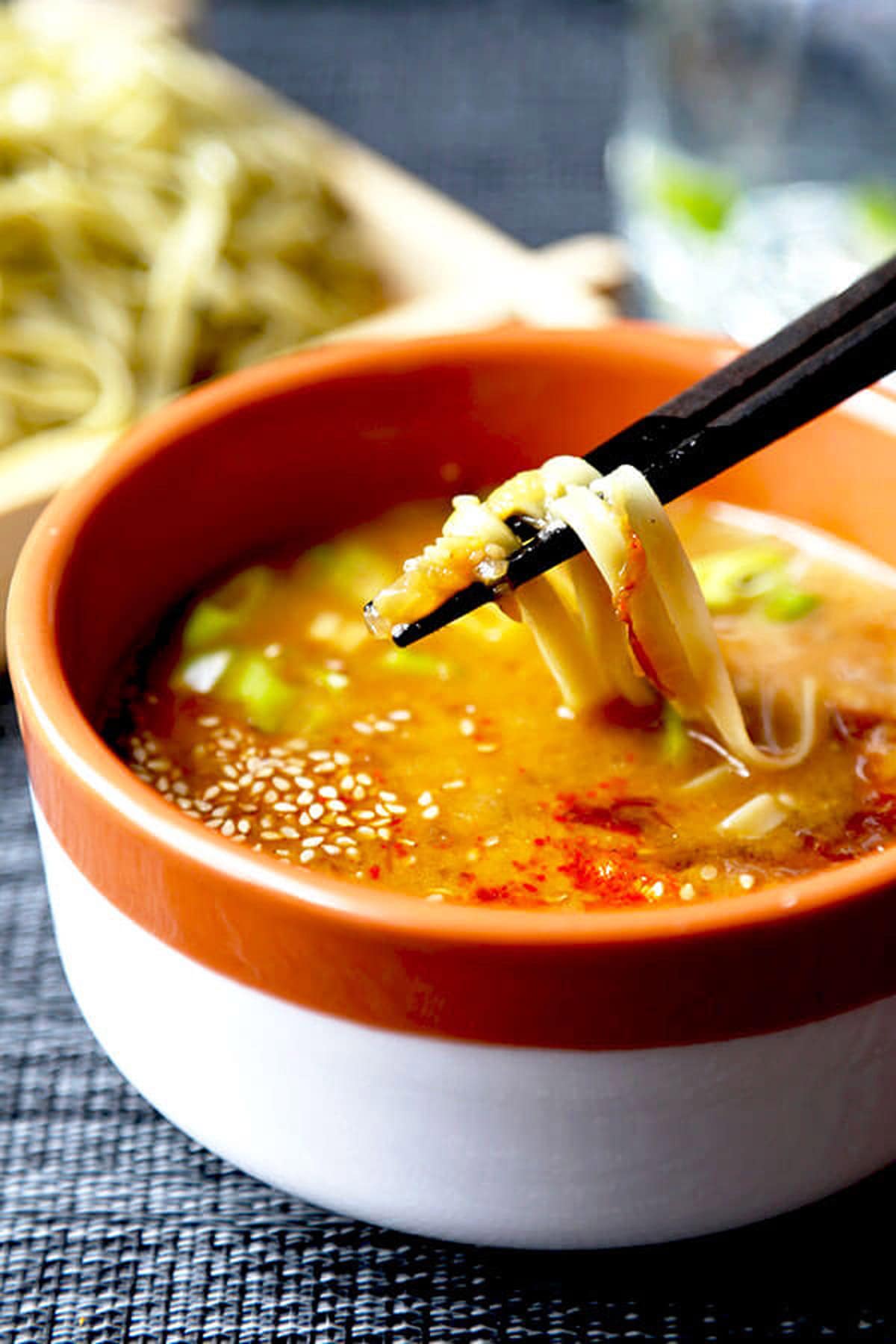 Tsukemen are Japanese dipping noodles. The idea is that you quickly dip your noodles into a bowl of aggressively flavored, highly concentrated broth, and then slurp. The delicious broth is brought to your taste-buds by the noodles.
This simple ramen recipe has taken on a bit of a mythical personality of its own for us. You see, every time Ben and I go to Tokyo, we make a point of hitting up the same tsukemen shop just outside the Asagaya train station where my brother lives.
We are convinced it is the cure for jetlag! No matter it's effectiveness (or lack thereof) of beating the effects of time zone depletion, it's a tasty treat. Oh – and you can make this easy tsukemen recipe at home in about 20 minutes. Slurp! GET THE RECIPE
9. Shio Ramen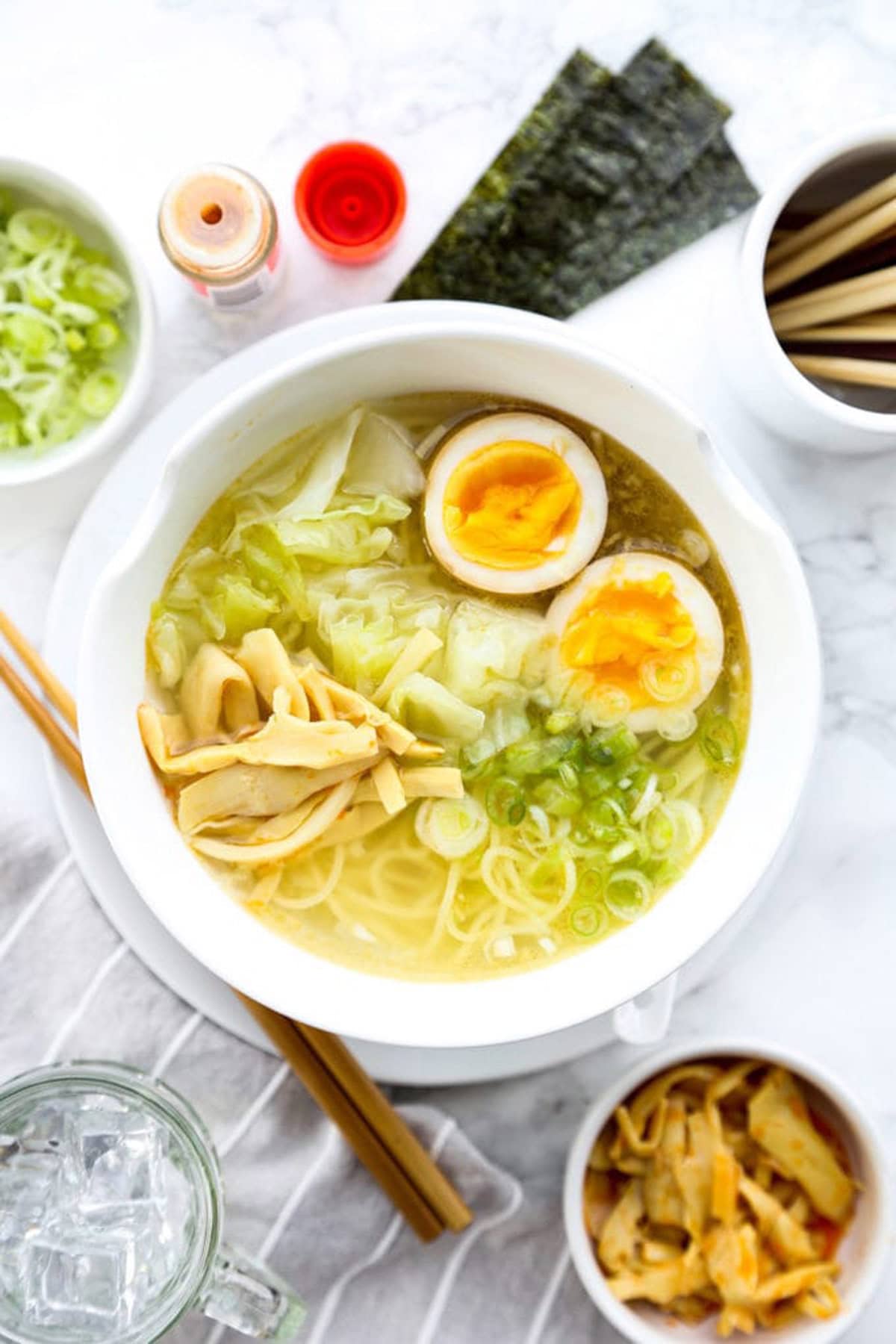 This is a Hakodate inspired shio ramen recipe that's surprisingly full of flavor!
Despite its clear and bland looking broth, you will find that each bit is salty, savory, and nutty. I'm using fresh egg noodles for this recipe but you can use any type that suits you.
Toppings are kept to a minimum: ramen egg, chopped scallion, boiled cabbage, and menma (seasoned bamboo shoots). GET THE RECIPE
10. Yakisoba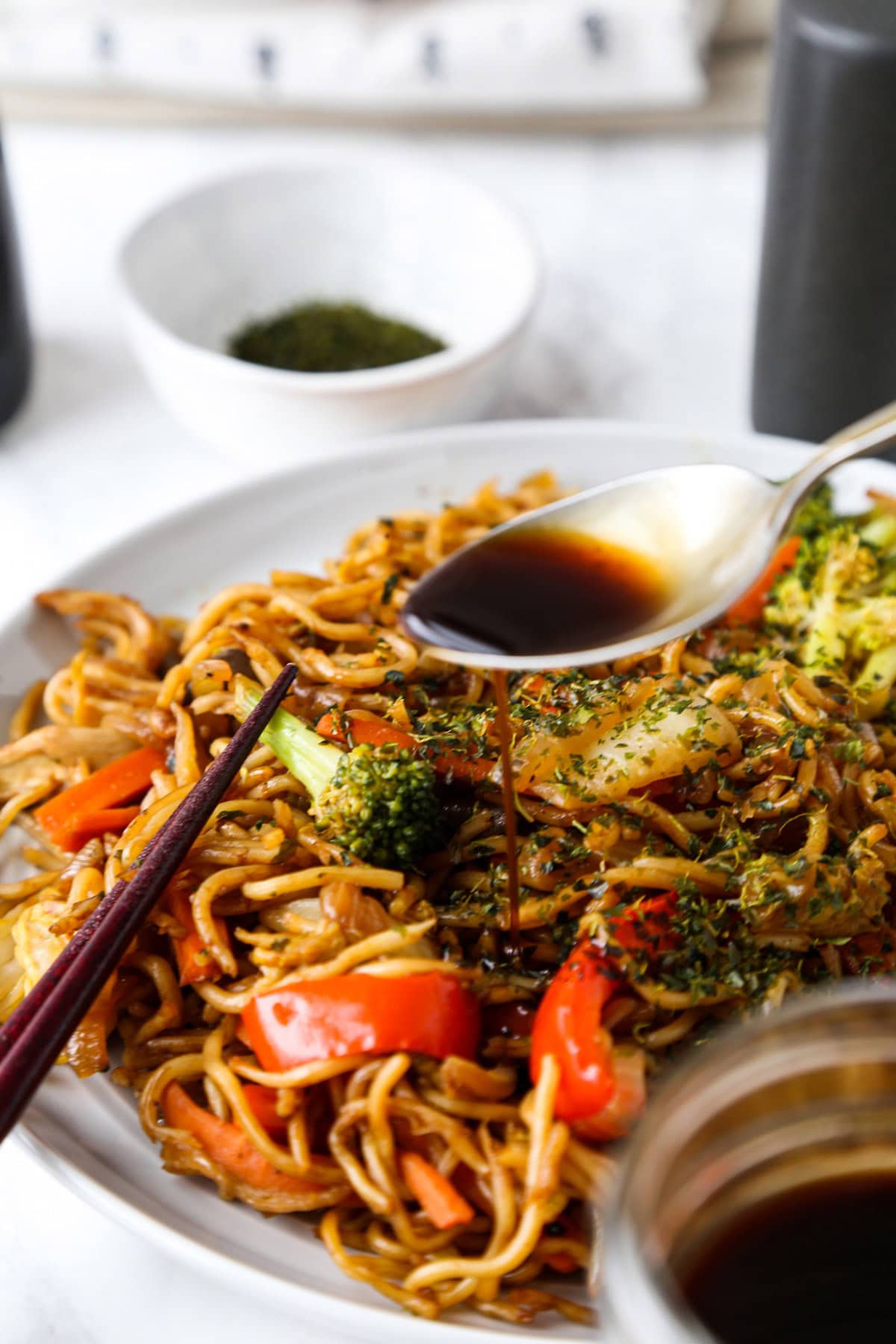 The only dry ramen on this list, yakisoba is one of those meals I love to prepare when I don't have a lot of time but want something tasty.
The dish is very simple – egg noodles pan fried with a soy sauce base mix and topped with stir fried veggies, shrimp, tofu, or meat.
It's a childhood favorite dish of mine that I continue to love and devour to this day. GET THE RECIPE
11. Miso Ramen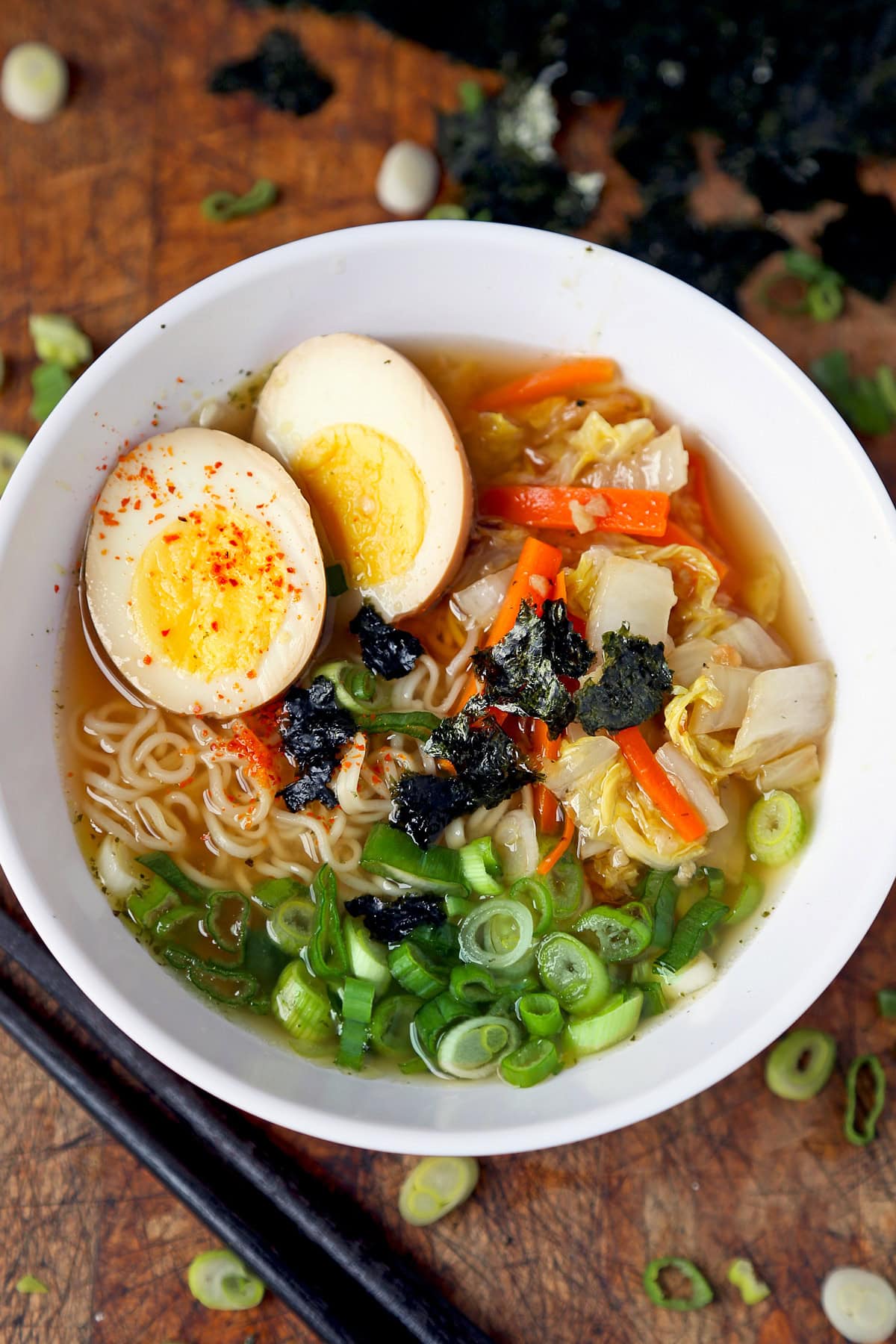 When I'm in a rush and preparing ramen at home, this earthy miso ramen recipe gets the nod!
You can either use red miso or awase miso (which is a slightly sweeter mixture of white and red miso) for the broth.
This is another recipe that will be great with everything from fresh noodles to packaged noodles. I used stir fried cabbage and carrots to give this super-simple ramen recipe some texture and crunch. However, feel free to mix it up and use the veggies you prefer in your at-home miso ramen creation. GET THE RECIPE
12. Spicy Pork Ramen (Ja Ja Men)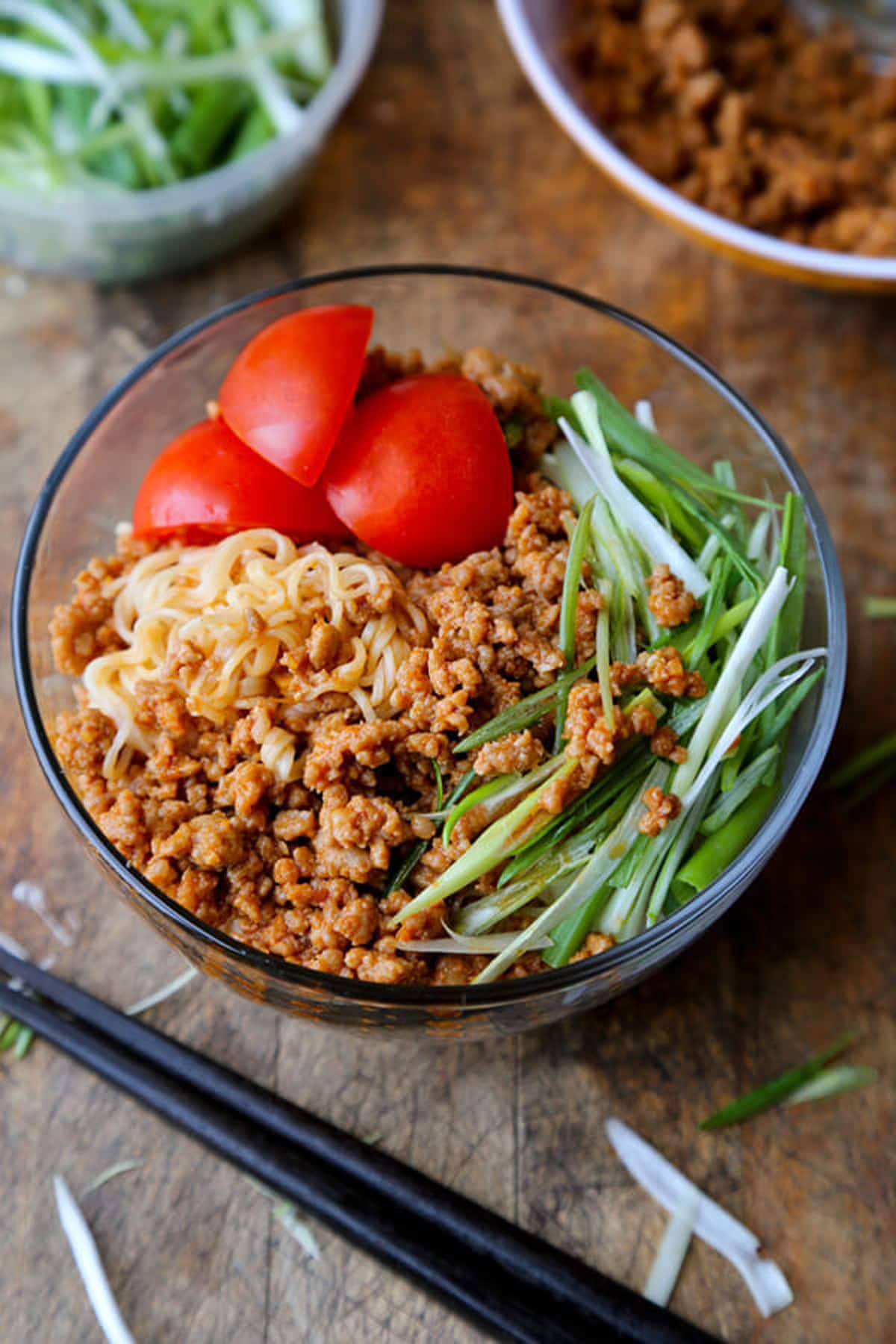 If hiyashi chuka is the perfect summery cold ramen, then this ja ja men recipe switches-up seasons and is ideal for fall.
Usually served at room temperature with savory ground pork, scallions and plenty of sesame oil, this is Ben's favorite non-soup noodle dish. Korean ssamjang and gochujang play an integral role in giving this slurptastic recipe some heat. Ja ja men is taken from the Chinese word zhajiangmian, which literally means fried sauce noodles.
If that's all a bit much to remember, just think: spicy pork ramen – minus the soup! GET THE RECIPE
13. Ramen Noodle Salad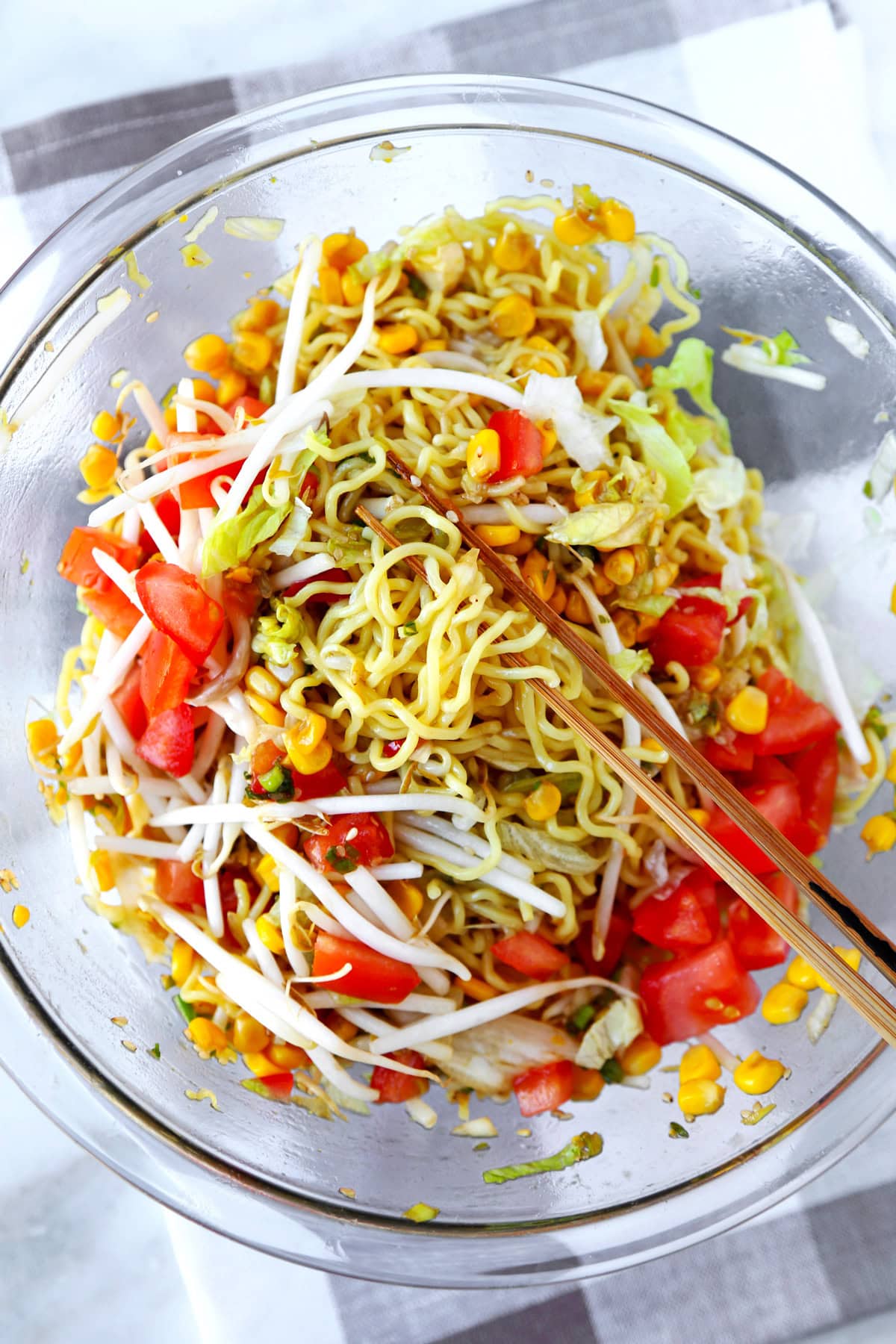 This is a chilled and bright ramen noodle salad that tastes similar to hiyashi ramen.
The dressing is a mixture of soy sauce, rice vinegar, honey and sesame oil that brings the perfect balance of sweet and puckery tartness that only Japanese food can deliver. GET THE RECIPE
14. Ramen Noodle Coleslaw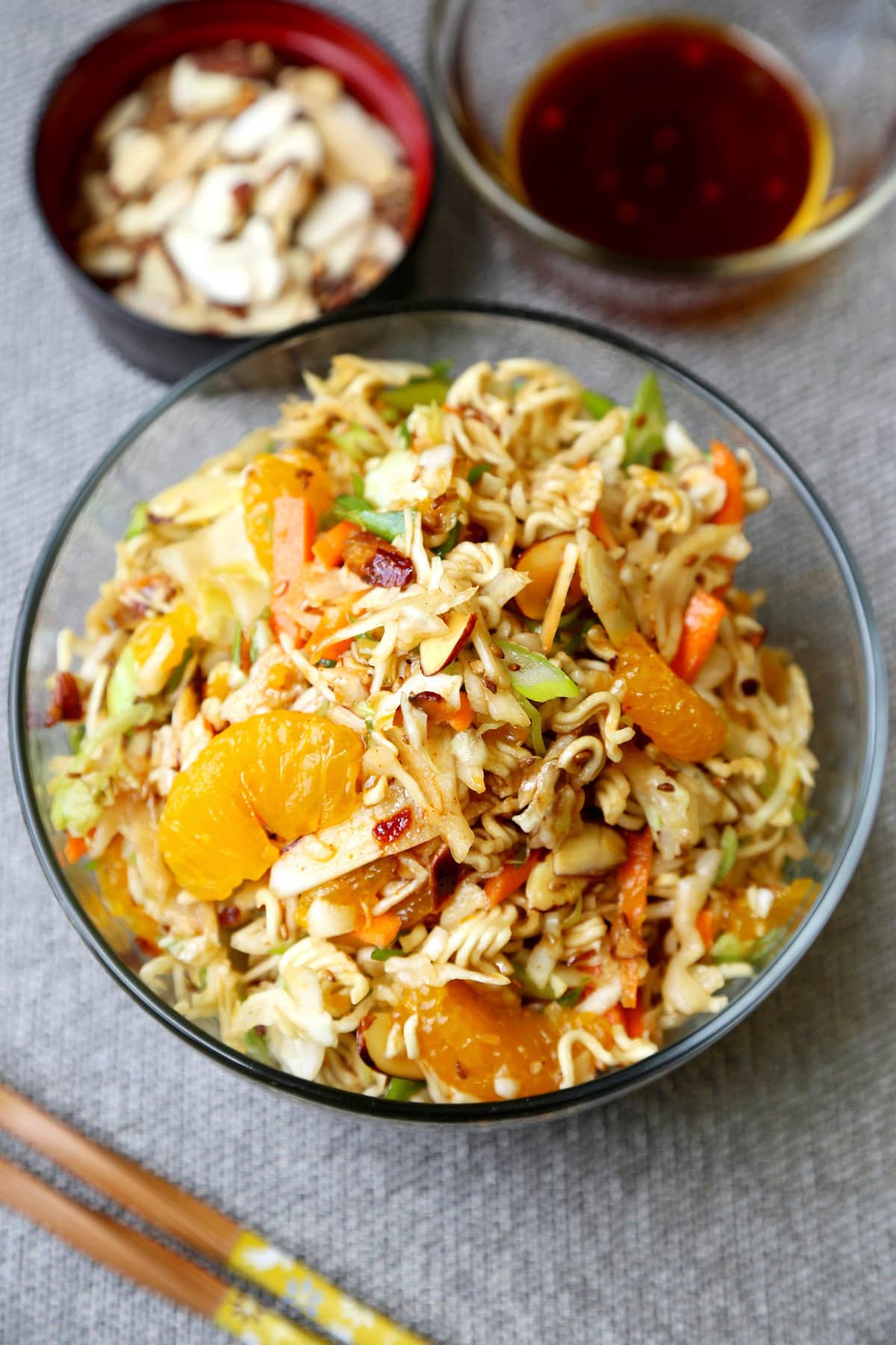 Oh, dry, crunchy ramen… how I love thee! It's not often that toasted sesame seeds, almonds, a package of coleslaw mix, mandarin oranges and dry ramen shall meet in the same recipe. But in that rare moment that they do – oh boy!
It takes 10 minutes to whip up this delicious sweet, salty, overwhelmingly easy ramen noodles recipe. And, lest you think this recipe veers too far away from ramen flavor, the ramen seasoning packet finds its way into the dressing. Sure, it may sound a little weird. But the taste is out of this world! GET THE RECIPE
15. Vegan Ramen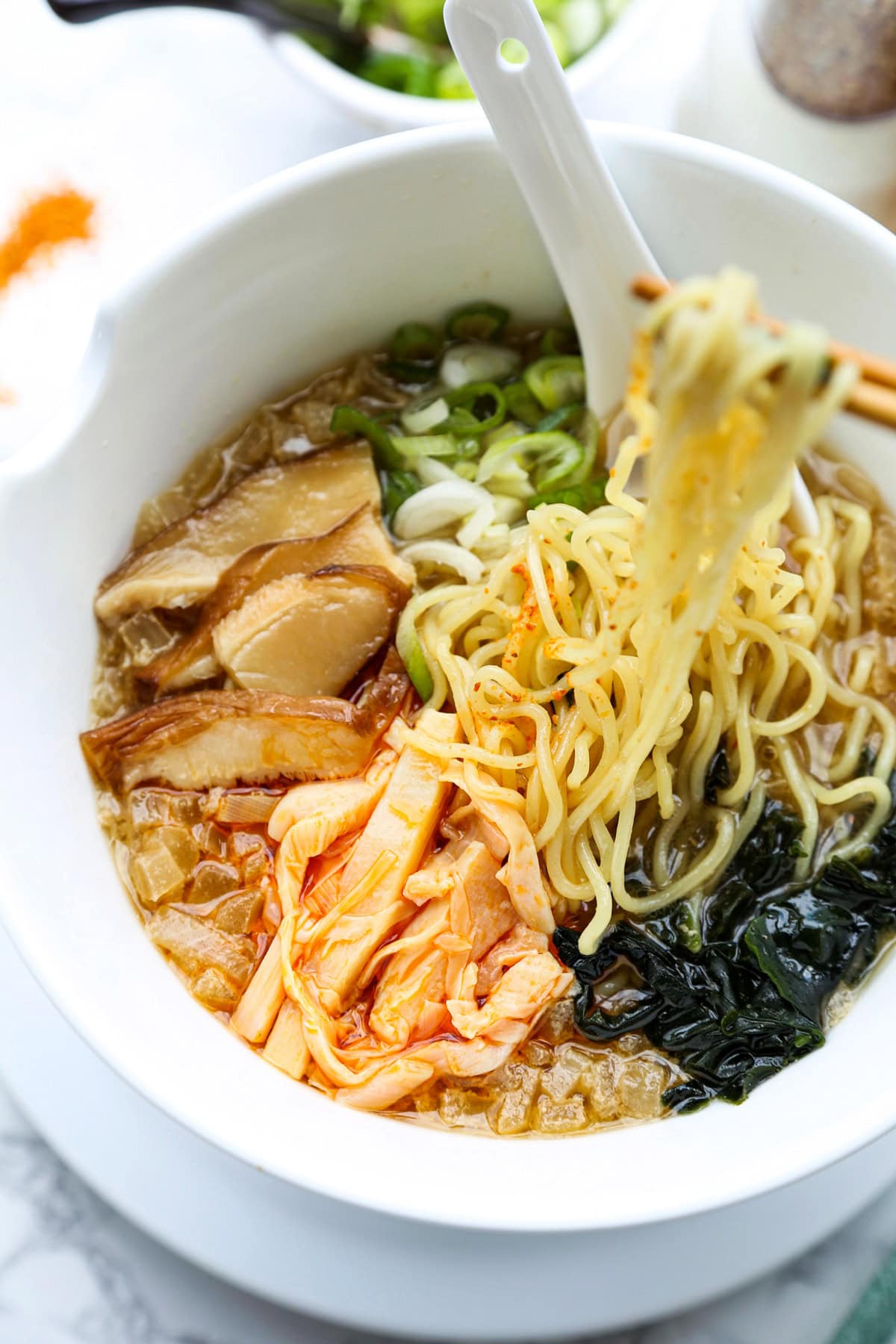 Another vegan ramen recipe, except this one is on the very nutty side!
The broth is a mixture of pan fried onions, ginger, sesame paste, seaweed dashi, soy sauce, and mirin. I'm using vegan ramen noodles and topping them with shiitake mushrooms, wakame seaweed, scallions, and menma (seasoned bamboo shoots).
This is ramen is more filling than you would think – the sesame paste adds creaminess and heartiness! GET THE RECIPE
16. Halloween Top Ramen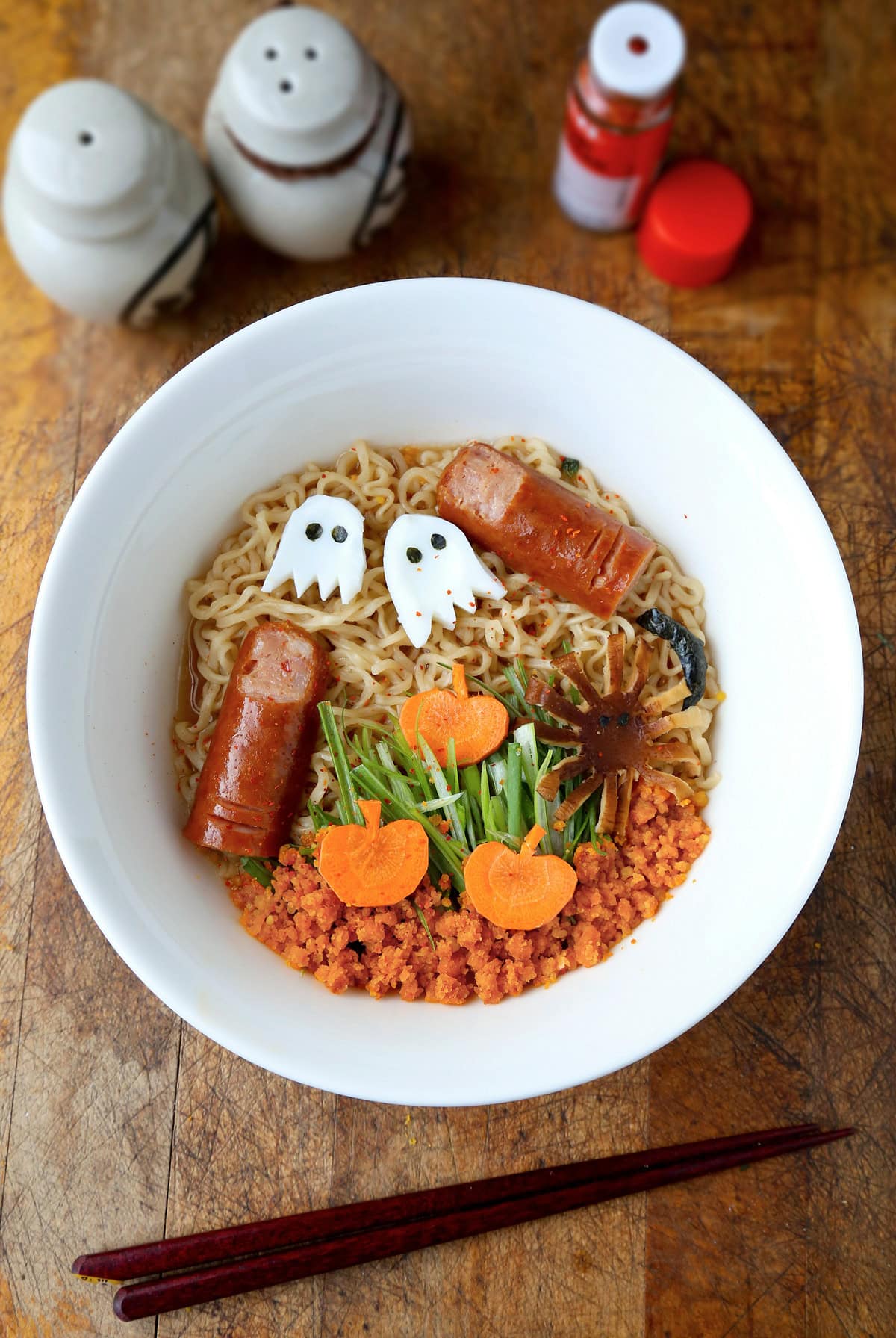 This Halloween, treat the kids to a spooky, cheeky and totally fun bowl of instant noodles! Shiitake mushroom spiders: yep.
Ghosts made of egg whites with nori for eyes: got 'em. Sausage 'fingers': check! Make this fun ramen noodles recipe and, I promise, it won't be the only themed bowl of ramen you make.
Think of it as a gateway dish. Um… it's entirely possible that I make other holiday inspired ramen dishes. OK, truth time: I totally make Thanksgiving ramen. GET THE RECIPE
17. Instant Ramen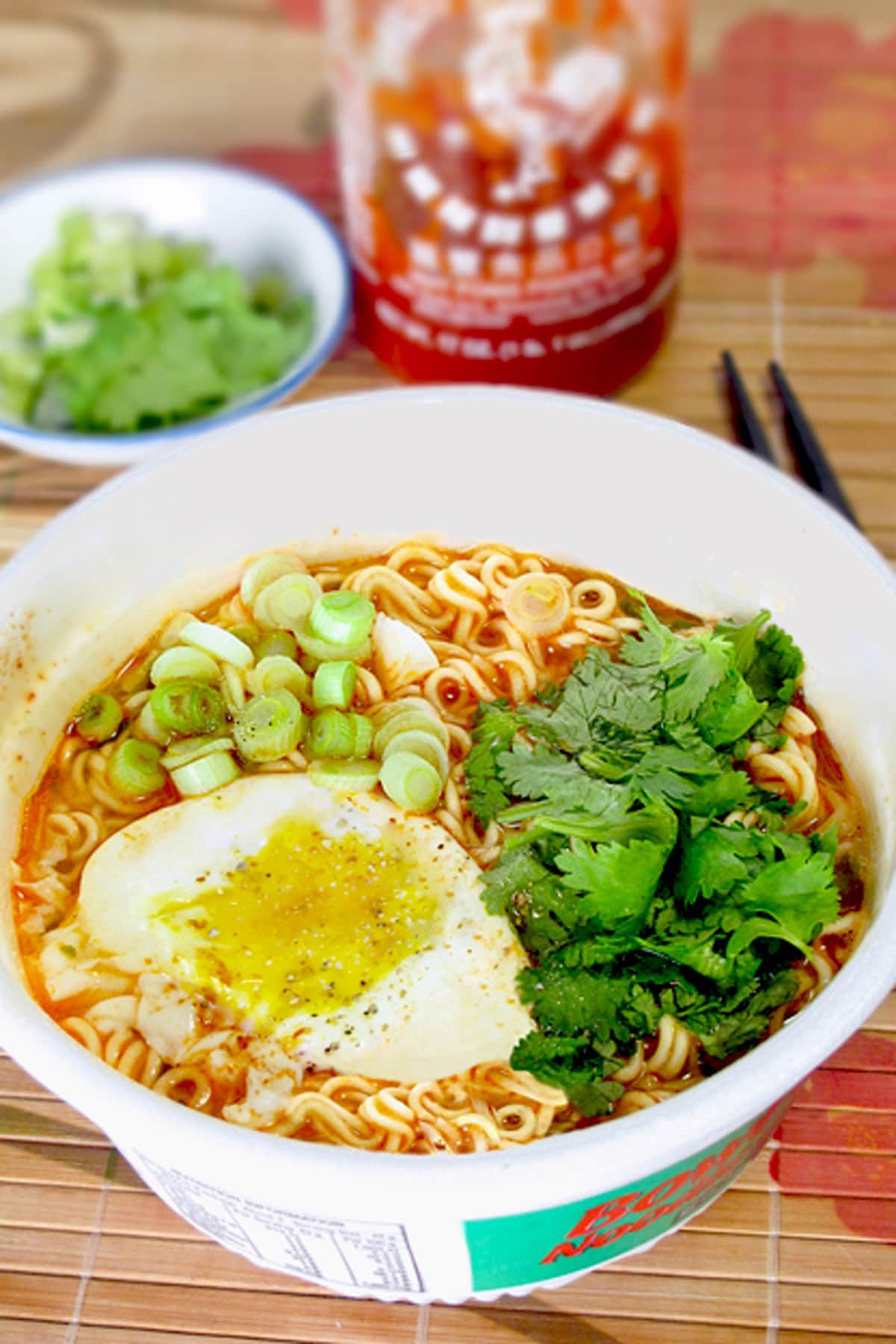 This is Ben's late night, whiskey happy, not-really-a-recipe ramen noodle recipe. Just a friendly PSA reminding you that basic bowl noodles can be made so much better with a little help from things like fresh herbs, chili sauce, fish sauce or a poached egg.
In fact, you can add almost any veggie or meat to bowl noodles and have it work. That type of versatility really comes in handy late at night – when those types of things just need to work! GET THE RECIPE
Print
Shoyu Ramen
25 minutes is all you need to make this soy sauce based, Japanese style shoyu ramen.
Author: Caroline Phelps
Prep Time:

5 minutes

Cook Time:

20 minutes

Total Time:

25 minutes

Yield:

2

people

1

x
Category:

ramen

Method:

Boiling

Cuisine:

Japanese

Diet:

Vegetarian
2

packages fresh ramen noodles
For the shoyu sauce:
1 tablespoon

sesame oil

1

clove garlic (minced)

1

1-inch piece ginger (peeled and minced)

1/4

cup

soy sauce

1 tablespoon

cooking sake

1

cup

dashi

2 1/2 tablespoons

mirin

1

cup

ramen water (the water the ramen noodles are cooking in)
Toppings:
2

ramen eggs (optional)
menma – pickled bamboo
dry nori sheets
chopped scallions
ground white pepper
Instructions
In a small pot over medium high heat, add sesame oil, garlic and ginger. Sauté for 2 minutes, or until fragrant.
Add the remaining ingredients for the soup – except ramen water – and bring to a boil. Lower the heat, cover and simmer on low for 15 minutes. Set aside.
Bring a medium pot of water to boil. Add ramen noodles to the boiling water and cook according to directions on the package. For fresh noodles, it shouldn't be more than 2-3 minutes.
Before draining the noodles, scoop 1 cup of ramen water and add it to the shoyu soup. Stir.
Drain the noodles and divide them among two bowls.
Pour soup into bowls and add desired toppings. Serve immediately.
Notes
You can make the broth ahead of time and store it in the fridge for up to 5 days.
Nutrition
Serving Size:

1 serving

Calories:

397

Sugar:

9.1g

Sodium:

2532.4mg

Fat:

11.2g

Saturated Fat:

1.9g

Unsaturated Fat:

4.2g

Trans Fat:

0g

Carbohydrates:

54.8g

Fiber:

2.3g

Protein:

12.9g

Cholesterol:

49.3mg
Recipe Card powered by