Champon is Nagasaki's most popular noodle soup, loved for its broth made with pig and chicken bones, thick noodles, and various meat, seafood, and vegetable toppings. This is a simpler and lighter version made with a mix of dashi and chicken broth, and topped with vegetables and crab sticks. Not only is it delicious, it's also great for a quick lunch that's filling enough to keep you energized for the rest of the afternoon.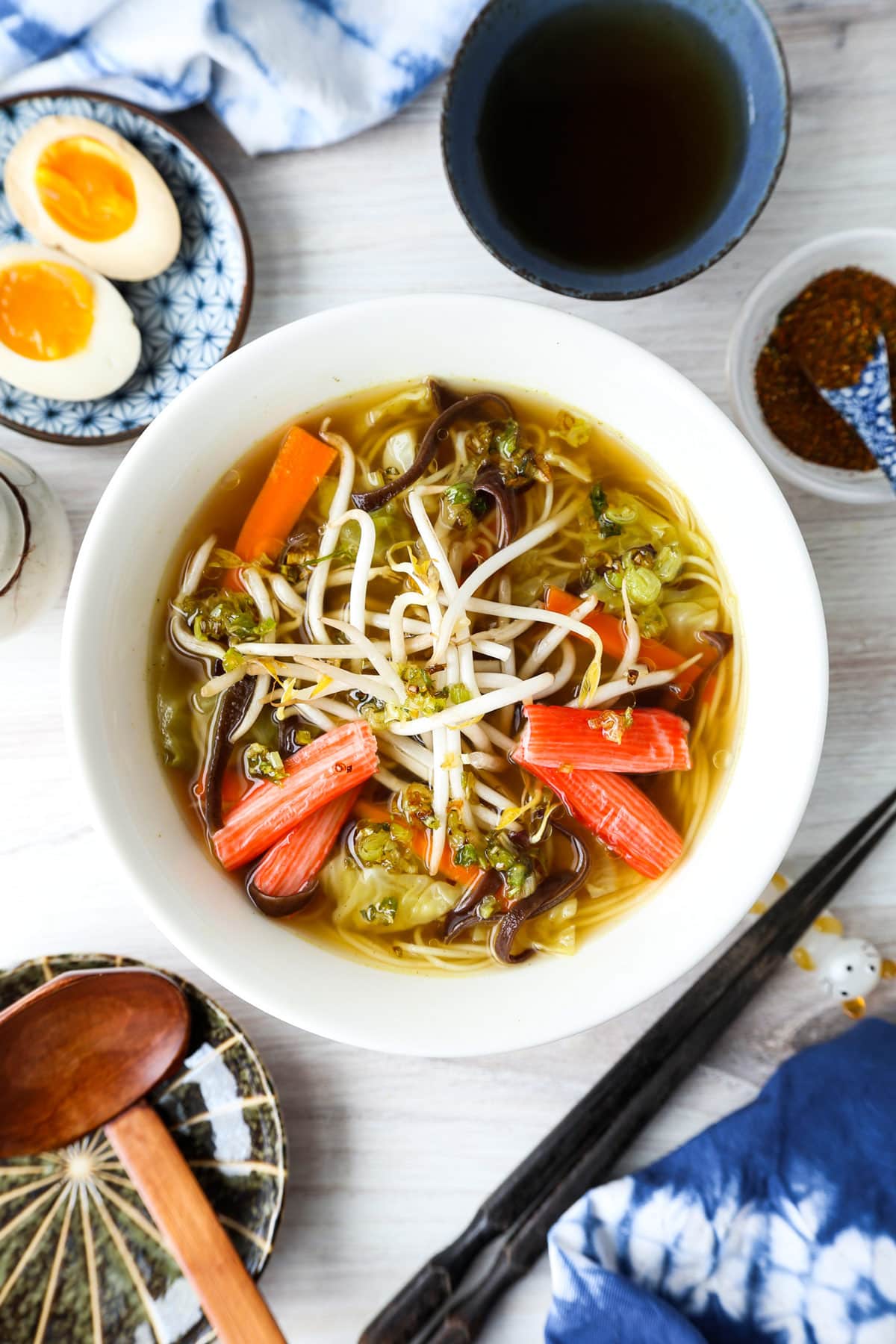 Champon is a big part of my childhood.
Most of my relatives live in Kyushu, the southern part of Japan where they are famous for their green tea, tonkotsu ramen (ramen with a pork based broth), and mentaiko (spicy cod roe).
It's also where Nagasaki is located. A beautiful city that's a mix of old and new, where the Atomic Bomb Museum lives (heart breaking and yet, a must-see), where you can take a walk across the famous Meganebashi bridge, built in 1634 by Chinese monks, and where the famous Nagasaki champon hails from.
I've only been to Nagasaki on three occasions but have eaten champon more times than I can remember! The ones I've had in Nagasaki by far surpass any other champon I've ever tasted, but I'm not a picky eater. I'm just as happy eating champon at Ringer Hut, which is a Japanese restaurant chain selling cheap champon and gyoza. I can eat Ringer Hut every day!
And since I no longer eat red meat (although I will help myself to a bowl of champon next time I'm in Japan, as a treat) I was happy to see a recipe for champon using dashi and chicken broth, on one of my favorite Japanese food shows, Danshi Gohan (男子ごはん). The dish came out tasting delicious which meant I had to share it with you, of course!
I've made a few minor changes to the recipe by swapping a few ingredients, but the taste remains very close to the original dish.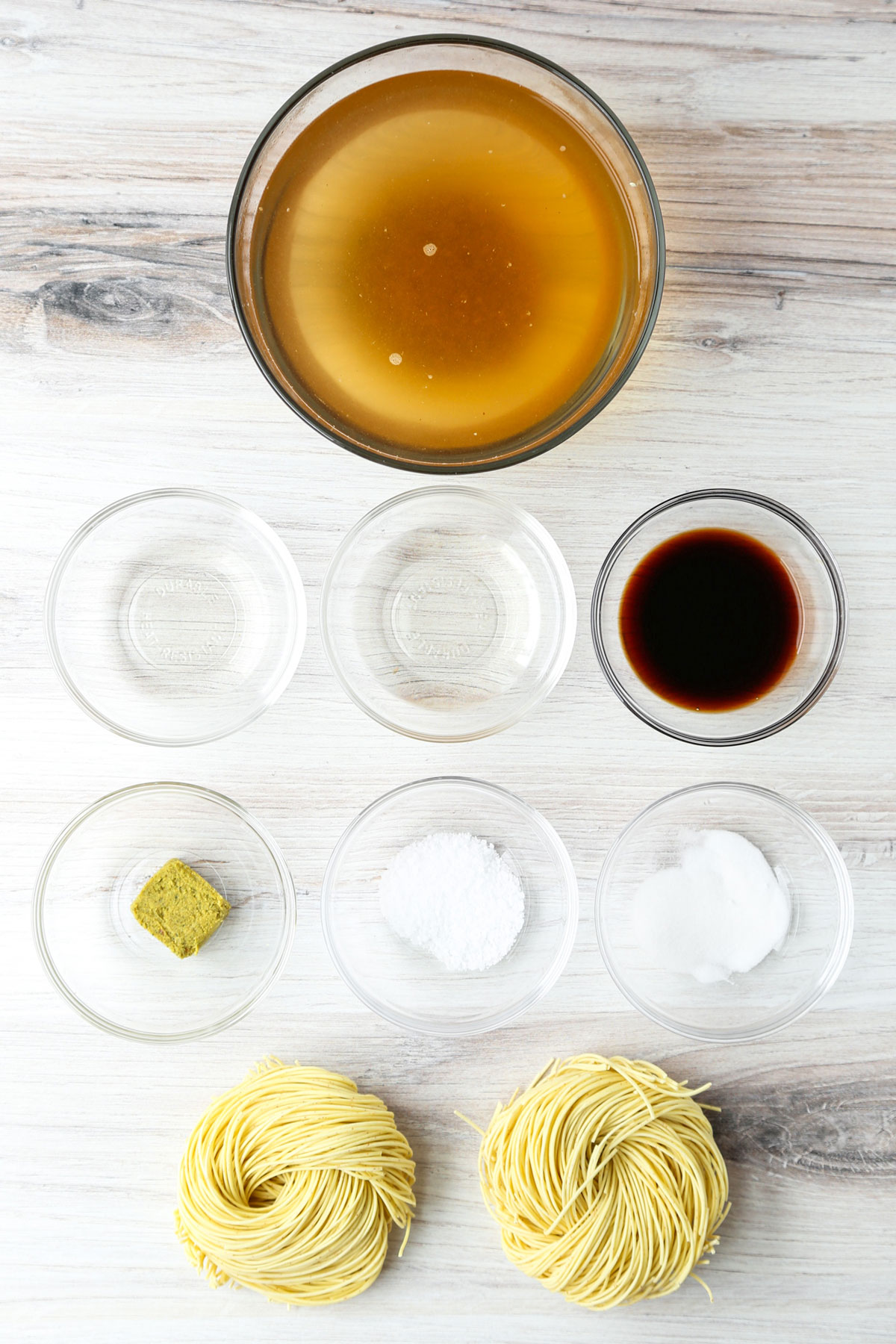 What is Champon?
Champon (ちゃんぽん), or chanpon, is a noodle soup local to the region of Nagasaki, Japan – although different versions can also be found in China and Korea. The dish is based on Hokkien cuisine which hails from Southeastern region of China. It was first served at Shikairō, a Chinese restaurant in Nagasaki, as a way to feed something filling and cheap to Chinese students living in Japan.
The dish consists of a broth made with pig bones and chicken bones that have been simmered for hours to create a rich, milky white soup.
Sliced pork, a mixture of seafood such as squid, shrimp, and fishcakes, and vegetables such as cabbage, carrots, onions, and bean sprouts, are added to a wok, and fried with lard. The soup is then added to the wok, along with the noodles, and left to simmer until the noodles are cooked. Champon is usually served in a bowl slightly bigger than the average ramen bowl.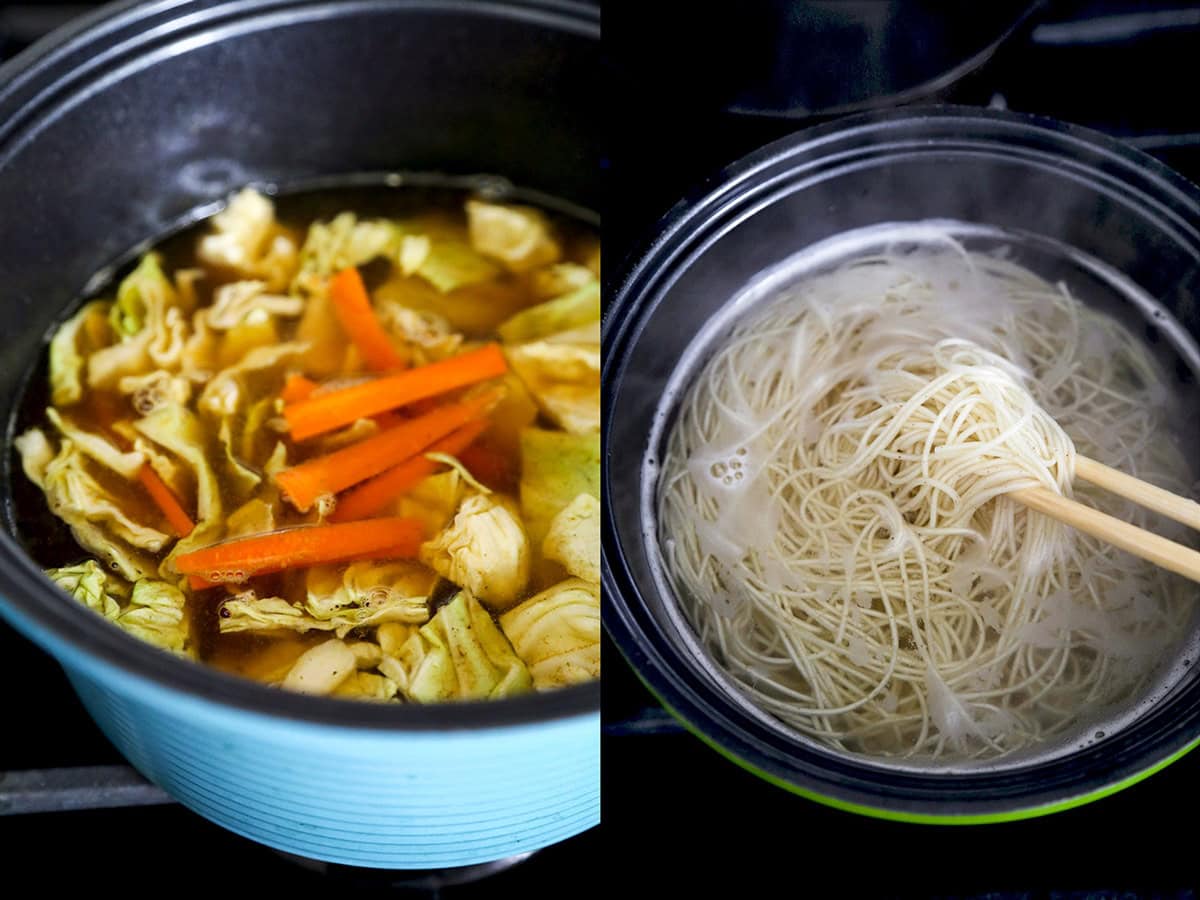 Ingredients for Vegetable Champon
Scroll all the way down for the full recipe.
Soup: A mixture of dashi broth, chicken stock cube, sake, mirin, soy sauce, salt, and sugar. The broth is full of umami, savory, salty, and earthy.
Noodles: You can choose any type of ramen or egg noodles for this dish. Ben and I love thinner noodles so I picked Canton noodle nests for this champon. The thickness of the noodles doesn't really matter for this noodle soup since the broth is clear and the noodles are cooked separately.
Toppings: Again, you can technically use anything that you like with noodle soup. I'm using a mix of cabbage, carrot, wood ear mushrooms (kikurage), bean sprouts and crab sticks (kamaboko).
Aroma oil: You will need about 1/3 cup of scallions and a neutral oil such a vegetable oil or grapeseed oil.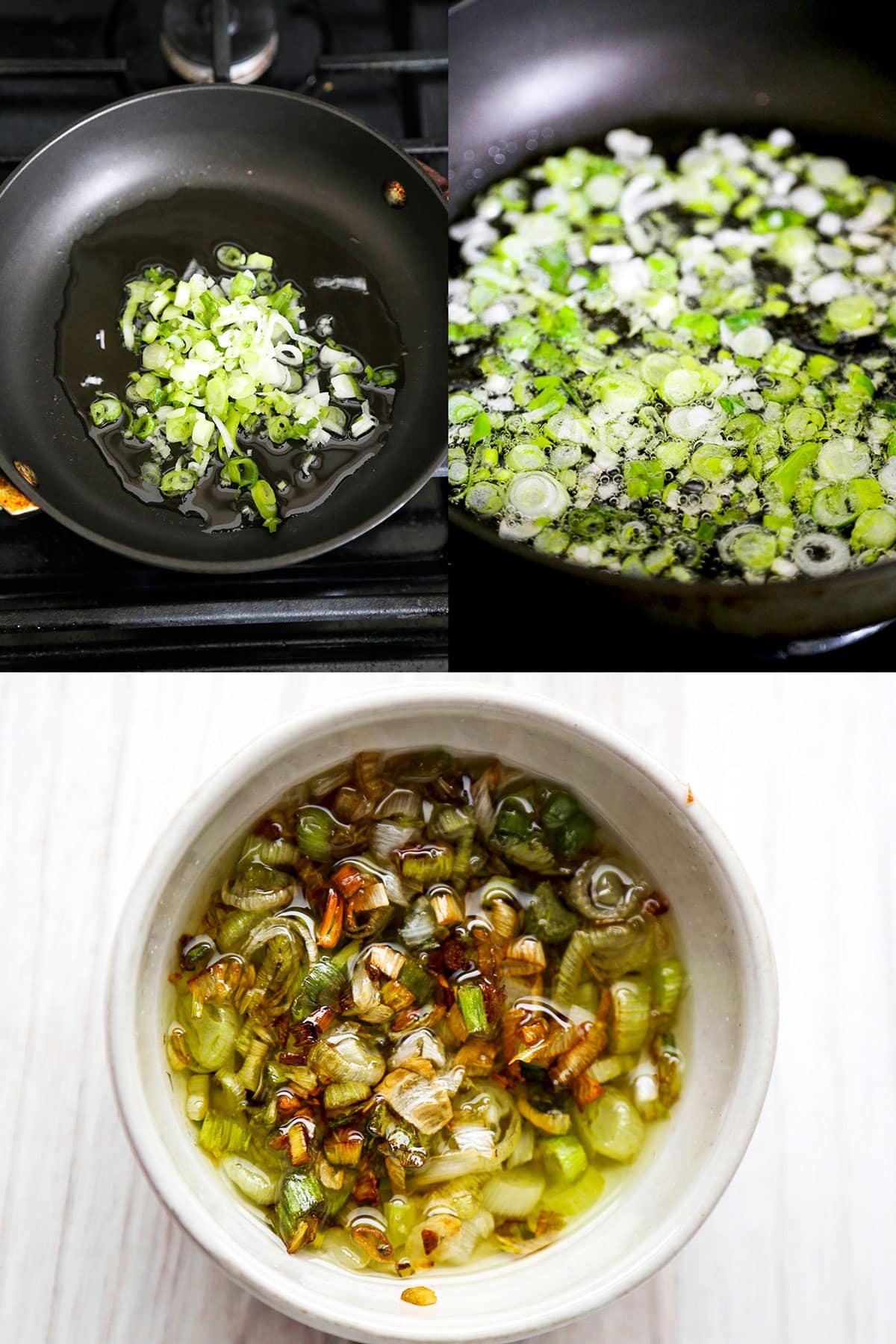 How to Make Vegetable Champon
Place the wood ear mushrooms (kikurage) in a bowl of water and let them rehydrate for about 15 minutes. Take the mushrooms out of the water and chop them into thin strips. Set them aside.
Put all the ingredients for the broth in a pot and bring the mixture to a boil.
Add the wood ear mushrooms and vegetable toppings and boil for 2 minutes. Turn the heat down to medium and continue cooking for 3 minutes.
Bring another pot of water to boil and cook your noodles according to the directions on the package. Drain them well and divide the noodles among two bowls.
Turn the heat off for the soup and divide it evenly among the two bowls, along with the vegetables.
Top with crab sticks and aroma oil. Enjoy!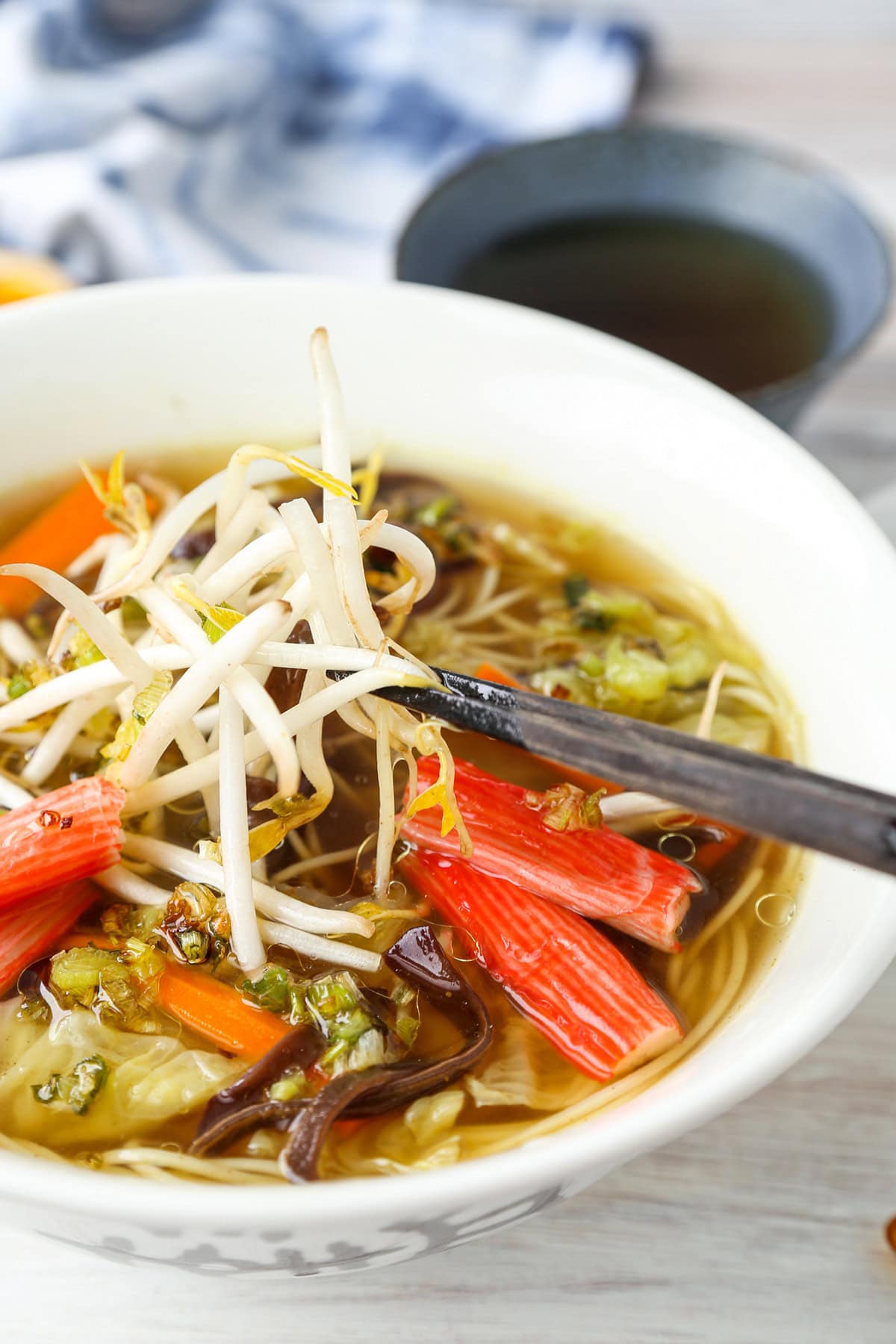 Aroma Oil for Ramen and Champon
Aroma oil is an oil that's drizzled on top of ramen to add an extra layer of flavor. It can be made with a variety of ingredients such as garlic, black garlic, peppercorns, pepper flakes, ginger, dried sardines, or scallions. One of the more well known aroma oil is chili oil which is used for ramen, stir fries, and added to dipping sauces.
The cooking process is very simple:
Pick a neutral oil such a vegetable oil or grapeseed oil.
Pick one or more aromatics of your choice. For this recipe I've chosen scallions.
Add the oil and aromatics to a pot and turn the heat to low. Let the oil come to a low simmer (when you see teeny tiny bubbles) and let the oil absorb some of the flavors from the aromatics. The key is to not let the aromatics burn which is why it has to simmer on low heat. Otherwise, your oil may taste rancid.
After a few minutes, when the aromatics are a golden, turn the heat off, pour the oil and aromatics into a bowl, and let cool. Use this technique if you want to eat the aromatics like I'm doing for this recipe. The more popular way is to strain the oil while pressing the aromatics to extract as much flavor as you can, and get rid of them. This way you end up with a clear oil that you can then drizzle over ramen.
Adding more oil to your ramen will raise the calorie count and fat content, but it will also take it to a whole new level, flavor wise. Once you start using flavor oil to season your ramen and champon, you will find it very hard to go back to just broth!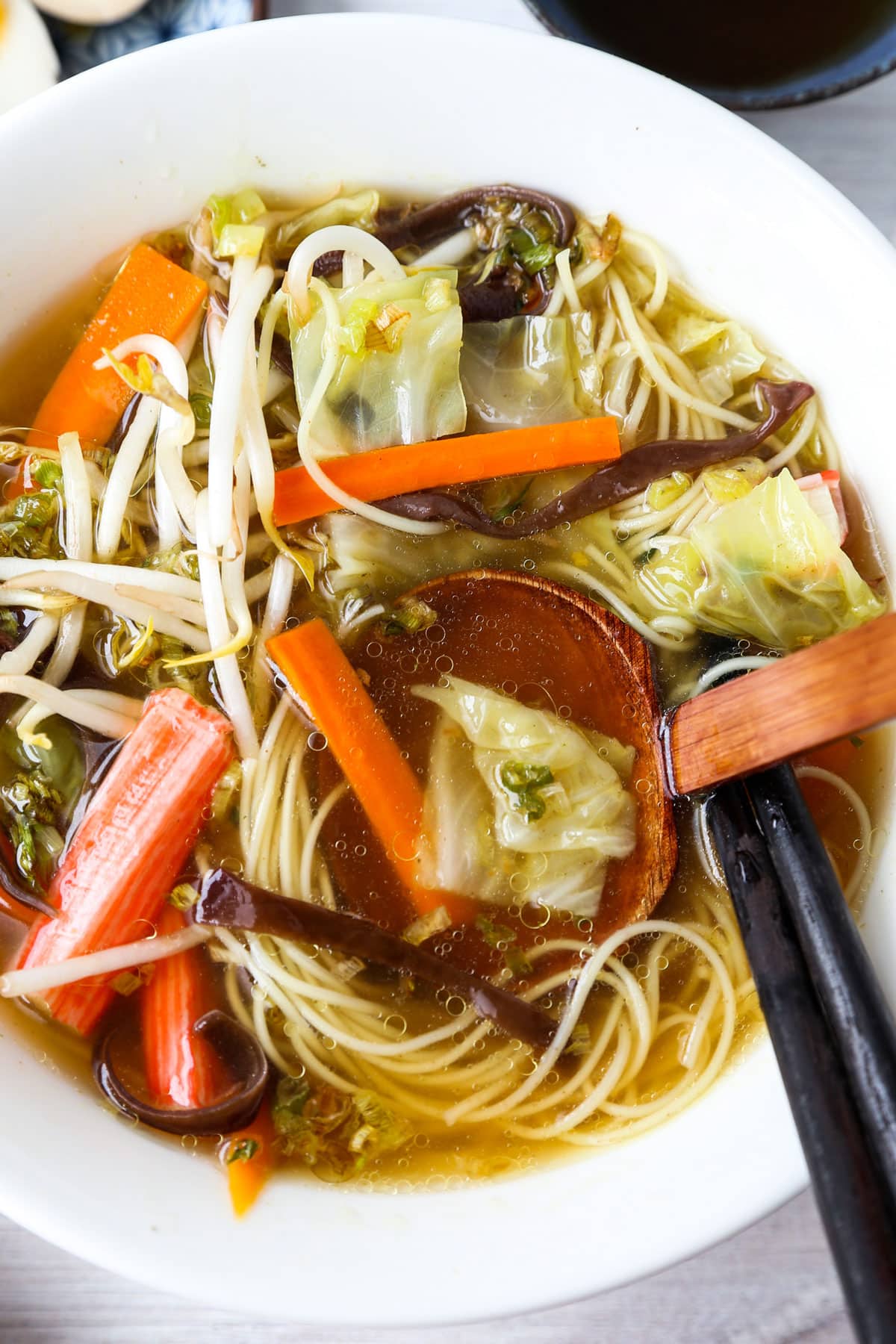 What to Serve with Vegetable Champon
As I previously mentioned, this champon recipe is nowhere near as filling as the traditional Nagasaki champon. It's a lighter version that won't fill you up too much so there will be room left to enjoy a few small side dishes. Some of my favorites are: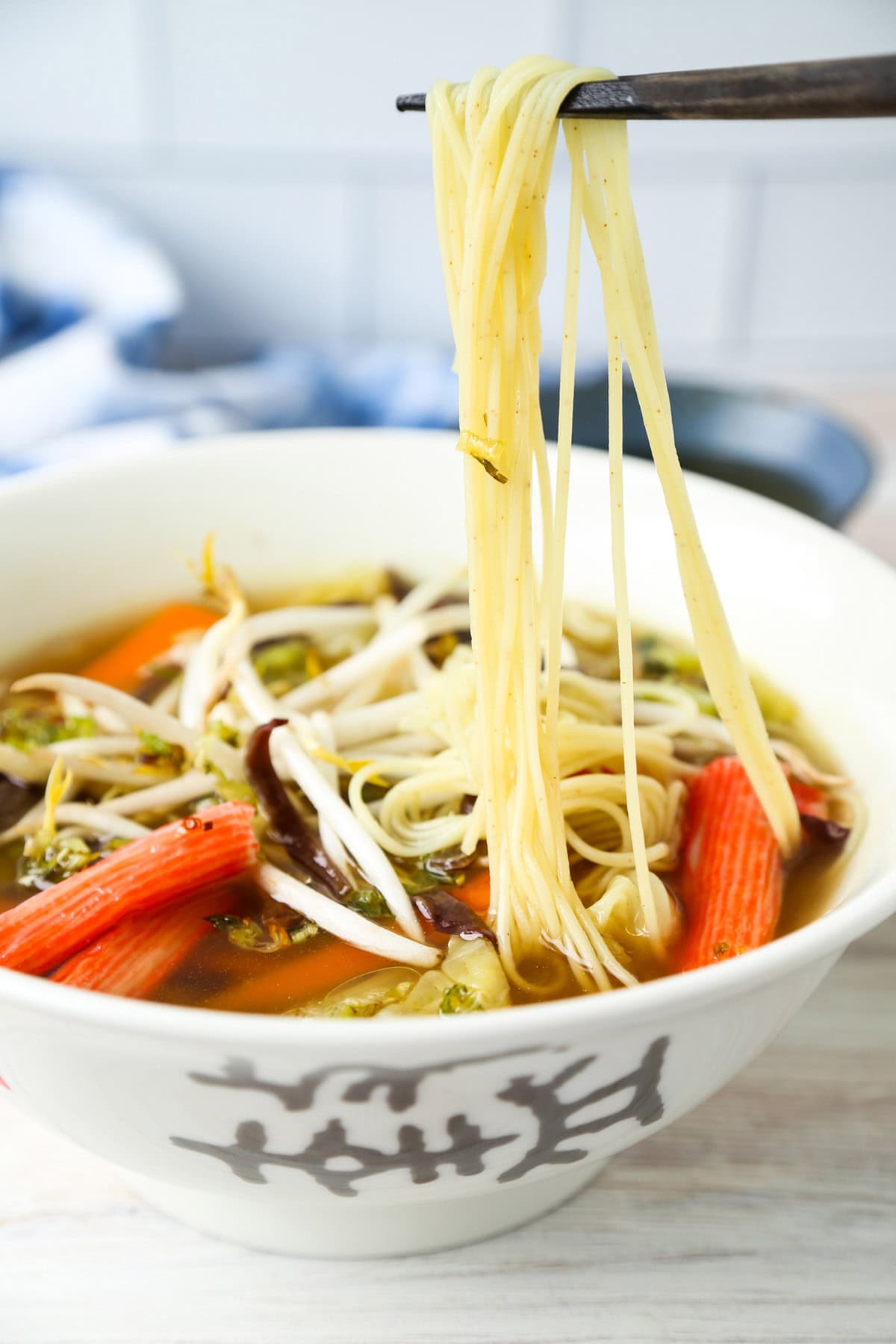 Did you like this Vegetable Champon Recipe? Are there changes you made that you would like to share? Share your tips and recommendations in the comments section below!
Print
Vegetable Champon
This vegetable champon recipe is a lighter version of Nagasaki champon, made with a mix of dashi and chicken broth, and topped with vegetables and crab sticks. 
Author: Caroline Phelps
Prep Time:

15 minutes

Cook Time:

15 minutes

Total Time:

30 minutes

Yield:

2

bowls

1

x
Category:

Soup

Method:

Stove Top

Cuisine:

Japanese

Diet:

Low Calorie
Soup:
3 1/2 cups

dashi broth

1

chicken stock cube

1 tablespoon

sake

2 tablespoon

mirin

2 tablespoons

soy sauce

1 teaspoon

salt

1 teaspoon

sugar
Noodles:
2

nests of dried egg noodles (about

60g

per nest)
Toppings:
6g

wood ear mushrooms, dried

150g

cabbage (about

1 cup

), chopped

30g

carrot (about

1/3 cup

), sliced into thin sticks

1/2 cup

bean sprouts

4

crab sticks (kamaboko)
Aroma Oil:
1/4 cup

vegetable or grapeseed oil

30g

scallions (about

1/3 cup

), chopped
Instructions
Scallion oil:
To make the fragrant oil, add all the ingredients to and turn the heat to low. Let the ingredients simmer for about 5 minutes. The oil should be slightly bubbling, (small bubbles).

Turn the heat off and place a small strainer over a bowl. Pour the oil through the strainer and discard the scallions and garlic. Set aside. 
Champon:
Rehydrate the wood ear mushrooms by soaking them in water for about 15 minutes. Drain and chop into thin strips. Set aside.

Add the ingredients for the soup in a pot, and bring to a boil. 

Stir and add the mushrooms, cabbage, and carrot. Boil for 2 minutes and turn the heat down to medium. Cook for another 3 minutes. 

Meanwhile, cook the egg noodles according to the directions on the package and drain them. Divide the noodles among two bowls.

Turn the heat off, divide the soup and vegetables among the two bowls and add the crab sticks.

Pour a little aroma oil on top and serve.
Notes
Make ahead of time:
Mix all of the ingredients for the broth in a bowl and refrigerate until you are ready to start cooking.
Prep your vegetables and keep them in a storage container in the fridge, until you are ready to start cooking.
Make you aroma oil ahead of time and keep it in a jar, on the kitchen counter.
Nutrition
Serving Size:

1 bowl

Calories:

510

Sugar:

20.4g

Sodium:

2927mg

Fat:

30.5g

Saturated Fat:

3.3g

Unsaturated Fat:

19.8g

Trans Fat:

0g

Carbohydrates:

46.2g

Fiber:

3.6g

Protein:

11.7g

Cholesterol:

28.7mg
Keywords: Noodle soup, lunch
Recipe Card powered by