Making takoyaki at home is easier than you think, it only takes about 15 minutes. Add these fluffy octopus balls to your next Japanese inspired dinner and watch them disappear in seconds!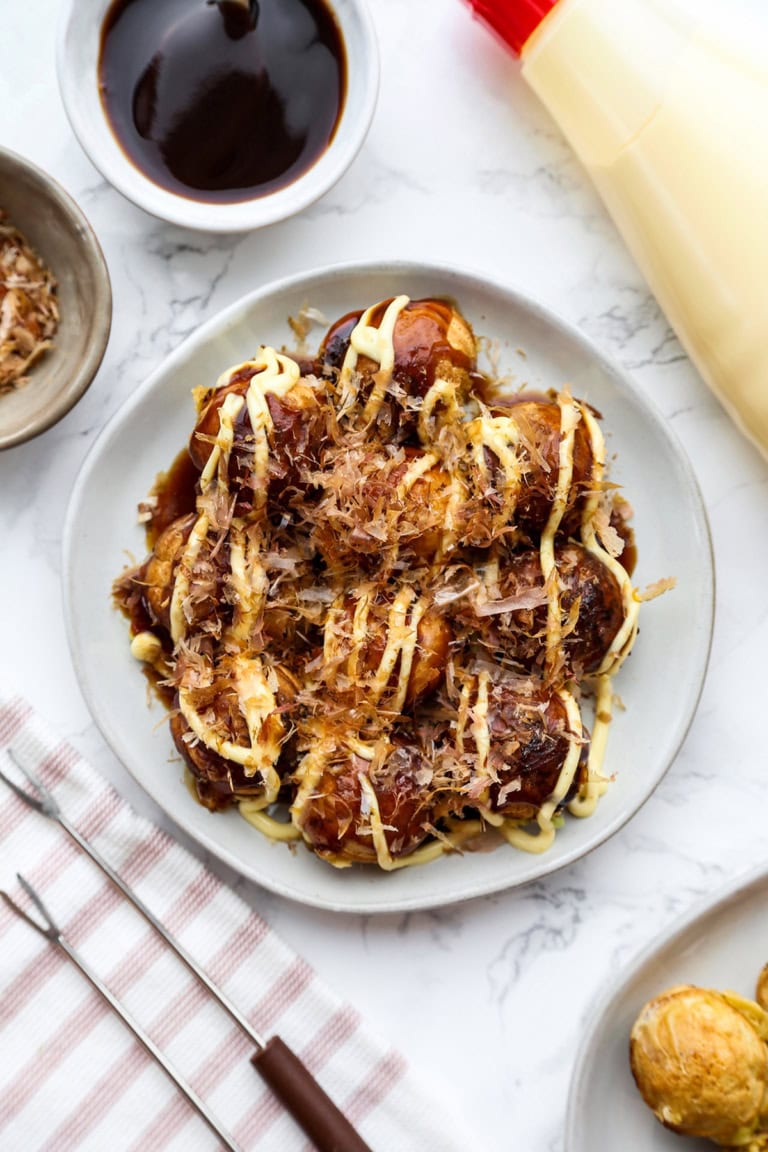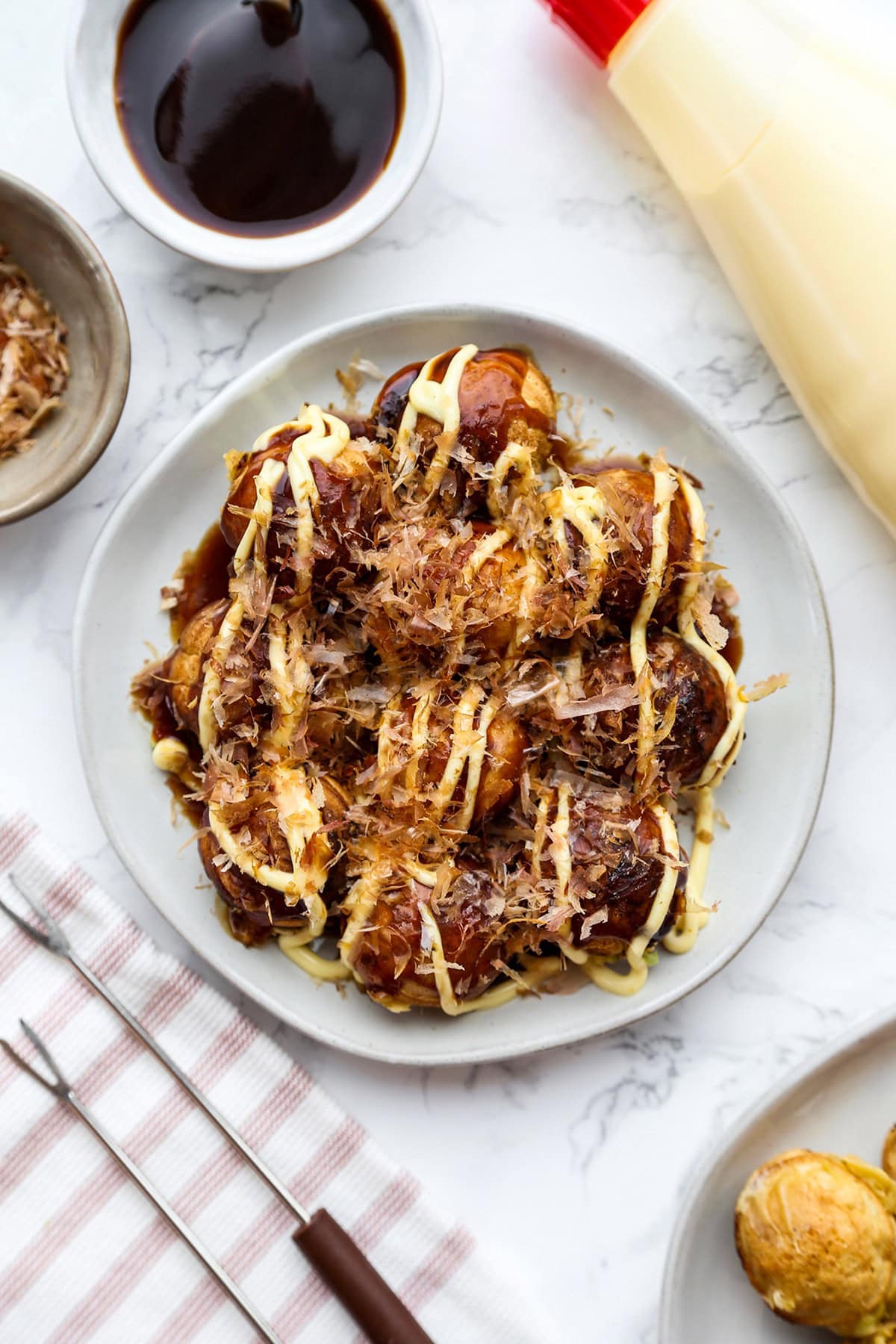 Takoyaki is usually the first thing I eat when I visit my mother in Japan.
Right after she picks me up at the airport we make our way to her favorite takoyaki spot and order a dozen of octopus balls. Half of them are dressed with the classic takoyaki sauce and the other half comes with regular soy sauce.
We then stop at Seven Eleven where I run in to pick my absolute favorite dish – tororo soba (chilled soba noodles with mountain yam) – and drive home to her small but super cozy apartment. That's a routine I never tire of doing as I always look forward to spending time with my mother, in one of my favorite countries.
But since I haven't been able to go to Japan due to the current situation I've decided to bring Japan to my kitchen by making takoyaki. And you will be happy to know that it's extremely easy to make – let me show you how!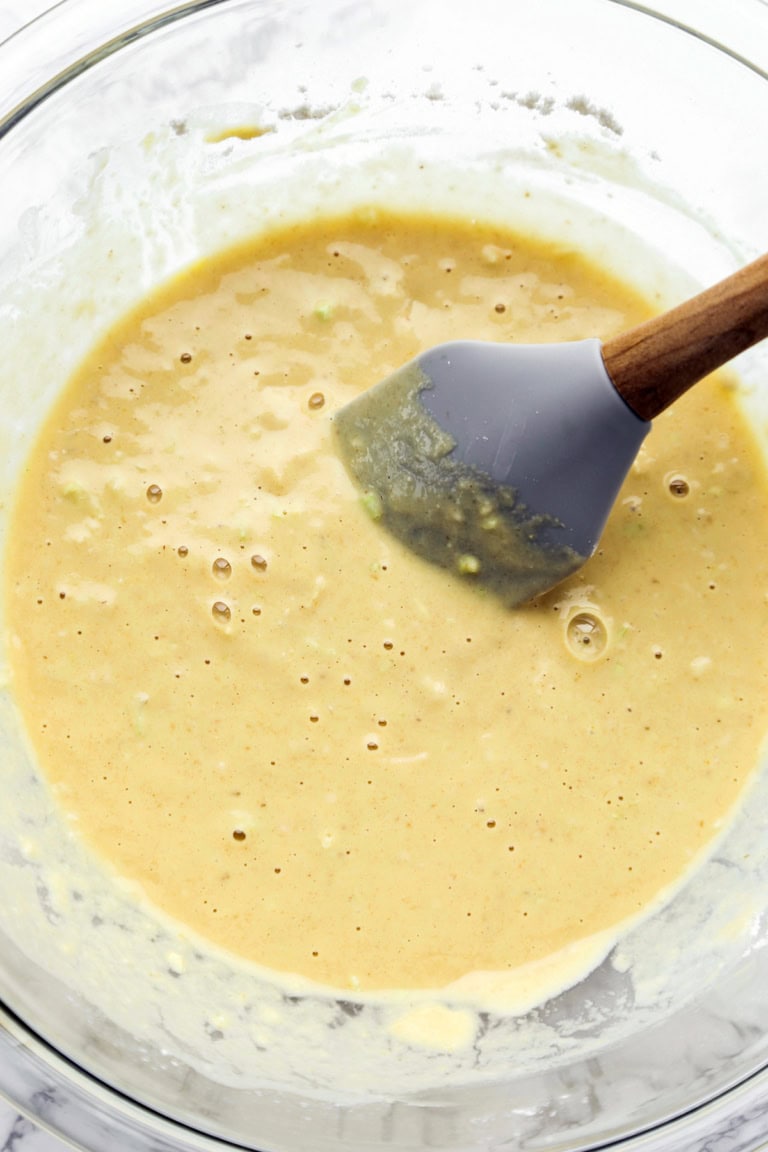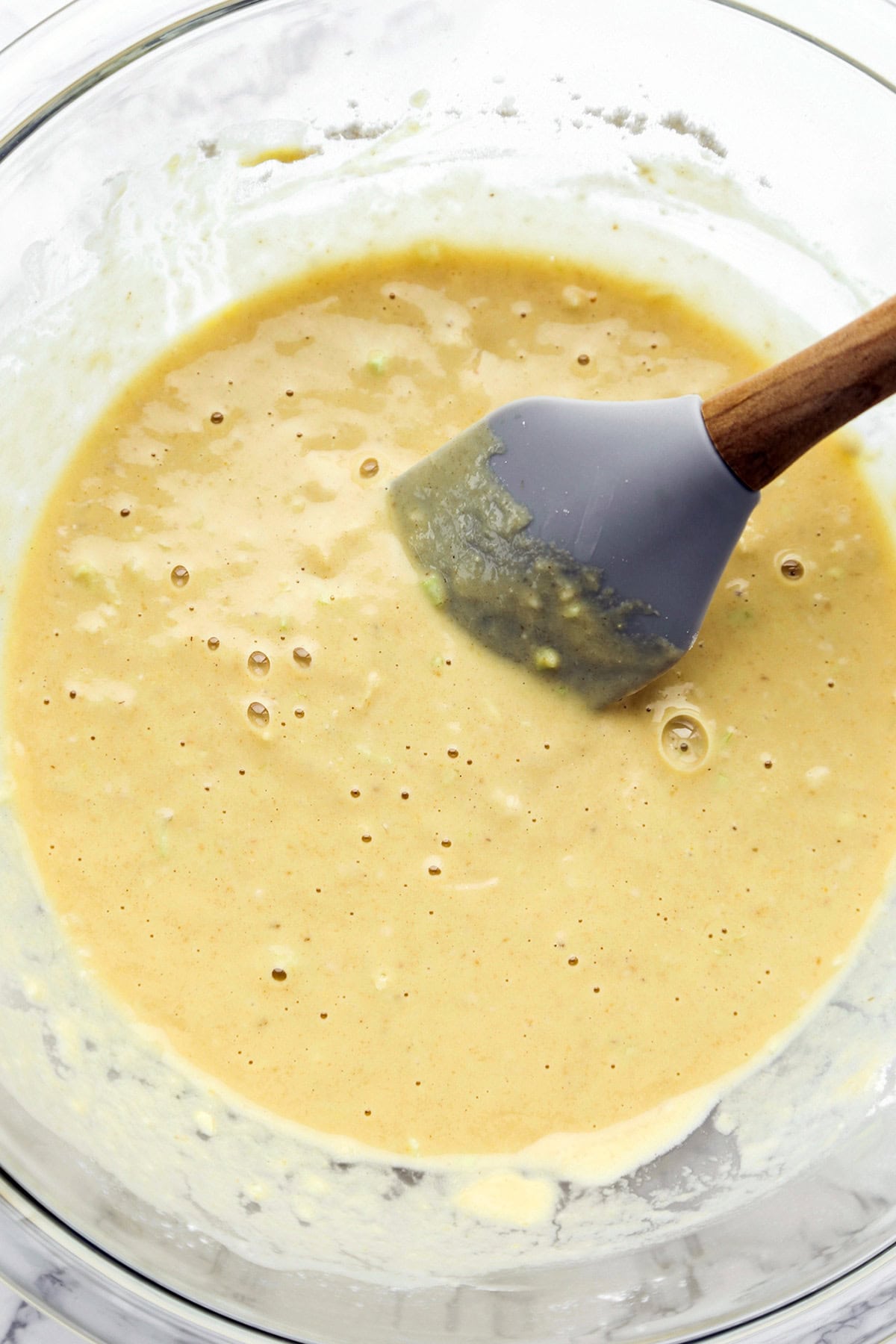 What is Takoyaki (たこ焼き)?
Takoyaki, which literally translates to grilled octopus, are round shaped balls made with a mixture of whole wheat batter, eggs, soy sauce, and dashi, stuffed with chopped octopus, scallions, and benishouga (pickled red ginger).
The batter is poured in a special takoyaki pan which comes with rounded molds to create the iconic takoyaki ball shape. Once cooked, they are transferred to a plate and topped with takoyaki sauce, Japanese mayonnaise, bonito flakes and green laver flakes (aonori flakes).
It's a popular summer snack that originated from Osaka back in 1935. Since then it has become one of Japan's most popular street food which you can find at festivals, yatais (mobile food stalls), and specialized takoyaki stands.
What does it Taste like?
Takoyaki tastes very similar to okonomiyaki, also known as Japanese pizza. For those unfamiliar with okonomiyaki, it's basically a pancake filled with vegetables and topped with the same toppings as takoyaki. The flavors are quite complex – it's sweet, smoky, tangy, salty, and slightly briny.
One thing for sure, there's nothing boring about it!
And despite the strong flavors, takoyaki is totally kid friendly! Just don't mention there's octopus in there (you really can't taste it) 😉 .
How to Pronounce Takoyaki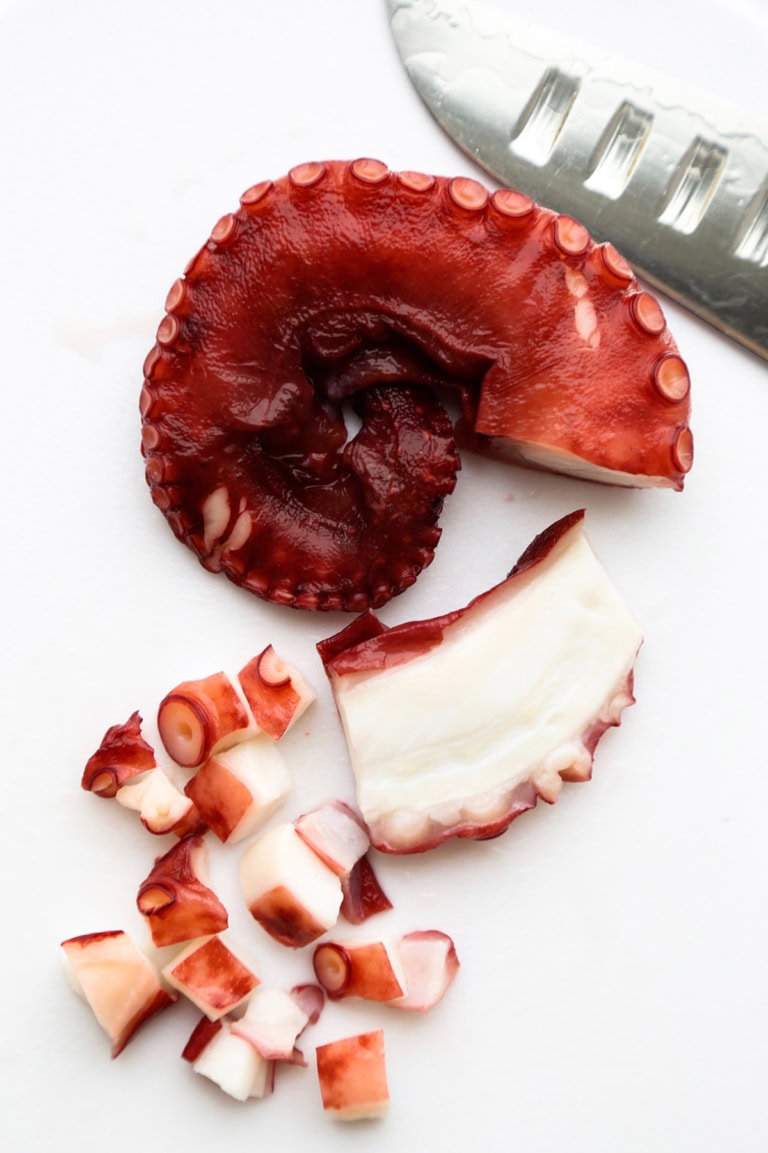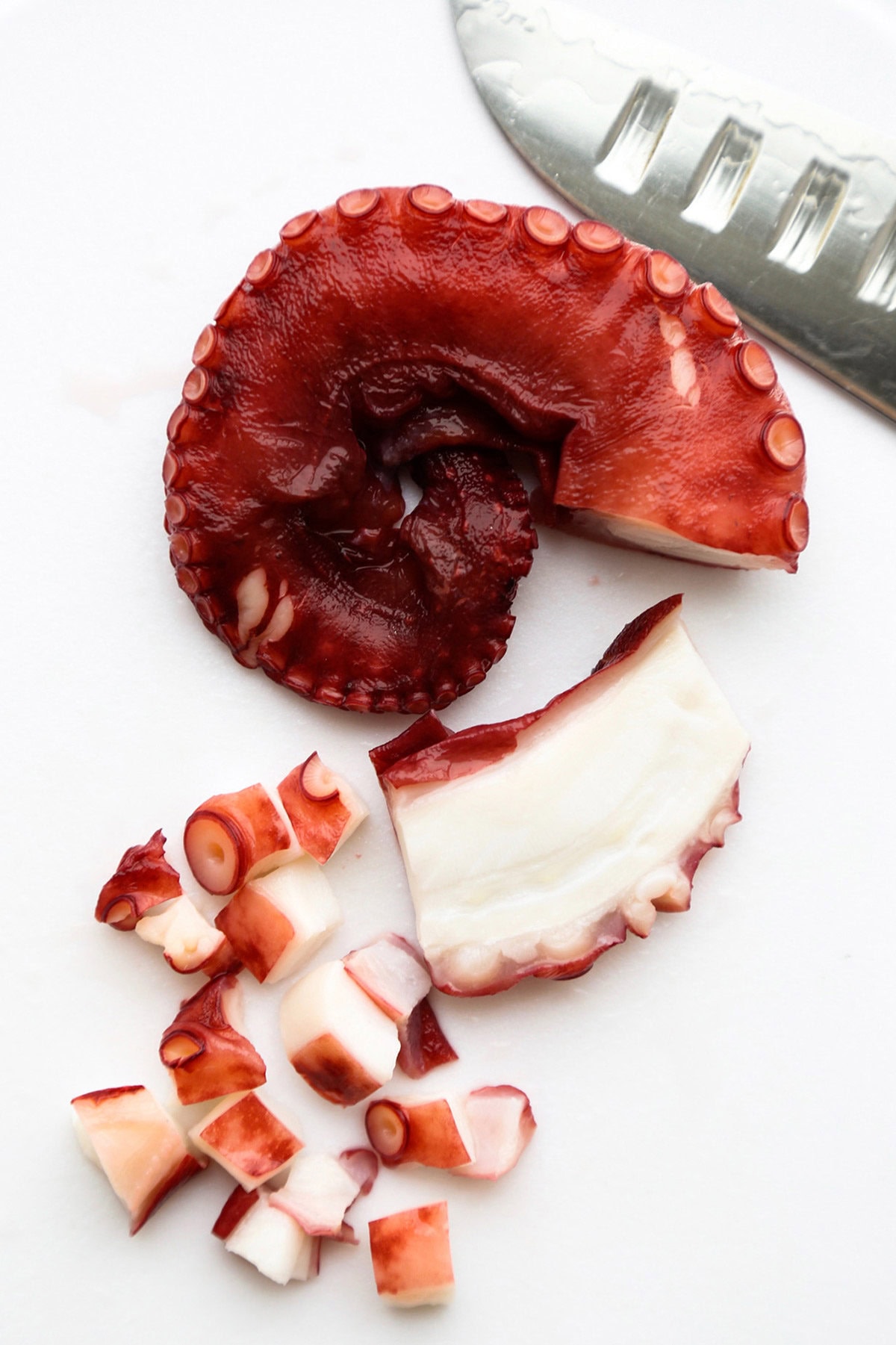 Takoyaki Ingredients
Flour: You will need all-purpose flour and cake flour (you can also use pancake flour. I've tried it and couldn't tell the difference). The cake flour makes the dough more fluffy and dumpling-like.
Eggs: 2 large eggs, whisked, preferably pasture raised as they taste so much better! I get mine at Whole Foods.
Dashi: Dashi adds a delicate briny touch to the takoyaki, infusing each ball with some umami.
Soy sauce: 1 tablespoon of soy sauce to add more umami and some earthiness too.
Octopus: If I can find boiled octopus in Des Moines, Iowa, so can you! I found mine at an Asian grocery store in the frozen section. Make sure it's boiled already as the meat is much more tender. Boiling it yourself will take a long time and make your house smell like a fish market.
Cabbage: This is totally optional but my mother is the genius behind adding cabbage to takoyaki. I've added 3 tablespoons but you can add more if you like, it adds a really nice texture to the balls and makes them less heavy.
Scallions: Green onions, scallions, call them whatever you want, you will need two of them. Don't be afraid to chop them up into teeny little pieces either, they will blend with the batter, better.
Sesame oil: You can use regular oil to brush the takoyaki pan but I like to infuse a little nuttiness by using toasted sesame oil.
Benishoga (pickled ginger): I haven't added it to my recipe because I personally prefer my takoyaki without it, but if you want to go uber traditional, use a little pickled ginger to add a little acidity and zing.
Toppings: Toppings are up to you but here are the traditional ones I recommend using: Japanese mayonnaise, takoyaki sauce, bonito flakes, and dried laver flakes (aonori).
Takoyaki Sauce
You can use the traditional takoyaki sauce or tonkatsu sauce for takoyaki. The taste is very similar between the two but I prefer tonkatsu sauce because it's less sweet, more tangy and smoky.
As for mayonnaise, you could use the American type if you cannot find Kewpie Mayonnaise (Japanese mayonnaise). They are quite different in taste – Japanese mayonnaise is sweeter, fruitier and more eggy – but it will still taste great. Or you can make your own Japanese mayo by following this easy recipe on my blog.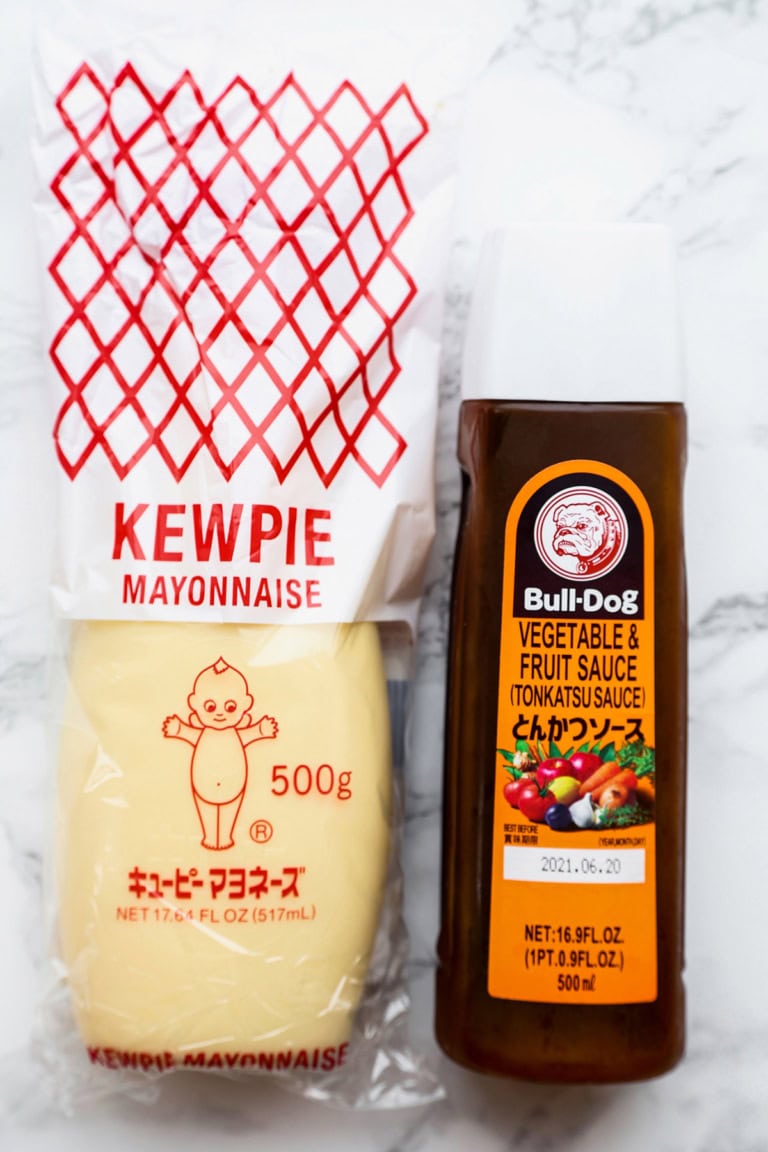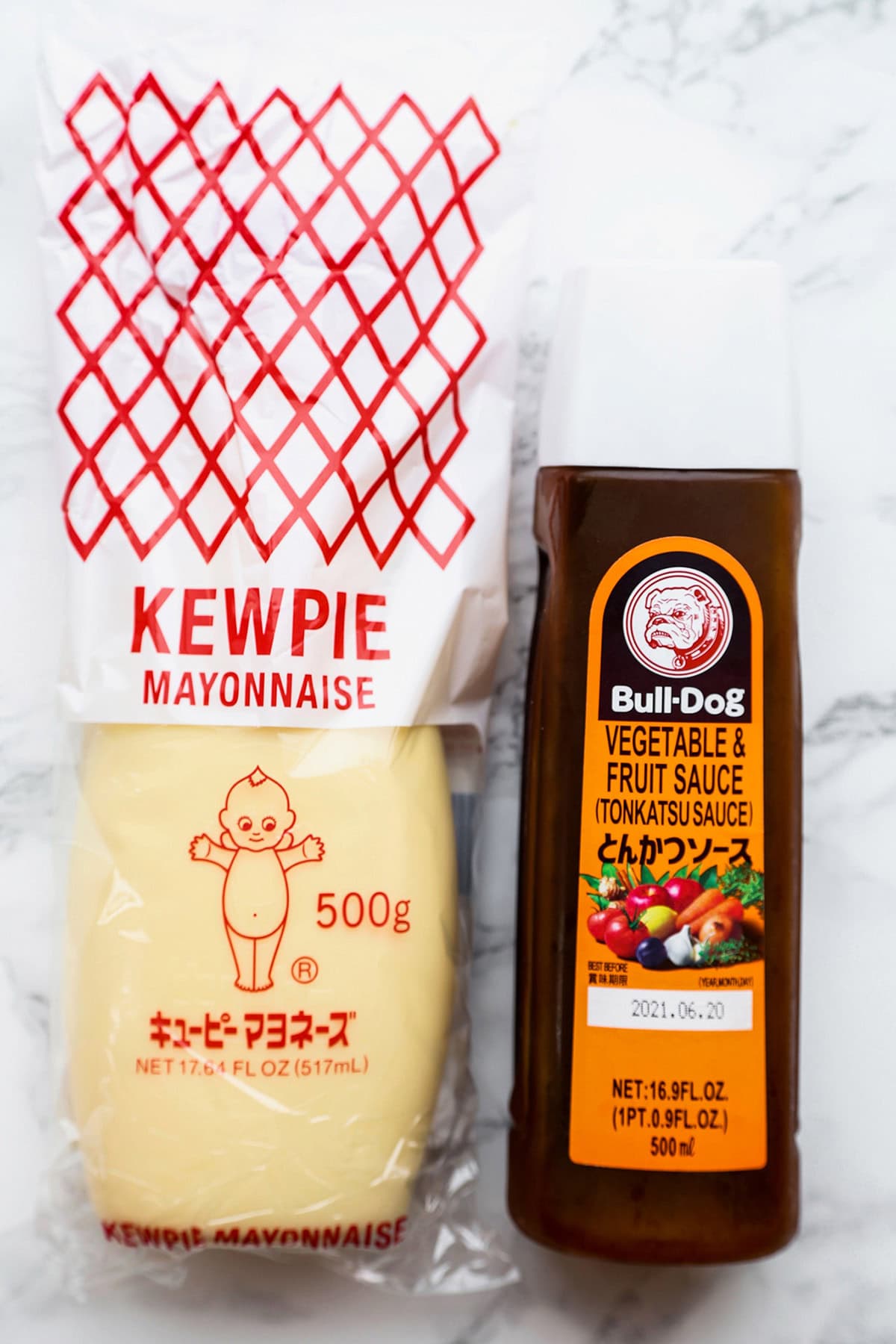 Takoyaki Pan/Machine
There's one piece of equipment you will need to get in order to make takoyaki – a takoyaki grill pan or a takoyaki machine. Both work extremely well and are easy to handle.
For a grill pan you will have to use it over fire like a stove top burner or a portable gas stove. If you are using the machine like I am, you only need to plug it in and start using it as soon as the plate gets hot. You can find both in a Japanese supermarket or on Amazon.
No takoyaki pan or machine? No problem, you can still make takoyaki!
Make small takoyaki pancakes!
The taste will be the same but the texture will be less fluffy because you would working with a bigger surface. I've never made it that way but I'm sure it's still very delicious, just like okonomiyaki!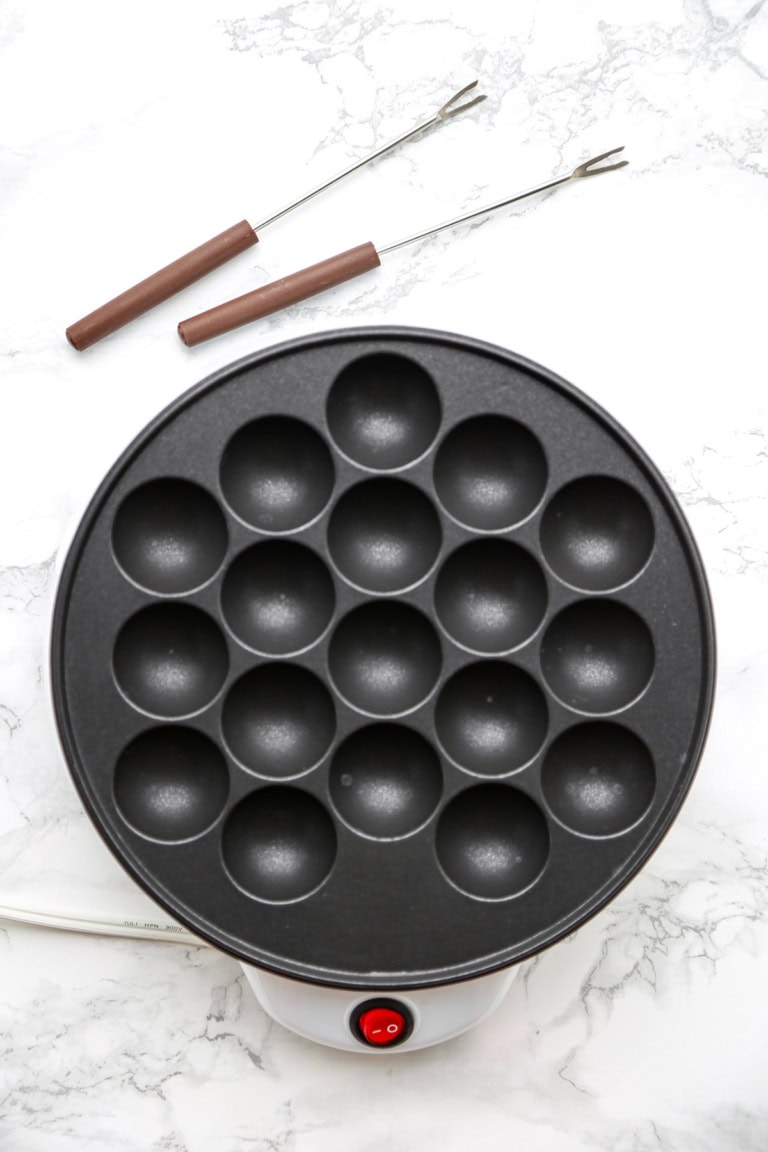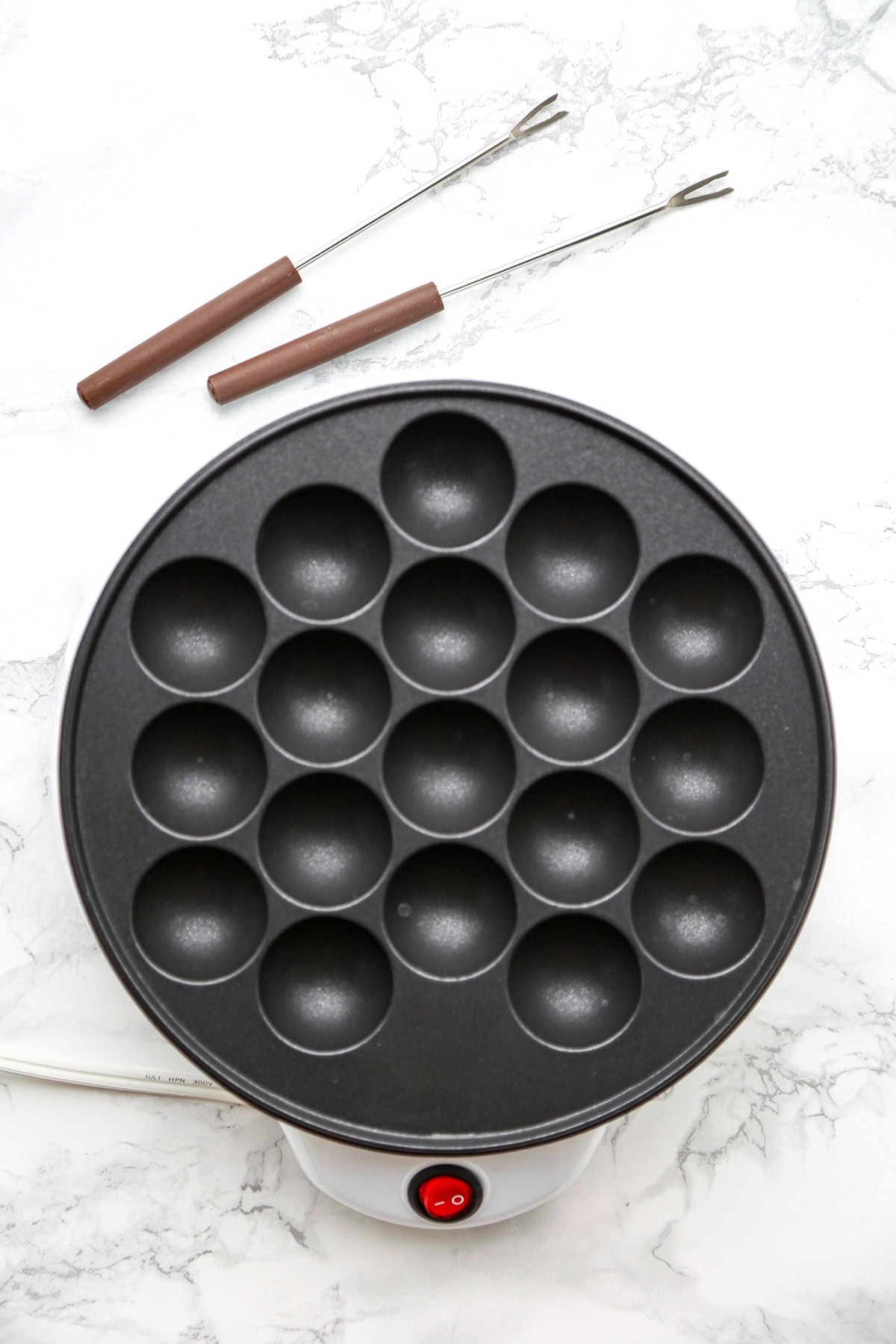 How to Make Takoyaki
Start by making the batter. Add the flour, cake flour, eggs, cabbage, dashi, and soy sauce, and whisk until the batter is smooth.
Brush the takoyaki grill pan or machine with sesame oil, making sure each round mold is also brushed.
Place the takoyaki grill pan over a burner and turn the heat on, or turn on the takoyaki machine.
When the grill pan or machine is hot, pour a little batter into the molds until they are about 3/4 full and add 2-3 pieces of octopus and a few scallions to each mold. Pour more batter on top – it doesn't matter if it overflows and spreads across the pan since it will continue to cook – and let cook until the underside is golden brown (about 2 minutes).
Flip each takoyaki ball using a skewer or a chopstick, and allow to cook for an additional 1-2 minutes, until the balls are cooked through.
Turn the heat off and transfer the takoyaki to a plate.
Top with takoyaki sauce or tonkatsu sauce, Japanese mayonnaise, lots of bonito flakes, and some aonori. Enjoy!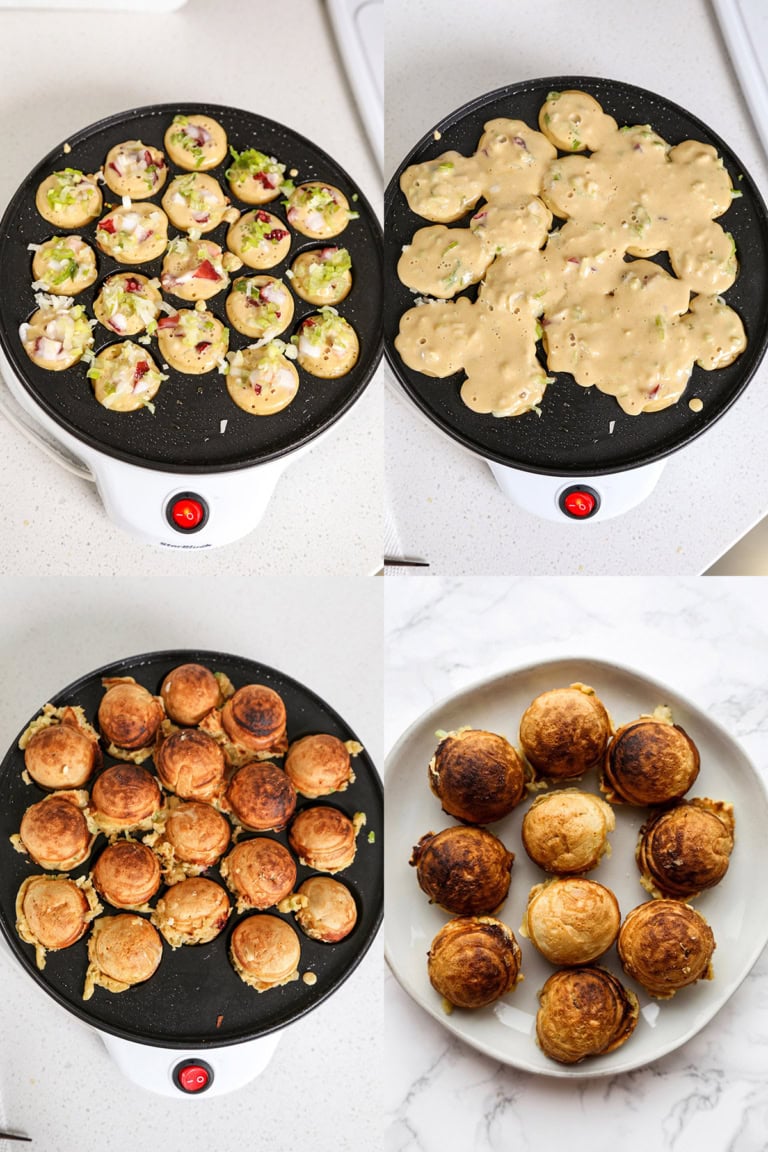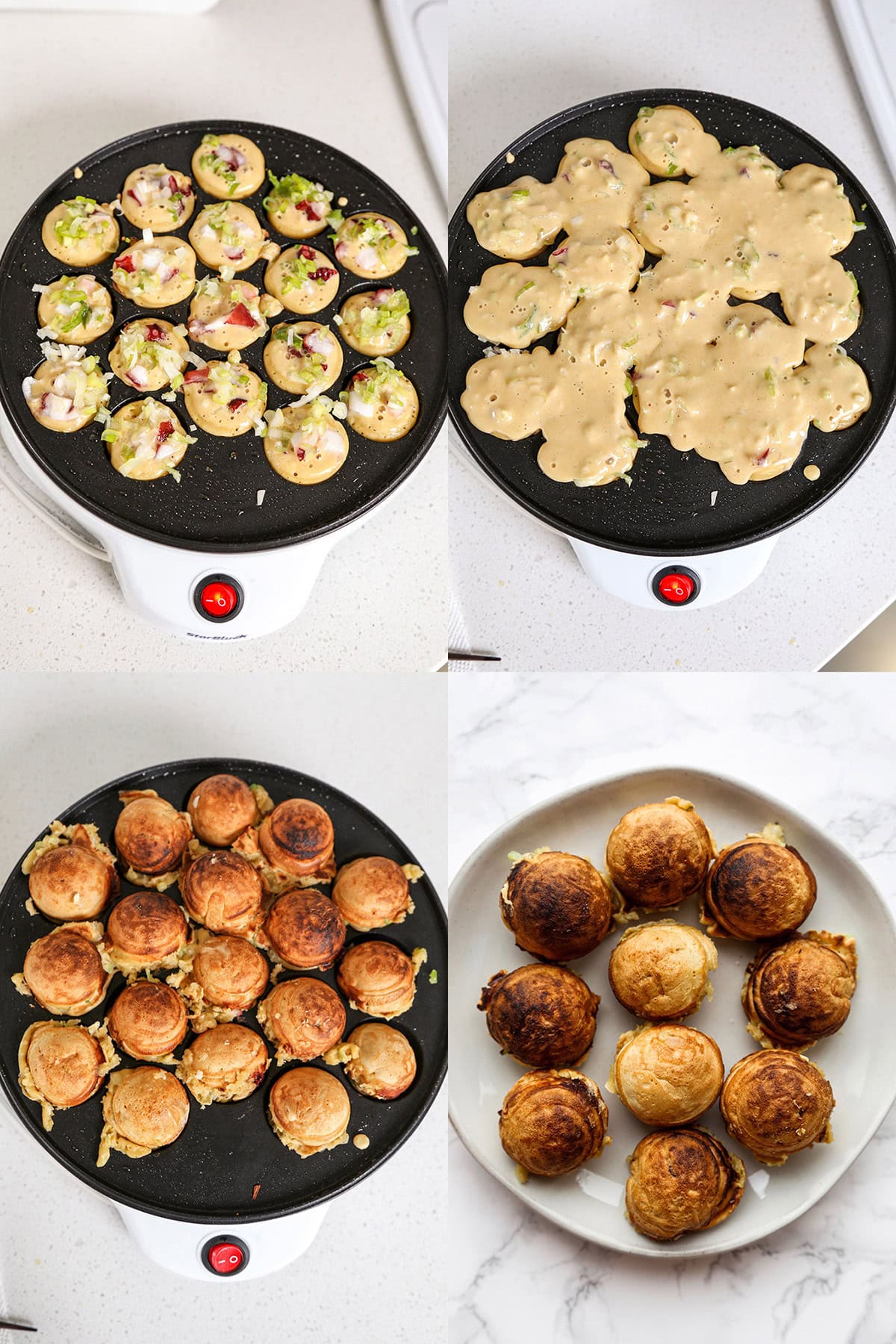 Japanese Street Food
Just like many other Asian countries, Japan has an abundance of street food available that should be on everyone's must-try list. The street vendors called yatai, which literally means shop stand, set up shop in the early evening and sell food until the early morning hours.
It's a tradition to end the evening at a yatai stand after enjoying a few drinks out with friends.
Some of the most popular yatai dishes are: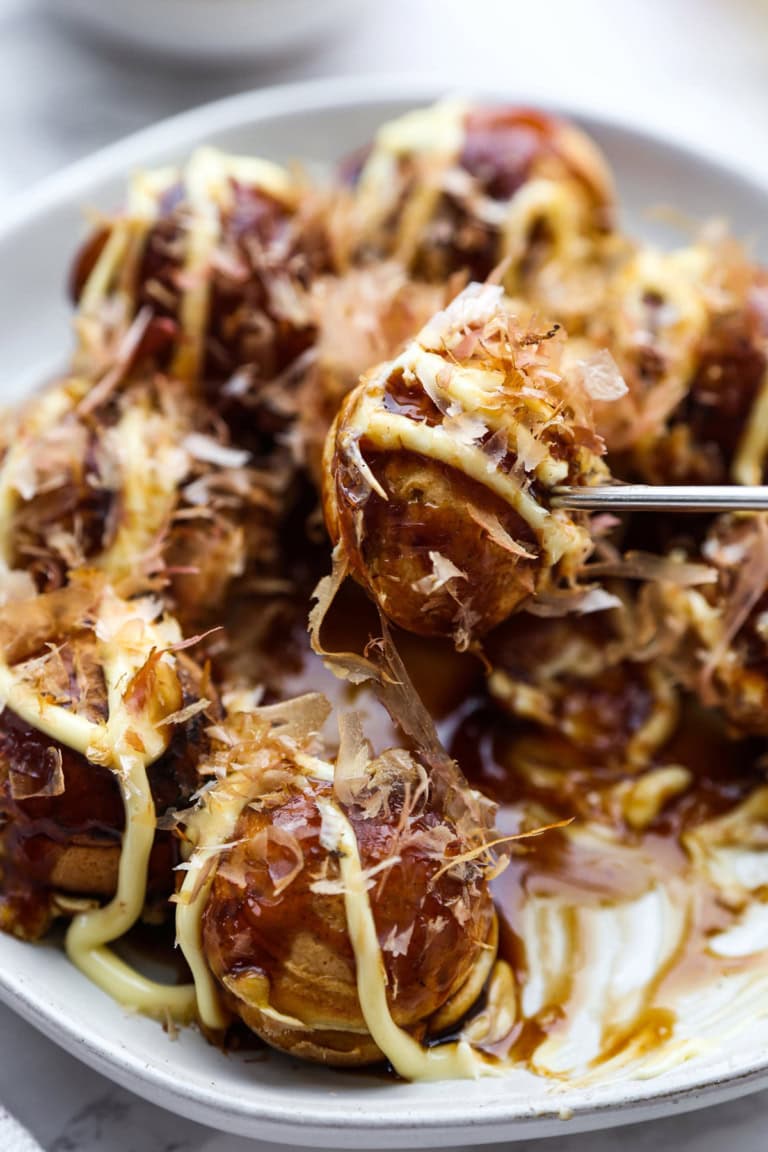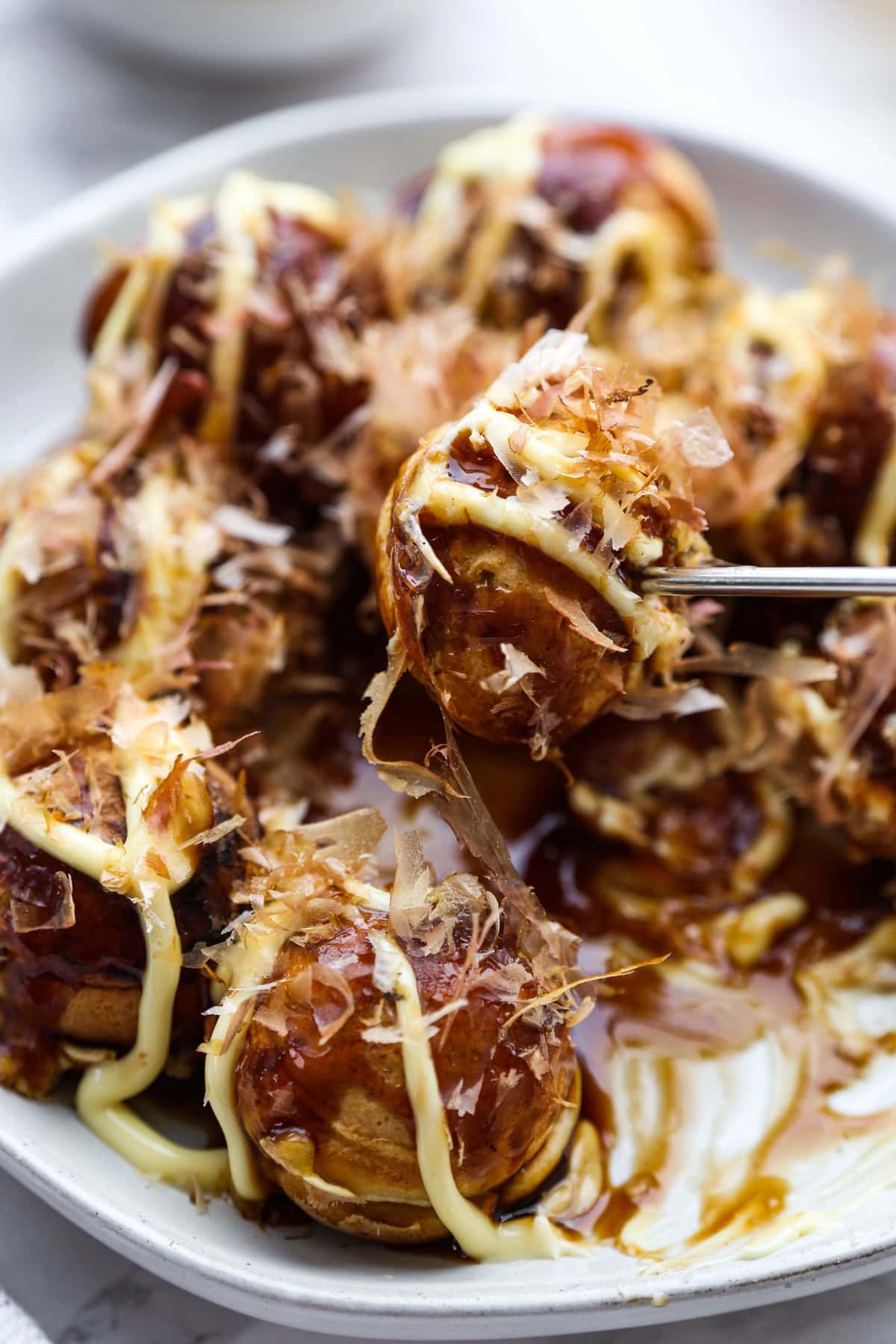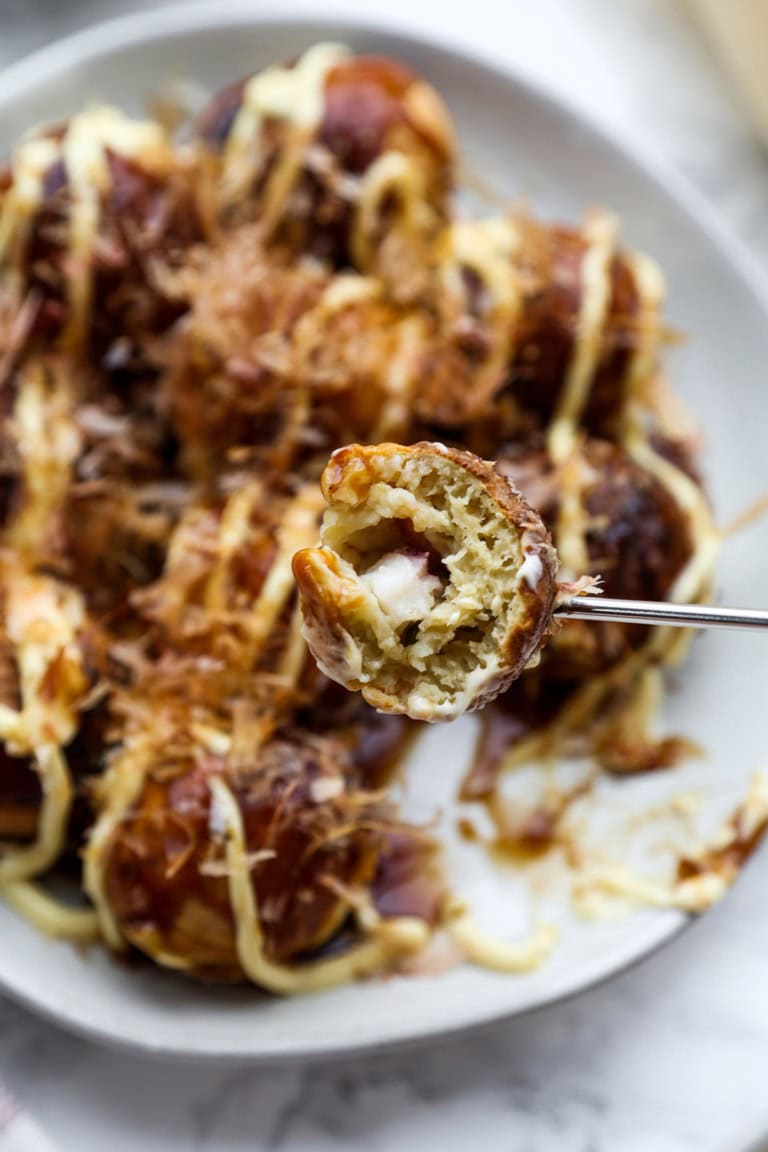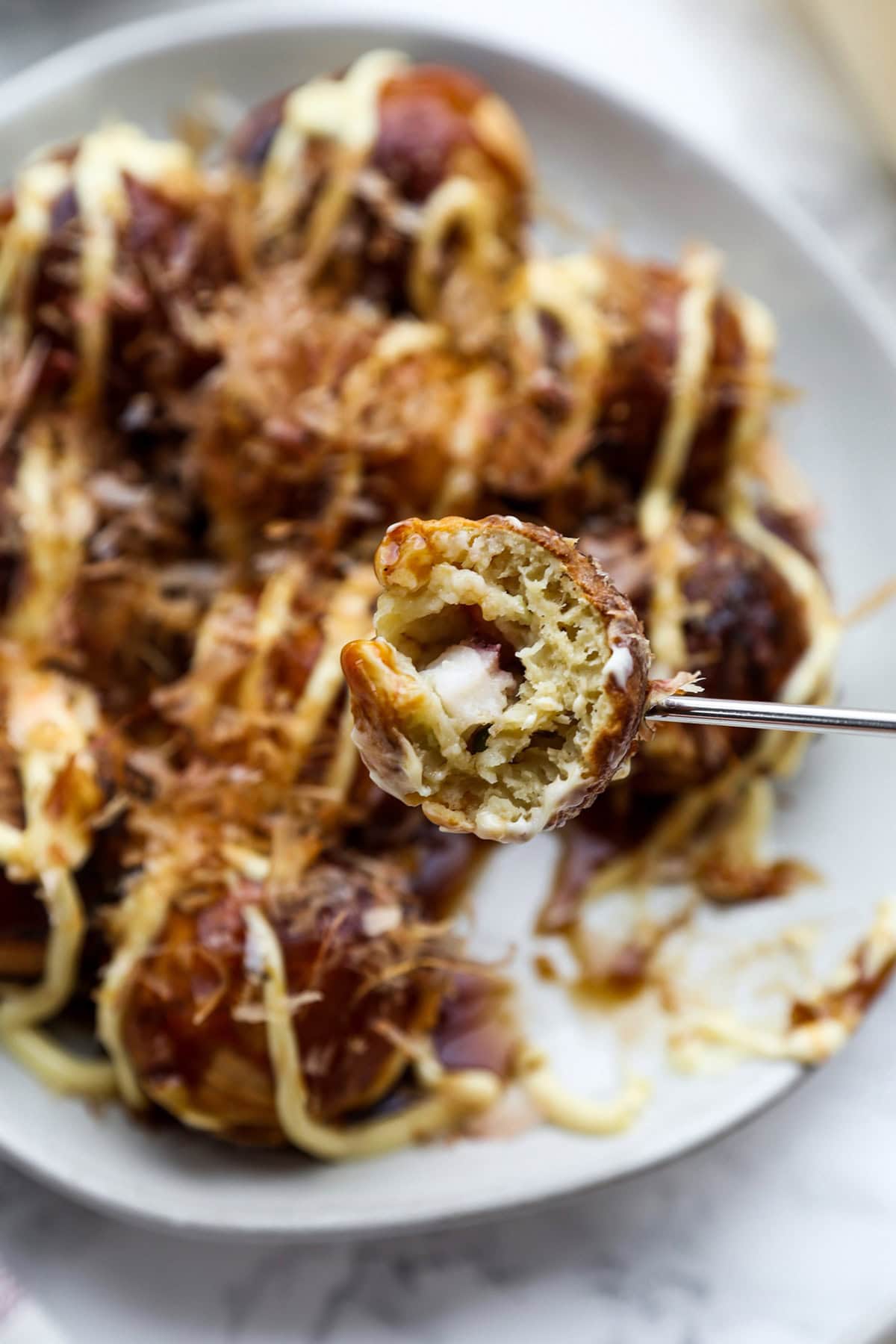 Did you like this Takoyaki Recipe? Are there changes you made that you would like to share? Share your tips and recommendations in the comments section below!
Print
Takoyaki – たこ焼き (Octopus Balls)
Making takoyaki at home is easier than you think, it only takes about 15 minutes.
Author: Caroline Phelps
Prep Time:

15 minutes

Cook Time:

6 minutes

Total Time:

21 minutes

Yield:

24

–

28

balls

1

x
Category:

Side

Method:

grill pan

Cuisine:

Japanese
3/4 cup

all-purpose flour

1/4 cup

cake flour

2

large eggs

2/3 cup

dashi

1 teaspoon

soy sauce

3 oz

(85g) cooked octopus, chopped into small pieces

3 tablespoons

cabbage, very finely chopped (optional)

2

scallions, finely chopped

Toasted sesame oil

Takoyaki sauce (or tonkatsu sauce also works well)
Aonori (dried laver flakes)

Bonito flakes

Japanese mayonnaise (Kewpie mayo)
Instructions
Make the batter by whisking the flour, cake flour, eggs, dashi, and soy sauce.

Brush the takoyaki maker with a generous amount of sesame oil. Make sure each mold and the outside as well since the batter will spill over.

Turn on the takoyaki maker and when it's hot, pour the batter into each mold until it's about 3/4 full.

Add 2-3 pieces of octopus to each mold and a few chopped scallions. Finish filling the mold with a little more batter (don't worry if it overspills as the batter will continue cooking and the balls don't need to perfect).

Let the batter cook for about 3 minutes, until the underside is golden brown and the batter almost fully cooked.

Carefully flip each takoyaki ball using a skewer and cook for an additional 1-2 minutes, until the bottom is golden brown. The takoyaki balls are ready when they are golden brown all around and the inside is pillowy.

Gently transfer them to a plate using a skewer or chopsticks.

Top with a good squirt of okonomiyaki sauce and mayonnaise, and sprinkle aonori and bonito flakes on top. Serve immediately.
Notes
Special Equipment Needed: Takoyaki grill pan or takoyaki machine.
Leftovers: It's best to eat takoyaki fresh because the sauce eventually makes the dough soggy. If you happen to have leftover naked/unsauced octopus balls, keep them refrigerated in an airtight container. They will keep for about 2 days. Microwave for 20-30 seconds before eating.
Nutrition
Serving Size:

1 piece

Calories:

40

Sugar:

0.1g

Sodium:

42.3mg

Fat:

0.7g

Saturated Fat:

0.2g

Unsaturated Fat:

0.2g

Trans Fat:

0g

Carbohydrates:

5.7g

Fiber:

0.2g

Protein:

2.4g

Cholesterol:

23.4mg
Recipe Card powered by