This is a recipe for a traditional Japanese confection (和菓子, wa-gashi) called dorayaki. Dorayaki is a delicious sandwich-like treat made with two pancakes and filled with red bean paste. It's loved by kids and adults all across Japan, and by Doraemon too!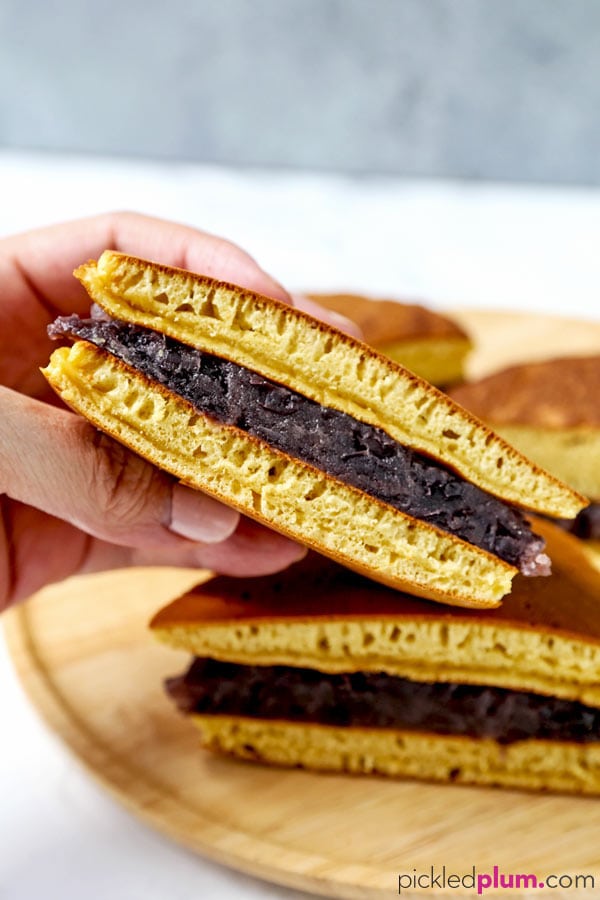 "You grab a pancake, spread some red bean paste on and top it with another pancake", said my aunt when I asked what dorayaki was.
A pancake on top of a pancake. That's a traditional Japanese confection?
Apparently so.
Actually, it's one of Japan's most famous confections and it dates all the way back to the Edo Period (1603-1867). When dorayaki was first invented, it was served folded like an omelette. But things changed in 1914 when a confectionary shop in Ueno, Tokyo, called Usagiya (Rabbit House), decided to layer two thin castella cakes around the anko filling.
Now you're probably wondering what the heck is castella cake and there's nothing to feel embarrassed about since it only seems to be big in Japan.
Castella cake, or kasutera (カステラ) is a European confection that made its way to Japan in the 16th century via Portuguese merchants. It's a sponge cake made of honey and/or sugar, flour and eggs. To say that Japanese people like castella would be an understatement.
Castella is so popular that you can find castella specialty shops all across Japan. It's become as much a part of Japan's culinary history as onigiri or ramen.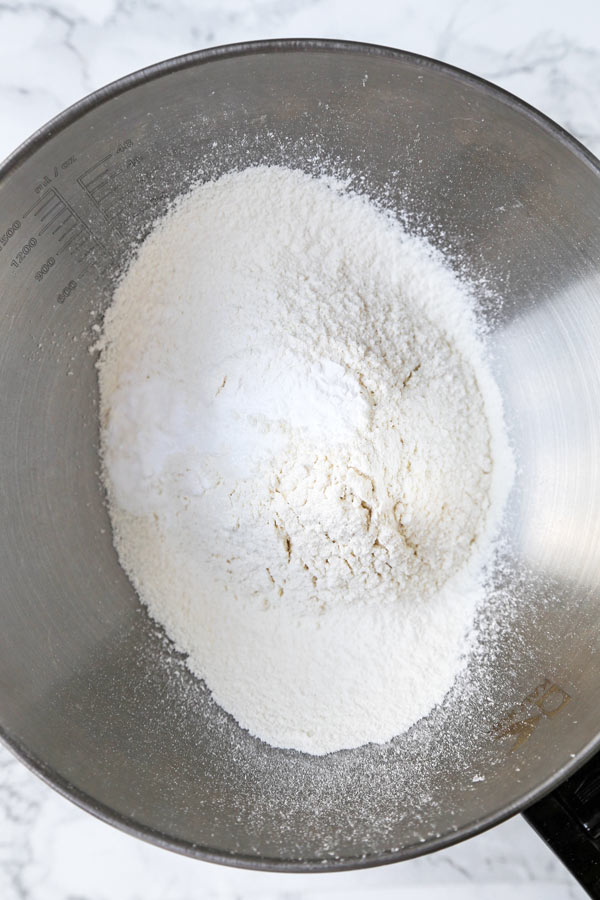 Now that you have a little background on dorayaki, I'm going to show you how easy it is to make!
How to Pronounce Dorayaki
How To Make Dorayaki
There are two components to making dorayaki: the pancakes and the red bean paste.
Red bean paste (anko, 餡子)
The red bean paste (anko) is a simple mixture of adzuki beans and sugar. The adzuki beans are boiled until tender and cooked with sugar until a paste is formed.
I didn't include a recipe for red bean paste in this post because I already have one on the blog.
You can find the recipe for red bean paste here.
Dorayaki Pancakes
Dorayaki pancakes are slightly different than American style pancakes in that they are much smaller in size (around the size of your palm) and sweeter in taste. They are also cooked in very little oil and at a low heat so that the color stays uniform.
Putting the dorayaki together
Welp, it's as simple as grabbing and holding a pancake and spreading about 2-3 tablespoons of anko to cover all its circumference. Then you top it with another pancake and that's it, you're done.
Exactly like my aunt told me.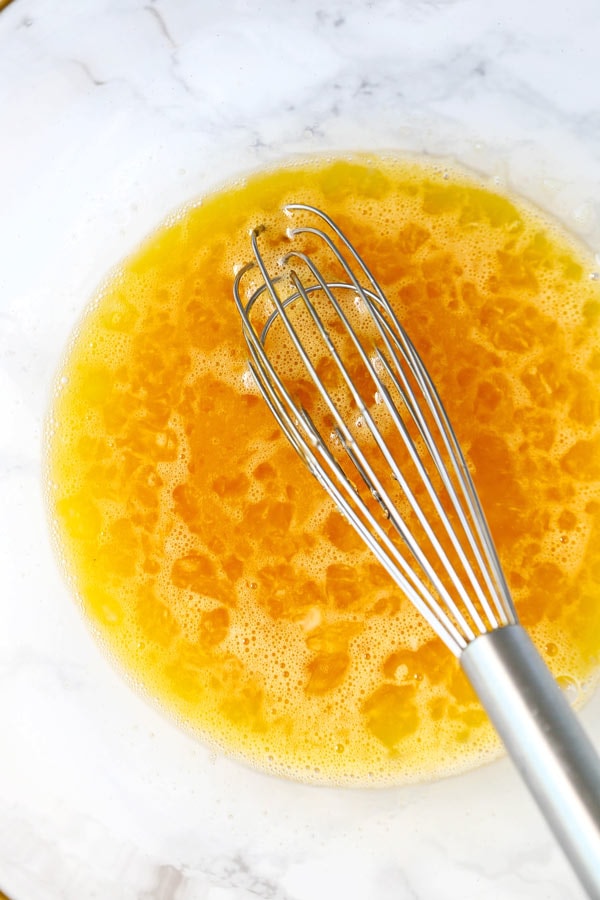 Dorayaki Fillings and Shapes
The traditional dorayaki confection contains red bean paste but many shops in Japan sell all types of dorayaki these days.
You can find dorayaki filled with custard, cream or chestnuts, and flavored with ingredients such as green tea, chocolate, strawberry and vanilla. I've also seen dorayaki recipes online made with jam and nutella!
Dorayaki vs Taiyaki
Dorayaki and taiyaki are basically the same thing, only their shapes are different.
By breaking down each word we can see that:
The word yaki means "cooked on dry heat" and is included in both words.
Then we have the word dora which means gong, as in the circular percussion instrument. Though no one knows the exact story, it's believed that somewhere in rural Japan, a farmer and his wife cooked a round cake on a gong to feed the injured warrior, Saito no Musashibo Benkei. And that's where the name dorayaki comes from – gong cooked on dry heat.
The word tai on the other hand means sea bream. No romantic stories or lengthy explanation needed here since the confection is shaped exactly like the fish.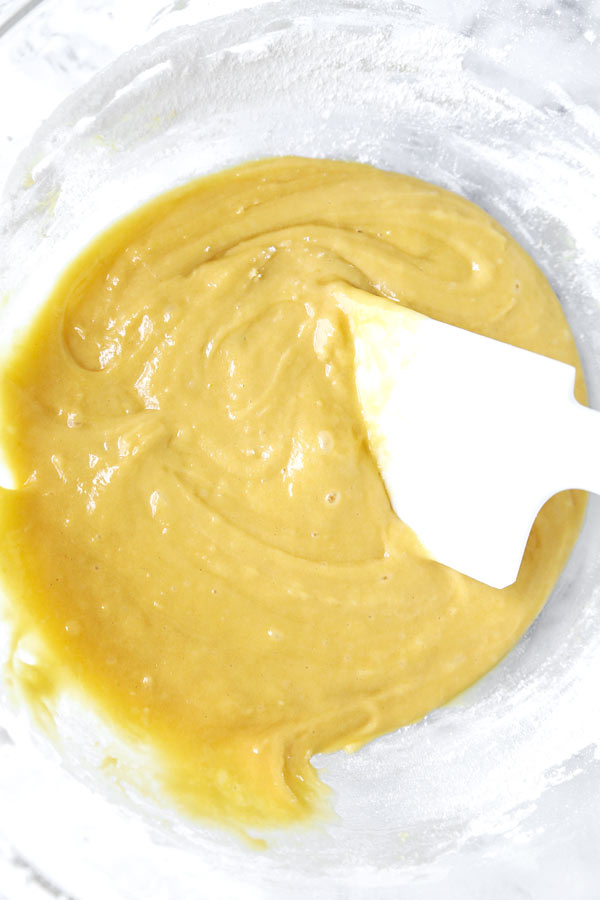 The Taste and Texture of Dorayaki is Unique
I say this because I don't think there is any Western food that comes close to tasting like dorayaki.
Is it an acquired taste? Maybe. I guess it depends on how picky you are.
It's sort of like eating a sweet potato mashed between two pancakes – but way more delicious!
It's quite sweet but not cloyingly sweet and a bit more complex in flavor. The pancakes are also good on their own. Much like with Oreos, I sometimes separate my dorayaki so I can enjoy each ingredient separately. Plus, it makes the enjoyment last longer 🙂
Doraemon's Favorite Snack
Now let's talk a little bit about Japanese anime and the famous Doraemon!
Doraemon is a famous Japanese cartoon I grew up watching and loving because of the unique storyline and colorful characters. It's one of the most celebrated Japanese anime and one of the best-selling manga in the world, having sold over 100 million copies.
To give you a quick overview, the story is about a robotic cat named Doraemon who is sent back in time by the descendants of a young boy named Nobita Nobi, who suffers from bullying and poor grades. Doraemon's purpose is to protect and guide Nobita with his futuristic powers and fourth-dimensional pocket, from which he produces all sort of gadgets.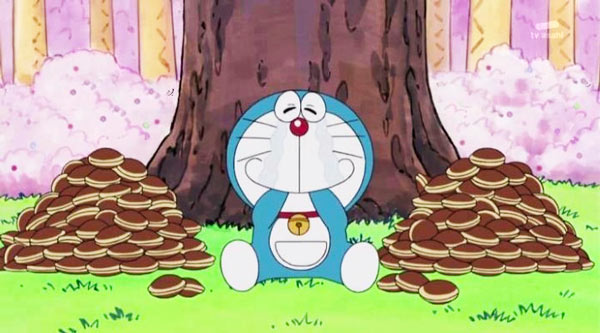 As you can see from the picture above, Doraemon's favorite food is dorayaki. You can see him munching on mounds of dorayaki with gusto because to him, it's the best thing in the world.
And as you may have noticed, the word dora happens to be part of his name – Doraemon! This was intentionally added by the creator as an inside joke. The association between Doraemon and dorayaki has become so well known that you can find dorayaki packaging with the famous blue cat on it and pancakes stamped with his face.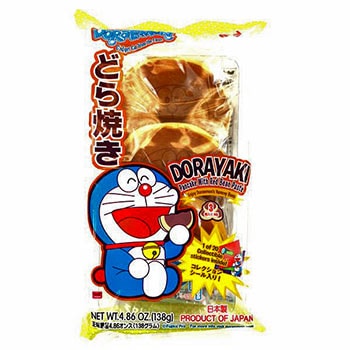 Seeing that makes me instantly hungry for dorayaki since I'm a sucker for anything cute!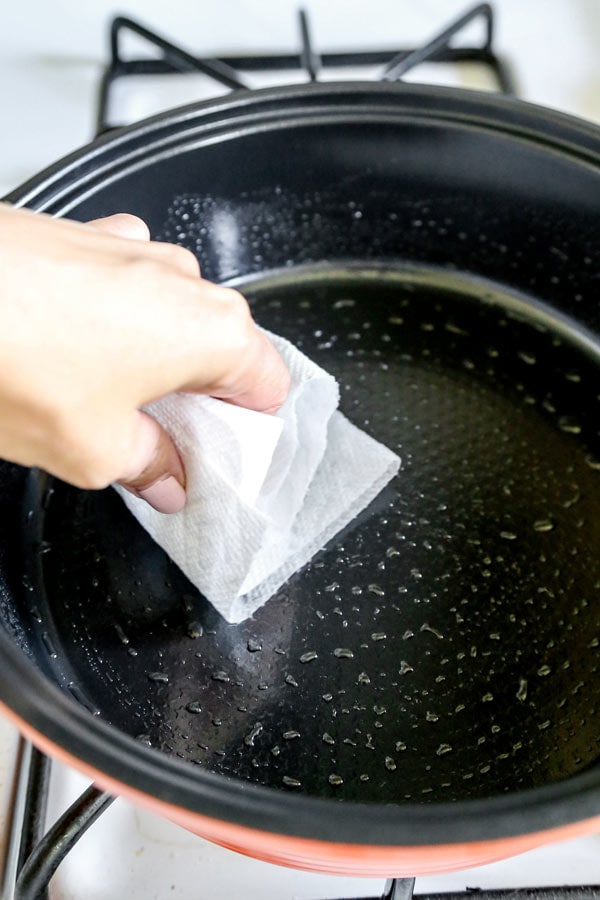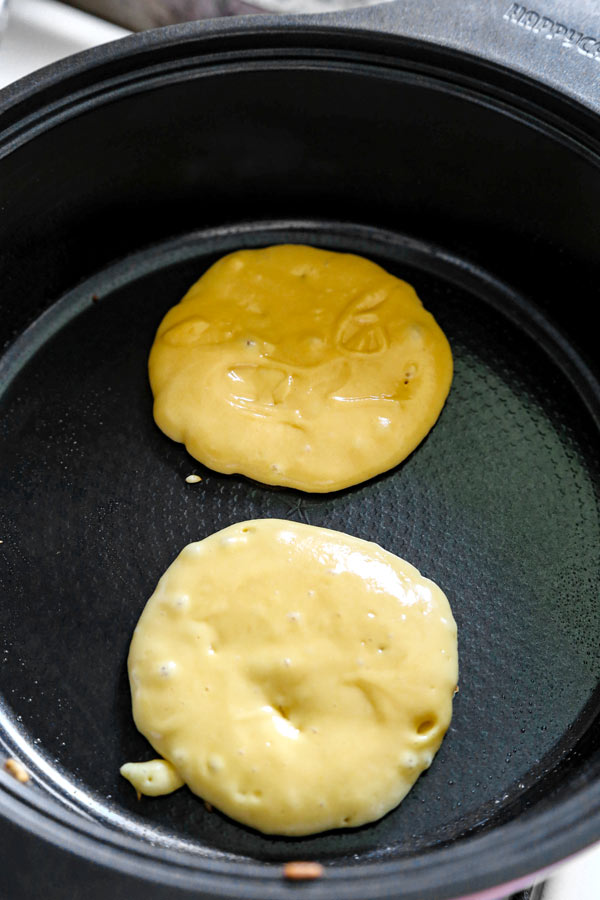 Is There A Special Occasion For Eating Dorayaki?
Not really since dorayaki is an everyday food.
You can find it anywhere in convenience stores and grocery stores as well as department stores and specialty shops. It's often purchased as a gift to bring to someone's home if you are invited as a guest since gift giving is a big part of Japanese culture and etiquette.
But there is a National Dorayaki Day!
This day was started by Marukyo, Japan's no.1 manufacturer of dorayaki. Because dorayaki is loved by kids, April 4th was chosen as National Dorayaki Day because it falls between Girl's Day (Hina-matsuri, March 3rd) and Boy's Day, or Children's Day (Kodomo no Hi, May 5th). The combination of 4 (April) and 4 (day) also signifies happiness (Shiawase).
How Long Does Dorayaki Keep?
Dorayaki pancakes taste best when they are left at room temperature.
Whether you leave them on the counter or in the fridge, they will about last 1-3 days.
Make sure they are stored in an air tight container or wrapped in plastic wrap to prevent them from drying.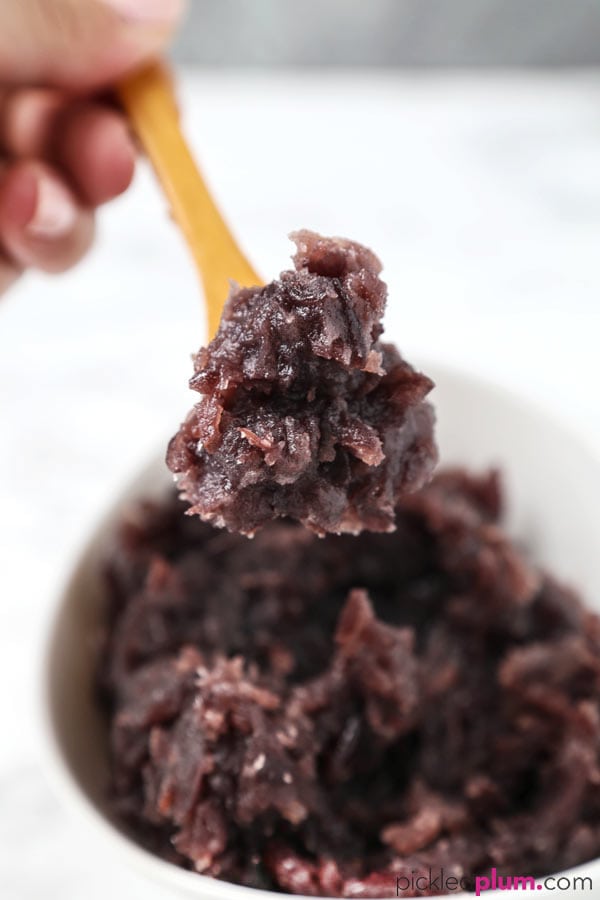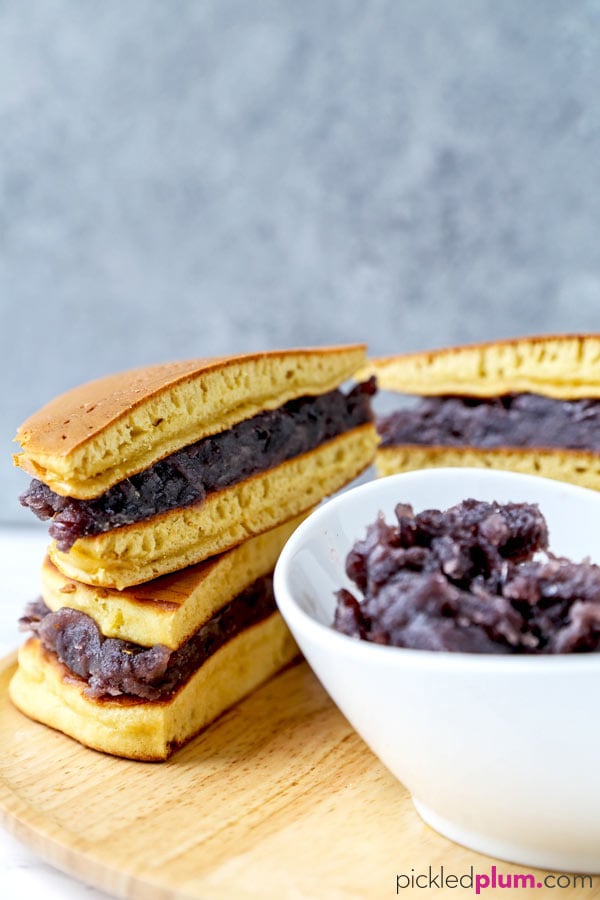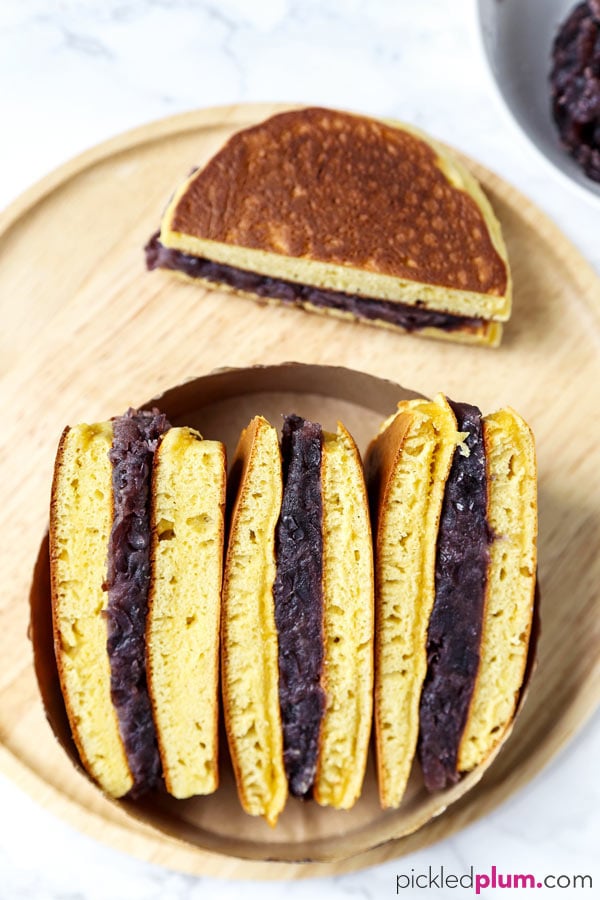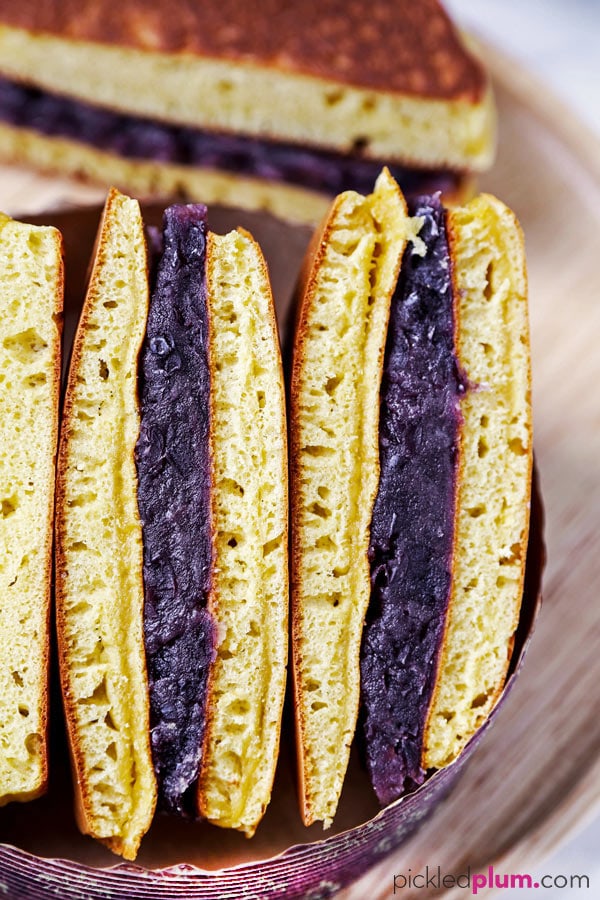 Did you like this Dorayaki (どら焼き) – Pancakes With Red Bean Paste Recipe? Are there changes you made that you would like to share? Share your tips and recommendations in the comments section below!
Print
Dorayaki (どら焼き) – Pancakes With Red Bean Paste
A traditional Japanese snack made with azuki beans and served between pancakes.
Author: Caroline Phelps
Prep Time:

5 minutes

Cook Time:

6 minutes

Total Time:

11 minutes

Yield:

4

dorayaki

1

x
Category:

snack

Method:

Pan frying

Cuisine:

Japanese
3

large eggs

1/4 cup

granulated sugar

3 tablespoons

honey

1 cup

all-purpose flour

1 teaspoon

baking powder

2 tablespoons

water
vegetable oil for frying
anko (red bean paste, click here for recipe)
Instructions
Whisk eggs, sugar and honey in a large bowl and set aside.
In a separate bowl, mix flour and baking powder.
Slowly add flour to the egg and sugar mixture while whisking and add water. The batter should be thick but easy to pour (instead of super sticky) at the same time.
Brush a little oil in the pan and use a paper towel to remove the excess oil drops. It's important for the pan to have as little oil as possible since we want the pancake to have a uniform brown color.
Turn the heat to low and slowly pour about 3 tablespoons of batter into the pan in a swirling motion (this helps in making the pancake perfectly round).
If your pan is big enough to hold more than one (mine is able to make two pancakes at the same time), go ahead and make more pancakes.
When you see the top of the pancake bubbling – after 2-3 minutes – flip it over and cook for another 2-3 minutes. Repeat this step until all the batter is used.
Grab a pancake and spread 2-3 tablespoons of anko. Top with another pancake and set aside. Repeat until all the pancakes are used. Serve.
Nutrition
Serving Size:
Calories:

366

Sugar:

42.2 g

Sodium:

639.6 mg

Fat:

3.9 g

Saturated Fat:

1.2 g

Carbohydrates:

73.9 g

Fiber:

3 g

Protein:

10.1 g

Cholesterol:

139.5 mg
Keywords: recipe, confection, dessert, Japanese
Recipe Card powered by