If you are a fan of Japanese desserts then you are most likely a fan of red bean paste! Used in East Asian cuisines, red bean paste, or anko (餡子) has a sweet flavor similar to sweet potatoes and a chewy, almost creamy texture. Only two ingredients are needed to make red bean paste – sugar and adzuki beans. This is an easy recipe for tsubushian anko.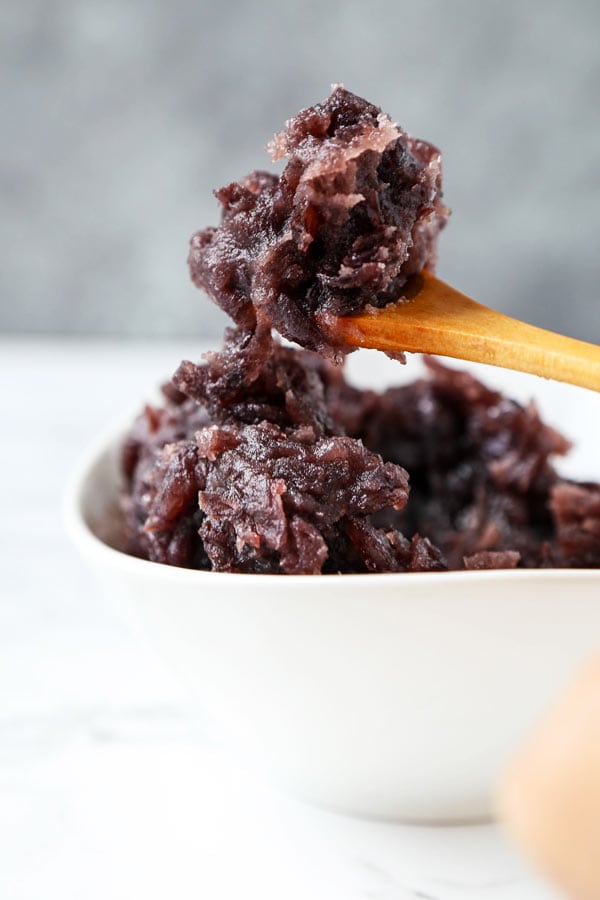 What Is Red Bean Paste?
Red bean paste, called anko (餡子) in Japanese,  is a sweet paste made of adzuki beans (red beans) and sugar that have cooked until the beans get mushy. It's often used in Chinese, Korean and Japanese cooking, primarily in confections such as dango and dorayaki, and sometimes in soups (red bean soup called zenzai).
Types of Red Bean Paste
There are many different types of red bean paste available but the most popular ones in Japan are:
Tsubuan (

粒餡

) – whole adzuki beans boiled with sugar and left as they are.
Tsubushian (粒あん) – boiled adzuki beans that have been mashed with the skin on.
Koshian (

漉し餡

) – boiled adzuki beans that have been passed through a sieve to remove the skin.
Sarashian (

晒し餡

) – dried adzuki beans that have been reconstituted with water.
Ogura-an (

小倉餡

) –  a mixture of koshian and tsubuan paste.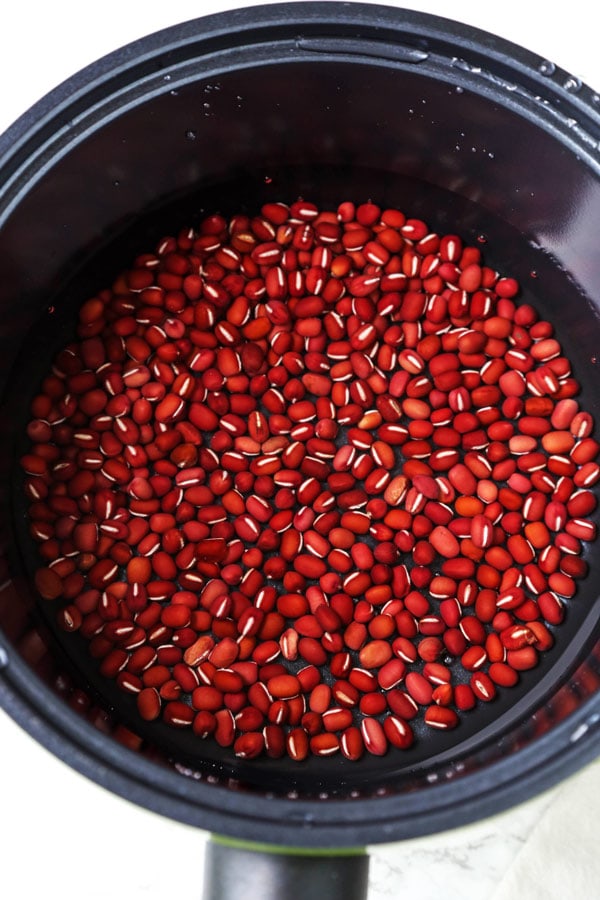 Ingredients for Red Bean Paste
Adzuki beans (荅): We will be using about 100 grams for this recipe.
Sugar: Plain granulated white sugar.
Water: 4 cups to boil the sugar and adzuki beans.
Salt: Just a pinch to balance the sweetness and nuttiness of the paste.
Are adzuki beans and kidney beans the same?
No. Azuki beans, also spelled azuki or aduki, are about half the size of kidney beans. They are higher in calories than kidney beans, but also contain more protein and fiber. Adzuki beans originate from China whereas kidney beans are native to Central America and Mexico.
What does anko taste like?
Like bean jam. Anko has a thick, mushy texture and can be used as a spread just like jam. The taste is quite sweet but not like your typical cookie or cake. It's more complex because the nutty flavor of adzuki beans is so powerful it gives the paste an earthy taste on top of the sweetness.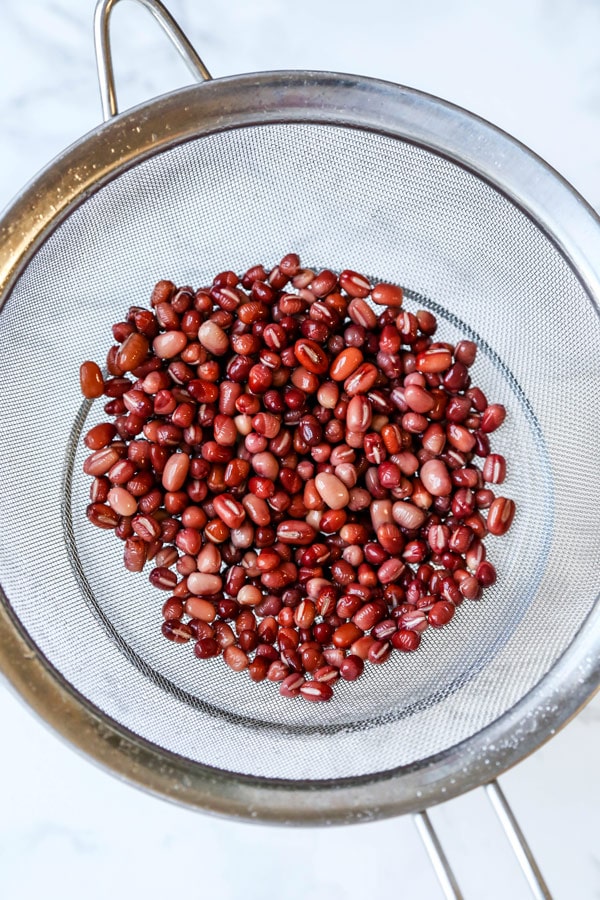 How To Make Red Bean Paste
For this anko recipe, I'm using the tsubushian technique of boiling the beans and mashing them with the skin on. The texture isn't as smooth as mashing them through a sieve but it's just as delicious and pleasant to the palate.
Soak the beans. I recommend doing it overnight or for 6-8 hours.
Rinse and drain the adzuki beans. Then transfer them to a pot along with 4 cups of water.
Simmer the beans. It will take approximately 1 hour for the beans to get soft.
Add the sugar and salt. Keep stirring as you add the sugar and salt until a paste begins to form.
Place anko in a bow and let cool. Serve and enjoy!
How To Serve Red Bean Paste
There are several ways to serve red bean paste in Japan.
Red bean paste can be used:
As a topping for green tea flavored shaved ice, anmitsu (jelly, fruit and ice cream dessert) and dango (rice dumplings).
As a filling for mochi (rice cakes), dorayaki, manju (steamed cakes), and daifuku (strawberry wrapped in anko and mochi).
In yokan (red bean jelly),  green tea popsicles and ice creams.
As a spread for toast (ogura toast)
In zenzai which is a traditional Japanese dessert soup.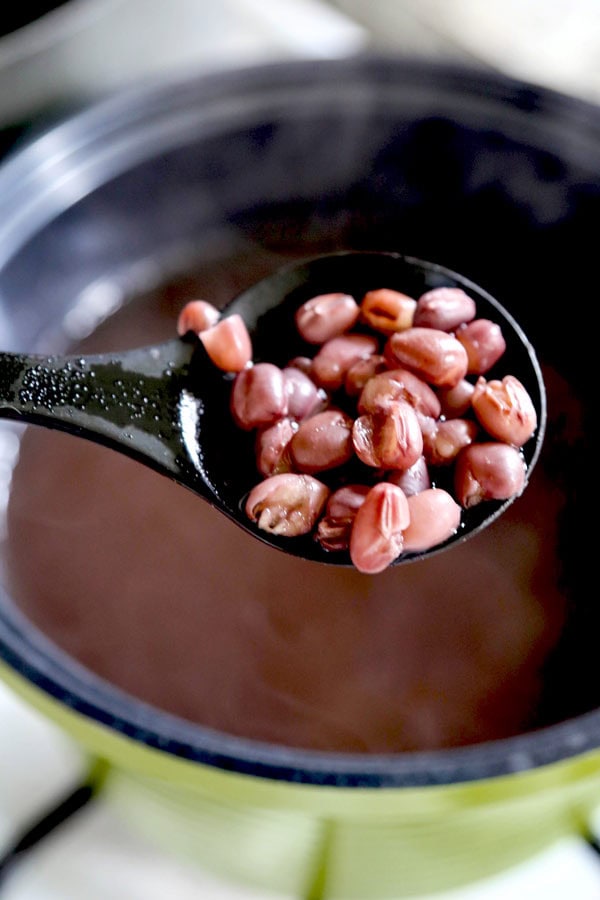 Where to Buy Adzuki Beans
Finding adzuki beans is fairly easy. You can buy them at Whole Foods (in the bulk section) or at your local grocery store. Look for Bob's Red Mill as they sell bags of them. And there is always Amazon if all else fails!
Storing adzuki beans
Store the beans the same way you would others – in an airtight container, away from sunlight, and in a cool, dry place like your pantry.

How Long Does Red Bean Paste Last?
For about 2-3 weeks in the fridge in an air tight storage container. You will be able to tell when it begins to spoil as the color will get darker and the smell becomes more prominent.
You can also freeze anko in an air tight storage container and it should keep for 2-3 months.
Other yummy popular Japanese desserts: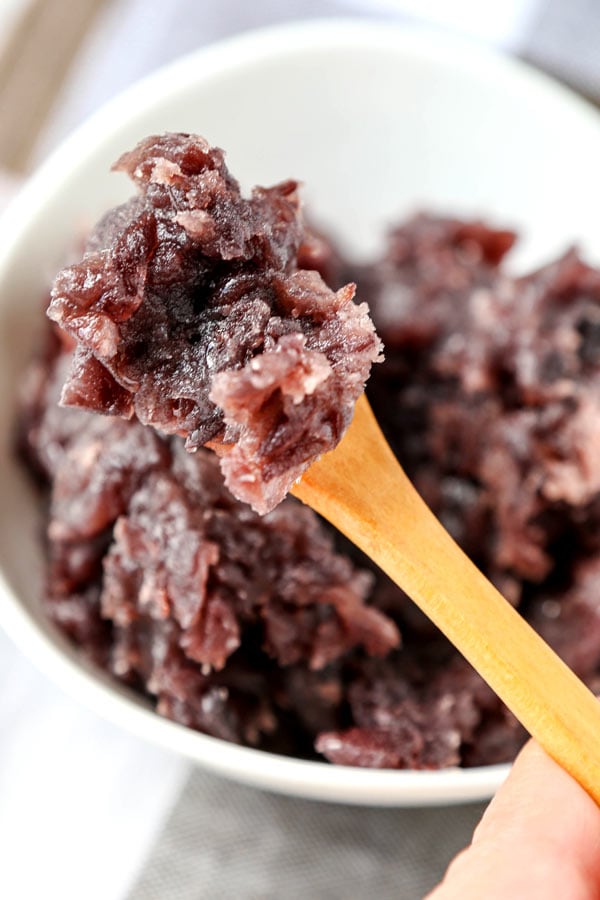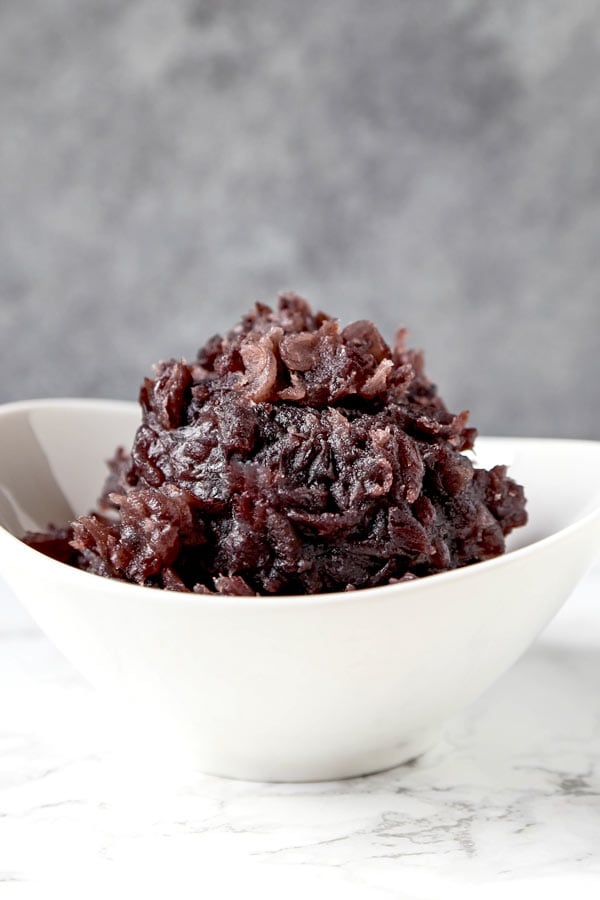 Did you like this Sweet Red Bean Paste (Anko) Recipe? Are there changes you made that you would like to share? Share your tips and recommendations in the comments section below!
Print
Sweet Red Bean Paste (Anko) – 餡子
A traditional Japanese sweet red bean paste made with azuki beans.
Author: Caroline Phelps
Prep Time:

5 minute

Cook Time:

1 hour 10 minutes

Total Time:

1 hour 15 minutes

Yield: about

1 cup

1

x
Category:

Dessert

Method:

Boiling

Cuisine:

Japanese
1/2 cup

azuki beans (about

105 grams

)

4 cups

water

2/3 cup

granulated sugar

1/8 teaspoon

kosher salt (optional)
Instructions
Soak azuki beans for 6-8 hours or overnight. Rinse under cold water and drain.
Add beans to a pot along with 4 cups of water and bring to a boil.
Lower heat to a simmer, cover and cook for 1 hour or until beans are soft enough that you can easily squash them between your fingers.
Drain well and return beans to the pot.
Add sugar and salt and turn the heat on to medium high. Stir constantly for 7-10 minutes and occasionally mash the beans against the side of the pot until the mixture turns into a paste.
Turn the heat off and transfer the paste into a bowl. Cool to room temperature before using.
Notes
You can reduce the amount of sugar by up to 1/4 cup if you prefer a paste that's less sweet.
Nutrition
Serving Size:

1/4 cup

Calories:

215

Sugar:

33.3 g

Sodium:

74.3 mg

Fat:

0.1 g

Saturated Fat:

0.1 g

Carbohydrates:

49.9 g

Fiber:

3.3 g

Protein:

5.2 g

Cholesterol:

0 mg
Keywords: recipe, azuki bean, vegetarian, vegan, snack, sweets
Recipe Card powered by