If you are a fan of Japanese desserts then you are most likely a fan of red bean paste! Used in East Asian cuisines, red bean paste, or anko (餡子) has a sweet flavor similar to sweet potatoes and a chewy, almost creamy texture. Only two ingredients are needed to make red bean paste – sugar and adzuki beans. This is an easy recipe for tsubushian anko.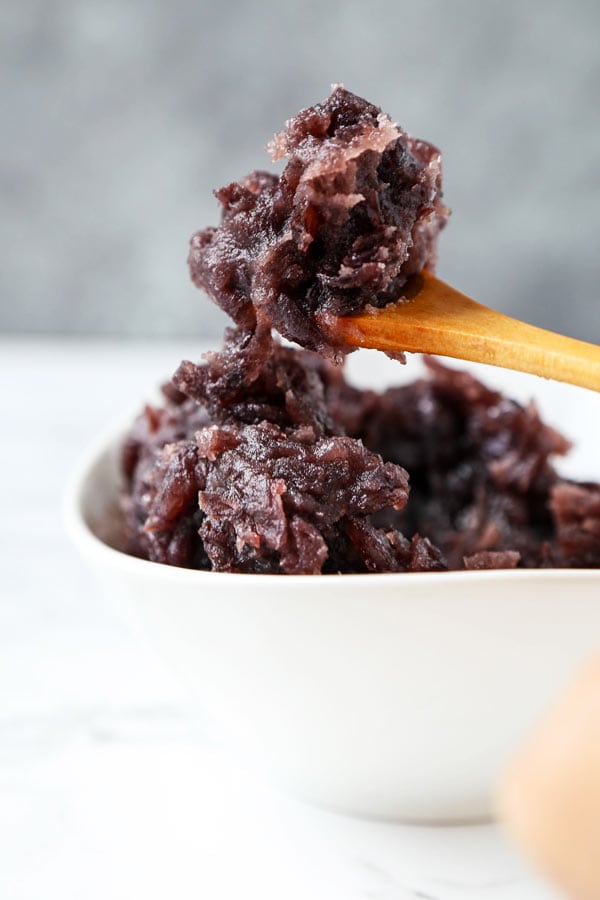 Sweet Red Bean Paste (Anko) – 餡子
The first time I had anko, or red bean paste, was in Fukuoka (south of Japan) back in the 80s.
I'll never forget it because anko was so different from anything I had tasted before.
It was a warm summer day and I was wearing a yukata which is a traditional kimono style garment made of cotton. We were at a local summer festival (matsuri -祭) walking through the lantern strewn streets, playing games and eating ice cream when I saw a vendor selling fish shaped cakes.
I asked my mother if I could have one and she told me they were called taiyaki (鯛焼き) – Japanese for baked sea bream. She also told me that she grew up eating them and they happened to be her favorite sweets.
"Let's get one and split it since it's pretty filling" she said.
She thanked the vendor and handed me a beautiful three dimensional fish. It was warm, doughy and stuffed with something heavy in the center.
The first bite was delicious – sweet and chewy just like a waffle. The second bite on the other hand took me by surprise. I didn't expect sweet mushy beans as being part of this degustation. As far as I was concerned, beans belonged in stews, not in desserts!
Did it like it?
I wasn't sure. It was a different type of sweetness than I was used to. And on a textural level anko was something totally new, a food that seemed more like it was meant for adults than children. What was interesting though is that I kept on going back for more, taking one bite after another while trying to decide if I liked it or not.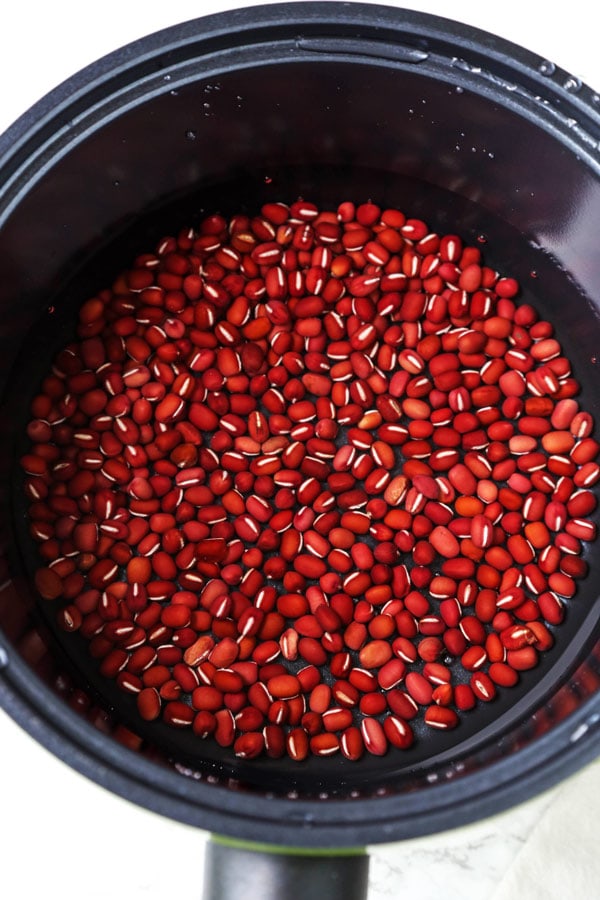 And it stayed that way for a very long time. I wavered between liking and disliking red bean paste and couldn't figure out why until I started making my own.
It turns out that not all anko is equal.
While some people prefer super sweet red bean paste, my tastebuds can only appreciate the milder type. And here's what's funny about red bean paste – if it has just the right amount of sweetness I love it. But if it's too sweet I despise it, deeply.
What Is Red Bean Paste?
Red bean paste is a paste made of red beans (adzuki beans) and sugar. It's often used in Chinese, Korean and Japanese cooking, primarily in confections and sometimes in soups.
In Japan there are several different ways to make red bean paste. The most popular types are:
Tsubuan (

粒餡

) – whole adzuki beans boiled with sugar and left as they are.
Tsubushian (粒あん) – boiled adzuki beans that have been mashed with the skin on.
Koshian (

漉し餡

) – boiled adzuki beans that have been passed through a sieve to remove the skin.
Sarashian (

晒し餡

) – dried adzuki beans that have been reconstituted with water.
Ogura-an (

小倉餡

) –  a mixture of koshian and tsubuan paste.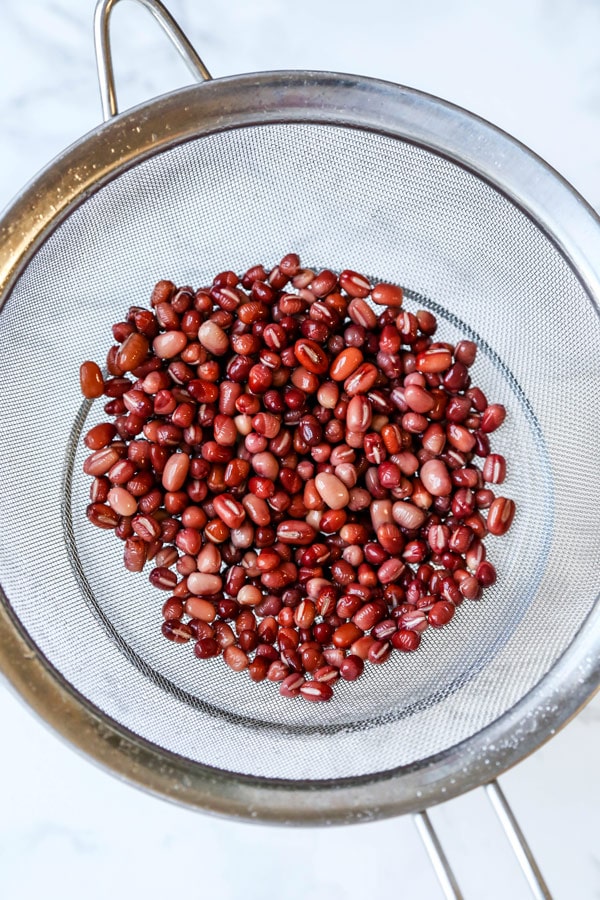 How To Make Red Bean Paste
Making red bean paste is so easy you'll be wondering why you didn't make it at home sooner!
For this anko recipe, I'm using the tsubushian technique of boiling the beans and mashing them with the skin on. The texture isn't as smooth as mashing them through a sieve but it's just as delicious and pleasant to the palate.
You will need adzuki beans which are available at Whole Foods or here on Amazon, granulated sugar and a pinch of salt. Give yourself a good 6 to 8 hours to soak the beans or you can leave them in a pot with water overnight. 
Rinse and drain the adzuki beans and transfer them to a pot along with four cups of water. Bring the water to a boil and then lower the heat to a simmer and cover the pot with a lid. Check on your beans periodically – they should be ready after an hour or so when they are soft enough to mash between your fingers.
Turn the heat to very low and slowly add the sugar and salt while stirring with a wooden or plastic spatula. Keep stirring for 7-10 minutes until the mixture turns into a paste. Turn the heat off, transfer the paste into a bowl and guess what – you just made anko!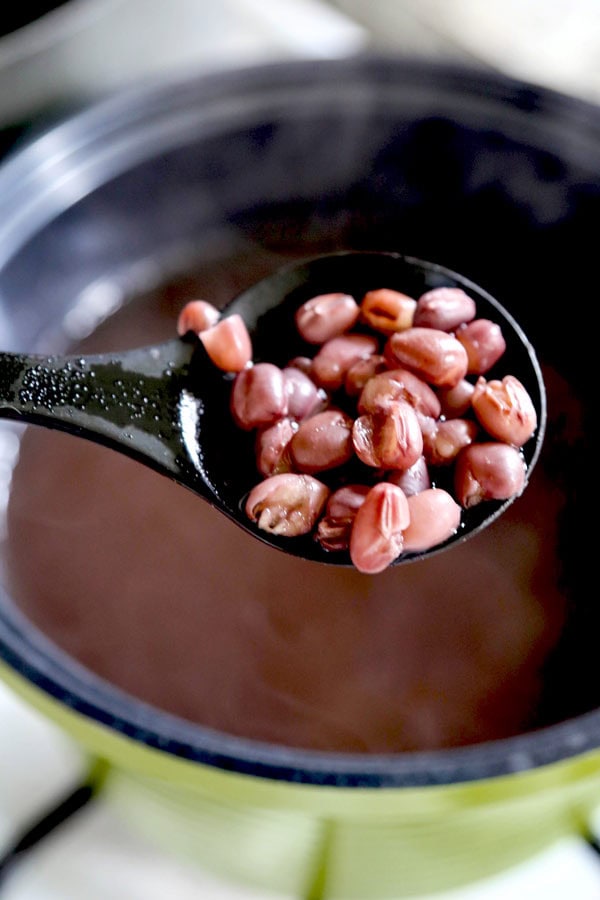 How To Serve Red Bean Paste
There are several ways to serve red bean paste in Japan.
Red bean paste can be used as a topping for green tea flavored shaved ice, anmitsu (jelly, fruit and ice cream dessert) and dango (rice dumplings). Or as a filling for mochi (rice cakes), dorayaki (similar to taiyaki – I have a recipe coming up in the next few days), manju (steamed cakes), and daifuku (strawberry wrapped in anko and mochi). It can also be used in yokan (red bean jelly),  green tea popsicles and ice creams.
Anko can also be used as a spread for toast (ogura toast) or in zenzai which is a traditional Japanese dessert soup.
Adzuki Beans – An Incredible Superfood
Fresh fruit aside, I think it's fair to say that finding healthy desserts can be a challenge.
While most desserts are high in sugar and contain very little nutrients, the one redeeming thing about anko is that it's made with adzuki beans, a superfood packed with health benefits.
The other good thing about adzuki beans is that they can be used in savory dishes. Since they are very mild in flavor, they are easy to incorporate into soups, stews, rice bowls or as a salad topping.
Here are some of the health benefits associated with adzuki beans:
They are high in protein (higher than kidney beans) which helps build and maintain muscle mass. 1 cup of adzuki beans contains 17.3 grams of protein.
They are good for the heart. Because of their high concentration of dietary fiber, magnesium, potassium, folate, and B vitamins, adzuki beans are extremely beneficial in increasing blood flow and regulating cholesterol levels.
They are high in fiber which keeps you regular and slows down your blood sugar to protect against diabetes.
Adzuki beans are also great for weight loss since they are fat free and high in fiber, which is what keeps you feeling full for longer. They can also give you a boost of energy when you are feeling fatigued due to their high magnesium content.

How Long Can I Store Homemade Red Bean Paste?
For about 2-3 weeks in the fridge in an air tight storage container. You will be able to tell when it begins to spoil as the color will get darker and the smell becomes more prominent.
You can also freeze anko in an air tight storage container and it should keep for 2-3 months.
Other yummy classic Japanese recipes: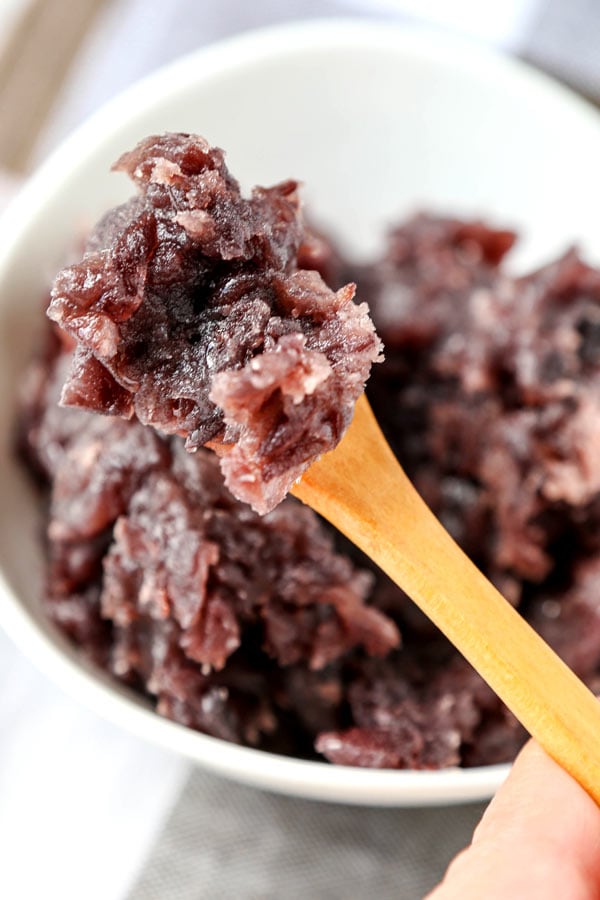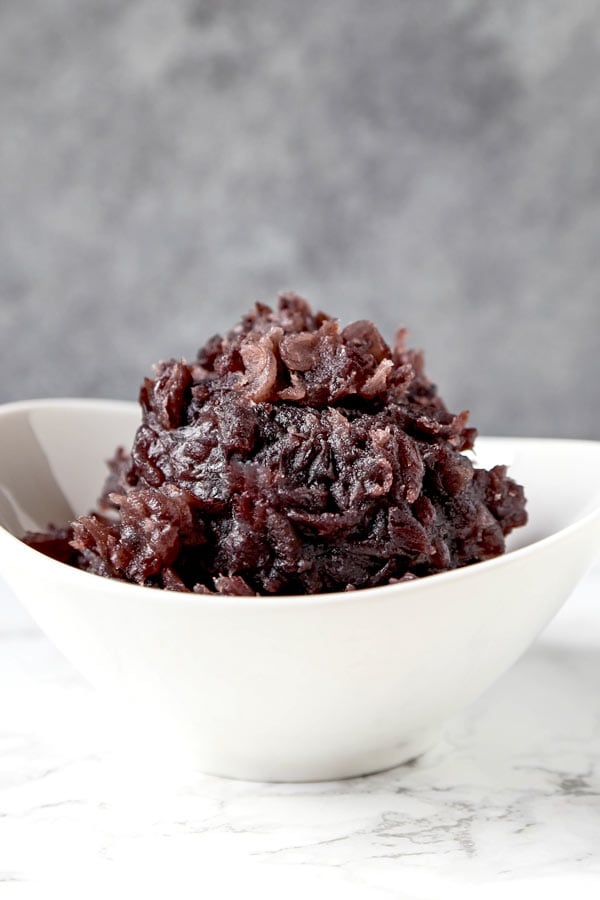 Did you like this Sweet Red Bean Paste (Anko) Recipe? Are there changes you made that you would like to share? Share your tips and recommendations in the comments section below!
Print
Sweet Red Bean Paste (Anko) – 餡子
A traditional Japanese sweet red bean paste made with azuki beans.
Author: Caroline Phelps
Prep Time:

5 minute

Cook Time:

1 hour 10 minutes

Total Time:

1 hour 15 minutes

Yield: about

1 cup

1

x
Category:

Dessert

Method:

Boiling

Cuisine:

Japanese
Scale
Ingredients
1/2 cup

azuki beans (about

105

grams)

4 cup

s water

2/3 cup

granulated sugar

1/8 teaspoon

kosher salt (optional)
Instructions
Soak azuki beans for 6-8 hours or overnight. Rinse under cold water and drain.
Add beans to a pot along with 4 cups of water and bring to a boil.
Lower heat to a simmer, cover and cook for 1 hour or until beans are soft enough that you can easily squash them between your fingers.
Drain well and return beans to the pot.
Add sugar and salt and turn the heat on to medium high. Stir constantly for 7-10 minutes and occasionally mash the beans against the side of the pot until the mixture turns into a paste.
Turn the heat off and transfer the paste into a bowl. Cool to room temperature before using.
Notes
You can reduce the amount of sugar by up to 1/4 cup if you prefer a paste that's less sweet.
Keywords: recipe, azuki bean, vegetarian, vegan, plant based, meatless, snack
Recipe Card powered by