Beef Yakitori is a fun and delicious Japanese take on beef kebabs marinated in soy, sake and mirin tare. A bold, umami flavor the whole family will devour – and kids love any food served on a stick!

Yakitori Style Beef Kebabs
Ah beef yakitori, aspara bacon, nankotsu, kawa! The variety is endless and so delicious!
For those who aren't too familiar with the term, yakitori literally means grilled meats in Japanese. Yakitori bars (or kushiyaki; they mean the same thing so either one is fine to use) are extremely popular drinking and eating establishments all throughout Japan where different parts of a chicken, pork and beef are used. Yes my dear friends, you can order skewers of cartilage, gizzards, liver, neck, tail, intestines, tongue and heart. Surprised? Grossed out? Don't be, it's delicious! You can also order less intense cuts like breast, wing or ground chicken (called tsukune).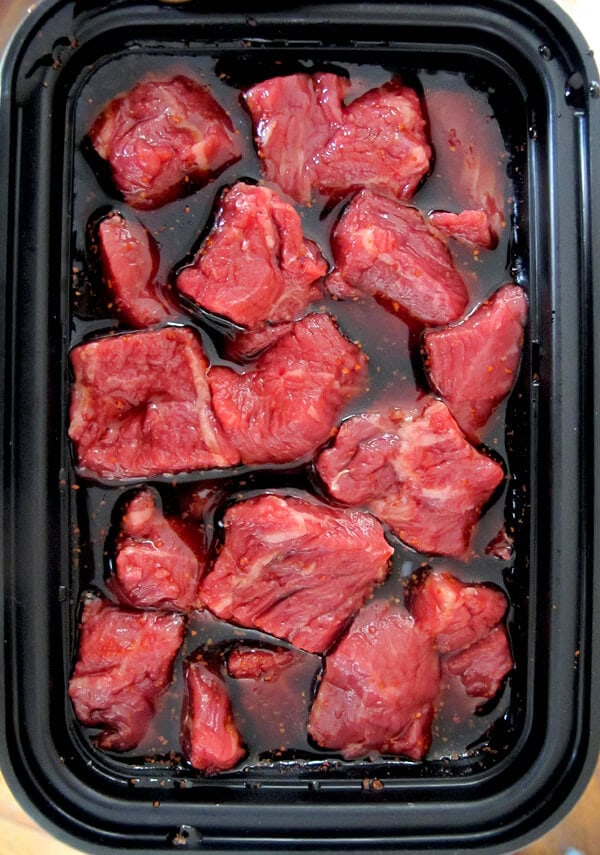 Each skewer is dipped in a sweet soy sauce or sprinkled with salt before resting on a grill over charcoal until cooked to absolute perfection. You haven't had good chicken until you've gone a to a Yakitori bar, trust me on that. Magic happens when poultry touches the hands of a grill master.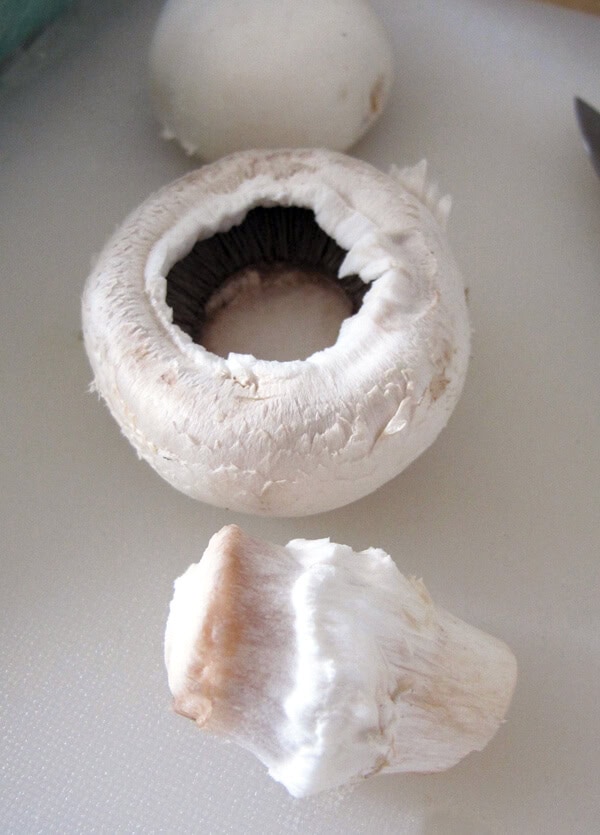 The menu also comes with an array of small dishes to accompany the skewers, such as tsukemono (pickles), onigiri (rice balls), ohitashi (boiled spinach with sesame), even sashimi at times. Yakitori bars also serve plenty of seafood and vegetable options, which tends to make your eyes bigger than your stomach during the selection process. I always have to remind myself not to order too much, that I can always order more later. At home, I serve beef yakitori with cucumber maki rolls and dashi tamagoyaki (Japanese omelet).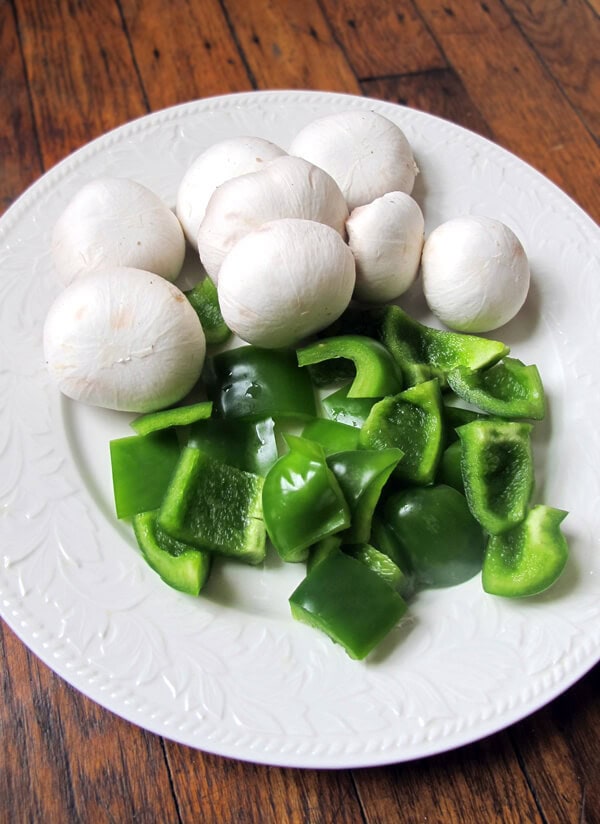 If I owned a charcoal grill I would spend all day experimenting with protein and different marinades. I like that no oil is needed to cook yummy beef yakitori. I also love what marinating does to meat; it breaks down the enzymes, making it super tender and moist.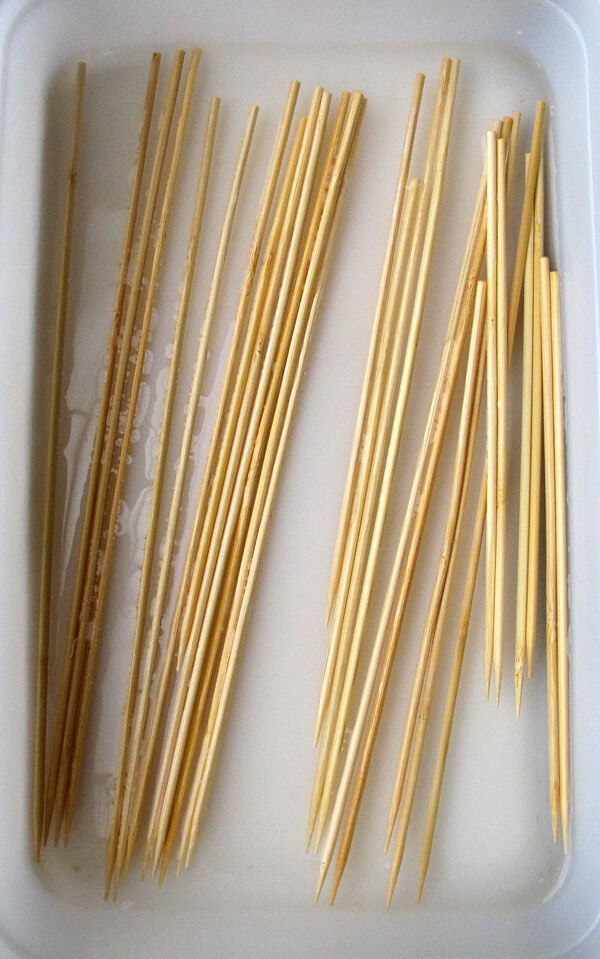 For this recipe, I made something very close to a classic tare sauce but instead of dipping the meat in right before cooking, I marinated it for a few hours. This guarantees lots of umami flavors, a little sweetness and nuttiness from the sesame oil.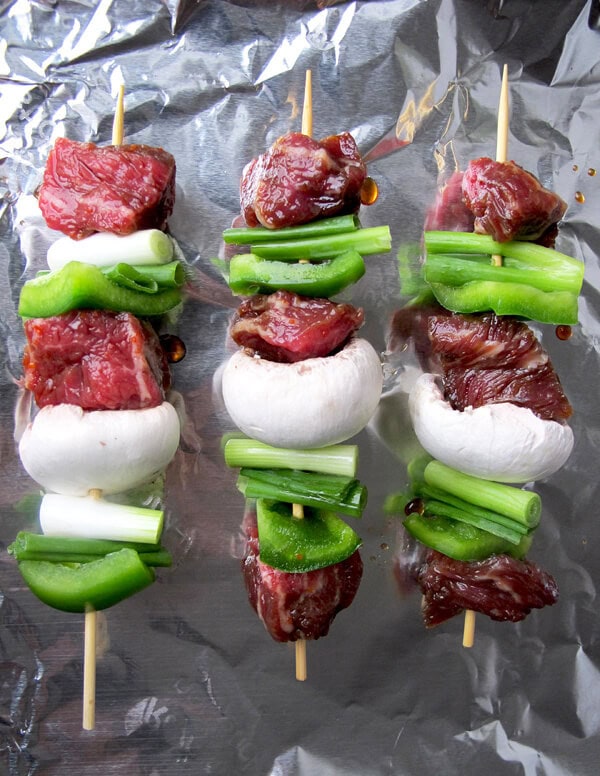 This marinade also works well with pork, chicken and firm tofu cubes.
Did you like this Beef Yakitori Recipe? Are there changes you made that you would like to share? Share your tips and recommendations in the comments section below!
Print
Yakitori Style Beef Kebabs
Beef kebabs marinated in soy, sake and mirin tare. Baked in the oven with mushrooms, scallions and bell peppers.
Prep Time:

10 minutes

Cook Time:

20 minutes

Total Time:

30 minutes

Yield:

2

people

1

x
Category:

Snack

Cuisine:

Japanese, Beef
1

pound beef sirloin (cut into cubes)

10

button mushrooms (stems removed)

1

green bell pepper (cut into cubes)

4

scallions (cut into quarters)
For the marinade:
1/4 cup

mirin

1/4 cup

soy sauce

1 tablespoon

sugar

2 tablespoons

sake

1 teaspoon

sesame oil
Instructions
Put all the ingredients for the marinade in a tupperware and stir until sugar is completely melted.
Add beef cubes, cover and refrigerate for at least 3 hours (no more than 7).
Preheat oven to 350ºF.
Soak wooden skewers in water for about 30 minutes, to prevent them from burning (especially if they are thin, small ones).
Thread beef and vegetables onto skewers and lay them on a sheet tray covered with aluminum foil. Bake for 20-25, until beef is cooked through and golden brown. Serve.
Notes
You can prepare the ingredients ahead of time and cook when ready. Keep any leftover beef yakitori in the fridge for 3-5 days.
Recipe Card powered by