If you thought making ramen at home was difficult, I've got good news for you – the recipe I have for you today isn't! Inspired by the traditional Hakodate ramen, this shio ramen recipe is simple and takes less than 30 minutes to make!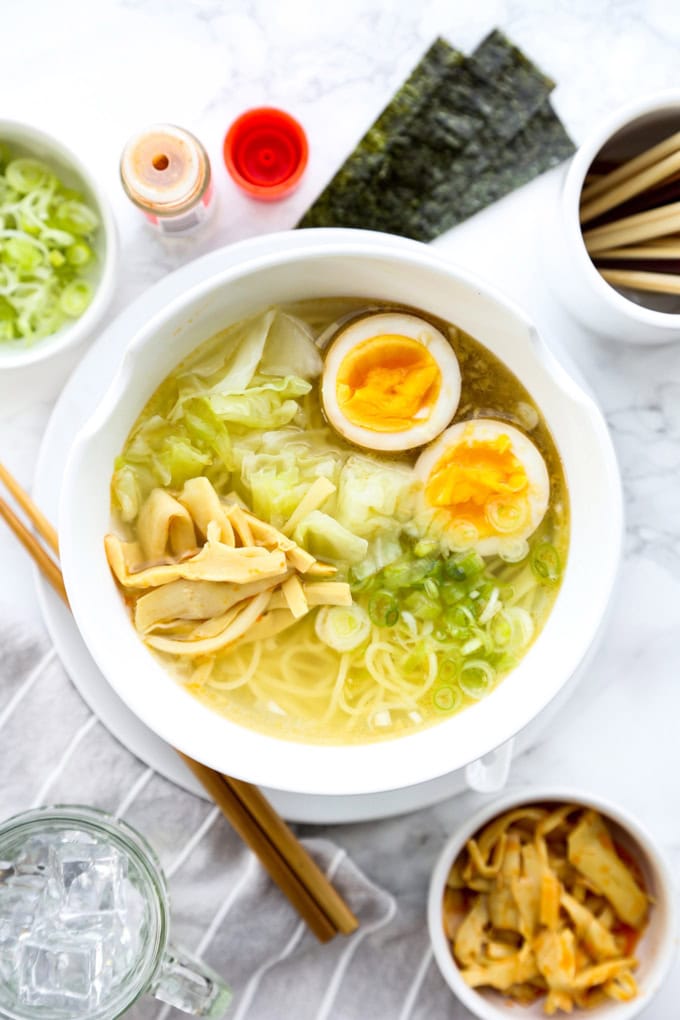 What is Shio Ramen?
Shio ramen, which translates literally as salt ramen, is a popular type of ramen served in Hakodate, a port city in Hokkaido, Japan. The broth is clear and light and has a briny and savory taste. Just like with all ramen broths, the list of ingredients will slightly vary from shop to shop but the preparation usually involves a mix of dried seafood, kelp, salt, garlic and ginger.
Classic toppings for shio ramen are char siu (bbq pork), menma (seasoned bamboo shoots), ramen egg, nori, and scallions.
My Shio Ramen Recipe
No dried seafood or kelp is needed for this recipe as I want to keep it as simple as possible. Of course, I would love to be able to simmer my broth for hours on end until it develops a rich umami taste but let's face it – I'm just as busy as you are.
So grab the ingredients I have listed below and let's make shio ramen!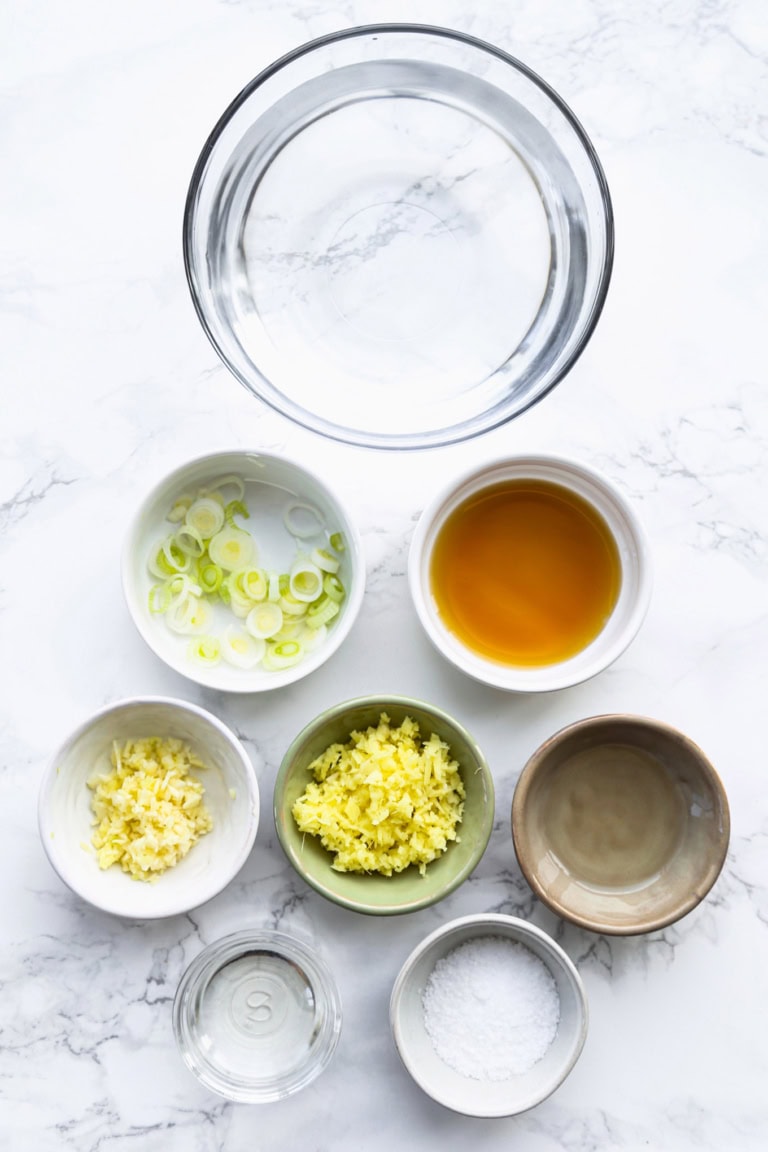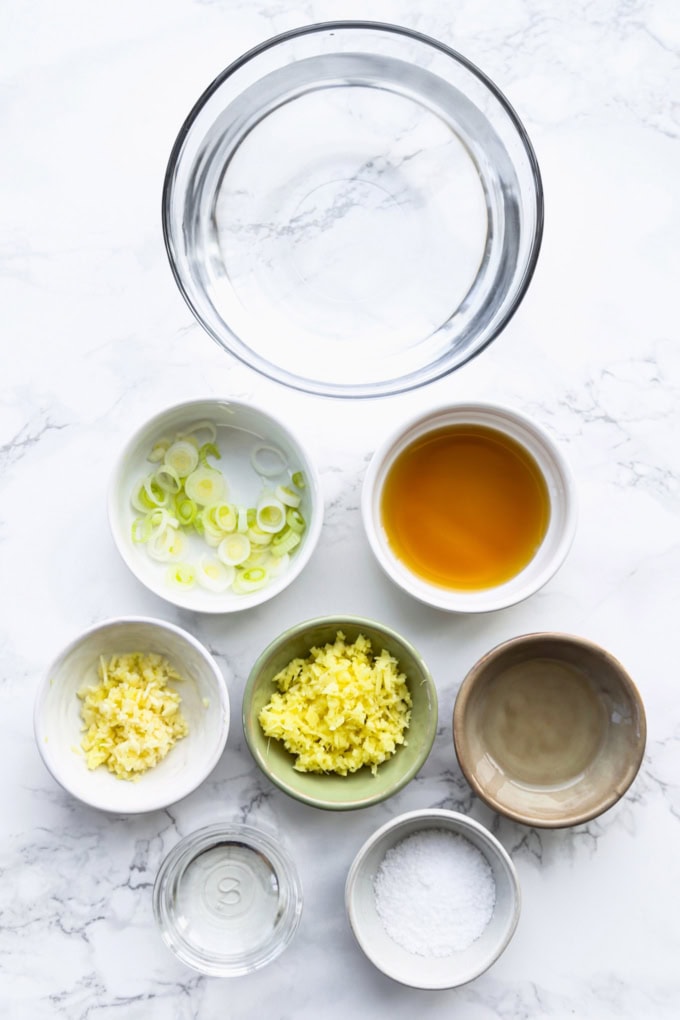 Ingredients for Shio Ramen
Cabbage: Blanching the cabbage for a few minutes gives it a beautiful green color and a tender texture. I'm using green cabbage but you can use any type of cabbage for this recipe.
Ramen Noodles: Preferably fresh noodles but if you can't find any, go ahead and use dried ramen noodles. The recipe calls for 12 ounces of fresh noodles for 2 servings which comes to about 6-7 ounces of dried noodles for 2 servings.
Ramen Broth: A mix of sesame oil, ginger, garlic, scallion, dashi powder, mirin, sake, sea salt, and water.
Toppings: My favorite toppings for this ramen are soy sauce eggs, nori, menma, and ichimi. But feel free to add anything you want to yours, the options are endless!
You can add a piece of dried seaweed (kombu) to your broth if you like the mineral taste. I didn't add any because I was happy with the way the broth came out. I also didn't want to complicate the recipe by adding more ingredients to the list. But I do plan on trying it next time I make shio ramen.
If you do happen to have kelp in your pantry and would like to use it, cut a 3×3-inch square and add it to the broth. Make sure to take it out as soon as the water starts to boil to prevent the kelp from getting slimy.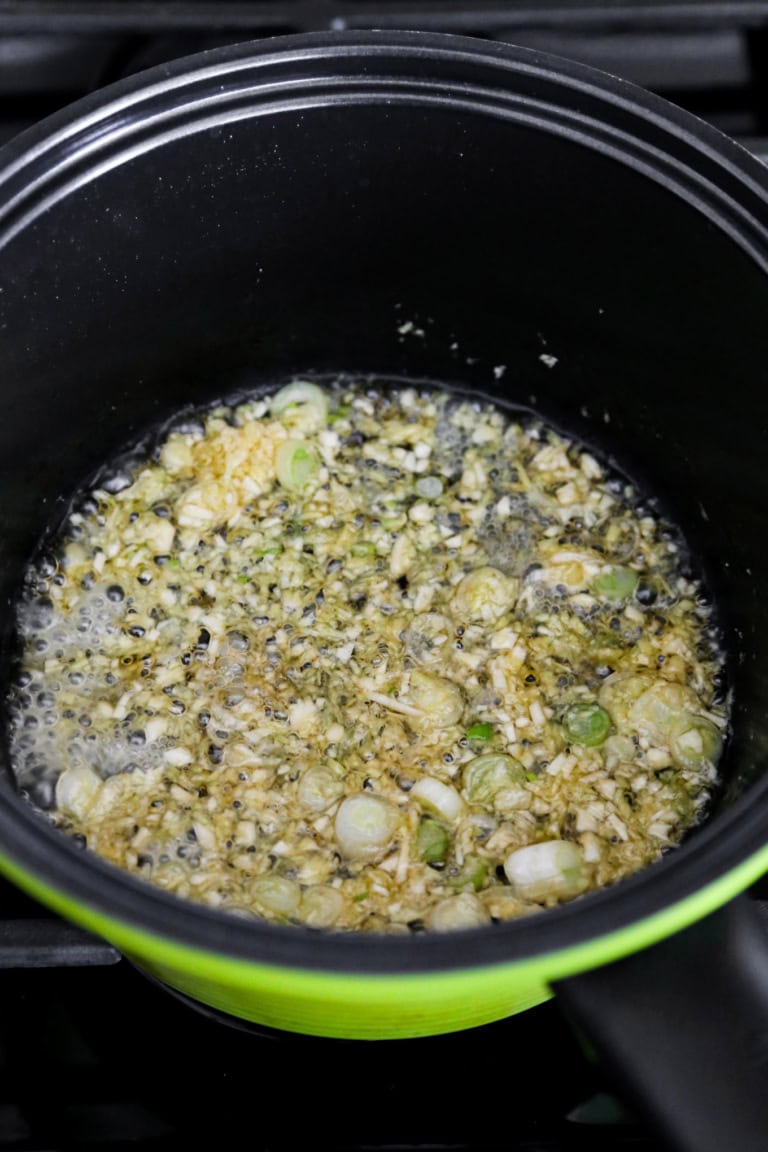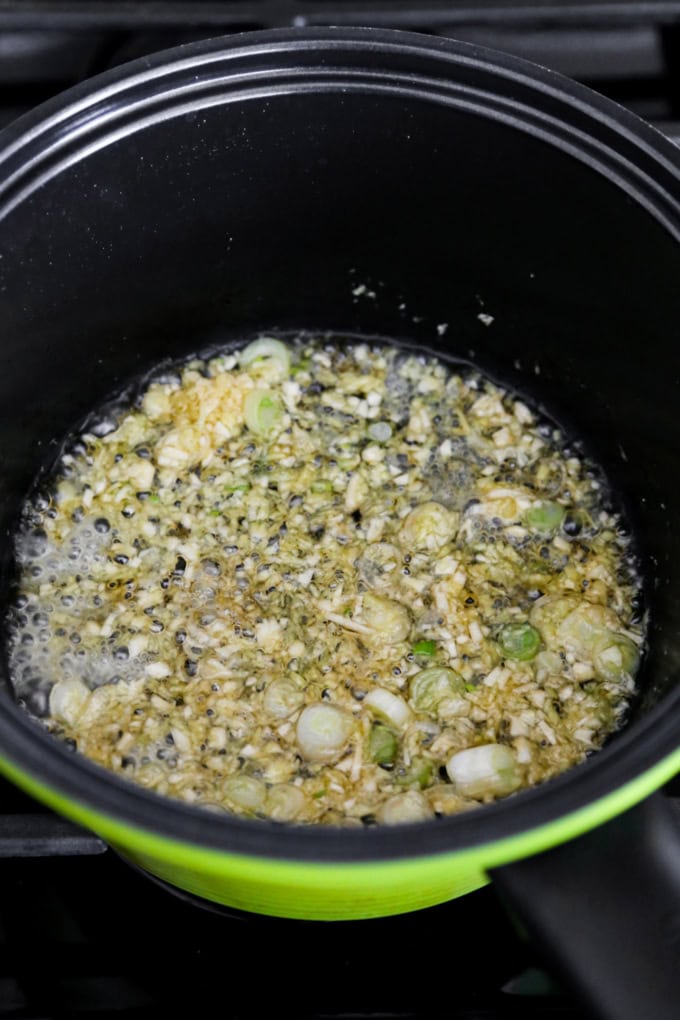 How to Make Shio Ramen
Place the sesame oil, ginger, garlic, and scallion in a small pot and cook for 1 minute over medium heat.
Stir in the dashi powder, mirin, sake, and sea salt, and cook for 1 minute. Lower the heat to low, add the water, stir and cover with a lid.
Meanwhile bring a small pot of salted water to boil and add the cabbage. Boil for 5 minutes, drain and set aside.
Bring another pot of water – medium size – to boil and add your fresh ramen noodles. Cook for 2 minutes or follow the directions on the package. Drain and divide the noodles among two ramen bowls.
Pour the broth over the noodles, dividing it equally, and top with cabbage, soy sauce eggs, scallions, menma, and nori.
Serve immediately.
Kaedama (替玉)
Kaedama is a term used in ramen shops across Japan that means extra noodles. if you are still hungry after you have finished your first serving of noodles, you can ask for a second one by saying "kaedama please!"
The custom started in Fukuoka as a way to serve bigger servings of noodles without having to add them all at once. Adding all the noodles in one go would lead to the noodles expanding and absorbing all the broth.
So in order to keep on serving springy noodles and plenty of broth to sip on, they came up with the kaedama system.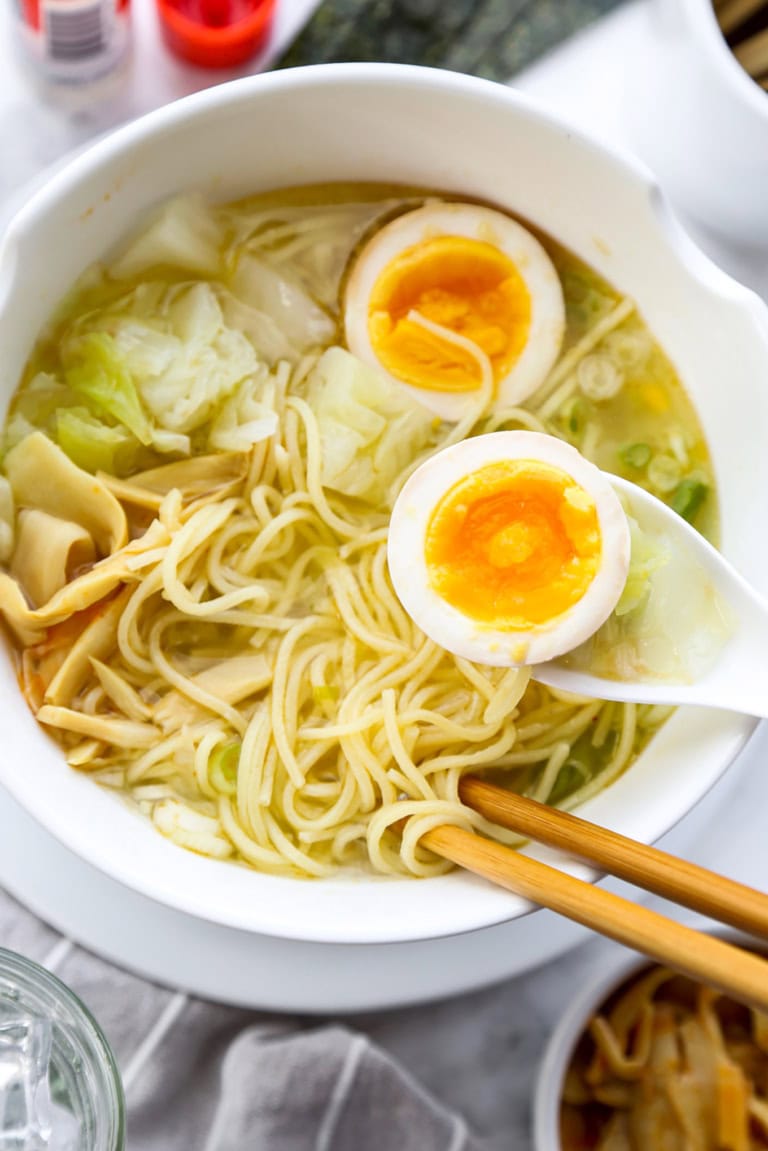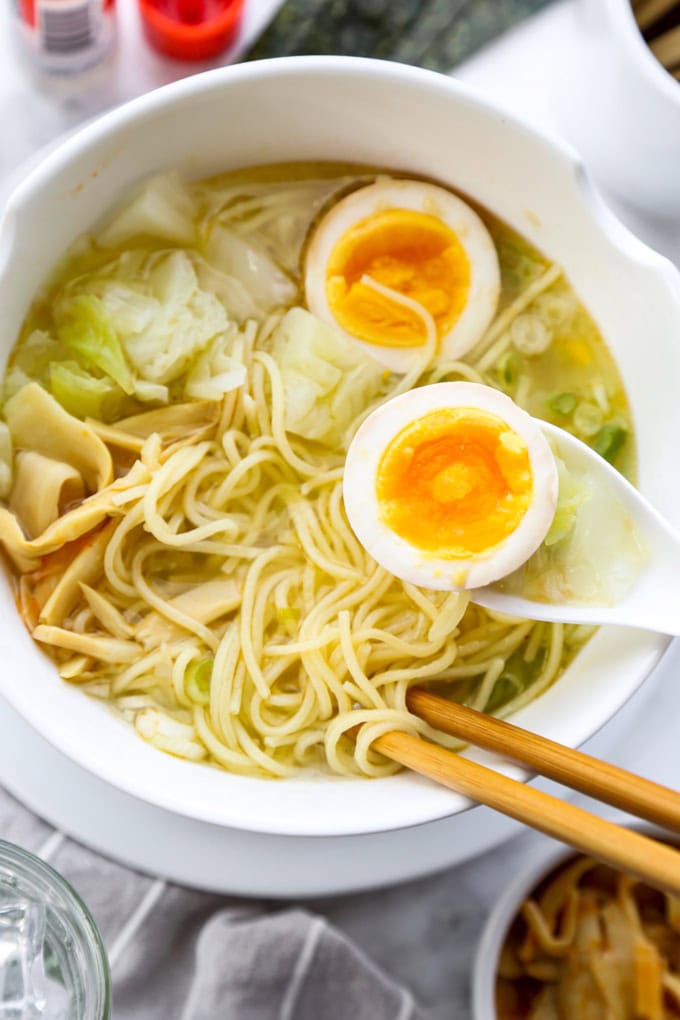 Popular Ramen Toppings
When it comes to ramen toppings, the options are endless! You can use so many different vegetables, pickles, and seasoning that it never gets boring. But if you prefer to keep your bowl of ramen as traditionally Japanese as possible, here are some of the most popular rament toppings to choose from:
Char siu (pork shoulder and cheeks)
Kakuni (pork belly)
Menma (seasoned bamboo shoots)
Ramen egg (soy sauce flavored boiled eggs – make my recipe!)
Chopped scallions
Nori (dried seaweed sheets)
Beans sprouts
Kikurage (wood ear mushrooms)
Kamaboko (fish cakes)
Shichimi togarashi (seven spice mix)
Keep in mind that Japanese food taste best when kept simple. Don't overcrowd your bowl with too many toppings as it will look messy and be harder to eat. Stick to three or four toppings maximum and you will have a perfectly balanced bowl of noodles.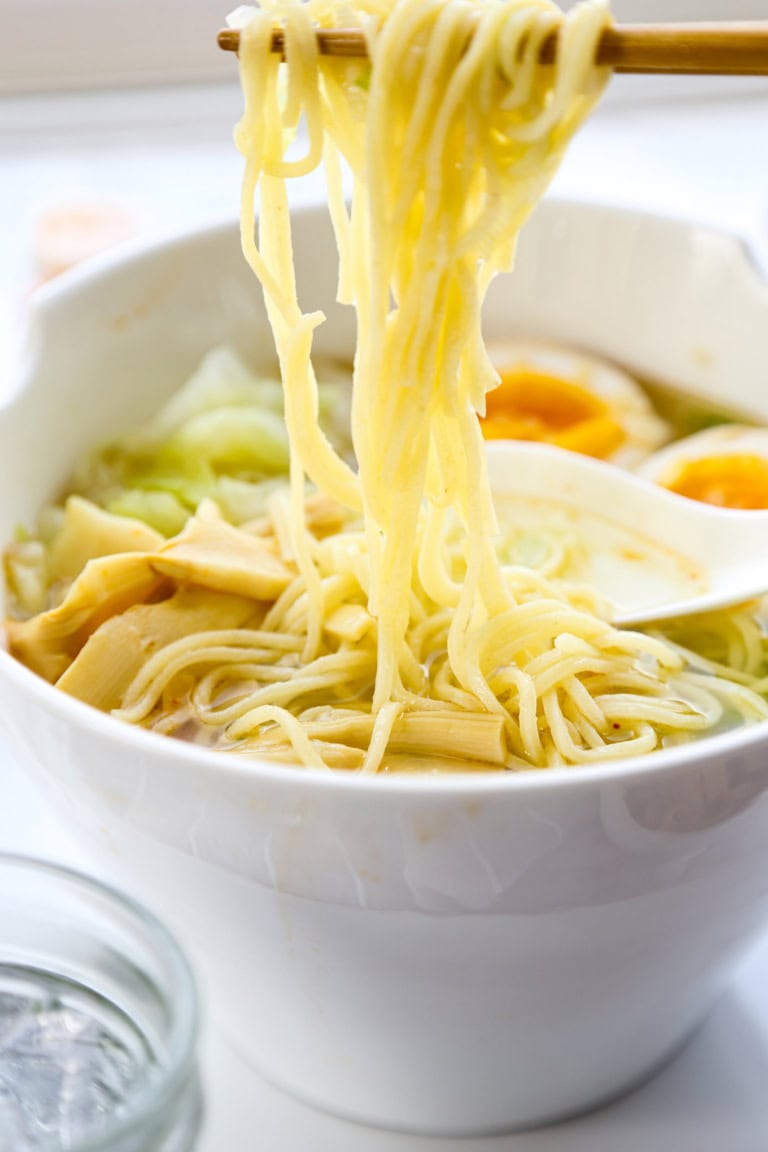 What to Serve with Shio Ramen
Whenever I make ramen at home I like to serve it with a couple of complementary side dishes. Since shio ramen is quite salty, it's best to stick to dishes that are mild or sweet to balance the overall flavors of the meal. Some of my favorite sides are:
More Ramen Recipes
If you enjoyed this recipe for shio ramen, here are more ramen recipes from the blog!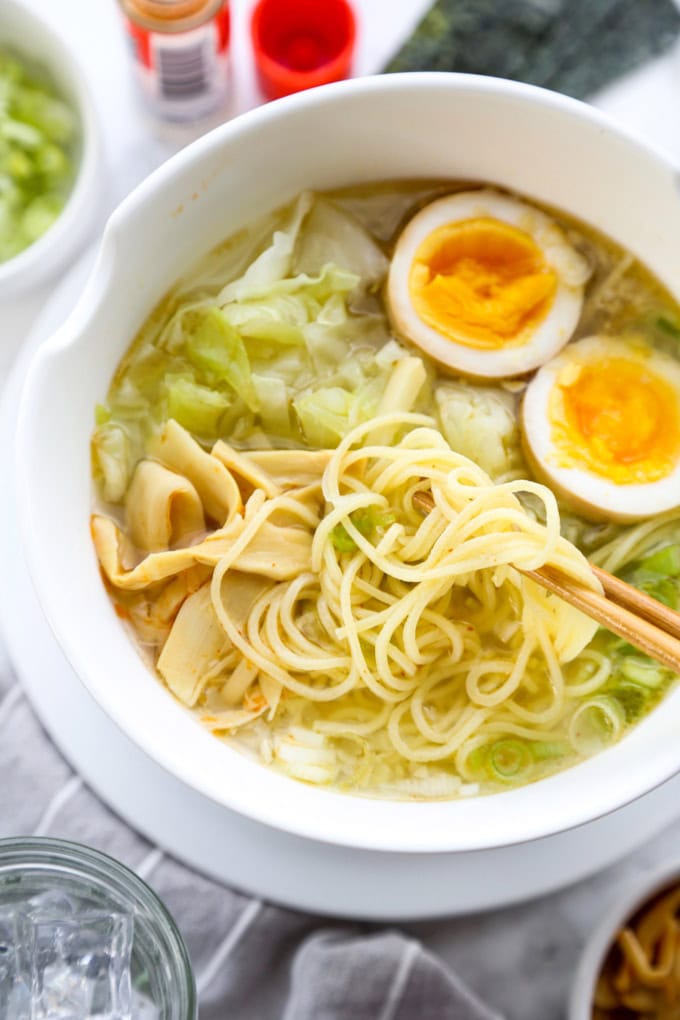 Did you like this Shio Ramen Recipe? Are there changes you made that you would like to share?
Print
Shio Ramen (Salt Flavored Ramen – 塩ラーメン)
Inspired by the traditional Hakodate ramen, this shio ramen recipe is simple and takes less than 30 minutes to make! 
Author: Caroline Phelps
Prep Time:

10 minutes

Cook Time:

15 minutes

Total Time:

25 minutes

Yield:

2

1

x
Category:

Soup

Method:

Boiling

Cuisine:

Japanese

Diet:

Vegetarian
4oz

cabbage, chopped into bite size pieces

12oz

fresh ramen noodles
Ramen broth
1 1/2 tablespoon

sesame oil

2 tablespoons

ginger, peeled and minced

2

garlic cloves, minced

1

scallion, white parts only, finely chopped

1 teaspoon

dashi powder

2 teaspoons

mirin

1 tablespoon

sake

2/3 teaspoon

sea salt

4 cups

boiling water
Toppings 
2

scallions, finely chopped

Nori sheets

Menma (seasoned bamboo shoots)
Instructions
In a small pot over medium heat, add sesame oil, ginger, garlic, and scallions, and cook for 1 minute.

Turn the heat to low and stir in dashi powder, mirin, sake, and sea salt. Cook for 1 minute and add the water. Stir, cover and keep the heat going on low.

Fill a medium size pot with water and 1 tablespoon salt and bring to a boil.

When the water is boiling, add the cabbage and blanch for 5 minutes. Drain and set aside.

Bring a pot of water to boil and cook the ramen noodles according to the directions on the package (about 2 minutes for fresh noodles). Drain the noodles and divide them among two bowls.

Check that the broth if very hot and pour it over the ramen noodles.

Top with cabbage, scallions, and other toppings and serve immediately.
Notes
You can make the broth ahead of time and keep it refrigerated for up to 1 week.
Nutrition
Serving Size:

1 bowl

Calories:

468

Sugar:

7.1g

Sodium:

944.4mg

Fat:

11.7g

Saturated Fat:

1.7g

Unsaturated Fat:

4.8g

Trans Fat:

0g

Carbohydrates:

73.7g

Fiber:

4.3g

Protein:

12.4g

Cholesterol:

0mg
Keywords: main, noodle soup
Recipe Card powered by