This is a quick and easy salad made with coleslaw mix, crunchy ramen noodles, mandarin oranges, slivered almonds and nutty sesame seeds. Perfect for a potluck or as a side dish! Ready in 10 minutes from start to finish.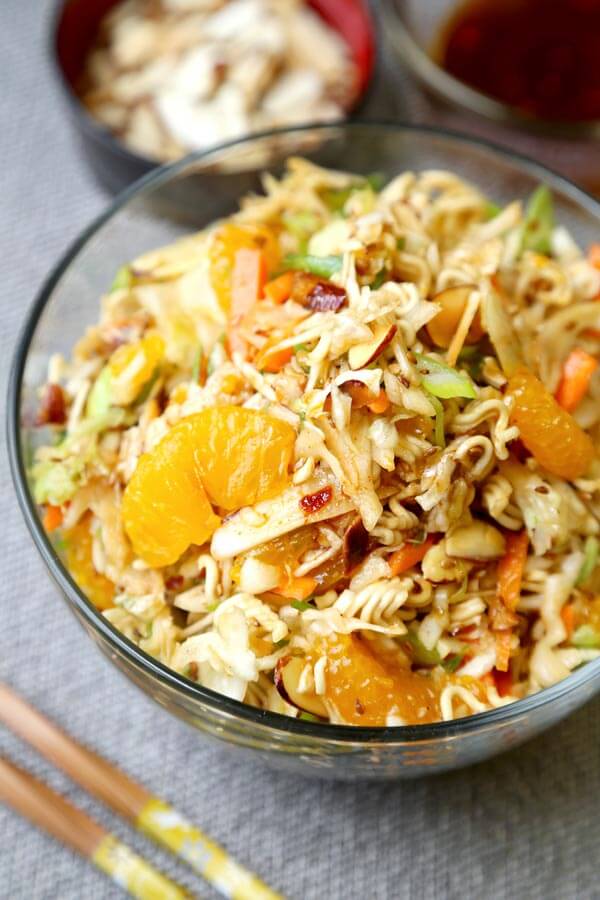 Strapped for time but still want something yummy to eat?
Try this ramen noodle coleslaw, I promise you won't regret it!
If you are a fan of oriental salads, this recipe is right up your alley because the flavors are very similar- It's nutty, salty, sweet, tangy… and crunchy and crispy…. The list goes on. It's perfect!
It's also cheap to make and doesn't require more than 10 minutes of your time!
There are many different fun and tasty elements in this ramen noodle coleslaw recipe – and nothing goes to waste. Even the powered seasoning packet that comes with the instant ramen noodles gets mixed into the dressing to give it that unique oriental flavor we all love so much.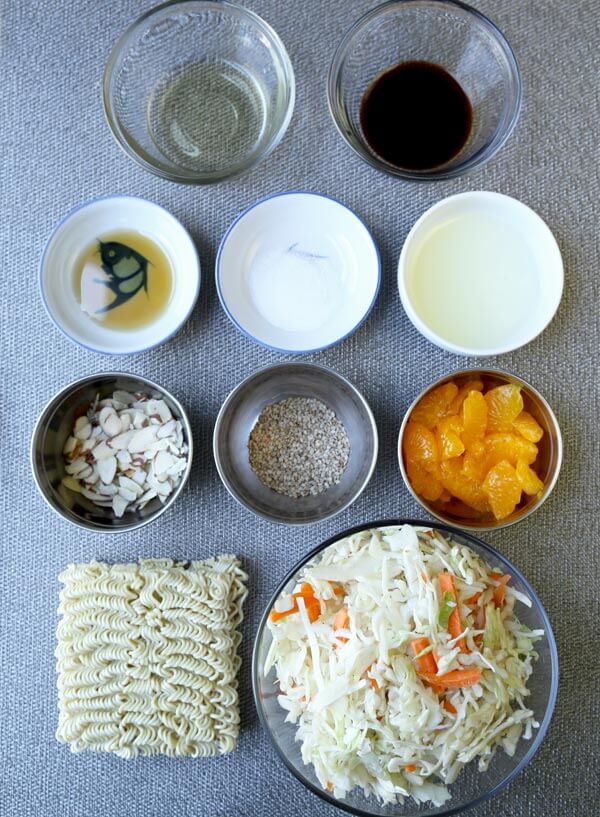 What's the difference between an oriental salad and a ramen noodle coleslaw?
None.
One is a general term while the other is more specific.
An oriental salad usually consists of Mandarin oranges, nuts or seeds, carrots, leafy greens and something crunchy like wontons or dried ramen noodles (the curly ones such as Top Ramen and Maruchan). All the ingredients are tossed in a sweet and nutty dressing and sometimes topped with chicken or beef.
I'm calling my dish a ramen noodle coleslaw to be more specific about the type of oriental salad I have created. I could have equally named it a Chinese coleslaw, Asian salad, Asian cabbage salad, but decided to go with a more descriptive title.
Tasty Ingredients That Even Kids Will Love
What I love about oriental salads are how they come packed with so many different textures and flavors. There's so much going on that every bite is fun to eat!
For this ramen noodle slaw, I've added one extra step to level up the nuttiness. I've toasted the slivered almonds and sesame seeds to bring out their natural taste and give them more crunch. There's something about canned Mandarin oranges and the mix of nuts and seeds I find hard to resist. It's such a complimentary flavor combination!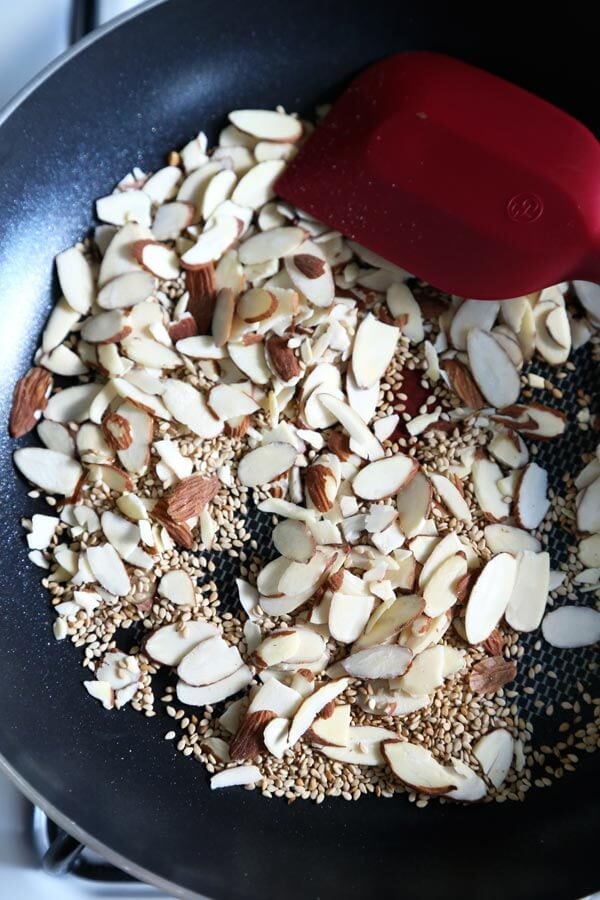 Ready in 10 minutes from start to finish
The reason why this ramen slaw takes little time to make is because I'm using pre-shredded coleslaw. I'm usually not big on buying pre-made or canned goods but I always make an exception for this Asian salad. I've made it both ways, with fresh ingredients and with pre-cut and canned ingredients, and didn't notice a big difference.
Easy Dish Idea For Potluck and Barbecue
This is a fun salad to bring to a potluck because it's coleslaw recipe with a twist!
What's also great is you can make it on the spot since no chopping is required. Just toast your almonds and sesame seeds before heading to your potluck or barbecue and once you're there, throw everything into a bowl, toss and serve!
The dried ramen noodles will stay crunchy for about 30 minutes.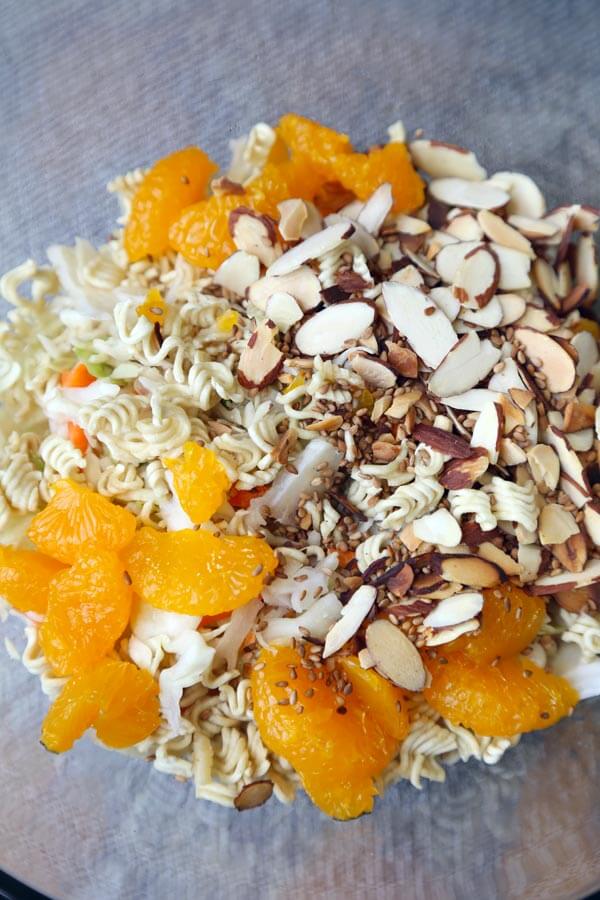 Playing around with different ingredients
This is a super versatile recipe that can be as simple or as complicated as you want it to be.
As I previously mentioned, there are no specific recipe for making an oriental salad. So you can make it healthier by swapping cabbage for kale, adding dried fruits like cranberries, or topping it with grilled tofu. The options truly are endless!
Tasty Oriental Dressing
Again, there are many different recipes to make oriental dressing. Some of them are creamy and others are oil based like a vinaigrette, which is the one I have for my recipe.
I'm using a mix of vegetable, sesame oil, rice vinegar, sugar and soy sauce. Pretty much the classic list of ingredients to make a Japanese vinaigrette. I love the mix of tangy, sweet and nutty and I think it pairs beautifully with the cabbage, Mandarin oranges and crunchy ramen noodles.
I always make extra and keep it in the fridge since I use it for more than just a ramen slaw. I'll pour over fresh tomatoes, zoodles, silken tofu, etc…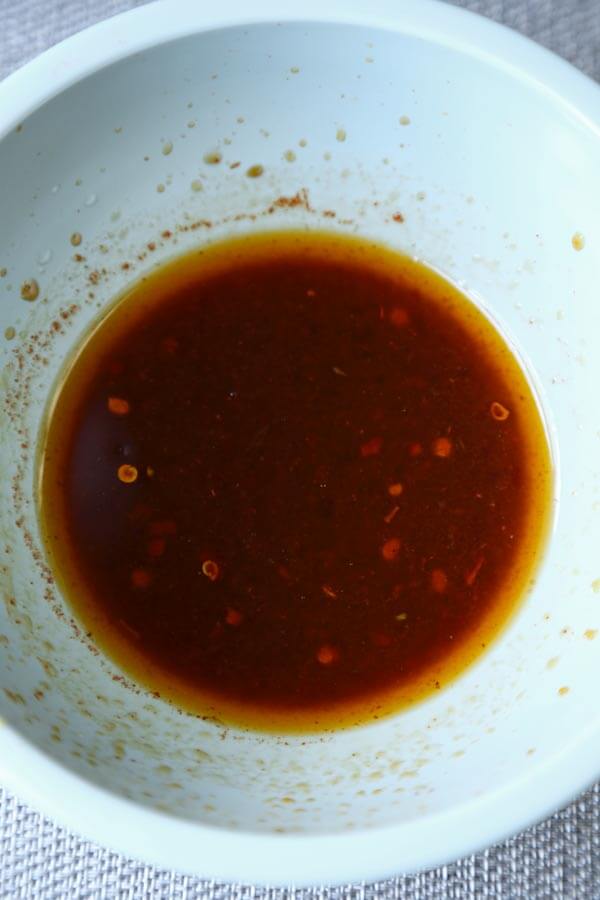 Ramen Noodle Coleslaw Shelf Life
This ramen noodle coleslaw is best eaten fresh because of the dried ramen noodles. Once they start to absorb liquid and expand, they will become mushy. If you're not making this for a party, I suggest serving the salad without the dried ramen tossed in. Then once the salad is divided into servings, top each plate or bowl with the dried ramen.
This way, if you have leftover salad, you can keep it in the fridge and won't have to deal with mushy bits when you eat it later.
This Asian ramen salad makes enough for four people when served as a side, or can be turned into a main dish for two people. If you are very hungry, I recommend topping this oriental salad with chicken or salmon. You'll be feeling full and satisfied!
Other yummy recipes using ramen noodles: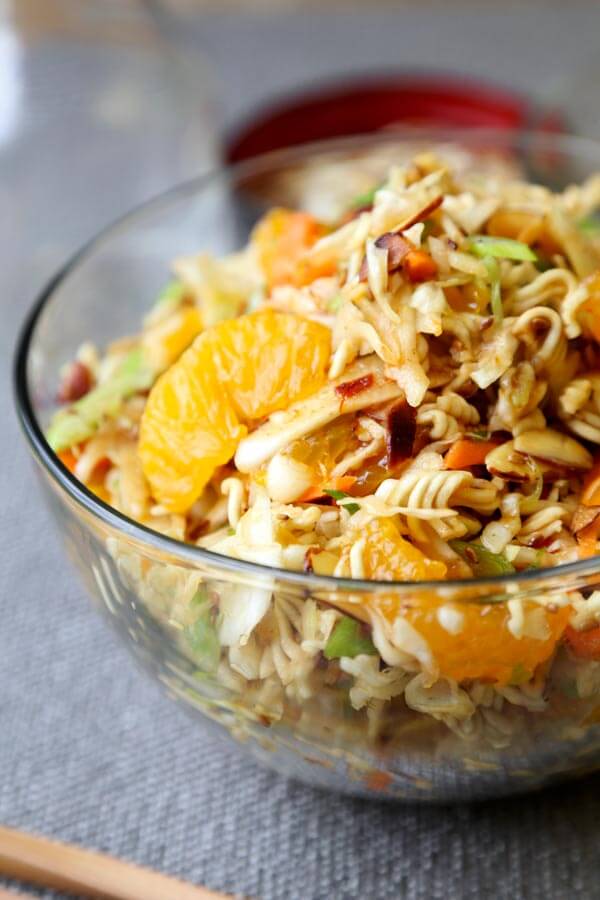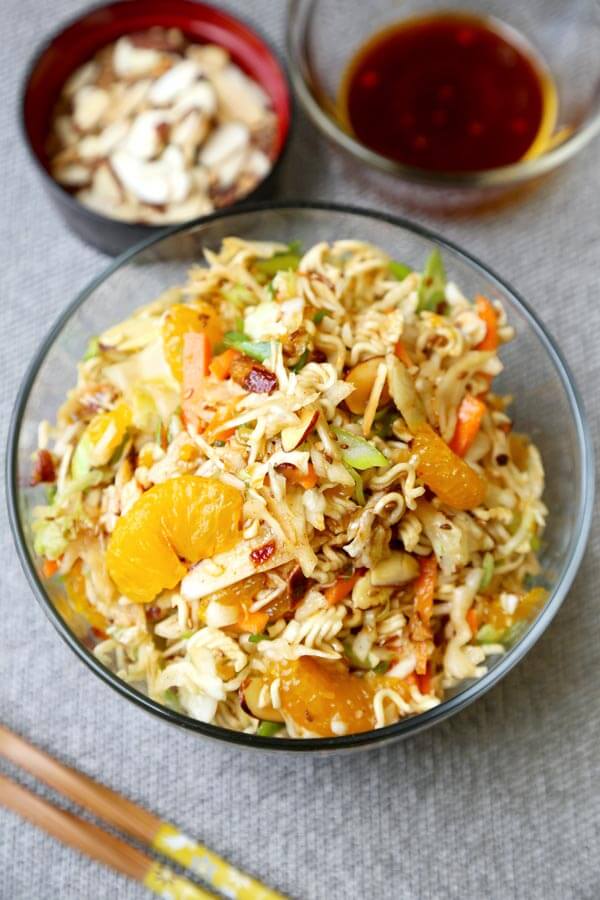 Did you like this Ramen Noodle Coleslaw Recipe? Are there changes you made that you would like to share? Share your tips and recommendations in the comment section below!
Print
Ramen Noodle Coleslaw Recipe
This is a quick and easy ramen noodle coleslaw recipe using dried ramen noodles, canned mandarin oranges and toasted almonds. Delicious!
Author: Caroline Phelps
Prep Time:

7 minutes

Cook Time:

3 minutes

Total Time:

10 minutes

Yield:

4

people

1

x
Category:

Salads

Cuisine:

Asian
One

14 ounce

package coleslaw mix

3 ounces

package instant ramen noodles (spicy chicken or vegetable flavor (I'm using Top Ramen))

3

stalks scallions (finely chopped)

2 tablespoons

sesame seeds

1/2 cup

sliced almonds

11 ounces

can mandarin oranges (drained)
For the dressing :

3 tablespoons

vegetable oil

2 tablespoons

soy sauce

2 tablespoons

rice vinegar

1 teaspoon

sesame oil

1 teaspoon

granulated sugar
Instructions
Put all the ingredients for the dressing in a bowl and whisk until dressing has emulsified. Set aside.
In a smal pan over low medium heat, toast sesame seeds and sliced almonds for a couple of minutes until they turn golden brown. Transfer to a plate and let cool to room temperature.
Put coleslaw mix, mandarin oranges, scallions, almonds and sesame seeds in a bowl and break ramen noodles on top using your fingers. Pour dressing over and toss until the salad is well coated.
Serve immediately.
Notes
Kassandra (blog reader and homechef) recommends making no more than two days worth at a time, or the noodles will go soggy.
This Ramen Noodle Coleslaw Recipe Is:
Very low in cholesterol
High in vitamin C
Nutrition
Serving Size:
Calories:

324

Sugar:

14.2 g

Sodium:

703.4 mg

Fat:

18.6 g

Saturated Fat:

4.5 g

Carbohydrates:

35.2 g

Fiber:

6.7 g

Protein:

8.1 g

Cholesterol:

5.3 mg
Keywords: recipe, appetizer, side dish, backyard barbecue, pot luck
Recipe Card powered by