Ramen eggs are so easy to make! Their savory taste and creamy interior can transform a simple bowl of ramen noodles into something much more luxurious. It's one of Japan's most popular ramen toppings (also delicious on its own!) and can be made in your kitchen with just 5 ingredients!
I think you'll agree with me that there's typically a bit of a difference between the ramen we get at our favorite ramen shops and the ramen we whip up for ourselves at home.
One is a well composed medley of perfect broth, noodles and accompaniments. And the other can tend to me more, shall we say, rudimentary?
But the truth is, there doesn't have to be a massive gap in quality!
Today's post is all about one of the most simple, yet substantial, additions you can create in your own kitchen to ramp up your homemade ramen – the famous and insanely delicious ramen egg.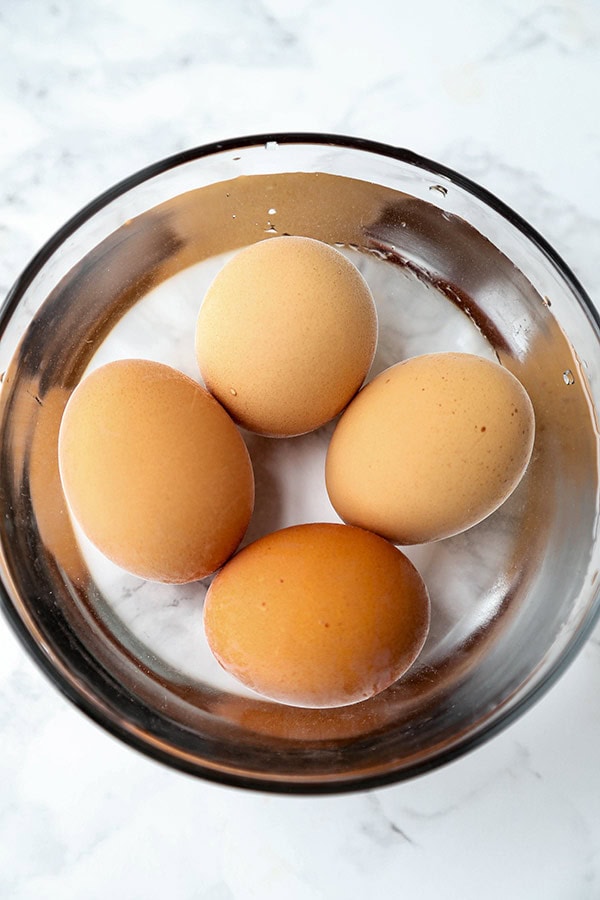 What is a Ramen Egg?
Ramen egg, called ajitsuke tamago in Japanese (which literally means "seasoned egg"), or simply soy egg (shoyu tamago in Japanese), are boiled eggs marinated in a combination of soy sauce, mirin or sugar, and sometimes sake. The eggs are commonly sliced in half and inserted into steaming bowls of ramen just prior to serving. They can be served soft, medium, or hard boiled.
Although delicious in ramen, they can also be eaten on their own as a snack or side.
Ingredients for Ramen Egg (Ajitsuke Tamago)
Eggs: Large eggs, preferably pasture raised as they taste so much better! I get mine at Whole Foods.
Soy Sauce: Use a brand of soy sauce you really like since this is going to be the main flavoring of your Japanese marinated eggs. I personally love the Yamasa brand.
Mirin: Mirin adds sweetness to help balance the savory, earthy, and umami flavors of the soy sauce.
Sake: Sake adds fruitiness and nuttiness to the eggs.
Ground Black Pepper: Totally optional but so good! If you love a little heat with your food, you will love the addition of ground black pepper here.
Variations
Mirin Alternative: Use 1 tablespoon granulated sugar instead of 2 tablespoons mirin.
Gluten-Free Ramen Egg: Use liquid amino instead of soy sauce. You can try with tamari as well but I find that liquid amino tastes much closer to soy sauce. Also, look at the ingredients list in mirin to make sure it doesn't contain hydrolyzed vegetable protein (which contains gluten).
Low-Sodium Ramen Egg: Instead of using 3 tablespoons soy sauce, use 1 tablespoon soy sauce and 2 tablespoons water. Or try using the Less Sodium Soy Sauce by Kikkoman.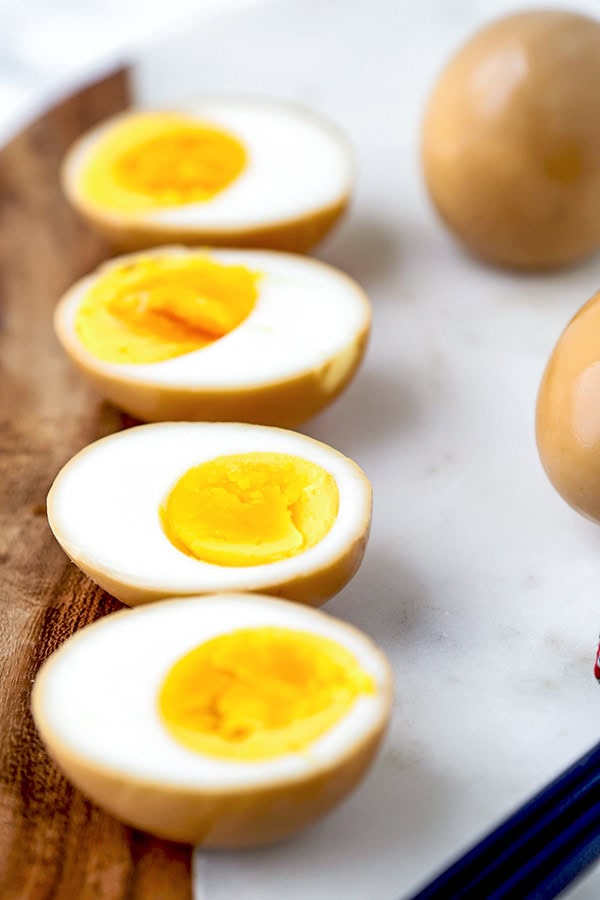 How to Make Ramen Egg (Ajitsuke Tamago)
Boil the eggs to your desired consistency. For tips on how to boil egg to perfection, every single time, scroll down for more details. I personally like my soy sauce egg to be somewhere between soft and medium boiled.
When the eggs are boiled, shock them in a bath of ice cold water immediately. Let them cool for a few minutes.
Meanwhile, mix the soy sauce, mirin, sake, and ground black pepper in a bowl.
Peel the eggs and place them in a storage bag or container. Pour the sauce over and let some of the air out of the bag before sealing it. If you are using a container, close it with a lid.
Refrigerate shoyu eggs for at least 2 to 4, turning the eggs over every 30 minutes or so, so all the sides marinate evenly. Marinate up to 2 days (the longer you marinate them, the stronger the taste will be).
How to Boil Eggs to Perfection Every Single Time
Boiling eggs can seem like such an enigma – because there are a ton of methods out there.
And, while techniques can vary significantly, many of them will have you arriving at the exact same place in terms of doneness and yolk consistency.
If you have a method you swear by, stick to it!
Otherwise, get yourself an egg cooker. Seriously. It's the best invention ever.
I used to boil eggs on the stove top with decent amount of success. Then one day I bought an egg cooker for my mother-in-law as a Christmas present and she couldn't stop raving about it. So I eventually got one for myself, and she wasn't kidding – my eggs were the most perfect eggs I had ever made. I can even make poached eggs in my little egg cooker and they come out perfectly runny.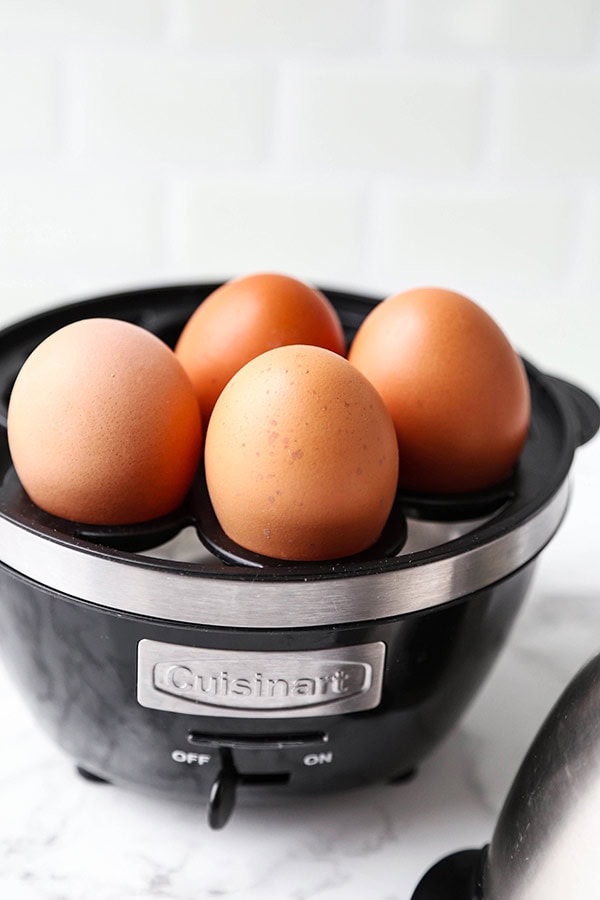 But if you prefer the boiling method, I have a really detailed tutorial you can follow here.
If you don't have time to read the tutorial, I've found that this works best for me:
Bring a pot of water to a roiling boil and then turn it completely off as you add your eggs to the water.

Place a lid on the pot and wait for 6-7 minutes.

Then take the eggs out and place directly into an ice bath – which stops the cooking process. In a pinch you can also run them under cold water.

Take the shell off and place into the marinade.
Overall, the result is a ramen egg that holds up when I stick it in hot soup. You see, an overdone yolk is chalky. And an underdone yolk will disappear as soon as it hits the soup.
I'm totally aiming for the middle ground: an egg yolk that holds up, yet still delivers on the soft, creaminess I'm craving.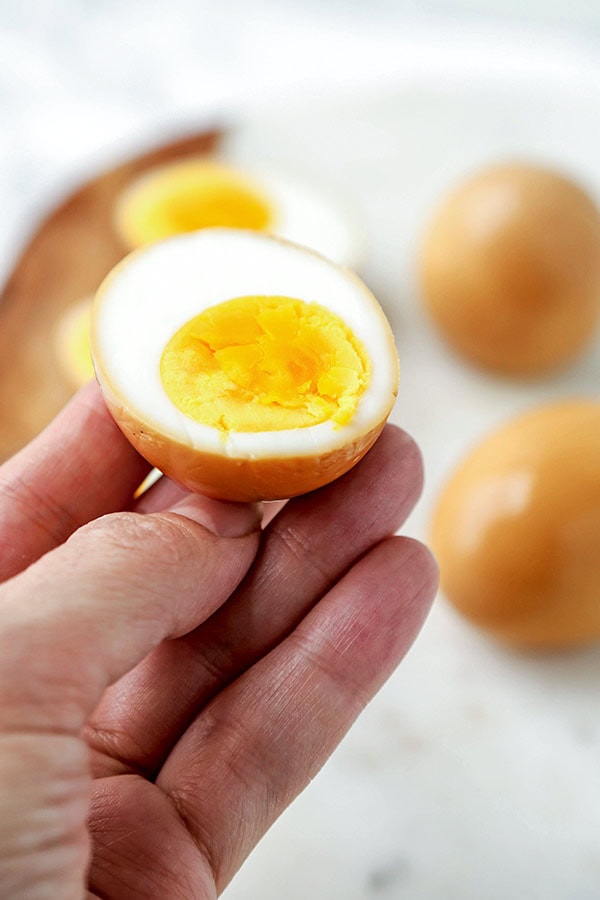 Ramen Toppings
Aside from the ubiquitous ramen egg, you can dress up your own homemade ramen creations with easy-to-make accompaniments.
How about a little curry paste for added flavor?
Baby spinach wilts quickly and adds a verdant pop to both instant and homemade ramen noodles.
Or, you could go Hokkaido style and add corn and a pat of butter. Yes, butter!
Basically, when it comes to making your own ramen creations at home a little more well rounded, you can add anything your heart desires! No limits.
Easy Ramen Recipes to Pair with Ramen Egg:
Ramen Side Dishes: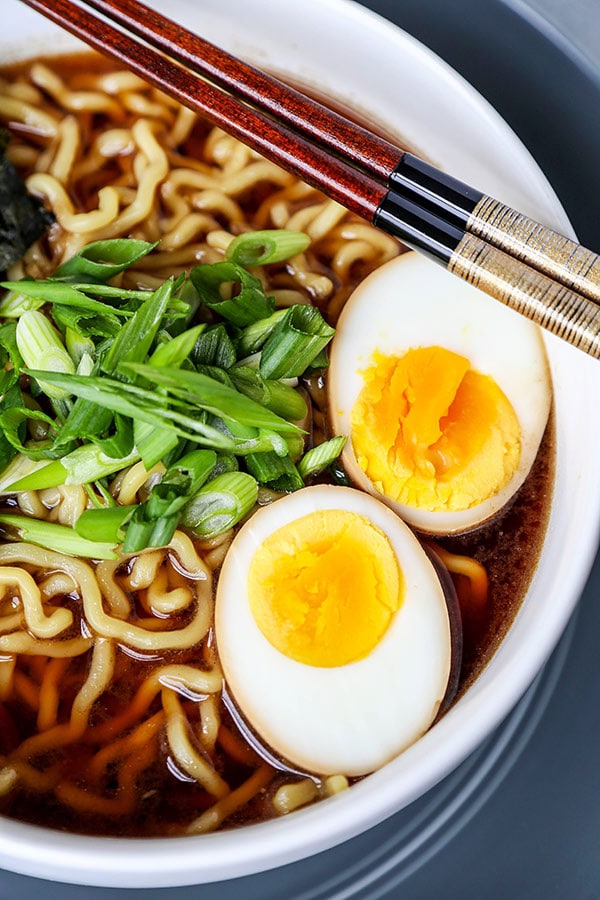 Did you like this Ramen Egg Recipe? Are there changes you made that you would like to share? Share your tips and recommendations in the comments section below!
Print
Ramen Egg – Ajitsuke Tamago
Ramen egg makes the perfect topping for a hot bowl of ramen!
Author: Caroline Phelps
Prep Time:

5 minutes

Cook Time:

6 minutes

Total Time:

11 minutes + marinating

Yield:

4

-

6

eggs

1

x
Category:

Side

Method:

Marinating

Cuisine:

Japanese
Instructions
Bring a pot of water to boil and turn the heat off. Carefully add the eggs, cover and let sit for 6-7 minutes until they are soft to medium boil in consistency. If you are using an egg cooker, use the cup the egg cooker comes with and fill it with water up to the medium boil line, or just under for a softer consistency. Put the lid on and start steaming.
Meanwhile, add the ingredients for the marinade in a bowl and stir. Set aside.
Once the eggs are cooked, submerge them in a bowl with ice cold water. Let sit for 5 minutes and peel.
Place the eggs in a Ziploc bag or other sealable container, pour the marinade over and seal. Rotate the eggs every 30 minutes or so, for 2-4 hours. You can let them marinate for up to 2 days for a stronger taste.
Slice in half and serve with ramen or rice.
Notes
Keep the egg refrigerated in a storage container. They will keep for up to 1 week.
Nutrition
Serving Size:
Calories:

82

Sugar:

0.3 g

Sodium:

81.9 mg

Fat:

4.8 g

Saturated Fat:

1.6 g

Carbohydrates:

0.9 g

Fiber:

0 g

Protein:

6.3 g

Cholesterol:

186 mg
Keywords: recipe, topping, Japanese, ajitsuke tamago, ajitama
Recipe Card powered by