Ditch the pork and make yourself and healthier bowl of tantanmen today! Earthy mushrooms and sweet red bell peppers dance in a spicy, savory and nutty broth packed with umami. This is one dish you will want to add to your meatless meal rotation! Ready in 25 minutes from start to finish.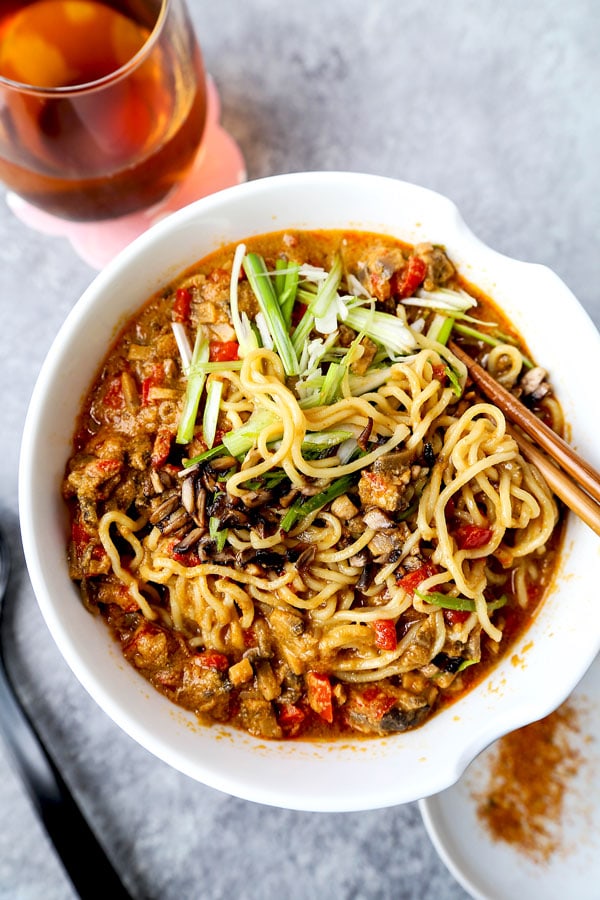 Vegan Tan Tan Men
I have a slight addiction to Terrace House on Netflix.
Okay, maybe more than slight since I just re-watched the entire Boys & Girls In The City season in two days.
That's dedication baby.
If you aren't familiar with the show, Terrace House is a Japanese reality dating show where three girls and three boys who have never met, share a house. In it they go on dates, talk about life goals, and cook meals together – all at a snail's pace. It's sort of like a polite and laid back version of the Real World without physical fights, trashiness and over the top drama.
So what's the appeal of watching a show where not much is happening?
Well, like the Guardian newspaper explains, "watching Terrace House is an extremely meditative experience. Despite the narrative crawling along, you can't simply scroll through Instagram to pass the time – instead, you're forced to keep your eyes glued to the screen lest you lose track of the subtitles. It's impossible to multitask while watching Terrace House – the show will have you remembering how it felt to have a pre-social media attention span in no time."
Just like with the Great British Baking Show where people support and motivate each other, Terrace House feels comforting because it's nice to see kindness on the television screen for a change.
And the food porn shots aren't bad either!
If there is one thing Japanese television is good at it's capturing the essence of food. High production values are used for closeups of hot pots bubbling, Japanese curry being poured over rice, soy sauce drizzled over silken tofu cubes… I always get hungry when I watch that show.
So what I do now is watch Terrace House during lunch or dinner time to avoid the late night munchies. And what better food to pair with a Japanese show than a delicious bowl of ramen! This week, I'm all about tantanmen, a Japanese ramen dish inspired by the famous Sichuan dan dan noodles.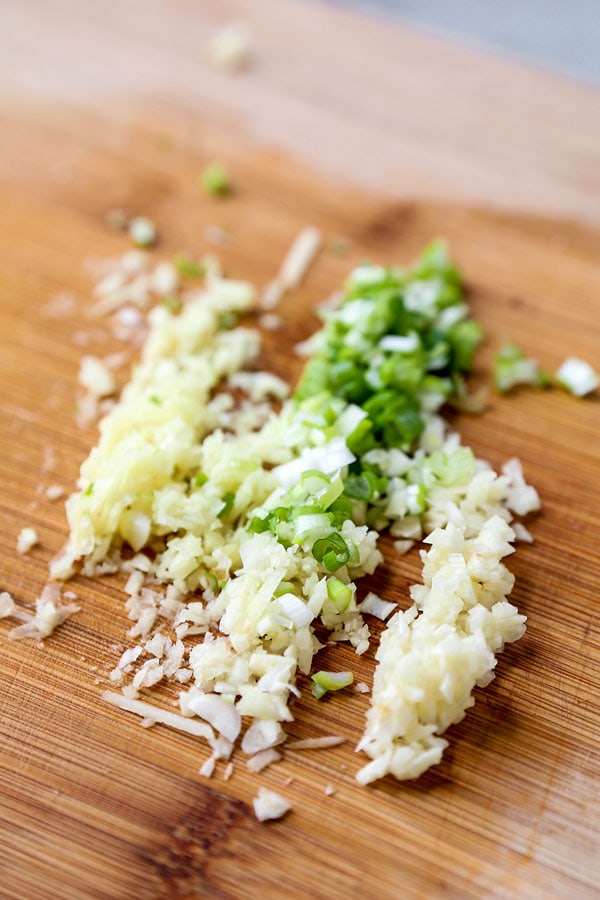 The traditional tantanmen recipe calls for ground pork and chicken stock, but since I no longer eat meat I'm substituting pork for a mix of mushrooms and red bell peppers. I'm also swapping chicken stock for vegetable stock to make this bowl of ramen truly meat free.
The flavors are slightly different from the original dish but believe me – it's still really, really good!
And less fatty + lower in calories. Win win!
What is Tantanmen?
Tantanmen (or dan dan mian in Mandarin) is the Japanese adaptation of Sichuan dan dan noodles. While the original Chinese dish comes with the noodles tossed in a fiery sauce, the Japanese version is much milder and soupier.
The flavors are nutty, savory, a little sweet and spicy.
The noodles used are also different. While traditional dan dan mian is served with wheat noodles (Ta-a noodles or danzi noodles), Japanese tantanmen comes with ramen noodles.
So even though the origins of tantanmen are rooted in China, it's safe to say that the Japanese version has been tweaked  enough to be categorized as its own kind of ramen dish.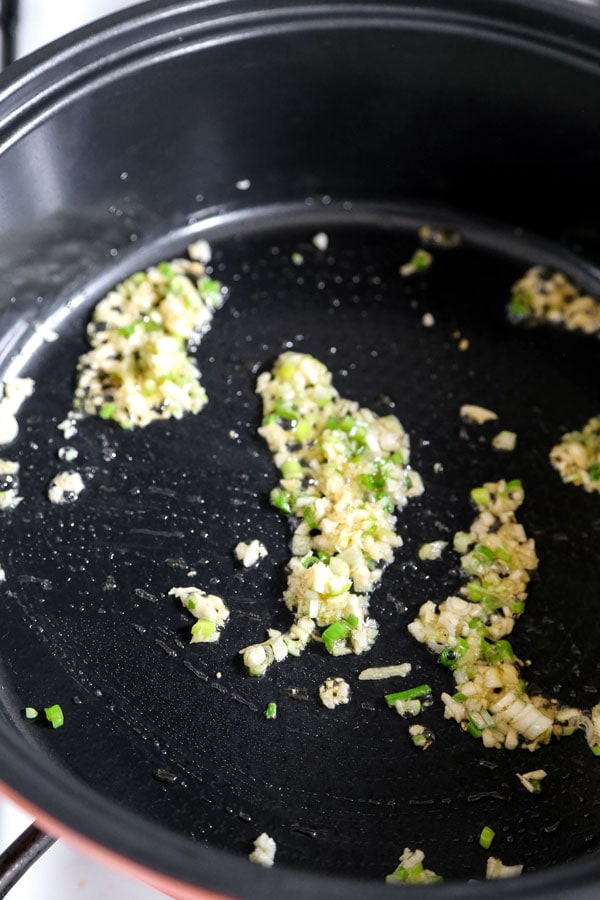 Doubanjiang or Gochujang?
If you make a lot of Asian food, you probably have a tub of gochujang or doubanjiang (or both, like I do) sitting on a shelf in your pantry. While both products are red and have a paste-like texture, it's good to know the difference since they taste quite different from each other.
Doubanjiang is a spicy, salty paste made from fermented broad beans, soybeans, salt, rice, and various spices. It's commonly used in Chinese cooking, especially with Sichuan dishes. Natives to the province of Sichuan call doubanjiang "the soul of Sichuan cuisine".
Gochujang on the other hand hails from Korea and has a sweeter flavor. The paste is made using chili powder, glutinous rice, fermented soybean powder, barley malt powder, and salt. It's both sweet and spicy with savory and pungent notes.
Can I make tantanmen with gochujang if I don't have any doubanjiang?
Absolutely!
I have made it both ways and although they tasted quite different, the flavors were still well rounded and delicious.
Keep in mind that one is sweeter than the other so you might need to adjust the salt level if you are using gochujang.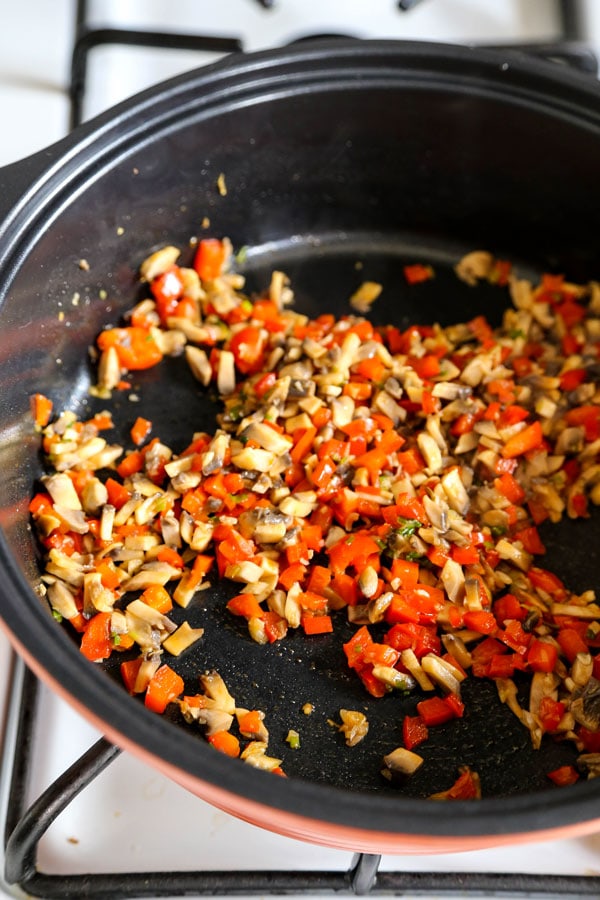 Japanese Sesame Paste – Neri Goma (練りごま)
Japanese sesame paste is very similar to tahini in that it has a creamy texture and a nutty taste. However, Japanese sesame paste has a nuttier flavor than tahini because the seeds are roasted for longer.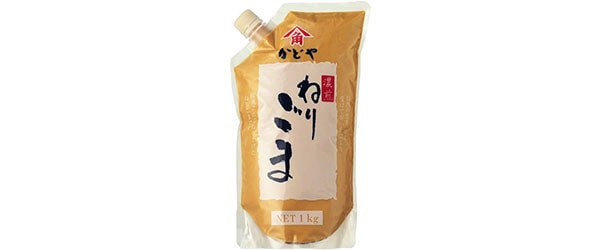 If you have trouble finding neri goma, no need to worry as you can substitute it for tahini. Another option is to toast some sesame seeds in a pan, and crush them in a mortar with a pestle. Or drizzle a little toasted sesame oil to the tantanmen right before serving to impart extra nuttiness.
Toppings for Tantanmen
I love ramen toppings!
They make eating ramen so much fun because they add layers of flavors and textures, with each bite tasting different and looking colorful.
Since this is a vegan recipe, I've omitted the classic ramen egg topping.
But if you happen to be a vegetarian who eats eggs, then by all means do it, add it to your bowl of noodles! It's so good and I have a really easy and tasty recipe for ramen eggs you are going to love.
Topping this tantanmen recipe with plenty of thinly sliced scallions is a must. The crunch from the fresh green onions elevates this dish and nicely cuts through the richness of the broth. I also like to sprinkle a little ichimi togarashi (ground red chili peppers) for more heat and finish with a piece of nori.
I also recommend adding corn, preserved bamboo shoots (menma), wakame, and/or beans sprouts. These are classic ramen toppings that pair well with all types of ramen in general. You can't go wrong with these!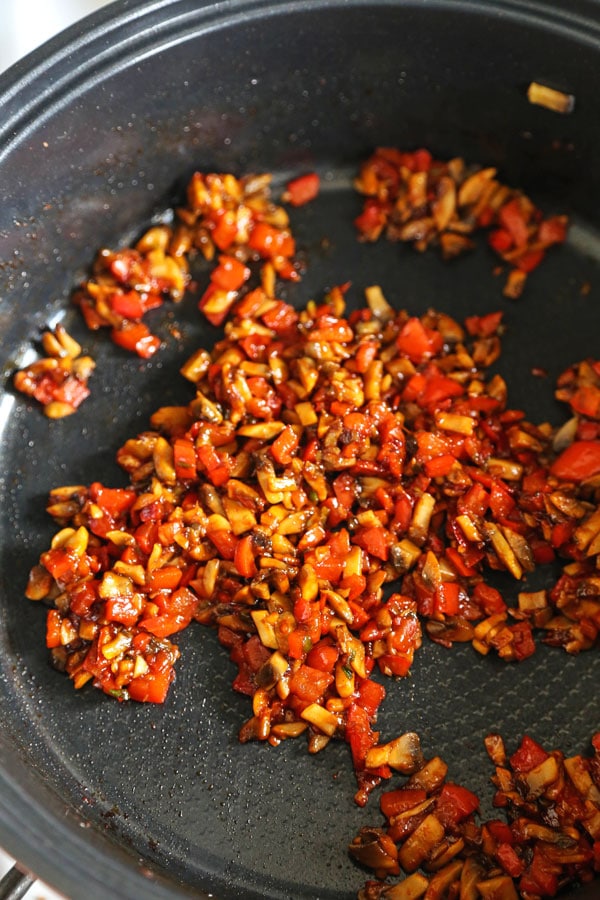 Can I Make This Tantanmen Recipe Ahead Of Time?
You can make the broth ahead of time, which is what takes the longest anyway.
Leave it in the fridge next to your sliced scallions and warm it up as your noodles are boiling in another pot. That way, dinner will be ready in less than 10 minutes. Who knew healthy homemade fast food could be so easy to make!
The broth will last 2-3 days, refrigerated.
Other delicious and easy ramen recipes: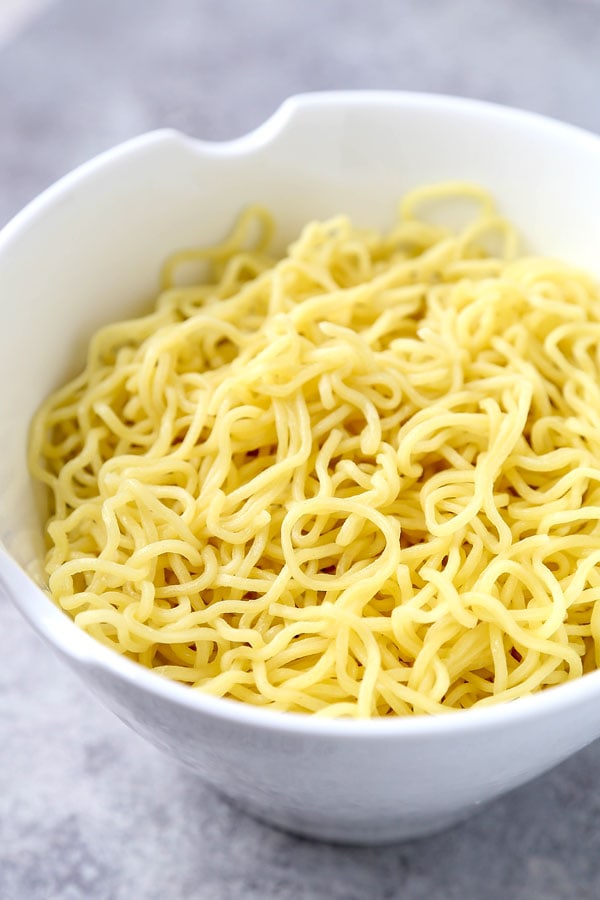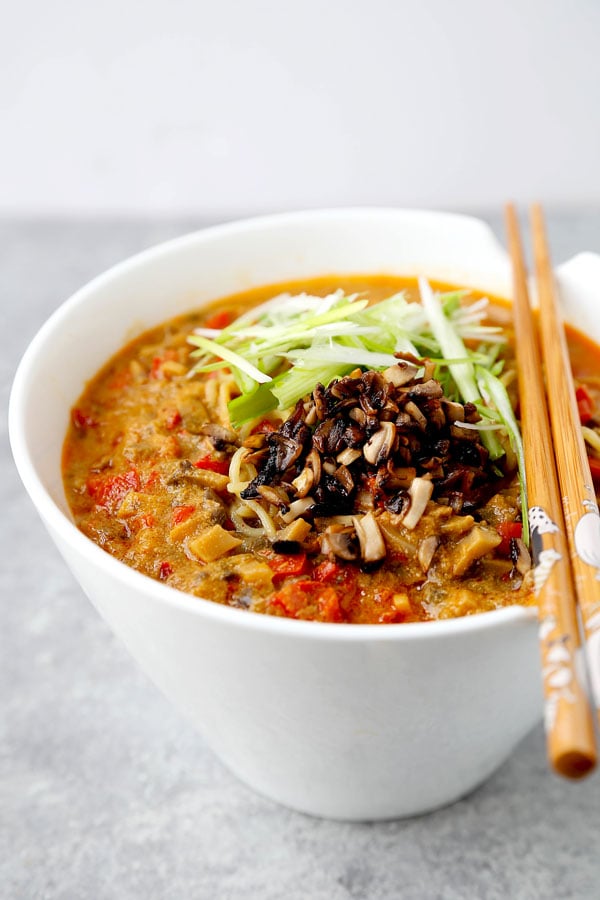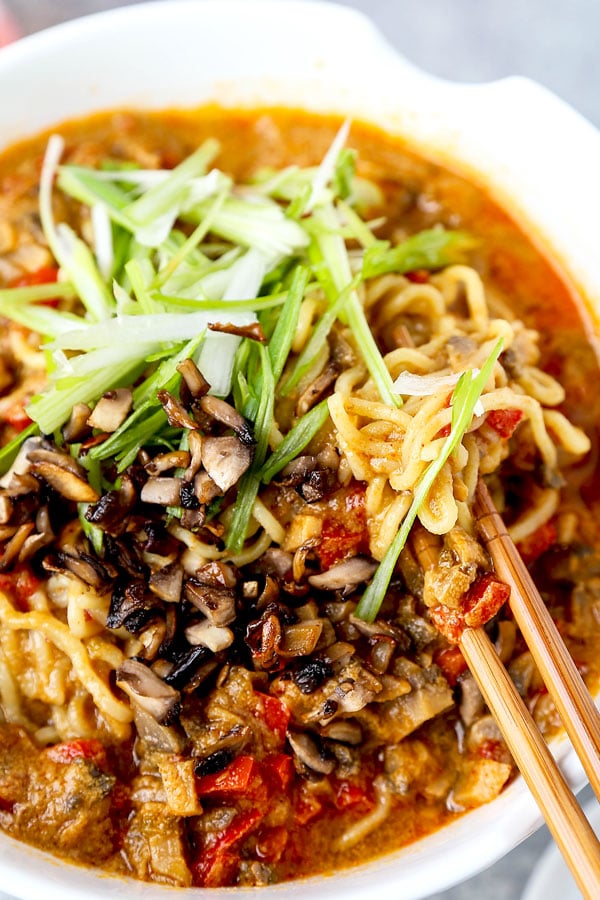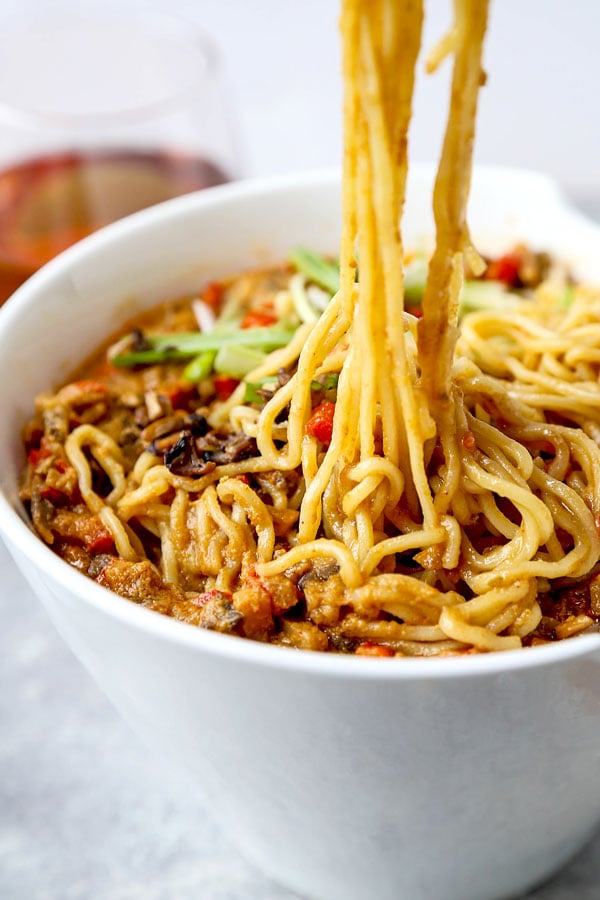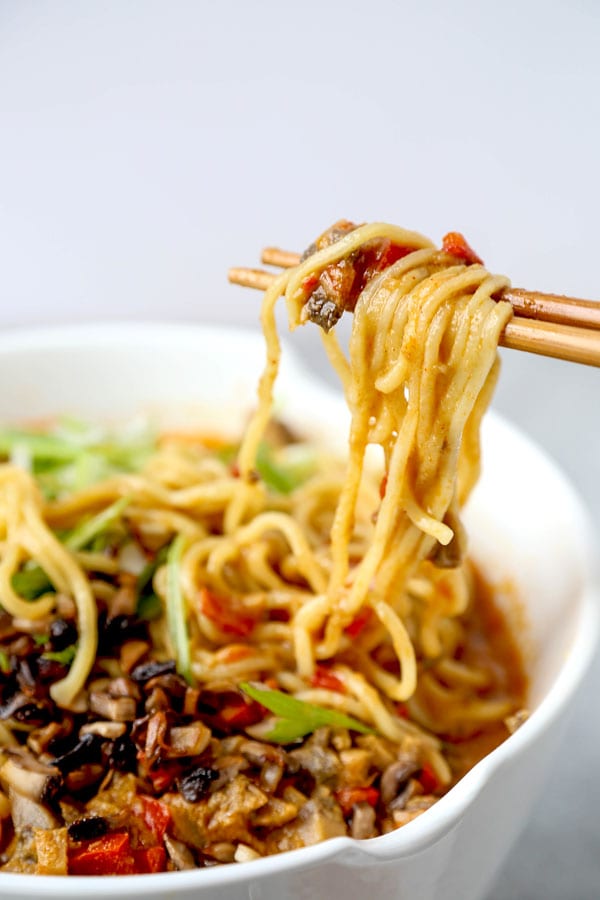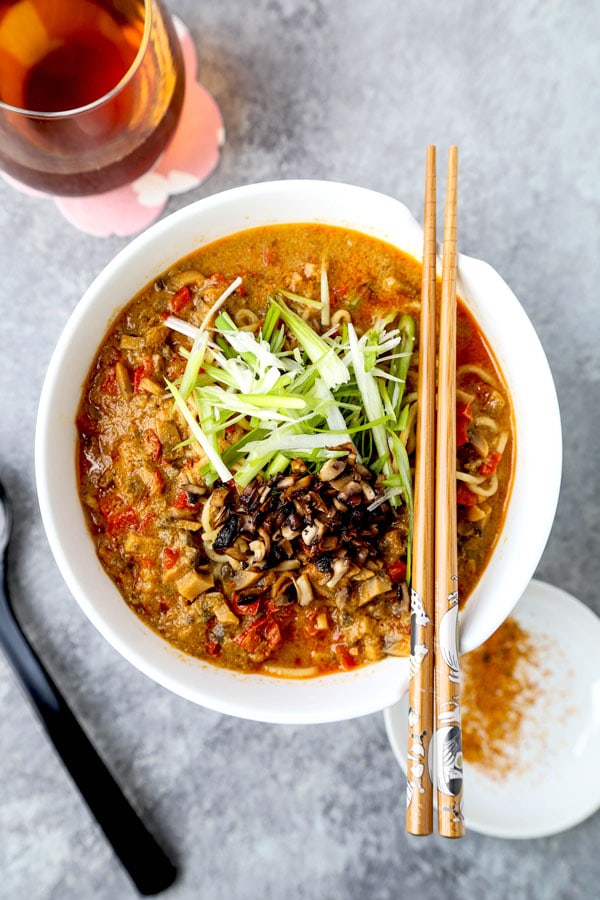 Did you like this Vegan Tantanmen Recipe? Are there changes you made that you would like to share? Share your tips and recommendations in the comments section below!
Print
Vegan Tan Tan Men
A plant based version of a classic Japanese noodle dish. So yummy!
Author: Caroline Phelps
Prep Time:

10 minutes

Cook Time:

15 minutes

Total Time:

25 minutes

Yield:

2

people

1

x
Category:

Vegan

Method:

Pan frying, boiling

Cuisine:

Japanese
1/2 tablespoon

sesame oil

1

scallion (finely chopped)

1 tablespoon

ginger (peeled and minced)

1 teaspoon

garlic (minced)

4 ounces

button mushrooms (diced)

1/2

red bell pepper (diced)

1/2 tablespoon

gochujang

3 cups

vegetable broth

1 tablespoon

soy sauce

1 teaspoon

granulated sugar

2 tablespoons

Japanese sesame paste (or tahini)

1/2 teaspoon

kosher salt

2

packages fresh ramen noodles – about 6 ounces, or 3 ounces dry ramen noodles (make sure to check the ingredients since not all ramen noodles are vegan)
Toppings:
3

scallions (sliced into bite size strips)
ichimi togarashi (optional)
Instructions
In a pot over medium heat, add sesame oil, scallion, ginger and garlic and cook for 1 minute, until fragrant.
Add mushrooms,red bell pepper and gochujang and cook for 4-5 minutes, until most of liquid from mushrooms has evaporated.
Add stock, soy sauce, sugar, tahini paste and salt and stir.
Bring to a boil and reduce to a bubbling simmer for 5 minutes. Turn the heat off, cover and leave on the burner.
Meanwhile, boil ramen noodles according to directions on the package.
Drain and divide among two bowls.
Divide sauce among the two bowls and top with sliced scallions and ichimi on the side. Serve immediately.
Nutrition
Serving Size:
Calories:

428

Sugar:

7.1 g

Sodium:

1110.7 mg

Fat:

15.3 g

Saturated Fat:

2.4 g

Carbohydrates:

58.9 g

Fiber:

4.4 g

Protein:

13.3 g

Cholesterol:

49.3 mg
Keywords: recipe, noodle soup, ramen, plant based, meatless, vegetarian
Recipe Card powered by