Tomato egg stir fry is an easy and affordable dish that only takes 17 minutes to make. This simple home-style Chinese dish is both sweet and tart, and becomes the ultimate comfort food when served over rice.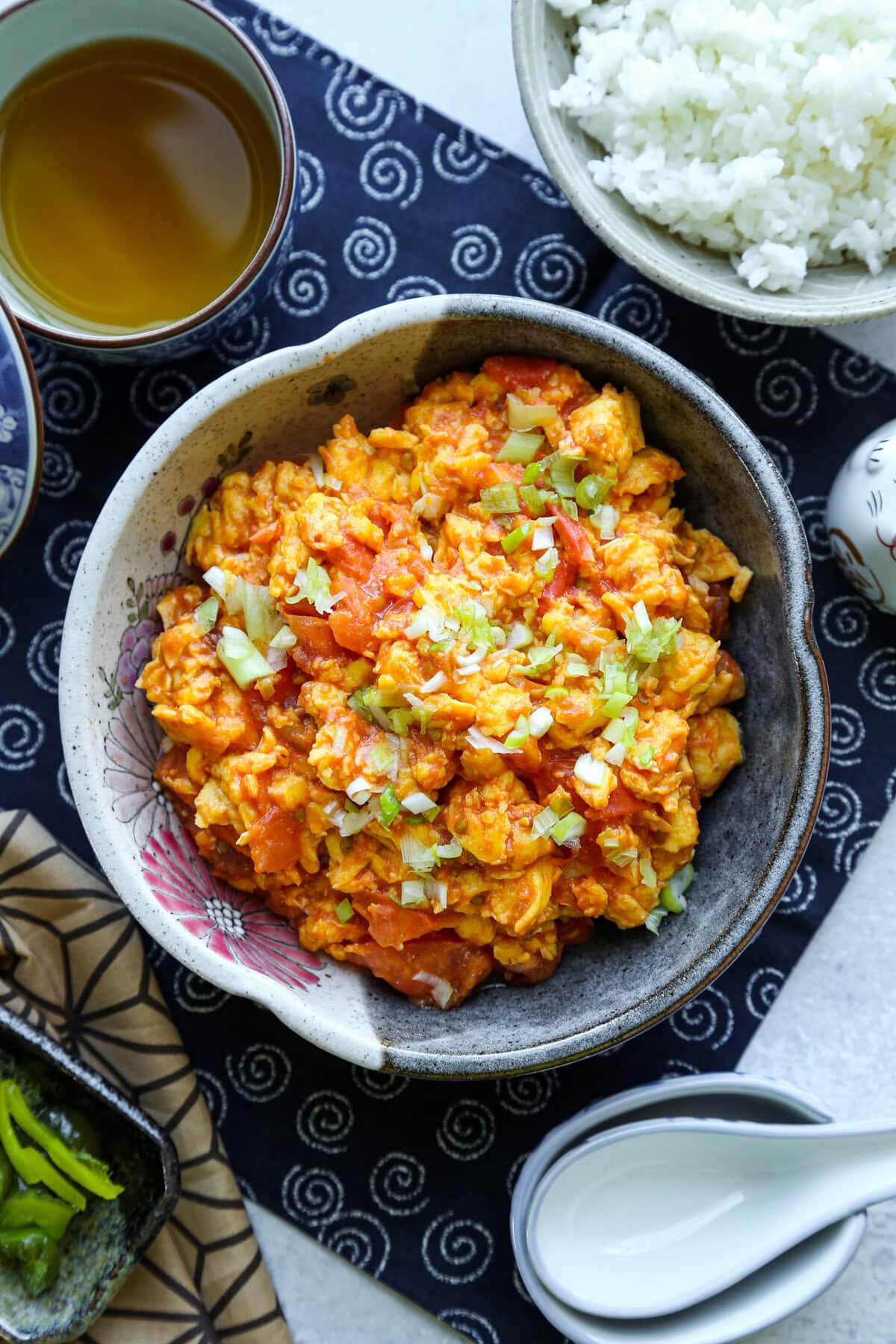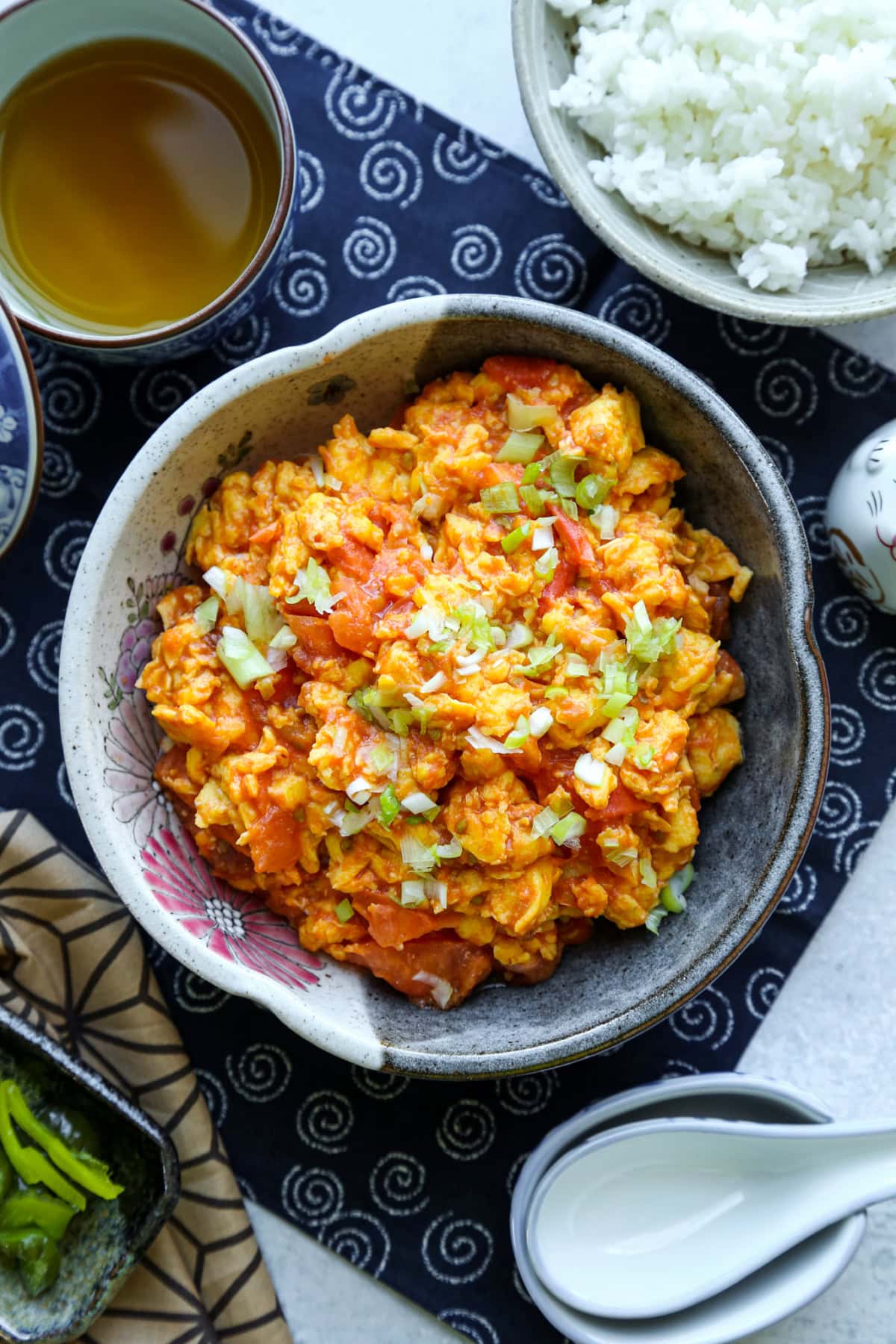 What is Chinese Tomato Egg Stir Fry?
This tomato egg recipe (西红柿炒蛋) is a simple Chinese stir fry that marries the brightness of fresh tomatoes with savory scrambled eggs. Typically served over a bowl of white rice, this is Chinese comfort food at its best.
Why This Recipe Works
With 10 minutes of (simple) prep time – and a short 7 minutes of cooking, you'll have a delicious Chinese stir fry on the table in minimal time.
Soft scrambled eggs provide the perfect counterpoint to the natural sweetness of roma tomatoes. And the tomatoes themselves are aided by a small amount of super umami tomato paste.
There is a dry, vinegary flavor element from the addition of shaoxing wine (more on that in a sec). But, aside from that one niche ingredient, you likely have everything you need to make this tomato egg recipe in your pantry already.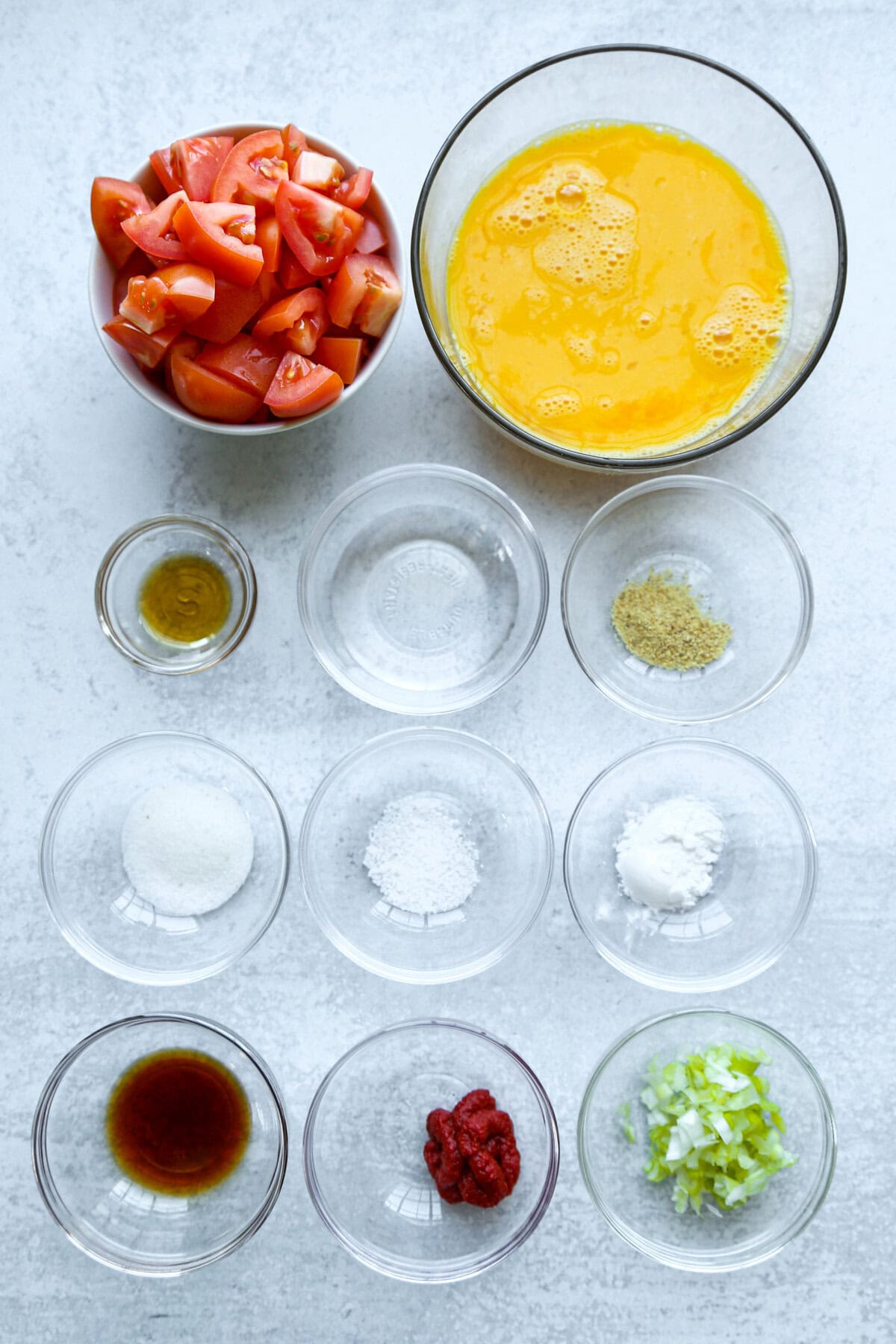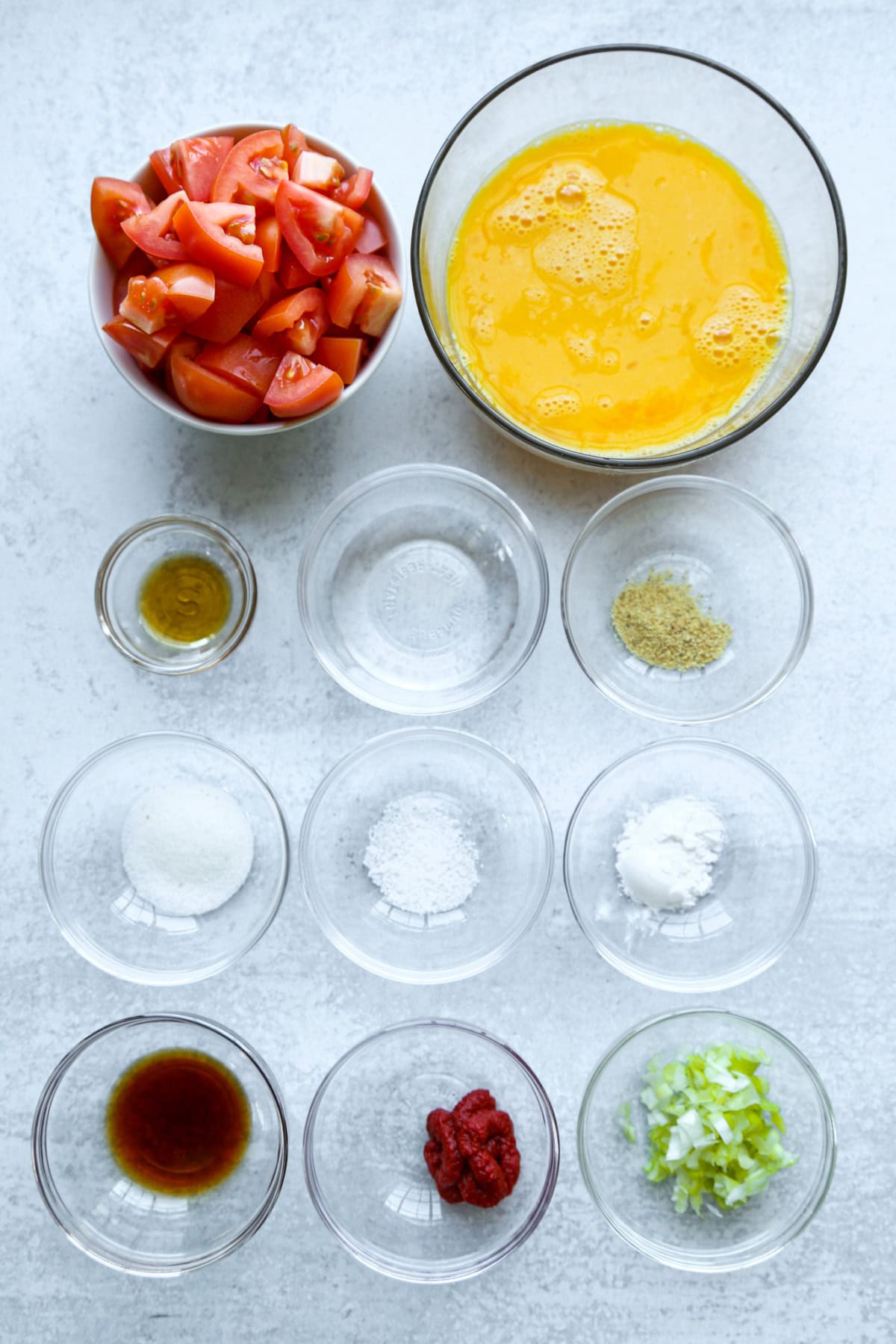 Chinese Tomato Egg Ingredients
Scroll all the way down for the full recipe.
Eggs: To make this Chinese egg stir fry, you'll need 5 large eggs. If you can, try to use eggs that are rated as certified humane raised and handled. It makes a difference!
Shaoxing Wine: Shaoxing wine is a Chinese cooking wine made of fermented rice. This amber colored liquid has a vinegary flavor – and can make all the difference when trying to make restaurant quality Chinese food at home. It's pretty easy to track down at most Asian grocery stores these days – or grab shaoxing wine here on Amazon. A good alternative to shaoxing wine is dry sherry.
Sugar, Salt and White Pepper: I use kosher salt almost exclusively in the kitchen. The larger salt crystals make it more difficult to over-salt your food (which is easy to do with inferior flavored iodized table salt). You'll only need 1/4 tsp salt. White pepper is herbaceous, sharp and almost gingery.
Tomato Paste: While we're using fresh tomatoes in this tomato egg recipe, a tbsp of tomato paste adds that ultra concentrated tomato essence to the dish as a whole.
Cornstarch and Water: You'll use these (along with the tomato paste) to make a cornstarch slurry. The effect it creates is an overall thickening of the texture. This is the secret weapon restaurant chefs use to create those perfectly thick Chinese sauces.
Cooking Oil: Any neutral flavored cooking oil will work. I prefer grapeseed oil.
Tomatoes: Use ripe, fresh roma tomatoes for this recipe.
Scallions: Chopped green onion adds an element of verdant crunch to the mix. A finely chopped spring onion would work as well.
Sesame Oil: You'll drizzle 1/2 tsp sesame oil at the very end to introduce an element of toasted nuttiness to the dish.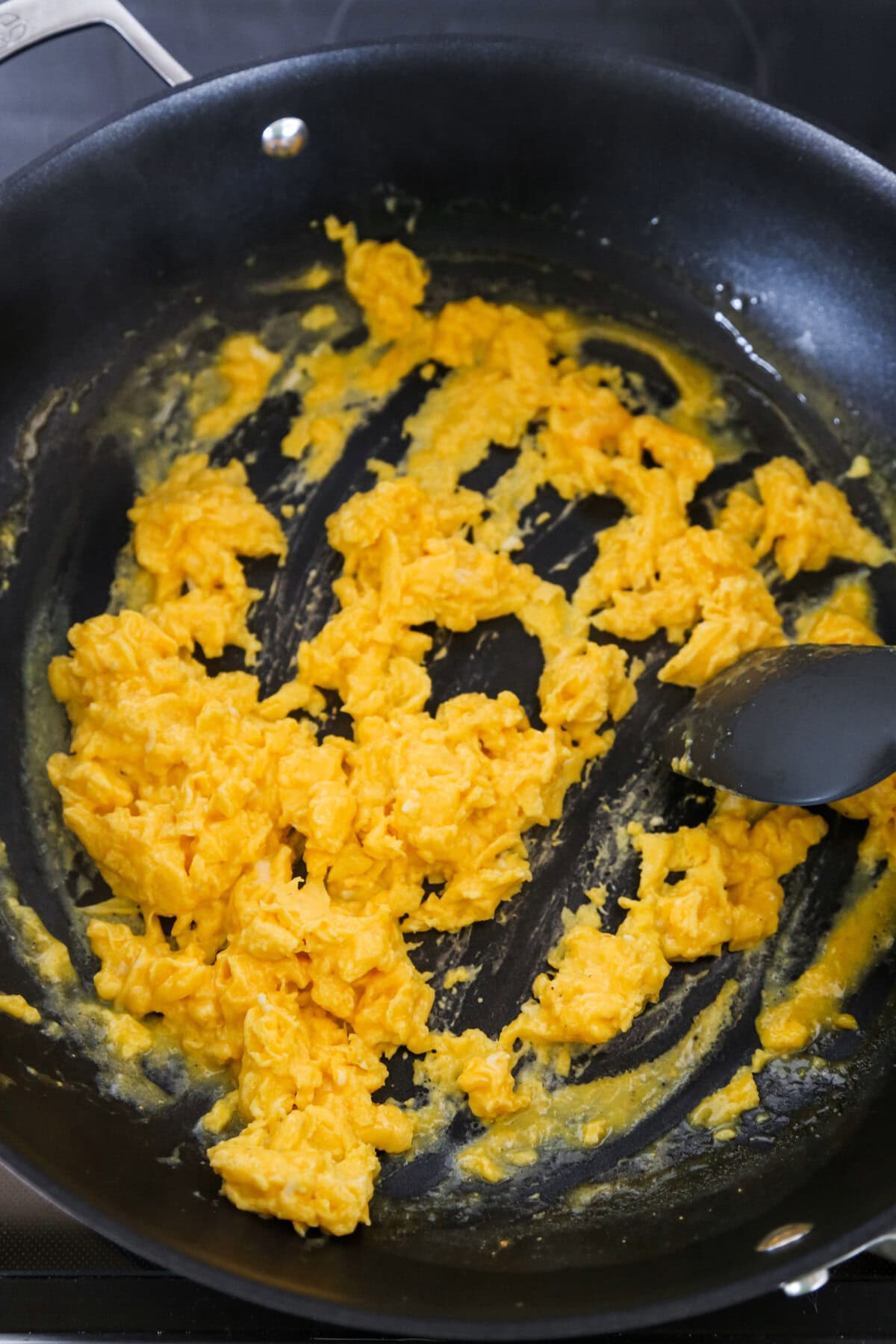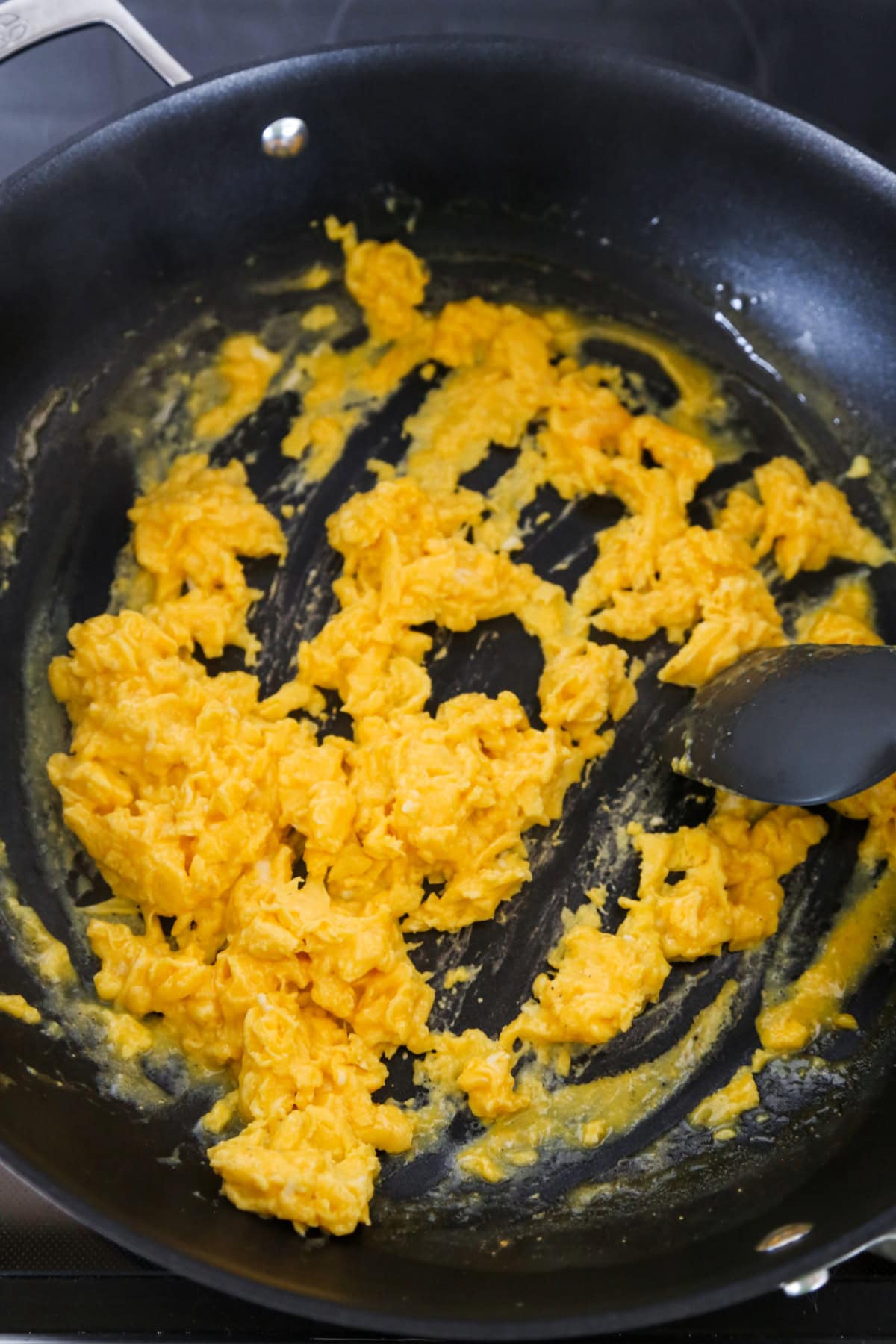 How to Make Chinese Tomato Egg Stir Fry
First, gather all of your cooking tools and ingredients.
Then add your eggs to a medium sized bowl and whisk them well.
Stir the shaoxing wine, sugar, salt and pepper into the whisked eggs and set the bowl aside.
Next – in a separate bowl – mix the tomato paste, cornstarch and water, and set that aside as well.
In the meantime, get a large pan or wok going over medium heat. Allow around 1 minute for the pan to heat up properly. When hot, add 2 tablespoons of the grapeseed oil to the pan and swirl it until the entire cooking surface is evenly coated.
Add your egg mixture to the pan and scramble quickly – until the eggs are almost fully cooked (stop when the eggs are still slightly runny). Transfer to a bowl and set aside.
Then add the last tablespoon of cooking oil to the pan and swirl to coat. Add the tomatoes and half of the chopped scallions. Cook for around 3 minutes, until the tomatoes have softened a bit. Season with a pinch of salt.
Re-stir the tomato paste cornstarch slurry and add to the tomatoes in the pan. Stir until fully incorporated – then add the scrambled eggs to the pan and stir again. Turn the heat off and drizzle with sesame oil.
Finally, transfer the tomato egg stir fry to a plate or bowl, top with the remaining scallions and serve immediately.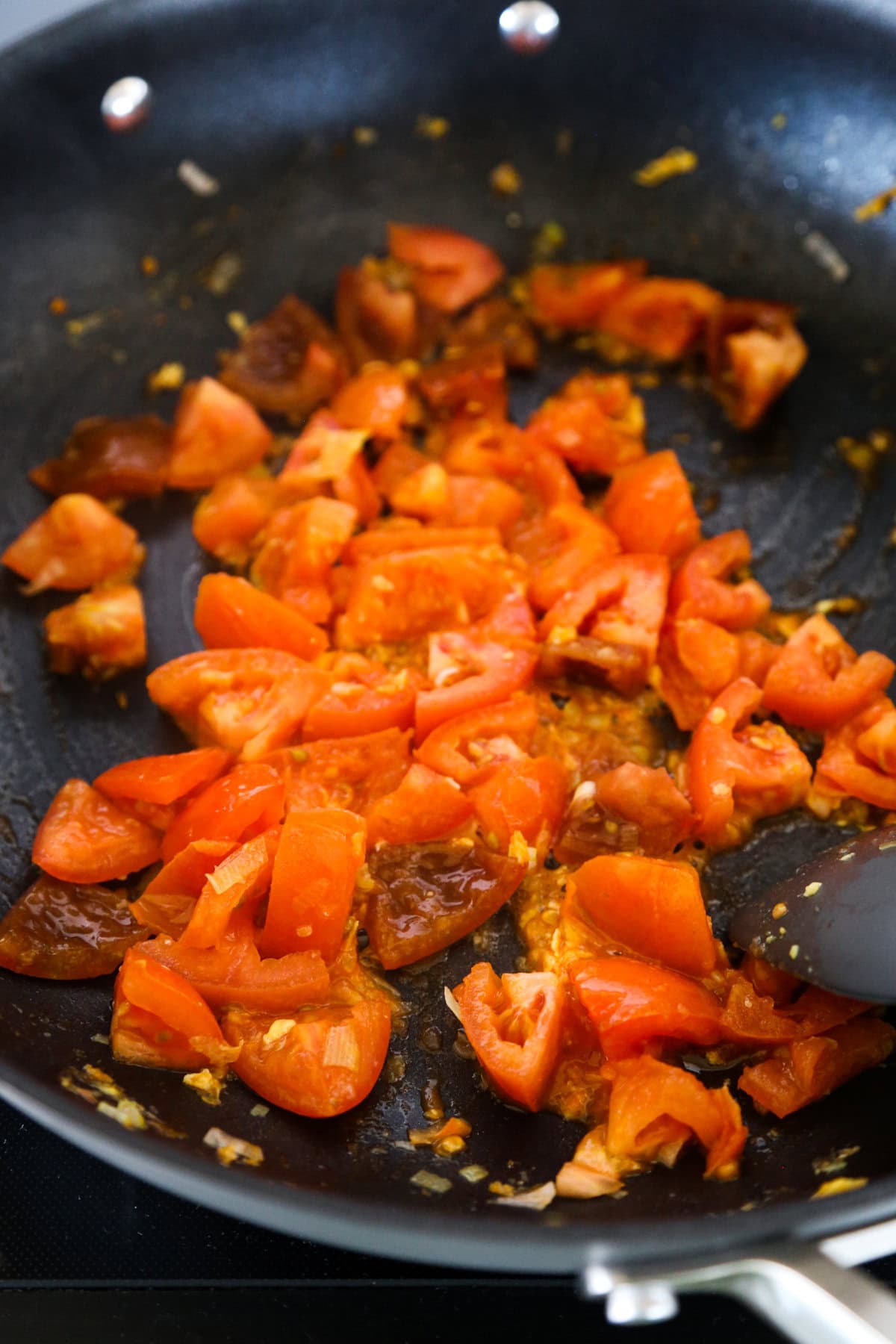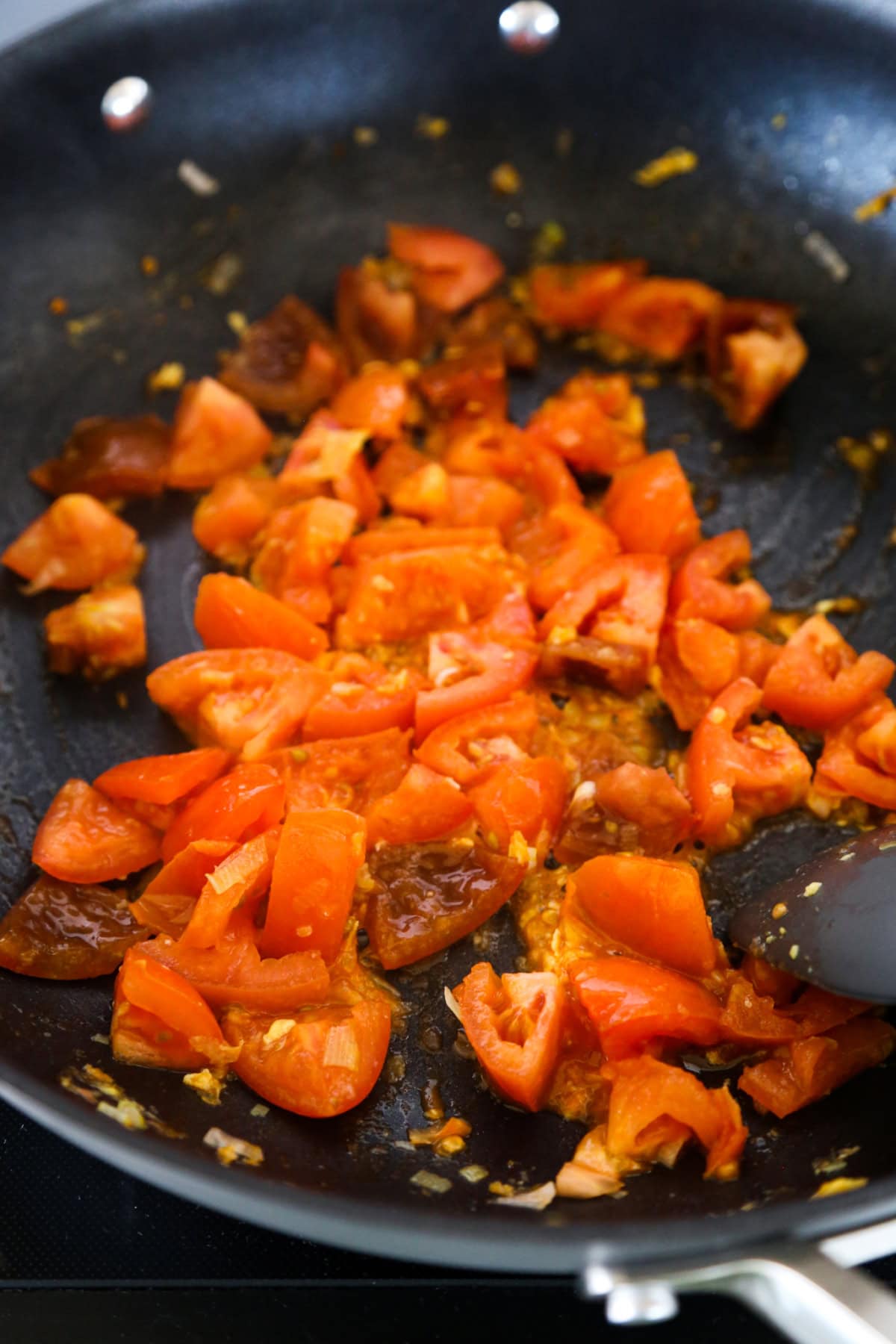 What to Serve With Chinese Tomato Eggs
My absolute favorite way to eat this Chinese egg and tomato recipe is the most simple of all: over a bowl of perfectly cooked white rice. It's one of my favorite self contained all-in-one meals.
Learn how to prepare perfect rice on the stovetop or in a rice cooker with these links here:
Or, if you're feeling ambitious, you could make this easy stir fry recipe as part of a larger Chinese feast. Here are a few reader favorites:
But it's not just the Chinese that have perfected serving tomatoes with eggs. Eggs in purgatory is a famous Italian preparation. And for those of you that love ketchup on eggs (like me!) this Japanese omurice recipe will scratch that particular itch.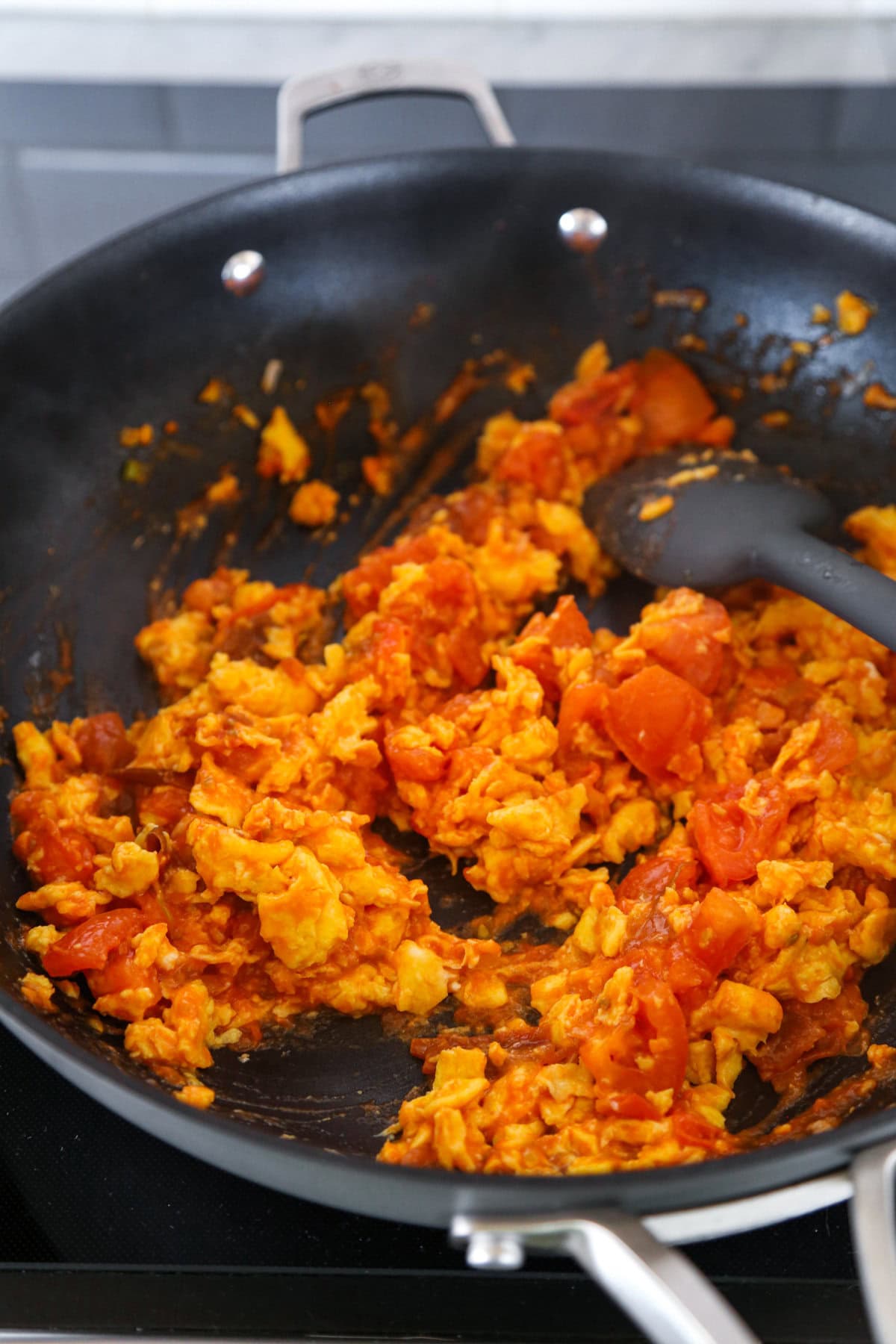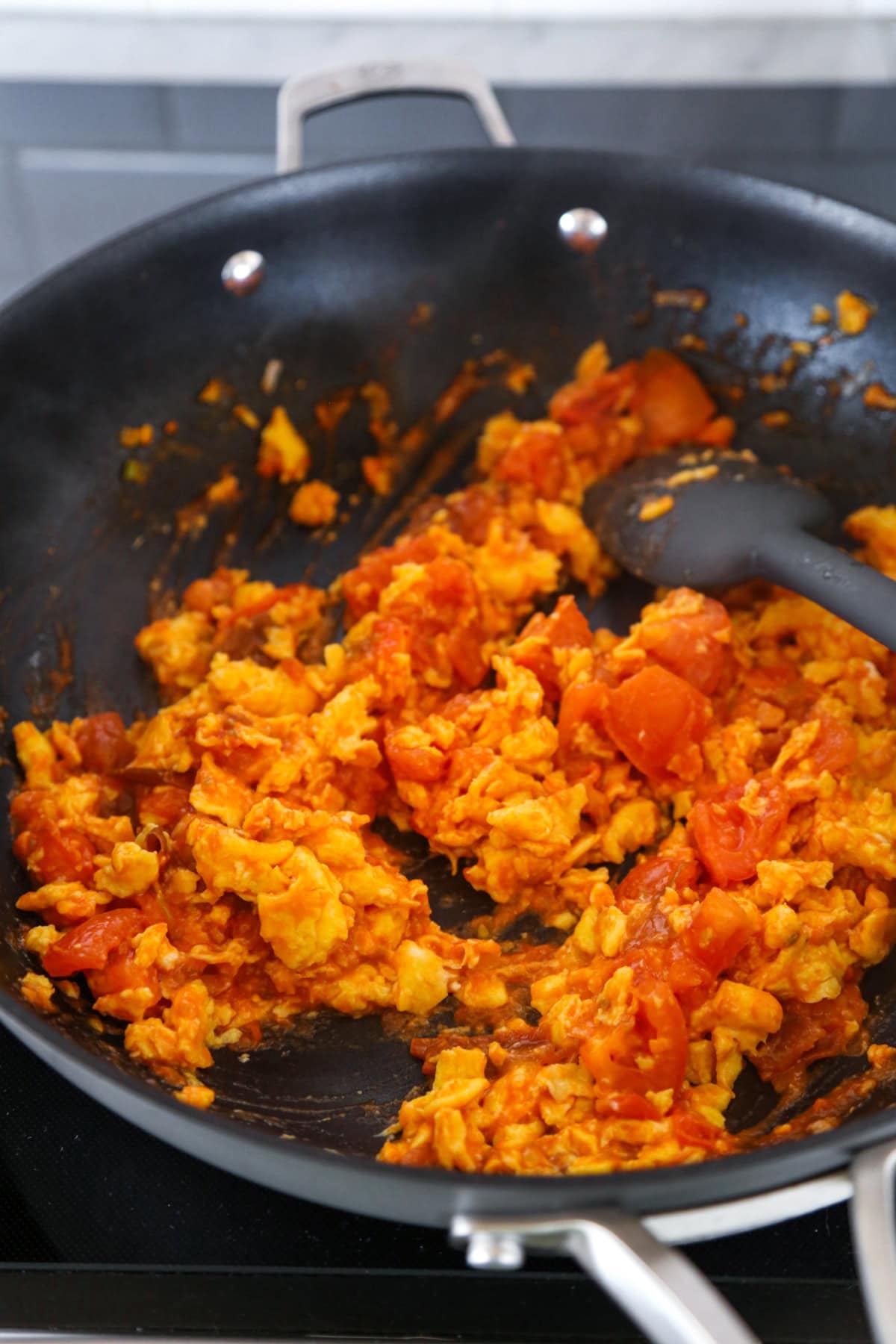 How to Store Leftovers
You can store any leftovers in an airtight container in the refrigerator for up to two days.
That said, this Chinese egg and tomato recipe tastes best fresh and hot out of the wok.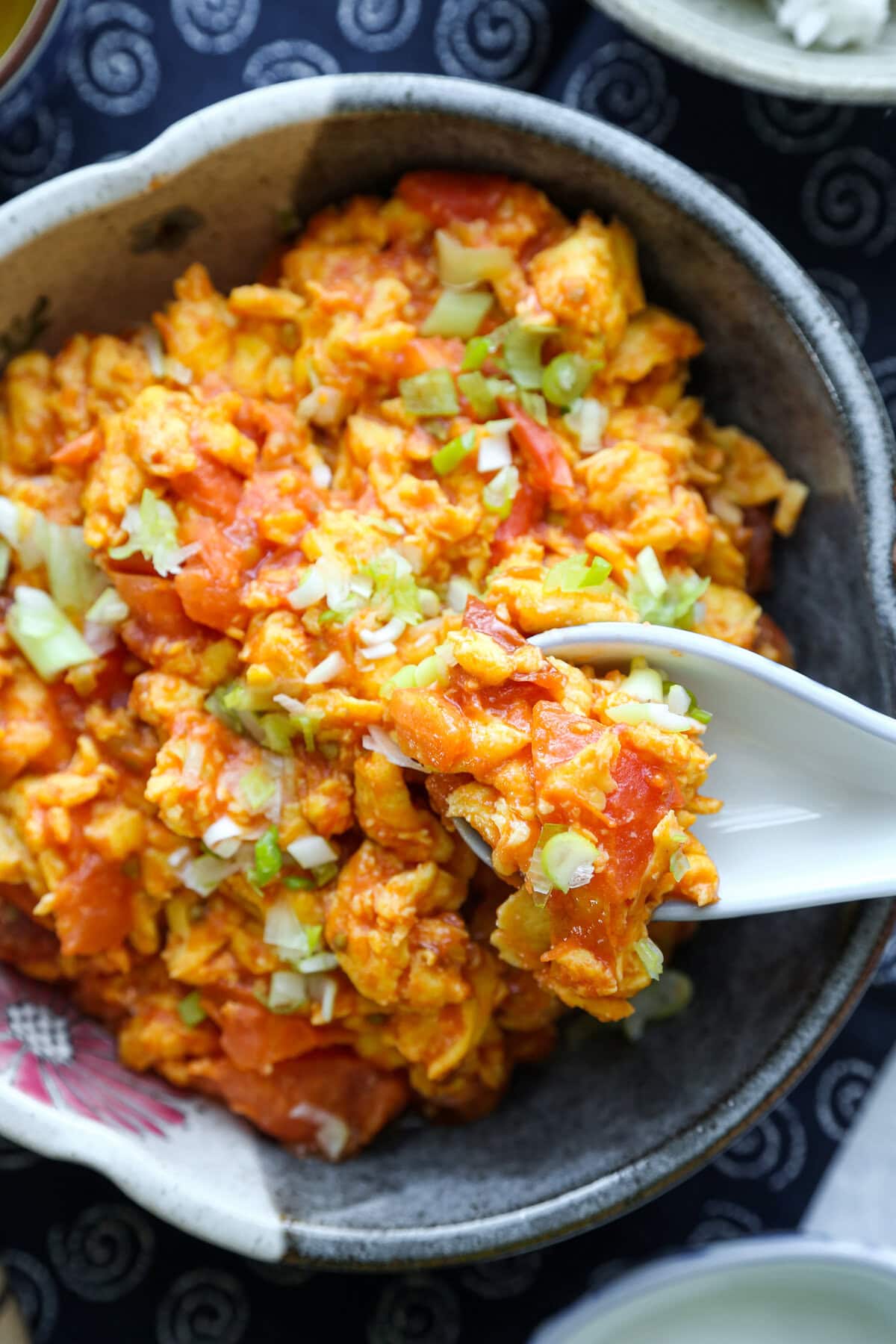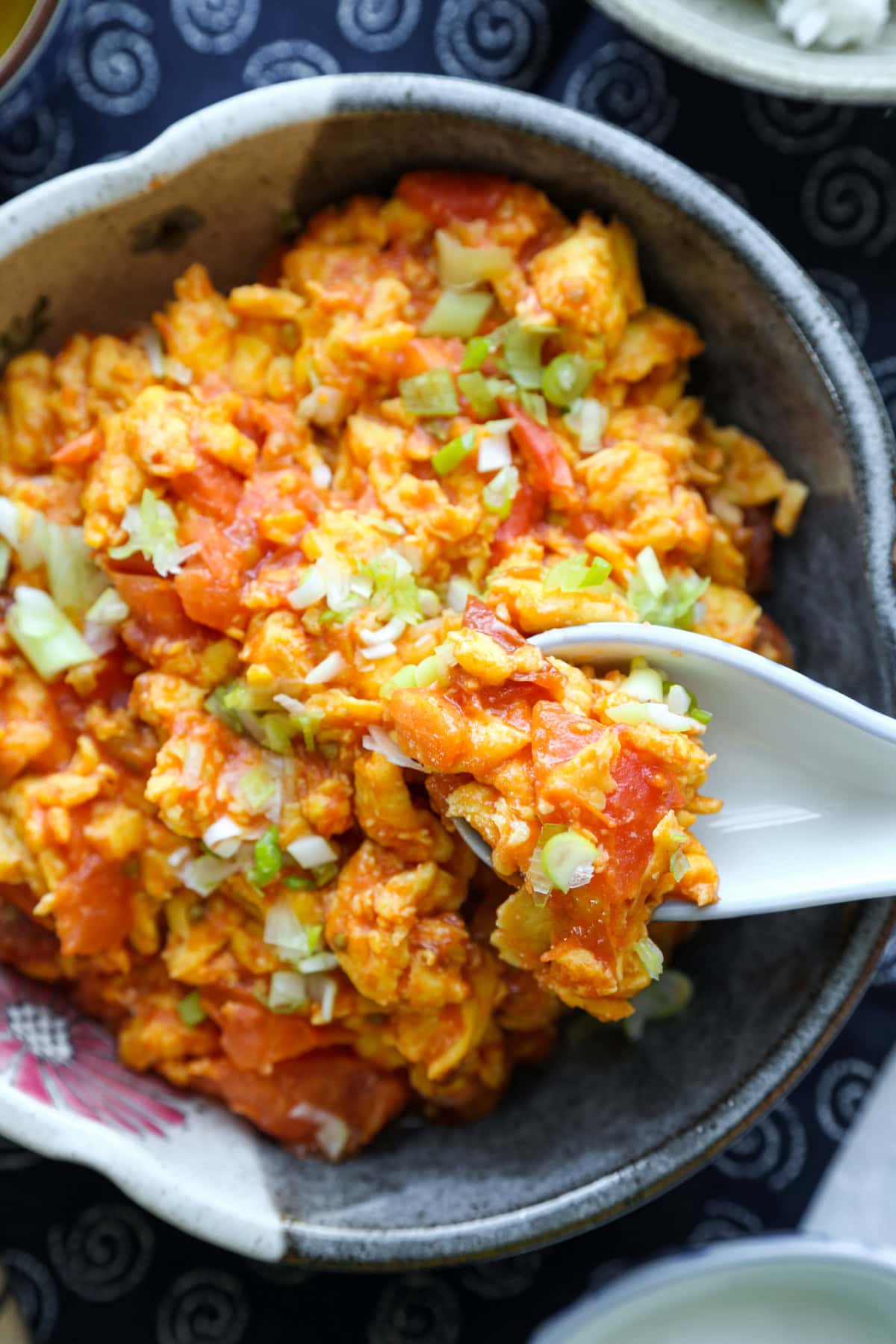 Other Delicious and Easy Chinese Stir Fry Recipes
The pink and grey flower bowl, and ramen spoon with spoon rest used in the images, are from Musubi Kiln.

Musubi Kiln is an online store specializing in high quality handmade Japanese tableware and dinnerware. Each product is made by Japanese craftsmen using traditional techniques that have been passed down from generation to generation.

Received 10% off your purchase when using the code CAROLINE at checkout.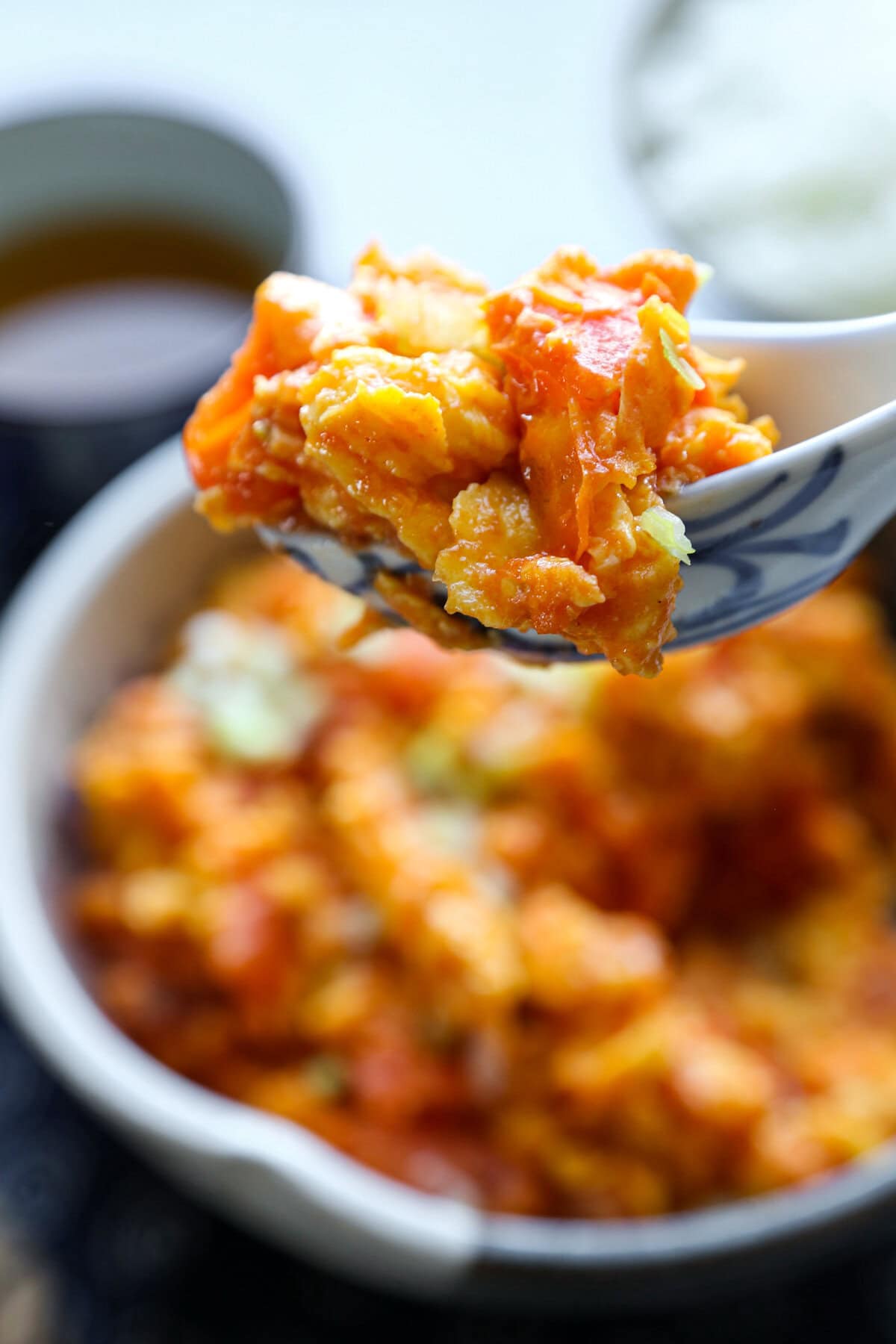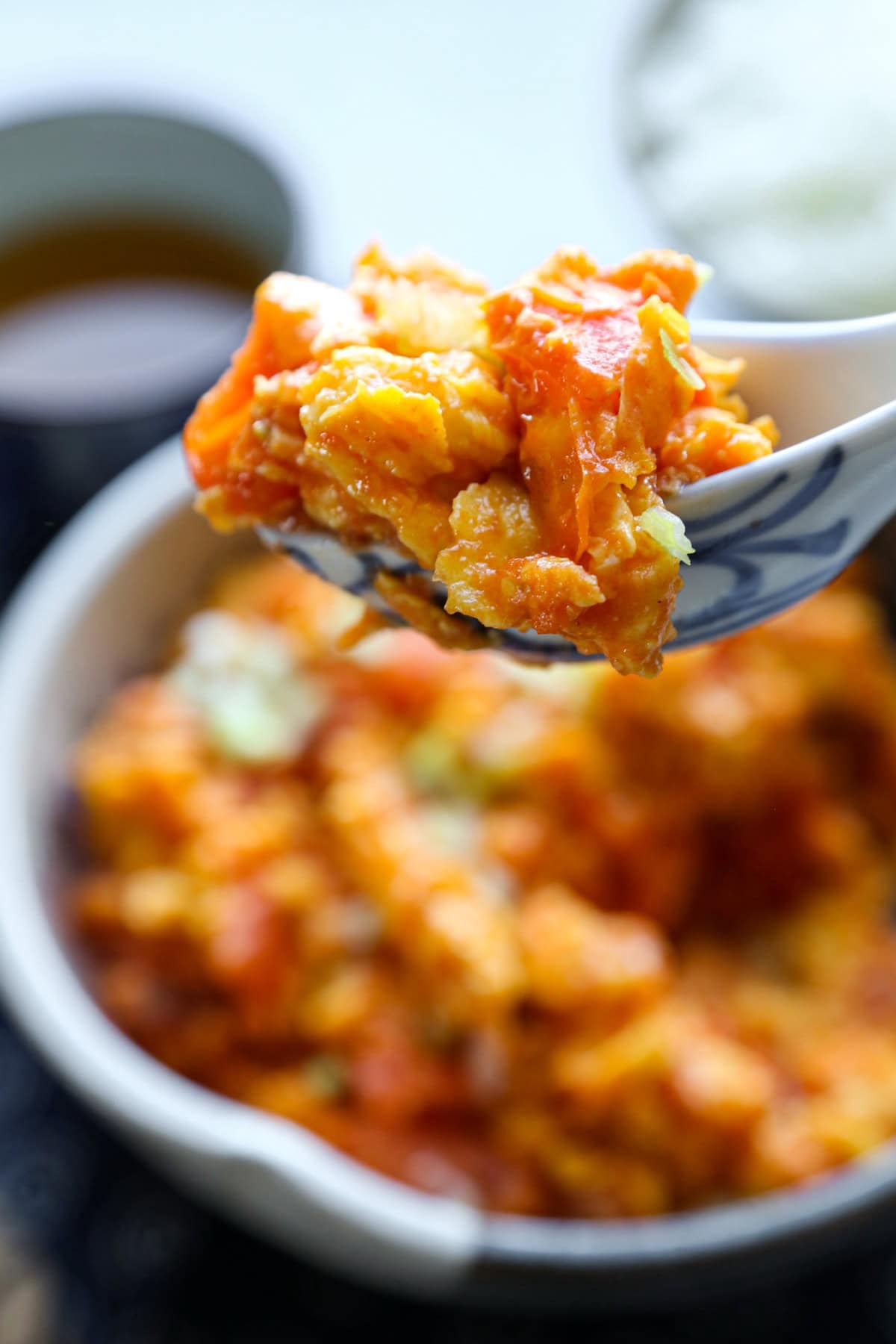 Did you like this Chinese tomato egg stir fry recipe? Are there changes you made that you would like to share? Share your tips and recommendations in the comments section below!
Print
Chinese Tomato Egg Stir Fry
Make this homestyle Chinese tomato and egg stir fry in just 17 minutes from start to finish. Serve over rice for a comforting and filling meal.
Author: Caroline Phelps
Prep Time:

10 minutes

Cook Time:

7 minutes

Total Time:

17 minutes

Yield:

3

servings

1

x
Category:

Main

Method:

Stir frying

Cuisine:

Chinese

Diet:

Vegetarian
5

large eggs

1/2 tablespoon

shaoxing wine

1 teaspoon

sugar

1/4 teaspoon

salt

1/4 teaspoon

ground white pepper

1 tablespoon

tomato paste

1/2 teaspoon

cornstarch

3 tablespoons

water

2 tablespoon

grapeseed oil, or other neutral oil

4

medium roma tomatoes, chopped

2

scallions, finely chopped

1/2 teaspoon

sesame oil
Instructions
Add the eggs to a medium size bowl and whisk well.
Stir in the shaoxing wine, sugar, salt and pepper, and set aside.
Mix the tomato paste, cornstarch and water in a separate bowl and set aside.
Place a large pan over medium heat and wait 1 minute. When the pan is hot, add 2 tablespoons of the grapeseed oil and swirl to evenly coat the pan.
Add the egg mixture and quickly scramble the eggs until they are almost fully cooked but still slightly runny. Transfer them to a bowl and set aside.
Add the remaining tablespoon of oil to the pan, swirl and add the tomatoes and half of the scallions. Cook for 3 minutes, until the tomatoes have softened a little, and season with a little salt.
Stir the tomato paste mixture and add it to the tomatoes. Stir and add the scrambled eggs. Turn the heat off, drizzle the sesame oil on top, and stir.
Transfer to a plate and top with the remaining scallions. Serve.
Notes
Store this Chinese egg tomato stir fry in an airtight container and refrigerate for up to 2 days.
Nutrition
Serving Size:

1 serving

Calories:

247

Sugar:

6.8g

Sodium:

324.8mg

Fat:

18.1g

Saturated Fat:

10.2g

Unsaturated Fat:

2.2g

Trans Fat:

0g

Carbohydrates:

10.2g

Fiber:

2.3g

Protein:

12.2g

Cholesterol:

310mg
Recipe Card powered by