Learn how to cook jasmine rice to perfection with this easy tutorial. Here, I show you how to make jasmine rice in on a stove top and using a rice cooker.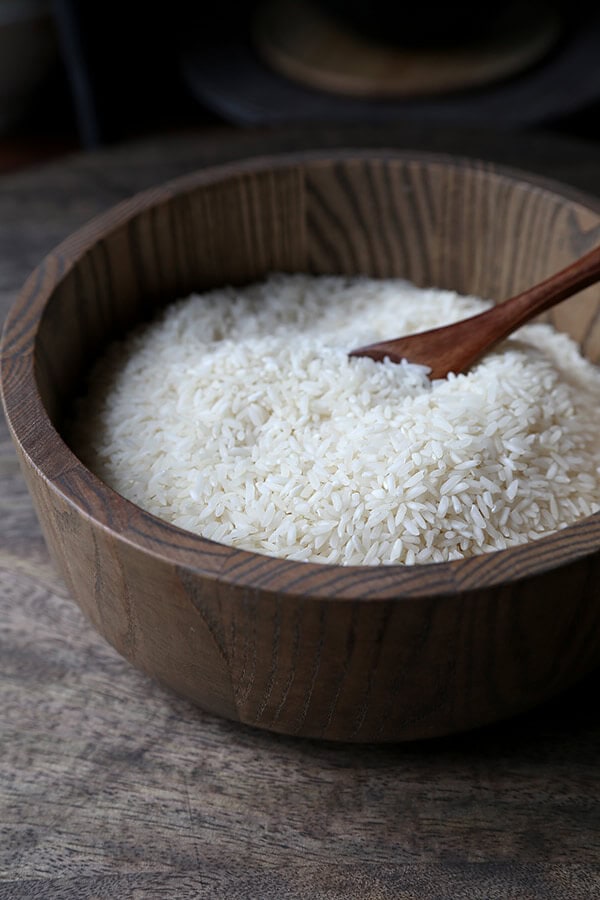 How To Cook Jasmine Rice
Rice is one of those staple ingredients that can be found in just about every cuisine around the world. It comes in different colors and sizes and can be used as a side or a main.
When it's cooked well, rice can elevate a dish (like sushi) to new heights and be the star of a meal. But overcook it by a few minutes and the result is mushy rice that can ruin a good dinner. Even worse, undercook it and you'll end up with burned rice that cannot be served. Yuck!
We've all had our great and bad moments cooking rice but did you know that there is a method to achieving perfectly moist grains every time without fail? Yep and I'm going to share the one that has worked well for me. This is a quick tutorial specifically made for jasmine rice. Do not apply these tips on other types of rice (such as brown rice) since every type of grain cooks differently.
For those interested on the how-tos of making Japanese rice (there's also a video you can watch!), you can read and watch (we made a video for it!) the tutorial here.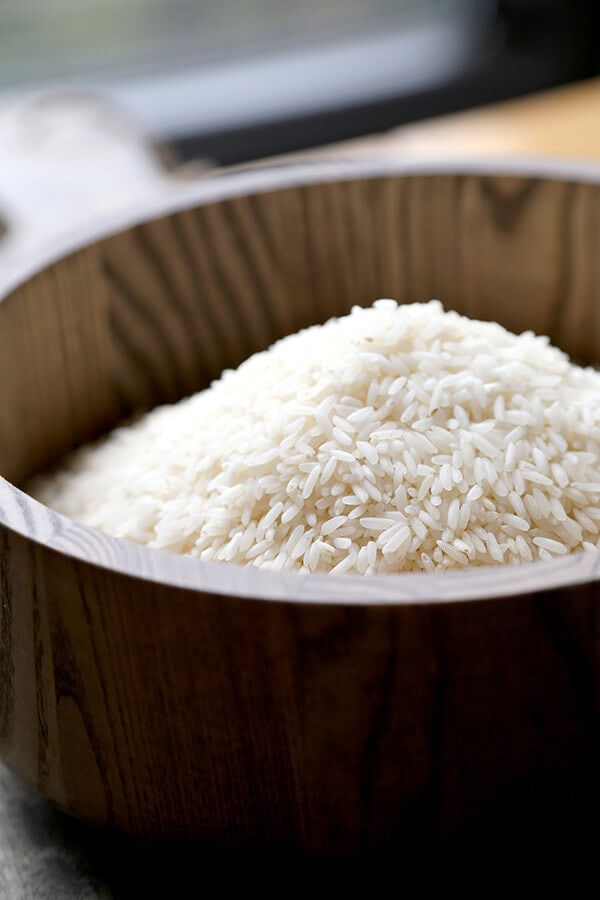 When I think about jasmine rice I instantly think about Thai or Vietnamese food. It's usually served as a side dish to stir fries or curries and has a sweet flavor. It's one of my favorite types of rice next to Japanese and basmati rice.
What makes jasmine rice different from long grain American rice is its texture; it's three times stickier than its American cousin and softer too.
Jasmine rice originates from Southeast Asia, more precisely from Cambodia, Laos, Thailand and Vietnam. The grain is long and lean and is categorized as aromatic (because of its fragrance and sweetness).
Why is it called jasmine?
Because the color is that of a jasmine flower. It's that simple!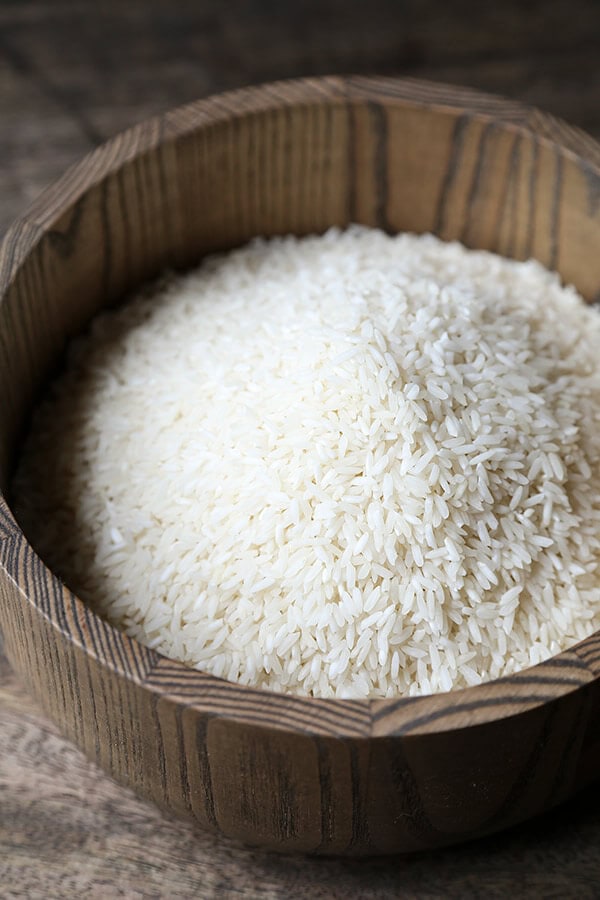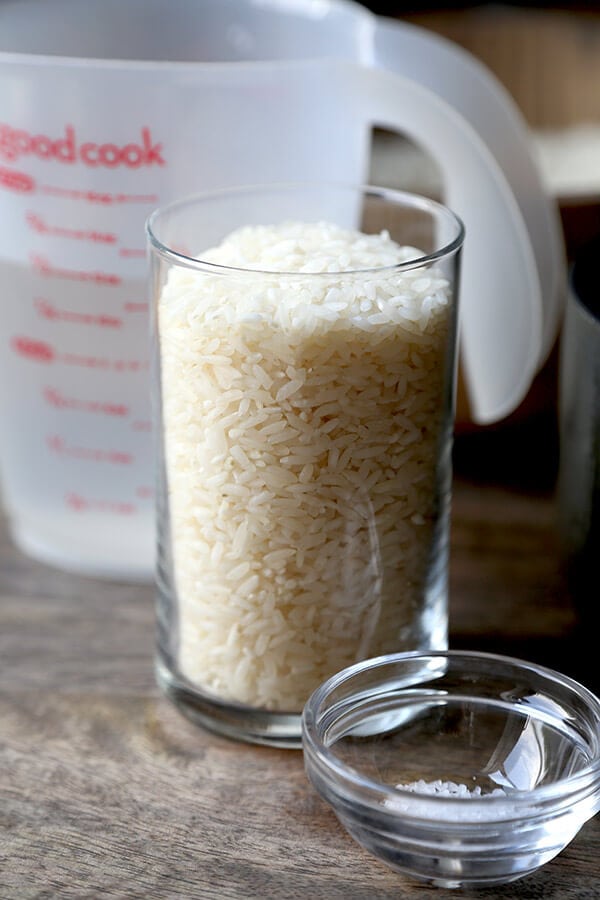 Cooking jasmine rice is very easy. There is no soaking required (unlike other grains that need longer to develop), just a simple rinse and drain will do!
Let's start with the stove top method.
How to cook jasmine rice on a stove top
This tutorial is for 1 cup of dry rice which will yield enough rice for 4-6 servings (as a side).
Put the rice in a strainer, quickly rinse and drain (for no more than 3-5 seconds otherwise the rice will come out mushy).
Transfer the rice in a pot along with 1 1/2 cup water or broth and a drizzle of olive oil or neutral oil such as vegetable (about 1/2 teaspoon).
Bring the water to a boil, lower heat to a low simmer (on very low boil), cover and cook for 15 minutes.
Turn the heat off and remove the pot from the heat. Let sit (with the lid on) for 5-10 minutes. Lightly fluff with a fork and transfer to a bowl. It's best not to leave the rice in the pot so the bottom part doesn't get mushy. Fluff again and serve.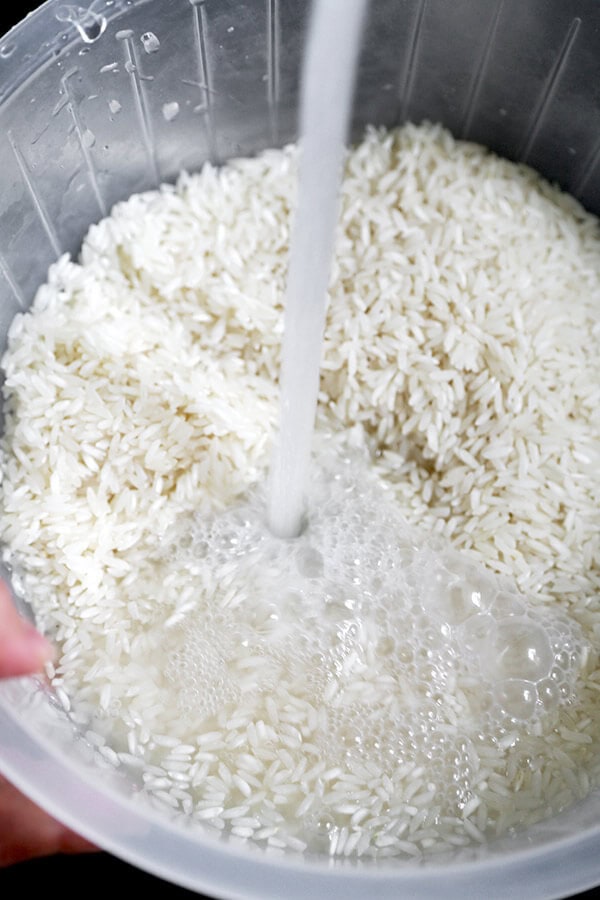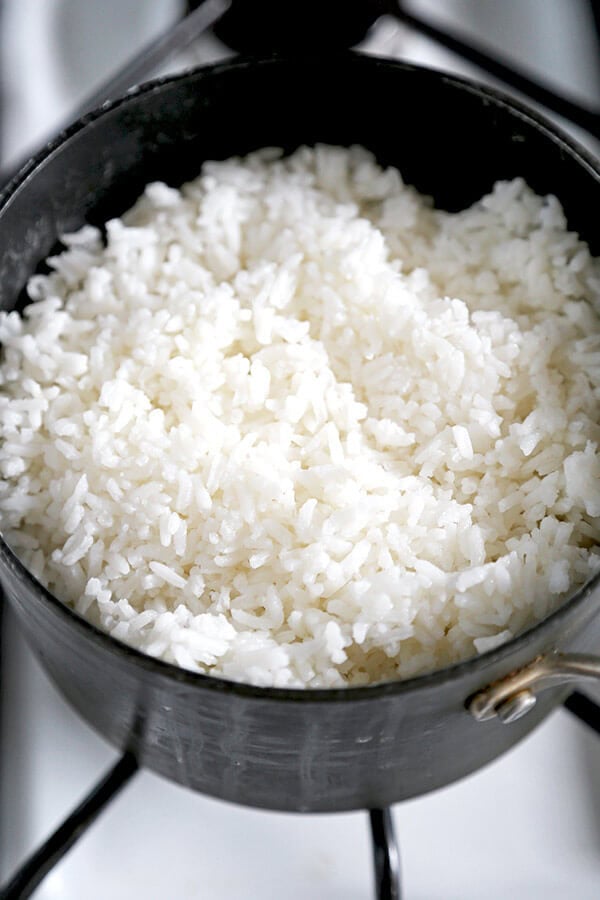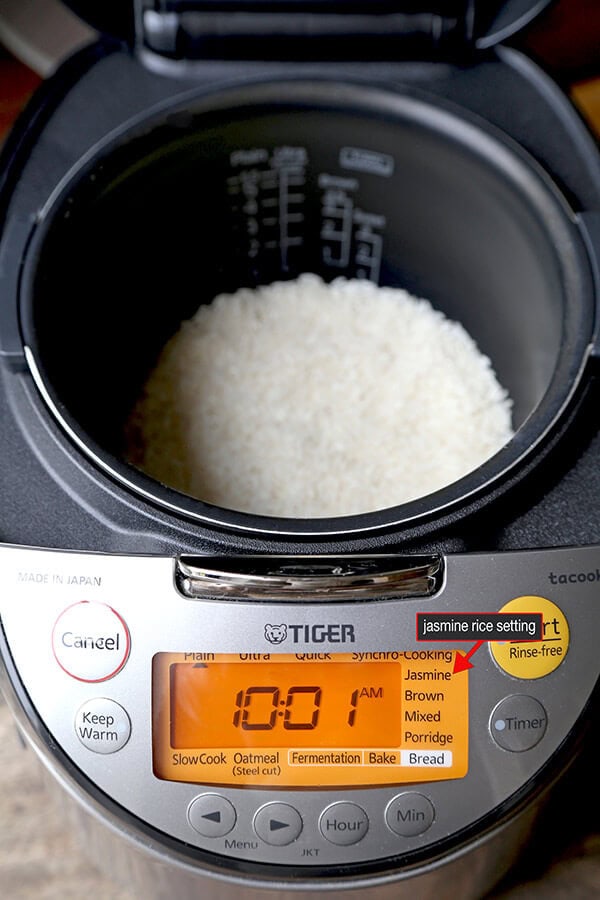 How to cook jasmine rice in a rice cooker
As you can see, my rice cooker is multi functional. I have a button for just about every type of rice which makes it insanely easy to use! I've had it for three years and I have to say it's one of the best purchases I've ever made. It even has a slow cooker function and one that makes bread!
If your rice cooker doesn't have the jasmine rice button, don't worry, it's still very easy to make a good fluffy bowl of it.
Start by briefly rinsing and draining the rice as mentioned in the stove top method.
Add jasmine rice to the rice cooker and put enough water to reach the number 1 line (or the measurement line equivalent to one cup of rice) in your rice cooker pot (it should be about 1 1/4 cup).
Close and press start.
When the rice is done, leave it for an additional 5-10 minutes before opening the rice cooker.
Fluff with a paddle and serve.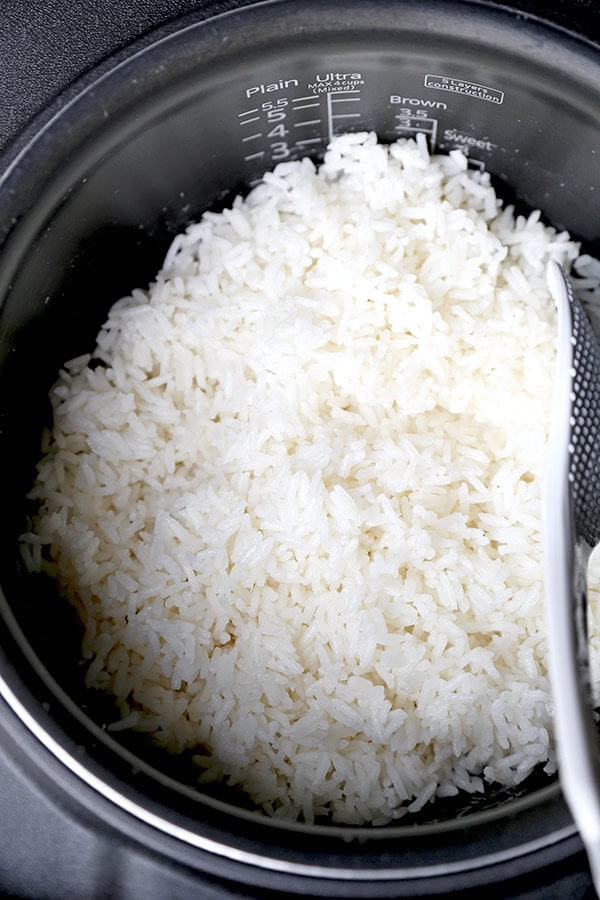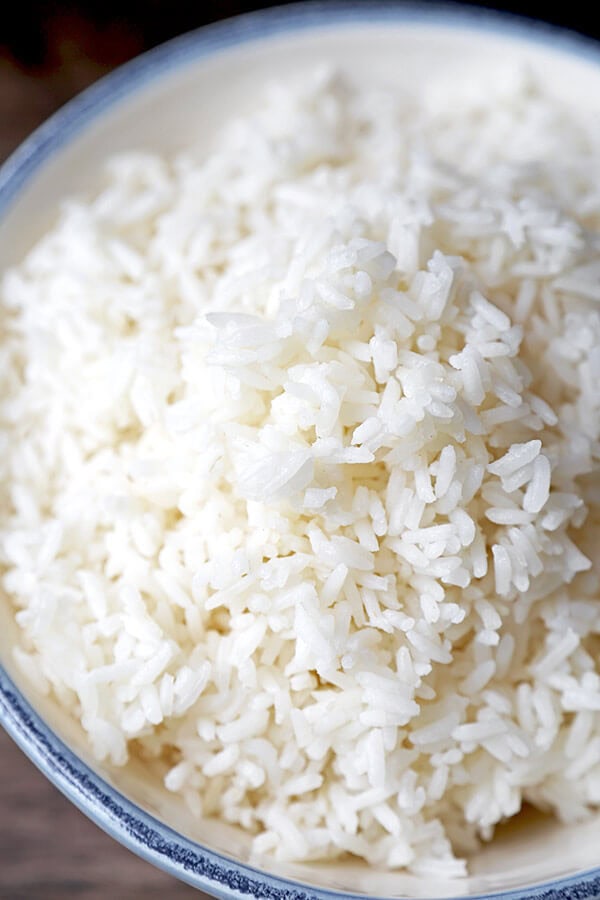 Stove top vs rice cooker – who's the winner?
The verdict: After using both methods I could see there was a clear winner – the rice cooker. The grains came out separated but were still chewy and really fluffy. The stove top method was good but the grains were definitely more mushy.
If you eat as much rice as I do I recommend getting a rice cooker – or better yet, a multi cooker. Not only does a multi cooker saves time (you can set it and forget it) it cooks perfect rice every single time. That's one less thing I have to worry about when I'm cooking! And if you have a small kitchen like I do, a multi cooker will save you a ton of space because you will use it (to death!) to make soups, stews, mac and cheese, curries, etc… It's pure genius!
My favorite rice cookers
On the higher end you have the multi cookers which have functions for most different types of rice. They can also cook quinoa and oatmeal, act as a slow cooker, make bread and synchro-cook (with a steam tray on top of the rice). A multi cooker can run anywhere from $250-$400. The one I have is the Tiger JKT-10SU model. It's been very reliable and solid and believe me when I say that I'm not the most delicate of cooks!
In the middle range you have rice cookers that still have multi cooker functions but with less options. The Zojirushi NS-LGC05XB has functions for many different types of rice and can also cook oatmeal. 
In the lower range you have the simplest of rice cookers with only two functions; to make brown and white rice. Aroma Housewares ARC-914SBD comes with a delay timer of up to 15 hours, which means you can put your rice in before going to work and have it freshly cooked and ready to eat by the time you get home. 
And before I leave you, here's an easy and delicious herbed jasmine rice recipe!
Print
Herbed jasmine rice
A simple herbed jasmine rice recipe to serve with your favorite protein.
Author: Caroline Phelps
Prep Time:

5 minutes

Cook Time:

15

Total Time:

20 minutes

Yield:

4

people

1

x
Category:

Side

Method:

Stove top

Cuisine:

French
1 cup

jasmine rice

1 1/2 cup

water (or less if you are using a rice cooker)

1/2 teaspoon

kosher salt

1 teaspoon

olive oil

1

heaping tablespoon dried herbs (such as Herbes de Provence)
lemon wedges
Instructions
Stove Top Method:
Briefly rinse jasmine (for no more than 3-5 seconds) and drain.
Add rice to a pot along with water, salt, olive oil and herbs. Give it a quick stir and bring to a boil. Lower to a low simmer, cover and cook for 15 minutes.
Remove the pot from the heat and let rest for 10 minutes. Transfer rice to a bowl, fluff with a fork and squeeze lemon juice on top. Serve.
Rice Cooker Method:
Briefly rinse jasmine (for no more than 3 seconds) and drain.
Add rice (about 1 1/4 cup for rice cooker), water, salt, olive oil and herbs to the rice cooker. Give it a quick stir, close and press start.
When the rice is ready, leave for an additional 10 minutes before opening the lid.
Transfer rice to a bowl, fluff with a fork and squeeze lemon juice on top. Serve.
Notes
This herbed jasmine rice recipe will keep refrigerated for up to 4 days. Alternatively, you can freeze it in an airtight container for up to 3 months.
Nutrition
Serving Size:
Calories:

73

Sugar:

0 g

Sodium:

311.2 mg

Fat:

1.3 g

Saturated Fat:

0.2 g

Carbohydrates:

13.7 g

Fiber:

0.1 g

Protein:

1.2 g

Cholesterol:

0.1 mg
Keywords: recipe, vegan, vegetarian, gluten-free, easy
Recipe Card powered by