These are the best green beans I've ever had! Just like the ones served in Chinese restaurants, these dry-fried green beans are tender, juicy and packed with umami and savory flavors. They are addictive!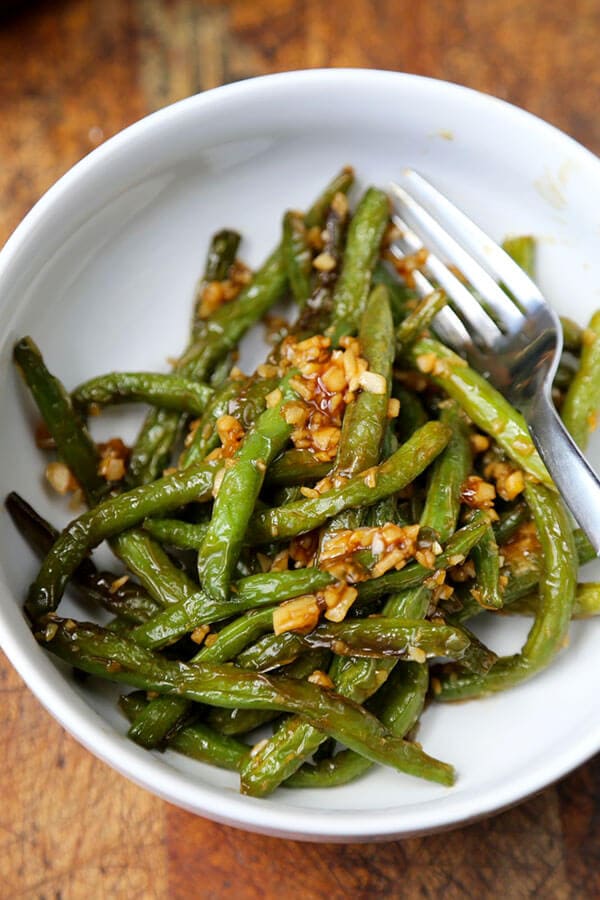 Dry-Fried Green Beans with Garlic Sauce
I could eat these dry-fried green beans every day.
When I think about Szechuan food, my mind goes straight to dry-fried green beans because the place I oder from makes the best ones ever!
The downside to liking them so much is having to fork out $12 for a small delivery container every time I want them. Ordering good Chinese food in NYC is not cheap at all  so I tested, failed and finally succeeded at making my own dry-fried green beans at home.
Now my wallet is much happier because $12 gets me enough green beans to dry-fry three or four times a week!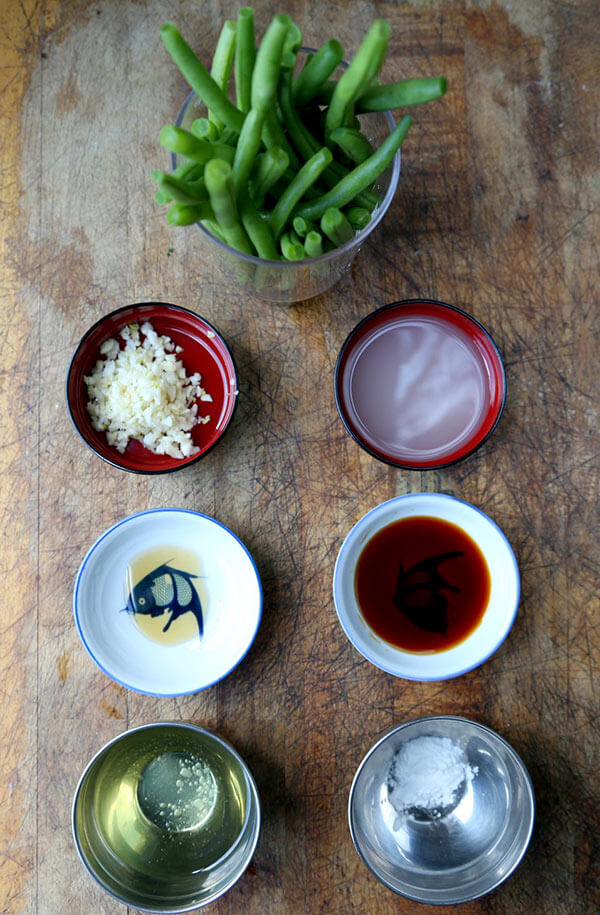 When I first made this recipe, I only thought it could only be made by deep frying the green beans, which is the traditional Chinese way. Deep frying gives the beans a beautifully tender texture that cannot be beaten.
But there's just one problem with that:
Burning hot oil makes me nervous enough to walk around the kitchen armed with a large glass lid that I use as a shield. I may not look as tough and sexy as Gal Gadot in Wonder Woman, but I surely feel more invincible against hot oil spatters!
So you can understand the joy I felt when I realized that there were other options to making this dry-fried green beans recipe. Two more options to be precise.
Okay, I'll admit that deep frying yields the absolute best texture for the green beans, but if you hate dealing with hot oil as much as I do, or are looking to cut down on fat and calories, you will want to give these other options a try.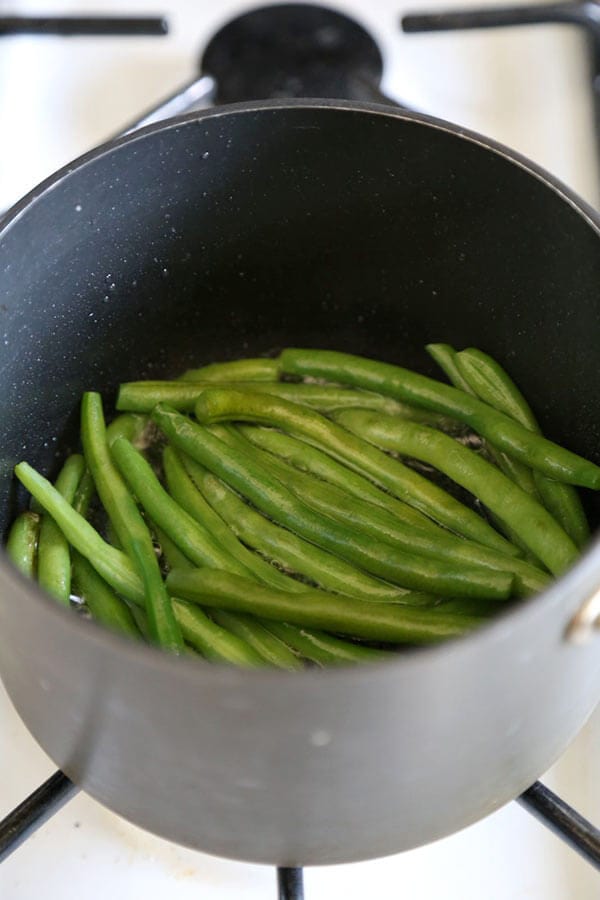 Option #1 is to broil them.
Throw your green beans on a cooking tray, toss them in a little oil and place them in the oven, on the highest rack, a few inches away from the flame. Keep an eye on them and broil for 3-6 minutes, until the green beans are slightly charred and looking wrinkled.
Option #2 is to use an air fryer.
I'm so in love with this new kitchen toy because it makes cooking vegetables so clean, easy and quick. It's also totally mess-free since it only comes with a fry basket and basket holder, both of them which are dishwasher safe.
Another bonus: this thing makes the BEST French fries! Healthy French fries that are way healthier than deep fried ones – I never thought I would say this one day but yes, they do exist!
Now let me get back to the dry-fried green beans before I start sounding like an informercial. By the way, I am not receiving a dime for talking about the air fryer. It's just a really great product that I wanted to share with you since it makes eating healthier, easy and pleasurable.
Set the air fryer at 360º and let it preheat for 3 minutes before using.
Toss the green beans with 1 tablespoon vegetable oil and add them to the air fryer.
Close and air fry for 15 minutes. Take the basket out a couple of times and shake the green beans so they cook as evenly as possible. The green beans should be slightly charred, wrinkled and tender. If they are still quite crunchy, put them back in the basket and air fry for an additional 5 minutes.
Once your green beans are cooked, add them to a pan along with the garlicky sauce and sautee for 1-2 minutes. Done!
These are deliciously salty and savory green beans that can be served as a snack, a side or a main.
We like to eat them with a bowl of white rice so the grains can absorb all the wonderful flavors of this dish.
You can make these dry-fried green beans ahead of time and they will keep refrigerated for up to 2-3 days.
Other easy and delicious Chinese recipes: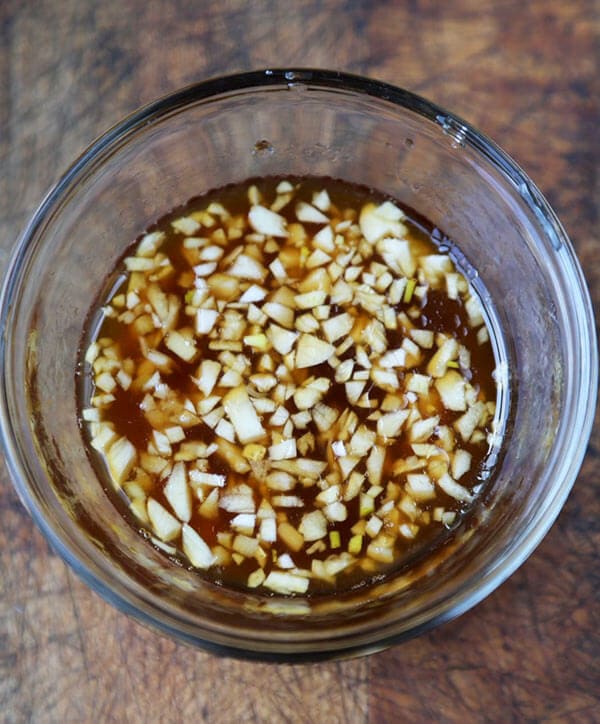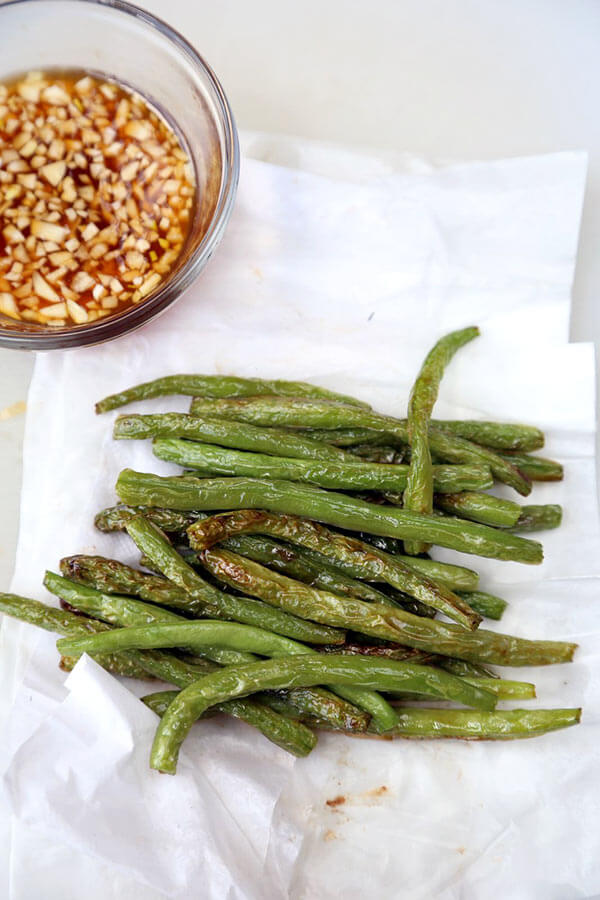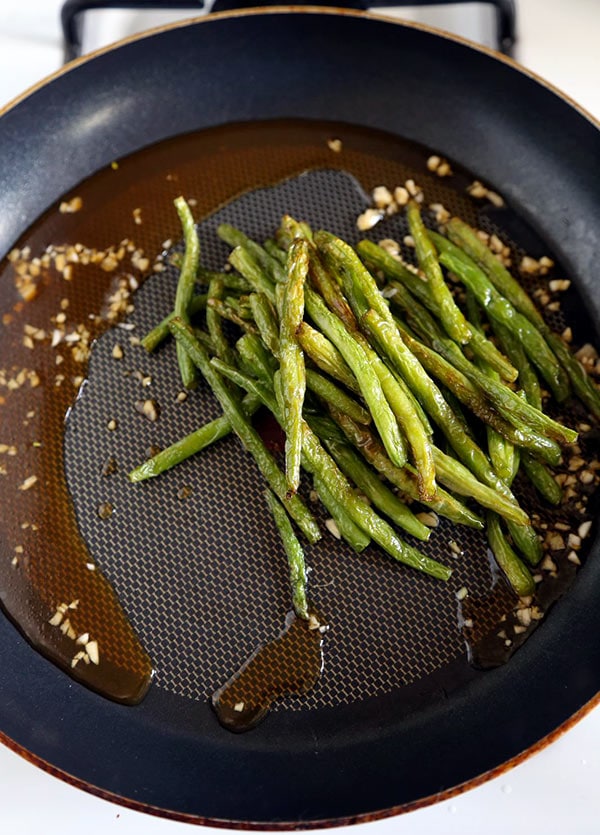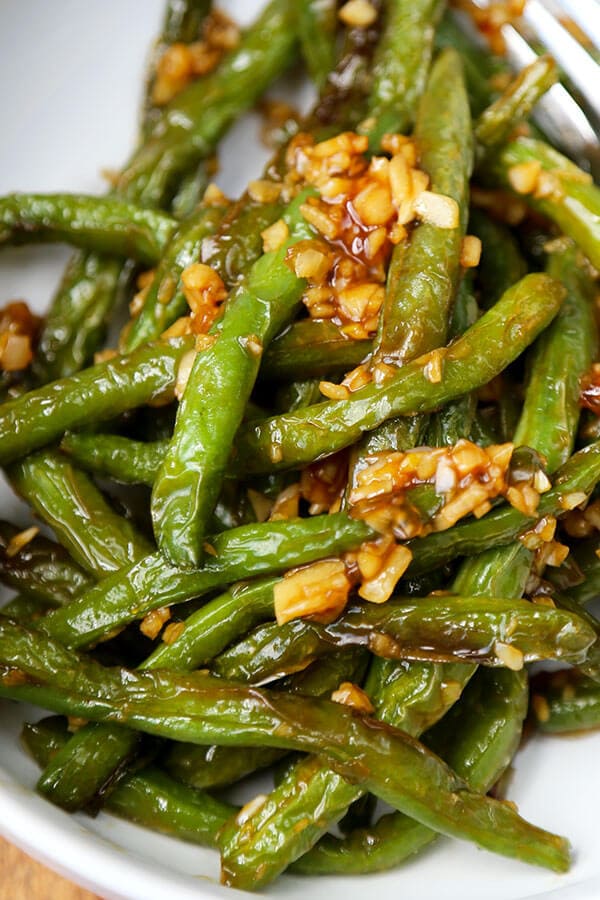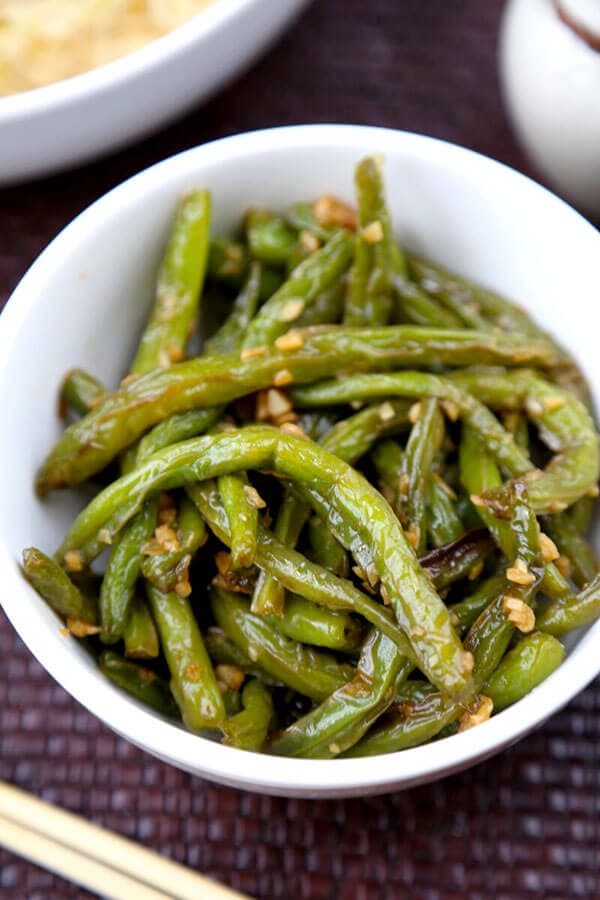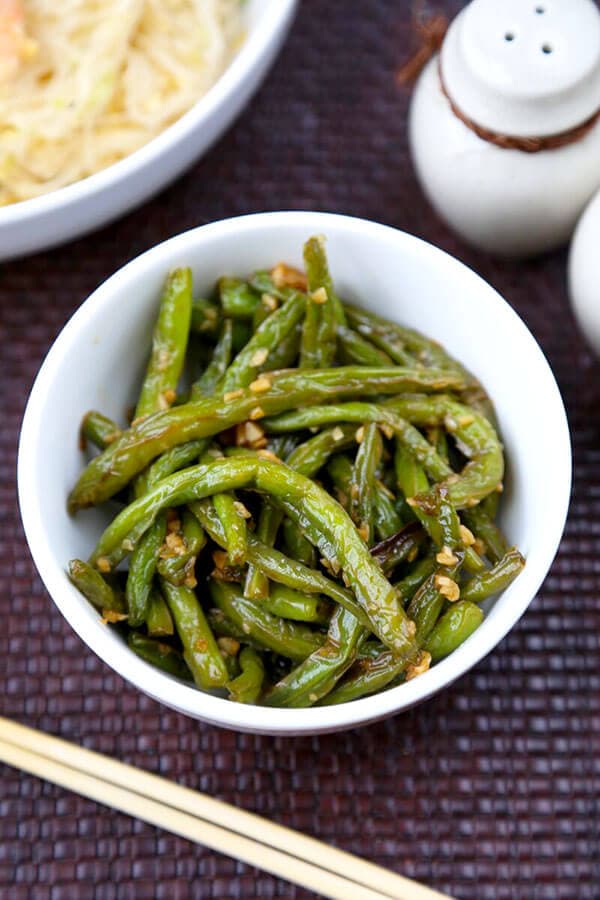 Did you like this Dry-Fried Green Beans Recipe? Are there changes you made that you would like to share? Share your tips and recommendations in the comment section below!
Does your rice always sticks to the bottom of a pot or ends up being mushy? Watch this quick tutorial on how to make rice on a stove top and in a rice cooker, and never serve bad rice again!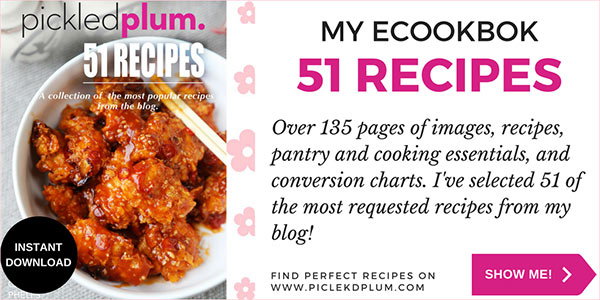 These recipes constantly make "best dish" lists on sites such as Country Living, Self, Shape, Bon Appetit, The Cooking Channel, Men's Fitness and Woman's Day. They are favorites among my readers, friends and family!
51 of the best appetizers, sides, stir fries, main, noodles & rice, desserts & drinks from the blog.
Simple and easy dishes made healthier, with calories and fat content provided. Tried and tested by my readers and loved by everyone!
---
Print
Dry-Fried Green Beans with Garlic Sauce
This is an easy and classic preparation for Chinese dry-fried green beans sauteed in soy, garlic and sesame oil. Tasty, salty, and tender dry-fried green beans – the best!
Prep Time:

7 minutes

Cook Time:

3 minutes

Total Time:

10 minutes

Yield:

2 people

Category:

Side, Appetizer

Cuisine:

Chinese, Easy, Quick
Ingredients
1 tablespoon soy sauce
1/4 cup chicken broth (or vegetable broth)
1/2 teaspoon sesame oil
2 cloves garlic (finely chopped)
1/2 pound green beans (ends trimmed)
1/2 teaspoon corn starch
vegetable oil for frying
Instructions
In a bowl, whisk in soy sauce, chicken broth, sesame oil and garlic and set aside.
Wash your beans and dry them with paper towel. You can either deep fry or broil the green beans.
In a pan over medium high heat, add broth mix and beans and bring to a boil. Add corn starch, stir quickly and turn off the heat as soon as the sauce thickens.
Season with salt and serve immediately.
Deep Frying:
Heat about 1/2 cup of oil to 350 degrees ºF and slowly add beans. Fry for 2-3 minutes, until the beans are wrinkled. Remove from oil, turn off the heat and drain the beans on paper towel.
Broiling:
Lay a piece of aluminum foil on a large cooking tray. Add green beans and 1 tbsp vegetable oil and toss to coat evenly. Lay the green beans flat on the tray (they should not be piled up) and season with salt. Broil in the oven for 3-6 minutes, until the beans are lightly charred. Transfer beans on paper towel.