A Vegan Spaghetti Bolognese Recipe that delivers on the deep and slow cooked flavor promise of the original. This is the perfect hearty red-sauce recipe for pasta night. You won't miss the meat with mushrooms!
Vegan Spaghetti Bolognese
When I set out to make a vegan Bolognese sauce for pasta night last week, I knew I had my work cut out for me.
A Bolognese sauce without meat is kinda like making pizza without a flour crust – or a risotto without the rice.
Bordering on blasphemy? You might say that.
Nerve-racking? You bet!
You see, much like pizza and risotto, the classic preparation of this iconic meaty Bolognese sauce is well known and entrenched in tradition because the original just tastes so darn delicious!
And most everyone I know grew up eating one version or another of spaghetti Bolognese.
So, if I'm going to tinker with a classic that pretty much everyone knows by heart, to make it meat free – it's going to have to taste exceptional.
Does this easy vegan Bolognese sauce taste good?
OMG – yes! Yes it does 🙂
Does it deliver the classic flavors one expects when hearing that it's spaghetti Bolognese night?
Again, yes. And I can't wait to share this easy plant based recipe with you, friends!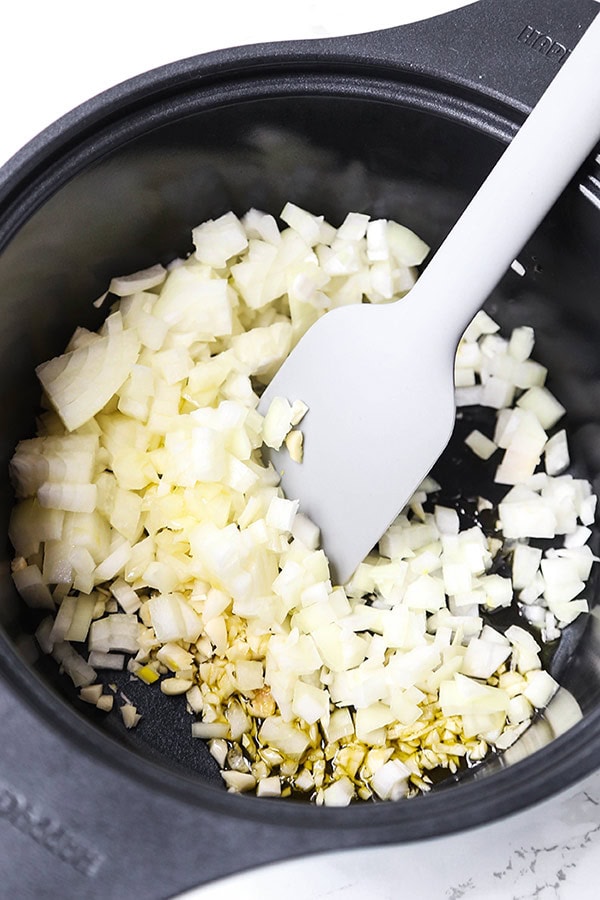 Mom's Bolognese sauce above all others
I doubt that I'm alone in the whole growing up thinking that my mom made the absolute best spaghetti sauce in the entire world department.
Spaghetti sauce – and a slow cooked Bolognese sauce in particular – comes from a rich, nurturing place in the heart.
At least it tastes that way!
There's nothing quite as evocative of home as twirling up spaghetti coated in a sauce that tastes like mom has been working on it for the better part of 72 hours.
And whether it actually took her all day to painstakingly curate, or she just added some ground beef to a can of tomato sauce and called it a day, it sure tasted like a ton of care had been invested in that pot of deep red gold.
Heck, a pan of fragrant garlic and onions just starting to sweat on the stovetop still transports me to my curious six-year-old self, watching my mom work on pasta sauce in the kitchen.
In the cooking of most things, mom's sauce frequently sets the standard against which all subsequent sauces are compared.
All as it should be, right!?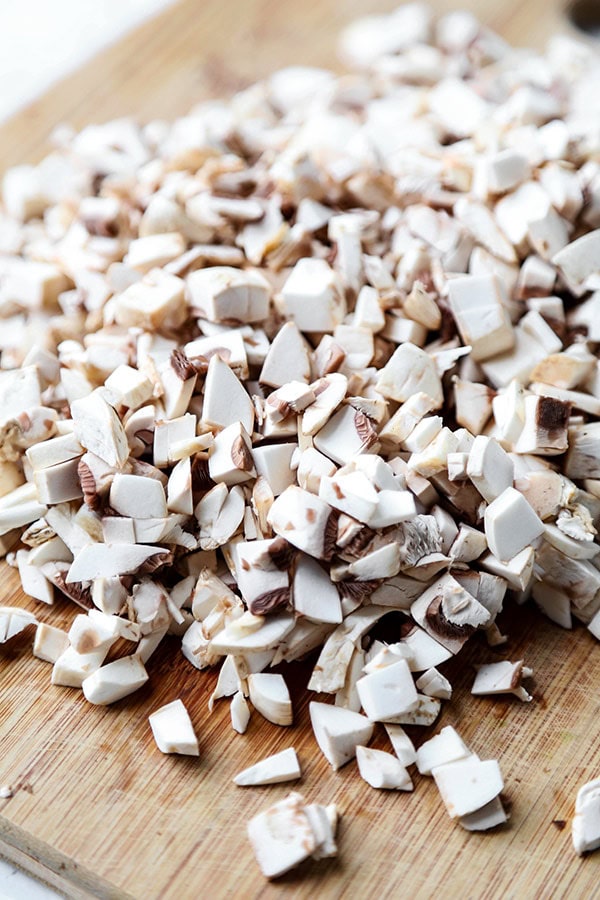 But first, What is Bolognese Sauce?
Hailing from Bologna, Italy, Bolognese sauce is a slow cooked ragù frequently made with ground meat, onions and tomato sauce.
At times rounded out with garlic, celery, carrots and other aromatics, this thick sauce is usually served over pasta.
The most typical meats you'll find in a hearty Bolognese sauce are beef and fatty pork.
One of the best aspects of a luscious plate of pasta topped with slow cooked Bolognese sauce is that the flavors of very simple ingredients combine to create a depth-of-flavor greater than the sum of their parts.
Strangely enough, in Italy, you probably wouldn't be served a plate of spaghetti Bolognese.
You see, in Italy, a rich meaty ragù would typically be served with tagliatelle – or as the tomato based hearty element in lasagna.
However, food has the tendency to take on elements of the regions where it is most frequently prepared and devoured.
Generations of home cooks and eaters have normalized the use of spaghetti as the base for a rich, delicious Bolognese sauce to top.
In fact, so many people make and eat spaghetti Bolognese, that one of my favorite, silly food slang terms was born because of this meat-centric food/culture mash up: Spag-Bol 🙂
So, wait… Vegan Spaghetti Bolognese Sauce?
Yep – making a vegan spaghetti bolognese is what got me a little twisted from the onset.
Meat is such an integral part of a typical hearty ragù, would a veggie based mushroom Bolognese have the substantive grip and depth of flavor of the original?
I never should have worried!
Using simple diced button mushrooms for a meaty element was a win on two fronts.
The savory and umami elements of cooked mushrooms deliver something very similar to meat in the flavor department of this vegan Bolognese recipe. You're getting a serious injection of deep flavor from these diced fungi.

Mushrooms have heft. This vegan Bolognese sauce doesn't taste like a lightened-up version of the original. The sauce has meaty weight, texture and viscosity while being totally plant based!
Actually, the mushrooms and diced veggies in this sauce were so convincing as hearty, meaty substitutes that Ben said, "I thought you said you were making vegan Bolognese," after taking a massive first bite.
I assured him that I had.
He seemed doubtful it was meat free at first. And then proceeded to demolish two full plates with gusto.
The familiar, hearty flavor is truly there in this plant based mushroom bolognese sauce!
How to make vegan bolognese sauce
This is the easy part, friends!
To start things off the traditional way, I diced an onion and finely chopped a few cloves of garlic and got those going in a pot with bit of olive oil.
Meanwhile, I started in on my mushrooms and carrots, dicing them small.
For flavor, texture and a huge dose of vitamin C, I diced a green pepper and added all my veggies to the pot once the onions had become translucent.
The kitchen began to get that familiar smell that means – watch out folks – it's pasta night! I love it when aroma builds anticipation.
A hit of dried oregano and thyme brought some botanicals to the mix. And then I added my diced tomatoes and a bit of vegetable broth.
Once everything started to boil, I lowered the heat on my easy mushroom based vegan Bolognese sauce and put a lid on the pot for about 30 minutes.
A bonus of using all veggies is that you don't have to slow cook for as long to develop the meaty flavor. The mushrooms really deliver in a short time!
The secret to the sauce
NOW – once you've simmered for a while, here's the two-step secret to getting the proper texture in your own vegan Bolognese sauce:
Pull about 2½ cups of your delicious ragu out of the pot and gently blend with a hand blender or food processor. It doesn't have to be smooth. In fact, it's better not to overdo it.

Then, simply pour the blended sauce portion back into the main pot and mix.
And presto! The texture of a true ragu is born.
And, thanks to the mushrooms, you won't miss the meat at all!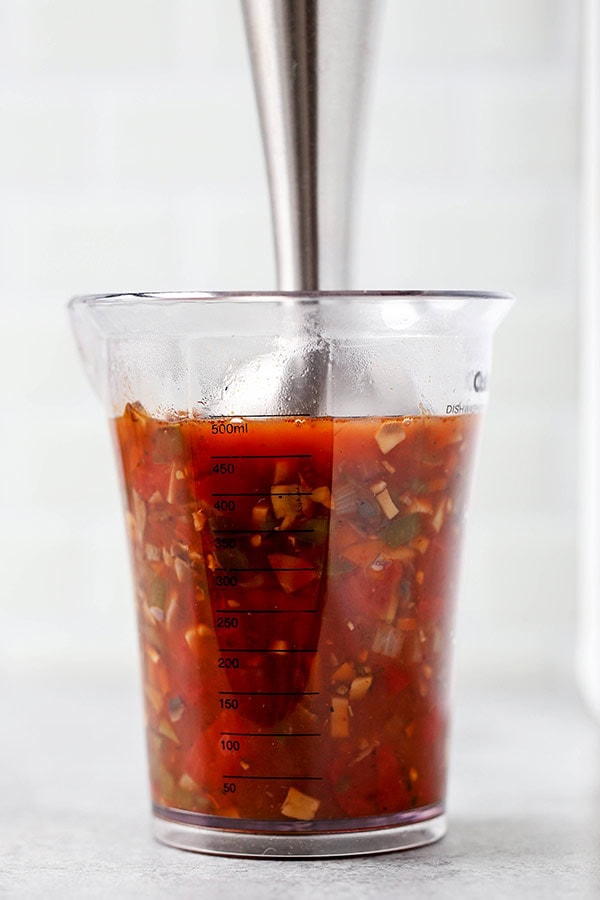 What if I don't like mushrooms?
If mushrooms aren't your thing, but you're still hoping to whip up a vegan Bolognese sauce in your own home kitchen, all is not lost.
From a texture perspective, you could totally add a soy crumble to mimic meat. Ground or finely chopped seitan would be a fine substitute as well.
Just remember that a big portion of the hearty, deep flavor in this plant-based Bolognese sauce is developed from the mushrooms – so you'd probably want to round out the flavor profile in another way.
Also, I'm not sure that blending seitan or soy protein is such a great idea from a texture standpoint – so these alternatives would likely be something to add after that step.
But a cool aspect of using mushrooms in the first place is that, once incorporated into this simple to make but complex tasting sauce, they take on a new heartier element.
Heck – maybe this could be the recipe that changes your mind on mushrooms! Give it a shot 🙂
Zucchini Pasta vs Regular Pasta
I'm a pasta girl! I love making perfectly al dente thin spaghetti as the basis for anything from Vongole to Dan Dan Noodles.
That said, making zucchini noodles – or zoodles – is a fun and delicious way to introduce a ton more veggies onto your plate at dinnertime.
Now, zoodles won't 100% mimic spaghetti by any means. However, it's pretty crazy how raw, spiralized zucchini, once covered in sauce has a texture that is somewhat similar to pasta.
When I'm generally feeling a little, ahem – 'overfed', making some spiralized zucchini recipes a couple nights in a week can have a pretty dramatic effect.
It's rare that a vegetable provides a seamless stand-in option for a processed starchy carbohydrate so readily.
Aside from zucchini, it works great to add spiralized carrots to the mix. Like beets? Well then give those a go too!
Bonus: zucchini pasta is super fun to make!
I LOVE getting the spiralizer out and getting a mini-workout in before eating. And there's just something so satisfying about turning whole veggies into long strands of pasta-like goodness.
If you had fun with a Play-Doh Fun Factory as a kid, you'll totally have fun spiralizing vegetables!
Vegan Spaghetti Bolognese FTW!
Now that I've tried a hearty, vegan mushroom bolognese over perfectly al dente spaghetti, I'm a convert!
While the original Bolognese sauce my mother made when I was a kid will always hold a special place in my heart and taste-bank, this meat-free version is all I need from this point on.
The deep, almost smoky flavor belies the use of just a few humble vegetables and some diced tomatoes.
In fact, the meaty flavor was such a departure from what I was expecting from a vegan recipe that I even fooled my normally perceptive hubby for a couple of bites!
Plus, this easy recipe reaffirms that food is totally capable of shaking things up – and delivering on flavors you might not expect from humble ingredients.
All hail the mighty mushroom!
How about you? What's an ingredient you use in your home kitchen that delivers an unexpected flavor and texture to your favorite recipes? I'd love to hear about it in the comments section!
Other simple and delicious veggie forward pasta recipes:
Did you like this Vegan Spaghetti Bolognese Recipe? Are there changes you made that you would like to share? Share your tips and recommendations in the comments section below!
Print
Vegan Spaghetti Bolognese
100% meat-free spaghetti bolognese that tastes better than the real thing.
Author: Caroline Phelps
Prep Time:

10 minutes

Cook Time:

40 minutes

Total Time:

50 minutes

Yield:

6

people

1

x
Category:

Vegan

Cuisine:

Italian
16

ounces

dried thin spaghetti or regular spaghetti

2 tablespoons

extra virgin olive oil

3

cloves garlic (minced)

1

small onion (finely chopped)

1

medium carrot (finely chopped)

1

green bell pepper (cored, seeded and finely chopped)

10

ounces

button mushrooms (finely chopped)

1/2 teaspoon

dried thyme

1/2 teaspoon

dried oregano

28 ounces

can diced tomatoes

1/2

cup

vegetable broth
Instructions
In a large pot over medium high heat, add olive oil, garlic and onions and cook for 2-3 minutes, until onions are translucent.
Add carrots, green bell peppers and mushrooms, stir and cook for 5 minutes.
Add thyme, oregano, tomatoes and vegetable broth and bring to a boil. Lower heat, cover and simmer for 30 minutes.
Put 2 1/2 cups of the vegan bolognese sauce into a blender and pulse a few times – do not over blend – until the texture looks like ground meat. Return to the pot and stir. Serve with pasta.
For the pasta: fill a large pot with water and salt (approximately 1 tablespoon salt, or 1.5 tablespoon kosher salt, per quart). Bring to a boil.
Cook pasta according to directions on the package (about 6-7 minutes for thin spaghetti). Drain – do not rinse – and set aside.
Notes
Save any leftover sauce – separate from the cooked noodles – in an airtight container in the refrigerator for up to 3 days.
Nutrition
Serving Size:
Calories:

359

Sugar:

5.8 g

Sodium:

119.6 mg

Fat:

6.1 g

Saturated Fat:

0.9 g

Carbohydrates:

64.5 g

Fiber:

4.1 g

Protein:

12.2 g

Cholesterol:

0 mg
Keywords: recipe, main, meatless, plant based, tomato sauce, vegetarian, pasta
Recipe Card powered by