A saucy and cheesy Cauliflower Pizza Crust Alla Margherita Recipe that tastes just like a pizza-pie from your favorite pizzeria. This Gluten Free Pizza is ready in 35 minutes from start to finish!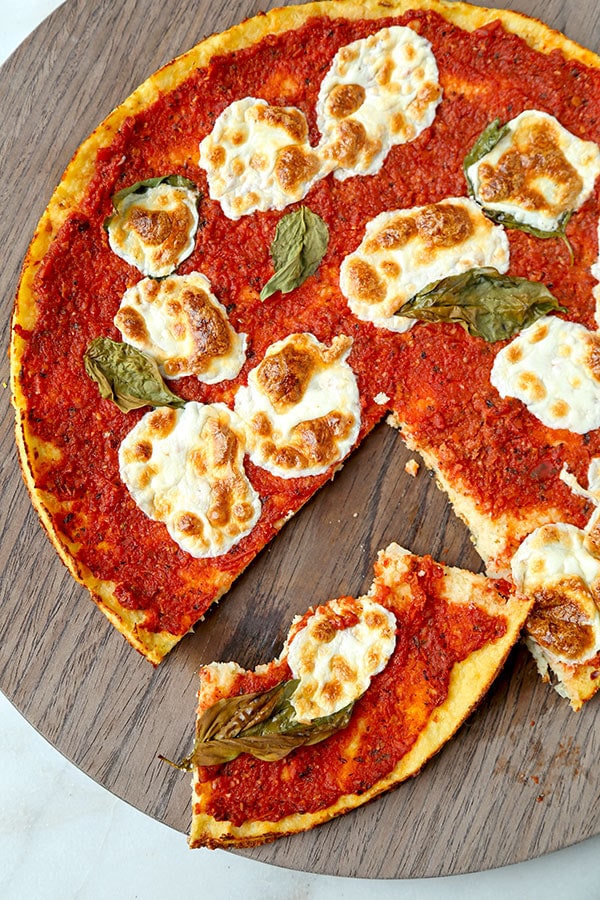 Gluten Free Cauliflower Pizza Crust Alla Margherita
Well, I've been baking a lot lately! And that's a tiny bit unusual for me.
You see, historically, I've been slightly wary of baking. Of course, I use it my oven. It's just that, when creating recipes in my home kitchen, I have more confidence in my ability to fix flavor mistakes on the fly when I'm using a wok or sauté pan on the stovetop à la minute.
There's a bit of a set it and forget it (and it better be right from the start) ethos to most baking that makes me, well, a little nervous.
But not nervous enough to sit on the sidelines!
This cauliflower pizza crust was my attempt at stepping out of my comfort zone, working with ingredients in a slightly uncommon way – and creating a delicious, healthy pizza recipe in the process.
Bonus: not only did this unorthodox, low carb pizza crust deliver fresh baked, pizzeria quality goodness, this also happens to be a gluten free pizza!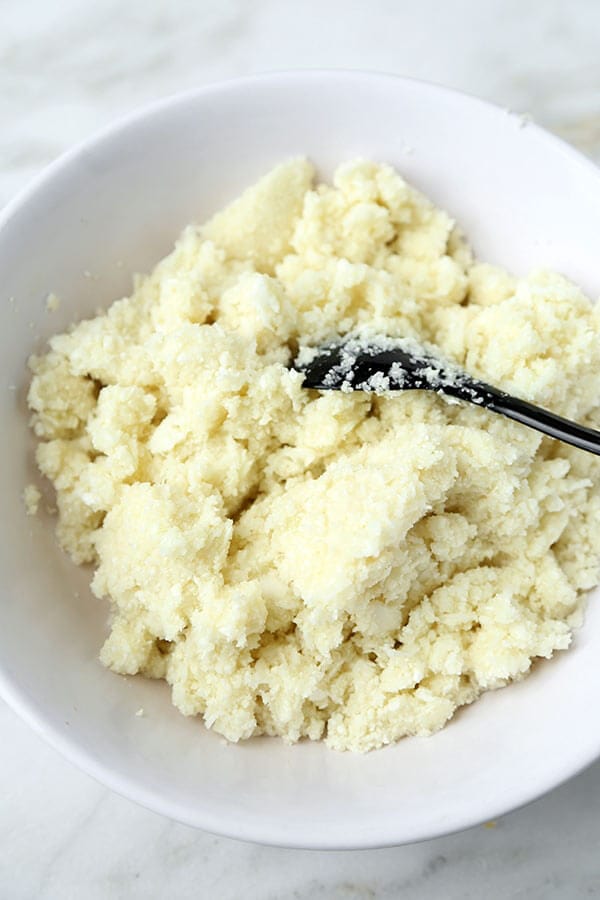 A Delicious Gluten Free Pizza Crust, Without Compromises
I have an inkling what you might be thinking: Cauliflower pizza crust? Gross... Well, I definitely had my doubts too.
But the worry was for nothing!
After blending, microwaving and squeezing away excess water, the cauliflower truly resembled pizza dough. It was shocking to get such a workable 'dough' from a humble veggie.
And, once I had completed my simple pizza dough recipe, the rest was business as usual from a cooking perspective. A simple treatment with fire roasted tomatoes and fresh mozzarella resulted in a delicious cauliflower pizza that was thin, crispy and practically indistinguishable from a Margherita pizza you might order at a great pizzeria.
The only difference was that it was now gluten-free – and I didn't have to log on to Seamless to order delivery.
All too often, the gluten free option at a pizzeria can seem a little like an afterthought. Something a restaurant adds to the menu without too much attention to flavor and mouthfeel, just to cover their bases.
However, I truly believe that those living with a gluten intolerance shouldn't have to suffer subpar pizza! In my somewhat biased opinion, I think this is the best pizza crust recipe for those eating gluten free – and, incidentally, those following a low carb diet.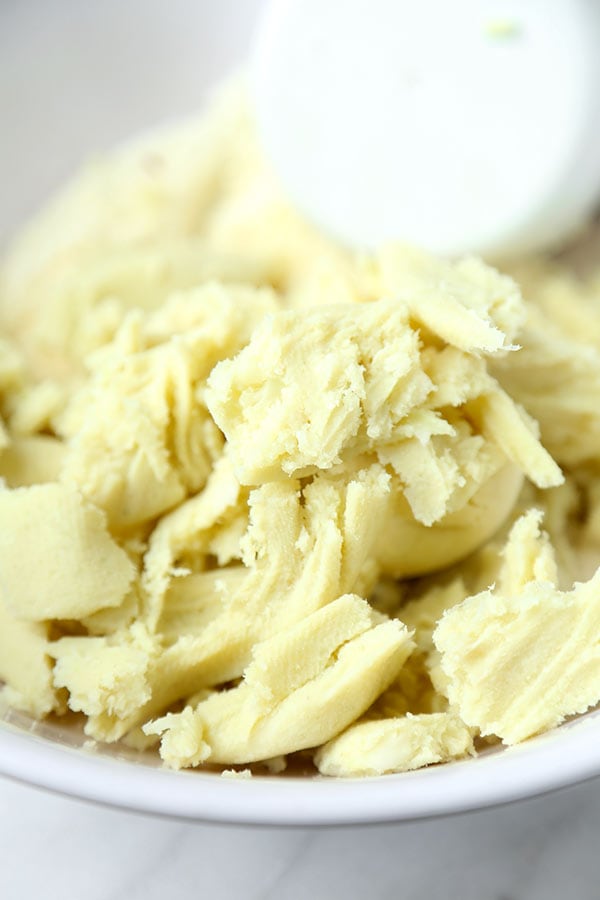 How to make this Cauliflower Pizza Crust Recipe
Now, while there are quite a few steps to preparing this gluten free pizza dough recipe, don't be intimidated! They're all simple, straightforward steps – and don't require any advanced cooking techniques.
To start, chop one head of fresh, raw cauliflower and add to a food processor. Pulse the cauliflower until fine (kinda resembling grains of rice).
Then, transfer the processed cauliflower to a microwave safe dish and cook on high for six minutes.
After this gentle nuking, you're definitely going to want to cool the cauliflower down a bit before handling. Transfer the microwaved cauliflower to a large plate or baking sheet. Spread it out to quicken the cooling process.
Now, once cooled, put the cauliflower into a kitchen towel or a few layers of cheesecloth and squeeze out as much water as you can. I can't stress how important this step is for getting a crispy crust when baking. Really go for broke!
At this point your cauliflower should resemble mashed potatoes or a super dry dough. Place it in a large bowl with an egg, 1/2 cup Parmesan cheese, and 1/2 teaspoon dried red chili flakes – and mix until you have a typical dough-like texture.
Simply spread your 'dough' into a pizza pan or baking sheet. The shape doesn't matter much. Circle or square – your choice! What does matter, however, is the thickness.  Shoot for a quarter inch thickness – or slightly thinner.
Now, let's make our easy pizza sauce!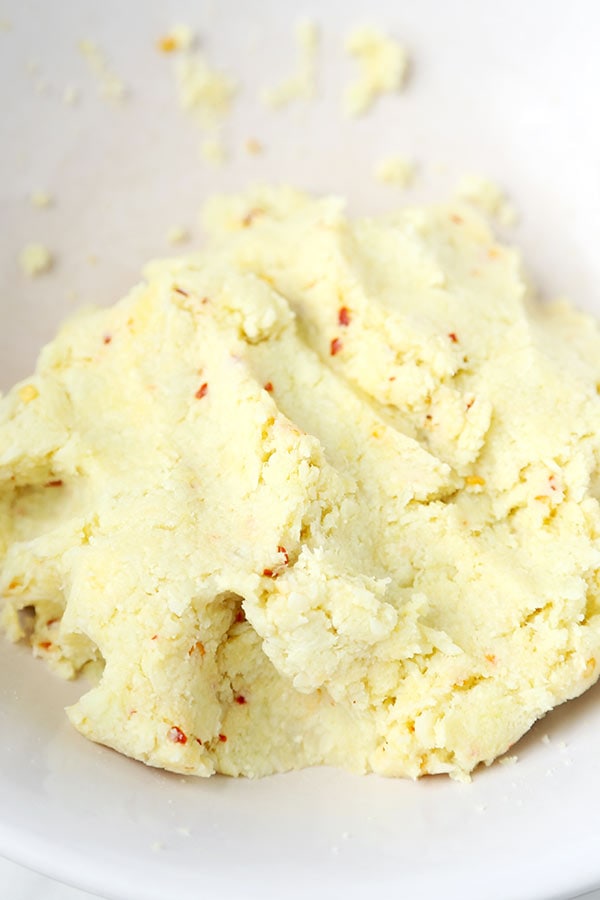 How to make the fire roasted tomato pizza sauce
Much like with the cauliflower dough, it's going to be important to extract a decent amount of liquid from your fire roasted canned tomatoes prior to blending the ingredients for the super simple pizza sauce.
To easily accomplish this, just pour the contents of a 14.5 ounce can of tomatoes into a strainer. You can press with a spoon to gently extract the excess liquid.
Once most of the liquid has been drained, place the tomatoes into a food processor along with a teaspoon of kosher salt and a clove of garlic. Blend until smooth… And that's it! I told you it was easy 🙂
Now, let's make pizza!
Spread the sauce evenly atop your cauliflower pizza crust. Then top with a few pieces of high-quality fresh mozzarella.
Bake your gluten free pizza Margherita at 450°F for 25-30 minutes – and pull it once the edges take on a golden-brown char.
A note on the basil: you can either add the fresh basil leaves before or after baking. I've tried it both ways. And, even though I snapped the pictures for this recipe with basil that had been baked, I tried adding it after baking with a second batch. And it must be said, I prefer to add the basil after – just before serving. The taste is more assertively fragrant and fresh. And you can't beat the bright color! But, hey different strokes. Whichever way you prefer is the right way!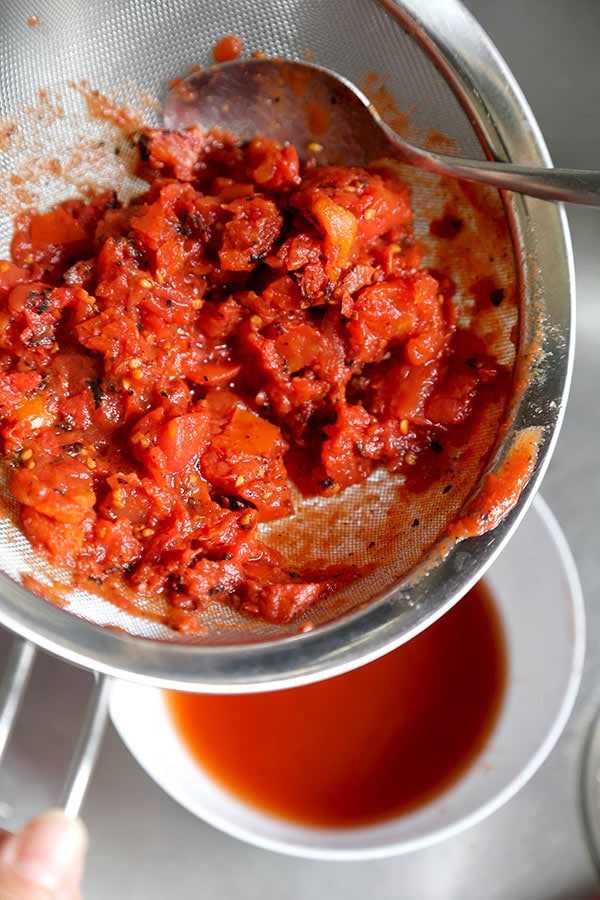 So, what is gluten anyway?
Gluten is the name for proteins found in wheat, rye and barley. These proteins help food maintain its shape, acting as a sort of glue that holds food together.
And, when making a traditional pizza dough, you'd count on these wheat proteins to do their intended thing and help to create a cohesive base for your pizza.
However, for people that have celiac disease (an autoimmune disorder), the ingestion of gluten can cause pretty serious health complications, including damage to the small intestine.
So, it's imperative for those with celiac disease to wipe gluten from their diets. And, sometimes, that's easier said than done. Because gluten can turn up in many foods you wouldn't expect it in.
Now, that's a bit of an oversimplification of a super diverse and serious subject – but I hope it sheds some light.
Luckily, this pizza Margherita is delicious whether you're following a true gluten free diet, or just feel like trying out a low-carb pizza for a change of pace!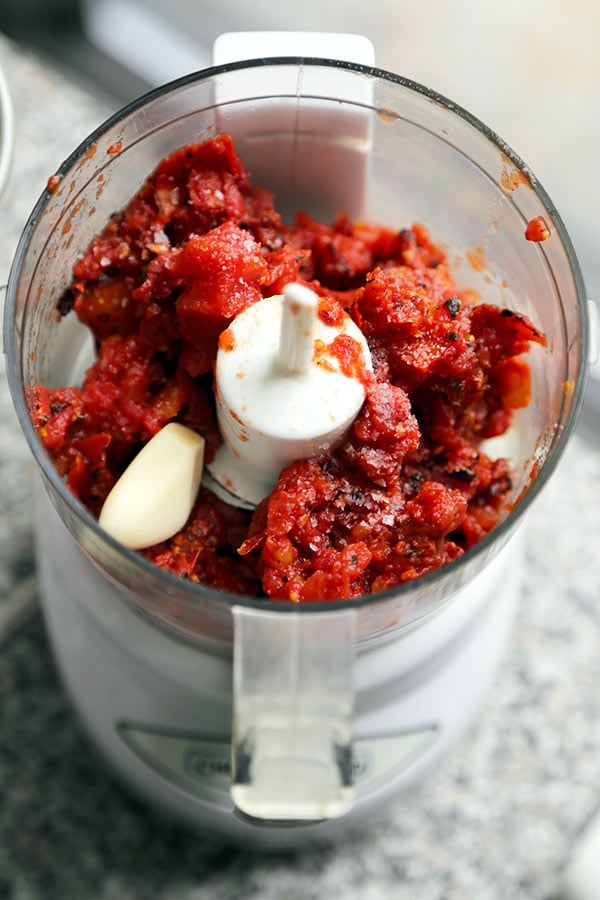 How does this gluten free pizza Margherita taste?
This awesome cauliflower pizza crust alla Margherita recipe was a huge hit with the friends I had in town from Montreal. It allowed me to show off some of my baking chops to childhood friends that knew me primarily as a stove-top-girl.
The crust was both crispy near the edges and pliant closer to the center… Exactly what I look for when going out to a traditional Italian pizzeria.
And the savory, sweet and smoky notes from the tomato sauce played so nicely with the bubbly cheese.
But I've gotta say, one of the biggest and best surprises of the entire process was the dried chili flakes that I added to the crust while mixing. They imparted a nice heat to the final cauliflower pizza without overpowering the subtle flavors of the fresh mozzarella and basil.
True pizza harmony!
And further proof that gluten free pizza can still proudly be classified as a proper pizza pie.
How about you? Do you consider yourself more of a cook, or a baker? Have you ever stepped out of the box? Tell me about it in the comments!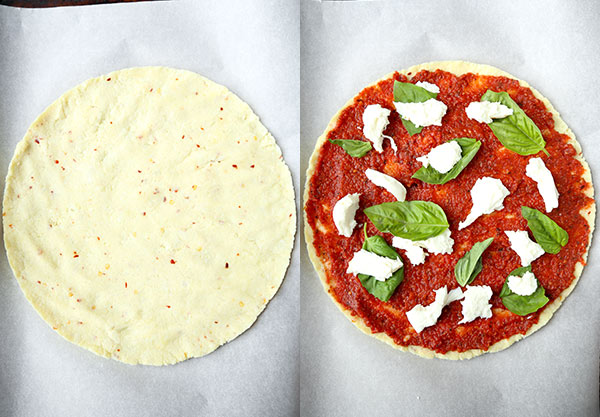 Other simple, delicious gluten free recipes: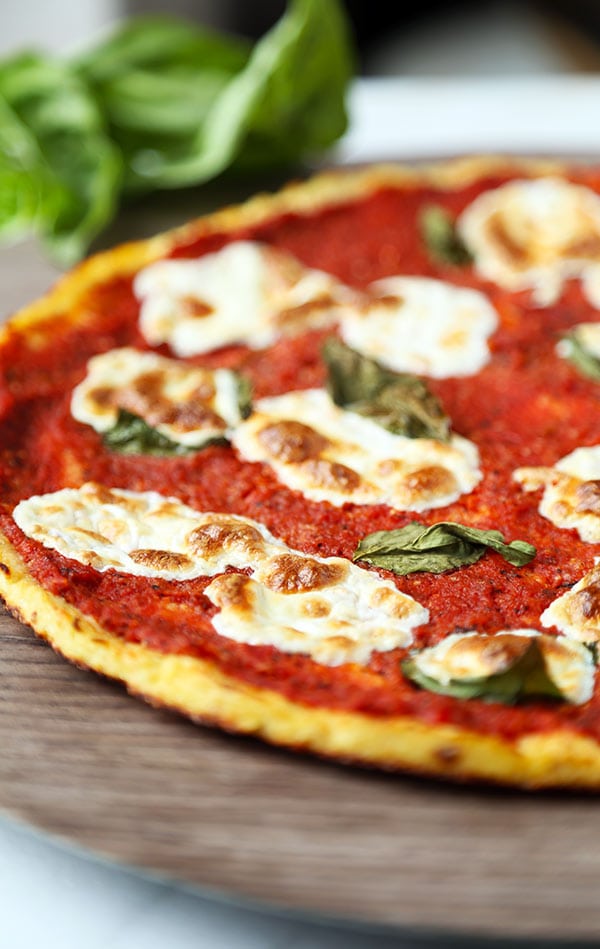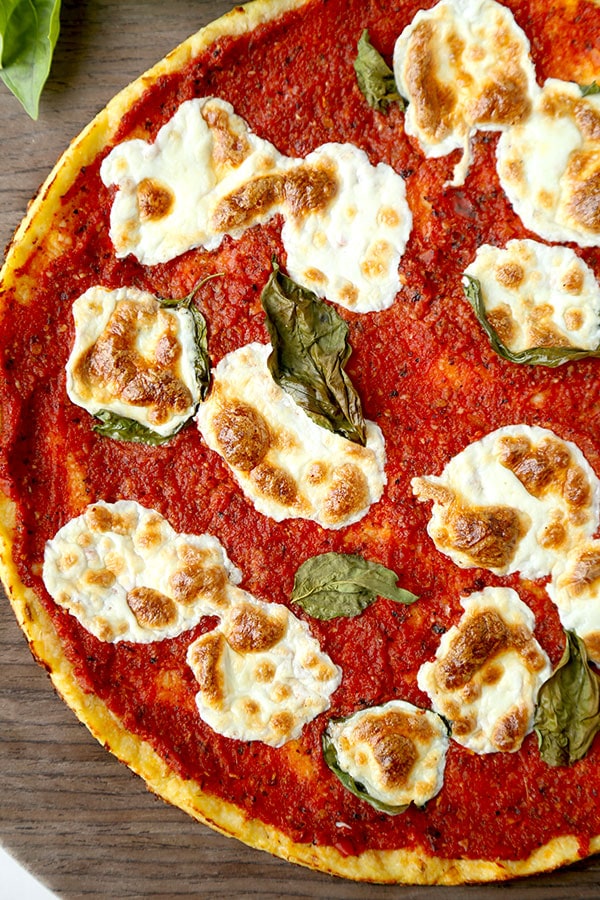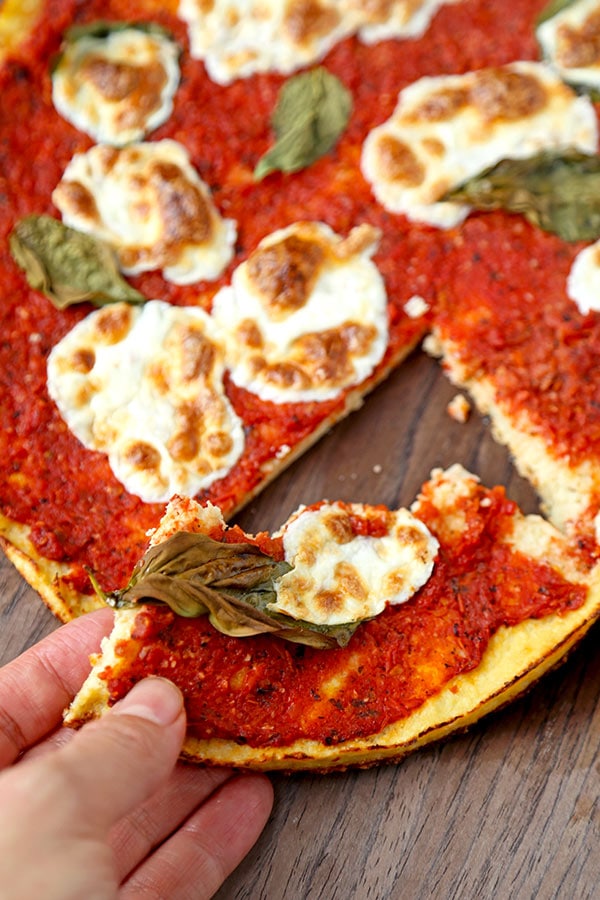 Did you like this Cauliflower Pizza Crust Alla Margherita Recipe? Are there changes you made that you would like to share? Share your tips and recommendations in the comments section below!
Print
Cauliflower Pizza Crust Alla Margherita
A delicious Cauliflower Pizza Crust Alla Margherita Recipe that tastes just like a pizza-pie from your favorite pizzeria. Gluten Free and ready in 35 minutes!
Author: Caroline Phelps
Prep Time:

10 minutes

Cook Time:

25 minutes

Total Time:

35 minutes

Yield:

4

people

1

x
Category:

Gluten-free

Method:

Baking

Cuisine:

Italian
1

head cauliflower (chopped)

14.5 ounces

can fire roasted diced tomatoes

1 teaspoon

kosher salt

1

small clove garlic (peeled)

1

large egg

1/2 cup

grated parmesan cheese

1/2 teaspoon

dried red chili flakes

3 ounces

fresh mozzarella (drained and hand torn)

10

fresh basil leaves
Instructions
Preheat oven to 450°F and line a pizza pan or baking sheet with parchment paper.
Add cauliflower to a food processor and pulse until fine like rice grains.
Transfer cauliflower to a microwave-safe dish and microwave on high for 6 minutes. Transfer cauliflower to another plate or baking sheet to speed up the cooling process. Let cool to room temperature.
Meanwhile, put the canned tomatoes in a strainer and, using a spoon, gently push out excess liquid until most of the liquid has been drained. Transfer tomatoes to a blender, add salt and garlic and blend until smooth. Transfer to a bowl and set aside.
Put the cooled cauliflower in a kitchen towel, wrap and wring out as much water as you can. This step is important for a crispy crust. The cauliflower should almost look like mashed potatoes or dry dough.
In a large bowl add cauliflower, egg, Parmesan cheese and dried red chili flakes. Mix using your hands until you get a dough-like texture.
Add mixture to pizza pan and spread into a circle (or rectangle). Make sure the crust is not too thin or too thick (around ¼ inch – or slightly less – is ideal).
Spoon tomato sauce and spread evenly. Top with a few pieces of mozzarella and fresh basil leaves.
Bake in the oven for 25-30 minutes, until edges are golden brown. Serve.
Notes
This Cauliflower Pizza Crust Alla Margherita Recipe is:
High in calcium
High in dietary fiber
High in phosphorus
High in potassium
High in selenium
High in vitamin A
High in vitamin B6
Very high in vitamin C
Nutrition
Serving Size:
Calories:

196

Sugar:

6.7 g

Sodium:

1408 mg

Fat:

9.4 g

Saturated Fat:

5.5 g

Carbohydrates:

14.7 g

Fiber:

4.8 g

Protein:

11.3 g

Cholesterol:

72.7 mg
Keywords: recipe, healthy, main, snack
Recipe Card powered by