This easy vegan kimchi recipe is pungent, spicy and smoky just like the real thing! There are a few steps to making this dish but I promise you they are easy and stress-free! The longest part is the fermentation process which can take up to two days.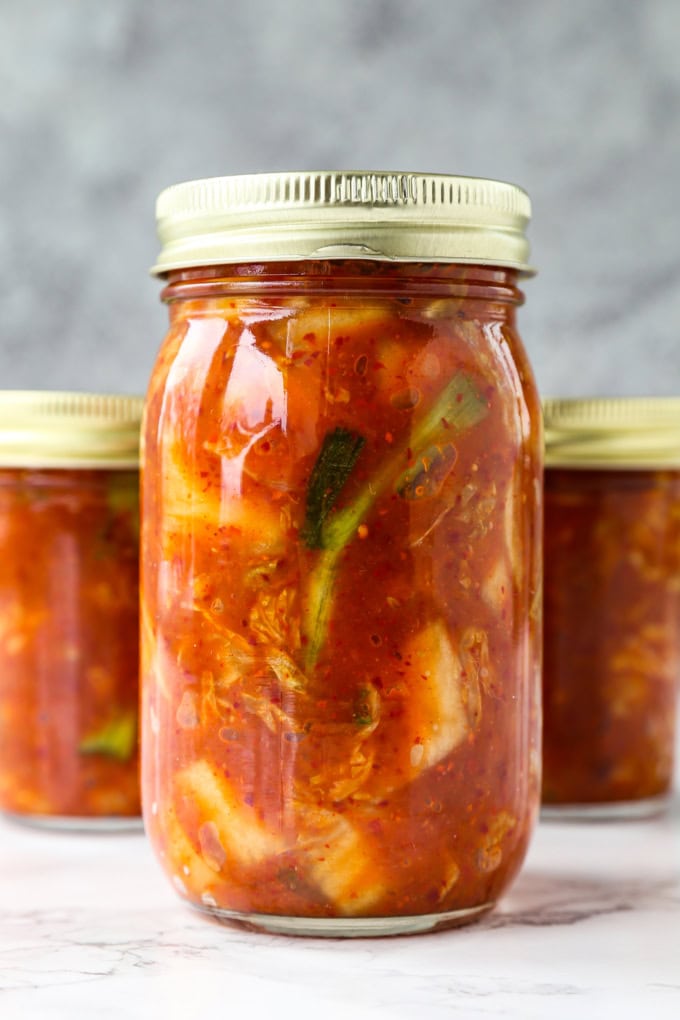 Confession – I never thought it would be this easy to make kimchi.
I thought you needed some in-ground earthenware in your backyard to store this magical Korean staple for months at a time. I basically knew diddly squat about kimchi other than the fact that I loved the taste.
What made me want to try making it from scratch was the fact that I'm planning on adding a lot more Korean recipes to the blog this year. And you simply cannot have a Korean recipe section without its number one export – kimchi.
Don't worry, this isn't going to get all complicated and messy, this vegan kimchi recipe is actually very easy to follow.
But it's going to get stinky so be ready for that!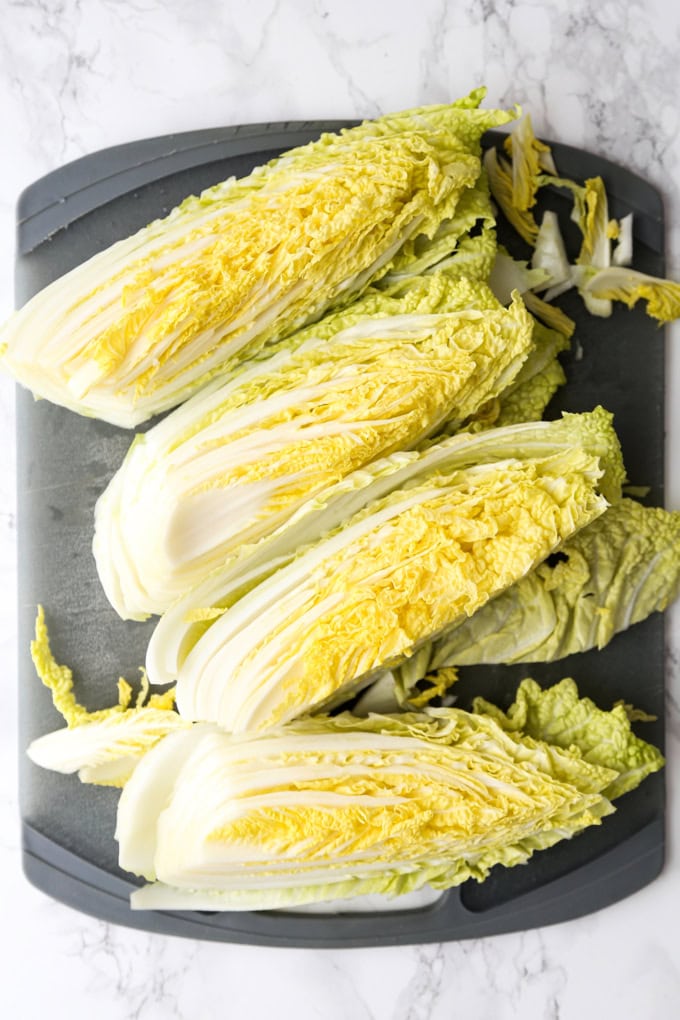 What is kimchi?
Kimchi is a traditional Korean side dish of fermented vegetables made with ingredients such as gochugaru (Korean red pepper flakes), fish sauce, garlic, ginger, onion, and salted shrimp. The list of seasoning can vary based on the type of kimchi as well as the type of vegetables used.
There are several different types of kimchi but the most popular ones are:
Baechu kimchi (napa cabbage kimchi): This is the recipe I have for you today! Baechu kimchi is by far the most popular type of kimchi you can find almost anywhere these days. I won't get into it here since I have a full description of all the ingredients you will need below.
Baek kimchi (white kimchi): This kimchi is also made using napa cabbage but comes without the heat. Most of the same ingredients – minus the Korean red pepper flakes (gochugaru) – are used along with chestnuts, and jujubes, also called Chinese dates.
Kkakdugi (diced radish kimchi): Korean radishes are used for this dish which is fermented with the same kimchi sauce used for baechu kimchi.
Nabak kimchi (red water kimchi): Looking more like a soup, nabak kimchi is a less spicy version of baechu kimchi. It's fermented in a brine made with apples and Korean pears, a little gochugaru, garlic, ginger, and onion. The flavors are light and delicate which make it a perfect side dish for oily dishes or grilled meats.
Oi sobagi (cucumber kimchi): Served in the spring or summer for its refreshing properties, this kimchi is made with Kirby cucumbers and stuffed with vegetables such as carrot, scallion, and radish, dressed with a classic kimchi sauce.
Dong chimi (radish water kimchi): Also known as winter kimchi, the radish ferments in a brine that can be drank like a beverage. It's fizzy, sour, and can also be used as a broth or soup base for chilled noodles.
Gat kimchi (mustard leaf): This may be the most pungent of all kimchi as the leaves used are already kind of pungent on their own. Dark green mustard leaves are seasoned in a pickled anchovy sauce for a very strong, assertive plate of greens!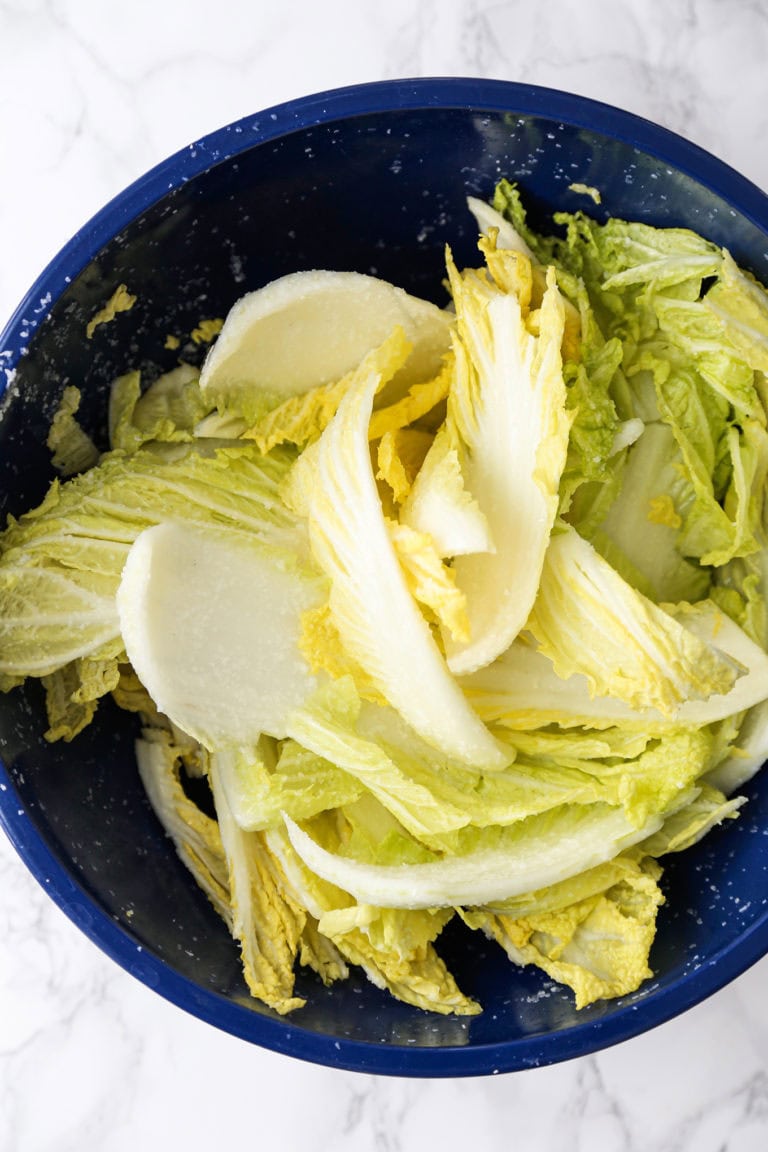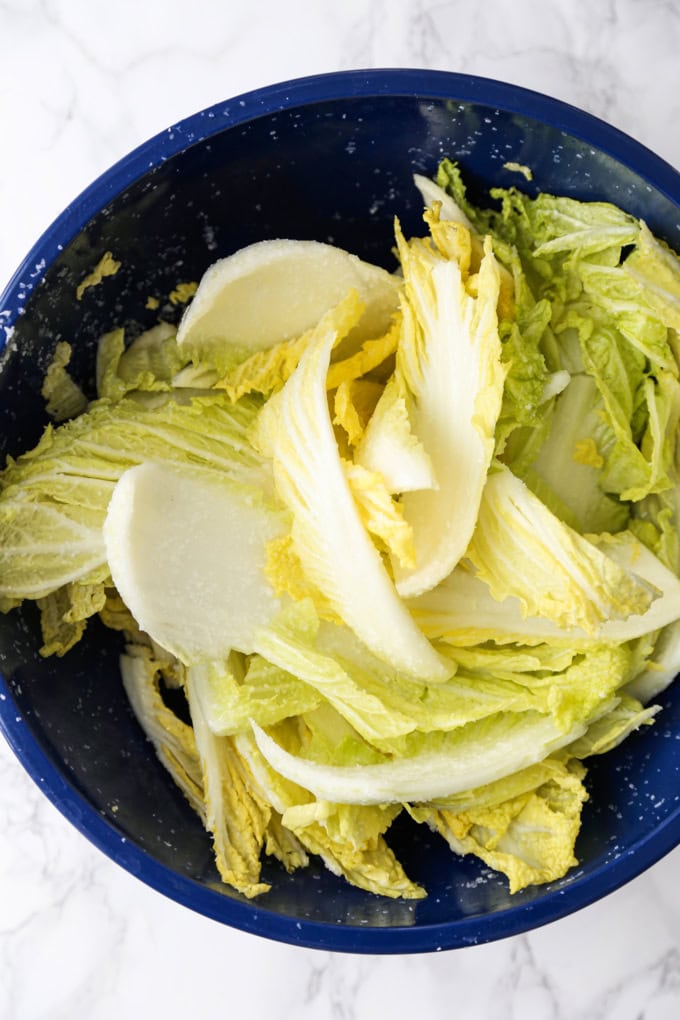 Where to buy kimchi
Nowadays, kimchi can easily be found in grocery stores and large retailers such as Target. Popular brands like Mother-In-Law Kimchi can be purchased in specialty stores or on Amazon.
I have to be honest though – I would never buy kimchi at a store like Target. Call me a snob but I've tried enough American-made kimchi to know they are not what I personally like. They all taste like a watered down version of the original. If you want the real stuff, go to an Asian grocery store or better yet, a Korean supermarket.
Good kimchi is stinky – super stinky – and almost fizzy. Imagine the smell being so bad that it's hard to contain, I'm not kidding! I shared an apartment with my brother in Tokyo and for a couple of years he always kept a big jar of kimchi in the fridge. It stunk so bad that we had to double bag it and still, the smell hit you as soon as you opened the fridge door!
But it was some of the best kimchi I've ever tasted! ❤️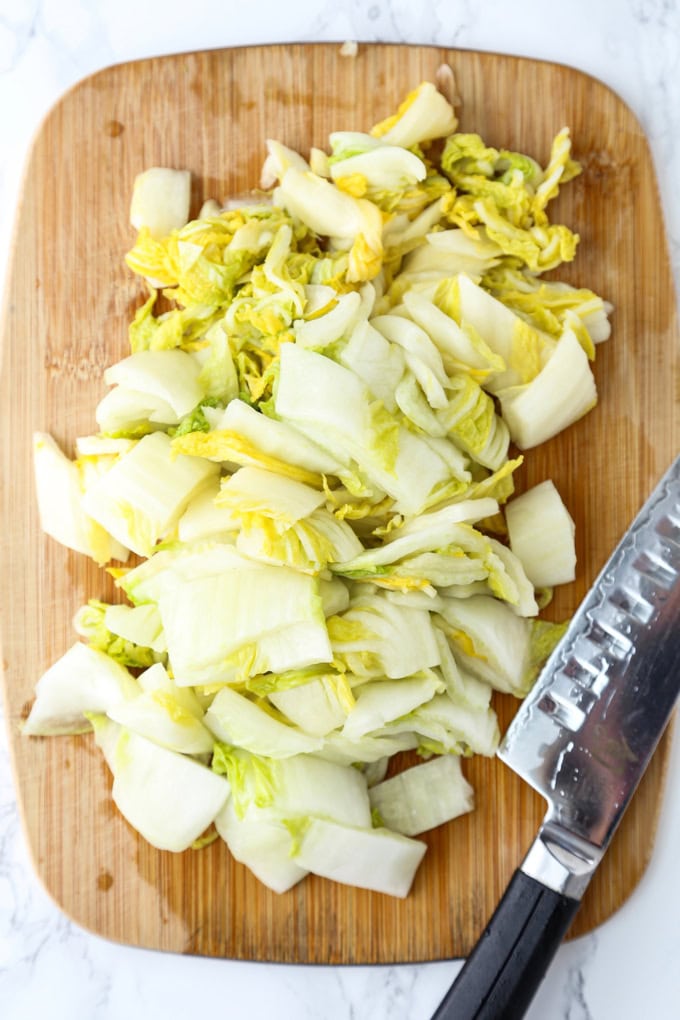 Vegan kimchi ingredients
Napa Cabbage: This is the best type of cabbage to use for quick fermenting since it absorbs flavors quickly.
Sea Salt: I'm using half a cup because I like my cabbage to have a strong salty taste to counterbalance the sweetness and heat of the kimchi sauce. If you don't like it too salty, use 1/4 cup of salt instead.
Kabocha Squash: Or acorn squash as mentioned in the recipe card. Aside from the kabocha squash being a little sweeter, they both look and taste very similar.
Asian Pear: Juicy, sweet, with floral aromatics. I love this fruit so much! Get it at your local Japanese, Chinese or Vietnamese grocery store if you cannot find it anywhere else.
Onion: Medium size is good to add a good amount of pungency. We're making kimchi after all!
Ginger: The ginger adds a little zing and extra heat to the kimchi sauce.
Garlic: To make it even stinkier I'm throwing in 6 cloves! Don't be scared, you can barely taste them when the kimchi is ready to eat, I promise!
Soy Sauce: Umami is at the core of Asian cooking and what best to impart it than a few tablespoons of soy sauce.
Sugar: Since a lot of the ingredients we are using are salty and savory, adding a little sugar balances out the flavors and mellows the saltiness.
Gochugaru: Kimchi wouldn't be kimchi without gochuaru. Aside from being spicy, these red chili flakes are really smoky!
Scallions: I'm using three scallions to add a different texture to this kimchi dish but this step is totally optional. You can add more scallions, take them out, even add daikon or carrots if you wanted to!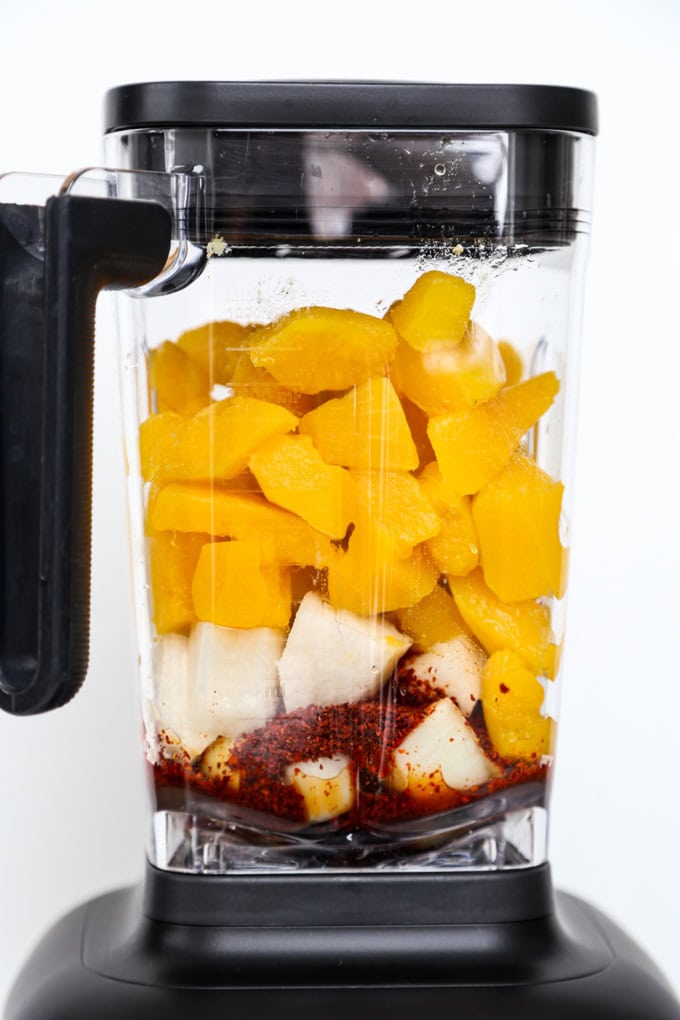 How to make vegan kimchi
Rub the cabbage leaves with salt. This step is to season the leaves and make them wilt so they can better absorb flavor.
Boil the kabocha squash. Even though the skin of kabocha squash is edible, we are peeling it for this dish.
Make the kimchi sauce. Blend all the kimchi sauce ingredients together until you get a smooth texture.
Rinse the cabbage leaves. Do it a few times to remove as much salt as possible.
Make the kimchi. Mix the cabbage leaves, scallions and kimchi sauce in a large bowl.
Let it ferment. Leave it on the counter for 1-2 days.
Refrigerate. Leave it in the fridge for up to 1 month and serve as a side dish to rice, meats, seafood, anything!
How to ferment kimchi at home
Kimchi ferments faster at room temperature than in the fridge but you can do it both ways. At room temperature, it should only take 1-2 days to ferment, though you can leave it out for up to 1 week. If you are in no rush, the fridge will work just fine.
If you use a jar to ferment it, only fill it up 3/4 full otherwise it may explode! Look for bubbles as this means it's fermenting the right way. Give it a sniff test – if it doesn't smell right it means it's gone bad. Also, look for white moldy spots on top, that's another sign it's gone bad.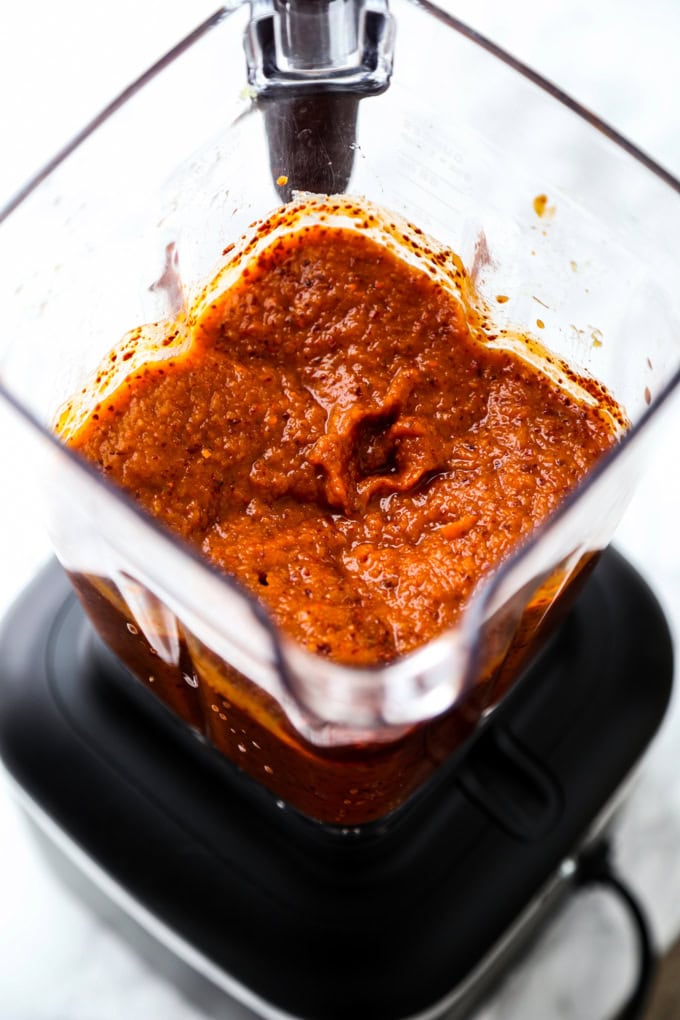 How to store kimchi
Kimchi should be refrigerated and kept in an airtight glass jar or container. This will prevent the pungent smell from invading your fridge.
How long does homemade kimchi last?
In short, kimchi is a fermented food therefore it can keep for months, even years. I recommend keeping it for no longer than a month because the taste will change as the kimchi will keep on fermenting. Not all recipes are equal and for this particular one I find that it tastes better during the first few weeks of making it.
Ultimately, it's up to you. Give it a taste and decide whether you like the taste of over-fermented kimchi or not.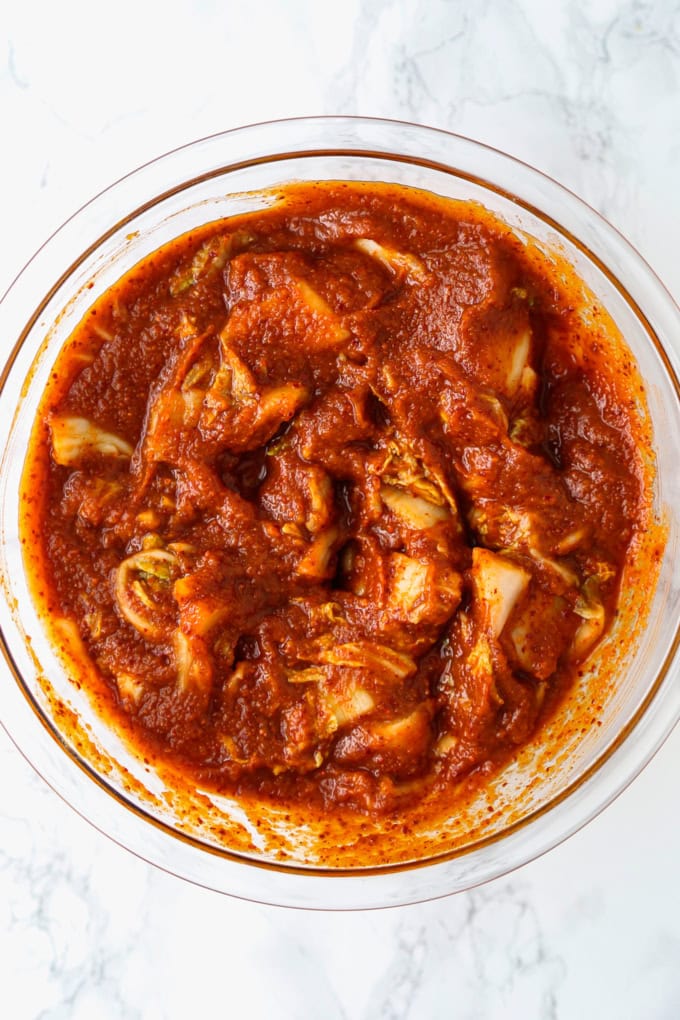 What to eat with kimchi
Since kimchi is a staple in Korean cuisine, it goes without saying that it pairs best with Korean foods. Some of my favorites are:
Recipes using kimchi
If you are looking to use kimchi as a recipe ingredient, here are some of my favorites: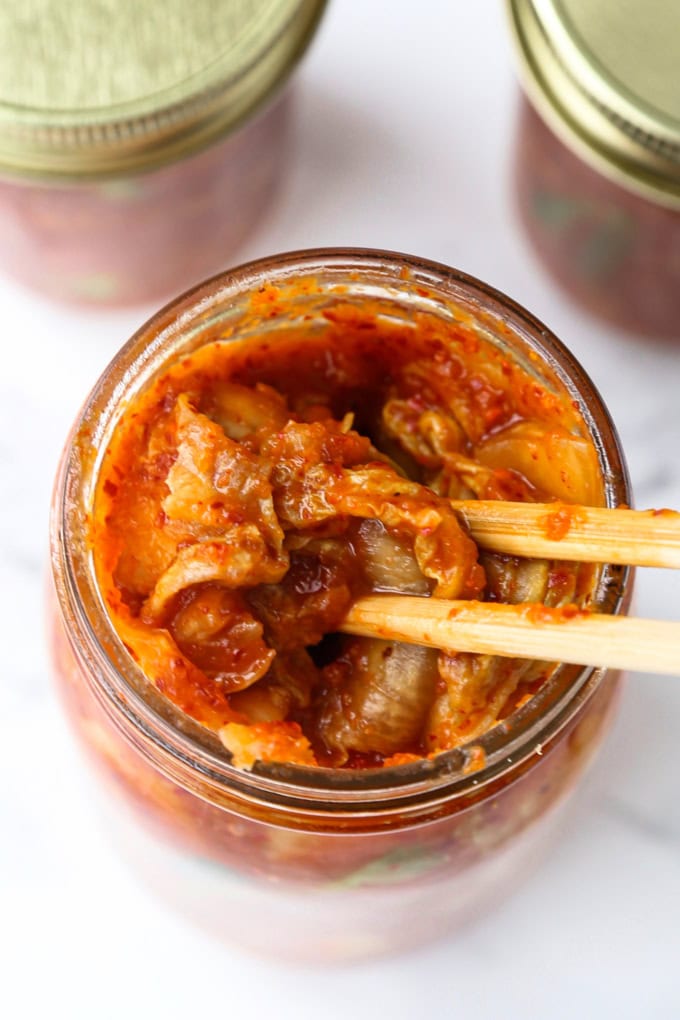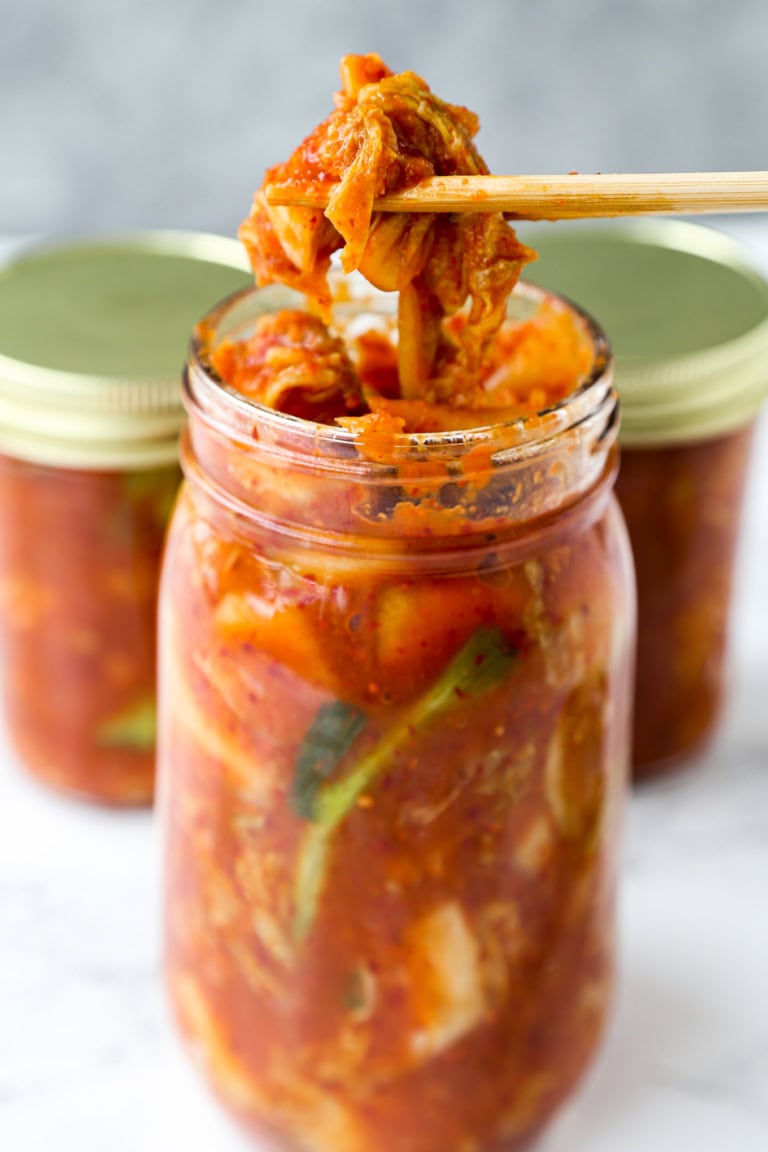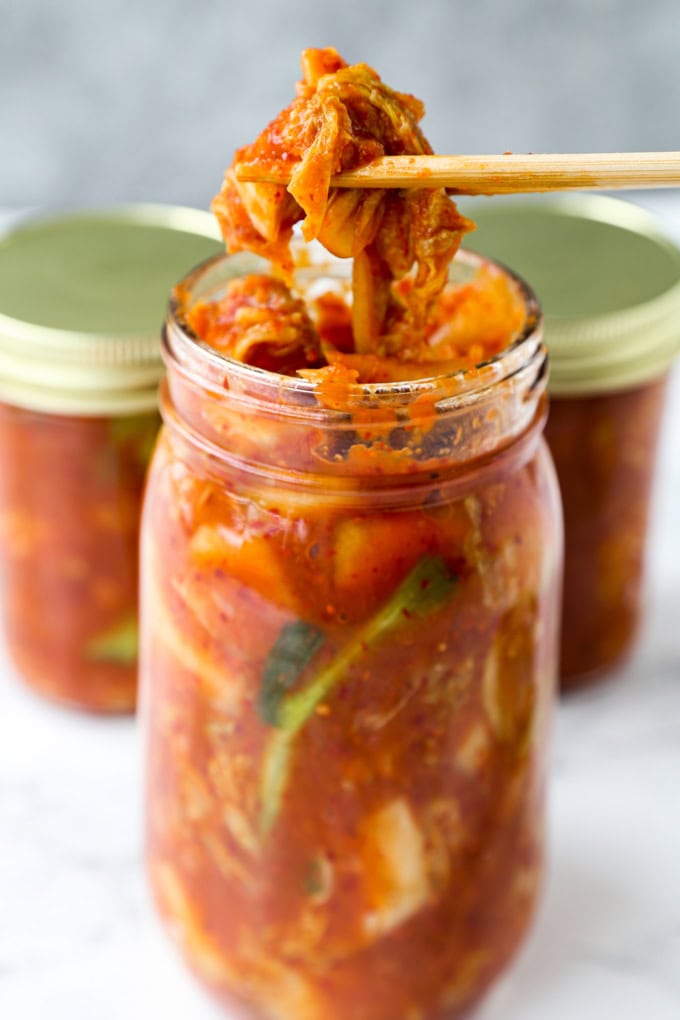 Did you like this Vegan Kimchi Recipe? Are there changes you made that you would like to share? Share your tips and recommendations in the comments section below!
Print
The Best Vegan Kimchi – 김치
This easy vegan kimchi recipe is pungent, spicy and smoky just like the real thing!
Author: Caroline Phelps
Prep Time:

20 minutes

Cook Time:

48 hours

Total Time:

48 hours 20 minutes

Yield: about

6

–

8

cups

1

x
Category:

Pickles

Method:

Fermenting

Cuisine:

Korean
1

napa cabbage (2-3 pounds)

1/2 cup

coarse sea salt
kimchi sauce
1

small kabocha squash or acorn squash (about

1

pound), peeled, seeds scooped out, and roughly chopped.

1

Asian pear, peeled, cored, and roughly chopped

1

medium onion, sliced into chunks

1

thumb size piece of ginger, peeled and roughly chopped

6

garlic cloves, peeled

3 tablespoons

soy sauce

1 tablespoon

kosher salt

1 tablespoon

sugar

1/2 cup

gochugaru (Korean chili pepper flakes)

1/4 cup

water

3

scallions, ends trimmed and sliced in half
Instructions
Cut the cabbage in half lengthwise and  in half again. Remove the core and add them to a large bowl along with the salt.

Using your hands, toss the cabbage and rub each leaf with salt. Let sit for 1-2 hours, tossing the leaves occasionally to make sure all sides are coated. 

Meanwhile, bring a medium size pot of water to boil and add the kabocha squash. Boil for 7-10 minutes, until the pieces are tender. Drain well and let  cool to room temperature.

In a blender, add the kabocha squash, Asian pear, onion, ginger, garlic, soy sauce, salt, sugar, gochugaru, and water. Blend until smooth and set aside.

When the cabbage leaves have wilted, rinse them under cold water to remove the salt. Take your time to go through the leaves to remove the excess salt hidden in the creases. Rinse one more time and using your hands, gently squeeze out excess water. Transfer the cabbage leaves to a large bowl. 

Add the kimchi sauce to the bowl along with the chopped scallions and mix very well to make sure all the leaves are evenly coated.

Cover with plastic wrap and let sit at room temperature, away from direct sunlight, for 1 or 2 days. Give it a taste and if you are satisfied with it, transfer to a jar and refrigerate for up to 1 month.
Notes
Make it sugar-free by omitting the sugar and salt in the kimchi sauce. Removing the salt helps to balance the flavors.
Make it lower in sodium by taking out 1/4 cup salt to rub the cabbage leaves, and taking out the salt in the kimchi sauce.
This kimchi recipe doesn't freeze well, it's best to eat it fresh.
Nutrition
Serving Size:

about 100 grams

Calories:

59

Sugar:

2.1g

Sodium:

1403.2mg

Fat:

0g

Saturated Fat:

0g

Unsaturated Fat:

0g

Trans Fat:

0

Carbohydrates:

7.3g

Fiber:

0.7g

Protein:

1.6g

Cholesterol:

0mg
Keywords: pickled cabbage, banchan
Recipe Card powered by