Love Jajangmyeon? Good news! I've got a delicious vegan version for you! You won't miss the meat at all with this yummy Vegan Jajangmyeon Recipe. First time making Jajangmyeon? No worries. Get your Korean black bean noodle fix in 30 minutes—from start to finish!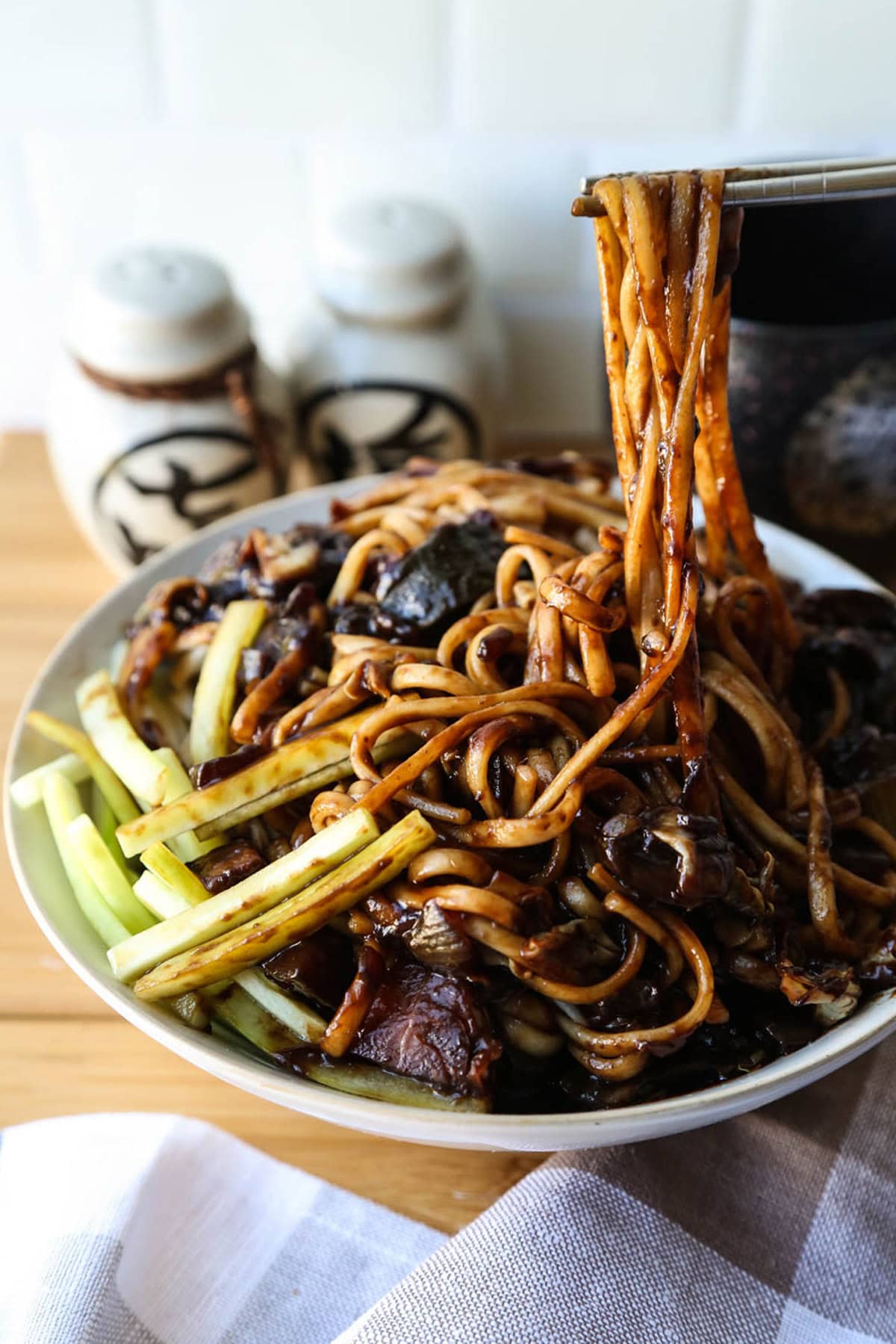 Vegan Jajangmyeon Inspiration
Ben and I were visiting one of my closest friends, Naoko, and her amazing family in Yokohama, Japan. The day started with a fantastic Chinese feast (featuring my favorite: cockles in black bean sauce) in Yokohama's Chinatown. And, many snacks later, ended with a Korean BBQ feast at the best Korean restaurant I've been to in my life (inside an ultra modern shopping center). Did we have jajangmyeon? Oh yes we did. And it was stunningly good.
As we sunk our metal chopsticks into the Korean noodles with thick black bean sauce, I just knew we had a perfect game on our hands. The Jajangmyeon was by far the best I had ever had. The food selection my friend chose for our visit was on point-all day—and this Jajanmyeon was no exception!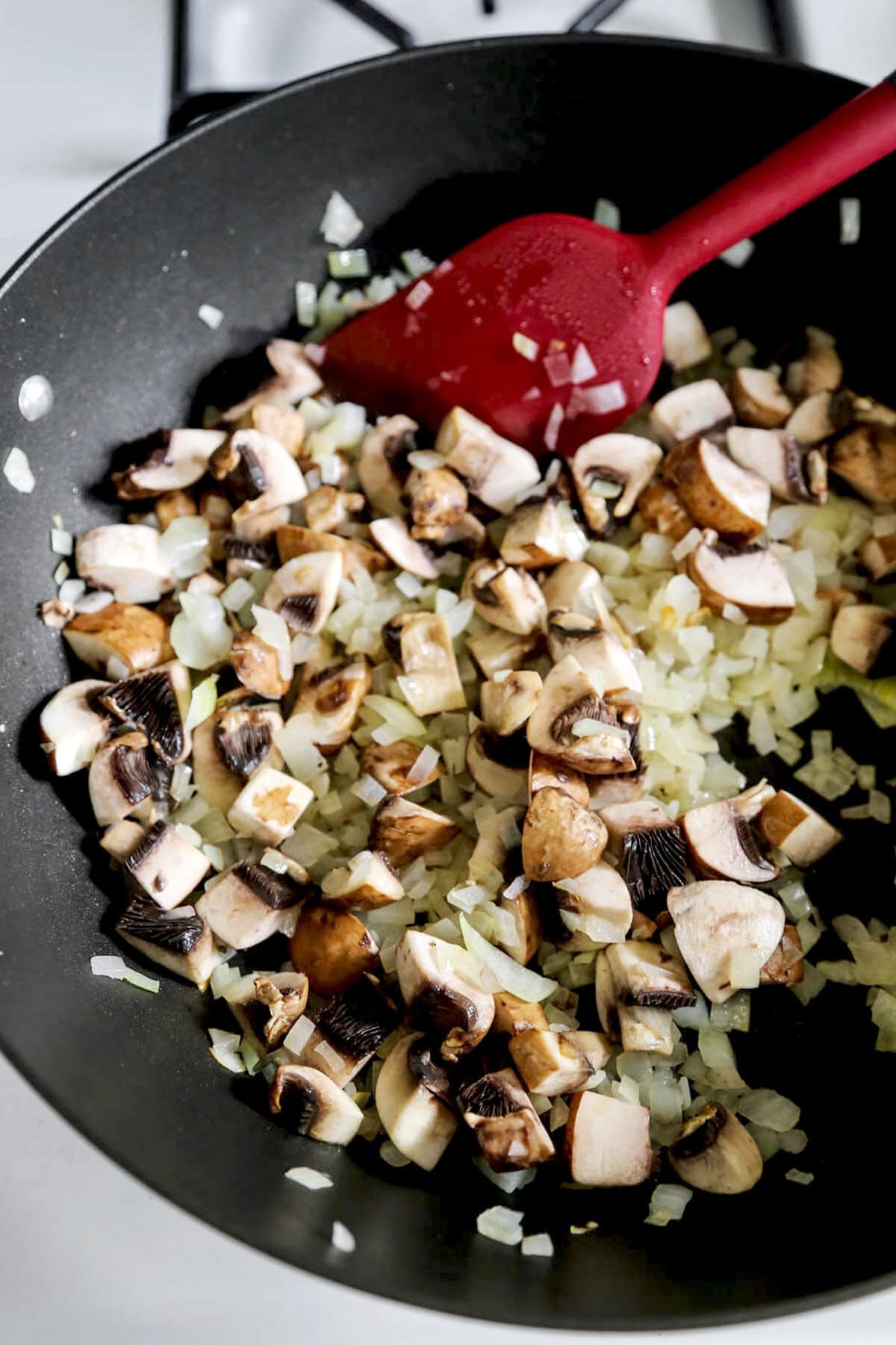 What is Jajangmyeon?
Jajanmyeon is often known to be a Korean noodle dish accompanied with a thick black bean sauce. However, it's also considered to be a Korean-Chinese Dish because its origins are rooted in the 19th century when early Chinese immigrants came to Korea and a new food-fusion of the two cultures was created—making it a popular korean-chinese dish!
Changing a Classic Korean-Chinese Dish
I was a little concerned when preparing this vegan jajangmyeon recipe the first time. You see, the savory pork had been such a delicious element in every iteration of jajangmyeon I had ever tasted, it seemed like it just HAD to be there for the recipe to work.
I think you'll agree with me that removing an integral ingredient in a well known recipe can feel a little like needlessly tinkering with perfection.
Well, it turns out I never should have worried. This vegan take on Korean black bean noodles has all the iconic, deep flavors of the original.
Today I'll show you how to make a hearty vegan jajangmyeon recipe that is so delicious you won't even miss the meat!
Ingredients for Jajangmyeon
See full recipe at bottom of page
Dry udon noodles (or fresh): Udon's thick noodle consistency makes it a comfort food for many. It's made from wheat flour and they can be both flat and round—so you can choose your favorite! It's unclear as to its exact origin but it's said to have been first introduced in China. Use fresh noodles or dry—it's up to you!
Korean black bean paste (chunjang): Black bean paste, obviously made from black beans, is a thick but smooth paste that you can typically make savory or sweet depending on your preference. For this dish, it accompanies the dry wheat noodles to create a satisfying, savory black bean sauce that's fulfilling and delicious!
Medium onion: Cooked onions add to the richness of the sauce/paste with its unique umami flavor that not only greatly contributes to the taste but also is an ingredient that enhances the sweet smell that you won't be able to resist.
Button mushrooms: Button mushrooms are a great, low-calorie addition that easily absorbs flavors making it just as delicious as the rest of your dish.
Cucumber: Cucumbers, especially a julienned cucumber, add subtle sweetness to any dish, often a crunchiness too, unless cooked which then becomes soft but still pleasant. Chop into cucumber slices and use medium heat for the ideal consistency.
Zucchini: Zucchini, while very similar in appearance to cucumber, are not actually in the same food family—but one thing they do have in common aside from appearance is that they also add a nice crunch when not cooked but also cook well.
Celery stalks: Celery is another one of those crunchy ingredients that adds a great deal of texture to the right dish. It's subtle in flavor making it easily adaptable to be paired with many other vegetables.
Cabbage: Cabbage, or green cabbage, is easily an essential staple in Korean food. The great thing about cabbage is that it can be prepared in a variety of ways—steamed, fermented, pickled, and more.
Rice vinegar: Rice vinegar is commonly used to add flavor to whichever dish it's paired with. In this dish specifically, it will pair great with the black bean paste.
Brown sugar: Brown sugar adds a subtle sweet flavor also helping in maintaining moisture.
Potato starch: Potato starch in this dish helps thicken the sauce. You can also use cornstarch if that's your preference.
Vegetable oil: Vegetable oil is perfect for cooking those veggies. Just a tablespoon vegetable oil is all it takes!
Water: Water helps smooth out the sauce, assisting with the texture and consistency.
Salt and pepper: This is to add flavor so you can use as much, or as little, as you personally like!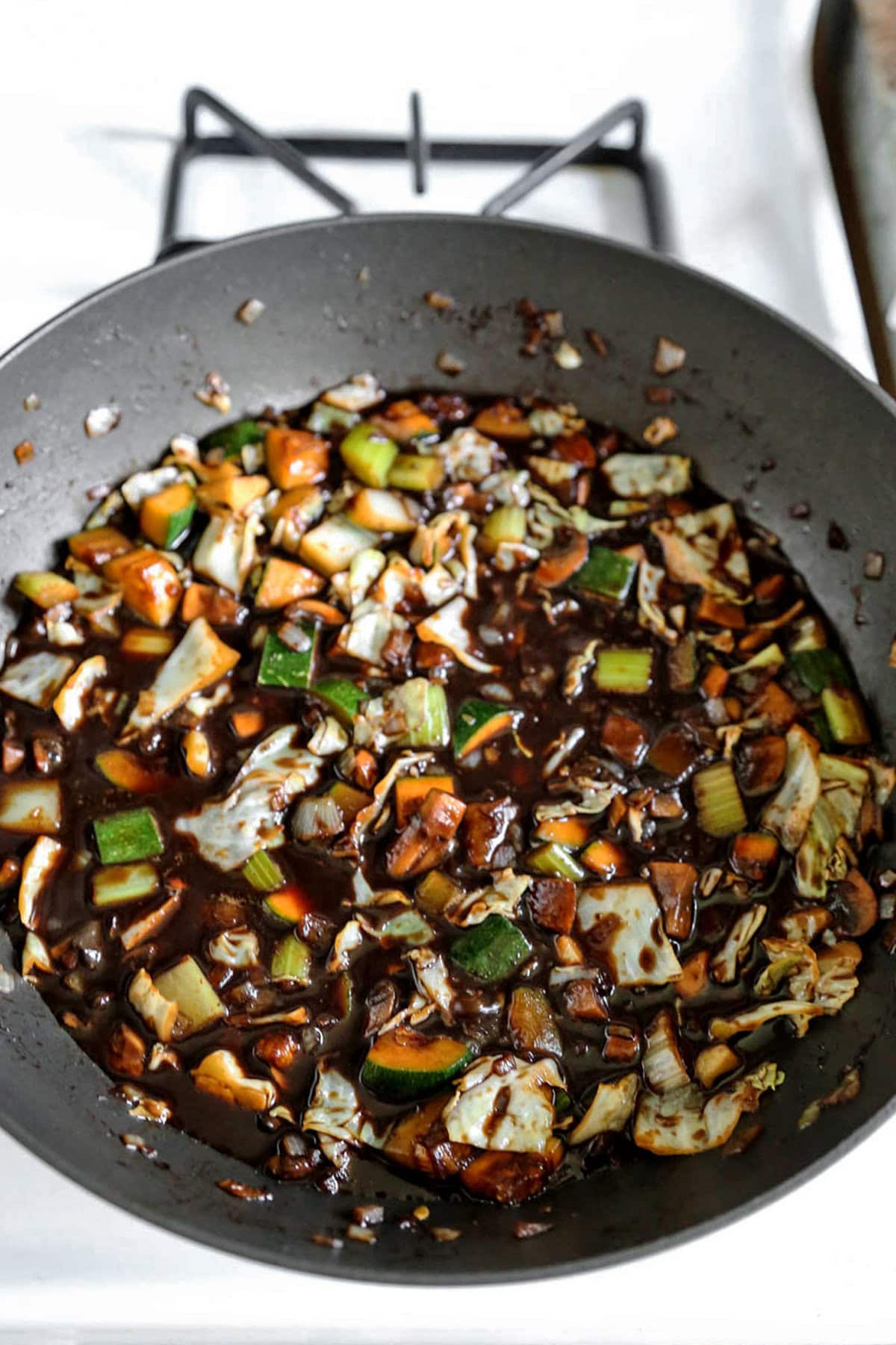 How to Make Jajangmyeon – 짜장면
To make this easy vegan jajangmyeon, the chopping of the celery, cabbage, mushrooms and zucchini is probably the hardest part – which actually means it's not difficult at all 😉
If you can boil noodles and mix a few ingredients, you'll have no trouble with this one.
In fact, I always run new recipes by the hubs to see if they pass the Ben-test.
If Ben says it sounds like something he'd like to make when it's his turn to cook dinner, then I know I have a super simple recipe on my hands. He's not a big fan of laborious tasks in the kitchen.
And with rumbling bellies calling the shots at dinnertime after a long day, who can blame him?!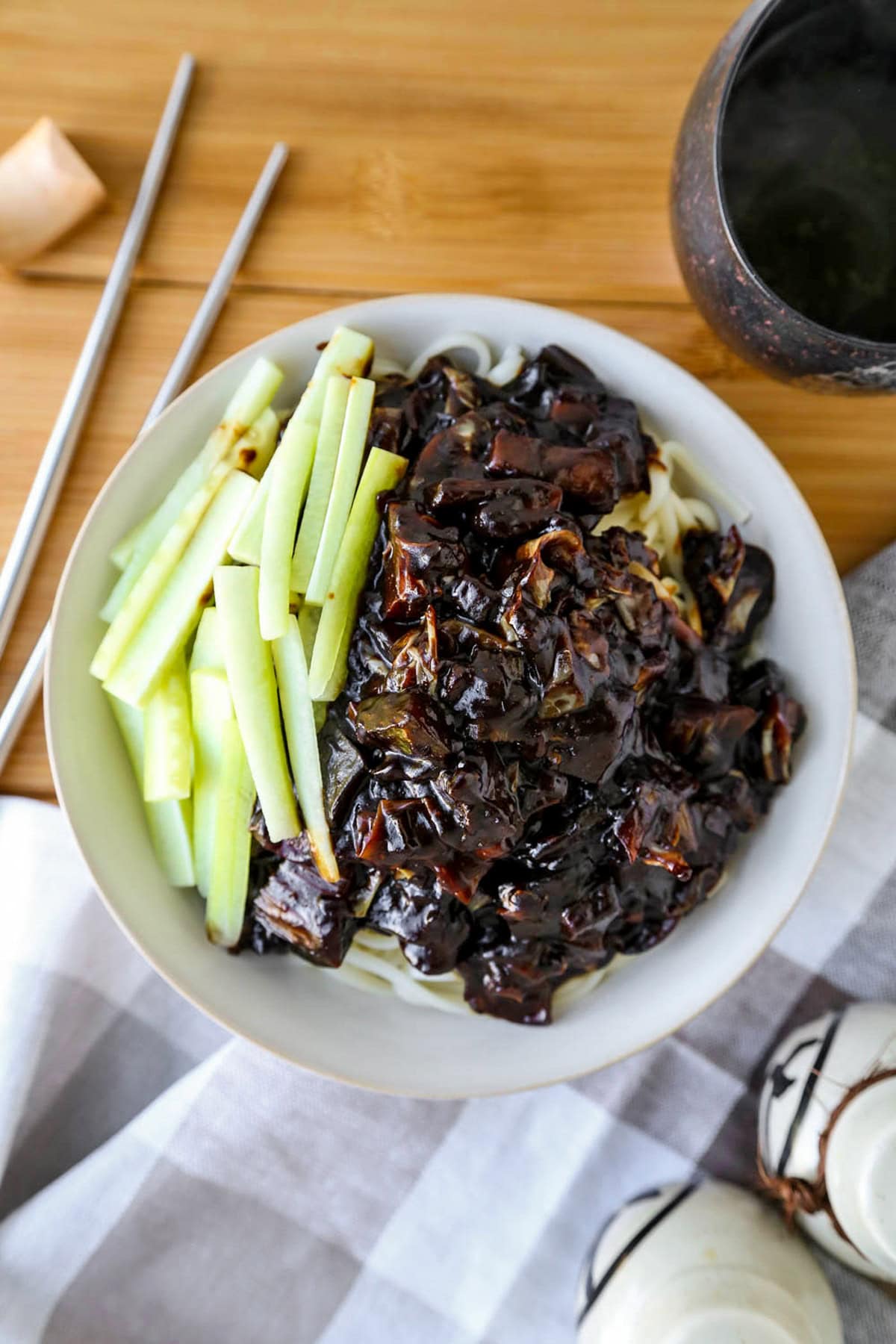 How to Eat Jajangmyeon
Many Korean noodle dishes, like this Kimchi Udon Stir Fry or this Japchae recipe, will call for you to mix the sauce together with the noodles in the wok or frying pan.
Not so with jajangmyeon. While you can mix everything, it's traditionally served with the sauce on top of the naked noodles. Then you mix it in your bowl as you eat it.
Think of the presentation as a kind-of Korean Bolognese!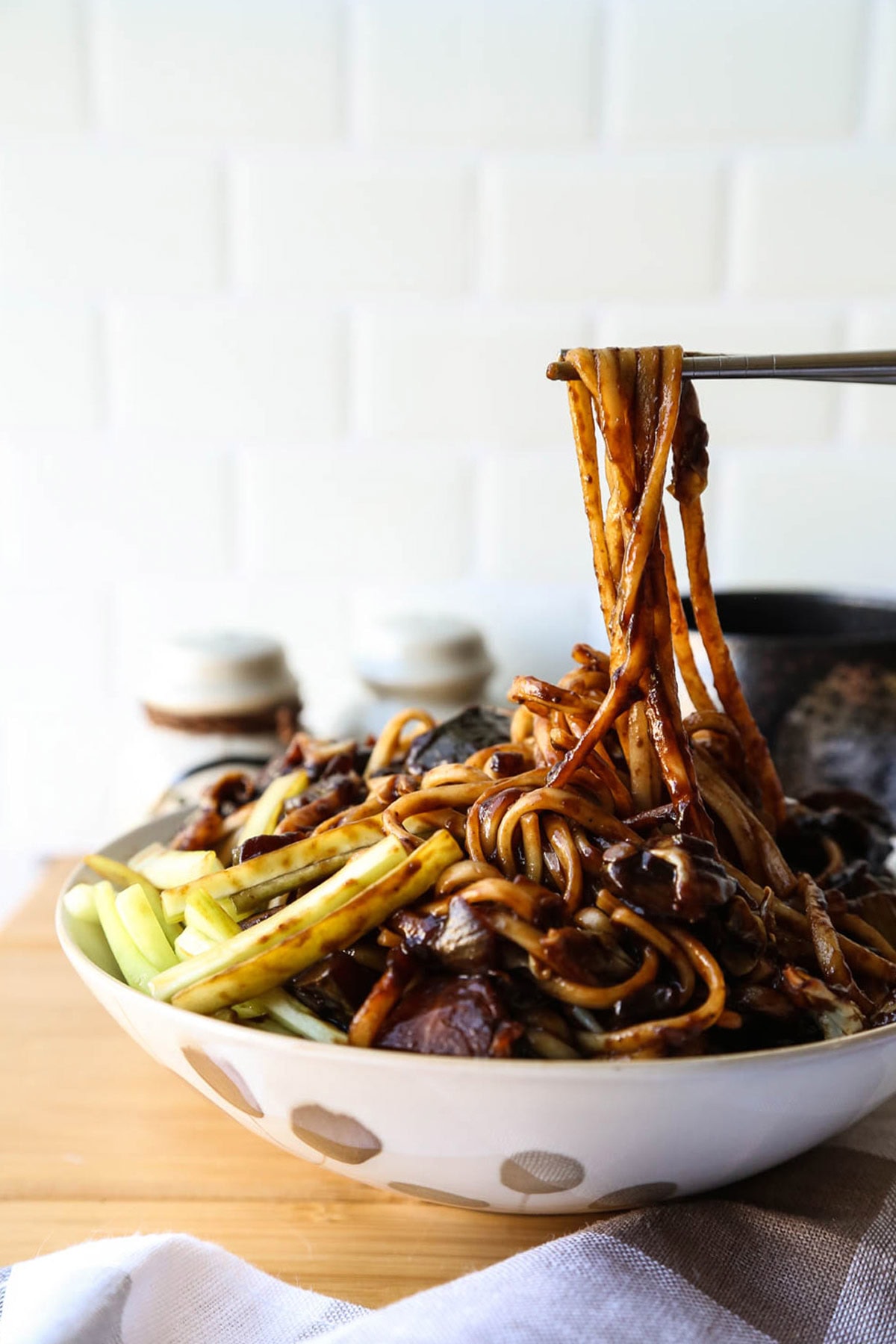 Jajangmyeon
Variations
Running low on udon noodles in your pantry? No problem!
You can make an "instant jajangmyeon" by utilizing the noodles from an instant noodle packet in a pinch.
Heck, you could even change the veggies to whatever you have handy in the crisper if you're really needing a Korean noodle fix and the grocery store is already closed.
Basically as long as you have fermented Korean black bean paste, you're good to go!
Place in a large serving bowl and sprinkling chopped green onions on top of the noodles can also add a great visual effect without compromising the taste. You can also make the choice to use a yellow onion and/or shiitake mushrooms as alternatives to those listed here as well. It's all about your preferences too.
I never should have worried about removing the meat to make a vegan jajangmyeon at home. Turns out there's plenty of flavor to go around with the veggies, noodles and chunjang.
And it's totally reminiscent of the jajangmyeon we ate on that magical day with our amazing friends in Yokohama. I mean, is there anything better than family, friends and food? For me, that's as good as it gets!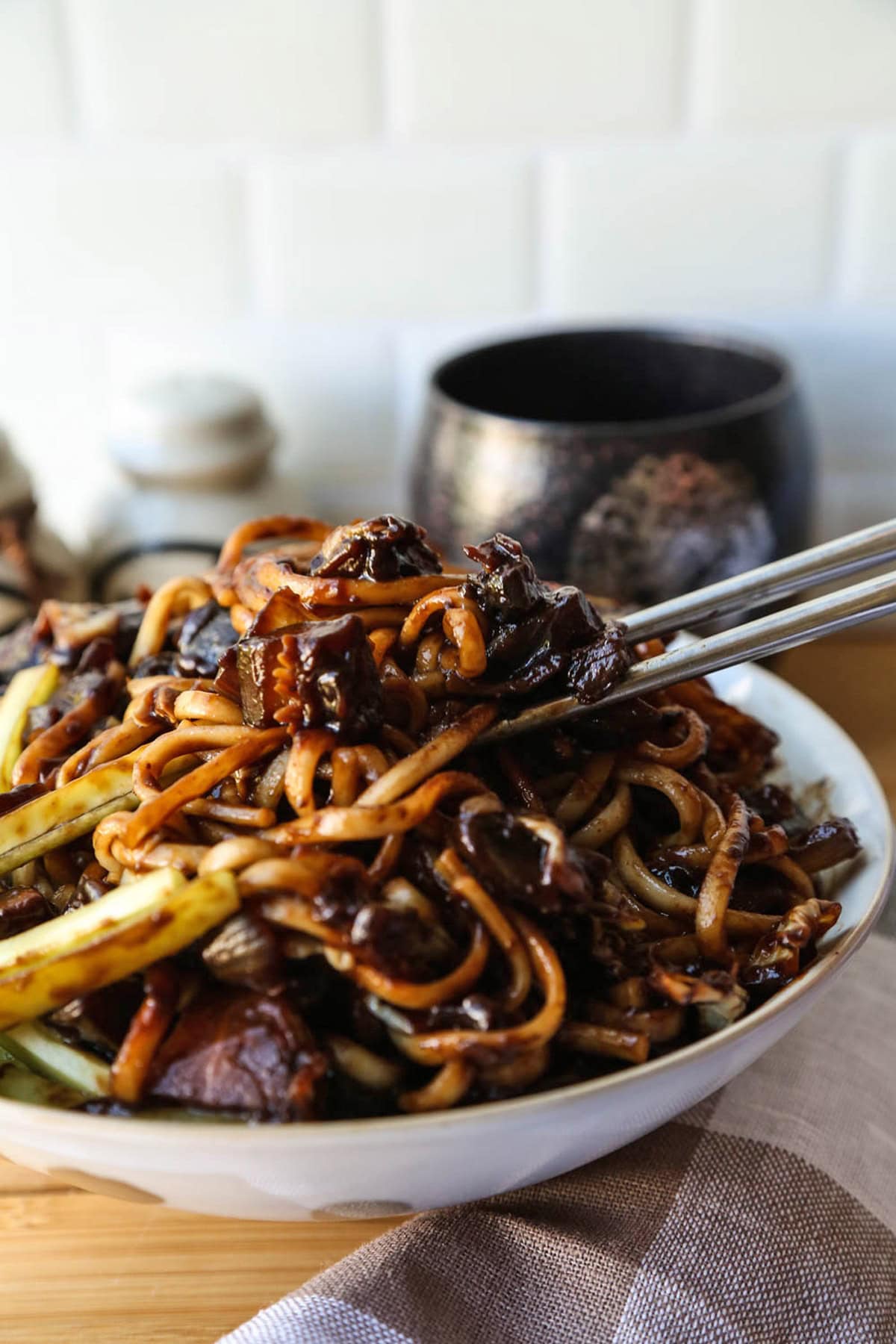 What about you? Is there a recipe you've made that reminds you of an iconic food experience from your past? I'd love to hear about it! Tell me about it in the comments section below!
If you liked this recipe, you may also like these popular noodle dishes: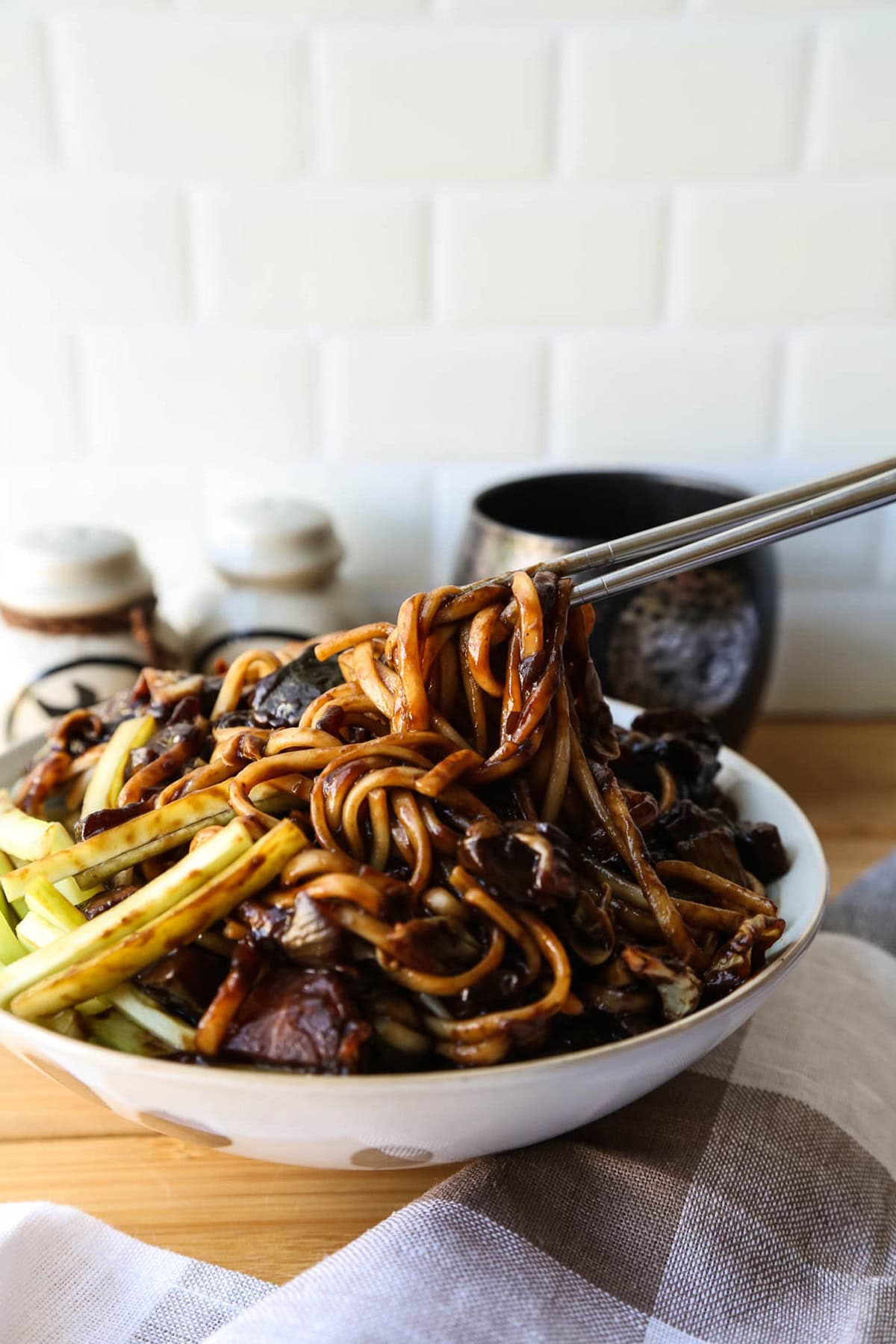 Did you like this vegan jajangmyeon recipe? Are there changes you made that you would like to share? Share your tips and recommendations in the comments section below!
Print
Vegan Jajangmyeon (Korean noodles with black bean sauce)
This is a delicious traditional Korean dish made with black bean paste and veggies.
Author: Caroline Phelps
Prep Time:

10 minutes

Cook Time:

20 minutes

Total Time:

30 minutes

Yield:

4

people

1

x
Category:

Noodles

Method:

Pan frying

Cuisine:

Korean
8

ounces

dry udon noodles (or 12 ounces fresh udon or Chinese noodles)

1 tablespoon

vegetable oil

1

medium onion (finely chopped)

8

ounces

button mushrooms (quartered)

1

zucchini (chopped bite size)

2

celery stalks (chopped bite size)

7

ounces

cabbage (chopped bite size)

1/2

cup

cucumber (peeled and sliced into matchsticks)
For the sauce
6 tablespoons

Korean black bean paste

2 1/2 tablespoons

rice vinegar

2 tablespoons

brown sugar

1

cup

water

2 tablespoons

potato starch mixed with 1/4 cup water
salt and pepper (to taste)
Instructions
Bring a pot of water to boil.
In a large deep pan over medium high heat, add oil and onions. Cook for a couple of minutes until onions are translucent.
Add mushrooms and cook for 5 minutes, or until the water coming from the mushrooms has evaporated.
Add zucchini, celery and cabbage and stir well. Cook for 3-4 minutes, until vegetables are half cooked.
Add Korean black bean paste, rice vinegar and sugar and stir until sugar has dissolved. Lower the heat to medium and add water. Stir well, cover and cook for 10 minutes.
Whisk the potato starch mixture into the sauce and stir until it thickens. Turn the heat off and set aside.
Boil the noodles, rinse under cold water and drain well. Transfer to a serving bowl.
Top with sauce and sliced cucumber and serve.
Notes
Prep this meal by making the black bean sauce ahead of time so all you will have to do is boil the noodles for a healthy and quick dinner! The black bean sauce will keep refrigerated for up to 5 days.
Nutrition
Serving Size:
Calories:

263

Sugar:

9.4 g

Sodium:

1248.4 mg

Fat:

4.4 g

Saturated Fat:

2.1 g

Carbohydrates:

14.5 g

Fiber:

2.5 g

Protein:

3.2 g

Cholesterol:

1.8 mg
Keywords: recipe, Asian, vegetarian, plant based, meatless, main
Recipe Card powered by