Vegan Jajangmyeon (Korean noodles with black bean sauce)
*This post may contain affiliate links. Read my disclaimer here.
You won't miss the meat at all with this yummy Vegan Jajangmyeon Recipe. Get your Korean black bean noodle fix in 30 minutes, from start to finish!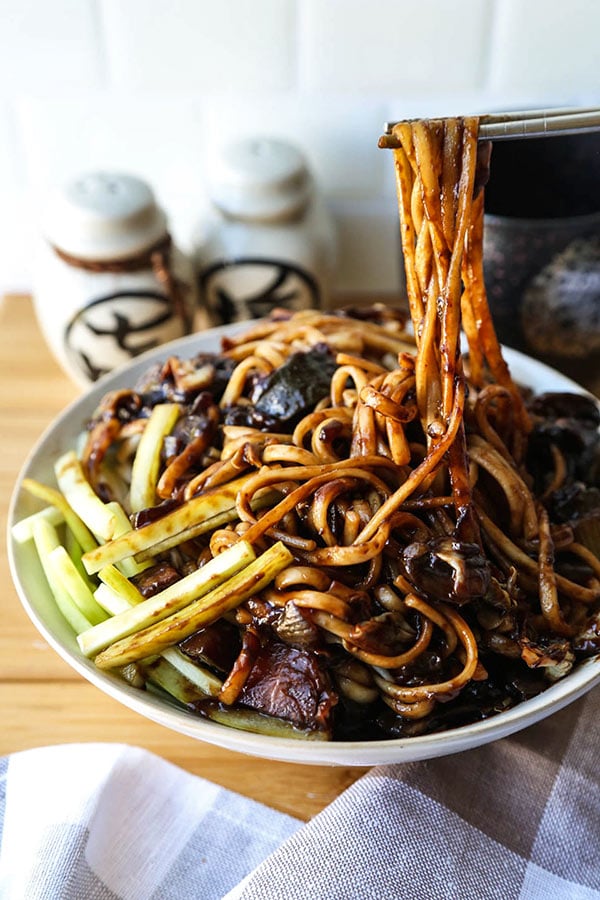 Vegan Jajangmyeon
My friends had been SO on-point with the food selections all day.
And, that evening, as we sunk our metal chopsticks into the Korean noodles with thick black bean sauce, I just knew we had a perfect game on our hands.
The Jajangmyeon was by far the best I had ever had. Game over.
But maybe I'm getting ahead of myself. I'll back up.
A food day to remember
Ben and I were visiting one of my closest friends, Naoko, and her amazing family in Yokohama, Japan.
The day started with a fantastic Chinese feast (featuring my favorite: cockles in black bean sauce) in Yokohama's Chinatown. And, many snacks later, ended with a Korean BBQ feast at the best Korean restaurant I've been to in my life (inside an ultra modern shopping center).
Did we have jajangmyeon? Oh yes we did.
And it was stunningly good.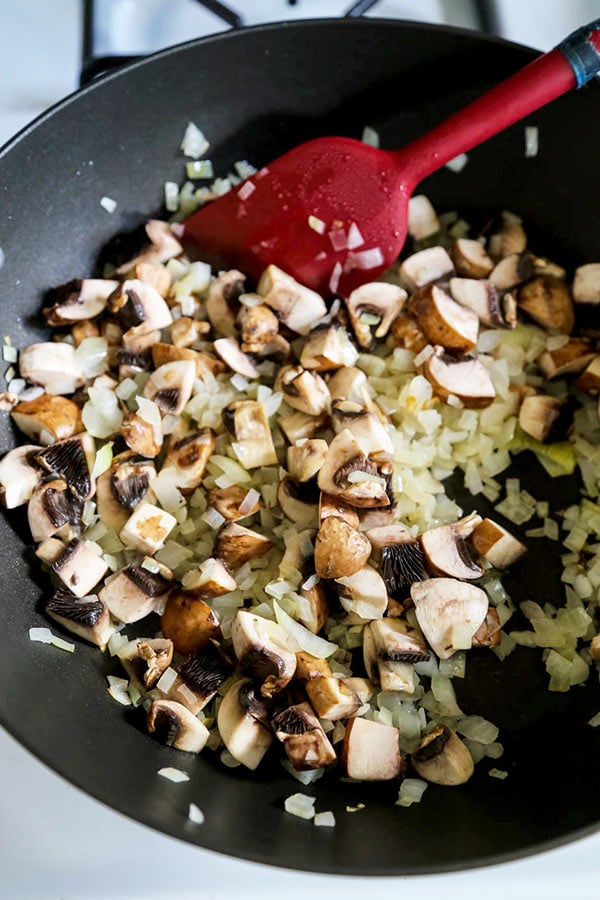 Changing a classic
I was a little concerned when preparing this vegan jajangmyeon recipe the first time. You see, the pork had been such a delicious element in every iteration of jajangmyeon I had ever tasted, it seemed like it just HAD to be there for the recipe to work.
I think you'll agree with me that removing an integral ingredient in a well known recipe can feel a little like needlessly tinkering with perfection.
Well, it turns out I never should have worried. This vegan take on Korean black bean noodles has all the iconic, deep flavors of the original.
Today I'll show you how to make a hearty vegan jajangmyeon recipe that is so delicious you won't even miss the meat!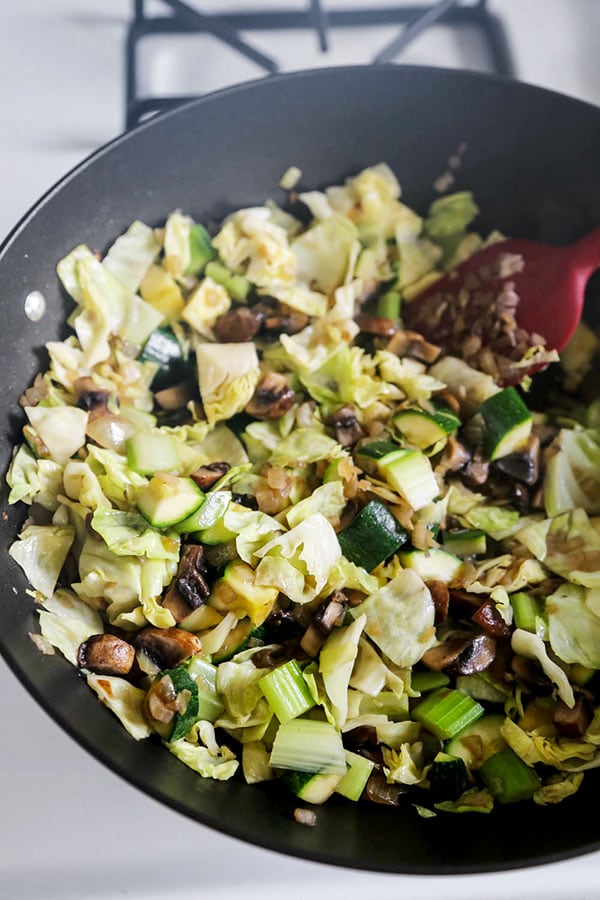 You're gonna want to get this
The core of a good jajangmyeon is the chunjang, or fermented black bean paste.
Salty, slightly sweet and pitch black, this soybean based paste really delivers a wallop of flavor to the simple veggie mixture.
And, maybe it's just me, but the chunjang seems to make the flavor from the celery pop out front as well.
It's yummy fermented magic!
How to make jajangmyeon – 짜장면
To make this easy vegan jajangmyeon, the chopping of the celery, cabbage, mushrooms and zucchini is probably the hardest part – which actually means it's not difficult at all 😉
If you can boil noodles and mix a few ingredients, you'll have no trouble with this one.
In fact, I always run new recipes by the hubs to see if they pass the Ben-test.
If Ben says it sounds like something he'd like to make when it's his turn to cook dinner, then I know I have a super simple recipe on my hands. He's not a big fan of laborious tasks in the kitchen.
And with rumbling bellies calling the shots at dinnertime after a long day, who can blame him?!
Seoul via Bologna?
Many Korean noodle dishes, like this Kimchi Udon Stir Fry or this Japchae recipe, will call for you to mix the sauce together with the noodles in the wok or frying pan.
Not so with jajangmyeon. While you can mix everything, it's traditionally served with the sauce on top of the naked noodles.
Then you mix it in your bowl as you eat it.
Think of the presentation as a kind-of Korean Bolognese!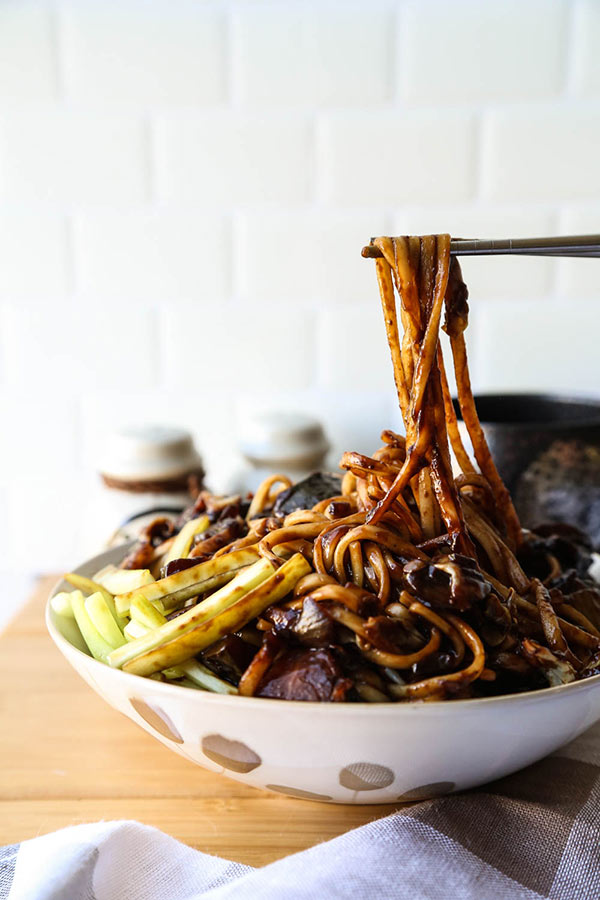 Use it if you've got it
Running low on udon noodles in your pantry? No problem!
You can make an "instant jajangmyeon" by utilizing the noodles from an instant noodle packet in a pinch.
Heck, you could even change the veggies to whatever you have handy in the crisper if you're really needing a Korean noodle fix and the grocery store is already closed.
Basically as long as you have fermented Korean black bean paste, you're good to go!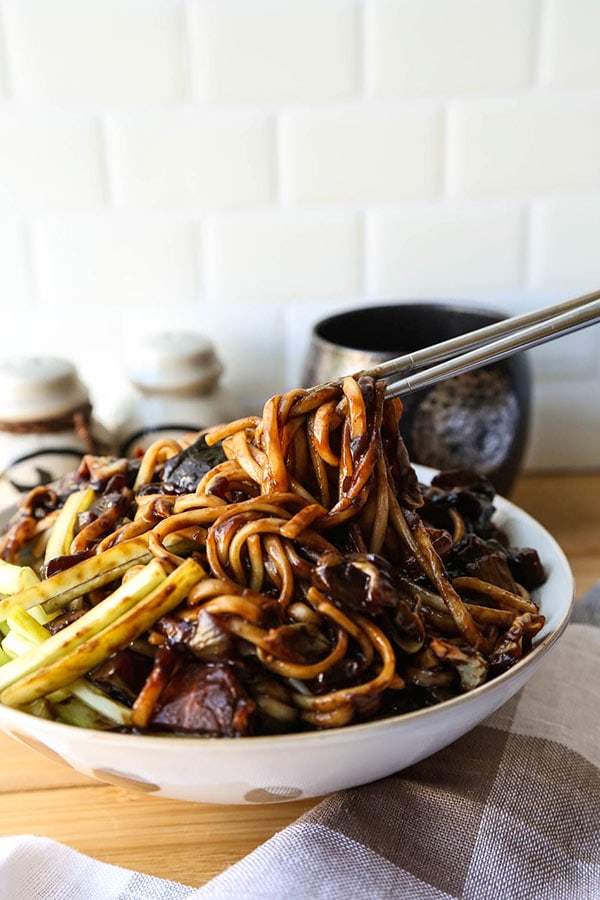 This is what it's all about 
I never should have worried about removing the meat to make a vegan jajangmyeon at home. Turns out there's plenty of flavor to go around with the veggies, noodles and chunjang.
And it's totally reminiscent of the jajangmyeon we ate on that magical day with our amazing friends in Yokohama.
I mean, is there anything better than family, friends and food?
For me, that's as good as it gets!
What about you? Is there a recipe you've made that reminds you of an iconic food experience from your past? I'd love to hear about it! Tell me about it in the comments section below!
Other simple, delicious veggie based Asian noodle recipes: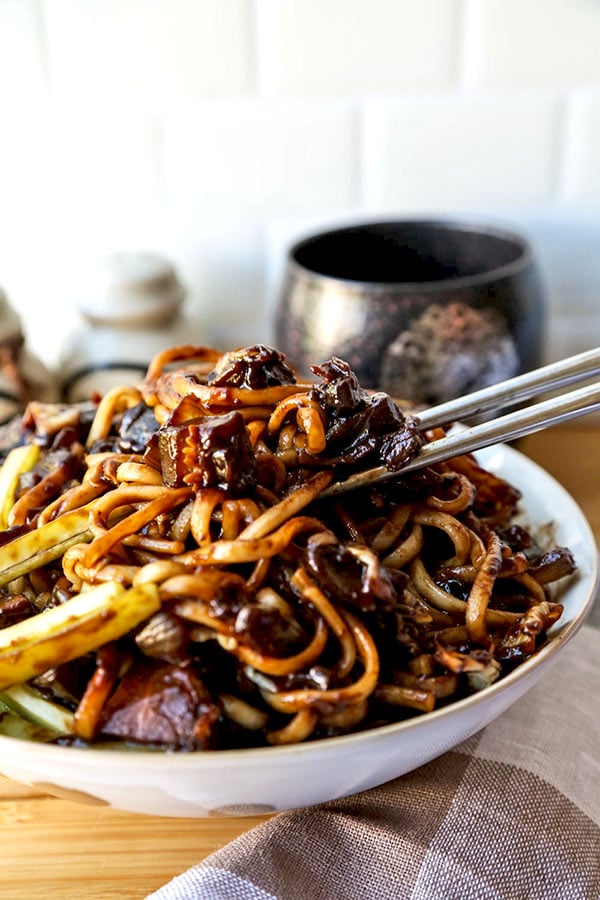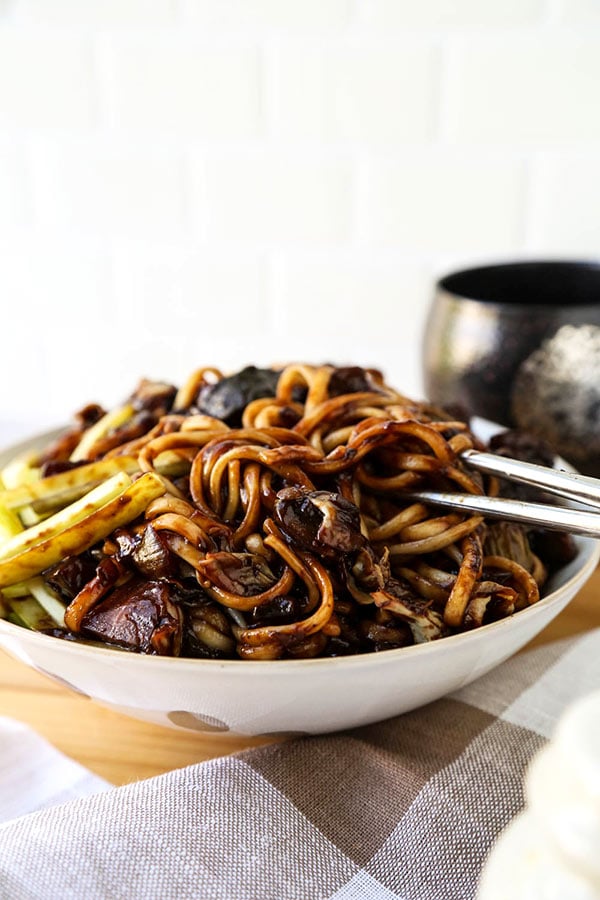 Did you like this Vegan Jajangmyeon Recipe? Are there changes you made that you would like to share? Share your tips and recommendations in the comments section below!
Print
Vegan Jajangmyeon (Korean noodles with black bean sauce)
This is a delicious traditional Korean dish made with black bean paste and veggies.
Author: Caroline Phelps
Prep Time:

10 minutes

Cook Time:

20 minutes

Total Time:

30 minutes

Yield:

4

people

1

x
Category:

Noodles

Method:

Pan frying

Cuisine:

Korean
8 ounces

dry udon noodles (or

12 ounces

fresh udon or Chinese noodles)

1 tablespoon

vegetable oil

1

medium onion (finely chopped)

8 ounces

button mushrooms (quartered)

1

zucchini (chopped bite size)

2

celery stalks (chopped bite size)

7 ounces

cabbage (chopped bite size)

1/2 cup

cucumber (peeled and sliced into matchsticks)
For the sauce
6 tablespoons

Korean black bean paste

2 1/2 tablespoons

rice vinegar

2 tablespoons

brown sugar

1 cup

water

2 tablespoons

potato starch mixed with 1/4 cup water
salt and pepper (to taste)
Instructions
Bring a pot of water to boil.
In a large deep pan over medium high heat, add oil and onions. Cook for a couple of minutes until onions are translucent.
Add mushrooms and cook for 5 minutes, or until the water coming from the mushrooms has evaporated.
Add zucchini, celery and cabbage and stir well. Cook for 3-4 minutes, until vegetables are half cooked.
Add Korean black bean paste, rice vinegar and sugar and stir until sugar has dissolved. Lower the heat to medium and add water. Stir well, cover and cook for 10 minutes.
Whisk the potato starch mixture into the sauce and stir until it thickens. Turn the heat off and set aside.
Boil the noodles, rinse under cold water and drain well. Transfer to a serving bowl.
Top with sauce and sliced cucumber and serve.
Notes
Prep this meal by making the black bean sauce ahead of time so all you will have to do is boil the noodles for a healthy and quick dinner! The black bean sauce will keep refrigerated for up to 5 days.
Keywords: recipe, Asian, vegetarian, plant based, meatless, main
Recipe Card powered by
Pickled Plum is a participant in the Amazon Services LLC Associates Program, an affiliate advertising program designed to provide a means for sites to earn advertising fees by advertising and linking to amazon.com.