Japchae ( 잡채; 雜菜) – Korean Glass Noodles
*This post may contain affiliate links. Read my disclaimer here.
A savory, sweet and nutty Japchae Recipe that marries chewy Korean glass noodles with stir-fried veggies. Ready in 16 minutes from start to finish!
Every time Ben and I visit my mother in Fukuoka, Japan, two noodle related items are definite.
Ben will go down the rabbit hole and devour at least one form of Japanese spaghetti on a daily basis. Sometimes two.
My mother's hairdresser will drop by with a dazzling array of Korean dishes for us to eat. And one of the foil wrapped bowls will surely contain her famous Japchae recipe.
So, do we look forward to that heavy-knuckled rap on the door that signifies a visit from the gourmet hairdresser? You bet we do!
Her hearty laugh is only slightly bested by the plates of fiery tteokbokki (hot and spicy rice cakes) and her veggie loaded Korean glass noodles. She feeds us like she's trying to fatten us up 🙂
Basically she shows us Japanese hospitality in the form of fiery Korean dishes. And everyone's favorite plate is always the one with the savory and nutty Korean glass noodles on it.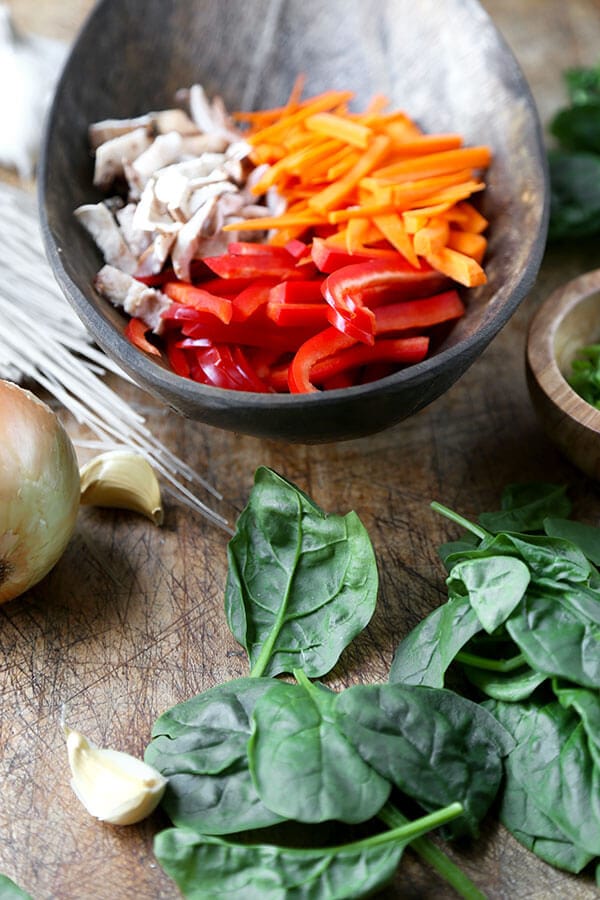 What is Japchae?
Japchae (잡채 – or chapchae) is a savory, sweet and nutty Korean stir fried noodle recipe.
However, instead of egg or rice based noodles, the pasta of choice is a clear noodle – sometimes referred to as Korean glass noodles (more on those in a second).
While japchae is super popular during holiday celebrations like New Year's Day, at its core it is a Korean staple dish – served any day of the week.
Sometimes served as banchan (the myriad Korean side dishes that are served on the side of a Korean BBQ feast), japchae can also be served as a main dish.
And while many Korean glass noodle recipes call for the inclusion of seasoned meat, the word japchae actually translates directly as mixed vegetables.
In fact, my own japchae takes a cue from the the translation and my mother's hairdresser's recipe. You see, neither one of us uses meat used in our preparations. Yep – this is actually a completely vegan japchae recipe.
However, my Korean japchae is so loaded with flavor, you will absolutely NOT miss the meat at all. I promise!
The secret is in the sauce – and the clear noodles. Sweet potato noodles to be exact.
What are sweet potato noodles?
Sweet potato noodles (당면 – or dangmyeon) are made from the starch of sweet potatoes.
While stiff and grayish in their uncooked form, they become translucent after being boiled – hence their informal moniker: glass noodles.
When it comes to the cooking process, your noodles will usually turn clear after boiling for about 4-5 minutes or so. (Be sure to consult the package for detailed cooking instructions though.)
And the result is a chewy, springy and slippery noodle that absorbs all of the sweet, salty and nutty flavors japchae is known for.
Note: some brands of sweet potato starch noodles come pre-cut – but if yours are super long, cut them in half or thirds after cooking and cooling to make sure your japchae recipe is easy to serve and eat!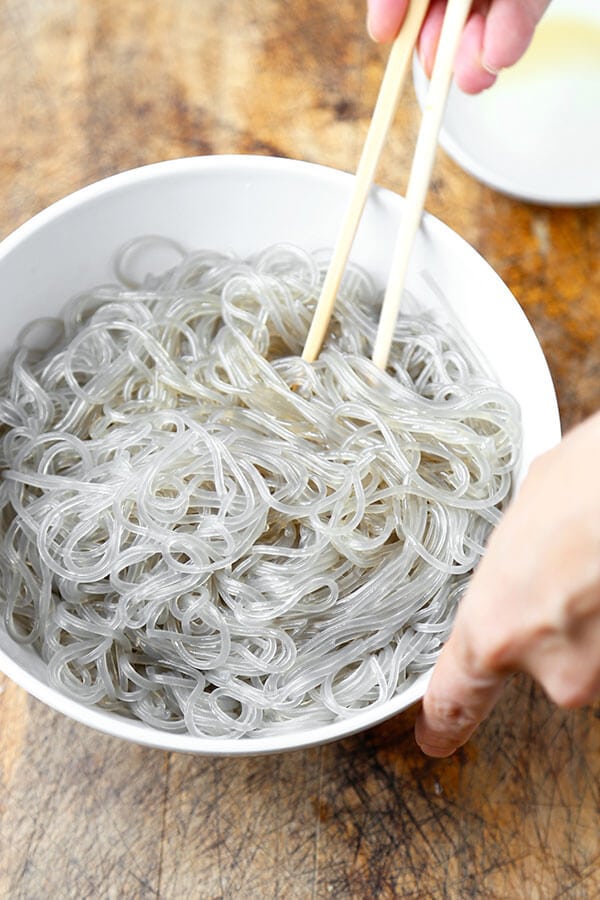 How to make japchae
Making this full flavored and easy japchae recipe from scratch is a cinch!
Many times, you'll find labor-intensive recipes for japchae that call for you to stir fry each vegetable ingredient separately. My own japchae recipe keeps it super easy. All of the veggie elements are stir-fried at the same time (except for the spinach).
This is so you can get your japchae on the table quickly for your in-home diners, with no fuss!
Keeping that in mind, the first thing to do is get a pot of water going on the stovetop – and then make your sauce.
The sauce is a simple mix of soy sauce, dark soy sauce and sugar. Stir until the sugar dissolves.
Next, chop all your colorful veggies into sticks and bite size pieces. I use onions, shiitake mushrooms, red bell peppers and carrots.
Once your water is boiling, and add your sweet potato noodles and cook according to the instructions on the package.
Then drain your glass noodles, rinse under cold water – and toss with about two teaspoons of sesame oil.
Now, it's to the wok we go! Simply get your onions and garlic going over high heat with a little canola oil. Once the onions are translucent, add the rest of the veggies.
After about 3-4 minutes, add your noodles, spinach and the sauce and stir well.
Top with chopped scallions and sesame seeds and serve.
Your diners are gonna be so happy!
Easy Japchae Recipe
One night I spotted Ben in the kitchen, whipping up japchae for a late night snack.
Seeing him at the stove isn't quite the anomaly it was when we first met. However, it still falls in the rare category. For him to give any recipe a go at all means it's probably pretty simple from start to finish.
So, on the night in question, aside from being pleased that I was about to eat delicious Korean glass noodles, the fact that Ben was laboring over the wok at all was a sure sign that this was a simple recipe to execute.
Win/win!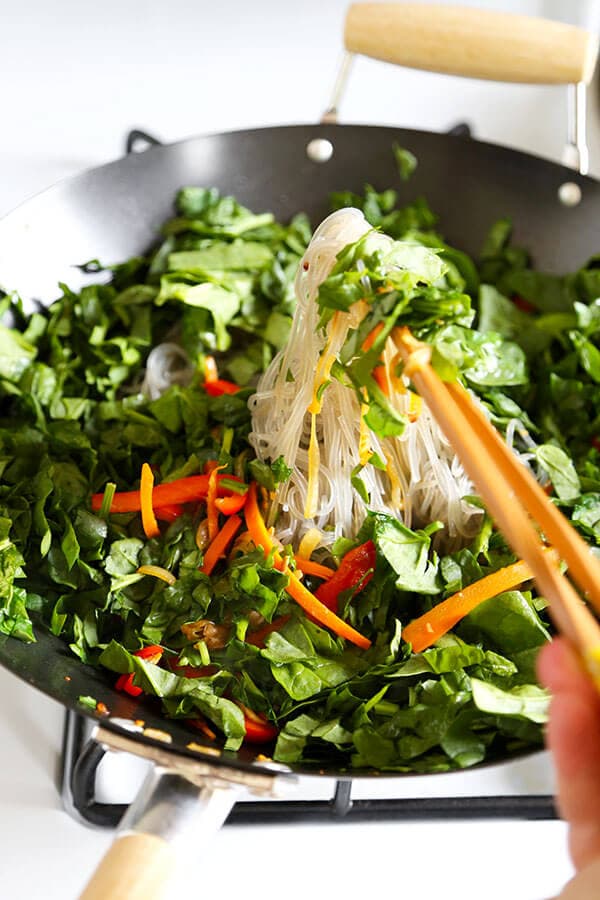 Is Japchae served hot or cold?
The beauty of this Korean glass noodle recipe is that you can devour it any way your heart desires.
Like it fresh out of the wok, piping hot? Go for it!
Likewise, if you prefer it at room temperature – or cold, right out of the fridge, it's just as delicious.
There's just no wrong way to eat japchae!
One word on leftovers though: you can keep them in an airtight container for a couple of days in the fridge. At about the three day mark, however, the veggies have likely lost their crunch.
Where to Buy Japchae ingredients
One of the best parts of this easy Korean noodle recipe is that most everything you'll need can be found at your corner grocery store.
That said, the sweet potato noodles can be a bit tough to track down sometimes. But these days they're easy to grab on Amazon 🙂
Find japchae ingredients on Amazon:
Devouring Korean noodles in Japan
So, why are dishes like stir fried Korean noodles so big in Japan?
You see, like many Japanese people, my mother and her friends are slightly addicted to Korean dramas on the television. While I'm not sure if it's the steady diet of K-drama on TV, or the close physical proximity to the Korean peninsula, Korean food is MASSIVE in Southern Japan.
Therefore it's not uncommon to have a big dinner out that includes copious amounts of bulgogi (Korean BBQ beef), kalbi (short ribs) and all the associated banchan (side dishes).
Does everything get washed down with a few too many soju highballs? Of course!
Invariably, my favorite dish on the table will be the Korean sweet potato starch noodles with nutty sesame oil, sweet and salty soy sauce and perfectly prepared veggies.
My japchae recipe is a nod to those great nights out, eating Korean food with friends and family in Japan – and to my mother's hairdresser that keeps us well fed when visiting.
What's your favorite Korean recipe? I'd love to hear about it in the comments!
Other simple, delicious Korean recipes:
Did you like this Japchae Recipe? Are there changes you made that you would like to share? Share your tips and recommendations in the comments section below!
Print
Japchae Recipe (Korean Glass Noodles)
A savory, sweet and nutty Japchae Recipe that marries chewy Korean glass noodles with stir-fried veggies. Ready in 16 minutes from start to finish!
Author: Caroline Phelps
Prep Time:

10 minutes

Cook Time:

6 minutes

Total Time:

16 minutes

Yield:

4

people

1

x
Category:

Main

Method:

Stir frying

Cuisine:

Korean
Scale
Ingredients
200 grams

sweet potato starch noodles (dangmyeon)

2 teaspoons

sesame oil

1 tablespoon

canola oil

2

cloves garlic (minced)

1

medium onion (thinly sliced into half-moons)

6

shiitake mushrooms (sliced into strips)

½

red bell pepper (sliced into thin strips)

1

medium carrot (sliced into thin strips)

1/2

pound baby spinach (roughly chopped)

3

stalks scallions (finely chopped on the bias)

1 tablespoon

sesame seeds
Japchae sauce
3 tablespoons

soy sauce

1 tablespoon

dark soy sauce

2 teaspoons

sugar
Instructions
Bring a pot of water to boil and add noodles. Follow instructions on package for cooking time (usually about 5 minutes). Drain and rinse under cold water. Drain well and transfer to a bowl. (If noodles are extremely long, cut in half or thirds with scissors). Add sesame oil to the noodles and toss. Set aside.
Put all the ingredients for the sauce in a bowl and stir until the sugar has dissolved. Set aside.
In a large pan or wok over high heat, add canola oil, garlic and onions and cook for 2 minutes, until onions are translucent.
Add mushrooms, bell peppers, carrots and cook for 3-4 minutes until vegetables are tender but still yielding a soft crunch.
Add noodles and spinach and toss well. Add sauce and cook for 1 minute. Turn the heat off and transfer to a plate or bowl. Top with scallions and sesame seeds and serve.
Notes
This Japchae Recipe will keep refrigerated for up to 3 days.
Keywords: recipe, noodles, Asian, vegan, vegetarian
Recipe Card powered by
Pickled Plum is a participant in the Amazon Services LLC Associates Program, an affiliate advertising program designed to provide a means for sites to earn advertising fees by advertising and linking to amazon.com.