Japchae is one of my favorite noodle dishes! With its chewy glass noodles, sweet and savory sauce, and colorful vegetables, it's the perfect meal to serve to noodle lovers. Ready in 20 minutes from start to finish.
What is Japchae?
Japchae (잡채 – or chapchae) is a popular Korean noodle stir fry made with sweet potato noodles, vegetables, and sometimes meat. The dishe is seasoned with a mixture of soy sauce, sugar, and sesame oil.
While japchae is super popular during holiday celebrations like New Year's Day, at its core it is a Korean staple dish – served any day of the week.
Sometimes served as banchan (the myriad Korean side dishes that are served on the side of a Korean BBQ feast), japchae can also be served as a main dish.
And while many Korean glass noodle recipes call for the inclusion of seasoned meat, the word japchae actually translates directly as mixed vegetables. I'm only using vegetables for my recipe (this japchae recipe is actually vegan) but feel free to tweak it by adding your favorite protein if you prefer it that way.
My japchae recipe is a nod to those great nights out, eating Korean food with friends and family in Japan (Korean food is extremely popular in Japan) – and to my mother's hairdresser who always brings me a plate of it whenever I'm there visiting.
What are Sweet Potato Noodles (Dangmyeon)?
Sweet potato noodles, also called cellophane noodles or glass noodles (dangmyeon – 당면), are made from the starch of sweet potatoes.
While stiff and grayish in their uncooked form, they become translucent after being boiled – hence their informal moniker: glass noodles. When it comes to the cooking process, your noodles will usually turn clear after boiling for about 4-5 minutes or so (it's best to follow the instructions on the package).
Note: some brands of sweet potato starch noodles come pre-cut – but if yours are super long, cut them in half or thirds after cooking and cooling to make sure your japchae recipe is easy to serve and eat!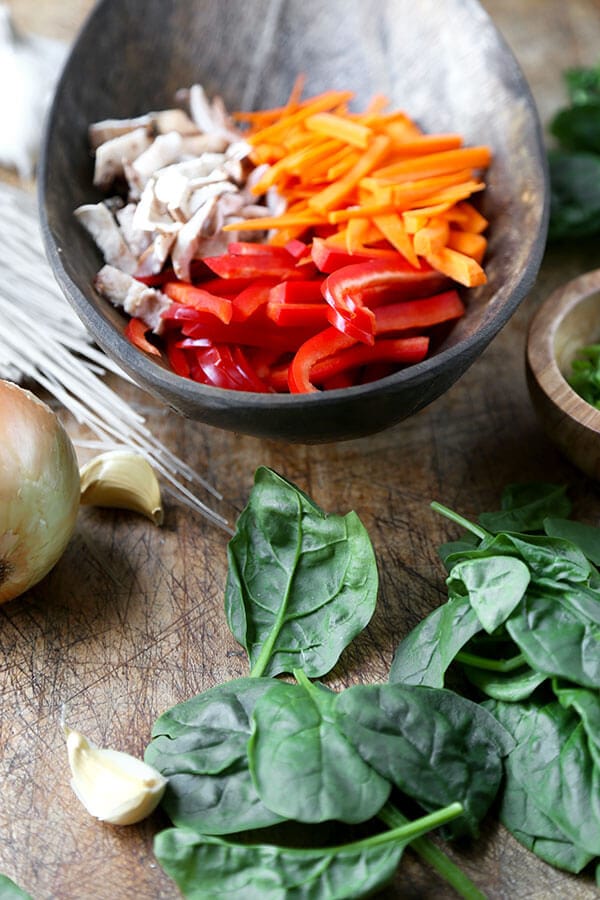 Ingredients for Japchae
Sweet potato noodles: Chewy sweet potato noodles are imperative to the success of this dish. There are unfortunately no substitute for it, but the good news is they are fairly easy to find in Asian grocery stores.
Oil: Pick a neutral oil such as vegetable or grapeseed oil. Peanut oil is also okay.
Garlic: We start cooking the dish with garlic to impart a little sweetness and pungency to the oil.
Onion: Thinly sliced onions are the quintessential vegetable for many Asian dishes. That's because they pair well with just about anything and act more as a flavor enhancer, playing second fiddle to stronger, more assertive flavors.
Shiitake mushrooms: I find that the texture of shiitake mushrooms can sometimes mimic the texture of meat. It's more tender than button mushrooms and has a chewy element. But if you cannot find shiitake mushroom, go ahead and use any other type of mushrooms, except for enoki.
Bell pepper: Aesthetically, red bell peppers look best in japchae. But feel free to use green, yellow, orange bell peppers. It doesn't make a difference.
Carrot: Carrots are great for color and to impart a little sweetness. The julienne cut is preferred for this recipe.
Spinach: Regular or baby spinach can be used. Half a pound might seem like a lot but since spinach wilts so much, it ends up being just the right amount and doesn't overpower the dish.
Scallions: There's nothing like scallions in Asia cuisine to add a lovely sweet crunch to a finished dish!
Sesame seeds: The little white seeds add nuttiness to the stir fry and are also decorative.
Japchae sauce: A mixture of dark soy sauce, regular soy sauce, sugar, and sesame oil.
Kitchen Tools Needed
Wok or deep skillet
Long chopsticks or tongs
Large pot, for boiling the noodles
Small bowl, to make the sauce
Scissors (if your noodles are the long ones)
How to Make Japchae
Making this full flavored and easy japchae recipe from scratch is a cinch!
Gather all of your kitchen tools and ingredients for the dish.
Chop the vegetables and set them aside.
Fill a large pot with water and bring it to boil. Add the noodles and cook them according the directions on the package. If the directions are in Korean and you can't read them, 4-5 minutes is usually the norm for boiling sweet potato noodles.
Drain the noodles and rinse them under cold water. Drain them again and transfer to a bowl. If you are using long noodles, grab the scissors and cut the length in half, or a third. Add the sesame oil and toss the noodles (this is to prevent them from sticking together).
Mix the ingredients for the japchae sauce in a bowl and set aside.
Get the garlic and onion going in a wok over medium high heat, with a little oil. Once the onions are translucent, add the carrot, bell pepper, and shitake mushrooms. Cook for 3-4 minutes until the vegetables are tender but still a little crunchy.
Add the noodles and spinach and toss well.
Stir in the sauce and toss well, until the noodles and vegetables are evenly coated.
Turn the heat off, transfer the japchae to a plate and top with sesame seeds and scallions. Serve.
How to Serve Japchae
The beauty of Korean glass noodle is that you can devour them any way your heart desires.
Eat them fresh out of the wok, at room temperature, or even cold, and they are just as delicious. There's just no wrong way to eat japchae!
As for dishes that pair well with these cellophane noodles, here are some of my favorites:
How to Store Japchae
Keep leftover japchae in the fridge, stored in an airtight storage container. It will keep for 2-3 days.
Can I Freeze Japchae?
No, unfortunately.
Because the vegetables are already pretty soft and the noodles have absorbed the sauce, freezing, thawing, and reheating them will give the dish a very unpleasant mushy texture.
Did you like this Japchae Recipe? Are there changes you made that you would like to share? Share your tips and recommendations in the comments section below!
Print
Japchae Recipe (Korean Glass Noodles)
A savory, sweet and nutty Japchae Recipe that marries chewy Korean glass noodles with stir-fried veggies. Ready in 20 minutes from start to finish!
Author: Caroline Phelps
Prep Time:

14 minutes

Cook Time:

6 minutes

Total Time:

20 minutes

Yield:

4

people

1

x
Category:

Main

Method:

Stir frying

Cuisine:

Korean
200

grams

sweet potato noodles (dangmyeon), dry

2 teaspoons

sesame oil

1 tablespoon

neutral oil such as vegetable or grapeseed oil

2

cloves garlic (minced)

1

medium onion (thinly sliced into half-moons)

6

shiitake mushrooms (sliced into strips)

1/2

red bell pepper (sliced into thin strips)

1

medium carrot (sliced into thin strips)

1/2

pound

baby spinach (roughly chopped)

3

stalks scallions (finely chopped on the bias)

1 tablespoon

sesame seeds
Japchae sauce
3 tablespoons

soy sauce

1 tablespoon

dark soy sauce

2 teaspoons

sugar

1 tablespoon

sesame oil
Instructions
Bring a pot of water to boil and add noodles. Follow instructions on package for cooking time (usually about 5 minutes).
Drain and rinse the noodles under cold water. Drain again and transfer them to a bowl. If the noodles are long, cut them in half or thirds with scissors.
Drizzle sesame oil over the noodles and toss. Set aside.
Put all the ingredients for the sauce in a bowl and stir until the sugar has dissolved. Set aside.
In a wok or deep skillet over high heat, add oil, garlic and onions. Cook for 2 minutes, or until onions are translucent.
Add mushrooms, bell peppers, carrots and cook for 3-4 minutes until vegetables are tender but still yielding a soft crunch.
Add the noodles and spinach and toss well.
Stir in the sauce and toss the noodles and vegetables to coat them evenly.
Turn the heat off and transfer the japchae to a serving bowl or plate.
Top with scallions and sesame seeds and serve.
Notes
This japchae recipe will keep refrigerated in an airtight storage container for 2-3 days.
Nutrition
Serving Size:
Calories:

231

Sugar:

10.3 g

Sodium:

537.8 mg

Fat:

7.8 g

Saturated Fat:

0.9 g

Carbohydrates:

36.1 g

Fiber:

10.3 g

Protein:

9 g

Cholesterol:

0 mg
Keywords: recipe, noodles, Asian, vegan, vegetarian
Recipe Card powered by