Roasted garbanzo beans with a kick! These spicy and sweet roasted chickpeas are the perfect mid afternoon pick me up or healthy low fat, late night snack. They are also the perfect diet food since chickpeas reduce belly fat and direct it away from the waistline. Munch on these roasted chickpeas for a leaner, flatter stomach!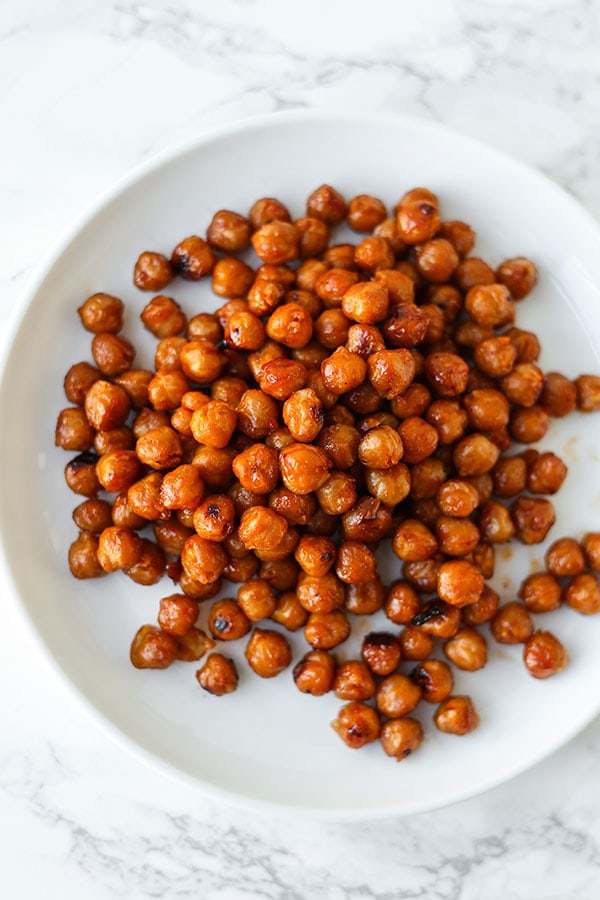 Honey Sriracha Roasted Chickpeas
Store bought healthy snacks often taste like cardboard. I get it, I've tasted them.
And let's face it; they all kind of taste the same and are way overpriced.
Cardboard taste + hint of salt.
Cardboard taste + dates + something with a strange, mealy texture.
Cardboard taste + powdered seasoning, minus the sweet or the salt.
Who would like a bag? Anyone?
Not me.
I prefer to make my own snacks.
I have a bag full of reasons for preferring homemade snacks over store bought snacks, but the biggest, most obvious one is that they simply taste BETTER. I've also found that making homemade snacks doesn't take long and can be done on a budget. It's a win win because you have full control of what goes into your food. This way you can make it as healthy or as naughty as you want!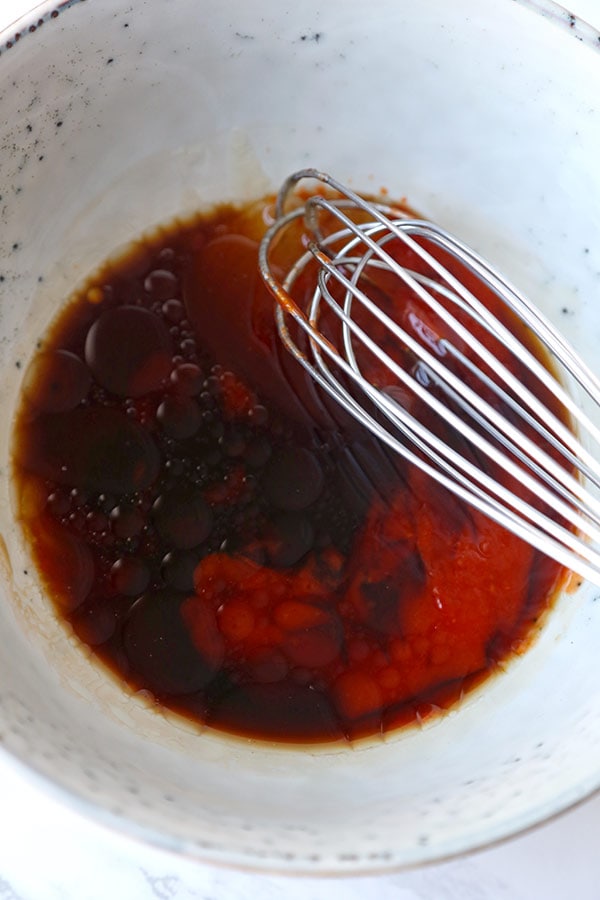 For today's post, we are going all the way healthy with a good amount of heat!
If the honey sriracha flavor profile looks familiar to you, it's because I've used it quite a few times. One of the most popular recipes on my blog is this honey sriracha tofu dish, which I created back in 2015. It's been shared over 160,000 times and its popularity never seems to wane! Since then, I transformed the sauce as a glaze for salmon fillets, whipped it into deviled eggs and infused it in these cute garbanzo beans. They're kind of cute don't you think?
YUM.
This flavor combination never disappoints!
I've sweetened the flavor of the honey sriracha sauce for this dish to make it more snack-friendly. The result are roasted chickpeas that are a little sweet, spicy and nutty.
Are they crunchy?
No. I'm not big on crunchy garbanzo beans because I find them to be quite dry. Instead, I've roasted these babies until the sauce caramelized and pulled them out of the oven just in time to retain their moisture.
Are they mushy?
Nope, they are perfect!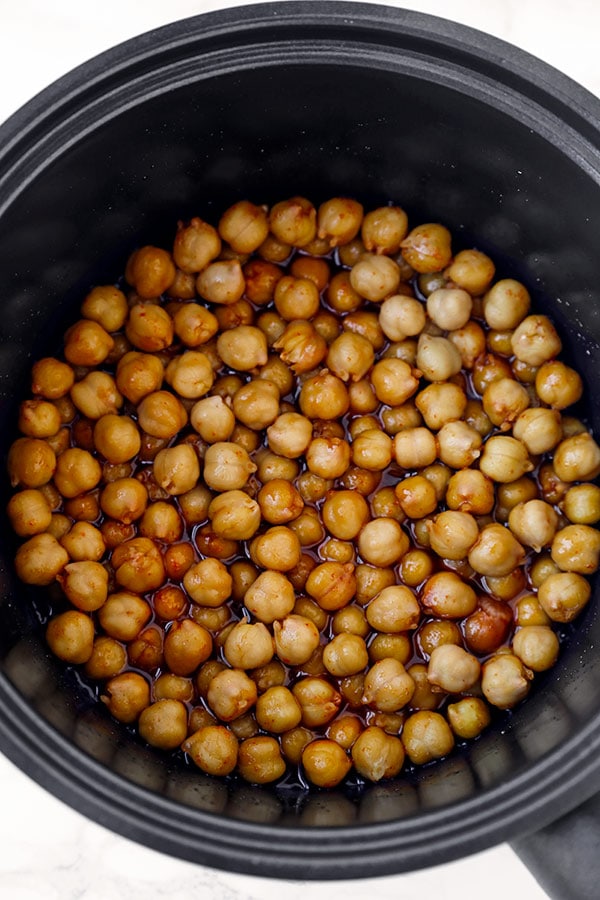 How to cook chickpeas
You don't need to use dried chickpeas for this recipe – canned ones will do the trick. But if you do happen to have a bag full of dried beans and want to use them, here's a quick how to cook chickpeas guide.
Dried Chickpeas
Dried vs Soaked vs Cooked Chickpeas Measurements
1 cup dried chickpeas will yield about 2.5 cups of soaked chickpeas.
1 cup dried chickpeas (or 2.5 cups soaked chickpeas) will yield about 3 cups cooked chickpeas.
Easy peasy (pun intended)!
Long Soak Method
Add chickpeas to a pot and fill it with plenty of water. The chickpeas will expand to over double their size, so make sure the ratio of water to chickpeas is much higher. Soak overnight or for about 8 hours. Drain and rinse before cooking (directions are below).
Quick Soak Method
Add chickpeas to a pot and fill it with plenty of water (same as the long soak method) and bring to a boil. Let the chick peas boil for 5 minutes and turn the heat off. Remove the pot from the heat and let the chick peas soak for 1 hour. Drain and rinse before cooking (directions are below).
Cooking Chickpeas
Put the beans in a pot filled with plenty of water. For each cup of soaked chickpeas, add about 1 quart (4 cups) of water and a pinch of salt. Bring to a boil, lower to a simmer and cook for 60 minutes for al dente (the same consistency of canned chickpeas) or 90 minutes for a softer texture (if you're making hummus or a soup). Drain and let cool to room temperature.
How long do roasted chickpeas last?
About 2 weeks stored in the fridge, in an airtight glass or plastic container.
How long do cooked/opened can chickpeas last in the fridge?
About 3-4 days.
What about soaked chickpeas?
About 1 week in a glass or plastic container.
Freezing Chickpeas
Soaked chickpeas will keep in the freezer for up to a year. Make sure they are thoroughly drained before transferring to a freezer bag.
Cooked chickpeas will keep in the freezer for up to 6 months. Make sure they are thoroughly drained before transferring to a freezer bag.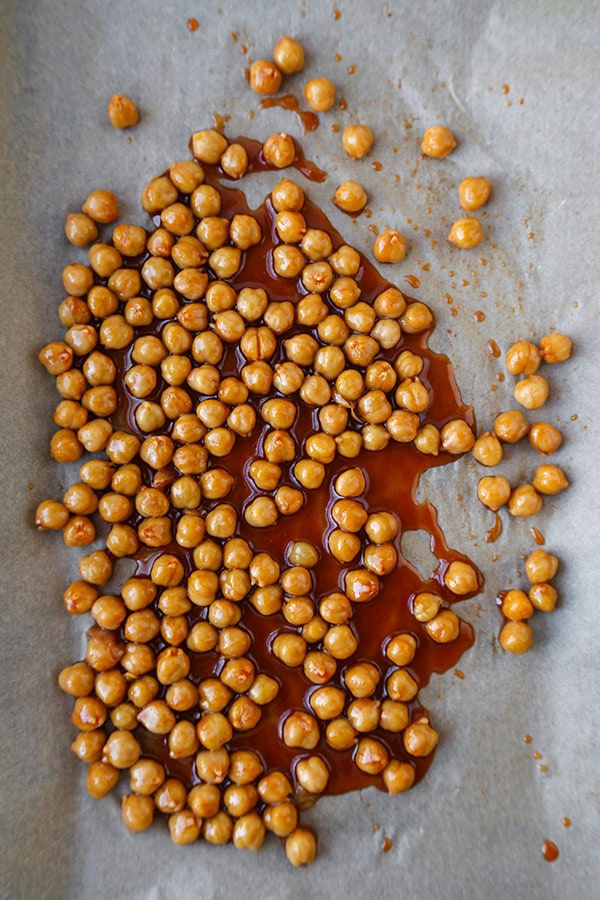 These spicy roasted chickpeas are a new favorite in our house!
We snack on them in the evening or eat them with rice for lunch. You would think the sweetness of the sauce wouldn't taste good over rice but with an added touch of soy sauce and some nori sheets, it's pretty amazing and filling!
If you cannot handle too much heat, lower the amount of sriracha sauce by half a tablespoon and substitute it with honey. The measurements of the sauce can be tweaked a little to your own liking. As long as you don't make drastic changes to the recipe – like entirely omitting sriracha sauce, which would be a sin! – your chickpeas should come out tasting absolutely scrumptious!
Other healthy and easy homemade snacks: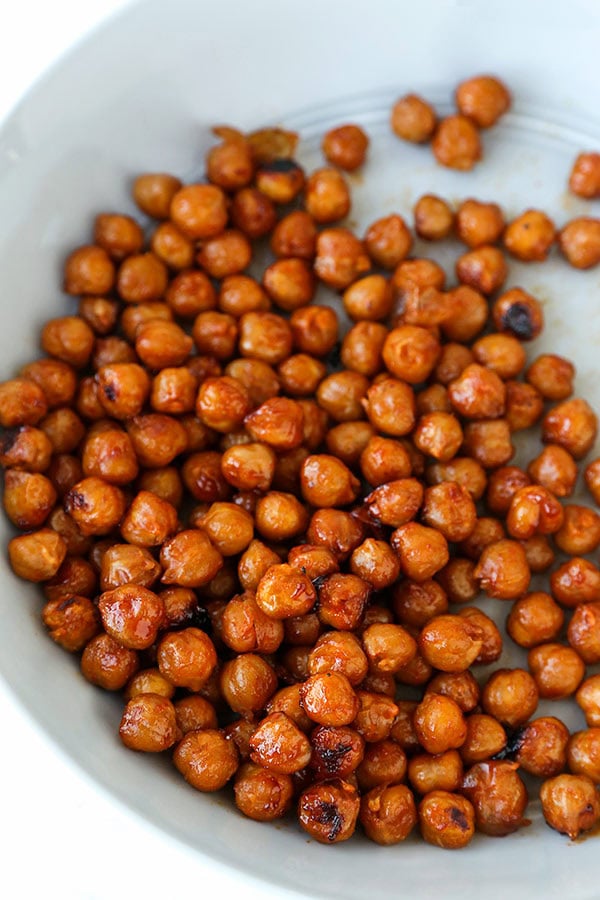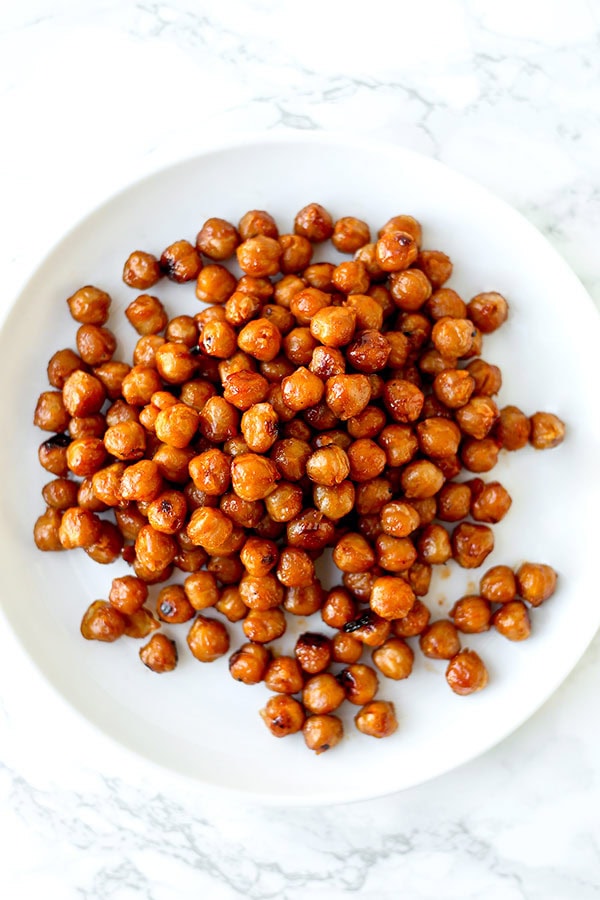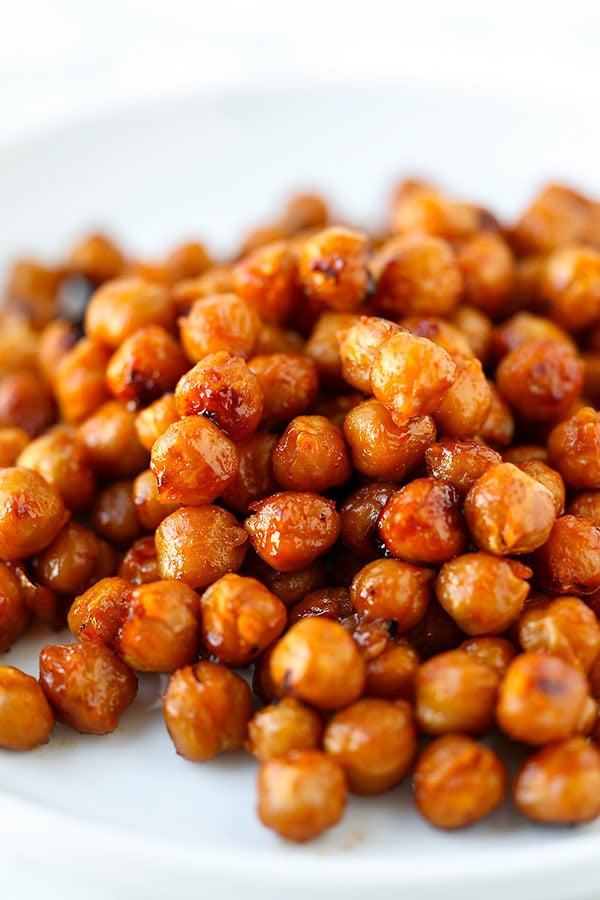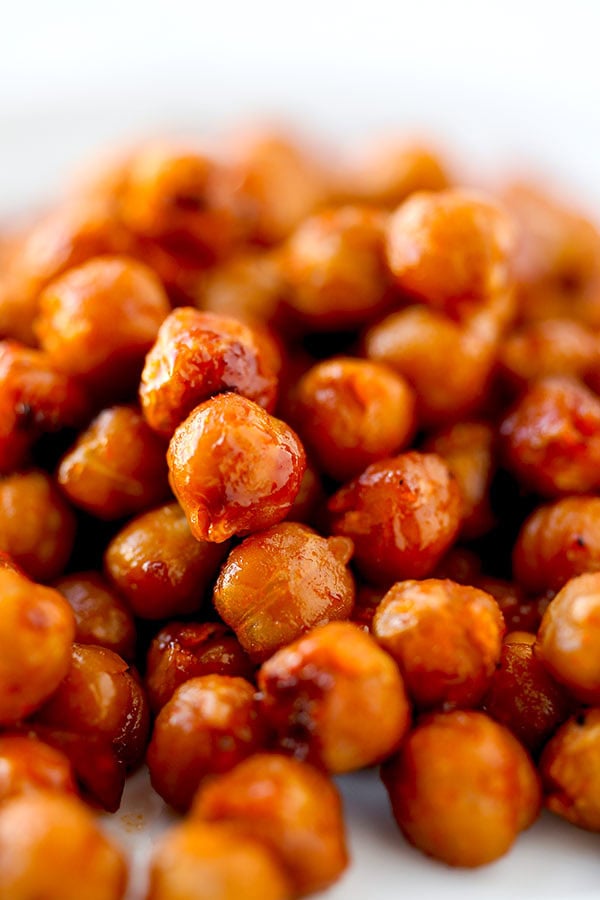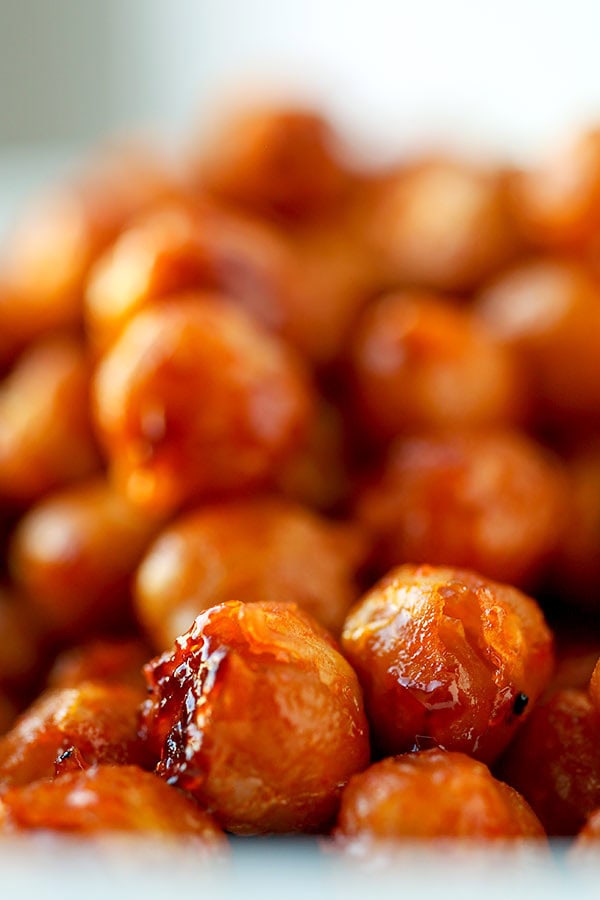 Did you like this Honey Sriracha Roasted Chickpeas Recipe? Are there changes you made that you would like to share? Share your tips and recommendations in the comment section below!
Print
Honey Sriracha Roasted Chickpeas
A healthy, slightly spicy snack that pairs perfectly with a nice, cold beer.
Author: Caroline Phelps
Prep Time:

5 minutes

Cook Time:

18 minutes

Total Time:

53 minutes

Yield:

2 cups

1

x
Category:

Snack

Method:

Baking

Cuisine:

American
15 ounce

canned chickpeas (drained)
Honey sriracha sauce:
2 tablespoons

sriracha sauce

2 tablespoon

soy sauce

2 tablespoons

raw organic honey, softened in the microwave for

3

–

4

seconds

1 tablespoon

rice vinegar

1/2 teaspoon

sesame oil
Instructions
Preheat oven to 400ºF.
Put the ingredients for the honey sriracha sauce in a bowl and mix well.
In a medium size pot, add chickpeas and honey sriracha sauce. Stir and spread the chickpeas in one layer, so they don't sit one of top of another (there's not a lot of sauce to cover them). Bring to a boil and cook for 1 minute. Turn the heat off, cover and let sit for 30 minutes.
Line a large cooking tray with parchment paper.
Transfer the chickpeas, along with the sauce, onto the parchment paper. Spread them out and roast in the oven for 13 minutes. Check a couple of times to make sure the sauce isn't burning or charring the chickpeas too much. A little is okay.
Flip the chickpeas over and roast for an additional 5 minutes.
Transfer to a bowl, let cool to room temperature and serve.
Nutrition
Serving Size:

1/2 cup

Calories:

198

Sugar:

14.3 g

Sodium:

586.1 mg

Fat:

3.3 g

Saturated Fat:

0.3 g

Carbohydrates:

35.5 g

Fiber:

6.9 g

Protein:

8.3 g

Cholesterol:

0 mg
Keywords: recipe, healthy, vegetarian, dessert
Recipe Card powered by