This Easy Banana Bread Recipe is 100% vegan, yet moist and decadent in all the right ways. Learn the best baking substitutions for traditional ingredients like butter and eggs. Plant based baking can be delicious and fun! A great recipe for first time bakers!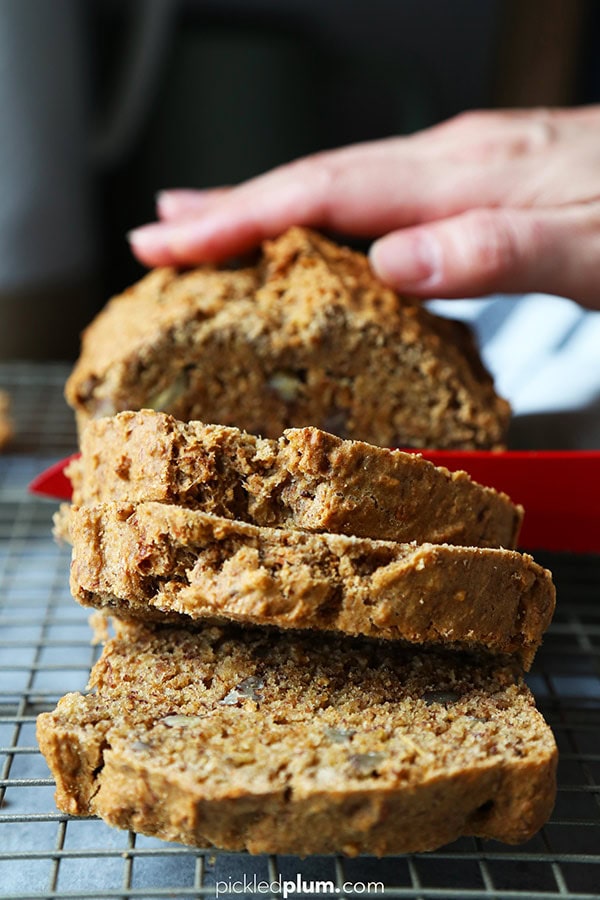 I've never been much of a serious baker.
While I've always had fun baking – and I absolutely LOVE devouring everything from flaky almond croissants to crispy cornflake cookies to a slice of decadent chocolate cake – baking is a tad intimidating to me.
You see, baking is science. If you put certain ingredients in certain quantities together, the right reaction will happen.
However, something as incongruous as a heaping tablespoon of one ingredient can throw the whole mix off.
Ever have a batter you've made a hundred times just randomly not work one day? Me too! And, it's probably because I mismeasured one thing in a rush.
By contrast, most of the savory cooking I do in my home kitchen can be fixed by a little dash of this – or a few drops of that. I follow my instincts, and it usually turns out fairly well.
Baking seems to rely on precision. And I'm only precise some of the time!
However, present me with list of minimal steps, and my baked goods will probably turn out pretty well.
What makes this easy banana bread recipe a total winner is how easy it is to follow all the steps to the letter.
Oh – and this banana bread just happens to be vegan. So, if you're following a plant based diet, this gonna be the banana bread for you!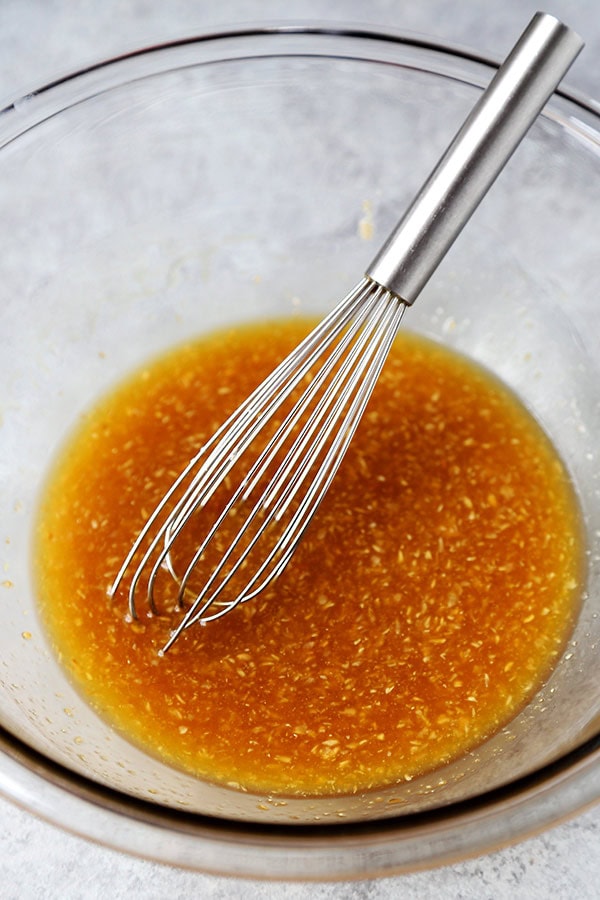 Easy banana bread recipe
My first concern when conceptualizing this banana bread recipe was making something that had full flavor – and didn't come off as a compromise. Vegan food gets such a bad reputation for having no taste that my goal was to make this bread the exact opposite of that.
My second concern was crafting a banana bread recipe that had minimal, easy-to-follow steps.
In fact, on the days I fire up the oven and experiment in my kitchen with baked goods, I refine the recipe using a simple, self-imposed guideline:
Is my recipe about as easy to whip up as making a boxed cake?
If the answer is, 'yep – more or less as easy as a boxed cake,' then I'm on the right track.
Obviously, it's not a one-size-fits-all solution for creating recipes for baked goods. In most cases, when whipping up something quality, we're going to have to follow more steps than what's required to complete a cake mix 🙂
But it seems to be a decent barometer for whether I'll want to make the recipe again in the future.
Luckily, this vegan banana bread is super moist and full of decadent cake-like flavor.
Oh – and following the steps should be a total breeze for even the most novice of bakers (like me!).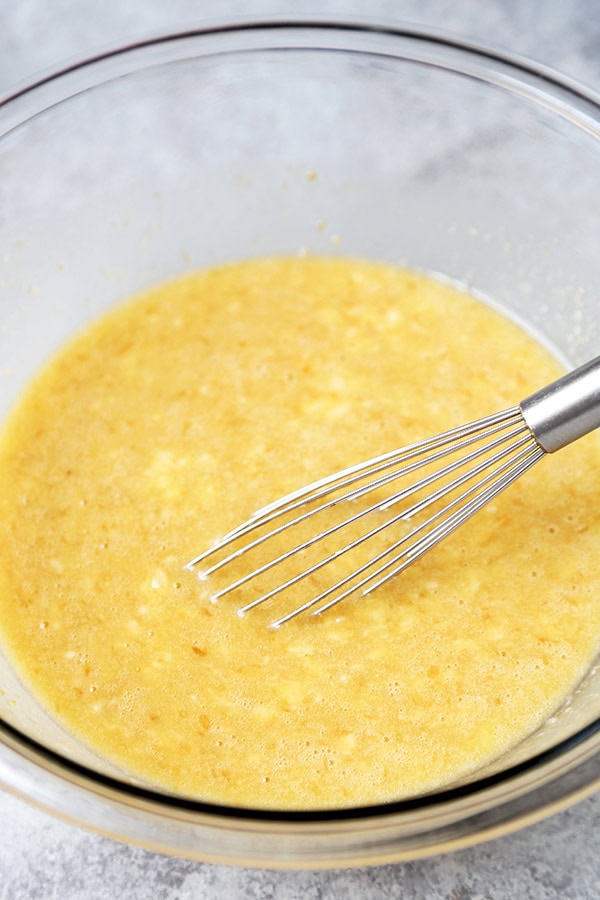 How to make Banana Bread Vegan
Most banana bread recipes call for butter and eggs.
And, as with many plant based recipes, one of the biggest hurdles can be finding workable alternatives to common and delicious ingredients that form the backbone of the dishes we love.
Don't worry, there's a solution!
For this vegan banana bread, I used extra virgin olive oil in place of butter. It really imparts a luxurious hit of moisture to the mix – and emulsifies nicely with the maple syrup.
But the star of the show (from the perspective of plant based ingredient alternatives) has got to be the 'flaxseed egg' for sure!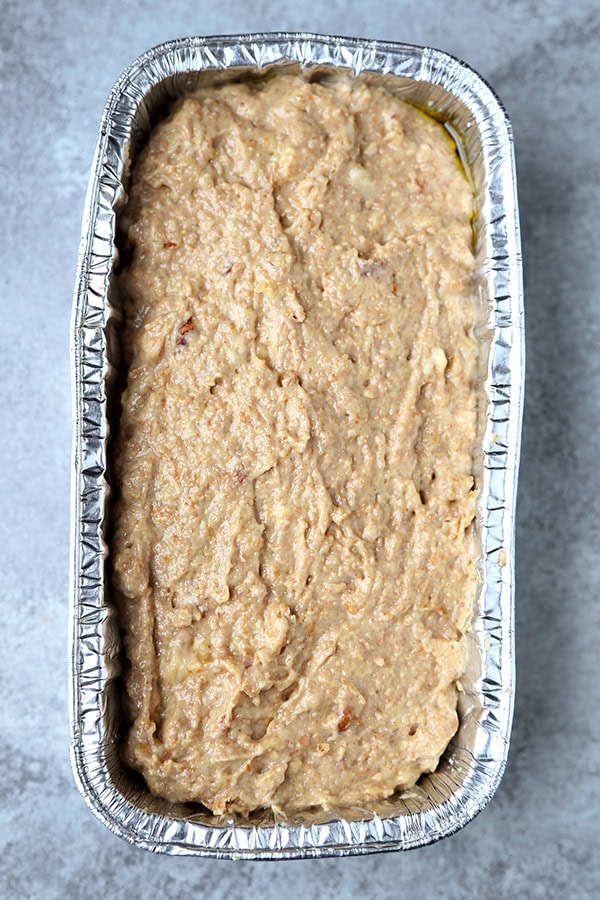 What is Flaxseed Egg?
Eggs are used in baking for a ton of reasons.
They create stability in a batter – and help maintain the structure of the finished product, all while imparting much needed moisture.
So finding a plant based alternative is essential for successful vegan baking.
Mixing a tablespoon of ground flaxseed with 2½ tablespoons of water creates an egg substitute that does a great job of mimicking an egg's structure building properties in this banana bread batter.
It sounds crazy – but it works well in quick breads like this one!
To make enough flaxseed eggs for this healthy vegan banana bread, I doubled up and made two (2 tablespoons ground flaxseed mixed with 5 tablespoons of water).
Simply mix the ingredients and let them sit for 5-10 minutes to thicken before use.
Works like a dream!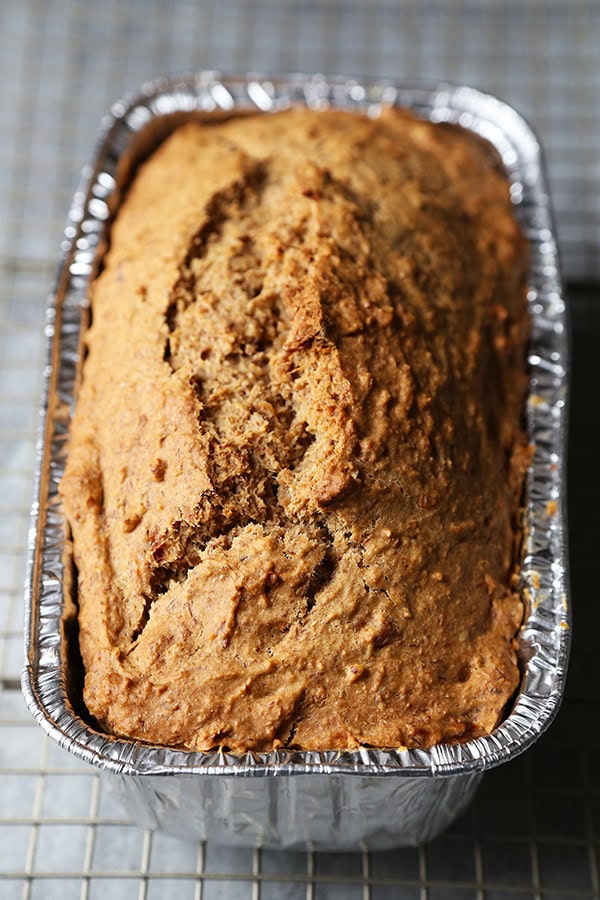 How to Make Plant Based Banana Bread
This is where it all comes together, friends!
Even if you're a bit of a timid baker like me, this will be one of the easiest forays into the kitchen ever.
Preheat your oven to 325°F – and brush the inside of a bread or

loaf pan

with a bit of olive oil so your cooked banana bread won't stick.
Whisk the olive oil,

maple syrup

and flaxseed eggs together. Use a large bowl for this step as we will be adding more ingredients to it.
Add the wet ingredients. Slowly whisk in the almond milk, mashed bananas and lemon juice.
Toss in your baking soda and cinnamon – and then slowly stir in the flour until the mixture is smooth. D

on't worry if there are a few lumps! A lump here and there won't have a detrimental effect on your healthy banana bread.

Transfer the mixture in a baking dish – I use a loaf pan but you can pretty much use anything if you don't mind it taking a different shape. Banana cake? Sure, why not!
Bake it the oven for about an hour. Test to see if your vegan banana bread is done by sticking a

toothpick

in the center of the loaf. If it comes out clean, it's cooked through.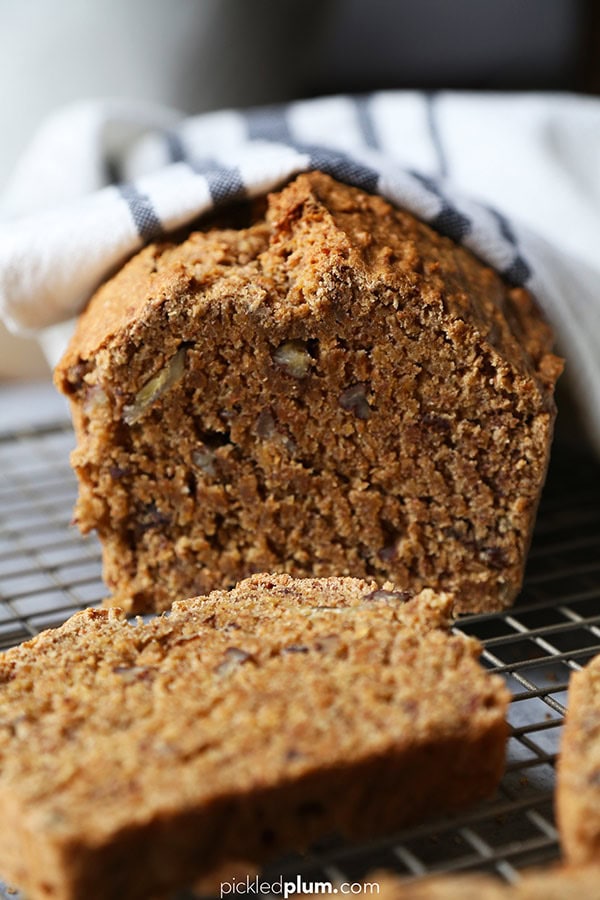 What Does Vegan Banana Bread Taste Like?
Amazing. Totally amazing!
It's perfectly moist with just the right amount of chew. The chopped walnuts provide a nice crunch and textural counterpoint.
My favorite thing from a flavor perspective was that the banana bread was sweet without being cloying.
The mixture of ripe bananas and maple syrup created a complex sweetness that allowed me to taste each element on its own.
There's no refined sugar or artificial sweeteners in this recipe because none is needed to elevate it.
Can I Make this Vegan Banana Bread with Whole Wheat?
Yes!
In fact, I made my own banana bread with whole wheat flour.
When developing this recipe, I tried versions with both whole wheat flour and all purpose flour.
What I found was that the recipe with whole wheat flour turned out the best banana bread as far as my taste buds were concerned.
The outcome was a banana bread that was slightly more dense and nutty than the version with all purpose flour. I really liked it!
You can always just use one or the other – OR create a mixture of the two flours to find the perfect balance for your tastes.
Just remember, whatever flour you choose, this is not a gluten-free banana bread.
Both whole wheat and all purpose flour are made of wheat. However you can find gluten free flour pretty easily these days.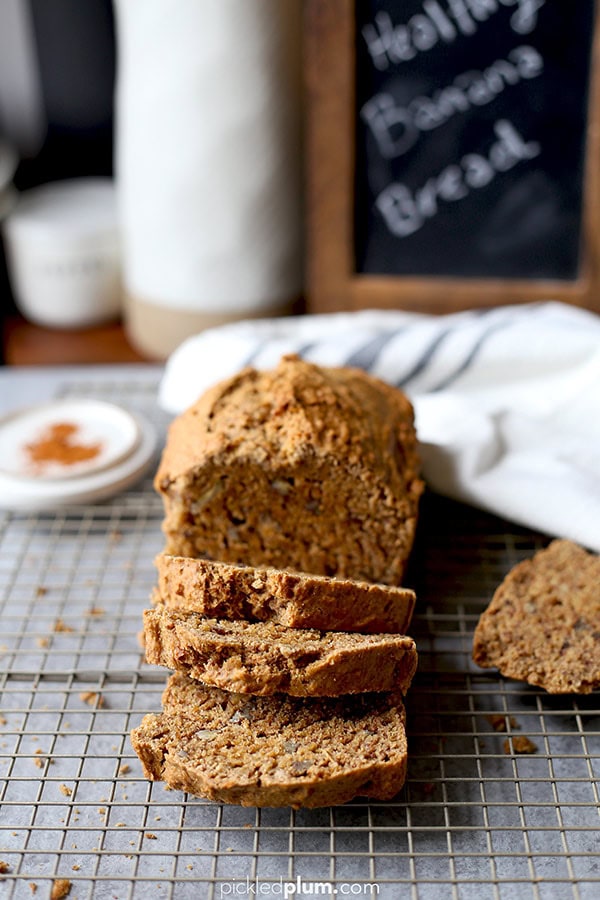 Baking is fun!
While I'm usually a bit more impulsive in the kitchen, this baking experience showed me that following the rules is fun too!
It provided me a framework to cook within – and still allowed me to experiment with different types of flour and sweeteners to find the mix that worked for my taste buds!
So let's hear it for vegan banana bread!
This loaf of deliciousness is moist yet light, and decadent in all the right ways!
What about you? What's something you've always been a little intimidated by in the kitchen? Is it something that, once you played around a bit, you realized was actually fun?
I'd love to hear about your cooking experiences in the comments section!
Other easy and tasty vegan recipes: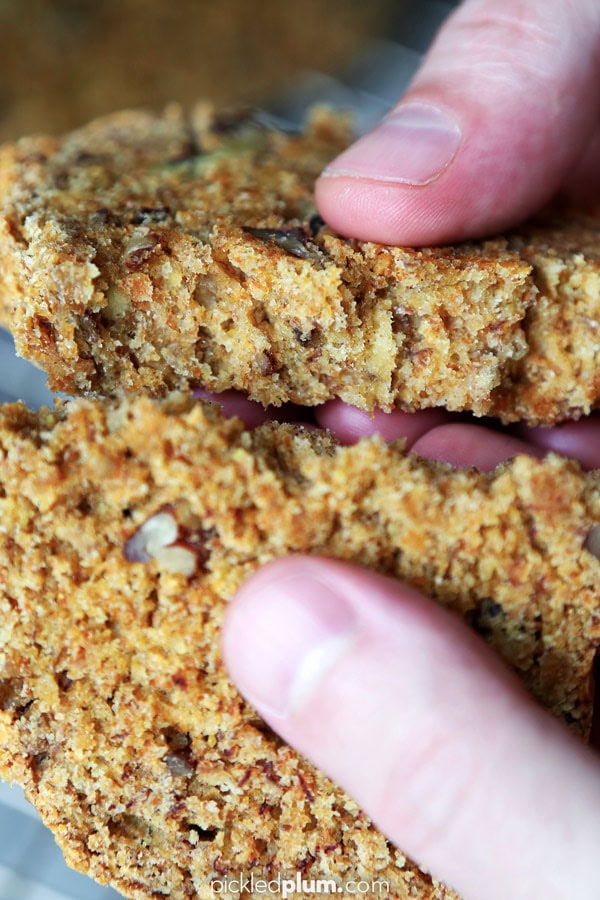 Did you like this Vegan Banana Bread Recipe? Are there changes you made that you would like to share? Share your tips and recommendations in the comments section below!
Print
Vegan Banana Bread
This vegan banana bread is moist and has just the perfect amount of sweetness!
Author: Caroline Phelps
Prep Time:

10 minutes

Cook Time:

55 minutes

Total Time:

65 minutes

Yield:

1

loaf

1

x
Category:

Dessert

Method:

Baking

Cuisine:

American
1/3 cup

extra virgin olive oil

1/2 cup

100% pure maple syrup

2

flaxseed eggs (

2 tablespoons

ground flaxseed mixed with

5 tablespoons

water)

1/4 cup

unsweetened almond milk

1 cup

mashed banana (about

2

bananas), the riper the bananas, the sweeter the loaf

1 teaspoon

lemon juice

1 teaspoon

baking soda

1 teaspoon

baking powder

1/2 teaspoon

ground cinnamon

1 3/4 cup

all purpose flour or whole wheat flour

1/2 cup

chopped walnuts or pecans
Instructions
Make your flaxseed eggs and set aside to allow time for the ground flaxseed to absorb some of the water.
Preheat oven to 325ºF
Grease a 9×5 bread or loaf pan.
In a large bowl, whisk in oil, maple syrup and slowly add flaxseed eggs.
Whisk in almond milk, mashed bananas and lemon juice.
Add baking soda and ground cinnamon and slowly stir in flour until mixture is smooth. It's okay if there are a few lumps.
Stir in the walnuts and pour batter into the pan and bake for 55 minutes.
Place a toothpick in the center of the loaf – it's ready if it comes out clean. Otherwise bake for an additional 5-10 minutes.
Take the loaf out of the oven and let cool to room temperature. Slice and serve.
Notes
This vegan banana bread will keep refrigerated for up to 1 week.
Dip in a little pure maple syrup for more sweetness!
Nutrition
Serving Size:

1 slice

Calories:

251

Sugar:

12.6 g

Sodium:

133.5 mg

Fat:

12 g

Saturated Fat:

1.5 g

Carbohydrates:

34.2 g

Fiber:

2.1 g

Protein:

3.3 g

Cholesterol:

0 mg
Keywords: recipe, plant based, vegetarian, meatless, snack, baked goods
Recipe Card powered by