If you are a peanut butter lover and are looking for a sweet treat, then this easy peanut butter and honey fudge recipe is just for you! All you need are a five simple ingredients to make this addictive fudge – natural peanut butter, raw organic honey, non-dairy milk, vanilla extract, and sugar.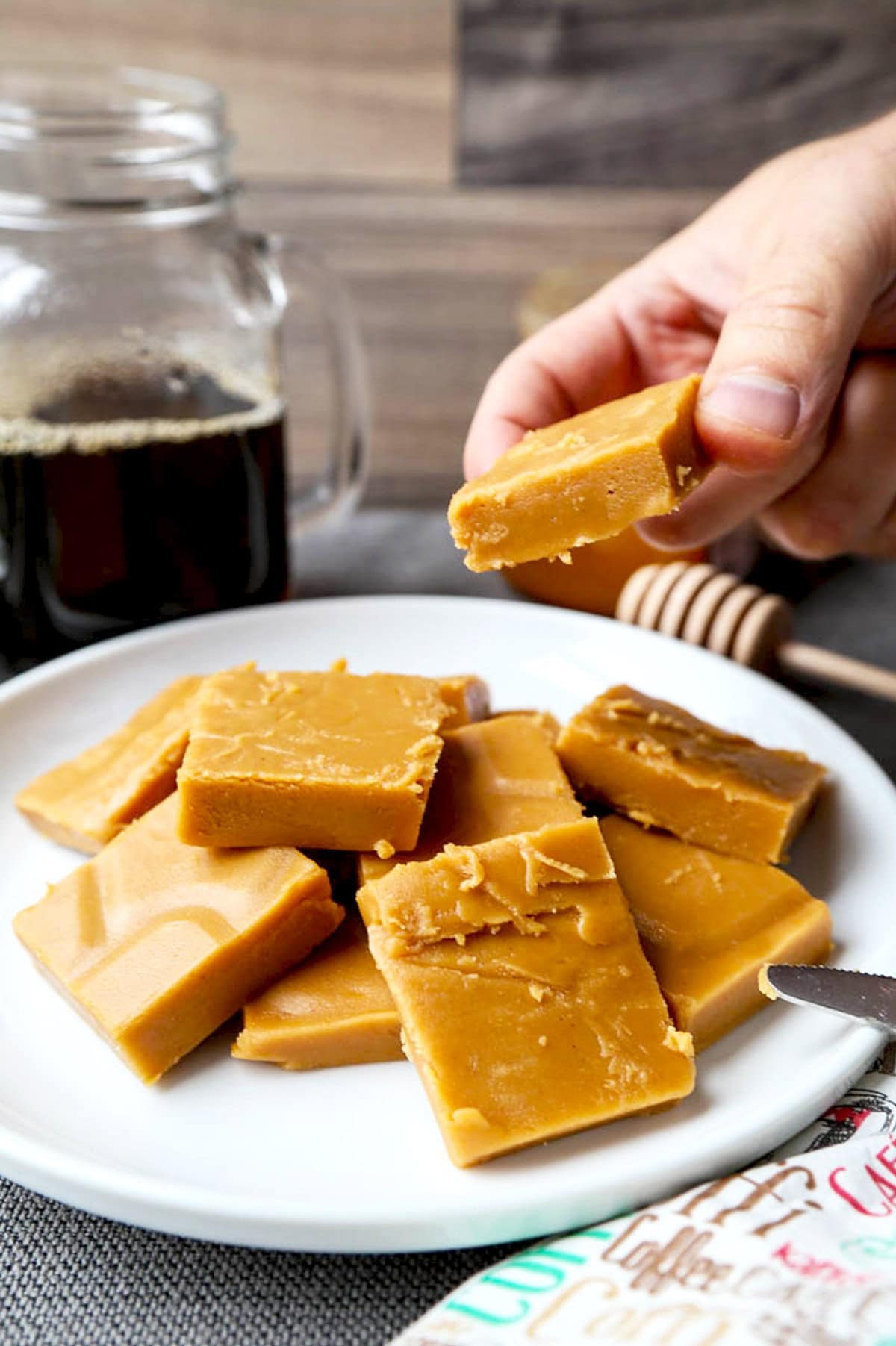 I grew up eating fudge and watching my aunts and mother make it. Every Sunday, the home cooks on my father's side of the family gathered in our kitchen to cook a few dishes. The purpose of these meetings were to teach my mother about French Canadian food. Once in a while the tables would turn and my mother spilled her secrets on the art of making Japanese food, but more often than not it was all about Quebec grub.
One weekend after another the kitchen would be filled with meat pies, dumplings in soup, fruit jams and classic French dishes like Boeuf Bourguignon, Coquilles Saint-Jacques, and fondant, also known as fudge.
And whenever fudge was on the menu, the dining table would be covered with chewy squares of all different flavors and textures – chocolate fudge, maple syrup fudge, sugar fudge, walnut and caramel fudge, and the list goes on. Since then, I've learned to make my own fudge and I am sharing with you one of my favorite recipes – peanut butter and honey fudge. I hope this fudge recipe will delight your taste buds!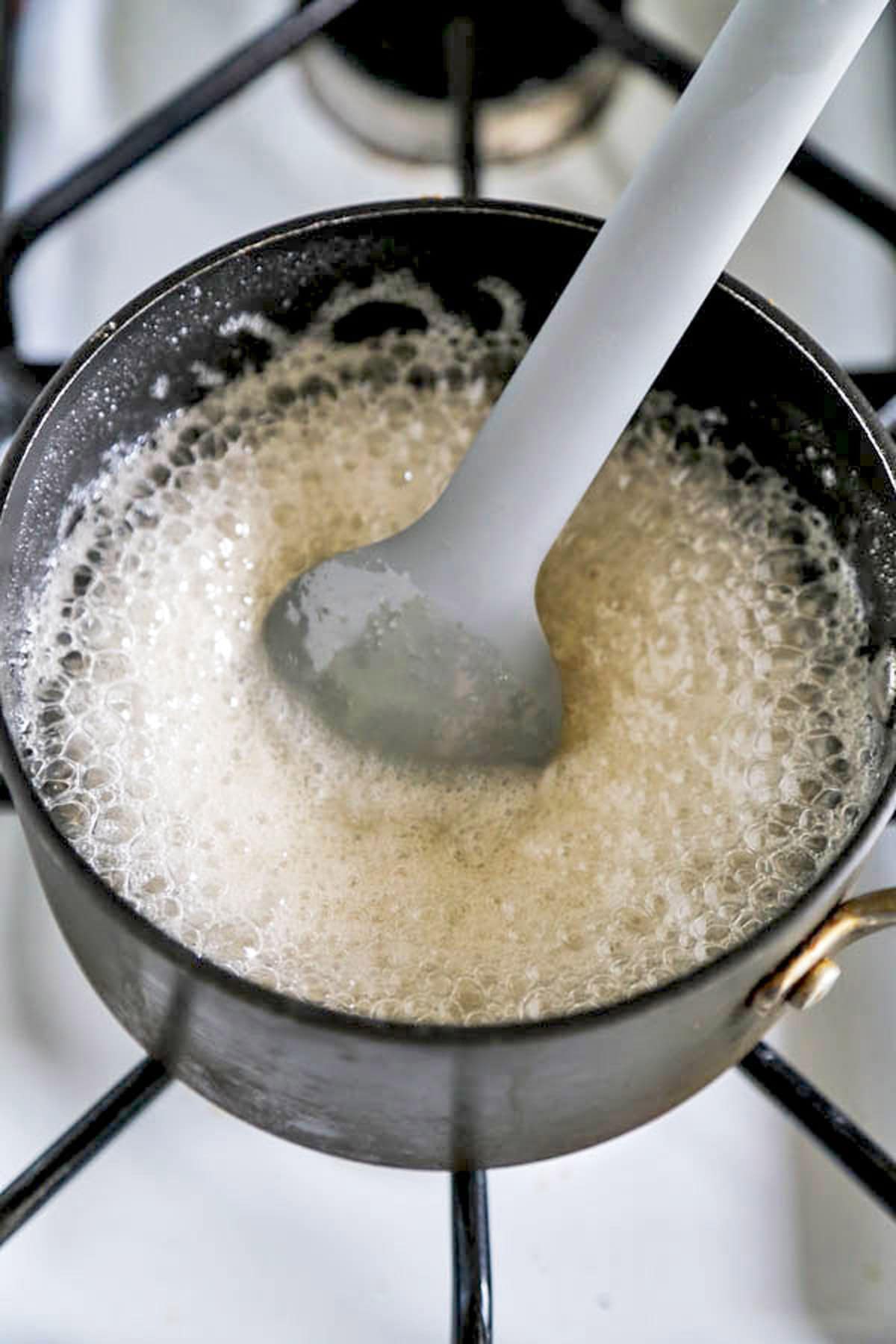 Homemade Fudge vs. Store Bought
While store bought fudge is something I used to purchased during my college years because cooking was the last thing on my list of priorities, I have since learned that I prefer making my own for various reasons.
I find store bought fudge to be too sweet and either too hard, or to have a weird, unnatural, chewiness. I prefer my fudge to be on the delicately crumbly side, or so soft it almost melts in my mouth. I also have less of an aggressive sweet tooth than I did when I was a teenager ( I used to love my grandmother's fudge which tasted like the most delicious sugar pie) so, nowadays, I like my fudge to have some sweetness mixed with other fruity, floral, or nutty flavors.
When making my own fudge, I get to control exactly what goes into my recipe. This means I can make it as sweet or unsweet as I want, and also use the best ingredients to make this decadent treat more wholesome.
Lastly, making fudge is easy! It only takes a few minutes to mix the ingredients together and the rest of the recipe is left unattended. Let your fudge chill in the fridge until the desired consistency is achieved and enjoy! This also means you can make it as cheap or as expensive as you like.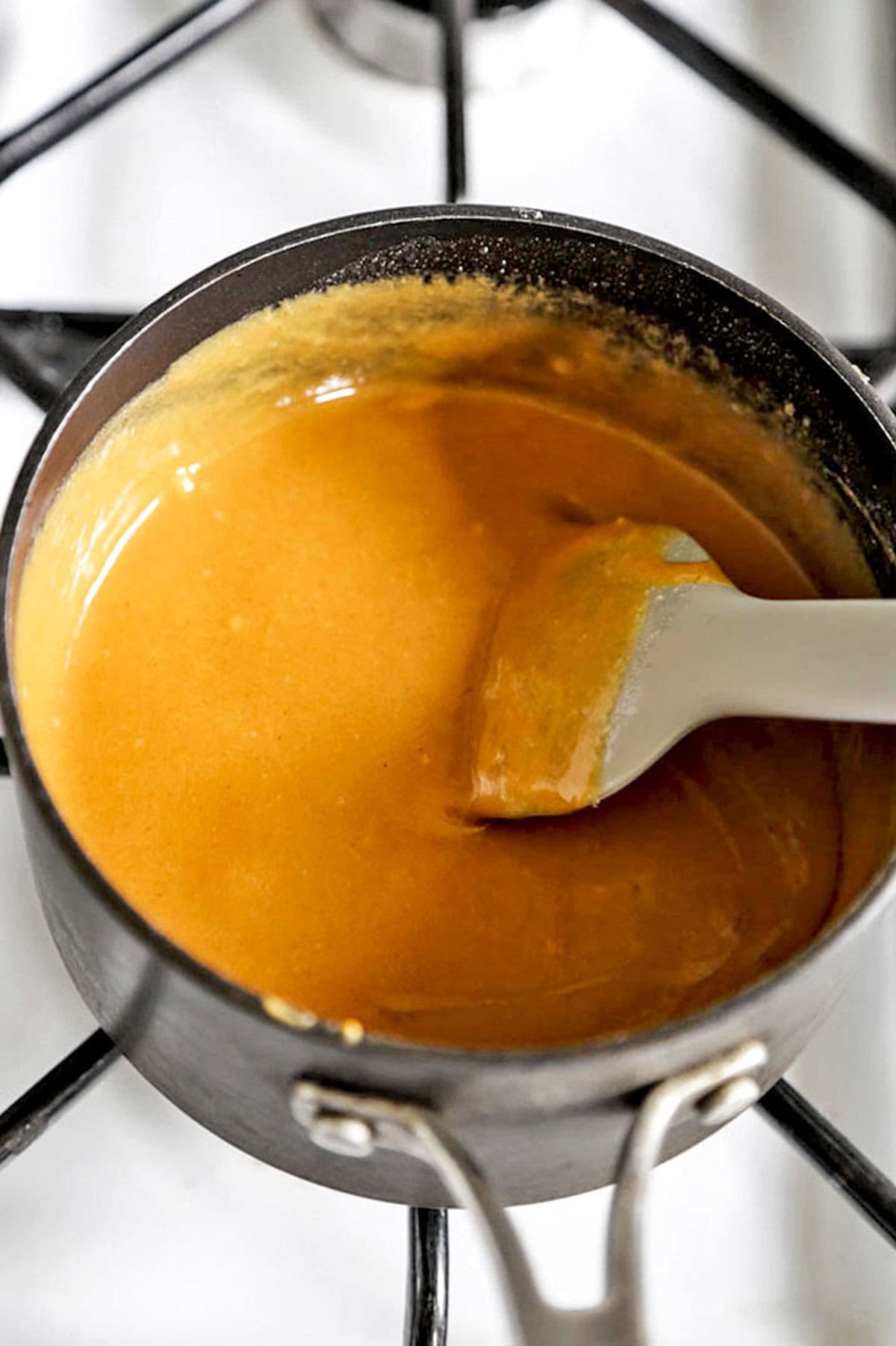 Peanut Butter and Honey Fudge Ingredients
Sugar: I am using granulated sugar but feel free to use brown sugar. You can also use dark brown sugar but the taste will vary slightly since dark brown sugar contains more molasses. This means your fudge will have a warmer and smokier taste than if it was made with regular sugar or light brown sugar.
Non dairy milk: You can use any type of non dairy milk for this recipe. My favorites are unsweetened oat milk, coconut milk, and hemp milk.
Peanut butter: I'm using natural creamy peanut butter for a smooth texture and a fudge that's not too sweet. However, you can use regular creamy peanut butter if you like your fudge sweet (it will be very sweet!).
Honey: You can use any type of honey but I like raw organic for its floral taste and slightly grainy texture (although the grainy parts will melt once the honey is in the pan).
Vanilla extract: I always and only use pure vanilla extract because it has a stronger vanilla taste.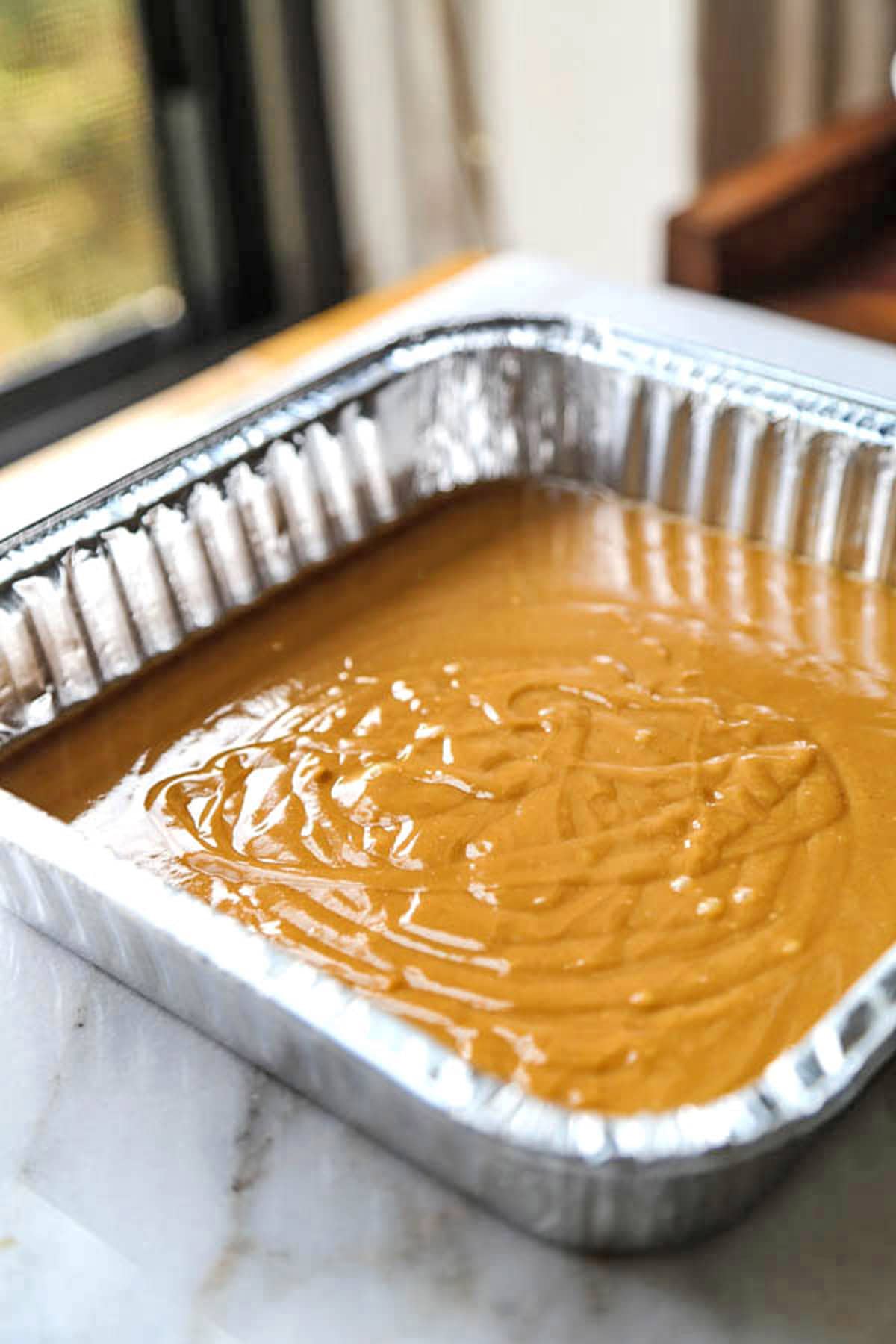 How to Make Peanut Butter and Honey Fudge
Listen, I suck at making desserts. Because of that, I never attempt to cook like I'm on the Great British Bake Off. Instead, I pick the simplest recipes – you know, the no fail ones – and make them healthier. Making a 5-ingredient fudge like this one is easy.
Scroll all the way down to the recipe card for the full recipe.
Gather all of your kitchen tools and ingredients.
Start by brushing a little oil across the bottom and sides of an 8×8 baking pan.
Add the sugar and milk to a small pot and bring the mixture to a boil. Boil for 3 minutes, while continuously stirring, and turn the heat off.
Stir in the peanut butter and honey and keep mixing until the ingredients are combined and the texture is smooth.
Pour the fudge in the pan and refrigerate it. Let the mixture set for about 6 hours or overnight, until you are happy with the consistency. Enjoy!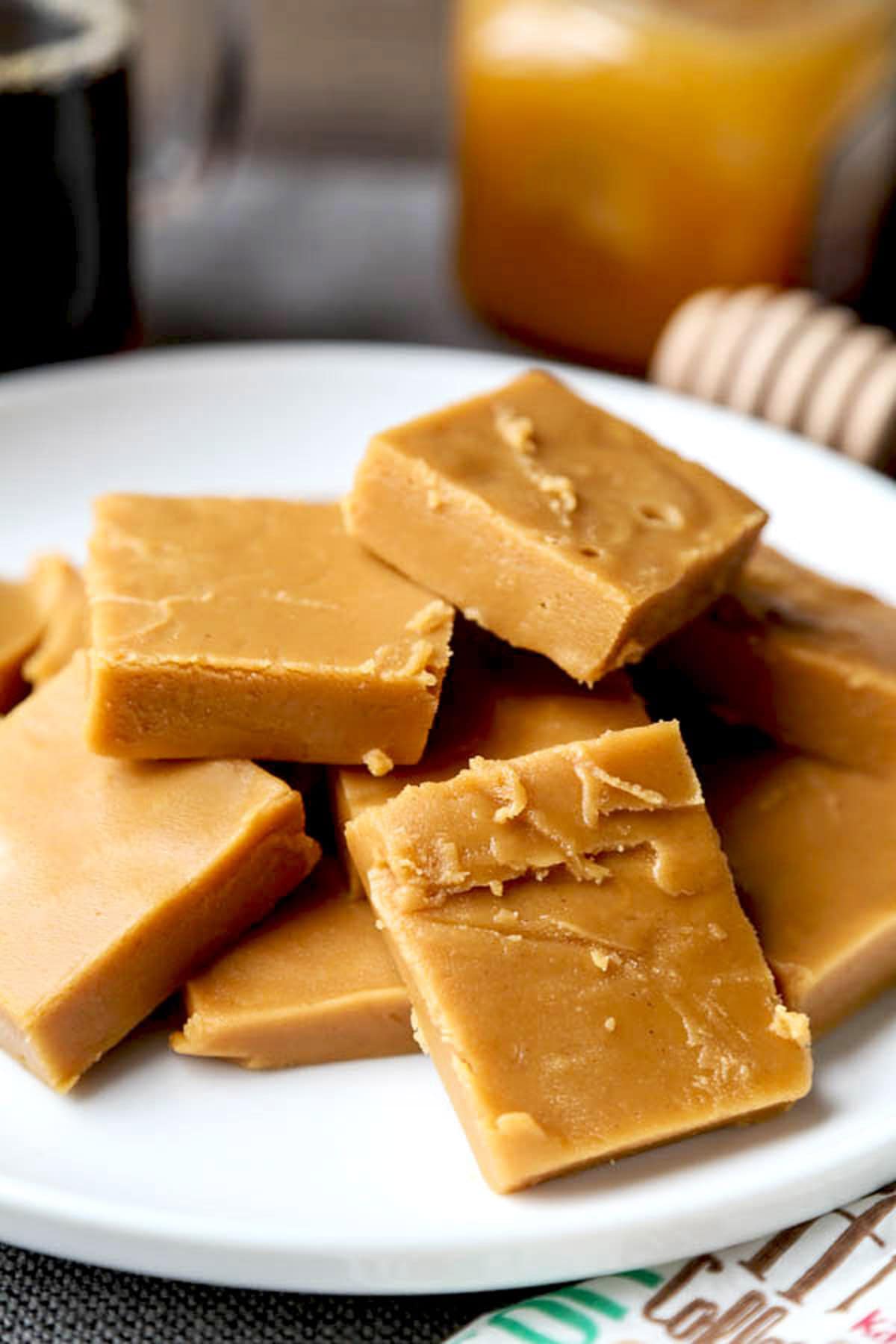 What Does Honey Taste Like?
To say that all honey tastes the same would be like saying that all types of soy sauces taste the same.
One thing all types of honey have in common is that they all consist of approximately 80% sugar. They are also produced the same way – through bees collecting nectar and pollen from flowers. But the taste varies based upon what flower or flowers the pollen and nectar were collected from, and the consistency based on how the honey was processed.
So what does honey taste like? It's mostly sweet with a flowery and sometimes almost smokey taste. But to say that all honey tastes the same would be like saying that all types of soy sauces or miso pastes taste the same. They do not which why I always recommend that you only use honey you like when cooking a dish that requires it.
You have clover honey which is the generic, light yellow, syrupy honey sold in most supermarkets. This one is usually mild with a touch of floral and can be used for just about anything. But venture into raw organic, manuka, tupelo, sage, and other types of honey, and the flavors will greatly vary. This is where you will find spectacular honey and other types that may or may not be your cup of tea.
For example, raw organic honey is my ultimate favorite. It's so much better and wholesome than regular honey and has a thick and creamy texture that can be used as a spread. It has a nice balance of sweetness and floral and sets better than the liquid kind when making fudge.
On the other hand, wildflower honey is one type that caught me by surprise, and not in a good way! The floralness and slightly burnt taste of that specific honey was so strong that I couldn't get past it. I eventually gave it to my mother in law who appreciated the taste.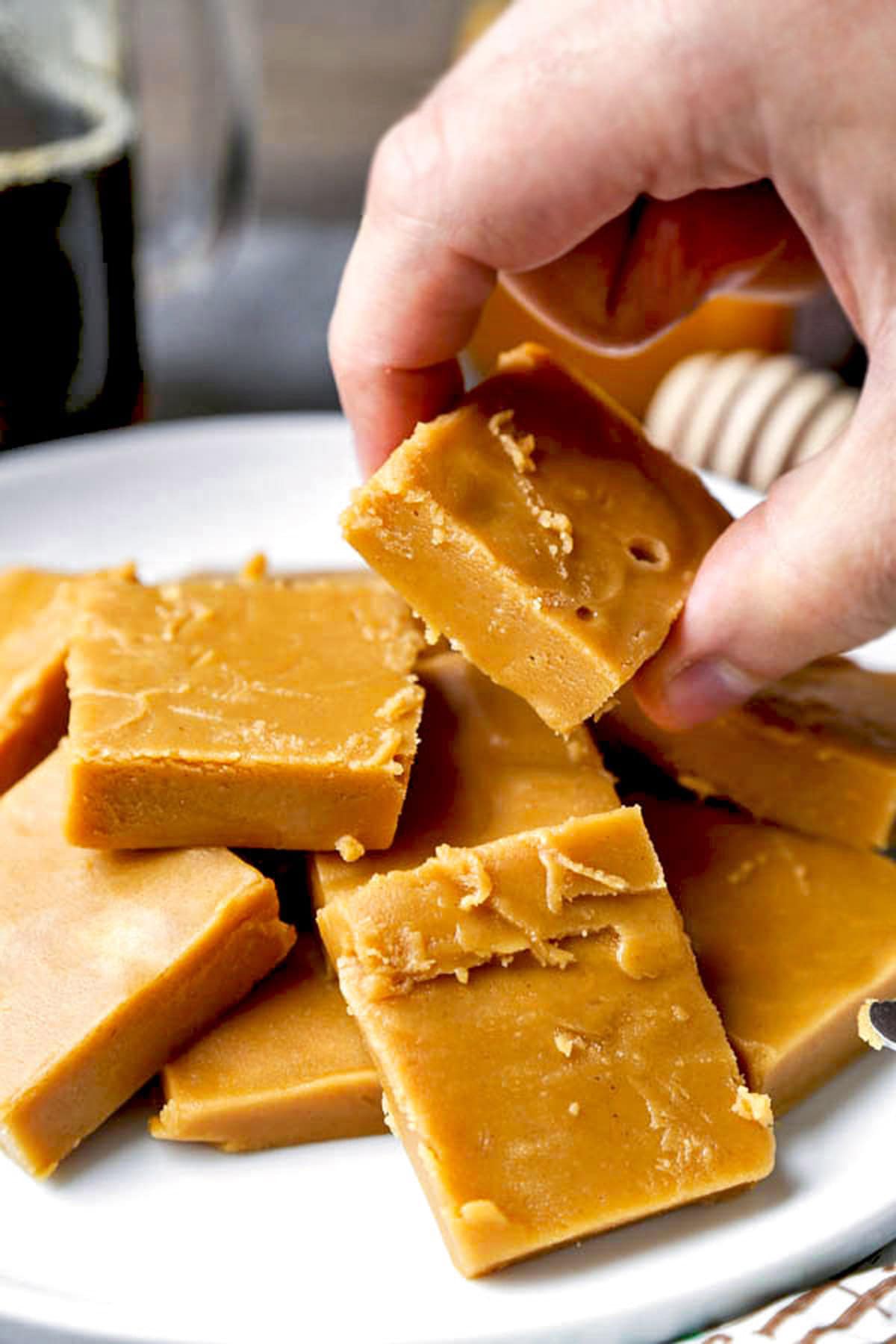 Different Types of Honey
According to honey.com, there are over 300 unique, different types of honey in the U.S. alone. They can vary in color and taste all depending on where these bees pollinate and thrive. Some of the most popular ones are acacia, manuka, alfalfa, clover, wildflower, sage, buckwheat, orange blossom, and creamed.
Most store bought honey is likely processed so if you want honey straight from the source, check out your local farmer's market and talk to them about what kind of honey they harvest.
Other Recipes Using Honey You Might Like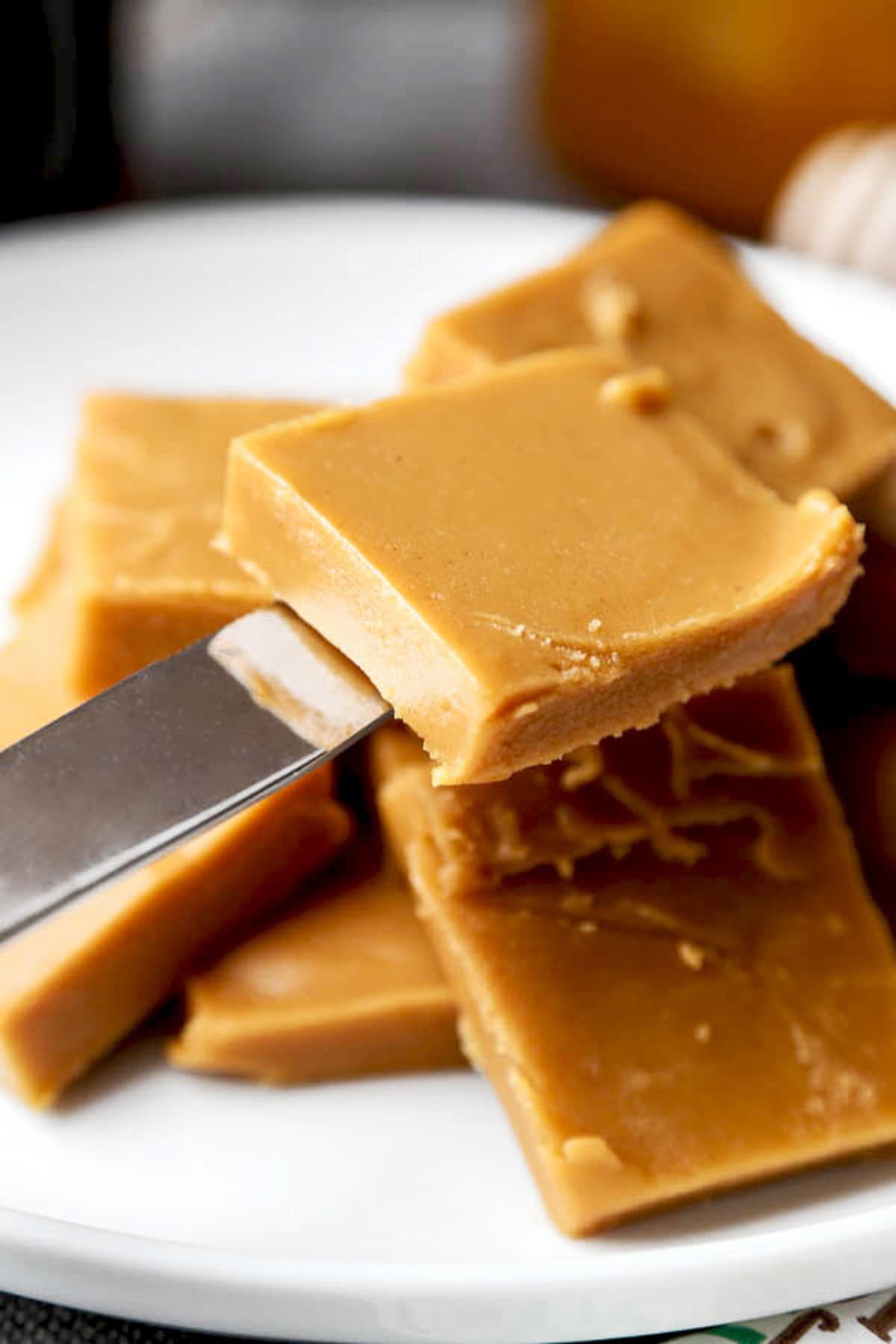 Did you like this simple peanut butter honey fudge recipe? Are there changes you made that you would like to share? Share your tips and recommendations in the comments section below!
Print
Easy Peanut Butter and Honey Fudge
A creamy, floral, and perfectly sweet peanut butter and honey fudge recipe you entire family will love.
Author: Caroline Phelps
Prep Time:

5 minutes

Cook Time:

3 minutes

Total Time:

8 minutes

Yield:

8

squares

1

x
Category:

Dessert

Method:

Chilling

Cuisine:

European

Diet:

Vegetarian
1

cup

granulated sugar

1/4

cup

non dairy milk such as hemp milk or unflavored coconut milk

1

cup

natural creamy peanut butter

3 tablespoons

raw organic honey

1 1/2 teaspoon

vanilla extract
Instructions
Brush an 8X8 baking pan with a little olive oil.
Put sugar and milk in a small pot and bring to a boil. Boil for 3 minutes, stirring often and turn the heat off.
Slowly add peanut butter and honey and stir well. Add vanilla extract and stir until the ingredient are mixed.
Pour mixture into the baking pan and refrigerate for at least 6 hours – if you can, refrigerate overnight for a harder texture.
Notes
Keep the fudge refrigerated so that the texture remains solid. I recommend letting it chill overnight before eating.
Nutrition
Serving Size:

1 square

Calories:

324

Sugar:

33.2g

Sodium:

120.7mg

Fat:

17.1g

Saturated Fat:

2.7g

Unsaturated Fat:

3.3g

Trans Fat:

0g

Carbohydrates:

31.6g

Fiber:

7.2g

Protein:

0g

Cholesterol:

0mg
Recipe Card powered by